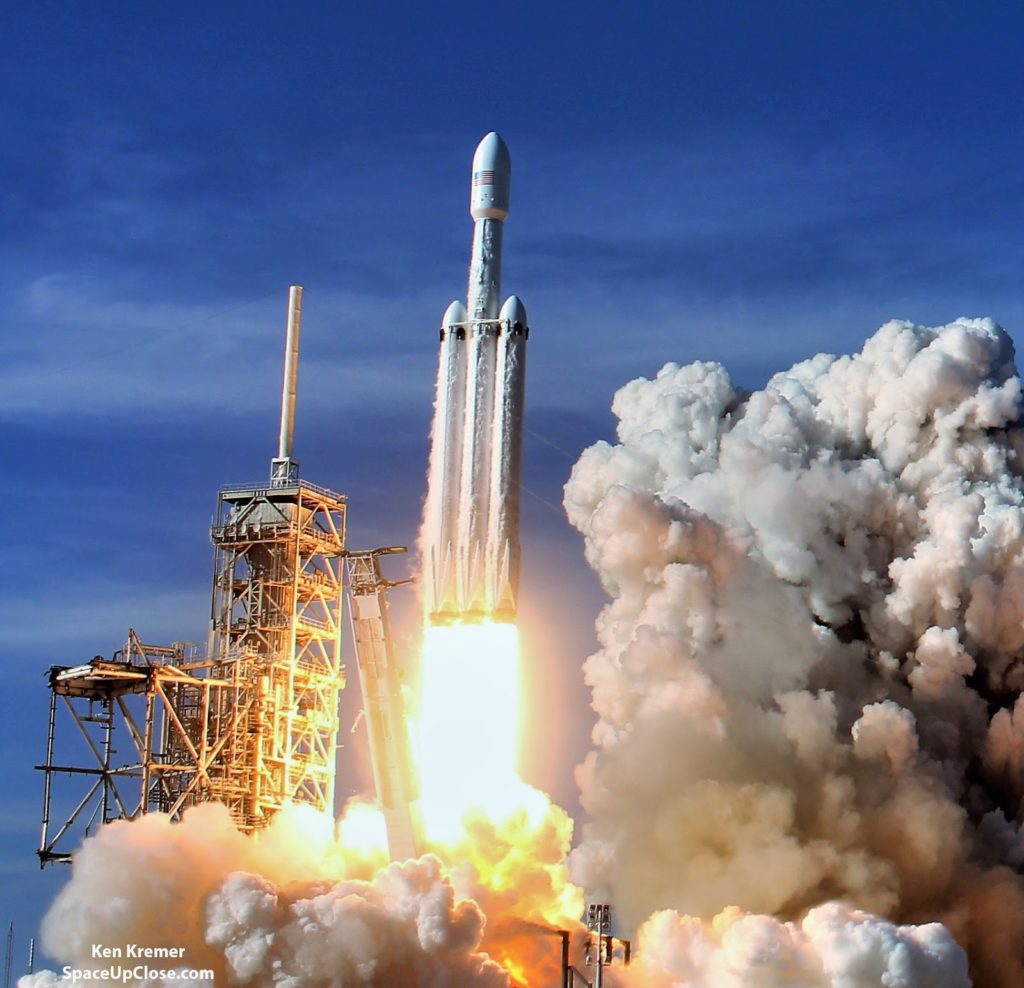 Launch of SpaceX Falcon Heavy on debut test
flight from Launch Complex 39A at NASA's Kennedy Space Center in Florida on
Feb. 6, 2018. Credit: Ken Kremer/SpaceUpClose.com/kenkremer.com
Ken Kremer

—
SpaceUpClose.com &
RocketSTEM
–11 January 2019
CAPE
CANAVERAL,
FL – The hugely ambitious new space aerospace firm SpaceX plans to lay off about
ten percent of its total workforce numbering some 6000
employees,
amidst
a series of stunning space successes over the past year and intense scrutiny on
critical high-profile missions ahead this year for NASA to the International Space
Station (ISS) – the company announced late Friday, Jan. 11.
SpaceX explained the
decision to cut some 600 "
talented and hardworking"
people by stating they need to
become a "leaner company"

while forging
ahead with plans to launch "interplanetary spacecraft" and
satellites enabling a "global space-based Internet."
The surprising revelation
of significant personnel layoffs literally came just hours after SpaceX scored another
stunning launch and landing success Friday morning with the blastoff of the
final batch of
10 Iridium communications
satellites to orbit atop a Falcon 9 rocket from Vandenberg Air Force Base,
California.
"To continue delivering for
our customers and to succeed in developing interplanetary spacecraft and a
global space-based Internet, SpaceX must become a leaner company," a SpaceX
spokesman told Space UpClose.
"Either of these
developments, even when attempted separately, have bankrupted other
organizations. This means we must part ways with some talented and
hardworking members of our team. We are grateful for everything they have
accomplished and their commitment to SpaceX's mission. This action is taken
only due to the extraordinarily difficult challenges ahead and would not
otherwise be necessary."
The cost cutting
measure comes just prior to what is without doubt the most important pair of missions
for SpaceX to date – launch of the first human rated SpaceX Crew Dragon on its maiden test flight known as Demo-1 next month as part of NASA's Commercial Crew
Program (CCP) to resume
human spaceflight missions from the US and

ferry astronauts to the ISS.
Failure is not an
option and the SpaceX team must work at peak performance despite the layoffs
Demo-1 is a forerunner to the launch of Demo-2 on the first Crew Dragon test flight
carrying NASA astronauts to orbit a few months later mid-year if all goes.
The Demo-1
mission could fly as soon as February from NASA's Kennedy Space Center in
Florida – depending on when the US Government shutdown ends.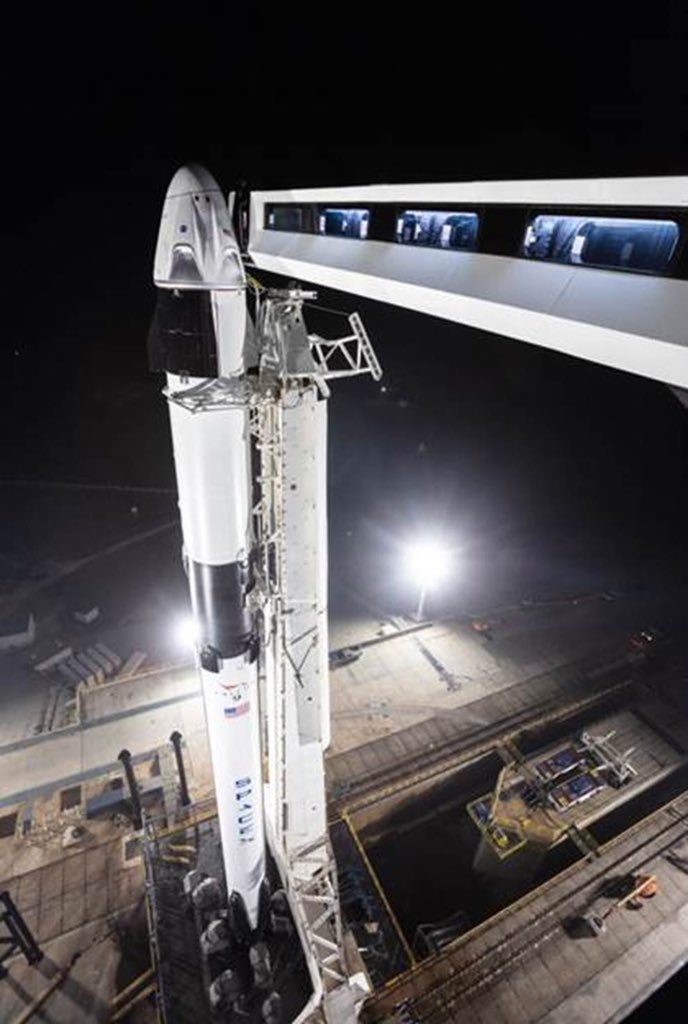 The crew access arm,
or astronaut walkway, at Launch Complex 39A at NASA's Kennedy Space Center, FL,
is extended to the SpaceX Crew Dragon DM-1 spacecraft soon after the Falcon 9
rocket was erected vertical on Jan. 3, 2019. Credit: SpaceX
SpaceX says they
remain "financially strong" and investors retain "confidence in our vision and long-term prospects."


Therefore SpaceX says they are undertaking a strategic realignment of their workforce,
which translates into a company-wide 10% staff reduction all across the company from the East to West coasts and in between. This is being done to "ensure the company
remains best aligned to deliver for our customers while meeting our long-term
goals of connecting the globe with reliable, affordable, broadband service and
enabling a truly multi-planetary future for humanity" – namely Starlink satellites and Starship spaceships.


SpaceX has spent Billions of
Dollars developing their rocket reusability technology and Falcon Heavy launch
system – which has been extremely successful thus far. But the return on
investment may not have been recouped and may be a long time in coming.


SpaceX is valued at about $31
Billion. According to a Wall Street Journal report in Nov 2018 the company
founded by CEO Elon Musk raised $250 million from its first-ever high-yield loan sale to help
finance costly endeavors like Starlink and Starship.


Furthermore SpaceX will have to spend Billions more developing the Starship interplanetary architecture on space voyages to the Moon and Mars – supposedly starting in the mid 2020s.



However the bottom line is the remaining SpaceX
staff will have to work even longer hours to accomplish even bigger goals. And one wonders about the effect on the
morale of those who survived the reduction in force and how so much cutting edge
work can really be accomplished with fewer people.




Moreover in Nov. 2018 NASA began a
review of the work culture at SpaceX (and Boeing) to make sure no corners are
being cut and the astronauts safety is not being compromised. The reviews were announced after SpaceX CEO
Elon Musk apparently smoked marijuana in a live online podcst.


Towards that end SpaceX has
ambitious plans for 2019 including launching two Falcon Heavy missions in the first
half of the year, deploying the first set of Starlink satellites and beginning the
first test hops of Starship – a next generation, fully reusable launch
system that will be the most powerful ever built, capable of carrying humans to
Mars and other destinations in the solar system, says the company.


But nothing is
more important to SpaceX's future than the resumption of America's human spaceflight
capabilities and successfully launching US astronauts to space this year for the
first time in more than seven years.


Even VP Mike
Pence visited the SpaceX launch processing facility at Launch Complex 39A at KSC
in mid-December 2018 as a show of the Trump Administrations support.
VP Mike Pence tours the SpaceX launch processing facility with
SpaceX President Gwynne Shotwell to visit the Crew Dragon and Falcon 9 rocket
on Dec. 18, 2018. Credit: SpaceX
NASA's contract to
buy new seats on the Russian Soyuz capsule for flights to the ISS ends with the
last launch in July 2019.

So a domestic American carrier- either SpaceX or
competitor Boeing is desperately needed to come online by the end of this year –
or else no American astronauts will be serving aboard the primarily American
built orbiting research laboratory.
Launch of SpaceX Falcon 9 rocket and Cargo
Dragon on CRS-15 resupply mission to the ISS in June 2018. Credit: Ken
Kremer/kenkremer.com/spaceupclose.com
The goal of NASA's Commercial Crew Program is to restore America's capability to
launch human spaceflight missions
from the U.S. to low Earth orbit (LEO) and the International Space Station
(ISS) on American capsules with American rockets from American soil – and
thereby end our 100% reliance on the Russian Soyuz capsules.
The US became solely dependent
on Russia due to the forced shutdown of NASA's Space Shuttles back in 2011 when
both political parties failed to provide sufficient US Federal budget funding
support to NASA's human spaceflight programs.
Target timelines for return US
human spaceflight capability have been pushed back repeatedly since 2015 due to
endless mindless political squabbling as well as technical challenges.
Here's a link to my Fox News 35 Orlando interview and
commentary about the negative impact of the US Government shutdown

on NASA- as seen on Jan 8:
https://www.fox35orlando.com/news/local-news/government-shutdown-impacting-space-industry
Check this link for my Fox 35 News Orlando interview about
the SpaceX Starship hopper- as seen on Jan. 11:
https://www.fox35orlando.com/news/local-news/elon-musk-tweets-starship-hopper-pics
Starship test flight
rocket just finished assembly at the
@SpaceX
Texas
launch site. This is an actual picture, not a rendering.

Credit: SpaceX/Elon Musk
SpaceX accomplished a record breaking 21 launches in 2018.
Watch
for Ken's continuing onsite coverage of NASA, SpaceX, ULA, Boeing, Lockheed
Martin, Northrop Grumman and more space and mission reports direct from the
Kennedy Space Center, Cape Canaveral Air Force Station, Florida and Wallops
Flight Facility, Virginia.


Stay tuned here for Ken's continuing Earth and Planetary science
and human spaceflight news: www.kenkremer.com –www.spaceupclose.com –
twitter @ken_kremer – email: ken at kenkremer.com


Dr. Kremer is a research
scientist, journalist and photographer based in the KSC area.
………….

Ken's photos are for sale and he is available for lectures and outreach events