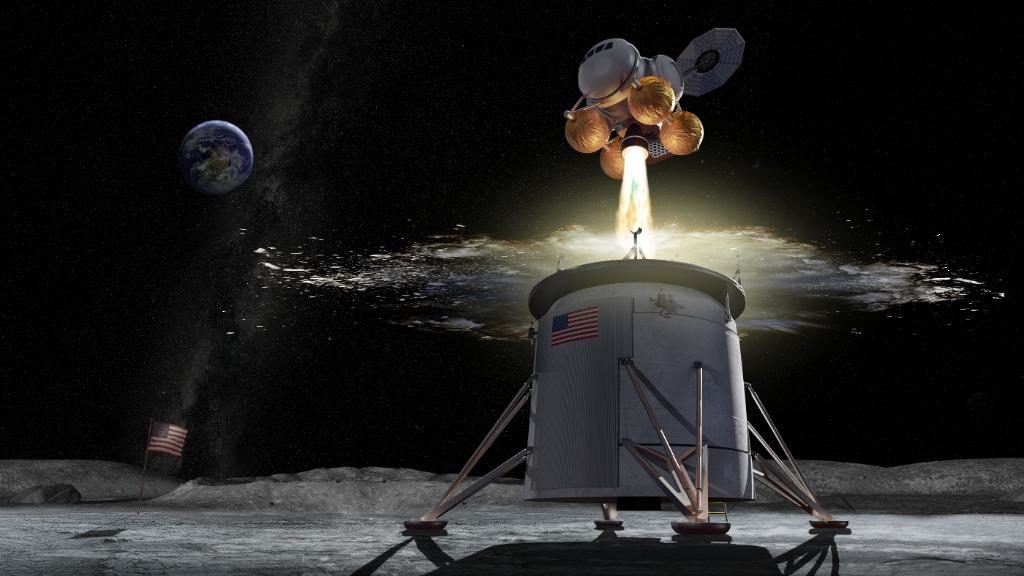 Artists concept for NASA's human return to the Moon's
surface by 2024. Credit: NASA
Ken Kremer —
SpaceUpClose.com & RocketSTEM
– 13
May 2019
CAPE CANAVERAL, FL –

NASA Administrator Jim Bridenstine announced
today that the Trump Administration will add an additional $1.6 Billion to NASA's
Fiscal Year 2020 budget request in order to carry out the President's new mandate to achieve an American human lunar landing by 2024 – on an ambitious and accelerated
timeline four years earlier than the prior target date of 2028.
Furthermore the return to the moon landing program
will be named 'Artemis'

– t
win sister of Apollo and Greek goddess of the Moon
– Bridenstine elaborated in a surprise announcement about the significant
NASA budget plus up at the end of a hastily arranged media telecon this evening,
Monday March 13, in which Space UpClose participated.
"This additional investment, I want to be
clear, is a down payment on NASA's efforts to land humans on the moon by 2024,"
Bridenstine elaborated during this evening's teleconference
regarding the Trump Administration amended NASA
FY 2020 Budget request.
"In the coming years, we will need additional
funds. But this is a good amount that gets us out of the gate in a very strong
fashion and sets us up for the future."
President Trump also confirmed his Administration's
support on twitter this evening.
"Under my
Administration, we are restoring

@NASA

to greatness and we are going back to
the Moon, then Mars. I am updating my budget to include an additional $1.6
billion so that we can return to Space in a BIG WAY!" President Trump tweeted.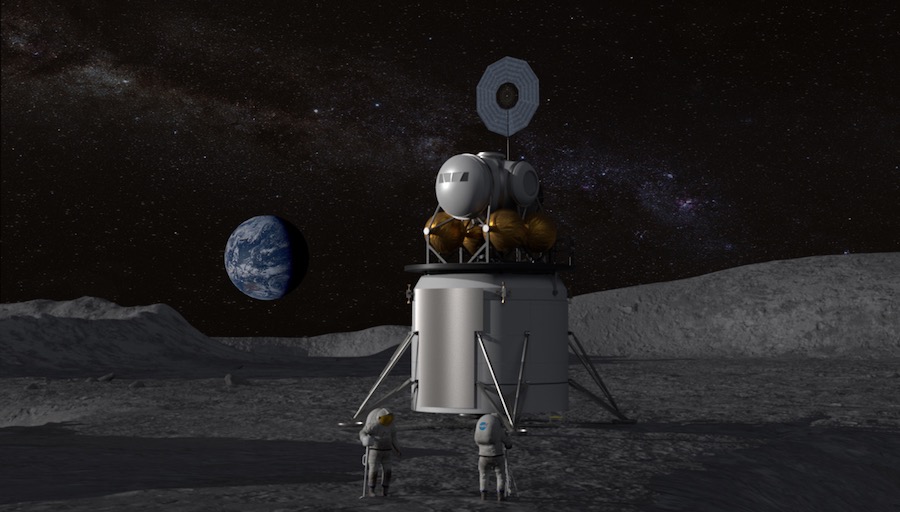 Artists concept for
NASA's human return to the Moon's surface by 2024. Credit: NASA
The goal is to land a two person crew including
the next American man and the first American woman at the lunar south pole by
2024 within
5 years – as outlined just 6 weeks ago in a March
26 speech by Vice President Mike Pence at the
fifth meeting of the National Space Council in
Huntsville, Alabama.
"The President has challenged NASA to land the
first American woman and next American man at the South Pole of the Moon by
2024, followed by a sustained presence on the Moon by 2028," said Bridenstine.
"The first time humanity went to the moon it
was under the name Apollo," Bridenstine said.
"The Apollo program forever changed history. It
turns out that Apollo had a twin sister, Artemis. She happens to be the goddess
of the moon. Our astronaut office is very diverse and highly qualified. I think
it is very beautiful that 50 years after Apollo, the Artemis program will carry
the next man — and the first woman — to the moon."
Overall this supplemental funding would increase
NASA's FY 2020 Budget request from

$21
Billion to about $22.6 Billion.
The additional funding must also be approved by
the US Congress.
"This is the amount we requested from the
Administration," Bridenstine said.
"We told the White
House, and we told OMB, how much money it would take in the year 2020 to get us
out of the gate for a landing on the moon in 2024. They responded with what we
requested, and we're very proud of that."
"This is additional money and does not cannibalize
the rest of NASA. No funding is taken from science or the International Space
Station" for example, Bridenstine explained.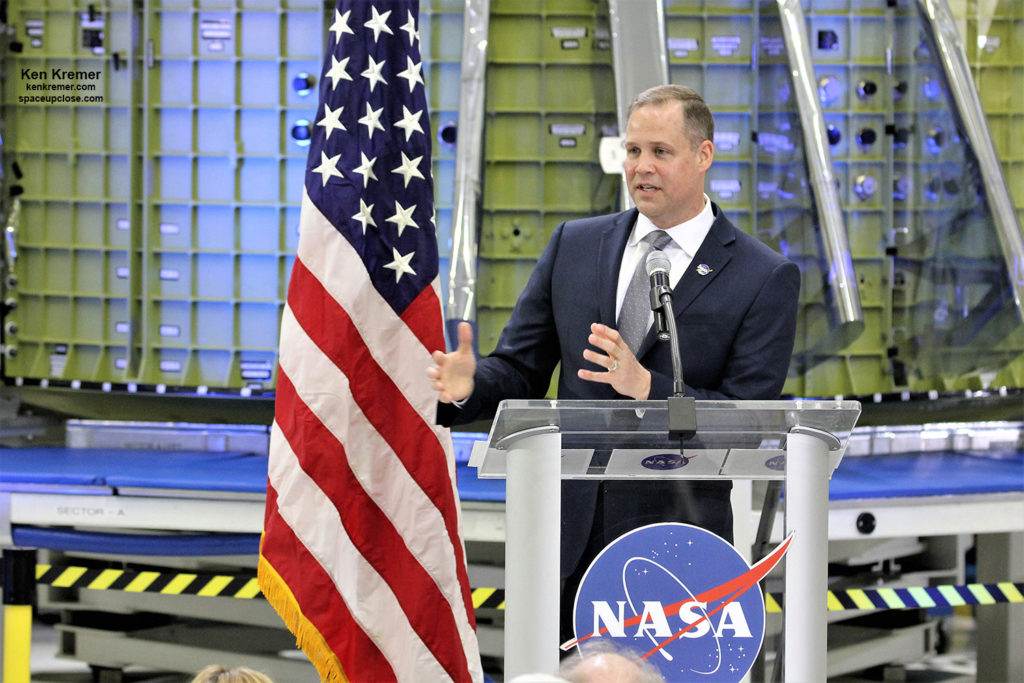 NASA Administrator Jim
Bridenstine announces NASA's 2020 budget request from the Trump Administration
to NASA employees, contractors and the media at the Kennedy Space Center in
Florida on March 11, 2019– backdropped by the Orion Exploration Mission-2
(EM-2) crew capsule being assembled in the Neil Armstrong Operation and
Checkout Building.
C
redit: Ken Kremer/kenkremer.com/spaceupclose.com
The additional money is a 'down payment" on
starting development of a lunar lander which would include three elements: a
transfer vehicle to low lunar orbit, a decent vehicle to and on the Moon and an
ascent vehicle for astronauts to return to the "Gateway" platform in lunar orbit.


"This
budget includes $1 billion to enable NASA to begin supporting the development
of commercial human lunar landing systems three years earlier than previously
envisioned to bring humans to the Moon's surface by 2024."


The initial Gateway will be descoped and
refocused to include just a power and propulsion module and a docking/habitation
module for the Orion crew vehicle launch on the SLS mega rocket.


Nevertheless Gateway will still play a critical
role serving as a reusable command and service module where visiting crews can
dock as they travel to and from the lunar surface.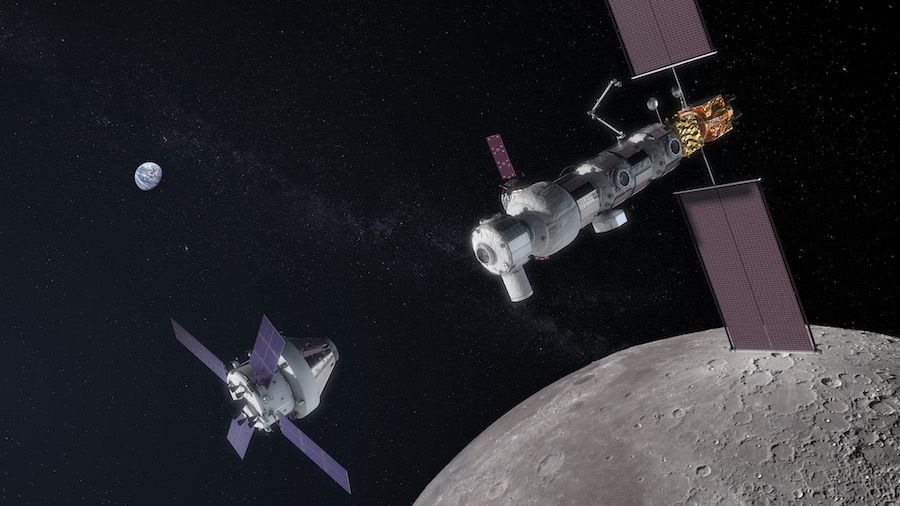 NASA's Orion crew vehicle docks with the Gateway station in
Lunar orbit. Credit: NASA
The lunar landing elements and Gateway will
be designed and built by commercial partners with NASA input and guidance to speed
development cycles and cut costs.


American astronauts should
step foot on the Moon "within the next 5 years" Pence emphatically
and clearly stated – moving NASA's human landing target up by 4 years from 2028
to 2024 during his March 26 speech.


The 2024 landing goal coincides with the end
of what would be President Trump's 2nd term in office if he is
reelected.


The last time American astronauts
walked on the Moon was back in Dec. 1972 during NASA's Apollo 17 moon landing
mission. No human has ventured back since.


This year marks the 50th
anniversary since Neil Armstrong became the first human to step foot on the
Moon during the Apollo 11 moon landing mission on July 20, 1969.


"That's one small step
for man, one giant leap for mankind," declared Apollo 11 commander Neil Armstrong,
uttering his famous first words from Tranquility Base after stepping off the
ladder of the Lunar Module named Eagle.


President Trump has made returning humans to the
moon sooner a highlight of his Administration by supporting NASA and signing 'Space
Policy Directive One' in December 2017 which states – "the United States will
lead the return of humans to the Moon for long-term exploration and utilization,
followed by human missions to Mars and other destinations."


But to date the budget reality has been disappointingly
far different and a bit dismal.


The Trump budgets proposed
for NASA have been insufficient for the sped up timelines and bold goals he
declared.


This budget supplement request
marks a major step in the right direction.


Indeed President Trumps' initial Fiscal Year
2020 NASA Budget request had slashed the agency's budget by
$480 million or 2.2% compared to the actual Fiscal Year 2019 budget appropriated
and enacted by Congress in February 2019 – which amounted to $21.5 Billion.


Thus it will be up to President Trump and the
US Congress to act in a bipartisan manner and provide NASA sufficient funds to
this worthy but daunting task.


Watch for Ken's continuing
onsite coverage of NASA, SpaceX, ULA, Boeing, Lockheed Martin, Northrop Grumman
and more space and mission reports direct from the Kennedy Space Center, Cape
Canaveral Air Force Station, Florida and Wallops Flight Facility, Virginia.


Stay tuned here for
Ken's continuing Earth and Planetary science and human spaceflight news: www.kenkremer.com –www.spaceupclose.com – twitter @ken_kremer
– email: ken at kenkremer.com


Dr. Kremer is a research scientist and journalist based in the
KSC area, active in outreach and interviewed regularly on TV and radio about
space topics.
………….


Ken's photos are for sale and he is available for lectures and outreach events
Ken's upcoming outreach events:
May 14-16
: Quality Inn Kennedy Space Center, Titusville,
FL, evenings.

Learn more about the upcoming
/recent NASA
2024 Moon landing goal, SpaceX Starlink-1,
SpaceX Falcon 9/CRS-17 launch to ISS, Falcon Heavy, SpaceX Demo-1
launch/test failure, SpaceX Beresheet
launch,
NASA missions, ULA Atlas & Delta launches, Northrop Grumman Antares,
SpySats and more