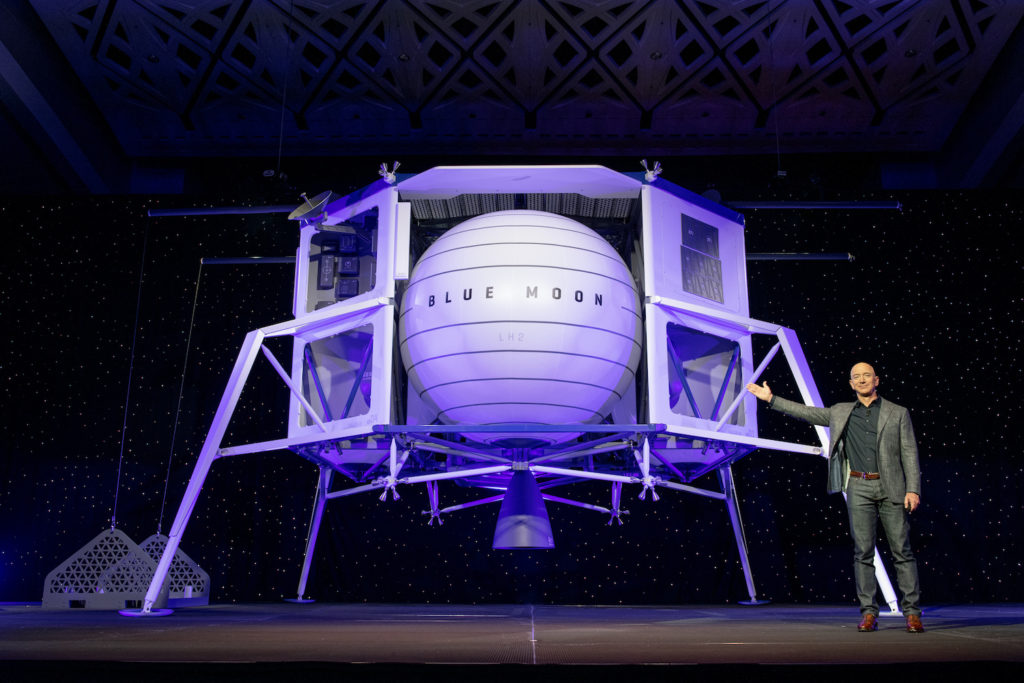 Jeff Bezos, founder of Blue Origin unveils
his privately developed 'Blue Moon' lunar lander on May 9, 2019 in Washington D.C..
Credit: Blue Origin
Ken
Kremer — SpaceUpClose.com &
RocketSTEM – 13 May 2019


TITUSVILLE, FL- Billionaire Jeff Bezos, founder of Blue Origin
rocket company, Amazon and the world's richest person, has unveiled his vision
of returning to the Moon – namely the privately developed 'Blue Moon' lander which
is being designed to take several tons of cargo and people to the surface of
the Moon in the next decade.


Bezos made the Blue Moon lander announcement on May 9, 2019
to a privately held, limited, and invited
only group of media in Washington, D.C. – not including Space UpClose.


He unveiled a full scale mockup of the commercial Blue Moon
lander on stage thus indicating its scale to humans.


Blue Origin is a private rocket company founded and privately
funded by Jeff Bezos by selling shares of Amazon – reportedly to the tune of
about $1 Billion per year.


"This is Blue Moon. We've been working on this lander for three
years, it's a very large lander. It'll soft land in a precise way, 3.6 metric
tons (7,936 pounds) onto the lunar surface. The stretched tank variant of it
will soft land 6.5 metric tons (14,330 pounds) onto the lunar surface," said Bezos.


Bezos says he started development of Blue Moon three years
ago and he will offer the vehicle to NASA to support the goal of landing humans
on the moon by 2024 as part of the newly named Project Artemis.


"I love this. It's the right thing to do. And
we can help meet that timeline, but only because we started three years ago.
It's time to go back to the moon, this time to stay."


Here is a YouTube video of the full Jeff Bezos presentation
from Blue Origin:
Video Caption: Jeff
Bezos full presentation announcing Blue Moon lunar lander on May 9, 2019. Credit:
Blue Origin
"Today, our founder shared our vision to go to space
to benefit Earth. We must return to the Moon—this time to stay. We're ready to
support
@NASA
in getting there by 2024 with
#bluemoon
," Blue Origin tweeted.
Artists concept of Blue Origin 'Blue Moon' lunar lander.
Credit: Blue Origin
Here a description of the 'Blue Moon' lunar lander and BE-7
engine that will power the descent stage – from the Blue Origin press release
sent to Space UpClose.
Blue Origin announced Blue Moon, its large lunar
lander capable of delivering multiple metric tons of payload to the lunar
surface based on configuration and mission. The cargo variant revealed today
can carry 3.6 metric tons to the surface. We have also designed a variant of
the lander that can stretch to be capable of carrying a 6.5-metric-ton,
human-rated ascent stage. Blue also announced it can meet the current
Administration's goal of putting Americans on the Moon by 2024 with the Blue
Moon lunar lander.
BE-7 engine

:
The Blue Moon lunar lander will be powered by
the BE-7 engine, a new addition to Blue Origin's family of engines. The BE-7's
40 kN (10,000 lbf) thrust is designed for large lunar payload transport. The
engine's propellants are a highly-efficient combination of liquid oxygen and
liquid hydrogen. The BE-7 will have its first hotfire this summer. The engine
will be available for sale to other companies for use in in-space and lander
applications.
Watch for Ken's continuing
onsite coverage of NASA, SpaceX, ULA, Boeing, Lockheed Martin, Northrop Grumman
and more space and mission reports direct from the Kennedy Space Center, Cape
Canaveral Air Force Station, Florida and Wallops Flight Facility, Virginia.
Stay tuned here for Ken's continuing Earth and
Planetary science and human spaceflight news:

www.kenkremer.com

–www.spaceupclose.com – twitter @ken_kremer
– email: ken at kenkremer.com
Dr. Kremer is a research scientist and journalist based in the
KSC area, active in outreach and interviewed regularly on TV and radio about
space topics.
………….

Ken's photos are for sale and he is available for lectures and outreach events
Ken's upcoming outreach events:
May
14-16
: Quality Inn Kennedy Space Center, Titusville, FL, evenings.
Learn more about the upcoming
/recent NASA
2024 Moon landing goal, SpaceX Starlink-1,
SpaceX Falcon 9/CRS-17 launch to ISS, Falcon Heavy, SpaceX Demo-1
launch/test failure, SpaceX Beresheet
launch,
NASA missions, ULA Atlas & Delta launches, Northrop Grumman Antares,
SpySats and more