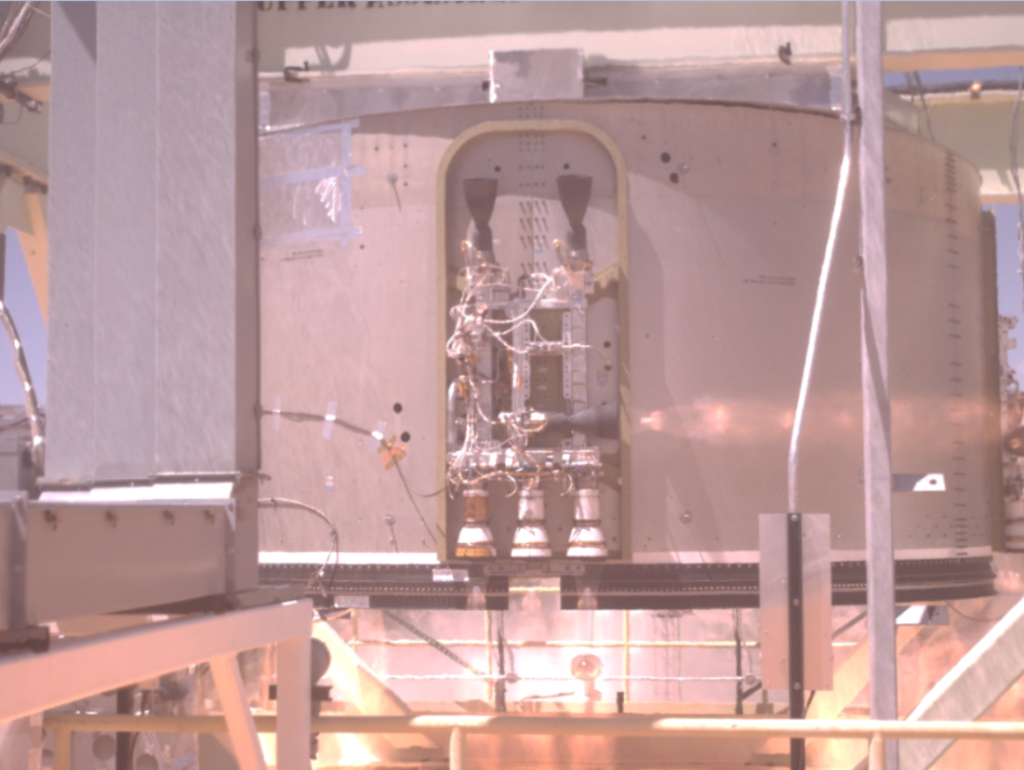 Boeing teams ran
multiple tests on Starliner's in-space maneuvering system and the spacecraft's
launch abort system on May 23, 2019 at NASA's White Sands Test Facility in New
Mexico. Photo credit: Boeing
Ken Kremer —
SpaceUpClose.com &
RocketSTEM
– 2
June 2019
CAPE
CANAVERAL, FL – Boeing engineers completed a lengthy series of hot fire
tests on the propulsion system of Starliner crew test article involving t
he vehicle's in-space maneuvering system as well as the
critical launch abort system that will help pave the way to the first test
flight with astronauts in support of NASA's Commercial Crew Program.
The hot fire propulsion system tests
were carried out on May 23 at NASA's White Sands Test Facility in New Mexico
using a flight-like Starliner service module

involving "a full propulsion system comprising
of fuel and helium tanks, reaction control system and orbital maneuvering and
attitude control thrusters, launch abort engines and all necessary fuel lines
and avionics," according to statements from NASA and Boeing.
Multiple tests were completed to
simulate in-space maneuvers, low-altitude abort and high altitude abort to
ensure that astronauts will be safe and the Boeing Starliner crew transport vehicle
will function effectively through all phases of flight.
These successful tests will help
lead to key next milestones wherein Boeing plans to carry out a pad abort test followed
by an uncrewed orbital test flight (OFT)

that will launch to the International Space Station
(ISS) as soon as August.
"With the safety of our astronauts
at the forefront of all we do, this successful testing proves this system will
work correctly and keep Starliner and the crew safe through all phases of
flight," said John Mulholland, vice president and program manager of Boeing's
Commercial Crew Program.
"The milestone paves the way for the
upcoming pad abort test and flights to and from the International Space Station
later this year."
Artists concept of Boeing Starliner commercial crew vehicle
arriving at the International Space Station. Credit: Boeing/NASA
Here's
a list of the tests completed by Boeing
·
19 thrusters fired to simulate
in-space maneuvers.
·
12 thrusters fired to simulate a
high-altitude abort.
·
22 propulsion elements, including
the launch abort engines, fired to simulate a low-altitude abort.
If all goes well the first flight
with three astronauts aboard called the Crew Flight Test (CFT) could take place
by the end of the year, perhaps as soon as November.
The Boeing Starliner commercial crew
vehicle will launch on a ULA Atlas V rocket augmented with two solid rocket
boosters on a ferry flight to and from the ISS.
The ULA Atlas V will blastoff from
Space Launch Complex-41 on Cape Canaveral Airt Force Station, FL.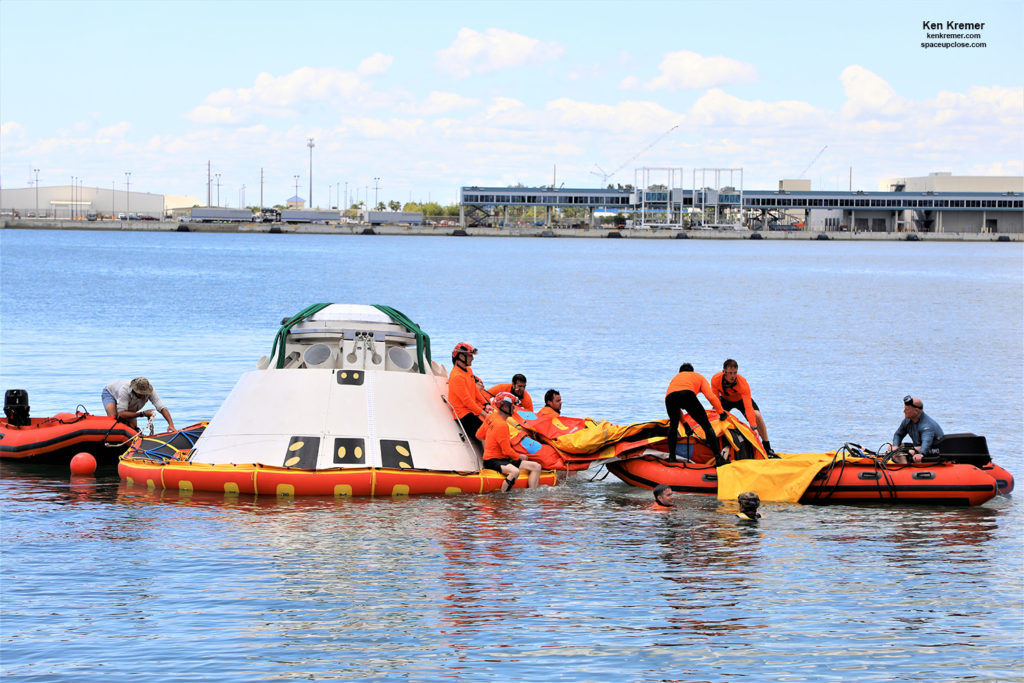 Rescue team practices rescuing astronauts out of Boeing
Starliner mockup test article in case of splashdown at sea, in US NAVY wharf at
Port Canaveral, FL. Credit: Ken
Kremer/kenkremer.com/spaceupclose.com
Rescue teams recently conducted sea trials in Port
Canaveral to rescue the astronauts from the capsule in case of an unplanned sea
landing.


Watch for our detailed story.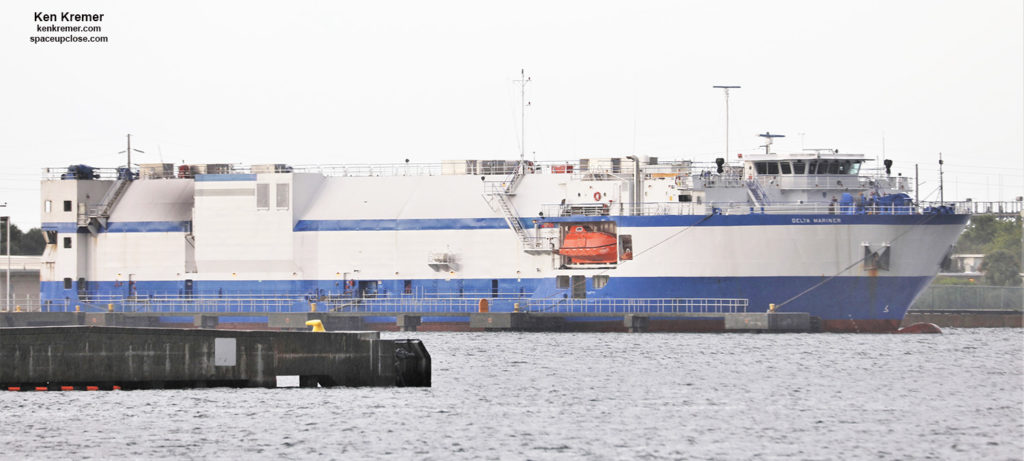 ULA Delta Mariner arrives into Port Canaveral, FL on June
1, 2019 carrying the Atlas V rocket that will launch the first astronaut crew
aboard the Boeing Starliner commercial crew vehicle.

Credit: Ken Kremer/kenkremer.com/spaceupclose.com
The Atlas V rocket 1st stage and Dual Engine Centuar upper stage that will launch on the CFT mission just
arrived into Port Canaveral on the ULA Delta Mariner.



The CFT launch vehicle is designated AV-082

and was manufactured in ULA's Decatur, Alabama facility.
Watch for our upcoming story.
SpaceX is also developing the Crew Dragon to ferry NASA astronauts
to and from the ISS.
"As commercial crew providers, Boeing and
SpaceX, begin to make regular flights to the space station, NASA will continue
to advance its mission to go beyond low-Earth orbit and establish a human
presence on the Moon with the ultimate goal of sending astronauts to Mars, says
NASA.


Watch for Ken's continuing
onsite coverage of NASA, SpaceX, ULA, Boeing, Lockheed Martin, Northrop Grumman
and more space and mission reports direct from the Kennedy Space Center, Cape
Canaveral Air Force Station, Florida and Wallops Flight Facility, Virginia.


Stay tuned here for Ken's continuing Earth and
Planetary science and human spaceflight news: www.kenkremer.com –www.spaceupclose.com – twitter @ken_kremer
– email: ken at kenkremer.com


Dr. Kremer is a research scientist and journalist based in the
KSC area, active in outreach and interviewed regularly on TV and radio about
space topics.
………….

Ken's photos are for sale and he is available for lectures and outreach events