Members of the public
who want to send their name to Mars on NASA's next rover mission to the Red
Planet (Mars 2020) can get a souvenir boarding pass and their names etched on
microchips to be affixed to the rover.

Credits:
NASA/JPL-Caltech
Ken
Kremer —
SpaceUpClose.com &
RocketSTEM
– 2 June 2019
CAPE CANAVERAL, FL –

As NASA's next Mars Rover nears completion
the agency is inviting the public to send their name along for the journey that
begins with blastoff in July 2020 of the '2020 Rover.'
"NASA is giving the public an opportunity to
send their names — stenciled on chips — to the Red Planet with NASA's Mars 2020
rover, which represents the initial leg of humanity's first round trip to
another planet. The rover is scheduled to launch as early as July 2020, with
the spacecraft expected to touch down on Mars in February 2021," NASA announced.
From now until Sept. 30, you can send your name to
Mars by adding it to NASA's list and obtain a souvenir boarding pass to Mars
here:
https://go.nasa.gov/Mars2020Pass
Over 6.6 million people have already signed
up to place their names on the chips as of today, June 2.


Thus the excitement for our next journey to
the Red Planet's surface with the 2020 rover is already building.


"As we get ready to launch this historic
Mars mission, we want everyone to share in this journey of exploration,"
said Thomas Zurbuchen, associate administrator for NASA's Science Mission
Directorate (SMD) in Washington.


"It's an exciting time for NASA, as we
embark on this voyage to answer profound questions about our neighboring
planet, and even the origins of life itself."


The 1 ton rover (2,300 pounds, 1,000
kilograms) is nearly a copy of the NASA's Curiosity Mars Science Lab rover but
with a new suite of science instruments.


It is
being targeted to touch down at Jezero Crater in 2021.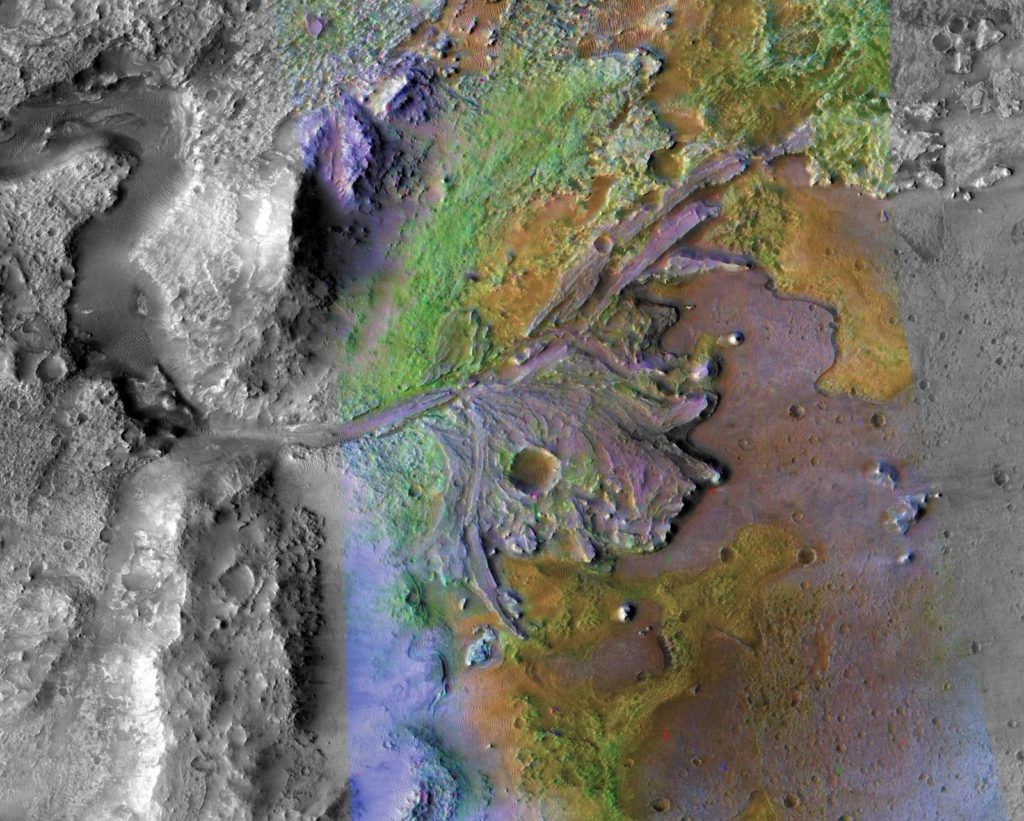 NASA's

Mars 2020


will land in Jezero Crater, pictured here. The image was taken by
instruments on NASA's Mars
Reconnaissance Orbiter, which regularly takes images of potential
landing sites for future missions. Credit:
NASA/JPL-Caltech/ASU
Mars
2020 will search for signs of past microbial life, characterize the planet's
climate and geology, collect samples for future return to Earth, and pave the
way for human exploration of the Red Planet.


Watch for Ken's continuing
onsite coverage of NASA, SpaceX, ULA, Boeing, Lockheed Martin, Northrop Grumman
and more space and mission reports direct from the Kennedy Space Center, Cape
Canaveral Air Force Station, Florida and Wallops Flight Facility, Virginia.


Stay tuned here for Ken's continuing Earth and
Planetary science and human spaceflight news: www.kenkremer.com –www.spaceupclose.com – twitter @ken_kremer
– email: ken at kenkremer.com


Dr. Kremer is a research scientist and journalist based in the
KSC area, active in outreach and interviewed regularly on TV and radio about
space topics.


………….


Ken's photos are for sale and he is available for lectures and outreach events