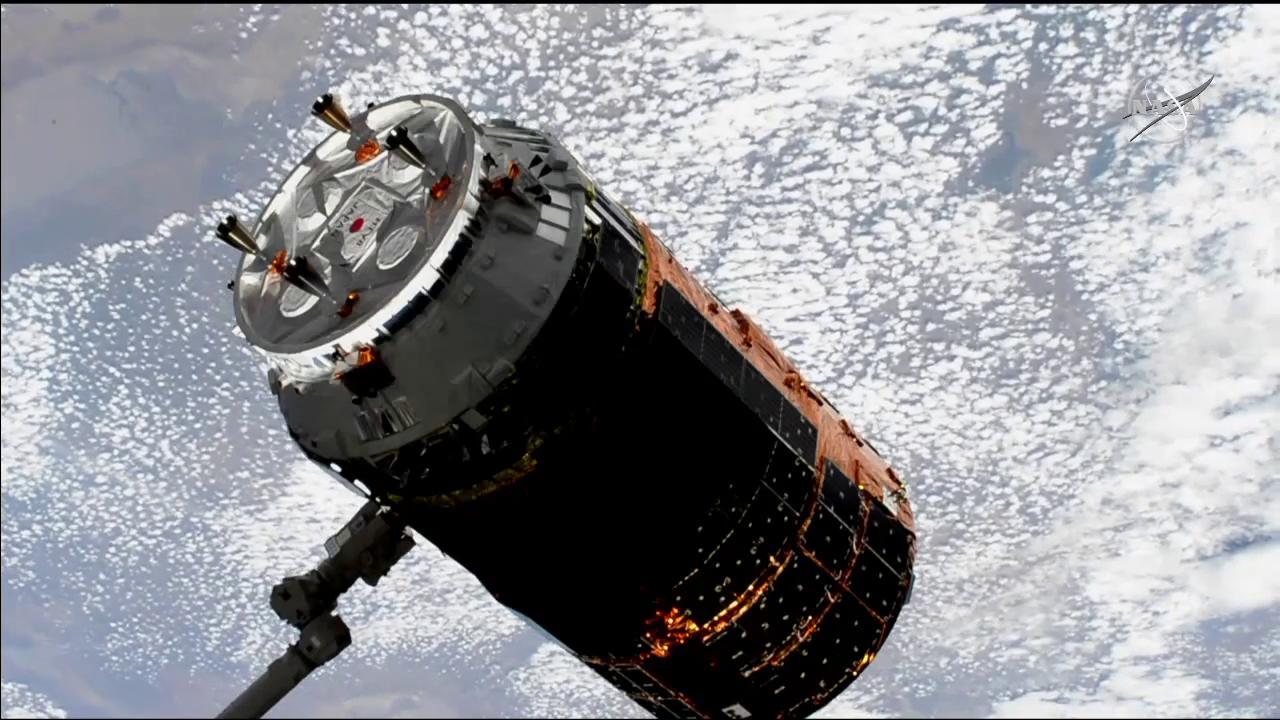 CAPE CANAVERAL, FL –  Following a belated but spectacular nighttime blastoff on Tuesday, Sept. 24 and a four day orbital chase Japan's unpiloted HTV-8 cargo freighter arrived at the International Space Station (ISS) Saturday morning, Sept. 28 and was attached to the complex after grappling by NASA astronauts maneuvering Canada's robotic arm – capping a hugely busy week of space action that ends with 9 humans on board !
HTV-8 delivers 4 tons of science and supplies including critical new batteries for the stations power supply loaded on board.  
Using the station's 57-foot-long robotic arm, Canadarm2, Expedition 60 Flight Engineer Christina Koch of NASA, backed up by her
NASA crewmate Andrew Morgan, operated the arm from the station's cupola to capture the 12-ton spacecraft at 7:12 a.m. EDT (1112 GMT)  today as it approached from below. The vehicles were soaring 262 miles (422 kilometers) above Angola and southern Africa at the time of grappling. 
Flight Engineer Luca Parmitano of ESA (European Space Agency) assisted by monitoring HTV-8 systems during its approach to the station.
"What you all have done is a testament to what we can accomplish when international teams work together towards a common goal," Koch radioed back to NASA Mission Control in Houston.   "We're honored to have Kounotori on board, and look forward to a successful and productive mission together."
Robotic ground controllers then completed the installation of the Japan Aerospace Exploration Agency's Kounotori H-II Transfer Vehicle 8 (HTV-8) by maneuvering the arm and berthing the vehicle onto the Earth-facing side of the stations Harmony module at 10:09 a.m. EDT. 
All the operations were carried live on NASA TV.
On Wednesday, Sept. 25 a new multinational trio of space flyers aboard the Russian Soyuz MS-15 spaceship blasted off at 9:57 a.m. EDT (6:57 p.m. Kazakhstan time) from the Baikonur Cosmodrome in Kazakhstan with NASA astronaut Jessica Meir, Oleg Skripochka of the Russian space agency Roscosmos, and the first space traveler from the United Arab Emirates (UAE), Hazzaa Ali Almansoori. 
The orbiting outpost is now temporarily home to 9 humans from 4 countries for the next week !! – living and working peacefully in space cooperatively for all humanity.
The ISS is also now host to five visiting vehicles – including Japan's HTV-8 cargo craft with Russia's Progress 73 resupply ship and a trio of Soyuz crew ships; MS-12, MS-13 and MS-15.
The HTV-8 adventure began when the Japan Aerospace Exploration Agency (JAXA) H-IIB rocket carrying the cargo ship launched at 12:05 p.m. EDT Tuesday, Sept. 24 (1:05 a.m. Sept. 25 in Japan) from the Tanegashima Space Center in southern Japan.
The JAXA HTV-8 cargo freighter is packed with over four tons of crew supplies, station hardware and new science experiments. 
This is the 8th Japanese HTV resupply ship to launch to the ISS. Among the cargo are six new Lithium-ion batteries that will be swapped out for old nickel-hydrogen batteries as part of the ISS power supply system during astronaut spacewalks in October.

"Named Kounotori, meaning "white stork" in Japanese, the craft delivered six new lithium-ion batteries and corresponding adapter plates that will replace aging nickel-hydrogen batteries for two power channels on the station's far port truss segment. The batteries will be installed through a series of robotics and spacewalks the station's crew members will conduct later this year," said NASA.
"Additional experiments on board HTV-8 include an upgrade to the Cell Biology Experiment Facility (CBEF-L), a small-sized satellite optical communication system (SOLISS), and a payload for testing the effects of gravity on powder and granular material (Hourglass)."
Overall Almansoori is the 10th spaceflight participant – under contracts with Roscosmos – and the first since 2009. 
239 people from 19 countries have now visited the International Space Station.