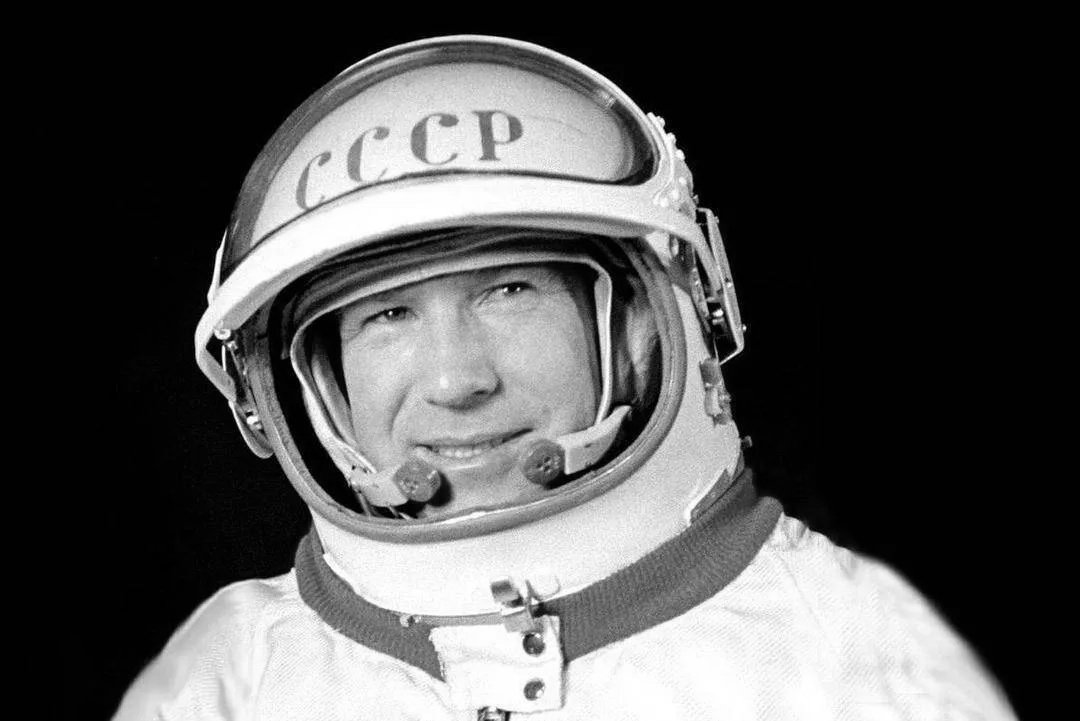 CAPE CANEVERAL, FL – Legendary Russian cosmonaut Alexei Leonov – the first human to walk in space – passed away on Friday, October 11 at the age of 85 after a long illness at the Burdenko military hospital in Moscow.
That first 12 minute long Extravehicular Activity, or EVA, conducted on March 18, 1965 on the Voshkod 2 mission -for what was then the Soviet Union – nearly killed him when his spacesuit ballooned in size and he barely was able to crawl back into the capsule and squirm his way back inside and close the hatch with his fellow cosmonaut Pavel Belyayev.
Leonov later flew again to space on another history making space spectacular when he commanded the Soyuz 19 mission that conducted the first link up in orbit with an American Apollo spaceship during the Apollo Soyuz Test Project mission in July 1975 – in the middle of the Cold War with the Soviet Union that represented a significant easing of tensions at least for a brief moment between the nuclear powered adversaries.
Altogether Leonov flew two space missions for the Soviet Union for a total of 7 days and 20 minutes.
He was among the first 20 cosmonauts selected for spaceflight training in 1960.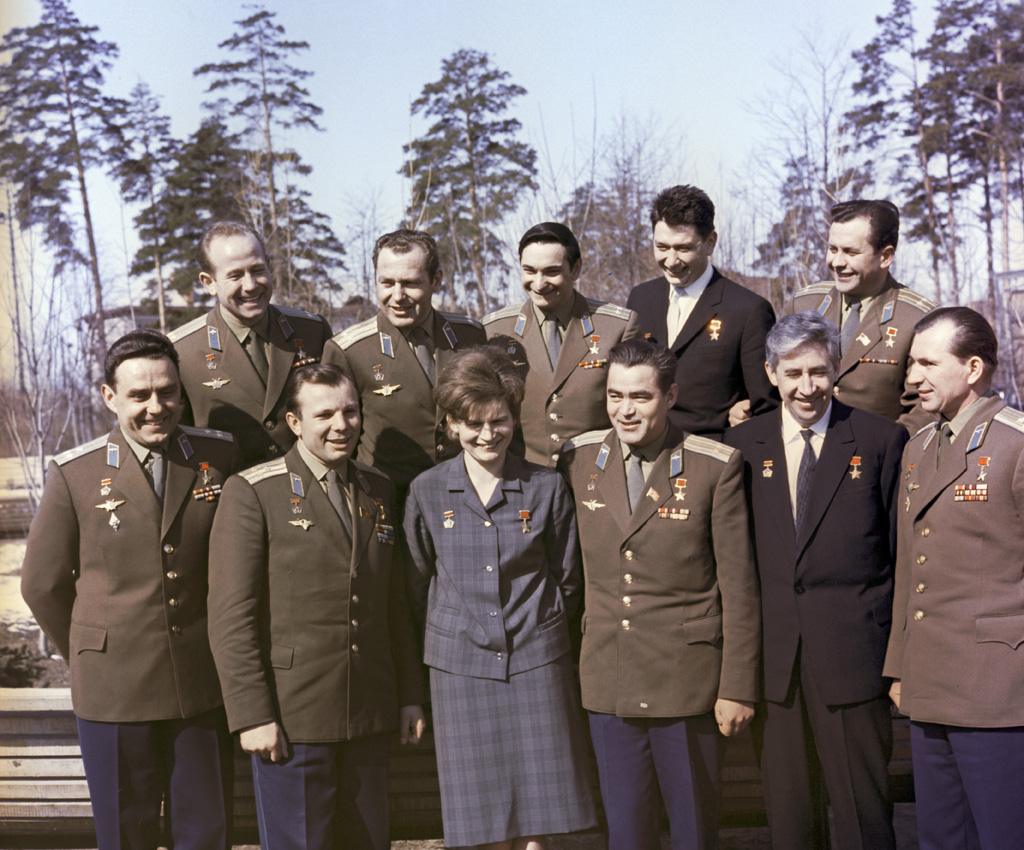 Soviet cosmonauts (front row, from left): Vladimir Komarov (Voskhod 1), Yuri Gagarin (Vostok 1), Valentina Tereshkova (Vostok 6), Andriyan Nikolayev (Vostok 3), Konstantin Feoktistov (Voskhod 1), Pavel Belyayev (Voskhod 2), second row: Alexey Leonov (Voskhod 2), Gherman Titov (Vostok 2), Valery Bykovsky (Vostok 5), Boris Yegorov (Voskhod 1), and Pavel Popovich (Vostok 4). Star City. Credit: Ria Novosti/ Alexander Mokletsov
"Roscosmos State Corporation is sad to announce the passing away of Alexey Arkhipovich Leonov," Roscosmos announced in a statement.
"The legendary Soviet cosmonaut No. 11 was the first human in the world to perform a spacewalk, was twice awarded with Hero of the Soviet Union title."
"One of the first cosmonauts of the world space era, Alexey Leonov was committed to his Motherland and his cause, his name is lettered in gold in the world space exploration history."
"Roscosmos State Corporation management and employees express deep condolences to the friends and relatives of Alexey Leonov. A telegram with condolences was sent to the friends and relatives on behalf of Roscosmos Director General Dmitry Rogozin"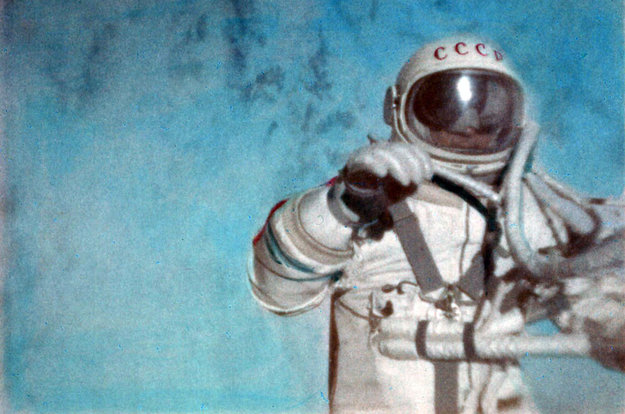 Two NASA astronauts were conducting a spacewalk outside the International Space Station (ISS) as new of Leonov's death was announced
Leonov was also an accomplished artist and lifelong friend to American astronauts following the ASTP mission – as well as beloved good will ambassador to the entire world for space and science and humanity working together peacefully.
"Legendary Roscosmos cosmonaut Alexey Leonov passed away on Oct. 11, 2019. He was 85 years old. Leonov was the first human to walk in space on March 18, 1965. His venture into the vacuum of space began the history of extravehicular activity. On Oct. 11, as a spacewalk was underway, astronauts on the International Space Station recognized and celebrated his accomplishments," NASA announced on Oct. 11.
"We're saddened by the loss of legendary @roscosmos cosmonaut Alexei Leonov who became the first human to walk in space on March 18, 1965. His venture into the vacuum of space began the history of extravehicular activity that makes today's @Space_Station maintenance possible," NASA tweeted.
During his dramatic 12 minute spacewalk the pressure inside his spacesuit increased and ballooned the suit so that he could not get back inside the capsule. So he decided to open a valve and relieve the pressure – a dangerous procedure that could cause the bends. But he had no alternative if he wished to live.
"Famously, Alexei displayed nerves of steel when his spacesuit expanded in the vacuum of space so much that he was unable to squeeze back into the spacecraft. Taking a hair-raising decision, he opened a valve on the suit to let enough air escape for him to enter the airlock. His spacewalk lasted only 12 minutes but proved that astronauts could work outside a spacecraft," ESA wrote in a statement.
NASA interviewed Leonov about the history making spacewalk in May 2014.
"In this May 2014 interview, Leonov relives the highlights of the spacewalk he conducted over 50 years ago — the first spacewalk in history — during an interview with NASA Public Affairs Officer Rob Navias. Leonov stepped out of his Voskhod 2 spacecraft on March 18, 1965 for a 12-minute spacewalk to test his spacesuit and maneuverability. He was followed two months later by American astronaut Edward White, who performed the first U.S. spacewalk in history during the Gemini 4 mission on June 3, 1965. Leonov went on to command the Soyuz 19 spacecraft that conducted the first docking with an American space vehicle — the Apollo spacecraft commanded by Thomas Stafford — during the historic Apollo-Soyuz Test Project in July 1975," according to a NASA statement.
Video Caption: Leonov stepped out of his Voskhod 2 spacecraft on March 18, 1965 for a 12-minute spacewalk to test his spacesuit and maneuverability. He was followed two months later by American astronaut Edward White, who performed the first U.S. spacewalk in history during the Gemini 4 mission on June 3, 1965. Leonov went on to command the Soyuz 19 spacecraft that conducted the first docking with an American space vehicle — the Apollo spacecraft commanded by Thomas Stafford — during the historic Apollo-Soyuz Test Project 40 years ago in July 1975. Credit: NASA
Stay tuned here for Ken's continuing Earth and Planetary science and human spaceflight news: www.kenkremer.com –www.spaceupclose.com – twitter @ken_kremer – email: ken at kenkremer.com