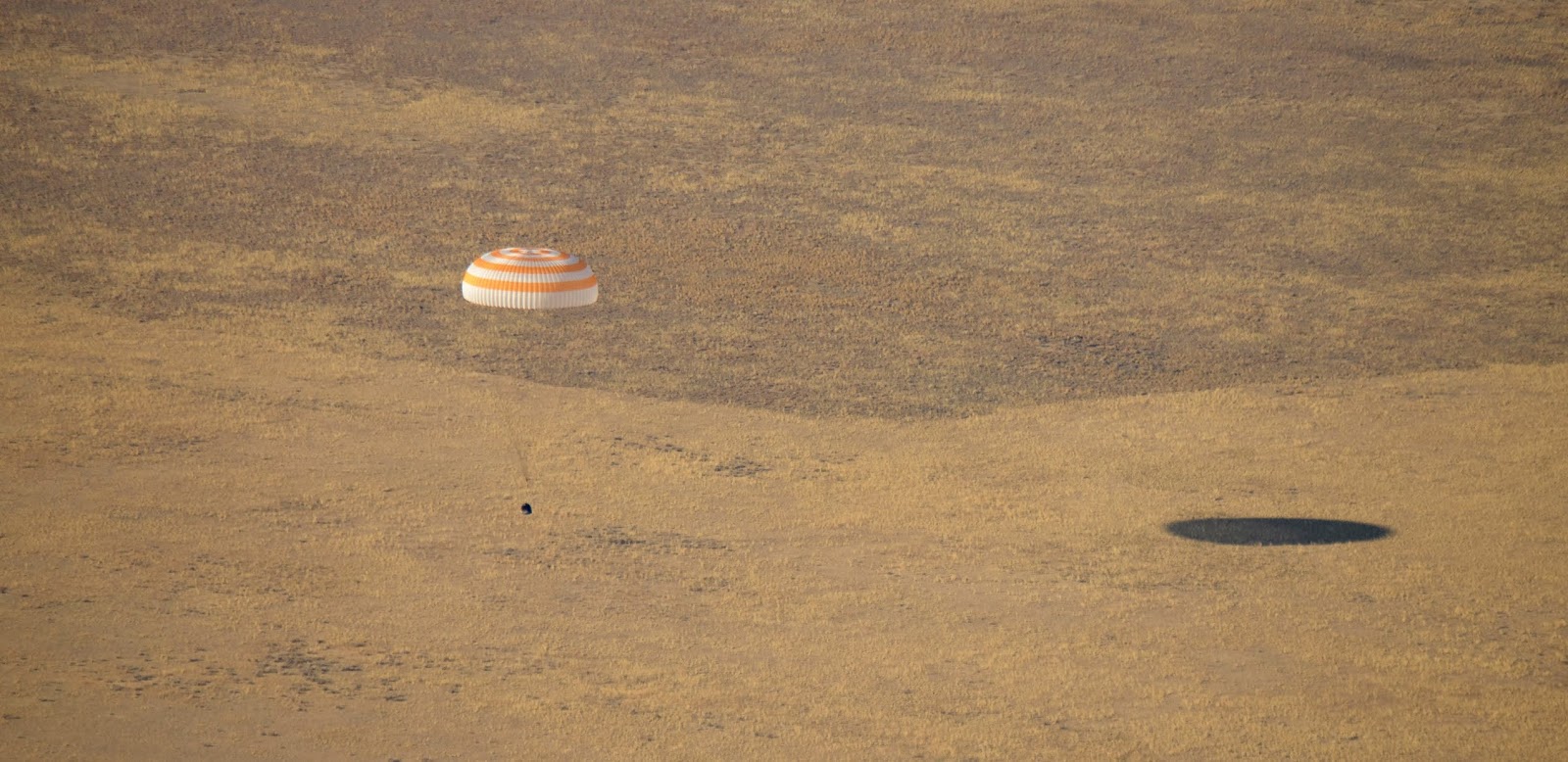 CAPE CANAVERAL, FL –

 

A multinational crew from the US, Russia and the UAE returned safely to Earth this morning, Thursday, Oct. 3, touching down safely in their Russian Soyuz capsule in the steppes of Kazakhstan just hours after a middle-of-the-night departure from the International Space Station (ISS)

 

– which briefly hosted 9 humans from 4 countries for the past week.
NASA astronaut
Nick Hague
returned to Earth from ISS Thursday, alongside Soyuz commander Alexey Ovchinin of the Russian space agency Roscosmos and visiting astronaut Hazzaa Ali Almansoori from the United Arab Emirates (UAE) inside their Soyuz MS-12 capsule. 
The three nation trio landed safely at 6:59 a.m. EDT in Kazakhstan
(1059 GMT, 4:59 p.m. local time) today

southeast of the remote town of Dzhezkazgan.



For Hague and Ovchinin the soft landing marked the end of their 203-day mission, during which they orbited Earth 3,248 times on a journey of some 86.1 million miles aboard the ISS where they served as members of Expeditions 59 and 60.
For Almansoori this landing capped his eight-day stay on board station that covered 128 orbits of Earth and 3.1 million miles since launching only last week Sept. 25 with NASA astronaut

Jessica Meir

and Oleg Skripochka of Roscosmos on the Soyuz MS-15 crew ship.
All three were healthy and quickly extracted from their Soyuz capsule by Russian recovery forces. The Soyuz had tipped on its side upon landing.
The departure and landing marked the official conclusion to Expedition 60.
Watch this NASA TV video showing the final moments leading to touchdown: 
Video Caption: NASA astronaut

Nick Hague

returned to Earth from the International Space Station Thursday, alongside station commander Alexey Ovchinin of the Russian Space Agency Roscosmos and visiting astronaut Hazzaa Ali Almansoori from the United Arab Emirates (UAE) at 6:59 a.m. EDT (4:59 p.m. local time) Oct. 3, 2019.  Credit: NASA TV
The Soyuz MS-12 spacecraft had undocked as scheduled from the ISS overnight at 3:37 a.m. EDT after hatch closure three hours earlier.
6 crew members remain on the ISS starting now as Expedition 61.

T

he crew consists of NASA astronauts

Christina Koch

,

Jessica Meir

and

Andrew Morgan

as well as cosmonauts Alexander Skvortsov and Oleg Skripochka of Roscosmos.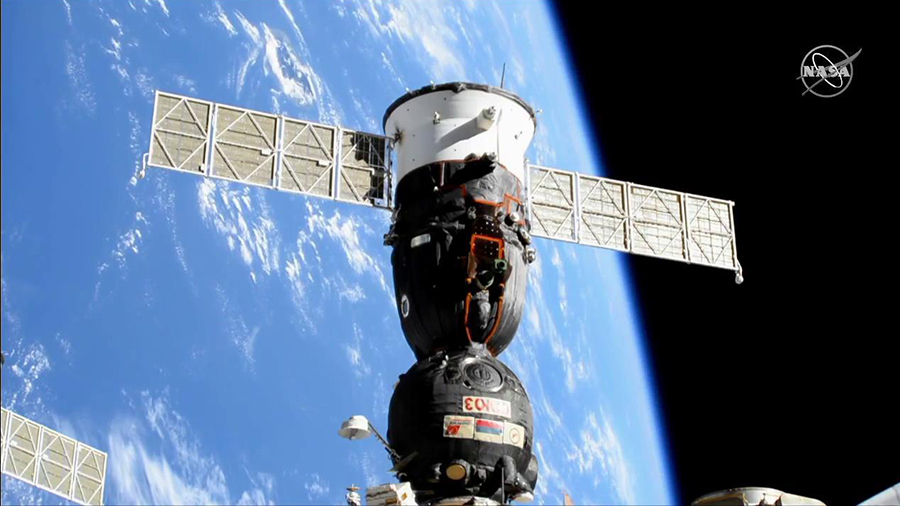 Hague and Ovchinin had launched together aboard the Soyuz MS-12 spaceship earlier this year on March 14, along with fellow NASA astronaut Christina Koch who rounded out the trio.
They arrived at the orbiting outpost after a four-orbit and six-hour trip and docked at the ISS to started their nearly seven month stay. 
"Koch remains aboard the orbiting laboratory for an extended mission that will provide researchers the opportunity to observe effects of long-duration spaceflight on a woman in preparation for human missions to the Moon and Mars," says NASA. 
The March liftoff was the second one together for Hague and Ovchinin who had previously flown together on an abbreviated mission in October 2018 on the Soyuz MS-10 spaceship, cut short by a technical problem that triggered an ascent abort minutes after launch and a safe landing back on Earth.
Almansoori made history as he became the first person from the UAE to fly in space his mission as the first astronaut from the UAE.
After post-landing medical checks, Hague will return to Houston, and Ovchinin and Almansoori will return to Star City, Russia.
Further details from NASA:
The Expedition 60 crew contributed to hundreds of experiments in biology, biotechnology, physical science and Earth science, including investigations into devices that mimic the structure and function of human organs, free-flying robots, and an instrument to measure Earth's distribution of carbon dioxide.
Hague conducted three spacewalks during his mission, totaling 19 hours and 56 minutes. Ovchinin conducted one spacewalk lasting 6 hours and 1 minute during his mission.
Hague's first two spacewalks in March continued the overall upgrade of the station's power system with newer, more powerful lithium-ion batteries for the power channel on one pair of the station's solar arrays. During his third spacewalk, he and NASA astronaut Andrew Morgan successfully installed the second of two international docking adapters that Boeing CST-100 Starliner and SpaceX Crew Dragon commercial crew spacecraft will use to connect to the space station.
Hague completes his second flight in space totaling 203 days, while Ovchinin has now spent 375 days in space during three flights. 
---
Just last Wednesday, Sept. 25, the latest new multinational trio of space flyers launched aboard the Russian Soyuz MS-15 spaceship which blasted off at 9:57 a.m. EDT (6:57 p.m. Kazakhstan time) from the Baikonur Cosmodrome in Kazakhstan with NASA astronaut Jessica Meir, Oleg Skripochka of the Russian space agency Roscosmos, and the first space traveler from the United Arab Emirates (UAE), Hazzaa Ali Almansoori.
The orbiting outpost was temporarily home to 9 humans from 4 countries for the next week !! – living and working peacefully in space cooperatively for all humanity.
The ISS was host to five visiting vehicles – including Japan's HTV-8 cargo craft with Russia's Progress 73 resupply ship and a trio of Soyuz crew ships; MS-12, MS-13 and MS-15. 
Overall Almansoori is the 10th spaceflight participant – under contracts with Roscosmos – and the first since 2009.
239 people from 19 countries have now visited the International Space Station.