For SpaceUpClose.com & RocketSTEM
PORT CANAVERAL, FL – The first ever quadruply launched & landed Falcon 9 first stage booster sailed safely and proudly into Port Canaveral Friday, Nov. 15 at sunrise despite gloomy skies and rough seas that scrubbed the simultaneous attempt by SpaceX duo of special fairing catching ships to recover the first ever re-flown payload fairings encapsulating the next generation payload stack recycled to the second batch of 60 SpaceX Starlink broadband satellites – four days after blast off on a beautiful Veterans Day Monday morning, Nov. 11.
The booster arrival continues a string of multiple truly historic milestones in spaceflight soaring aloft from the Florida Space Coast.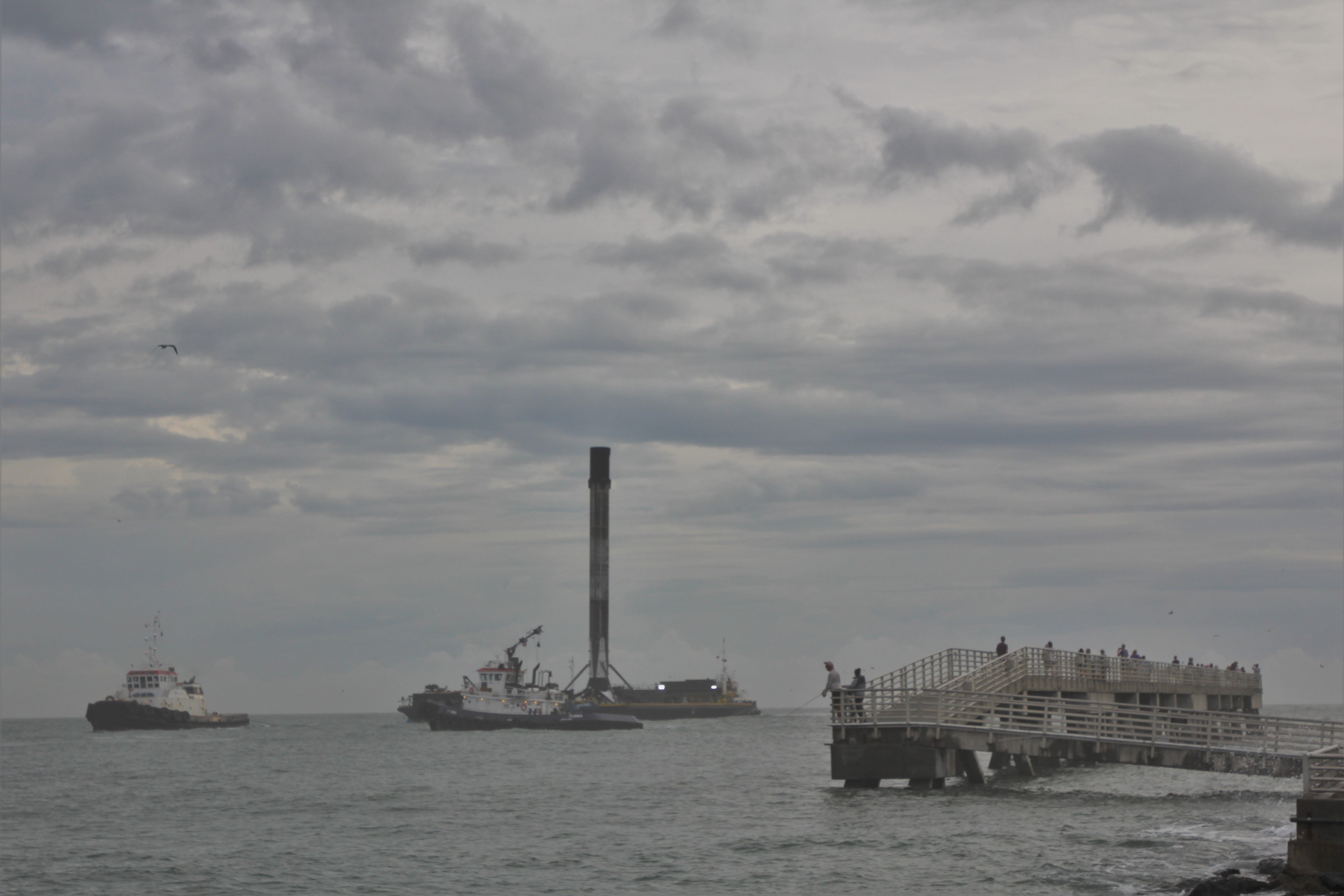 Standing fully upright and firmly grasped by the arms of the specially designed Octagrabber restraining device atop the "Of Course I Still Love You" (OCISLY) droneship upon which it accomplished a precision guided, rocket assisted smooth touchdown the recovered 156 foot tall spent booster with four fully deployed landing legs sailed into the mouth of Port Canaveral at Jetty Park Pier around 7:30 a.m. EST Nov. 15.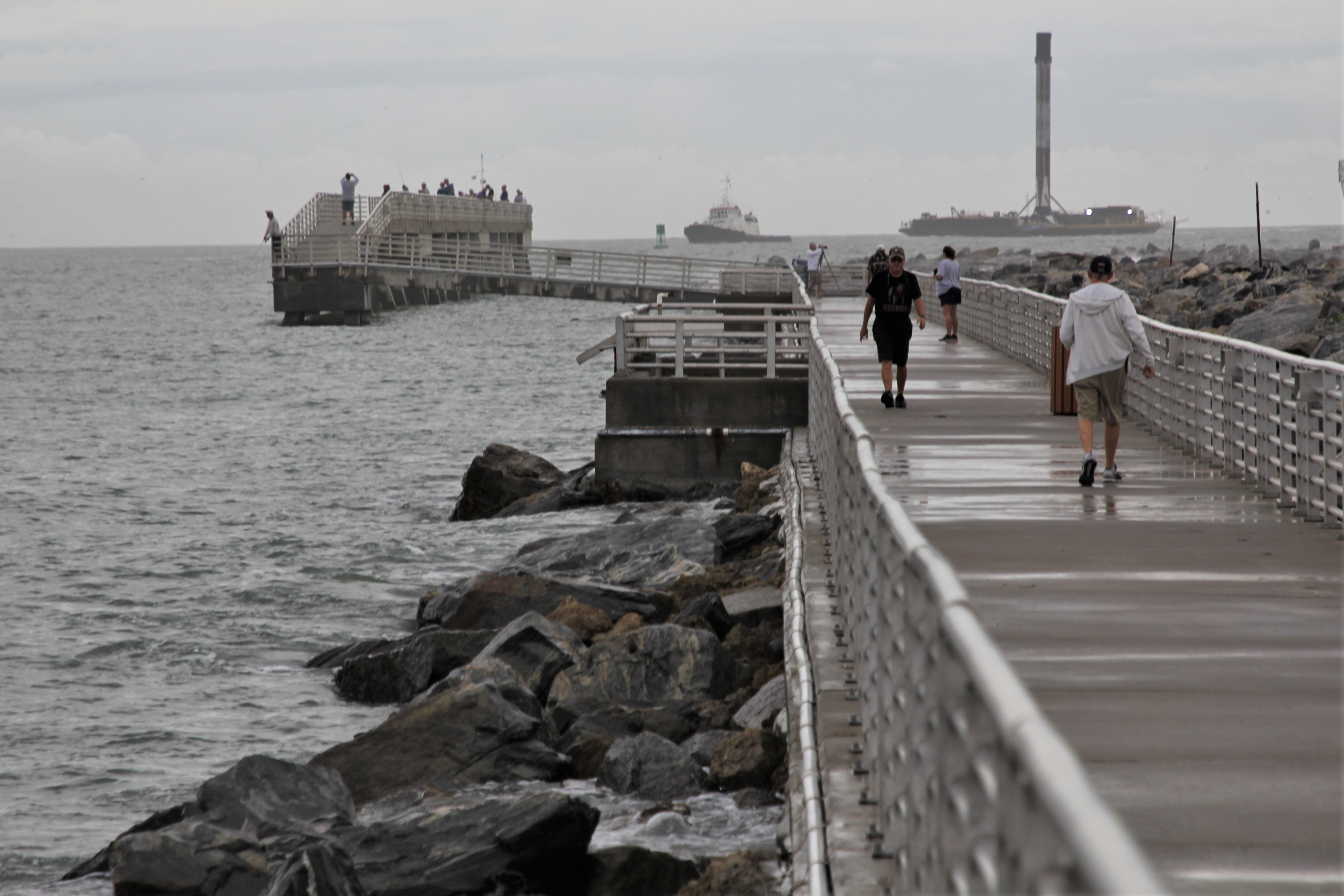 A crowd of onlookers and space media friends eagerly awaited the rockets triumphant arrival as the SpaceX naval fleet led by tug Hawk towed the recycled Falcon 9 first stage erect on OCISLY past the port channels entryway at Jetty Park Pier.
Enjoy our Space UpClose photo gallery of the arrival and docking of Falcon 9 booster 1048.4 at the droneships normal northside berthing port.
Check back as our gallery grows.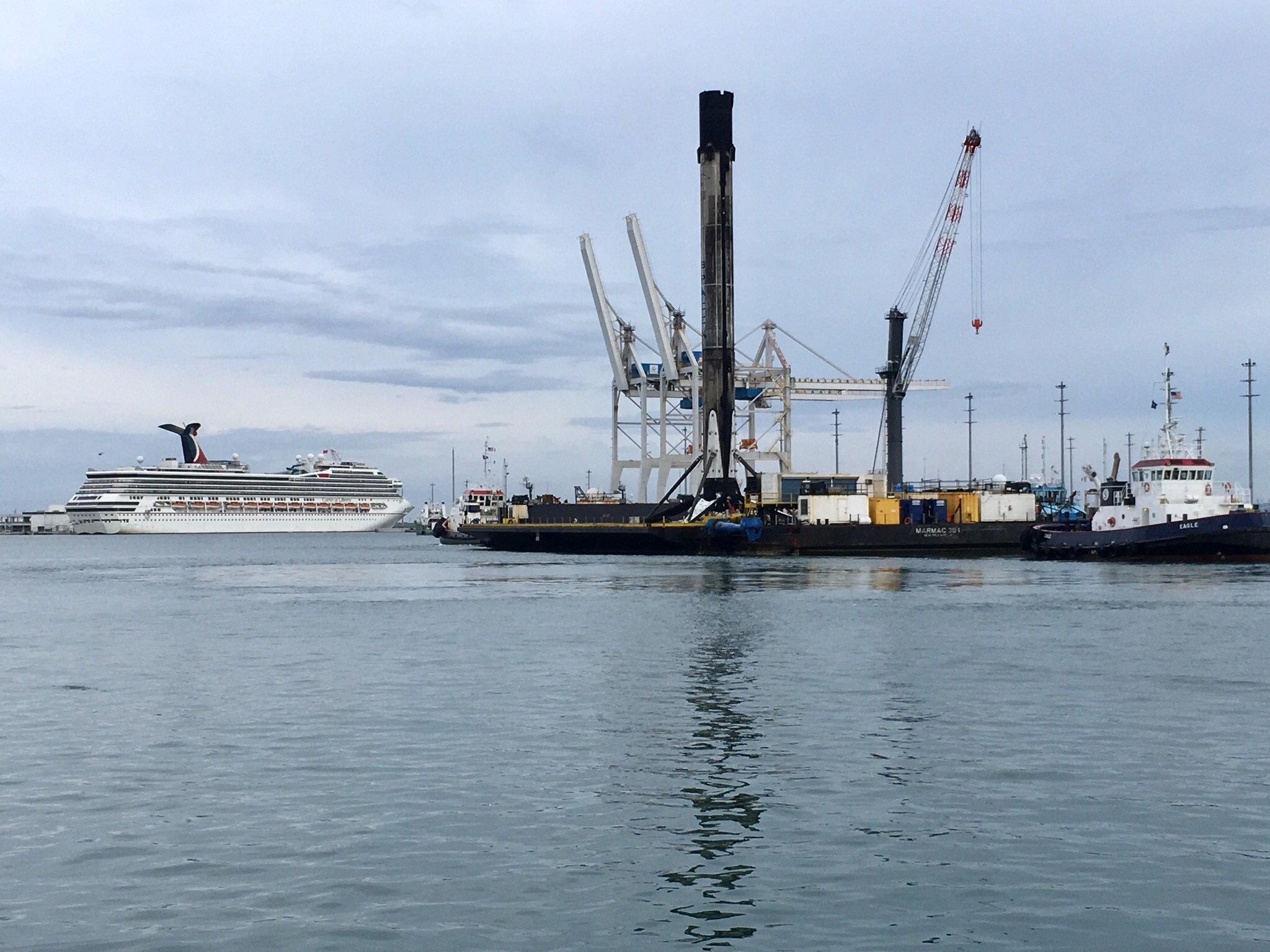 Liftoff of the Starlink mission took place at 9:56 a.m. EST (1456 GMT) during an instantaneous launch window Monday, Nov 11 from Space Launch Complex-40 (SLC-40) on Cape Canaveral Air Force Station, FL.
This Starlink mission counts as the heaviest ever payload lofted by a Falcon 9.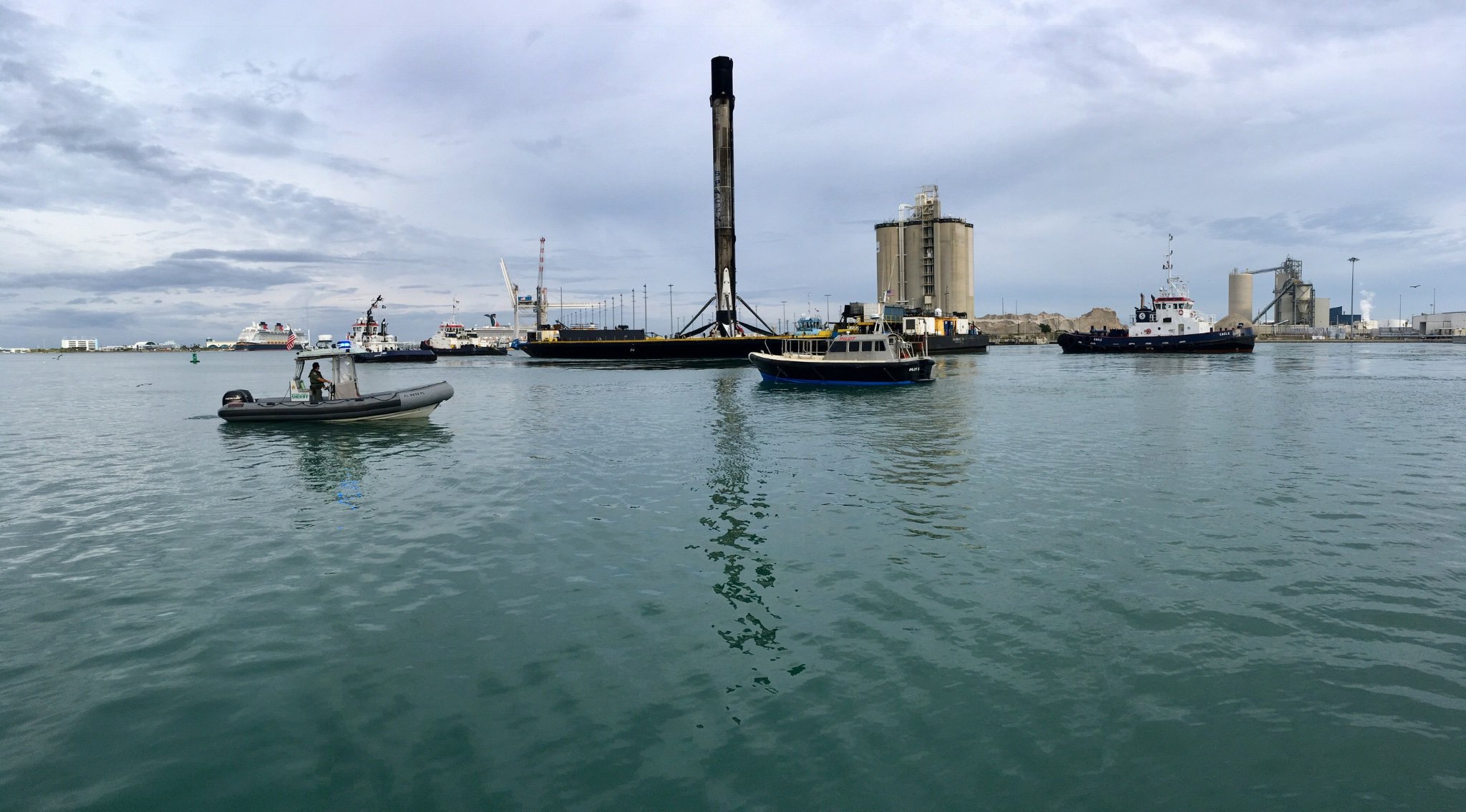 Eight minutes later the Falcon 9 first stage successfully made a precision rocket assisted intact and upright touchdown on the 'Of Course I Still Love You' droneship prepositioned in the Atlantic Coast off the Carolinas.
This marks the fourth successful launch and landing for the first stage booster – thus setting the stage for a fifth mission.
These upgraded Block 5 Falcon 9 first stages are designed for 10 launches with minimal refurbishment says Musk.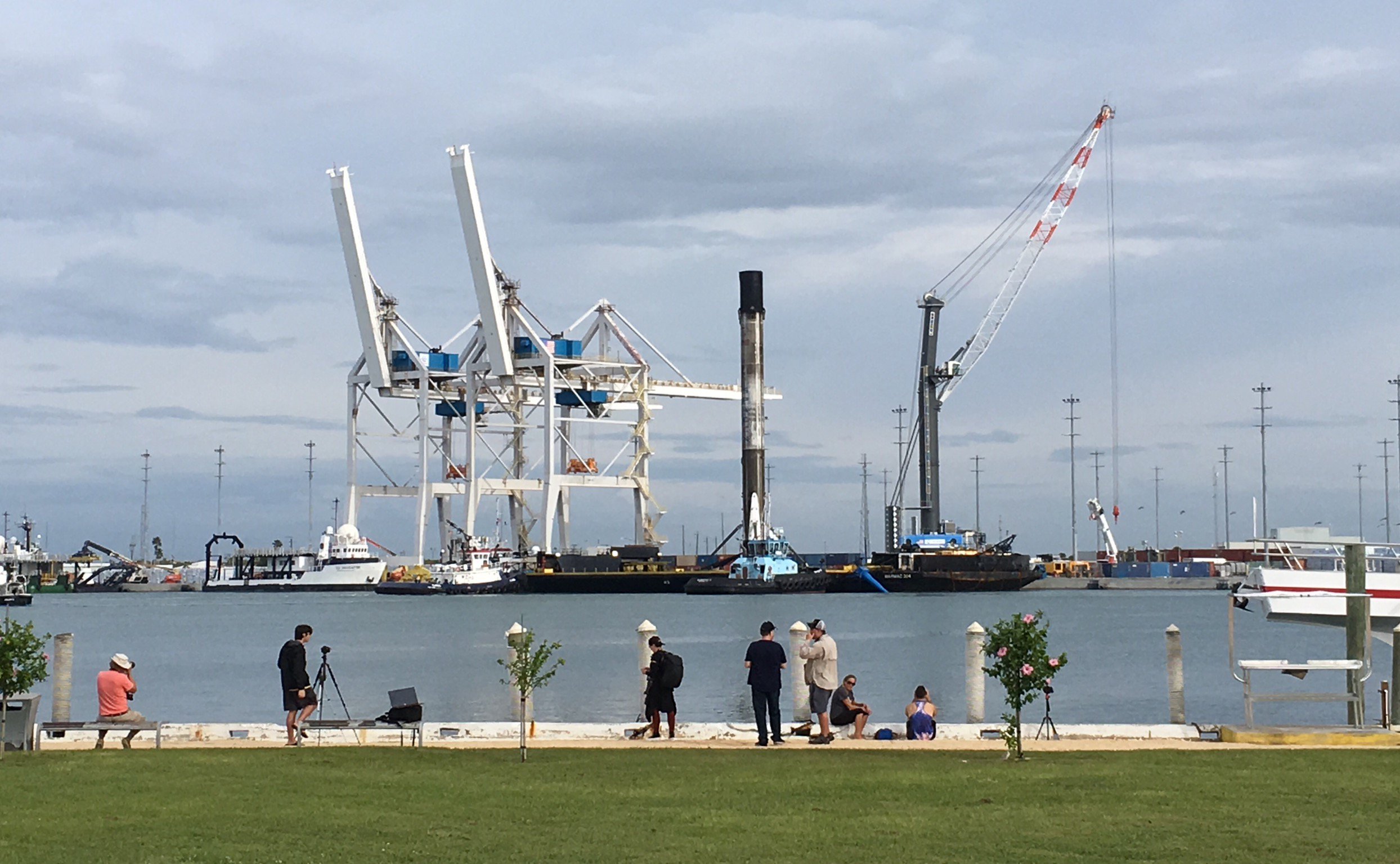 Falcon 9's first stage previously supported the Iridium-7, SAOCOM-1A, and Nusantara Satu comsat/Beresheet moon landing missions.
To my eyes the quadruply launched and landed first stage was NOT excessively charred compared to my prelaunch photos taken at launch pad 40.
SpaceX already announced during their launch webcast that the team hopes to launch this Block 5 recycled 'flight-proven' booster a fifth time at some point in the future.
Overall it took about 45 minutes from Port arrival to docking of OCISLY at its normal berthing port. Everything appeared to go very well.
Watch for my follow-up articles and galleries about the craning and landing leg retraction work.
SpaceX's highly anticipated Starlink broadband constellation now begins to grow in orbit as the satellite deployments took place as planned starting approximately an hour after blastoff.
The recycled Falcon 9 rocket streaked to orbit under a mix of sunny and cloudy but serene skies to begin the build out of what could eventually amount to a constellation of tens of thousands of next generation of satellites that will revolutionize the way the world accesses and uses the internet in the next few years by slashing prices and broadening coverage to hard to reach places across the globe.
At least that's the hope and dream of put forth by SpaceX CEO and billionaire founder Elon Musk for his planned network of Low Earth orbiting (LEO) Starlink satellites that will eventually number in the thousands and thousands to provide global high speed broadband internet services to customers worldwide.
"Starlink is a next-generation satellite network capable of connecting the globe, especially reaching those who are not yet connected, with reliable and affordable broadband internet services," says SpaceX.
The Starlink satellites are manufactured by SpaceX – as well the rockets.
The constellation could eventually number over 20,000 or more satellites in low earth orbit.
"The Starlink satellites will deploy at an altitude of 280 km. Prior to orbit raise, SpaceX engineers will conduct data reviews to ensure all Starlink satellites are operating as intended. Once the checkouts are complete, the satellites will then use their onboard ion thrusters to move into their intended orbits."
The rocket hardware recovery, recycling and reuse is all done by CEO Elon Musk and team in the name of driving down the high cost of access to space and thereby simultaneously cast expand our access.
SpaceX has relaunched several recovered 1st stage boosters on a third mission to space but this was the first ever fourth mission.
SpaceX CEO Elon Musk has made rocket recycling a top priority in order to slash launch costs.
Musk says that the fairings cost approximately $6 million or roughly 10% of the approximate cost of $60 million for a new Falcon 9 rocket.
This marks the first launch by SpaceX since August 6 and will be their 11th of 2019.
The two stage Falcon 9 rocket stands 229 feet (70 meters) tall.
Stay tuned here for Ken's continuing Earth and Planetary science and human spaceflight news: www.kenkremer.com –www.spaceupclose.com – twitter @ken_kremer – email: ken at kenkremer.com
Dr. Kremer is a research scientist and journalist based in the KSC area, active in outreach and interviewed regularly on TV and radio about space topics.
………….
Ken's photos are for sale and he is available for lectures and outreach events
Ken's upcoming outreach events:
Nov 23, 1 PM, Titusville, FL: "50th Anniversary Apollo 12 and NASA's Human Return to the Moon with Project Artemis" at American Space Museum, Titusville, FL. Lecture free. Open to the public.
Website: www.spacewalkoffame.org
www.spacewalkoffame.org/event/cosmic-christmas-yard-sale-and-apollo12-50th
Dec 3/4: 7 PM, Quality Inn Kennedy Space Center, Titusville, FL. "SpaceX CRS-19 Launch to ISS Dec 4." Free in hotel lobby