For SpaceUpClose.com & RocketSTEM
TITUSVILLE, FL- SpaceX engineers completed a lunchtime static fire test of their Falcon 9 rocket today Tuesday, Nov. 5 on Cape Canaveral and are now targeting Monday morning Nov. 11 for launch of the second batch of 60 Starlink broadband satellites to LEO – the mission also marks a major new milestone in rocket recycling by featuring the first time use of a reused payload fairing as well as a reused first stage booster.
The brief hold down hotfire test of the SpaceX Falcon 9 first stage rocket and engines raised vertical took place today at approximately 12:30 p.m. EST on Space Launch Complex-40 (SLC-40) on Cape Canaveral Air Force Station, FL under stormy skies on Florida's Space Coast.
The hold down engine test with the erected Falcon 9 rocket involved the brief ignition of all nine Merlin 1D first stage engines for several seconds generating some 1.7 million pounds of thrust at pad 40 while the two stage rocket was restrained on the pad.
Enjoy our photos of the static fire test witnessed by Space UpClose from across the Indian River in Titusville, FL.
Liftoff of the Starlink 1 mission is now targeted for 9:51 a.m. EST (1451 GMT) Monday, Nov 11 from Space Launch Complex-40 (SLC-40) on Cape Canaveral Air Force Station, FL.
The 11-minute launch window extends to approximately 10:02 a.m. EST.
The long range Space Coast weather looks promising at this point – but could change at any time.
This marks the first launch by SpaceX since August 6 and will be their 11th of 2019.
"Static fire test of Falcon 9 complete—targeting 11/11 for launch of 60 Starlink satellites from Pad 40 in Florida," SpaceX tweeted soon after completion of the Nov. 5 static fire test – thereby confirming a successful test firing enabling SpaceX to go forward with the launch.
Following the test SpaceX further confirmed that the payload fairing encapsulating the 60 Starlink satellites will be recycled from one previously flown on the Falcon Heavy Arabsat-6A mission earlier this year on April 11 that was recovered after use.
Watch the cool video in the tweet showing the jettisoning of the fairings.
"The fairing supporting this mission previously flew on Falcon Heavy's Arabsat-6A mission."
The fairing supporting this mission previously flew on Falcon Heavy's Arabsat-6A mission pic.twitter.com/iTgqqtl1pW

— SpaceX (@SpaceX) November 5, 2019
The payload fairings were recovered from the sea waters off Florida after a parachute assisted splashdown in the Atlantic Ocean. Its not clear if just one or both of the fairings are being reused.
See our photos of the April 11 Arabsat 6A launch.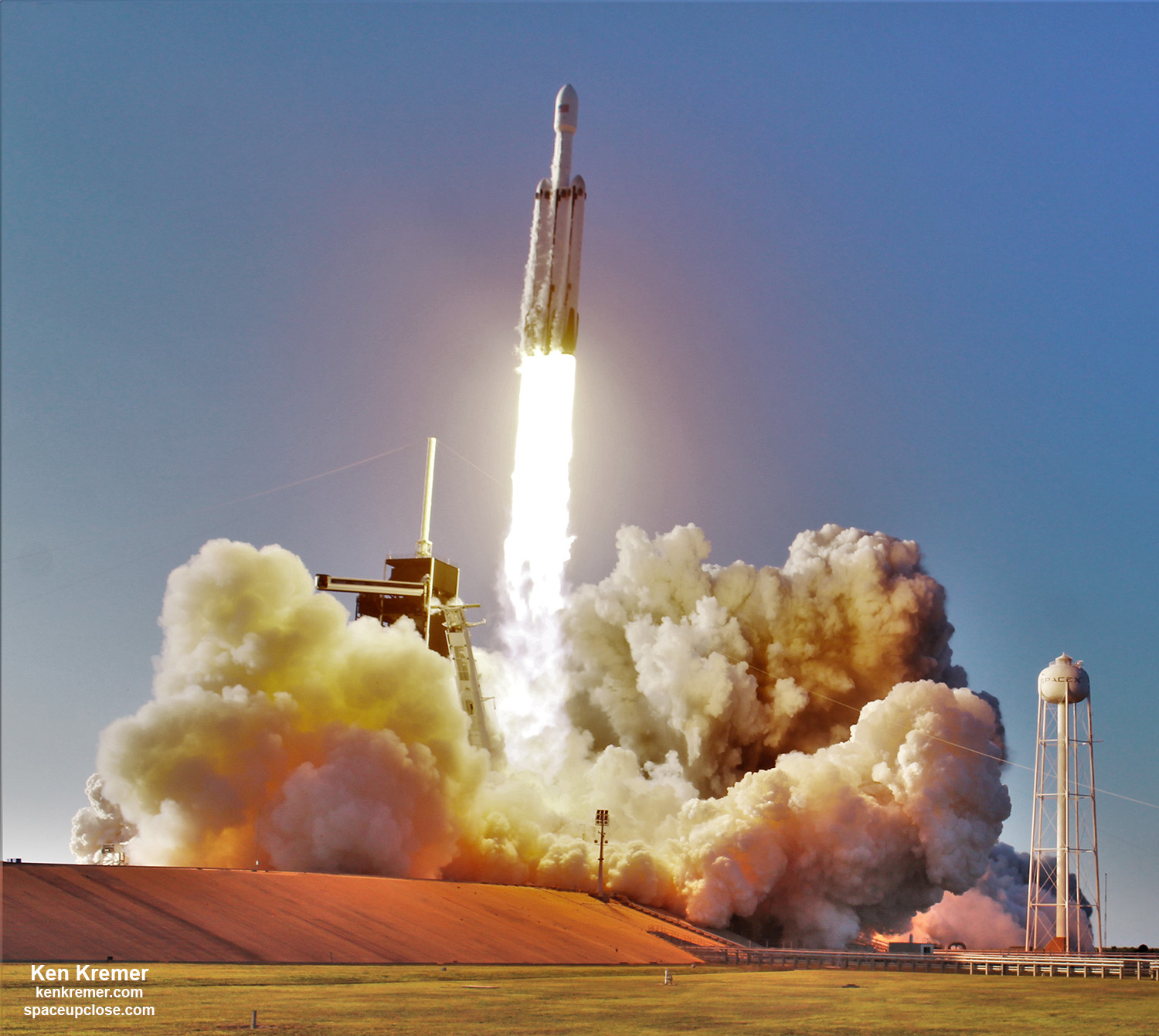 The Falcon 9 rocket was only rolled out and raised at pad 40 sometime overnight early Tuesday.
Unlike the first Starlink lunch in May the payload fairing was not attached for the test.
In the minutes leading up to the test I observed vigorous venting around 12:10 p.m. at the T Minus 20 minute mark and additional periods of venting in the final few minutes.
The hold down static fire test is routinely carried by SpaceX engineers to ensure all is ready with the rocket.
During the engine test all nine Merlin 1D first stage engines are briefly ignited for several seconds.
During Tuesday's hold down static fire test, the rocket's first and second stages are fueled with liquid oxygen and RP-1 propellants just like an actual launch, and a simulated countdown was carried out to the point of a brief engine ignition lasting around 3 seconds or so.
I did not hear the rockets engines ruble several seconds later as the vapor cloud dissipated.
If all goes well these 60 new Starlink satellites join the first batch of 60 launched in May.
"Starlink is a next-generation satellite network capable of connecting the globe, especially reaching those who are not yet connected, with reliable and affordable broadband internet services," says SpaceX.
The Starlink satellites are manufactured by SpaceX – as well the rockets.
The mission marks another milestone in that it involves the first time a recycled 1st stage Falcon booster will be launched for the fourth time.
SpaceX has relaunched several recovered 1st stage boosters on a third mission to space.
SpaceX CEO Elon Musk has made rocket recycling a top priority in order to slash launch costs.
Musk says that the fairings cost approximately $6 million or roughly 10% of the approximate cost of $60 million for a new Falcon 9 rocket.
Notably SpaceX is risking only their own satellites for this first time mission with reused fairings and boosters.
Presumably SpaceX will attempt to recover these fairings and booster as well.
SpaceX naval fleet now includes 2 fairing recovery ships outfitted with giant nets to attempt to catch both halves before they splash into the Atlantic – namely GO MS TREE and GO MS CHIEF.
The two stage Falcon 9 rocket stands 229 feet (70 meters) tall.
Stay tuned here for Ken's continuing Earth and Planetary science and human spaceflight news: www.kenkremer.com –www.spaceupclose.com – twitter @ken_kremer – email: ken at kenkremer.com
Dr. Kremer is a research scientist and journalist based in the KSC area, active in outreach and interviewed regularly on TV and radio about space topics.
………….
Ken's photos are for sale and he is available for lectures and outreach events
Ken's upcoming outreach events:
Nov 10: 7 PM, Quality Inn Kennedy Space Center, Titusville, FL. "SpaceX Starlink Launch Nov 11." Free in hotel lobby
Nov 23, 1 PM, Titusville, FL: "50th Anniversary Apollo 12 and NASA's Human Return to the Moon with Project Artemis" at American Space Museum, Titusville, FL. Lecture free. Open to the public.
Website: http://spacewalkoffame.org/event/cosmic-christmas-yard-sale-and-apollo12-50th