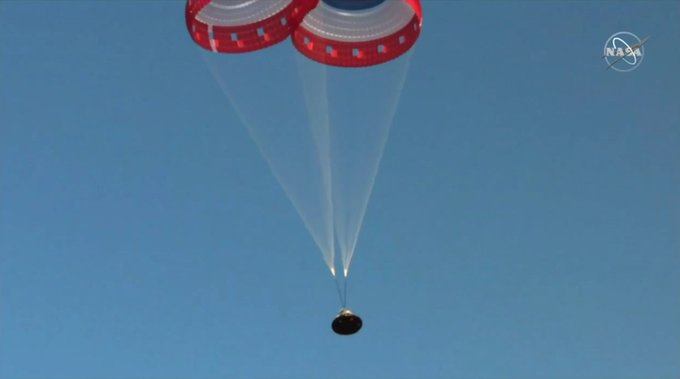 For SpaceUpClose.com & RocketSTEM
CAPE CANAVERAL, FL – Boeing completed a critical test of the emergency abort system for the Starliner commercial crew capsule that was mostly successful – except for an unexplained anomaly that resulted in 1 of 3 main landing parachutes failing to deploy during the Pad Abort Test carried out on Monday, November 4 by firing off a test stand in White Sands New Mexico in support of NASA's Commercial Crew Program to ferry our astronauts to the International Space Station (ISS).
At this time both Boeing and NASA say the test was successful and furthermore that the parachute deployment failure will not delay Boeing's next critical test flight – namely the planned Dec. 17 uncrewed launch of the Starliner crew vehicle. But a full analysis of the outcome will be conducted to determine the root cause of the failure and any impact on the upcoming flight schedule.
Surely before any crew flight test to the ISS is approved next year, Boeing will need to make robust, reliable and verifiable changes to prevent another parachute deployment failure.
The purpose of the Pad Abort Test is to demonstrate the spacecraft's ability to quickly escape the launch pad and save the astronauts lives in a split second in the event of a rocket emergency on the launch pad on launch day.
"Boeing's CST-100 Starliner spacecraft completed a critical safety milestone on Monday in an end-to-end test of its abort system. The Pad Abort Test took place at Launch Complex 32 at the U.S. Army's White Sands Missile Range in New Mexico," said NASA, which broadcast the event live on NASA TV.
"The test was designed to verify each of Starliner's systems will function not only separately, but in concert, to protect astronauts by carrying them safely away from the launch pad in the unlikely event of an emergency prior to liftoff."
The test began at 9:15 a.m. EST (7:15 a.m. MST) with ignition of the vehicle's four launch abort engines known as LAEs and several orbital maneuvering and attitude control system engines known as OMACs that pushed the spacecraft away from the stand with a combined 160,000 pounds of thrust.
"The orbital maneuvering and attitude (OMAC) thrusters kick in simultaneously with LAE ignition to maneuver the spacecraft into the proper orientation for parachute deployment."
"Five seconds into flight, the abort engines shut off as planned, transferring steering to the control thrusters for the next five seconds."
The thrusters then carried out a fast pitcharound maneuver to rotate the spacecraft around and into position for landing as it neared its peak altitude of approximately 4,500 feet.
"Tests like this one are crucial to help us make sure the systems are as safe as possible," said Kathy Lueders, NASA's Commercial Crew Program manager. "We are thrilled with the preliminary results, and now we have the job of really digging into the data and analyzing whether everything worked as we expected."
This was Boeing's first flight test as part of NASA's Commercial Crew Program and will help evaluate the performance of the abort system prior to missions to the International Space Station with a crew onboard.
The short but action packed test only lasted about 95 seconds from launch to landing on the desert ground.
It concluded a short time later with a soft touchdown of Starliner on a cushion of six inflated airbags on the desert grounds descending under two main parachutes – instead of the three parachutes planned after one failed to deploy.
The two Starliner main parachutes deployed just under half a minute into the test, and the service module separated from the crew module as planned a few seconds later and plummeted to the ground.
After one minute, the heat shield was released and airbags inflated.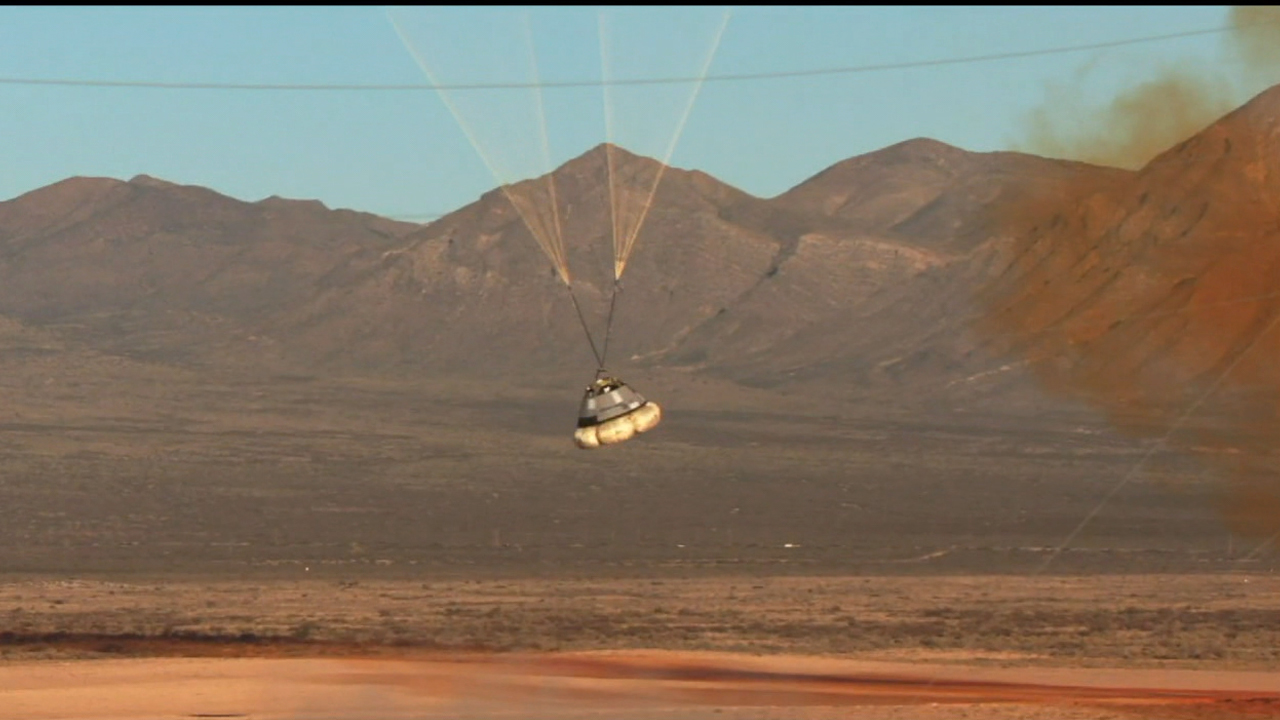 "Today's pad abort test was a milestone achievement for our CST-100 Starliner team, for NASA, and for American human spaceflight," Boeing said in a post-test statement to Space UpClose.
"We will review the data to determine how all of the systems performed, including the parachute deployment sequence. We did have a deployment anomaly, not a parachute failure."
Boeing and NASA further stated that having only two parachutes deploy was within the acceptable testing parameters.
"It's too early to determine why all three main parachutes did not deploy, however, having two of three deploy successfully is acceptable for the test parameters and crew safety," said Boeing.
"At this time we don't expect any impact to our scheduled Dec. 17 Orbital Flight Test. Going forward we will do everything needed to ensure safe orbital flights with crew."
"Although designed with three parachutes, two opening successfully is acceptable for the test parameters and crew safety," NASA stated.
The parachutes must deploy for the astronauts to land safely.
Early in the Space Age a Russian cosmonaut, Vladimir Komarov, was killed on return of the Soyuz 1 mission in 1967 when the parachutes failed to deploy and became entangled during the descent and the capsule crashed at high speed into the ground.
The vehicle reached an altitude of about 4,500 feet above the ground landed about 7,000 feet (about 1 mile) north of the test stand.
The test was delayed about 15 min from the initially targeted time of 9 a.m.
The pad abort test was conducted with a 16.5 foot tall (5-meter) test version of the Boeing's CST-100 Starliner spacecraft and its service module – quite similar to the flight vehicles but missing some critical systems like life support and display panels not needed for this test.
The Starliner test vehicle fired off a test stand while sitting atop the structure.
The test stand was built for and preciously used by the Orion deep space capsule team for a similarly purposed Pad Abort test flight carried out in 2010.
Watch my commentary at Fox 35 TV News Orlando about the outcome of the Pad Abort Test:
https://www.fox35orlando.com/news/boeing-capsule-abort-test-successful-despite-third-parachute-gaffe
Under the current schedule NASA has officially announced that the launch of Boeing's Starliner spacecraft on a United Launch Alliance (ULA) Atlas V rocket is targeted for Dec. 17 from Space Launch Complex 41 at Cape Canaveral Air Force Station (CCAFS) in Florida.
No astronauts will be flying aboard the mission dubbed OFT or Orbital Test Flight since its serving as a proving ground to test out all the spacecraft systems and ensure its safe to fly our precious human astronauts.
The Boeing Starliner uncrewed OFT launch with no astronauts aboard will serve as a full dress rehearsal test flight to the ISS and back.
If all goes well with OFT then NASA and Boeing will work towards launch of the first Starliner mission with astronauts aboard on the CFT or Crew Flight Test mission – that could blastoff as soon as Spring 2020.
The goal of the Commercial Crew Program is to end our 100% reliance on the Russian Soyuz capsule for launches to the ISS at a cost of more than $80 million per astronaut seat.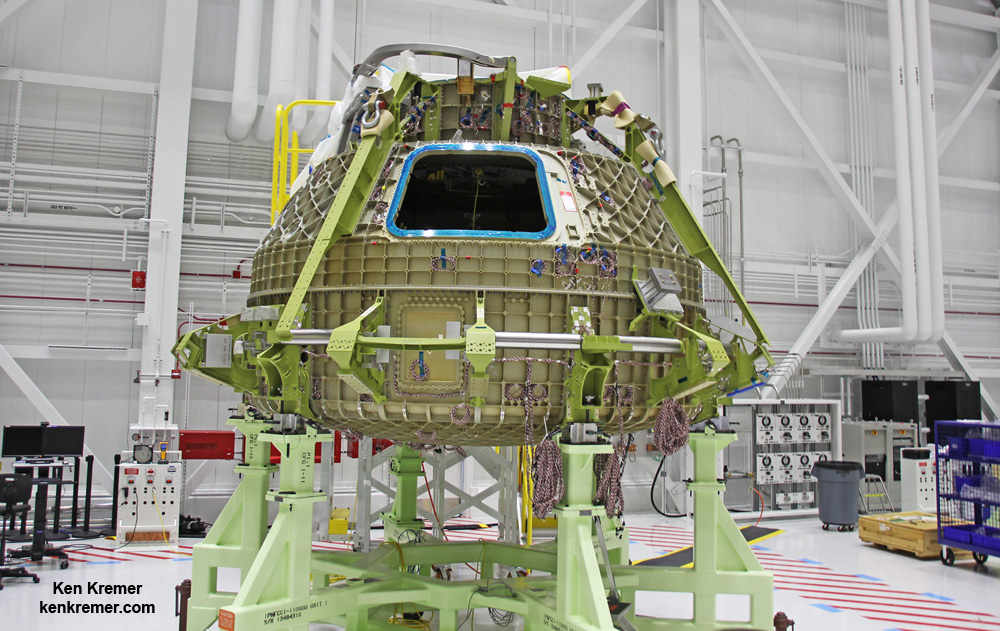 Starliner is being manufactured by Boeing at the Kennedy Space Center nearby the Vehicle Assembly Building in the Commercial Crew and Cargo Processing Facility (C3PF) facility formerly used to process NASA's space shuttles.
The Boeing Starliner commercial crew vehicle will launch on a ULA Atlas V rocket augmented with two solid rocket boosters on astronaut ferry flight to and from the ISS for NASA.
Stay tuned here for Ken's continuing Earth and Planetary science and human spaceflight news: www.kenkremer.com –www.spaceupclose.com – twitter @ken_kremer – email: ken at kenkremer.com
Dr. Kremer is a research scientist and journalist based in the KSC area, active in outreach and interviewed regularly on TV and radio about space topics.
………….
Ken's photos are for sale and he is available for lectures and outreach events
Upcoming events:
Nov 10: 7 PM, Quality Inn Kennedy Space Center, Titusville, FL. "SpaceX Starlink Launch"
Nov 23, 1 PM, Titusville, FL: "50th Anniversary Apollo 12 and NASA Return to the Moon with Project Artemis" at American Space Museum, Titusville, FL. Lecture free. Open to the public.
Website: www.spacewalkoffame.org