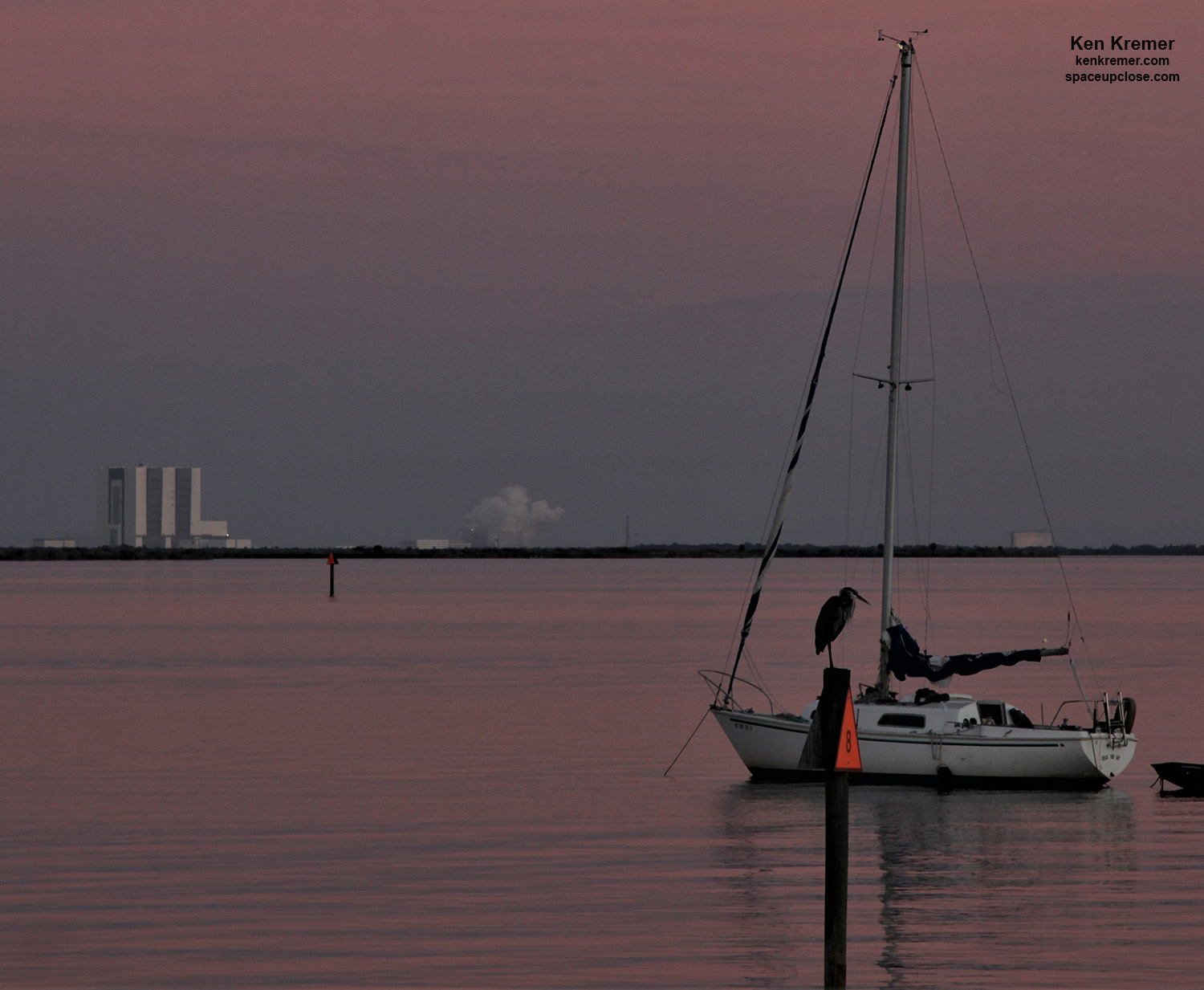 For SpaceUpClose.com & RocketSTEM
Titusville, FL- A successful static fire test at sunset this evening Nov. 26 by SpaceX just before the Thanksgiving holiday sets up a post-Thanksgiving commercial cargo resupply launch of science and supplies to the International Space Station (ISS) for NASA next week on Dec. 4 from the Florida Space Coast.
Right at the edge of darkness at sunset at 5:30 p.m. EST (2230 GMT) tonight Tuesday, Nov. 26, SpaceX engineers briefly ignited all 9 engines on their newly built Falcon 9 first stage booster for a hold down static fire test at Space Launch Complex-40 to affirm its readiness for launch next week Wednesday, Dec 4.
I watched the engine test from nearby in Titusville, Fl during the gorgeous sunset and observed an exhaust plume and vapor cloud emanating from the bottom of the booster that was easily visible and wafting overhead and starkly beautiful being in close proximity to the iconic Vehicle Assembly Building (VAB) from my perspective at the Max Brewer Bridge along the Indian River Lagoon, about 13 miles away.
Enjoy our Space UpClose wide and zoomed in eyewitness photos of the serene scene.
A sailboat was reflecting in the river as a pelican set atop and observed – unfazed by the powerful test.
I heard the rockets rumble and come to life distinctly with about 1.7 million pounds of thrust about 70 seconds after the engine ignition – which seemed to last about the normal time of some three seconds or so.
The vapor cloud swirled around and grew for perhaps 30 second before dissipating and disappearing in roughly a minute as daylight rapidly waned.
SpaceX confirmed a good outcome for the hotfire test by tweet about a half hour later – thereby paving the path to launch of the Dragon cargo ship on the CRS-19 mission to the ISS.
"Falcon 9 static fire test complete — targeting December 4 launch from Pad 40 in Florida for Dragon's nineteenth resupply mission to the @Space_Station," SpaceX tweeted at 6:04 p.m.
Falcon 9 static fire test complete — targeting December 4 launch from Pad 40 in Florida for Dragon's nineteenth resupply mission to the @Space_Station

— SpaceX (@SpaceX) November 26, 2019
SpaceX went on to say that the Dragon spaceship is recycled from two prior missions on the CRS-4 and CRS-11 commercial resupply launches.
Thus the cargo Dragon is launching for the third time – the maximum for which they are certified.
The Dragon spacecraft supporting this mission previously flew in support of our fourth and eleventh commercial resupply missions pic.twitter.com/P6ceGX9Pz1

— SpaceX (@SpaceX) November 26, 2019
SpaceX and NASA are now targeting liftoff of the Falcon 9 rocket launch with the unpiloted and recycled Dragon CRS-19 cargo ship from Space Launch Complex 40 at Cape Canaveral Air Force Station in Florida at 12:51 p.m. EST (1751 GMT) – that coincides with approximately the moment that Earth's rotation brings Cape Canaveral under the orbital plane of International Space Station.
The CRS-19 launch will be the 12th of the year for SpaceX.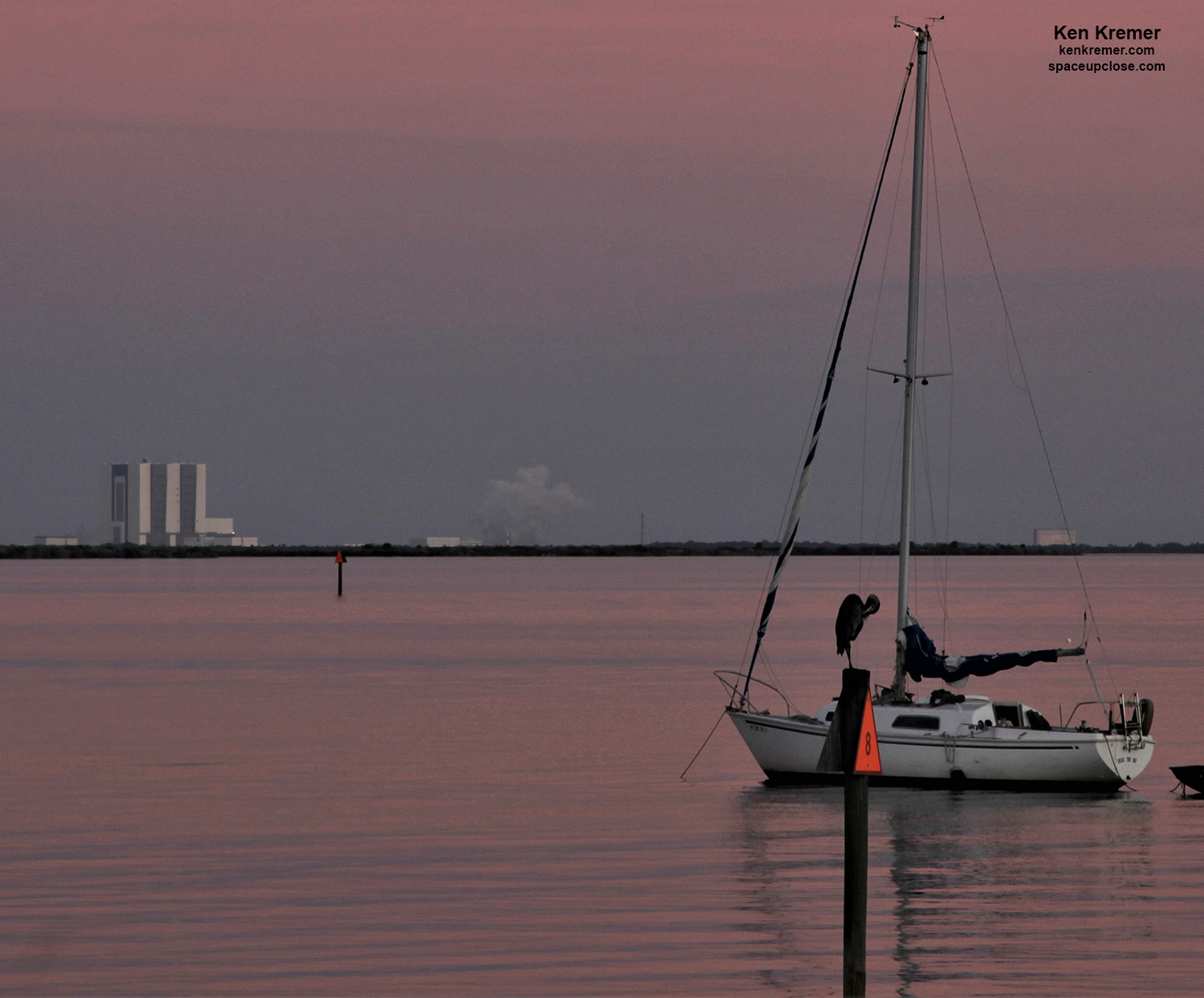 The window is 'instantaneous' meaning any delay for weather or technical reason forces a minimum 1 day scrub.
It is expected that SpaceX will attempt to recover and soft land the Falcon 9 first stage on the 'Of Course I Still Love You' (OCISLY) droneship about 8 minutes after liftoff.
Dragon CRS-19 marks SpaceX's 19th contracted cargo mission to the space station under the original commercial resupply services (CRS) contract with NASA.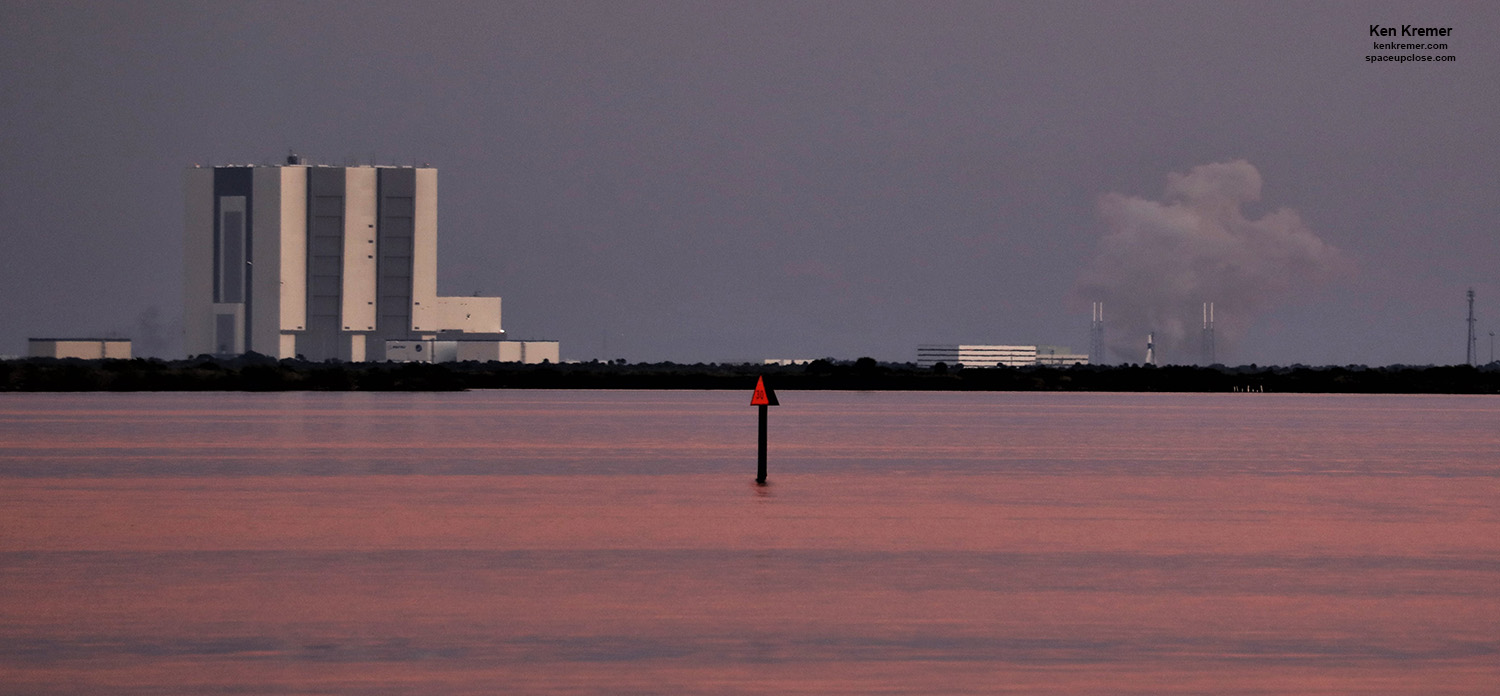 The Falcon 9 rocket comprising the first and second stages – but absent the Dragon cargo ship to keep it safe – was rolled out and raised vertical around 10 a.m. this morning.
See our raised Falcon 9 photos with a massive flock of birds swirling overhead – as seen from Titusville, Fl.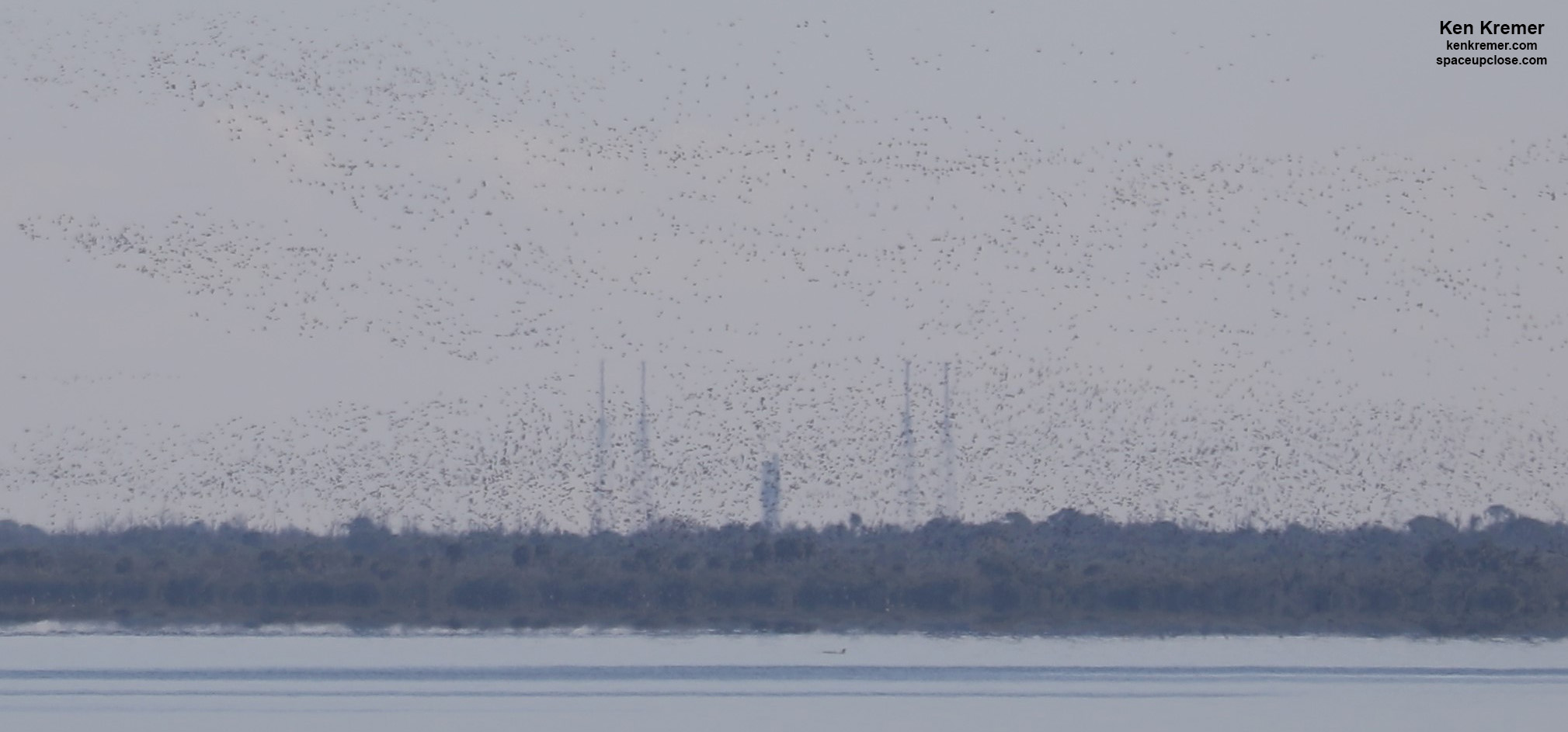 Vigorous venting of liquid oxygen was observed in the final minutes of the countdown to the test as is normal.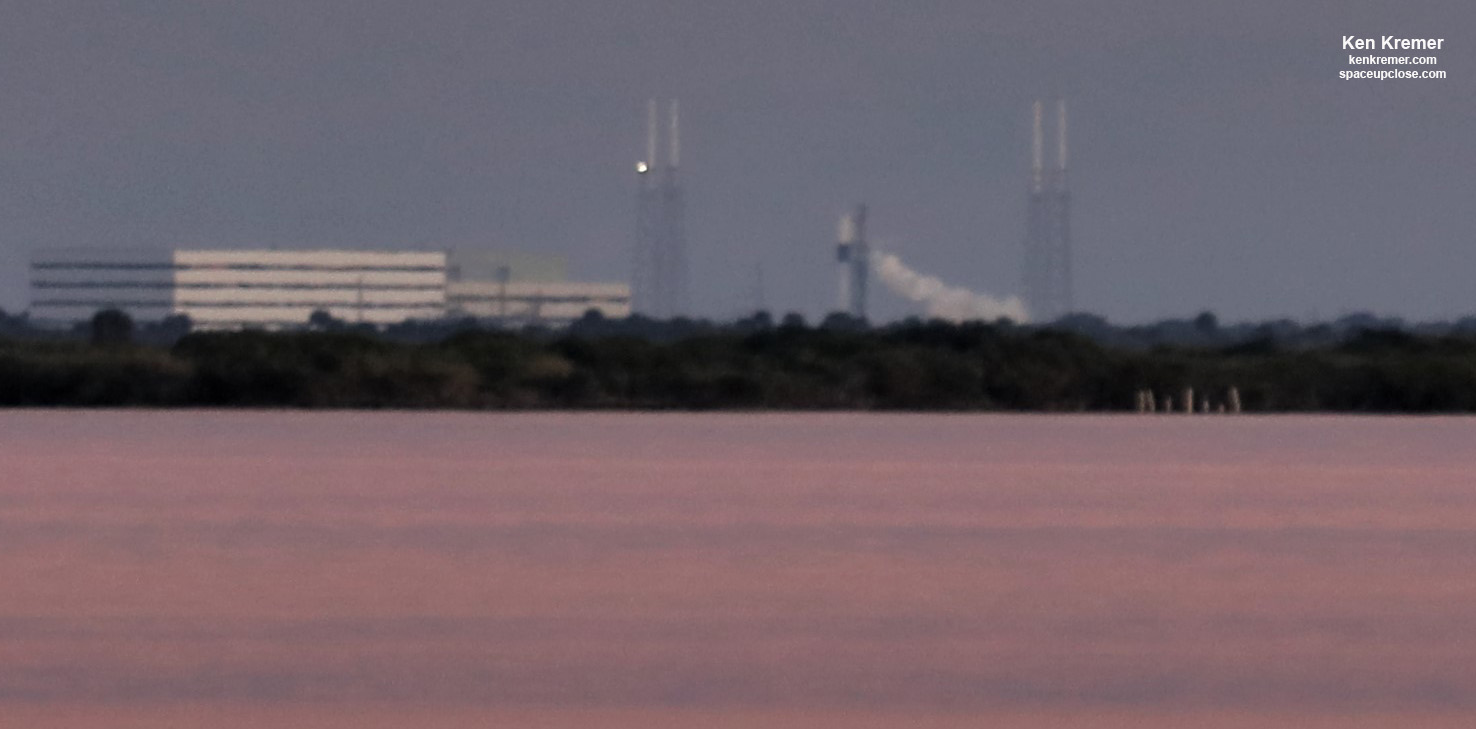 The hold down static fire test is routinely carried by SpaceX to ensure all is ready with the rocket.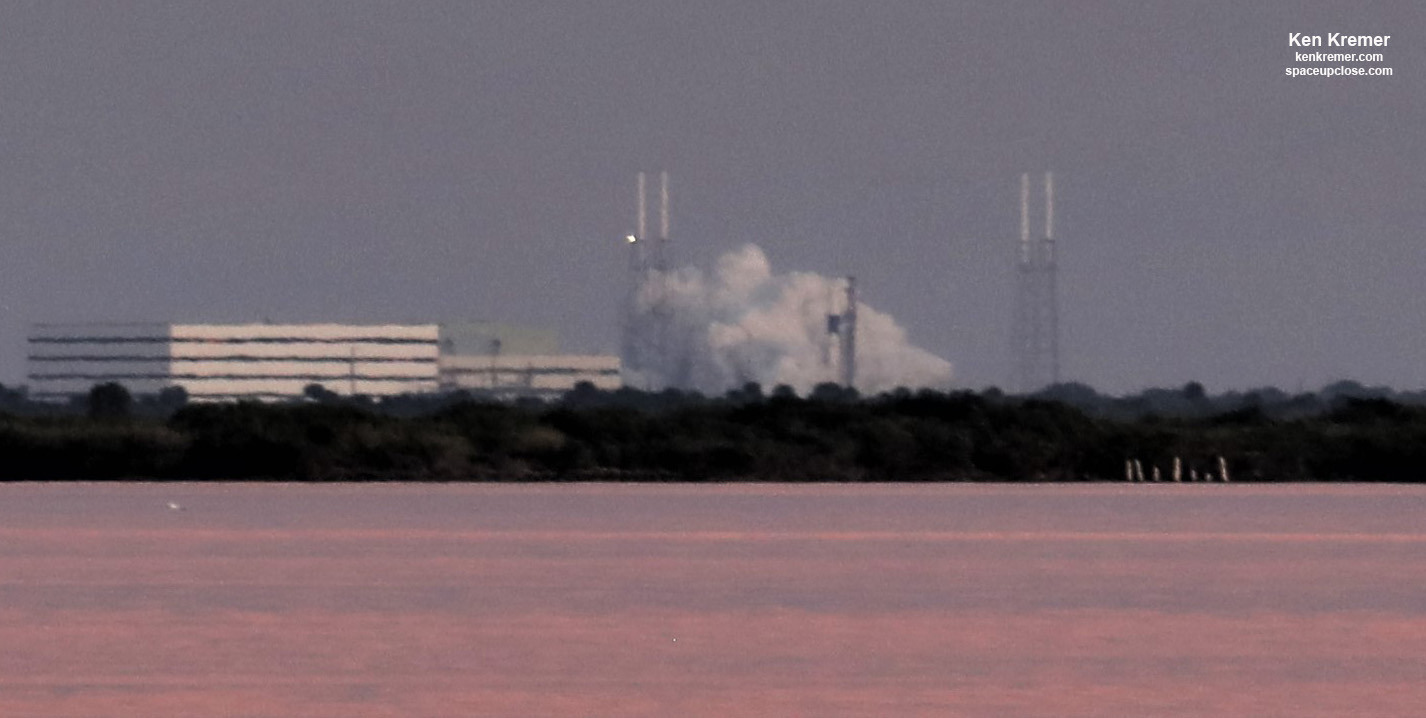 During the engine test all nine Merlin 1D first stage engines are briefly ignited for several seconds.
During Tuesday's hold down static fire test, the rocket's first and second stages are fueled with liquid oxygen and RP-1 propellants just like an actual launch, and a simulated countdown was carried out to the point of a brief engine ignition lasting around 3 seconds or so.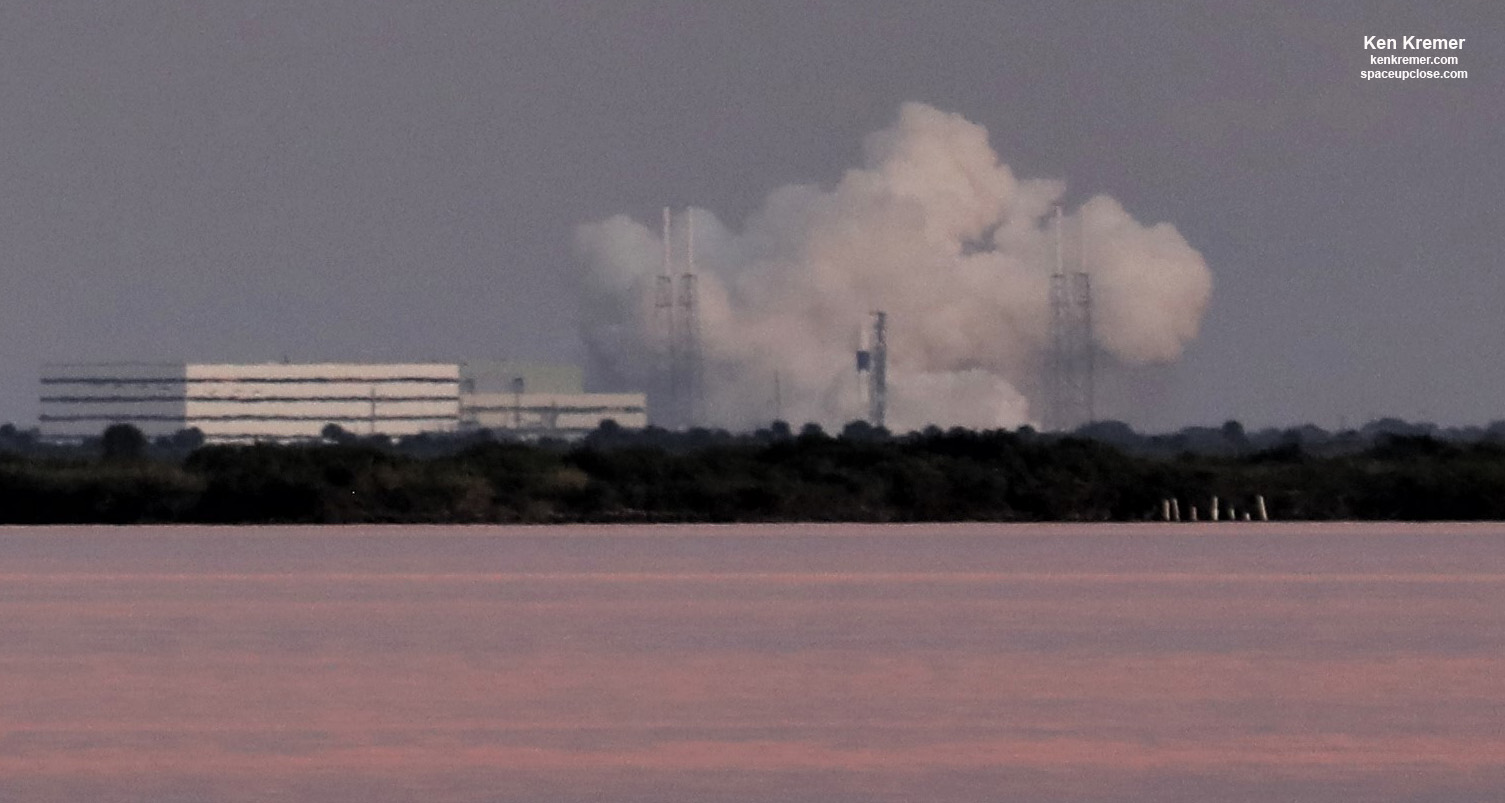 With the pad in waning daylight and dusk and with prefect weather and visibility and little haze I was able to observe a large vapor cloud of exhaust emitted from the Falcon 9 first stage in the moments after ignition.
I did hear the rockets engines ruble 70 seconds later as the vapor cloud dissipated.
The hold down engine test with the erected Falcon 9 rocket involved the ignition of all nine Merlin 1D first stage engines generating some 1.7 million pounds of thrust at pad 40 while the two stage rocket was restrained on the pad – minus the Dragon payload.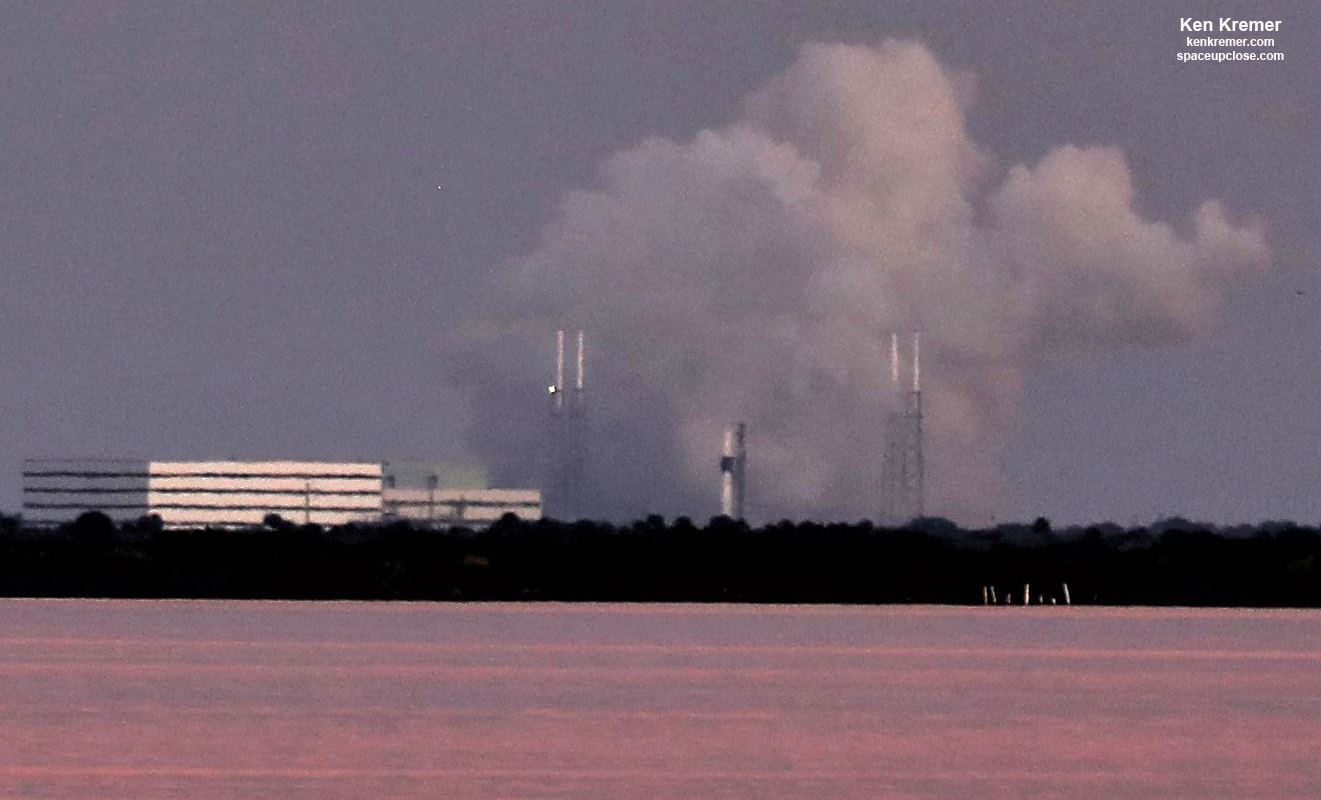 The rocket will now be lowered horizontal and rolled back down the ramp and returned to the pad 40 hanger to attach the Dragon cargo spacecraft.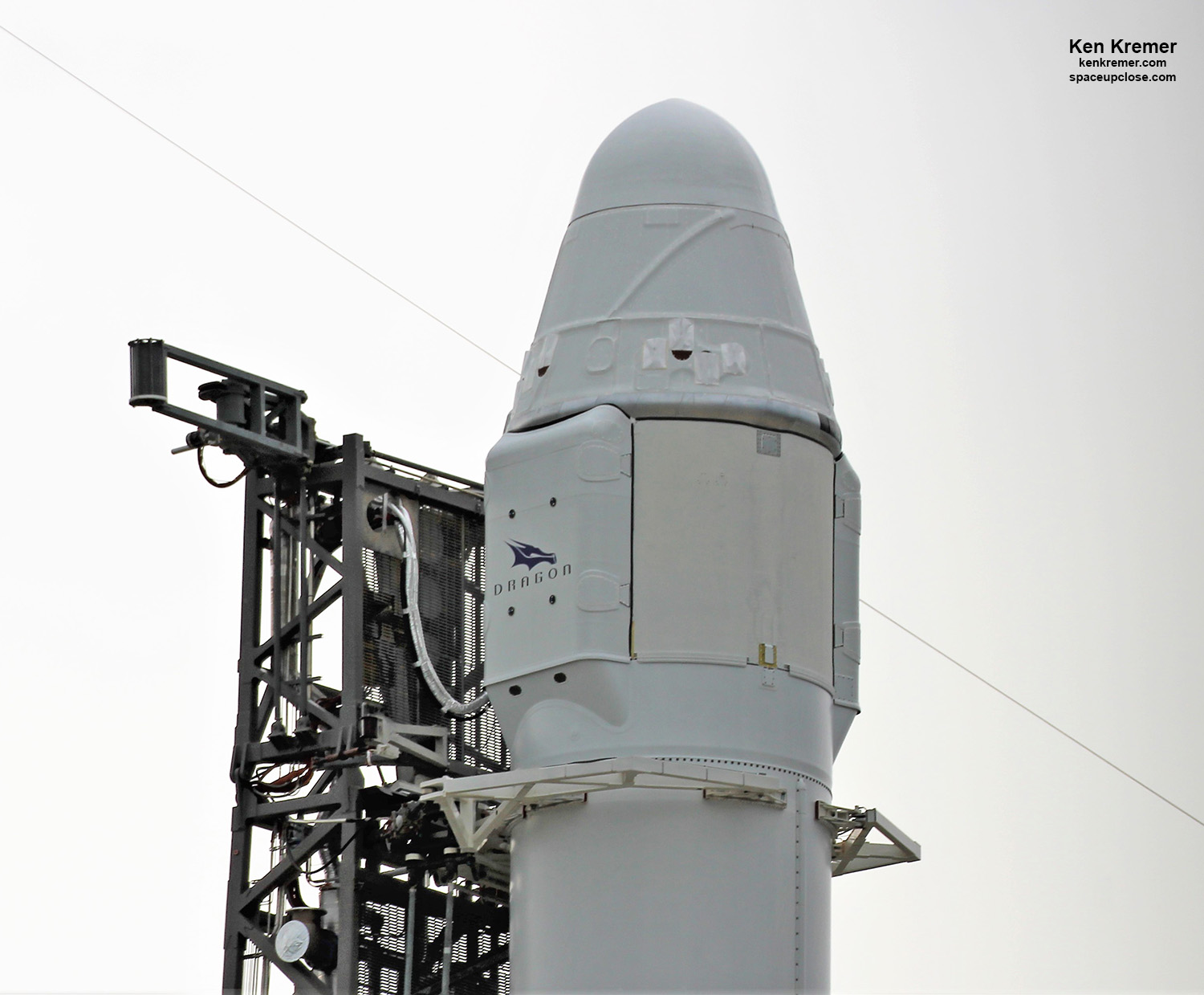 The prior CRS-18 resupply flight successfully flew in July 2019 from pad 40.
The two stage Falcon 9/Dragon rocket stands about 213-feet (65-meters) tall.
The 20-foot high, 12-foot-diameter Dragon CRS-19 vessel is jam packed with more than 5500 pounds (2500 kilograms) of science experiments, research hardware, space parts, food water, clothing and more supplies for the six person Expedition 61 crew.
The research gear will support dozens of the more than 250 science and research investigations that will occur during Expeditions 61 and 62 and beyond.
The research payloads include a crew of micetronauts, high resolution imaging of the Earth's surface, investigations studying malting barley in microgravity, the spread of fire and bone and muscle loss, and upgrades to the Cold Atom Research (CAL) multi-use facility among many others.
SpaceX was awarded an approximately $3.1 Billion contract from NASA to launch 20 Dragon cargo missions to the orbiting outpost through 2019 under the Commercial Resupply Services-1 (CRS-1) agreement that was amended in 2015 and increased from an original value of $1.6 Billion.
One mission remains: CRS-20.
NASA also awarded a CRS contract to Northrop Grumman that has likewise been increased.
Northrop Grumman most recently launched the NG-12 resupply mission earlier this month. See our articles and photos.
Both companies also won new cargo mission contracts under the Commercial Resupply Services-2 (CRS-2) agreement awarded last year.
Watch Ken's continuing reports onsite for live reporting of the SpaceX CRS-19 mission at the Kennedy Space Center and Cape Canaveral Air Force Station.
Stay tuned here for Ken's continuing Earth and Planetary science and human spaceflight news: www.kenkremer.com –www.spaceupclose.com – twitter @ken_kremer – email: ken at kenkremer.com
Dr. Kremer is a research scientist and journalist based in the KSC area, active in outreach and interviewed regularly on TV and radio about space topics.
………….
Ken's photos are for sale and he is available for lectures and outreach events
Ken's upcoming outreach events:
Dec 3/4: 7 PM, Quality Inn Kennedy Space Center, Titusville, FL. "SpaceX CRS-19 Launch to ISS Dec 4." Free. In hotel lobby. Photos for sale