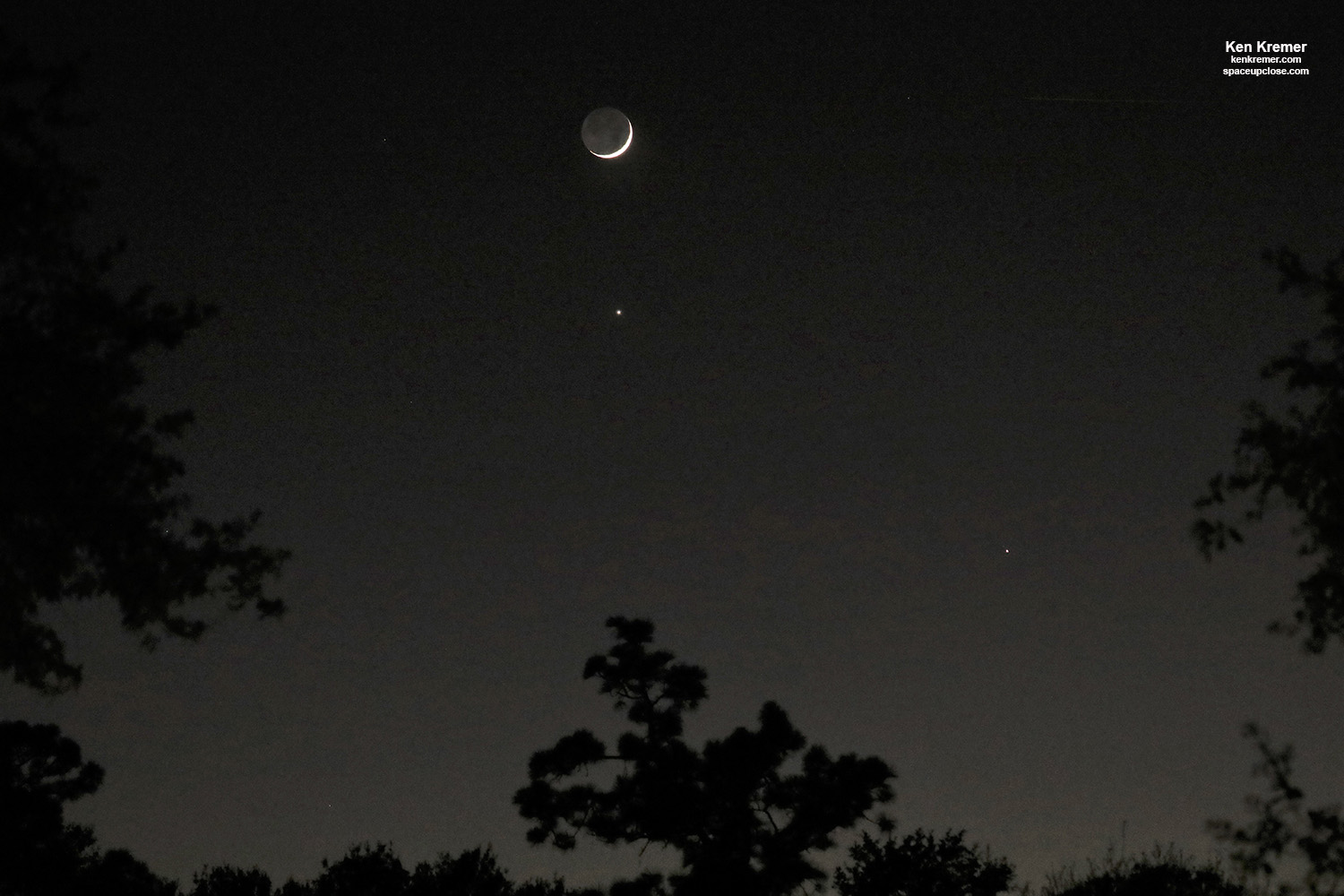 For Spaceupclose.com and RocketSTEM
ORLANDO, FL – Whether you're on Earth or in Space the Thanksgiving holiday is a joyeous time to give thanks for our blessings, cherish our family and friends and gaze up at the stars in wonder we are alive in exciting times – following up on my Thanksgiving Day story about the ISS and Astronaut Snoopy.
Just by chance I observed a spectacular conjunction of the Moon, Venus and Jupiter low in the southwest sky on Thanksgiving Night, Thursday, Nov. 28 – truly a dinnertime skywatching feast soon after enjoying a dinnertime turkey Thanksgiving Day 2019 feast.
Enjoy my lead photo.
This Thanksgiving 2019 was marked by a spectacular lunar-planetary conjunction visible on Earth as six humans celebrated aboard the International Space Station ISS).
As I was driving home to the Florida Space Coast from a Thanksgiving visit to my mom I stopped at the Turkey Lake rest stop in Orlando, Florida along the Beachline Expressway Rt 528.
As I got out of my car low and behold to my surprise between the trees was a skywatchers delight glaring right at me – between the trees and almost setting on the horizon in the luckily cloudless post-sunset twilight was the trio of celestial delights – that evaded me earlier this week due to cloud filled skies.
They are beside the constellation Sagittarius.
Luckily I have my Canon camera with my and snapped a few handheld photos at 6:20 p.m. EST, Nov. 28.
The waxing crescent moon was perhaps 15 degrees above the horizon. Then 1.5 degrees directly below was Venus, brightest of our Solar System's planets, and then 5 degrees to the west and south mighty Jupiter, the largest planet of them all.
See the graphical conjunction representation courtesy of Sky and Telescope.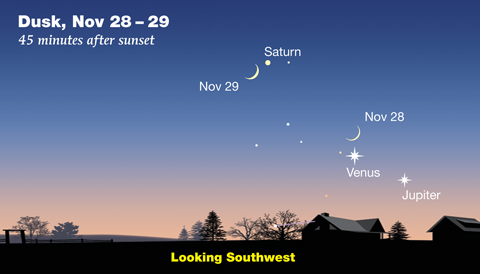 Earlier this week on Sunday, Nov. 24, Venus and Jupiter were only 1.5 degrees apart. But alas the thick cloud cover prevented my view.
In fact Venus and Jupiter haven been steadily approaching one another all this month, roughly a degree each day – starting nearly 20 degrees apart on Nov. 1.
However this evening, Black Friday, Nov 29, the sky is clear and we saw the Moon rising earlier now in conjunction also with Saturn as well but now also further away about 10 degrees East of from Venus and then Jupiter  shortly after sunset.  See our 6 p.m photo below.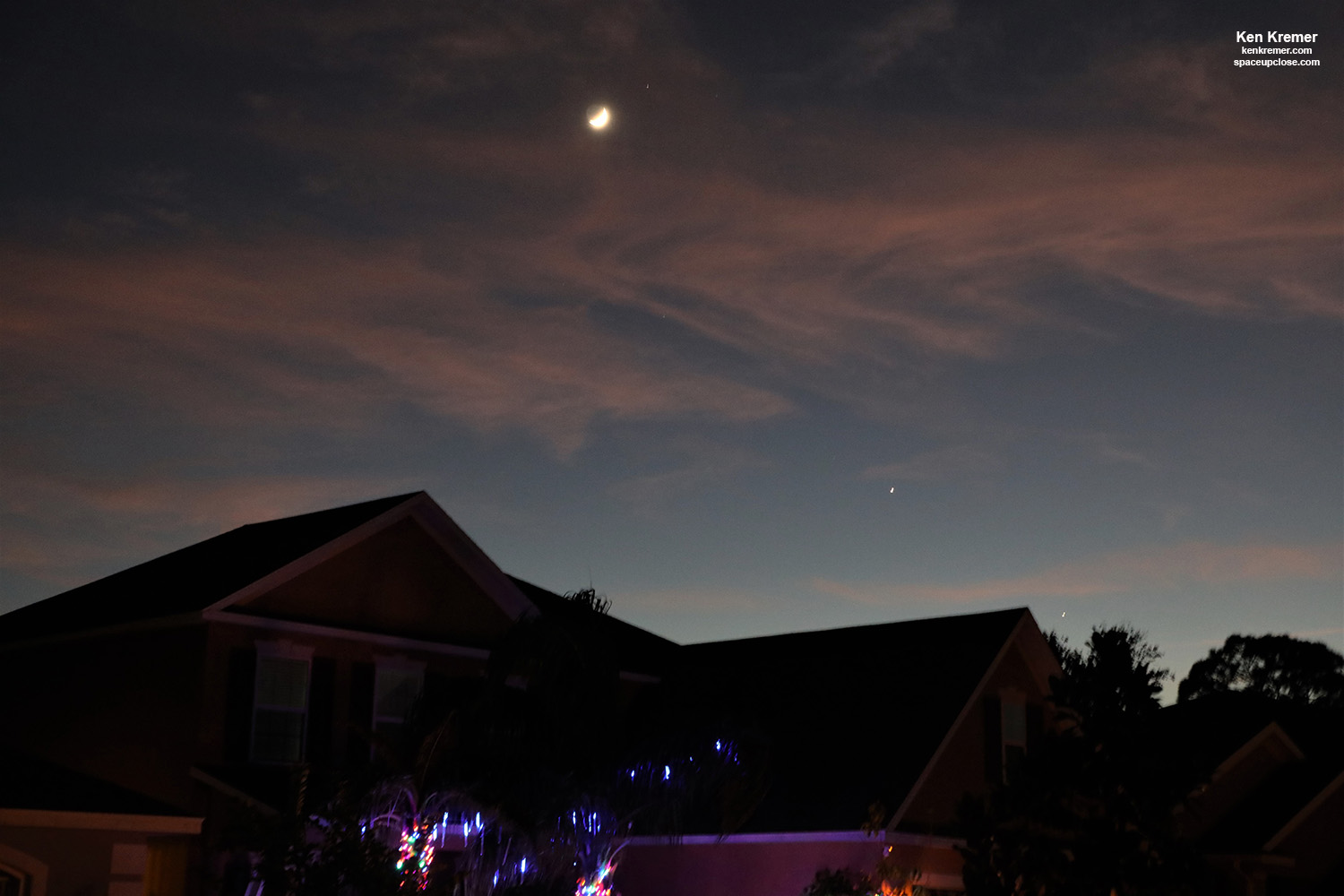 Venus has been rising all this month in the night sky as Jupiter has been declining and setting earlier.
Meanwhile here are additional Thanksgiving Day greetings from the American astronauts serving aboard the International Space Station.
As we work to return astronauts to the Moon with our Artemis program, #AstronautSnoopy is on orbit aboard the @Space_Station with @Astro_Jessica & @Astro_Christina to celebrate Thanksgiving. Discover the @ISS_Research they're working on in microgravity: https://t.co/SnBnLyDNLz pic.twitter.com/vJSbWuUXEM

— NASA (@NASA) November 28, 2019
We celebrated Friendsgiving today on ISS, a day late due to our work schedule. I'm thankful to be a part of this great crew and for all our support crew back on Earth. https://t.co/9A37OGR9O9

— Andrew Morgan (@AstroDrewMorgan) November 30, 2019
Watch Ken's continuing reports onsite for live reporting of the upcoming SpaceX CRS-19 mission at the Kennedy Space Center and Cape Canaveral Air Force Station.
Stay tuned here for Ken's continuing Earth and Planetary science and human spaceflight news: www.kenkremer.com –www.spaceupclose.com – twitter @ken_kremer – email: ken at kenkremer.com
Dr. Kremer is a research scientist and journalist based in the KSC area, active in outreach and interviewed regularly on TV and radio about space topics.
………….
Ken's photos are for sale and he is available for lectures and outreach events
Ken's upcoming outreach events:
Dec 3/4: 7 PM, Quality Inn Kennedy Space Center, Titusville, FL. "SpaceX CRS-19 Launch to ISS Dec 4." Free. In hotel lobby. Photos for sale