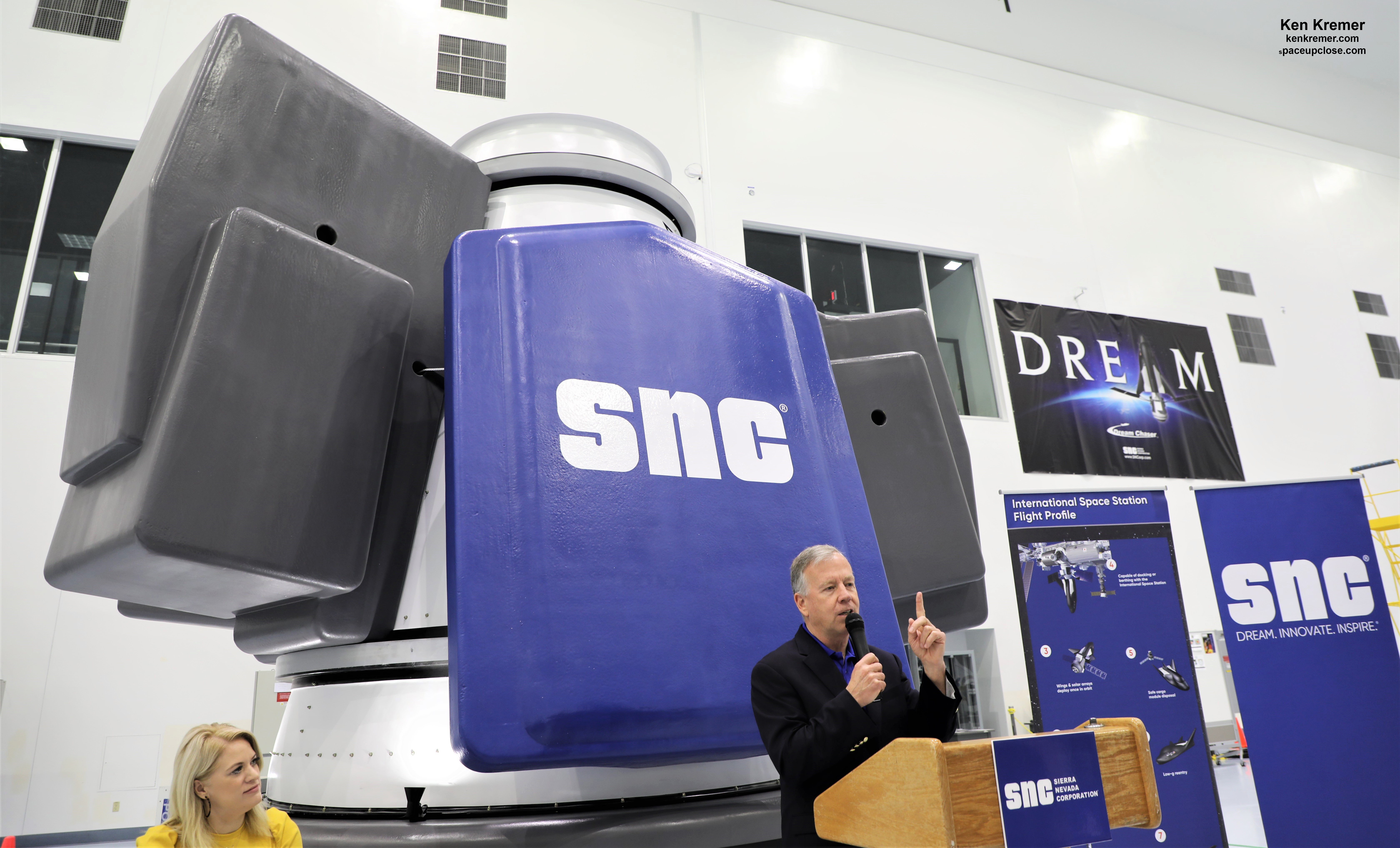 For SpaceUpClose.com & RocketSTEM
KENNEDY SPACE CENTER, FL – Sierra Nevada Corporation (SNC) announced 'Shooing Star' as the name for the new commercial Cargo Module unveiled last week at NASA's Kennedy Space Center (KSC) for the firms reusable Dream Chaser® mini-shuttle spacecraft that will eventually launch on resupply missions for NASA to the International Space Station  (ISS) starting in 2021.
A mockup test version of the 'Shooting Star' detachable cargo module was unveiled to members of the media for a first look on Nov. 19 by Steve Lindsey, former Space Shuttle Commander and now SNC VP of space business strategy, inside the Space Station Processing Facility (SSPF) at the Kennedy Space Center where it is being used for preliminary testing operations.
'Shooting Star' is a 15 foot long attachment to the rear of Dream Chaser® that can carry up to 10,000 pounds of additional pressurized and unpressurized cargo in the form of science and supplies to the ISS on resupply missions for NASA, said Lindsey. It will also dispose of unwanted station trash.
Enjoy my photos of 'Shooting Star' for Space UpClose taken inside the Space Station Processing Facility (SSPF) at the Kennedy Space Center.
It is equipped with solar arrays (blue) and exterior cargo pallets (grey).
"Shooting Star's ability to deliver additional cargo and provide a disposal service makes it and Dream Chaser extremely effective and versatile," said Lindsey at the SSPF unveiling event.
The SNC Dream Chaser® will function very much like the two current uncrewed cargo freighters – namely the Northrop Grumman Cygnus module and SpaceX cargo Dragon spacecraft .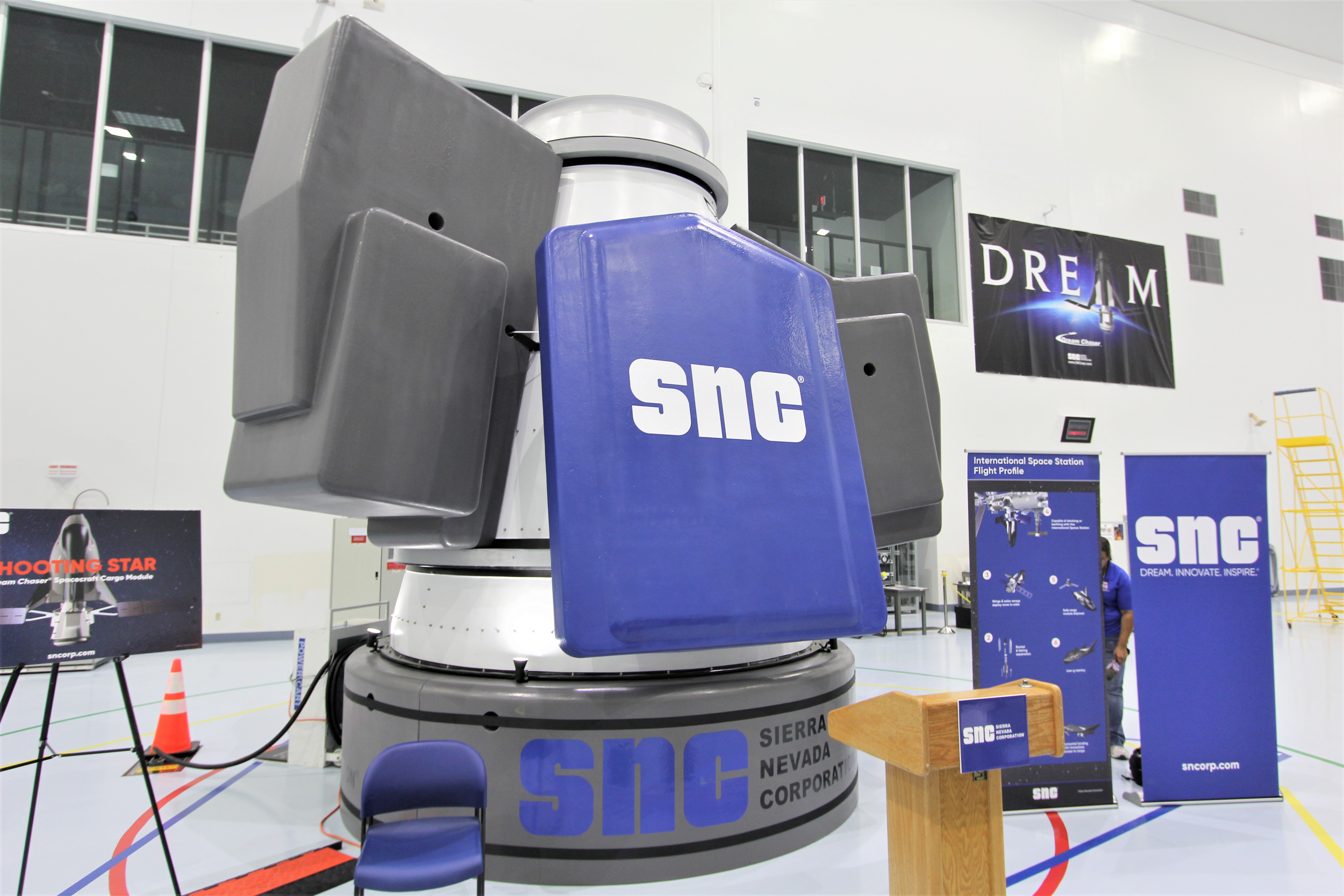 SNCs Dream Chaser will launch on at least six cargo missions under terms of NASA's Commercial Resupply Services 2 (CRS-2) contract awarded in 2016 – in addition to Northrop Grumman and SpaceX.
Thus NASA will have a choice between 3 private cargo providers for resupply missions to the ISS – up from just two – starting in 2021.
Furthermore on return from Earth the Dream Chaser mini shuttle will make runway landings at Kennedy Space Center's Shuttle Landing Facility- just like NASA's Space Shuttle orbiters.
However the 'Shooting Star' cargo module is designed to dispose of undesirable trash that accumulates on the station and will burn up upon reentry after separating from Dream Chaser.
Hence the name 'Shooting Star.'
'When the cargo module is done with its mission, one of the requirements we had from the Commercial Resupply Services 2 (CRS-2) contract from NASA is that we has to dispose of cargo," Lindsey explained.
"The cargo module burns up as it comes into the atmosphere, so we thought it was appropriate to name it 'Shooting Star.'
The Dream Chaser flight vehicle is currently under construction at SNC facilities in Louisville, Colorado, where Dream Chaser is being built and integrated.
The vehicle itself is 30 feet long and can carry about 2000 pounds of payload.
Dream Chaser can either dock or berth to the ISS at the aft end of the cargo module. Initially it will berth to allow larger volume payloads to fit through the larger diameter berthing port.
The SSPF is the KSC location where countless payloads, experiments, solar arrays, space station modules and much more were processed for launch to the ISS on assembly mission in the past and to this day still on resupply missions.
Shooting Star can launch up to 7,600 pounds n the pressurized interior of the cargo module in a short sleeve environment for the station crew to easily remove.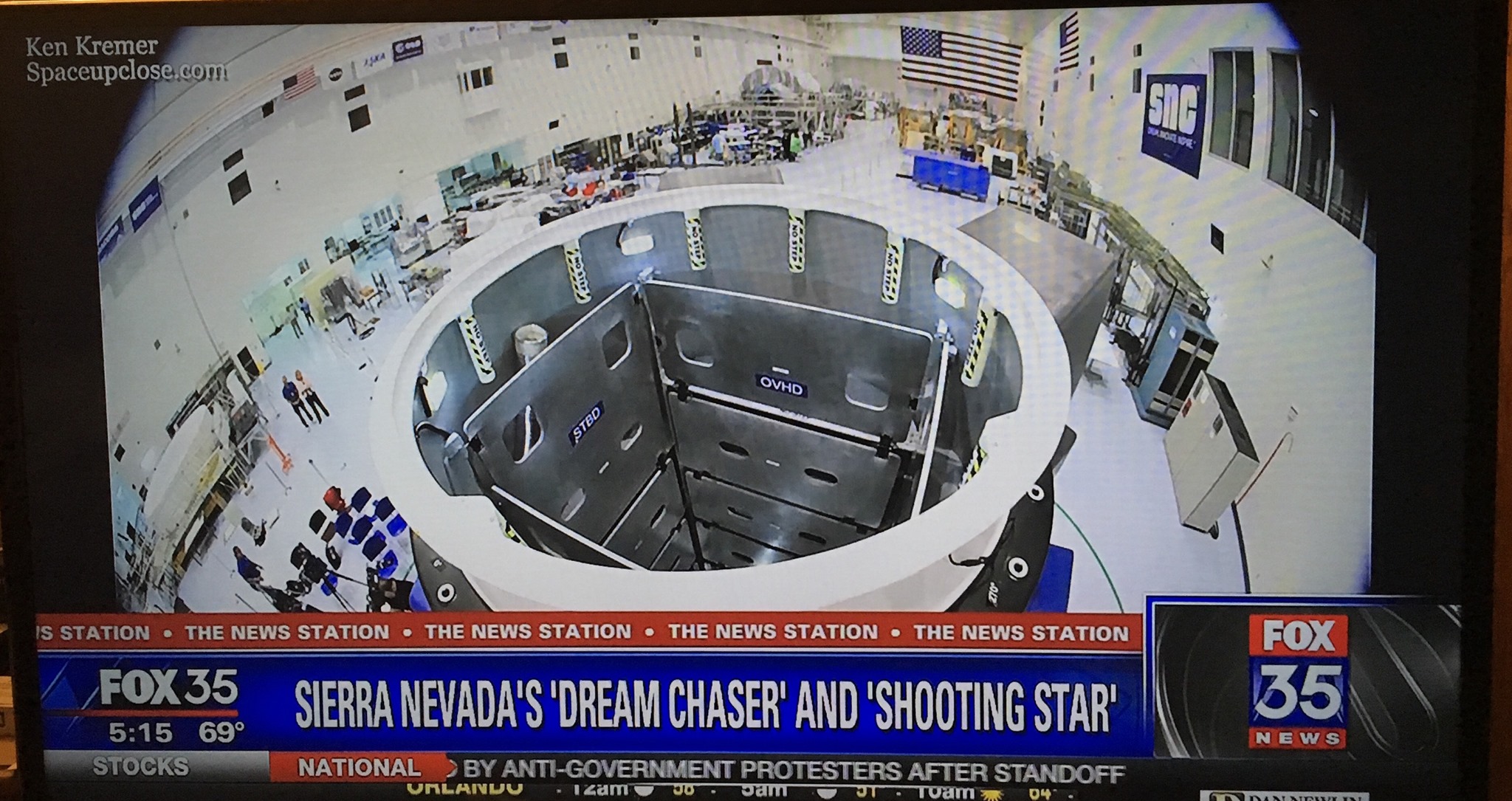 Up to 3300 pounds can launch in unpressurized pallets attached to the outside- and removed via the stations Canadian-built Canadarm2.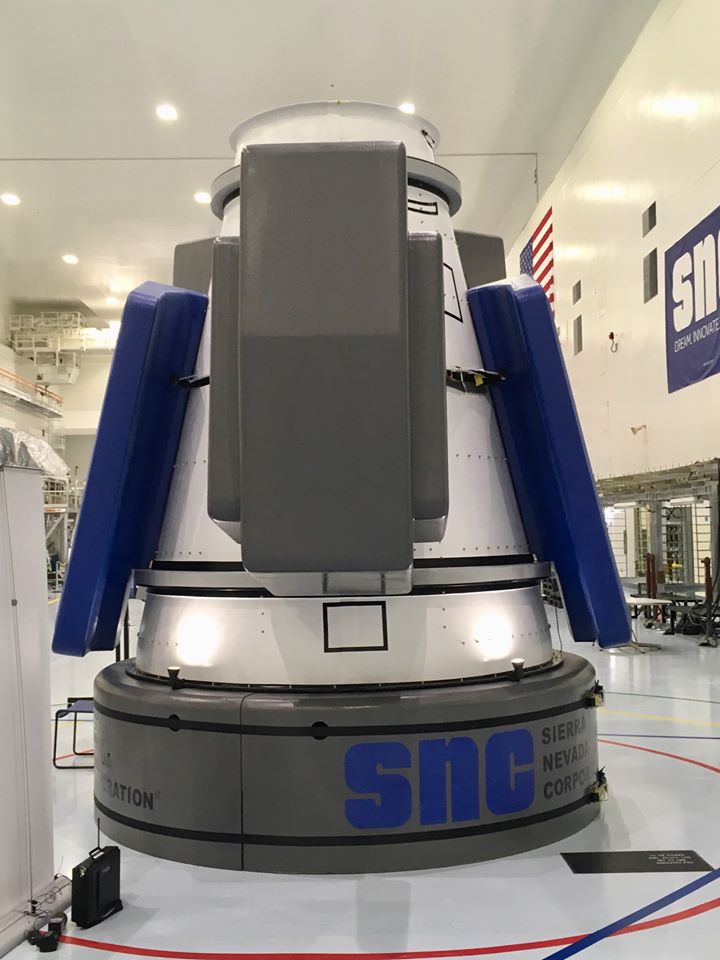 On Aug. 14, SNC announced the selection of the United Launch Alliance (ULA) new Vulcan Centaur rocket as the launch vehicle provider for the Dream Chaser® spacecraft's for cargo resupply mission for NASA missions to the International Space Station (ISS) starting in 2021.
The Vulcan launches of the Dream Chaser spaceplane will take place from Space Launch Complex-41 on Cape Canaveral Air Force in Florida – current home to the Atlas V.
"I am so excited. In this very competitive launch vehicle market, we feel privileged that SNC chose to launch this block of six missions to the ISS with ULA," said Tory Bruno, ULA president and CEO, at a media briefing in August.
The ULA Vulcan Centaur rocket now under development is a replacement for the Atlas V and Delta IV rocket families and will launch all six of SNCs Dream Chaser cargo missions under tye CRS-2 contract with NASA.
Dream Chaser will launch on a Vulcan inside a 5 meter diameter payload fairing, with 4 strap on SRBs for the first stage and a two engine Centaur upper stage.
With that Vulcan Centaur lifting power, "the Dream Chaser will deliver more than 12,000 pounds (5450 kg) of pressurized and unpressurized cargo to the space station and remains attached for up to 75 days as an orbiting laboratory. Once the mated mission is complete, the Dream Chaser disposes about 7,000 pounds (3200 kg) of space station trash and returns large quantities of critical science, accessible within minutes after a gentle runway landing."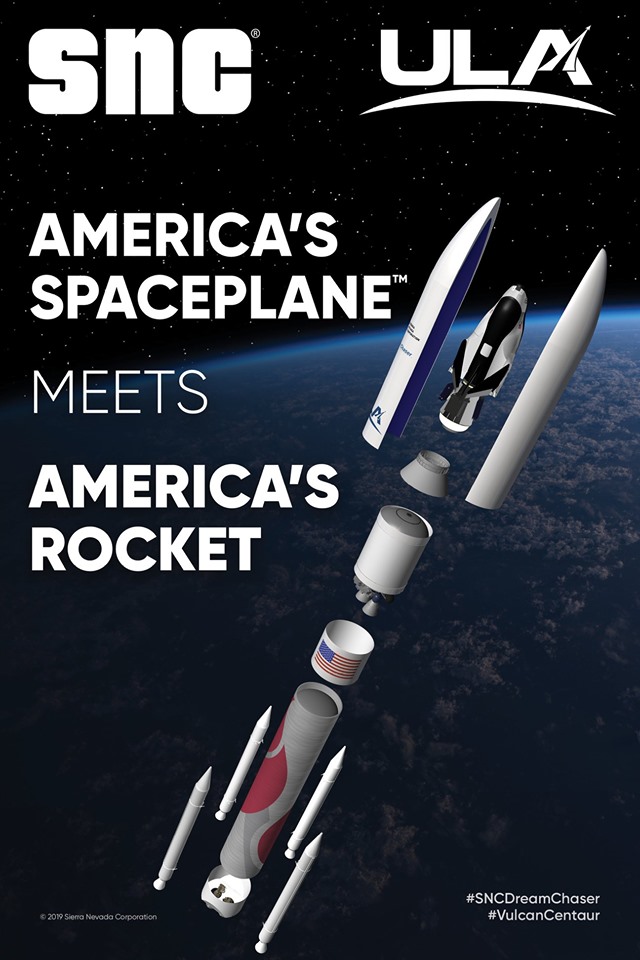 For additional versatility, Shooting Star can support logistics services to other LEO destinations, including future commercial outposts, and for the lunar Gateway. SNC has also developed a concept for a free flying version that can act as a satellite to carry large payloads, with high-power capacity, Lindsay elaborated.
A free flying mission for the United Nations is also still on tap, Lindsey told Space UpClose in an interview at the SSPF.
"Dozens of interested parties contact us. It could launch as soon as 2023 or 2024."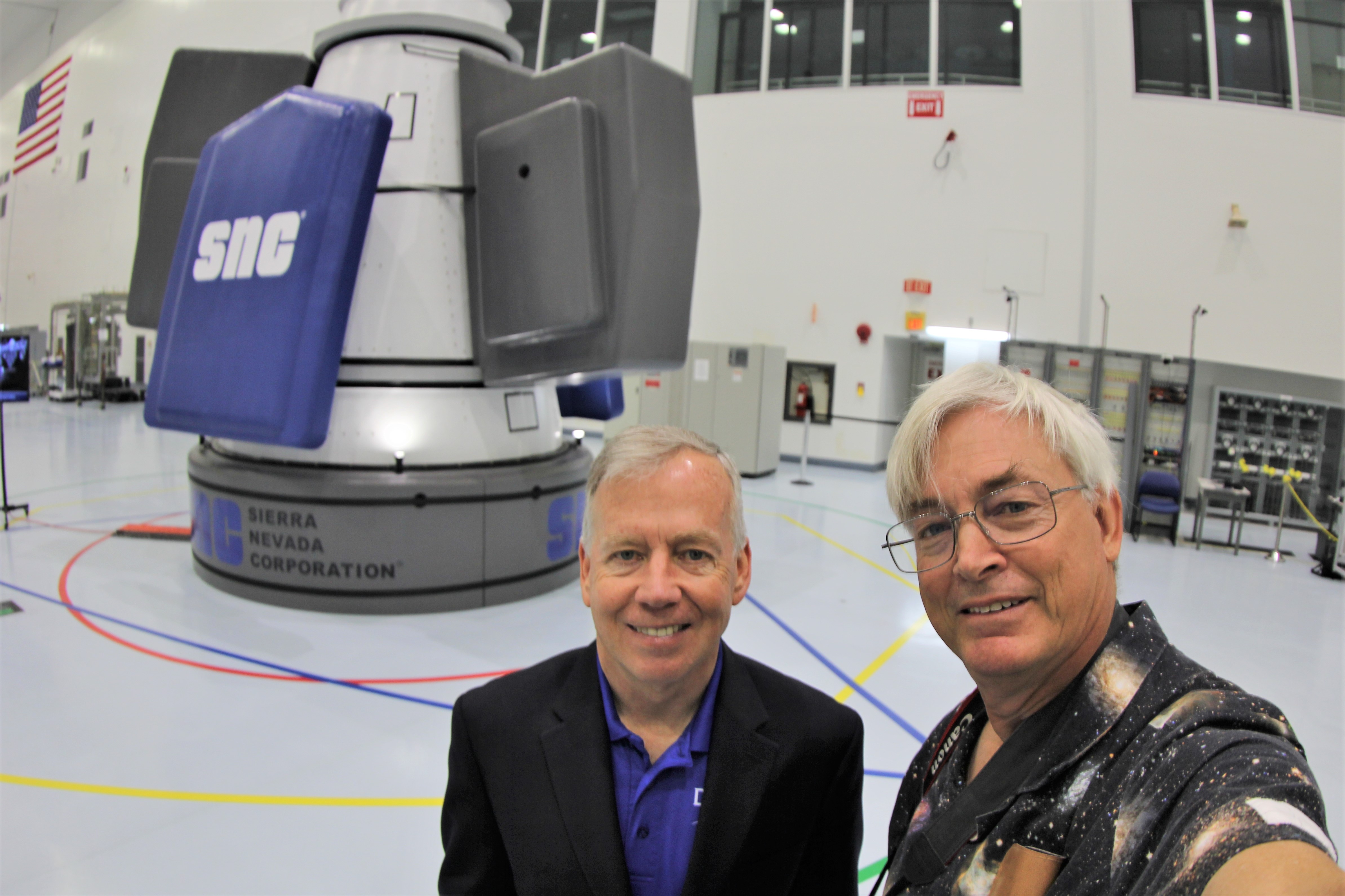 Watch Ken's continuing reports onsite for live reporting of the SpaceX CRS-19 mission at the Kennedy Space Center and Cape Canaveral Air Force Station.
Stay tuned here for Ken's continuing Earth and Planetary science and human spaceflight news: www.kenkremer.com –www.spaceupclose.com – twitter @ken_kremer – email: ken at kenkremer.com
Dr. Kremer is a research scientist and journalist based in the KSC area, active in outreach and interviewed regularly on TV and radio about space topics.
………….
Ken's photos are for sale and he is available for lectures and outreach events
Ken's upcoming outreach events:
Dec 2/3/4: 7 PM, Quality Inn Kennedy Space Center, Titusville, FL. "SpaceX CRS-19 Launch to ISS Dec 4." Free. In hotel lobby. Photos for sale