For SpaceUpClose.com & RocketSTEM
KENNEDY SPACE CENTER/CAPE CANAVERAL AIR FORCE STATION, FL – The first human rated Boeing Starliner CST-100 spacecraft and its United Launch Alliance Atlas V carrier rolled out to pad 41 on the Cape on Tuesday afternoon, December 3 so team can conduct pre-launch countdown preparations for this particular rocket stack for first time ever – ahead of the launch from the Florida Space Coast now delayed to Dec. 19 to deal with technical issues.
Starliner is the first flight worthy version of the commercial astronaut ferry ship.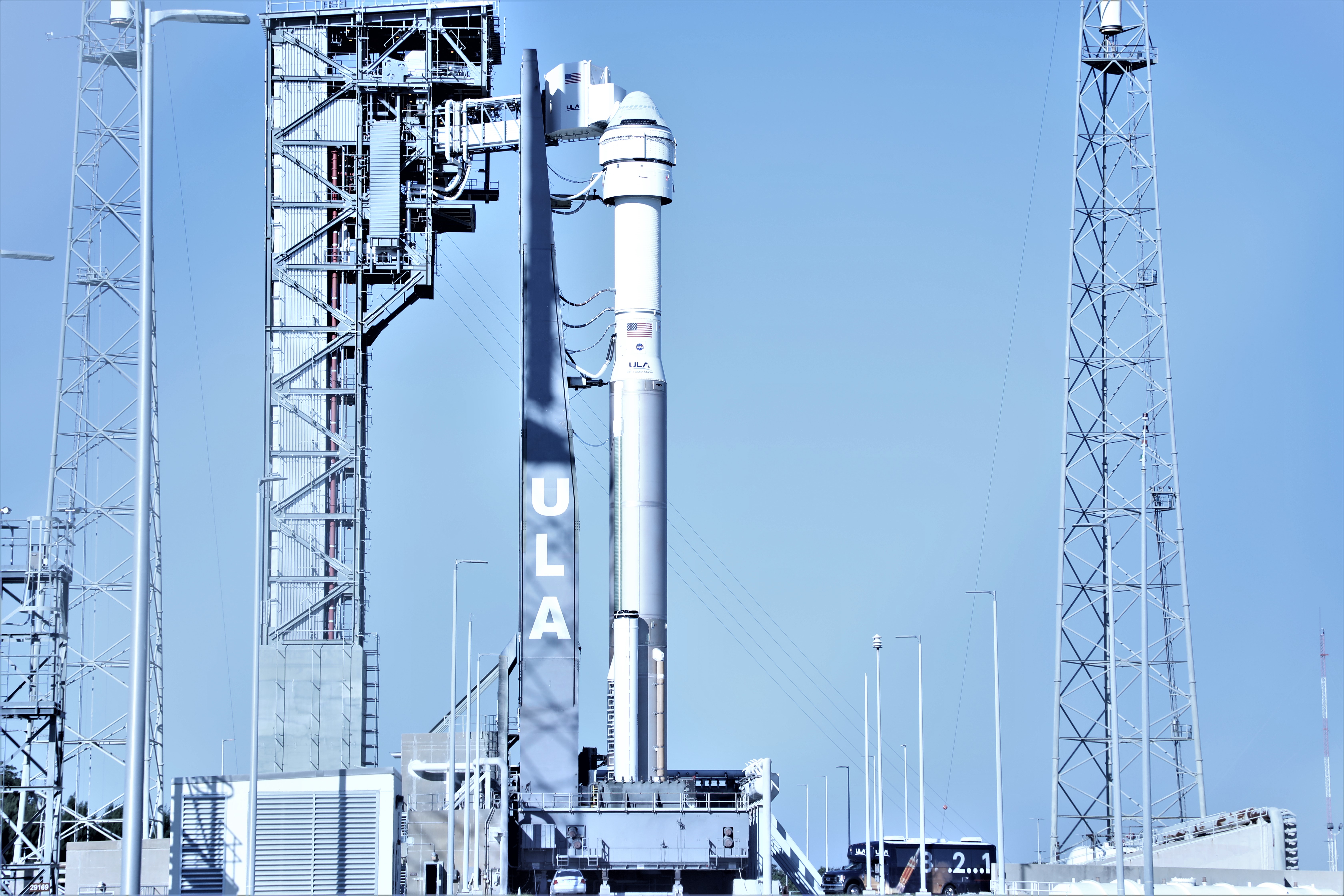 Starliner will launch uncrewed this time on its maiden space flight atop the ULA Atlas V rocket on the Orbital Test Flight (OFT) to low Earth orbit (LEO) and docking at the ISS on its first test flight on the OFT mission to the ISS.
Liftoff of the unpiloted OFT flight test is targeted to launch to No Earlier Than (NET) Thursday, Dec. 19 at 6:59 a.m. EST (1159 GMT) from Space Launch Complex 41 at Cape Canaveral Air Force Station in Florida.
I watched the Starliner/Atlas V rollout from the Kennedy Space Center Press Site as it took place starting at about 330 p.m. as it emerged from the Vertical Integration Facility at complex 41.
The media including Space UpClose also enjoyed an up close photo op visit to the Starliner/Atlas V stack at Launch Complex 40 on Wednesday afternoon, Dec. 4, 2019.
Enjoy my Space UpClose photo gallery from the rollout Dec 3 and pad photo op Dec. 4.
The Starliner launoch meanwhile has been postponed 48 hours from Dec, 17 to sunrise Thursday, Dec 19 to fix the Atlas V purge air supply.
"The launch of Boeing's uncrewed Orbital Flight Test to the International Space Station, as part of NASA's Commercial Crew Program, now is targeted for 6:59 a.m. EST Thursday, Dec. 19, said NASA officials.
"NASA, Boeing and United Launch Alliance (ULA) agreed to target the new date to allow ULA sufficient time to resolve an issue with the rocket's purge air supply. Boeing's CST-100 Starliner spacecraft will launch atop a ULA Atlas V rocket from Space Launch Complex 41 at Cape Canaveral Air Force Station in Florida."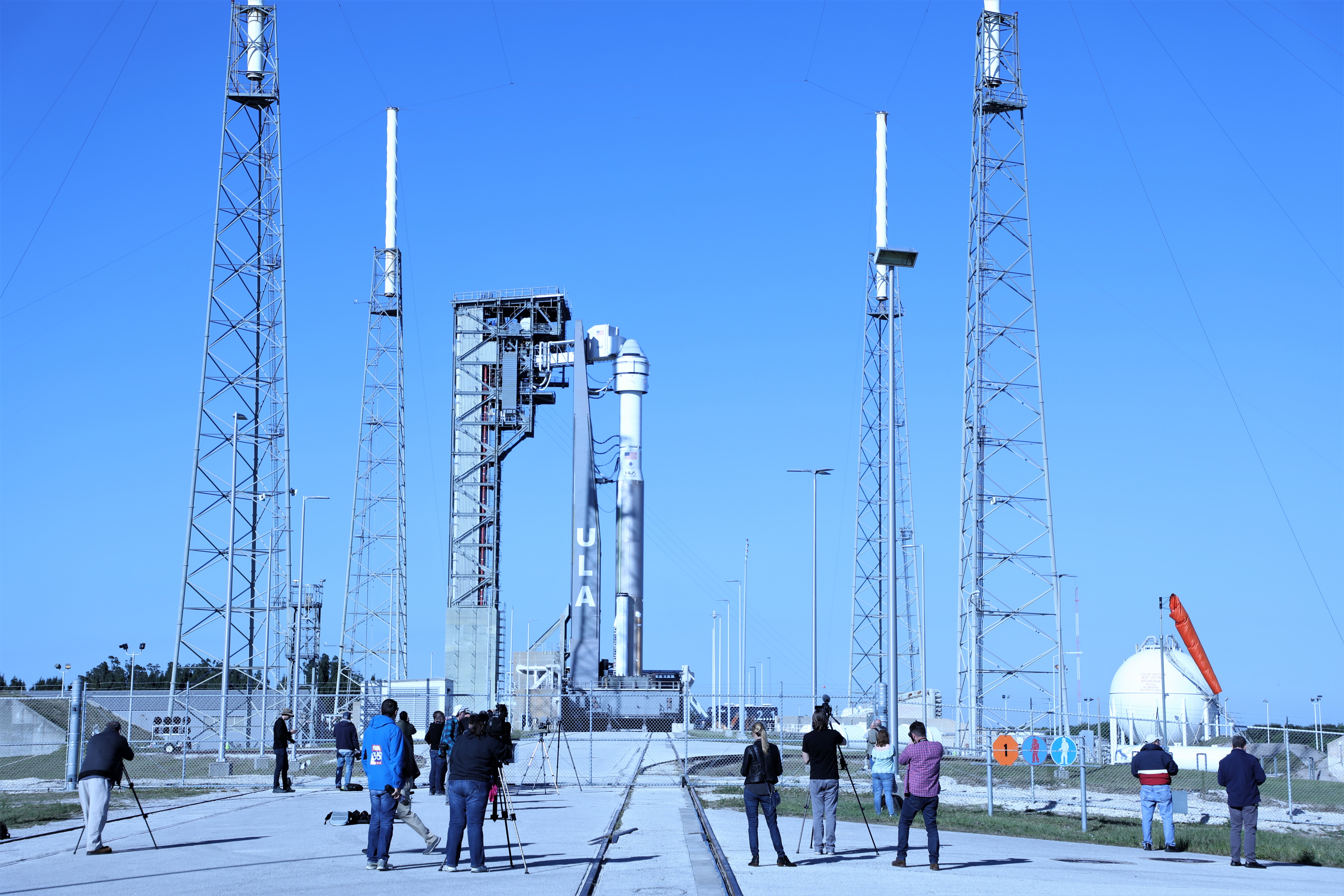 This first flightworthy Boeing Starliner commercial crew astronaut ferry spacecraft was just rolled out a week and a half ago on Thursday, Nov. 21 from the Commercial Crew and Cargo Processing Facility (C3PF) at NASA's Kennedy Space Center in Florida to its launch pad at Space Launch Complex 41.
Check out my Space UpClose eyewitness articles and photos of the Starliner rollout.
After arriving at pat 41 later in the day Starliner was then stacked atop the ULA Atlas V rocket – that will launch the ship on its first unpiloted voyage to space the Orbital Flight Test (OFT) for NASA to the International Space Station (ISS).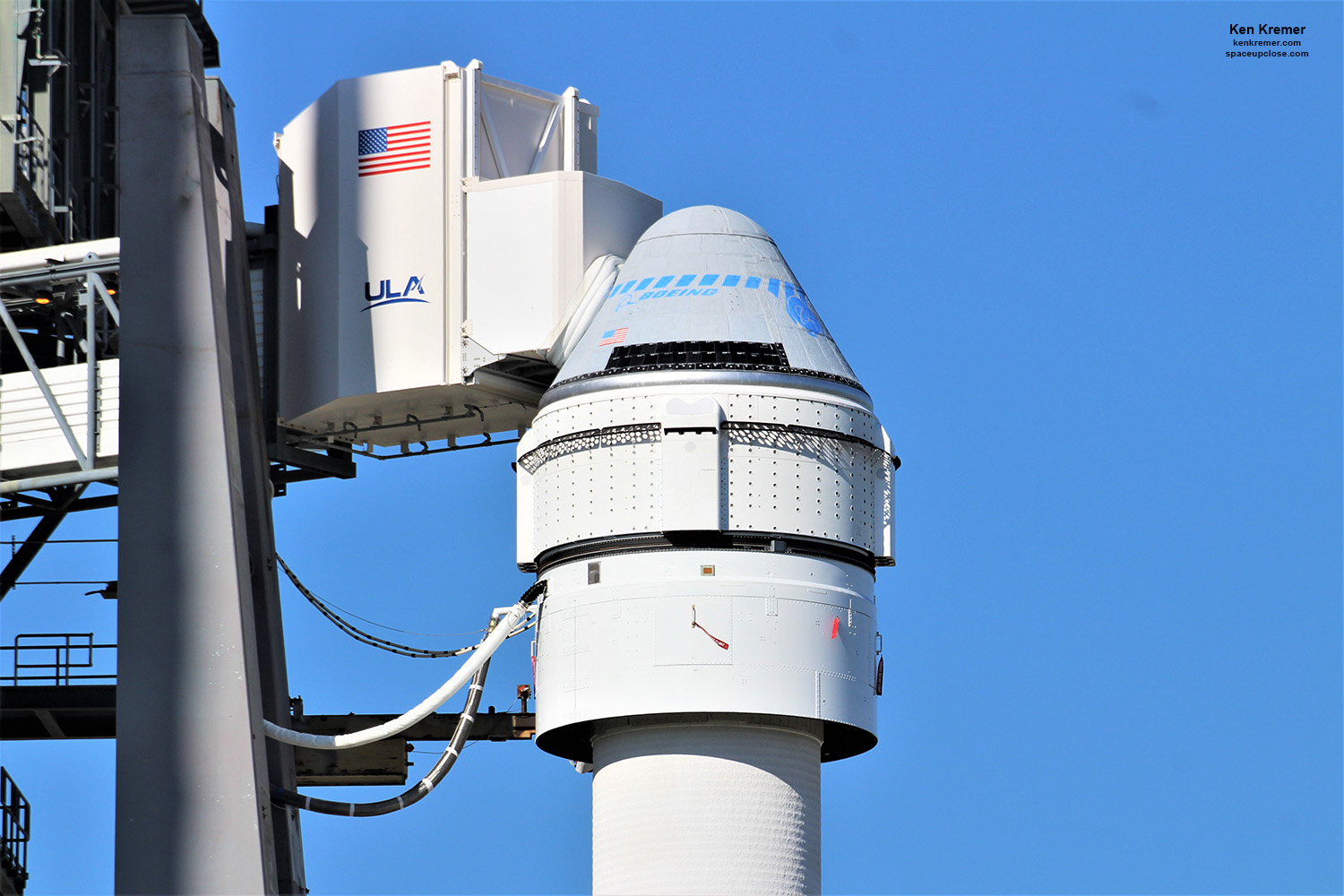 Watch Ken's continuing reports onsite for live reporting of the SpaceX CRS-19 mission and Starliner OFT mission at the Kennedy Space Center and Cape Canaveral Air Force Station.
Stay tuned here for Ken's continuing Earth and Planetary science and human spaceflight news: www.kenkremer.com –www.spaceupclose.com – twitter @ken_kremer – email: ken at kenkremer.com
Dr. Kremer is a research scientist and journalist based in the KSC area, active in outreach and interviewed regularly on TV and radio about space topics.
………….
Ken's photos are for sale and he is available for lectures and outreach events
Ken's upcoming outreach events:
Dec 14/16: 7 PM, Quality Inn Kennedy Space Center, Titusville, FL. "SpaceX CRS-19 and Boeing Starliner Launches to ISS." Free. In hotel lobby. Photos for sale