For SpaceUpClose.com & RocketSTEM
KENNEDY SPACE CENTER/CAPE CANAVERAL AIR FORCE STATION, FL –Space fans and officials were treated to a lovely lunchtime liftoff of the SpaceX Dragon carrying a load of nearly 3 tons of NASA science and cargo bound for the international Space Station (NASA) including 40 genetically engineered micetronauts, a new AI powered CIMON astronaut helper, new gear for the Cold Atom lab and much more into a clear blue sky from the Florida Space Coast today, Thursday, Dec. 5, a day after high winds forced a launch scrub on Wednesday, Dec. 4.
Hordes of NASA, industry, academic and everyday space geeks were thrilled by the belated but beautiful blastoff of the commercial SpaceX Falcon 9 rocket on a commercial resupply mission for NASA to the ISS.
Liftoff of the brand new Falcon 9 carrying the unpiloted and recycled Dragon CRS-19 cargo ship took place at 12:29 p.m. EST (1729 GMT) into picture perfect skies from Space Launch Complex 40 at Cape Canaveral Air Force Station in Florida – that coincides with approximately the moment that Earth's rotation brings Cape Canaveral under the orbital plane of International Space Station.
SpaceX successfully recovered the booster (B059.1) and dramatically soft landed the Falcon 9 first stage upright on the 'Of Course I Still Love You' (OCISLY) droneship about 8 minutes after liftoff
OCISLY was stationed about 100 miles off shore eastnortheast of Jacksonville, FL in the Atlantic Ocean – and will return to Port Canaveral with the 15 story tall booster.
Enjoy our Space UpClose gallery of images taken by myself on the VAB rooftop at NASA's Kennedy Space Center and remotes cameras set up at pad 40.
This marks the 46th time SpaceX has successfully landed a first stage intact for reuse to another launch.
Rocket recycling is a major tenant of SpaceX CEO and founder Elon Musk as the driver for radically slashing launch costs.
The Falcon 9 rocket ignition of all nine Merlin 1D first stage engines generated some 1.7 million pounds of thrust as the two stage SpaceX rocket roared off pad 40 and fired for about two and a half minutes.
Dragon CRS-19 marks SpaceX's 19th contracted cargo mission to the space station under the original commercial resupply services (CRS) contract with NASA.
The CRS-19 launch marks the 12th of the year for SpaceX.
Dragon was deployed eight and a half minutes after liftoff.
The solar arrays were successfully deployed to generate life giving solar energy.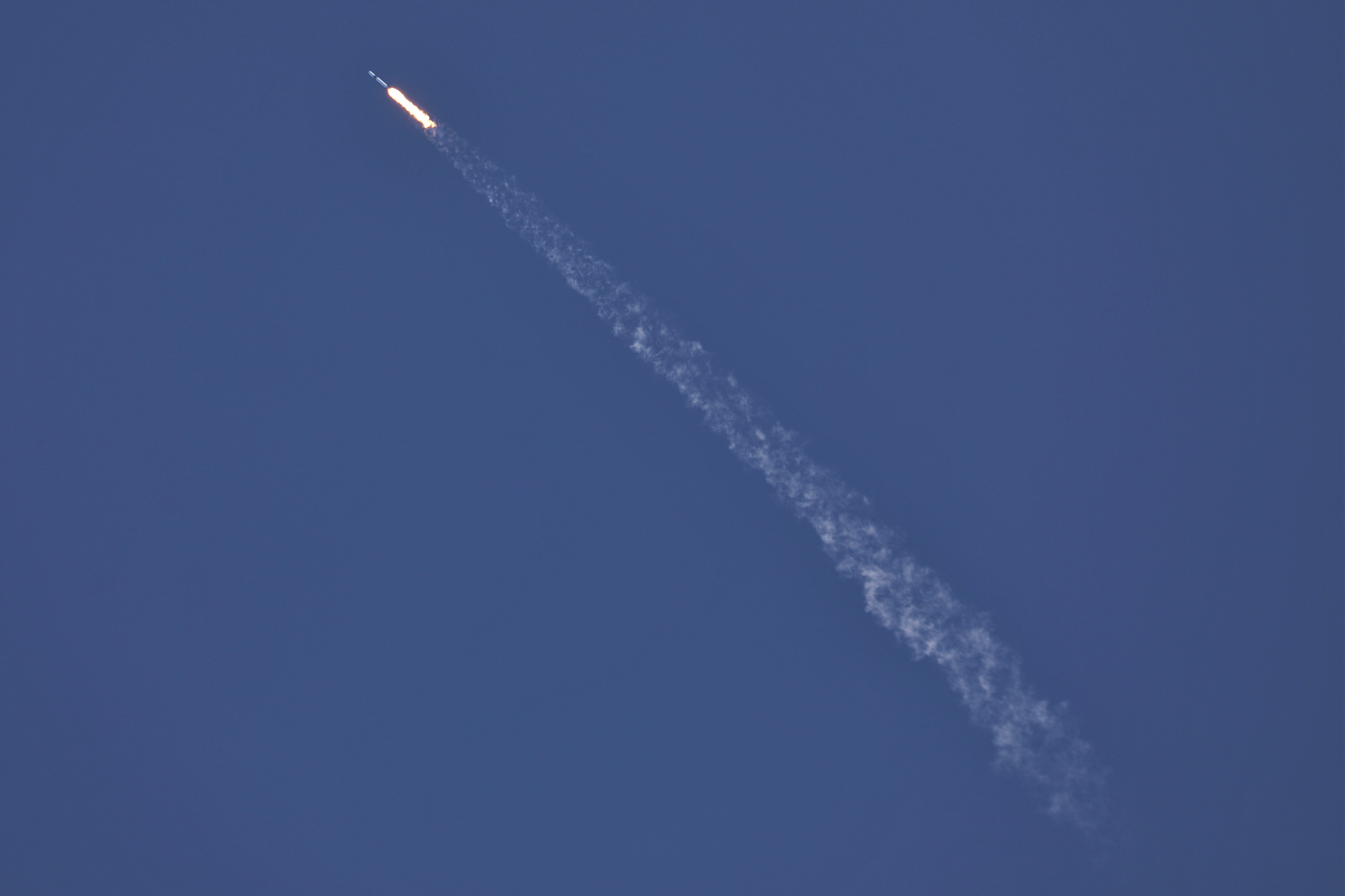 In a historic first the first flightworthy Boeing Starliner commercial crew astronaut ferry spacecraft was also just rolled out to the adjacent launch pad at Space Launch Complex 41 on Dec. 3 – a day before the original launch date of Dec 4.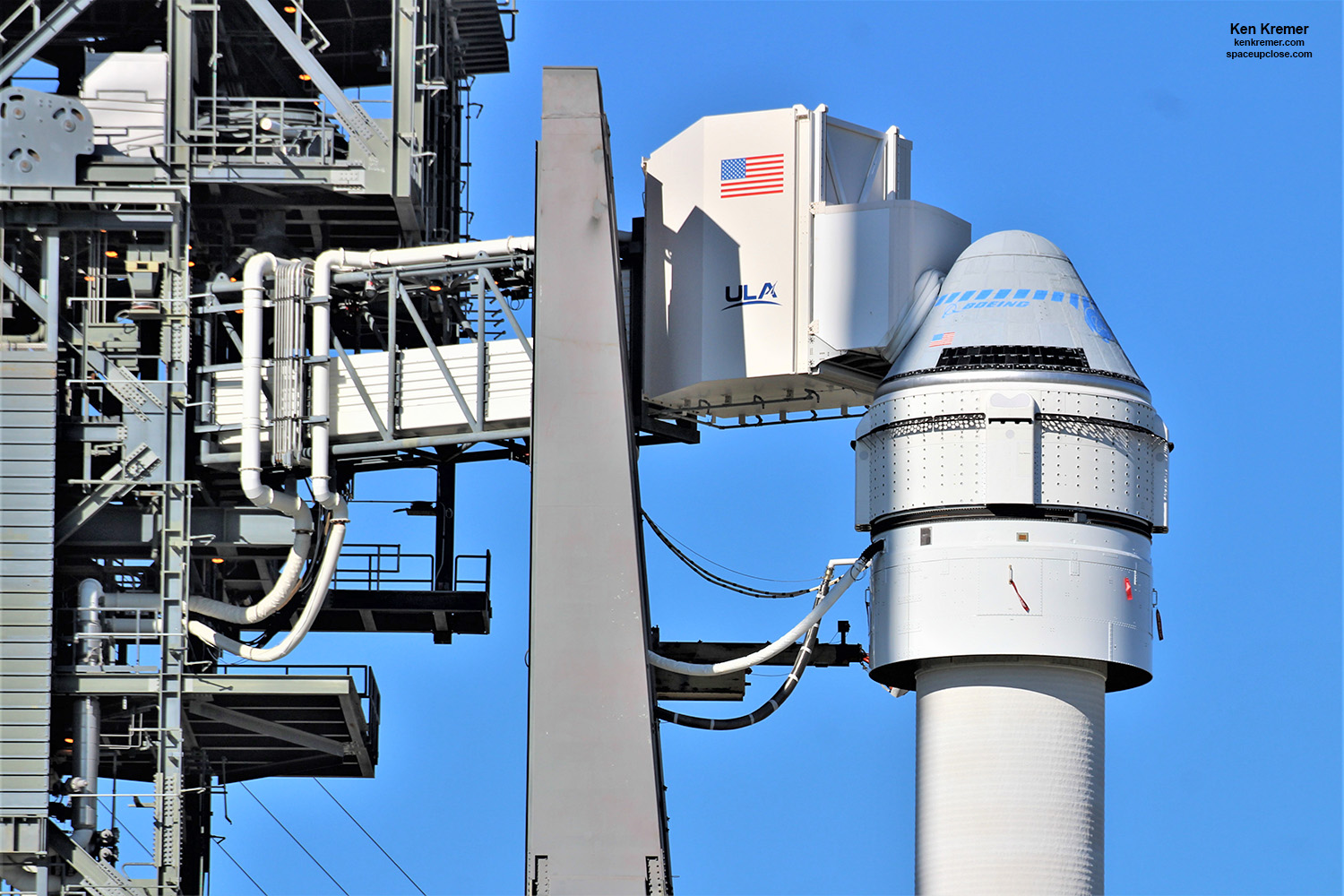 It was the first time that these two space capsule from SpaceX and Boeing were simultaneously vertical on adjacent pads barely a mile and a half apart and both are bound for the ISS on critical missions for NASA.
I visited both pads and both rockets and capsules just hours apart on Dec 4.
See our Space UpClose articles and photos of both Boeing Starliner/ULA Atlas V and SpaceX Cargo Dragon/Falcon 9.
Dragon is jam packed with more than 5,769 pounds (2,617 kilograms) of NASA cargo and science investigations, including studies of malting barley in microgravity, the spread of fire, and bone and muscle loss.
Dragon now begins a carefully choreographed series of maneuvers to raise its orbit and rendezvous with the orbiting outpost over a three day space journey in low earth orbit.
Dragon CRS-19 is scheduled to arrive at the mammoth outpost on Sunday, Dec. 8 – home to the six person multinational crew on Expedition 61.
Dragon will join three other spacecraft currently at the station including 2 Russian Soyuz crew vehicles and a Russian Progress resupply chip .
NASA will provide live coverage of the spacecraft's approach and arrival at the space station beginning at 4:30 a.m. on NASA Television and the agency's website.
Expedition 61 Commander Luca Parmitano of ESA (European Space Agency) will grapple Dragon with NASA astronaut Andrew Morgan acting as a backup.
NASA's Jessica Meir will assist the duo by monitoring telemetry during Dragon's approach. Coverage of robotic installation to the Earth-facing port of the Harmony module will begin at 8 a.m.
The Dragon spaceship is recycled from two prior missions on the CRS-4 and CRS-11 commercial resupply launches – from September 2014 and June 2017.
Thus the cargo Dragon is launching for the third time – the maximum for which they are certified.
The Dragon spacecraft supporting this mission previously flew in support of our fourth and eleventh commercial resupply missions pic.twitter.com/P6ceGX9Pz1

— SpaceX (@SpaceX) November 26, 2019

CRS-11 was the first time a Dragon was recycled, said Jessica Jenson, SpaceX Dragon program manager at the prelaunch briefing at the KSC Press Site.
The prior CRS-18 resupply flight successfully flew in July 2019 from pad 40.
The two stage Falcon 9/Dragon rocket stands about 213-feet (65-meters) tall.
The 20-foot high, 12-foot-diameter Dragon CRS-19 vessel is jam packed with more than 5,769 pounds (2,617 kilograms) of science experiments, research hardware, space parts, food water, clothing and more supplies for the six person Expedition 61 crew.
The research gear will support dozens of the more than 250 science and research investigations that will occur during Expeditions 61 and 62 and beyond.
The research payloads include a crew of micetronauts, high resolution imaging of the Earth's surface, investigations studying malting barley in microgravity, the spread of fire and bone and muscle loss, and upgrades to the Cold Atom Research (CAL) multi-use facility among many others.
SpaceX was awarded an approximately $3.1 Billion contract from NASA to launch 20 Dragon cargo missions to the orbiting outpost through 2019 under the Commercial Resupply Services-1 (CRS-1) agreement that was amended in 2015 and increased from an original value of $1.6 Billion.
One mission remains: CRS-20.
NASA also awarded a CRS contract to Northrop Grumman that has likewise been increased.
Northrop Grumman most recently launched the NG-12 resupply mission earlier this month. See our articles and photos.
Both companies also won new cargo mission contracts under the Commercial Resupply Services-2 (CRS-2) agreement awarded last year.
Here are details about some of the scientific investigations Dragon is delivering:
A Better Picture of Earth's Surface
The Hyperspectral Imager Suite (HISUI) is a next-generation, hyperspectral Earth imaging system. Every material on Earth's surface – rocks, soil, vegetation, snow/ice and human-made objects – has a unique reflectance spectrum. HISUI provides space-based observations for tasks such as resource exploration and applications in agriculture, forestry and other environmental areas.
Malting Barley in Microgravity
Malting ABI Voyager Barley Seeds in Microgravity tests an automated malting procedure and compares malt produced in space and on the ground for genetic and structural changes. Understanding how barley responds to microgravity could identify ways to adapt it for nutritional use on long-duration spaceflights.
Spread of Fire
The Confined Combustion investigation examines the behavior of flames as they spreads in differently shaped confined spaces in microgravity. Studying flames in microgravity gives researchers a better look at the underlying physics and basic principles of combustion by removing gravity from the equation.
Keeping Bones and Muscles Strong
Rodent Research-19 (RR-19) investigates myostatin (MSTN) and activin, molecular signaling pathways that influence muscle degradation, as possible targets for preventing muscle and bone loss during spaceflight and enhancing recovery following return to Earth. This study also could support the development of therapies for a wide range of conditions that cause muscle and bone loss on Earth.
Checking for Leaks
NASA is launching Robotic Tool Stowage (RiTS), a docking station that allows Robotic External Leak Locator (RELL) units to be stored on the outside of space station, making it quicker and simpler to deploy the instruments. The leak locator is a robotic, remote-controlled tool that helps mission operators detect the location of an external leak and rapidly confirm a successful repair. These capabilities can be applied to any place that humans live in space, including NASA's lunar Gateway and eventually habitats on the Moon, Mars, and beyond.
Watch my commentary about CRS-19 and the commercial crew mission on ABC TV News 9 Orlando, FL
https://www.wftv.com/weather/space/https-wwwwftvcomnewslocalspacex-rocket-launch-to-deliver-supplies-equipment-to-international-space-station1015310793/1015310793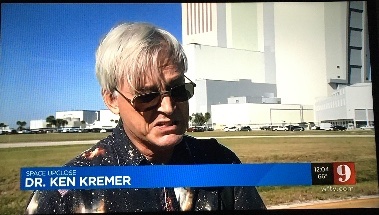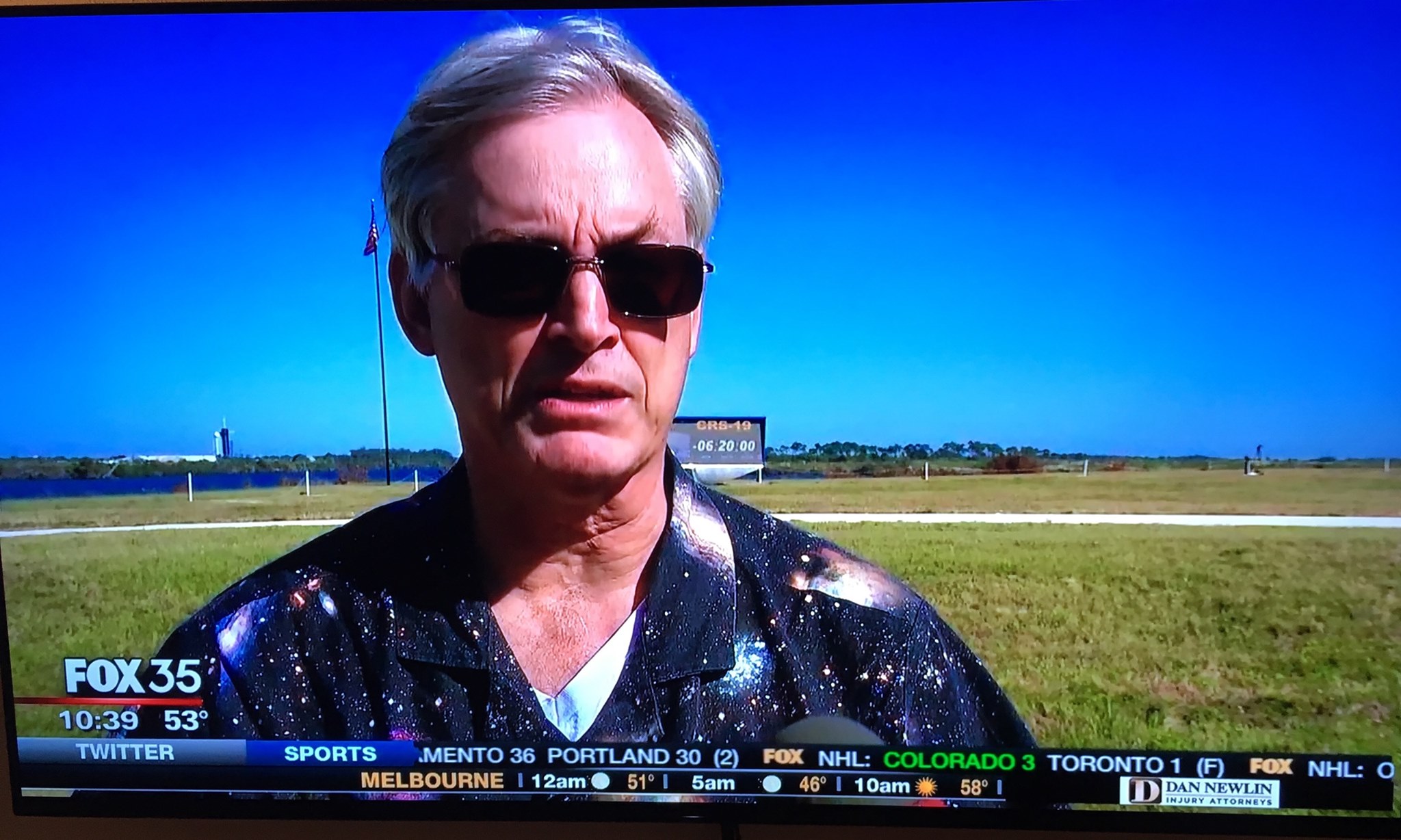 Watch Ken's continuing reports onsite for live reporting of the SpaceX CRS-19 mission and Starliner OFT mission at the Kennedy Space Center and Cape Canaveral Air Force Station.
Stay tuned here for Ken's continuing Earth and Planetary science and human spaceflight news: www.kenkremer.com –www.spaceupclose.com – twitter @ken_kremer – email: ken at kenkremer.com
Dr. Kremer is a research scientist and journalist based in the KSC area, active in outreach and interviewed regularly on TV and radio about space topics.
………….
Ken's photos are for sale and he is available for lectures and outreach events
Ken's upcoming outreach events:
Dec 14/16: 7 PM, Quality Inn Kennedy Space Center, Titusville, FL. "SpaceX CRS-19 and Boeing Starliner Launches to ISS." Free. In hotel lobby. Photos for sale