For SpaceUpClose.com & RocketSTEM
KENNEDY SPACE CENTER, FL – Watch the extremely cool NASA rollout videos of the first flightworthy Boeing Starliner commercial crew astronaut ferry spacecraft last week on Thursday, Nov. 21 from the Commercial Crew and Cargo Processing Facility (C3PF) at NASA's Kennedy Space Center in Florida to its launch pad at Space Launch Complex 41 for stacking atop the United Launch Alliance Atlas V rocket – that will launch the ship on its first unpiloted voyage to space the Orbital Flight Test (OFT) for NASA to the International Space Station (ISS).
Video Caption: Rollout of 1st Boeing Starliner astronaut ferry ship on Nov. 21, 2019 from the Commercial Crew and Cargo Processing Facility (C3PF) at NASA's Kennedy Space Center in Florida to its launch pad at Space Launch Complex 41. Credit: NASA
The videos above and below were shot overhead from a drone following the convoy as at slowly made its way from KSC to the Cape.
Liftoff of the uncrewed OFT flight test is targeted to launch No Earlier Than (NET) Dec. 17 at 7:47 a.m. EST (1247 GMT).
Here's another shorter version of Starliner's rollout from NASA's commercial crew program that oversees the development of both the Boeing Starliner and SpaceX Crew Dragon commercial crew astronaut ferry vehicles for NASA
The second video includes Starliner being hoisted atop the ULA Atlas V
#ICYMI ? On Nov. 21, @BoeingSpace's CST-100 #Starliner made its way to @ULALaunch's SLC-41 Vertical Integration Facility and was mated to the top of an Atlas V rocket.

➡️Next up: Boeing's uncrewed Orbital Flight Test
?When: Dec. 17, 2019
?Learn more: https://t.co/VGdVRKuFs3 pic.twitter.com/7XmX6rpUxR

— NASA Commercial Crew (@Commercial_Crew) November 25, 2019
The 16.5-foot-tall (5-meter) Starliner was transported on ULA's motorized KAMAG payload transporter at a top speed of 5 mph while carefully cradled on the deck.
The motorized KAMAG and Starliner drove out from Boeing's Commercial Crew and Cargo Processing Facility (C3PF) at the edge of darkness before sunrise around 6 a.m. EST (1100 GMT) at NASA KSC Thursday, Nov. 21 – led by members of the Boeing team holding a banner that read "We're All In! Go Starliner!"
ULA's KAMAG transporter was specially modified to hold Starliner and carefully maintain under environmentally controlled conditions with the In-Transport Payload Air Conditioning (ITPAC) on the KAMAG deck – that enables "portable environmental control to supply conditioned air to the capsule to ensure proper temperatures and humidity levels."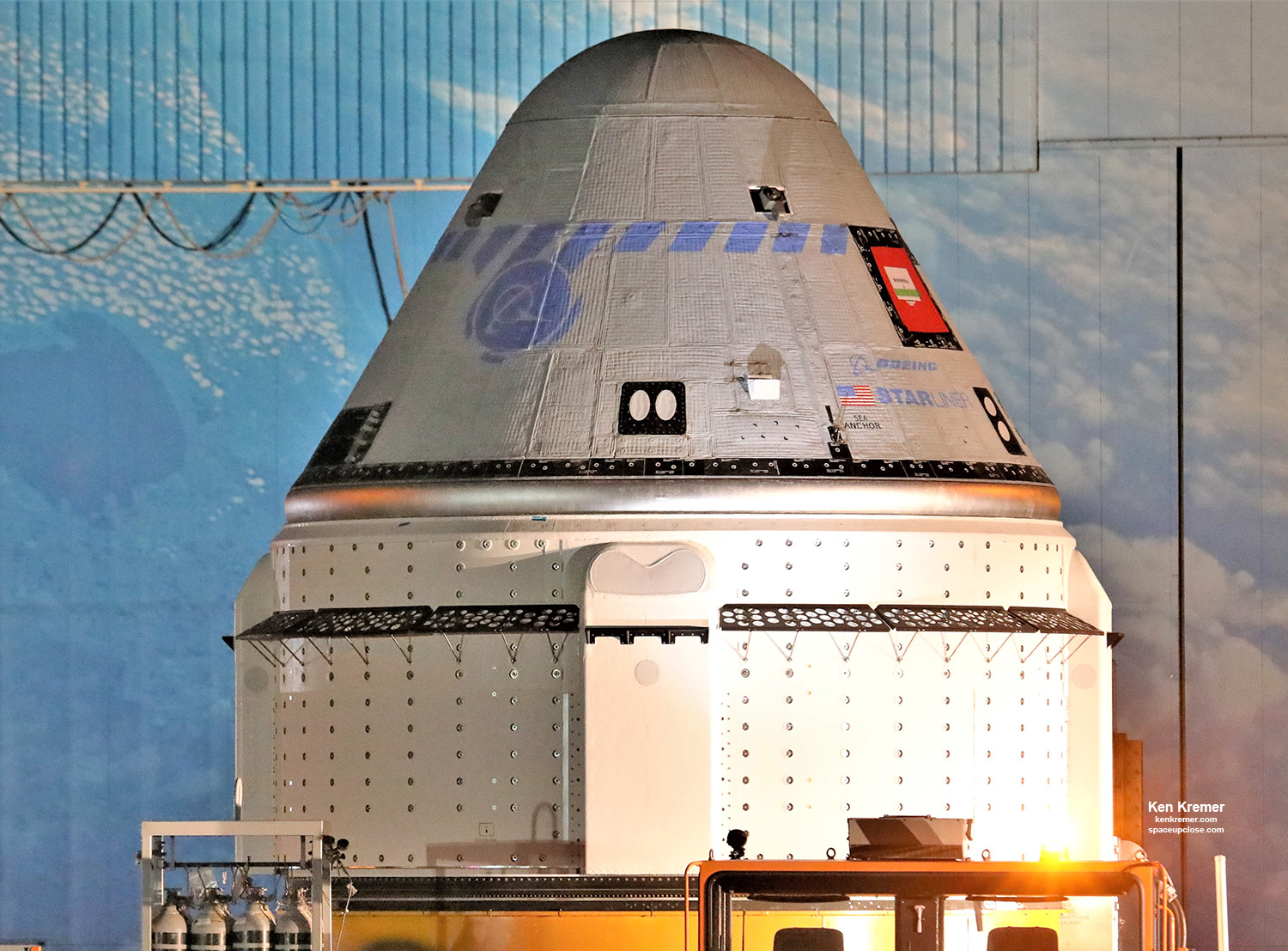 The convoy headed eastward on a trek of a few miles to the beach passing the VAB in post-sunrise daylight and then southward toward ULA's Vertical Integration Facility (VIF) where it was hoisted later the same day atop the waiting Atlas V at its launch site at Space Launch Complex-41 on Cape Canaveral Air Force Station.
Starliner's attachment to the ULA Atlas V marks a significant milestone in the dawn of a new era in commercial human American spaceflight that will soon lead at last to the long awaited resumption of human spaceflight launches of American astronauts on American capsules and rockets from American soil – thereby ending our 100% reliance on the Russian Soyuz capsule since the forced end to NASA's space shuttle program in 2011 by shortsighted American politicians.
Starliner, and the competing Crew Dragon spacecraft from SpaceX, were both developed with funding under NASA's Commercial Crew Program (CCP) started nearly a decade ago.
So its been a very long haul to reach this point on the verge of blastoff.
The goal of the Commercial Crew Program is to end our 100% reliance on the Russian Soyuz capsule for launches to the ISS at a cost of more than $85 million per astronaut seat.
OFT "will provide valuable data on the end-to-end performance of the Atlas V rocket, Starliner spacecraft and ground systems, as well as in-orbit, docking and landing operations."
If all goes well with the week-long OFT mission it will fully demonstrate Starliner and Atlas V's ability to safely carry crew to and from the orbiting laboratory and pave the path to the inaugural crewed liftoff on the Crew Flight Test (CFT) mission launching as soon as early 2020.
The first Starliner crew on the CFT mission comprises a trio of NASA and Boeing astronauts – who were also was on hand to welcome the Starliner on this milestone achievement and thank the tremendously hard working efforts of the entire team – namely Boeing astronaut and former NASA astronaut Chris Ferguson and NASA astronauts Mike Fincke and Nicole Mann.
Ferguson commanded the final shuttle mission STS-135 in July 2011.
He has been working on Starliner development and manufacturing ever since as a manager on the Boeing team and as a private Boeing test pilot astronaut.
Watch Ken's continuing reports onsite for live reporting of the SpaceX CRS-19 mission at the Kennedy Space Center and Cape Canaveral Air Force Station.
Stay tuned here for Ken's continuing Earth and Planetary science and human spaceflight news: www.kenkremer.com –www.spaceupclose.com – twitter @ken_kremer – email: ken at kenkremer.com
Dr. Kremer is a research scientist and journalist based in the KSC area, active in outreach and interviewed regularly on TV and radio about space topics.
………….
Ken's photos are for sale and he is available for lectures and outreach events
Ken's upcoming outreach events:
Dec 2/3/4: 7 PM, Quality Inn Kennedy Space Center, Titusville, FL. "SpaceX CRS-19 Launch to ISS Dec 4." Free. In hotel lobby. Photos for sale