For SpaceUpClose.com & RocketSTEM
CAPE CANAVERAL AIR FORCE STATION, FL – A breathtaking nighttime launch by SpaceX enlarging their Starlink constellation of broadband internet satellites is set to open the 2020 launch season at the Florida Space Coast under expected skies this evening Monday, Jan. 6 – and the weather outlook is outstanding!
The payload comprises the third batch of 60 SpaceX built and owned Starlink broadband satellites launching to LEO with an overall mass of about 7.7 tons.
Liftoff of the 3rd Starlink mission is now targeted for 9:19 p.m. EST Monday, Jan. 6 (0219 GMT Tuesday, Jan. 7) from Space Launch Complex-40 (SLC-40) on Cape Canaveral Air Force Station, FL.
You can watch the launch live via SpaceX webcast
Visit spacex.com/webcast
Watch SpaceX's live launch webcast starting about 15 minutes before liftoff to learn more about the mission.
In case of any delays for weather or technical reasons a backup launch opportunity exists on Tuesday.
Liftoff time moves slightly earlier to 8:57 p.m. EST (157 GMT) on Tuesday, January 8.
The weather outlook is very promising.
Air Force meteorologists with the 45th Space Wing at Patrick Air Force Base predict a greater than 90% chance of GO conditions at launch time – but could change at any time.
The primary concern is for cumulus clouds.
The forecast remains high at 80% GO on Tuesday.
SpaceX announced that this 'flight-proven' Falcon 9 booster will liftoff for the fourth time.
It flew of three prior missions on Starlink 1 in May 2019 as well as Iridium-8 and Telstar18.
See our Space UpClose photos from the Starlink launch in May and at earlier articles.
"The Falcon 9 first stage booster supporting this mission previously launched a Starlink mission, the Iridium-8 mission, and the Telstar 18 VANTAGE mission," said SpaceX.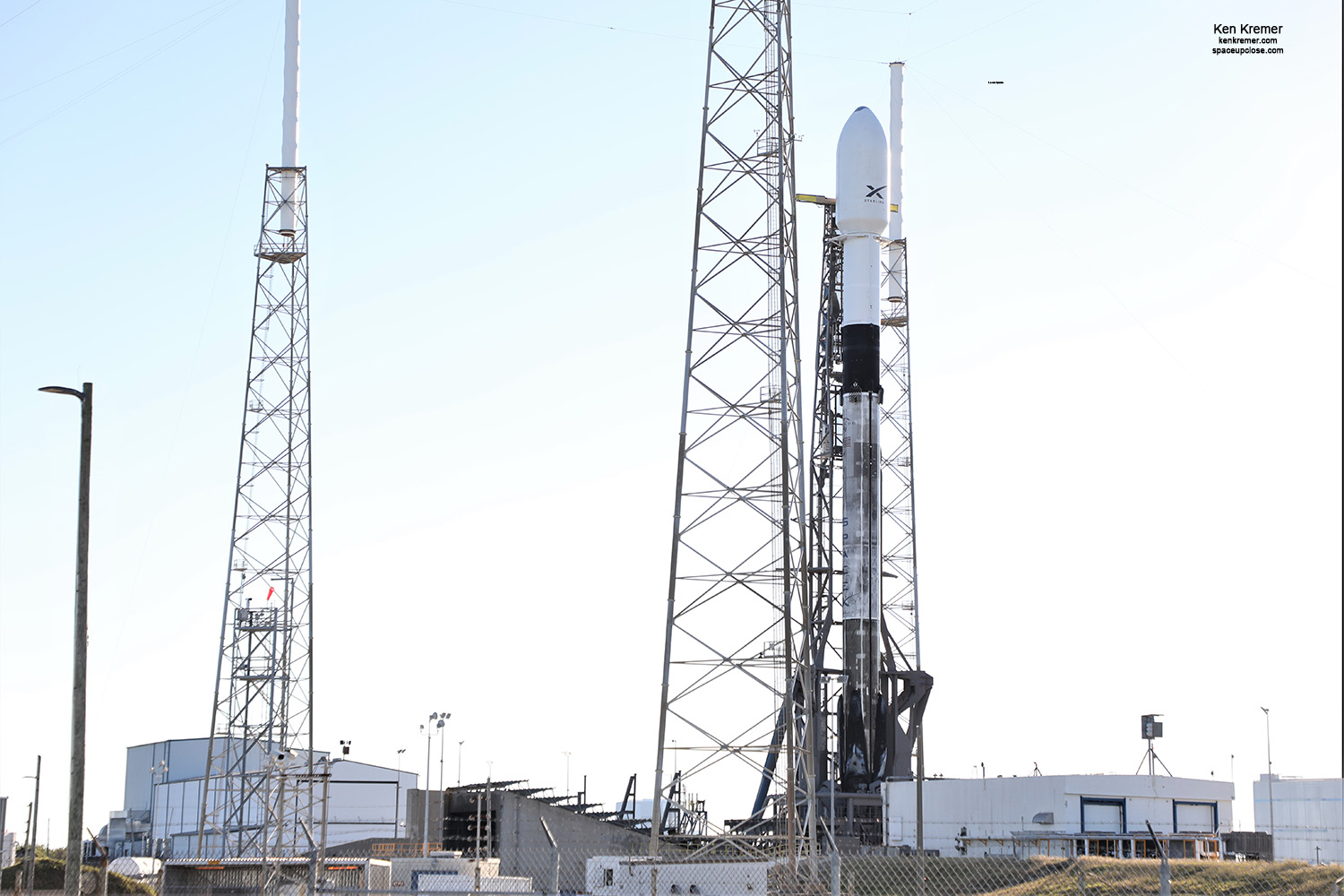 The two stage Falcon 9 rocket stands 229 feet (70 meters) tall.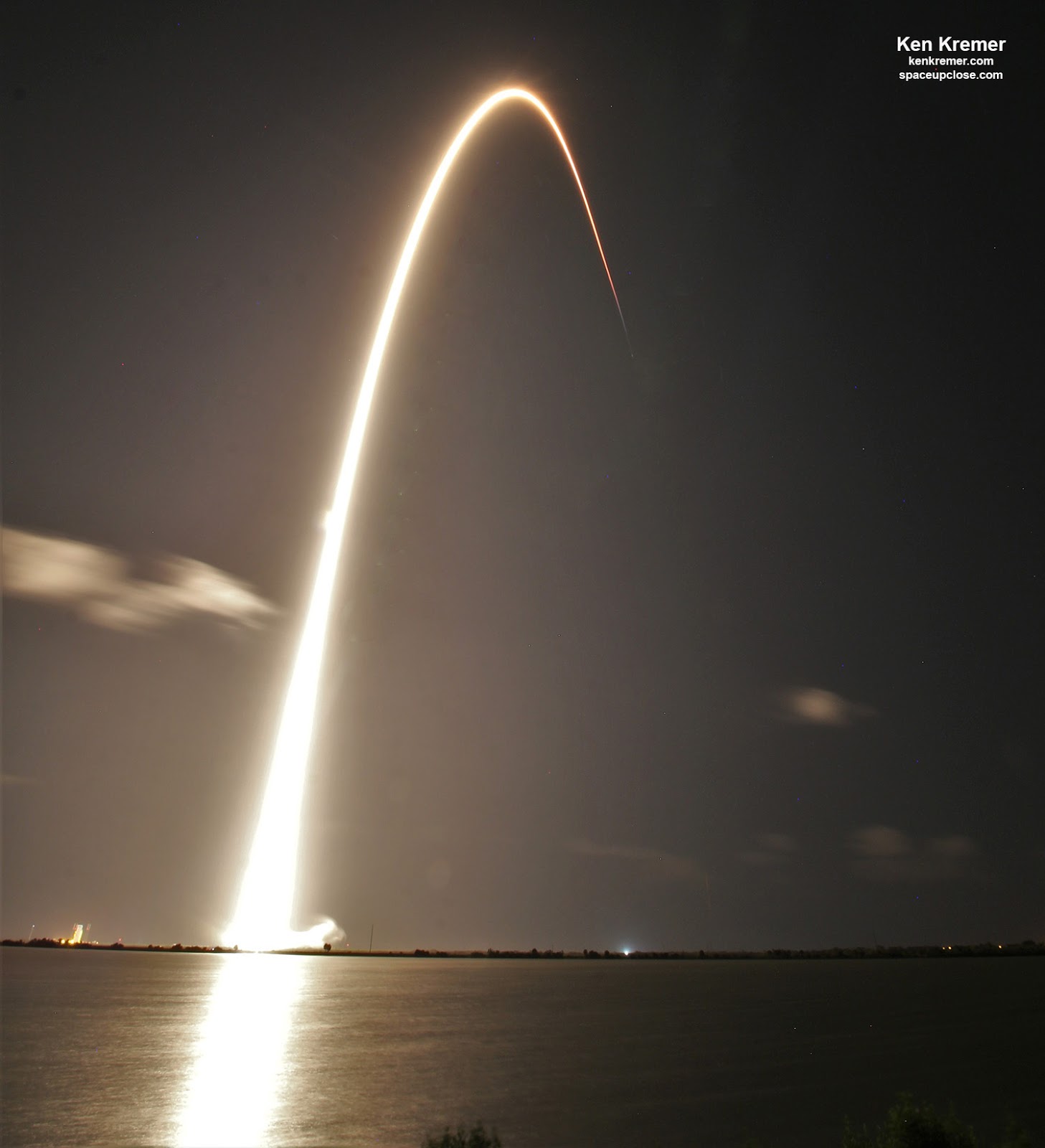 The path to launch was cleared following a successful static fire test on Saturday – observed by Space UpClose.  See our article and photos.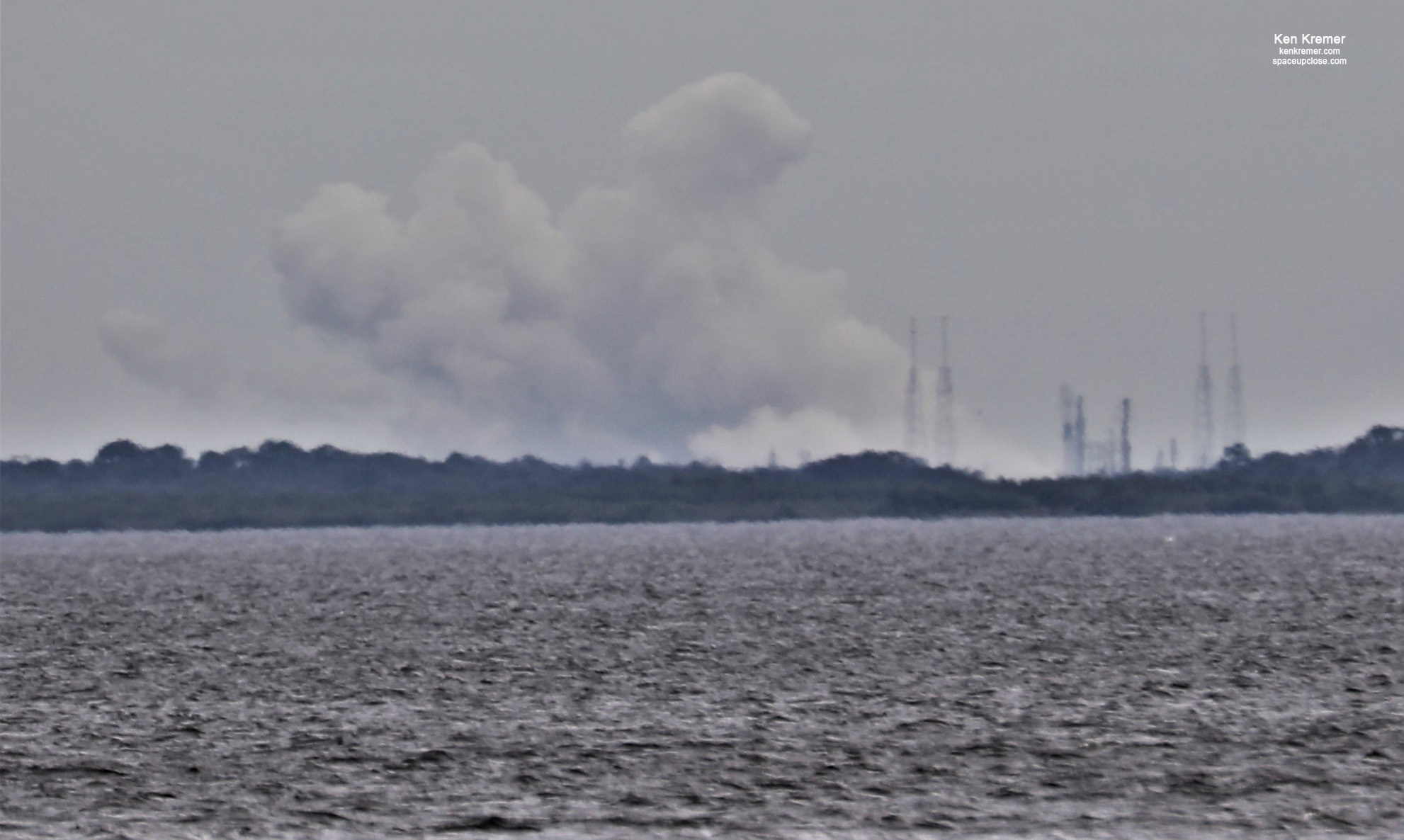 The first launch of 2020 not only brings new beginnings for Florida's Space Coast, but also the entire rocket launch community. Monday's scheduled SpaceX launch of the next round of Starlink satellites from Cape Canaveral Air Force Station will be the first official launch of the U.S. Space Force, says the Air Force.
"I'm excited for the 45th Space Wing to be a part of the U.S. Space Force," said Brig. Gen. Doug Schiess, 45th Space Wing commander. "Our wing will continue to do what we've excelled at for nearly 70 years: we'll continue our mission of providing assured access to space for warfighters and our Nation."
President Donald Trump signed a measure creating a U.S Space Force as the sixth branch of the military on Dec. 20th after the U.S. Senate passed the fiscal 2020 National Defense Authorization Act, a defense policy bill establishing the Space Force.
Watch Ken's continuing reports onsite for live reporting of upcoming SpaceX and ULA launches in Jan/Feb 2020 at the Kennedy Space Center and Cape Canaveral Air Force Station.
Stay tuned here for Ken's continuing Earth and Planetary science and human spaceflight news: www.kenkremer.com –www.spaceupclose.com – twitter @ken_kremer – email: ken at kenkremer.com
Dr. Kremer is a research scientist and journalist based in the KSC area, active in outreach and interviewed regularly on TV and radio about space topics.
………….
Ken's photos are for sale and he is available for lectures and outreach events
Ken's upcoming outreach events:
Jan 7: 7 PM, Quality Inn Kennedy Space Center, Titusville, FL. "SpaceX Starlink and In Flight Abort Test and Boeing Starliner Launches Jan 2020." Free. In hotel lobby. Photos for sale