For SpaceUpClose.com & RocketSTEM
TITUSVILLE, FL- Under gloomy Florida Space Coast skies and shortly before drenching showers rolled in SpaceX engineers completed a noontime static fire test of their recycled Falcon 9 rocket today Saturday, Jan. 4 on Cape Canaveral and are now targeting Monday evening Jan. 6 for launch of the third batch of 60 SpaceX built and owned Starlink broadband satellites to LEO – and the weather outlook is outstanding!
Notably the engine test involved an extremely rare combination of the fully integrated launch stack comprising the two stage SpaceX Falcon 9 rocket with the nose cone bolted on top with the payload of SpaceX Starlink commercial internet satellites encapsulated inside.
The 3rd Starlink mission is also significant in that it marks the opening of the new launch season as the 1st US launch of 2020 and the new decade – and the start of a very busy month and year ahead for rockets from a number of commercial providers that will almost certainly include the first human launches from US soil in over 8 long years.
Furthermore SpaceX will also become the owner of the largest fleet of Earth orbiting satellites – numbering 180 satellites delivered to orbit – if all goes well Monday evening Jan. 6.
In another major milestone in rocket recycling the mission features the second time use of a reused first stage booster for the fourth time.
The brief hold down hotfire test of the fully integrated SpaceX Falcon 9 first stage rocket and engines raised vertical took place today at 12:00 p.m. EST (1700 GMT) on Space Launch Complex-40 (SLC-40) on Cape Canaveral Air Force Station, FL under stormy skies on Florida's Space Coast.
Enjoy our exclusive eyewitness photos of the static fire test witnessed by Space UpClose from across the Indian River in Titusville, FL precisely at 12 Noon EST, Jan 4 – and about 12 miles away.
Liftoff of the 3rd Starlink mission is now targeted for 9:19 p.m. EST Monday, Jan. 6 (0219 GMT Tuesday, Jan. 7) from Space Launch Complex-40 (SLC-40) on Cape Canaveral Air Force Station, FL.
The hold down engine test with the erected Falcon 9 rocket and payload involved the brief ignition of all nine Merlin 1D first stage engines for several seconds generating some 1.7 million pounds of thrust at pad 40 while the two stage rocket was restrained on the pad with hold down clamps.
About an hour later after engineers reviewed the results SpaceX confirmed that the engine test went well and teams could proceed with launch preparations.
"Static fire test of Falcon 9 complete—targeting Monday, January 6 at 9:19 p.m. EST for launch of 60 Starlink satellites from Pad 40 in Florida," SpaceX tweeted.
Falcon 9 first stage booster supporting this mission previously launched a Starlink mission, the Iridium-8 mission, and the Telstar 18 VANTAGE mission pic.twitter.com/QdailzdG4o

— SpaceX (@SpaceX) January 4, 2020
SpaceX also announced that this 'flight-proven' Falcon 9 booster will liftoff for the fourth time.
It flew of three prior missions on Starlink 1 in May 2019 as well as Iridium-8 and Telstar 18.
"Falcon 9 first stage booster supporting this mission previously launched a Starlink mission, the Iridium-8 mission, and the Telstar 18 VANTAGE mission."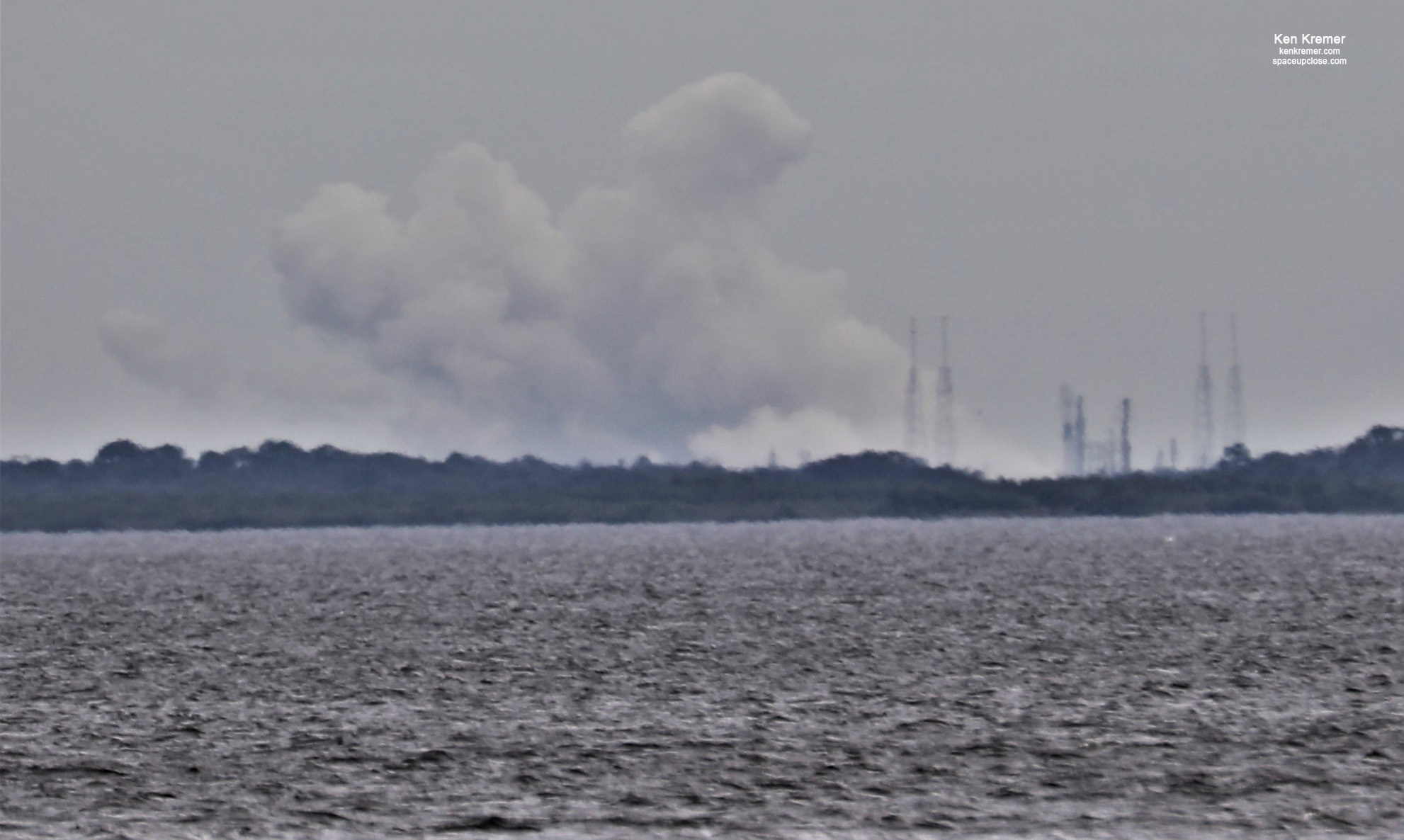 The two stage Falcon 9 rocket stands 229 feet (70 meters) tall.
The long range Space Coast weather looks extremely promising at this point.
Air Force meteorologists with the 45th Space Wing at Patrick Air Force Base predict a greater than 90% chance of GO conditions at launch time – but could change at any time.
The primary concern is for cumulus clouds.
The Falcon 9 rocket stack was rolled out from the processing hangar and raised at pad 40 on Friday by sunset – see our photo.
This third Starlink launch is officially designated as Starlink 2.
The goal of Starlink is to create a network that will help provide internet services to those who are not yet connected, and to provide reliable and affordable internet across the globe.
SpaceX will attempt to recover both the payload fairings and booster as well.
SpaceX CEO Elon Musk has made rocket recycling a top priority in order to slash launch costs.
Musk says that the fairings cost approximately $6 million or roughly 10% of the approximate cost of $60 million for a new Falcon 9 rocket.
SpaceX naval fleet now includes 2 fairing recovery ships outfitted with giant nets to attempt to catch both halves some 733 km downrange before they splash into the Atlantic approximately 45 minutes after liftoff – namely GO MS TREE and GO MS CHIEF.
SpaceX has deployed the "Of Course I Still Love You" (OCISLY) droneship to attempt a soft landing of the first stage booster some 628 km downrange in the Atlantic Ocean.
If all goes well these 60 new Starlink satellites join the first two batches of 60 launched in May and November of 2019.
The Starlink satellites begin deployment about 60 minutes after liftoff.
"Starlink is a next-generation satellite network capable of connecting the globe, especially reaching those who are not yet connected, with reliable and affordable broadband internet services," says SpaceX.
The Starlink satellites are manufactured by SpaceX – as well the rockets.
The constellation could eventually number over 20,000 or more satellites in low earth orbit.
"The Starlink satellites will deploy at an altitude of 290 km. Prior to orbit raise, SpaceX engineers will conduct data reviews to ensure all Starlink satellites are operating as intended. Once the checkouts are complete, the satellites will then use their onboard ion thrusters to move into their intended orbits."
"Starlink satellite flight operations take place in three phases: orbit raise, onstation service, and deorbit. After deployment, over the course of one to four months, the satellites use their onboard thrusters to raise from an altitude of 290 km to 550 km. During this phase of flight the satellites are closely clustered and their solar arrays are in a special low-drag configuration, making them appear more visible from the ground."
"Once the satellites reach their operational altitude of 550km and begin onstation service, their orientation changes and the satellites become significantly less visible from the ground. On this flight, SpaceX is also testing an experimental darkening treatment on one satellite to further reduce the albedo of the body of the satellites."
SpaceX currently plans at least two additional Falcon 9 launches in January.
Namely the InFlight Abort Test (IFA) in mid-January to demonstrate the emergency abort capability with a Crew Dragon for NASA involving the ability to save the astronauts from a failing rocket in flight – and another Starlink mission in later January.
Watch Ken's continuing reports onsite for live reporting of upcoming SpaceX and ULA launches in Jan/Feb 2020 at the Kennedy Space Center and Cape Canaveral Air Force Station.
Stay tuned here for Ken's continuing Earth and Planetary science and human spaceflight news: www.kenkremer.com –www.spaceupclose.com – twitter @ken_kremer – email: ken at kenkremer.com
Dr. Kremer is a research scientist and journalist based in the KSC area, active in outreach and interviewed regularly on TV and radio about space topics.
………….
Ken's photos are for sale and he is available for lectures and outreach events
Ken's upcoming outreach events:
Jan 5: 7 PM, Quality Inn Kennedy Space Center, Titusville, FL. "SpaceX Starlink and In Flight Abort Test and Boeing Starliner Launches Jan 2020." Free. In hotel lobby. Photos for sale