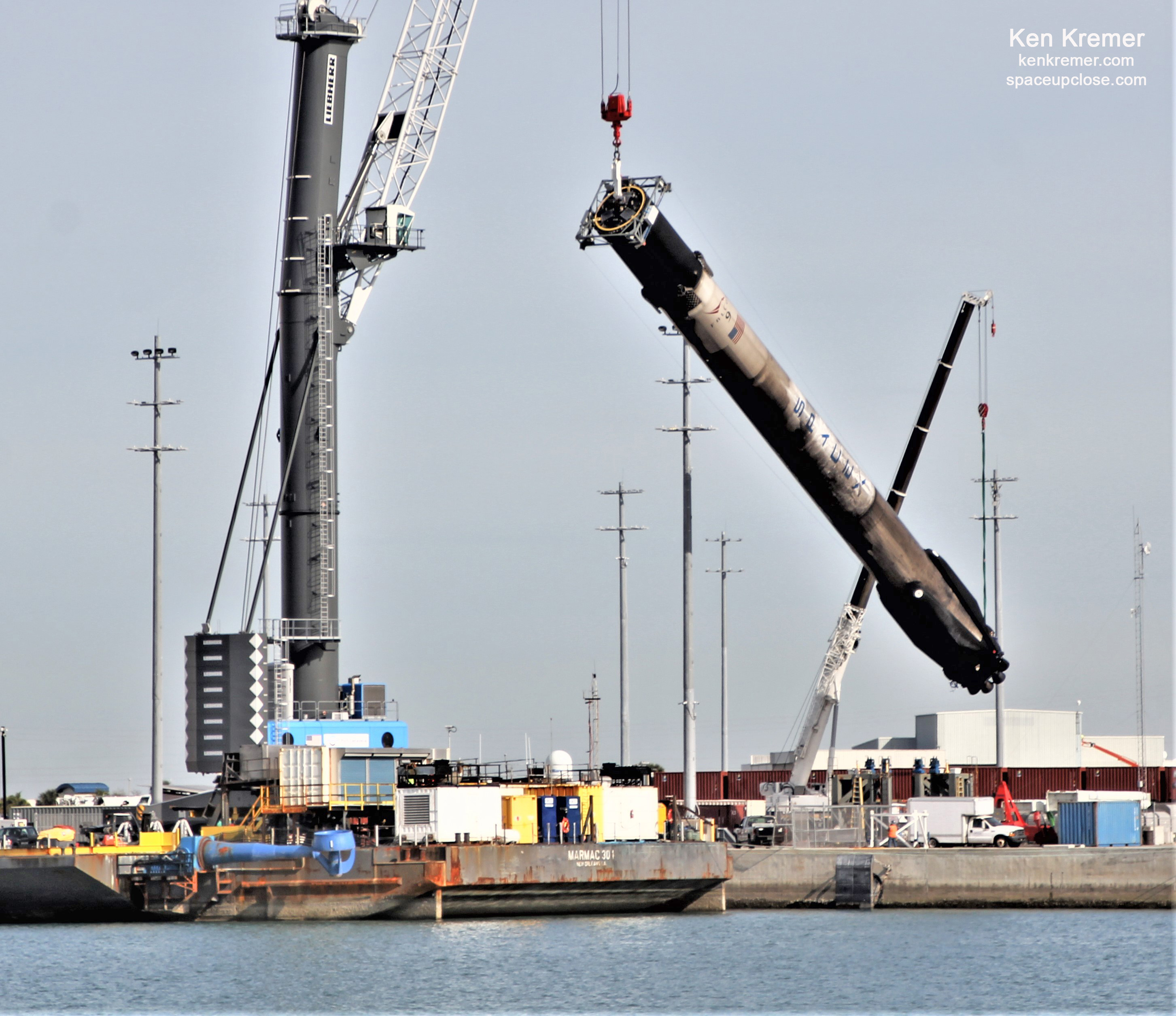 For SpaceUpClose.com & RocketSTEM
PORT CANAVERAL, FL – Despite a hard landing on the OCISLY droneship minutes after last weeks Starlink mission blastoff on Jan. 29, SpaceX workers were able to successfully retract all four of the recycled Falcon 9 landing legs without too much hardship in Port Canaveral on Monday, Feb. 3 although they were significantly deflected at touchdown – as seen in the firms live video feed.
Thereafter the SpaceX team tilted and lowered the booster horizontal on Tuesday morning, Feb. 4, around 10 a.m. at the cargo pier 6 as I observed from across Port Canaveral channel and then transported it back to the Cape on Wednesday morning, Feb. 5.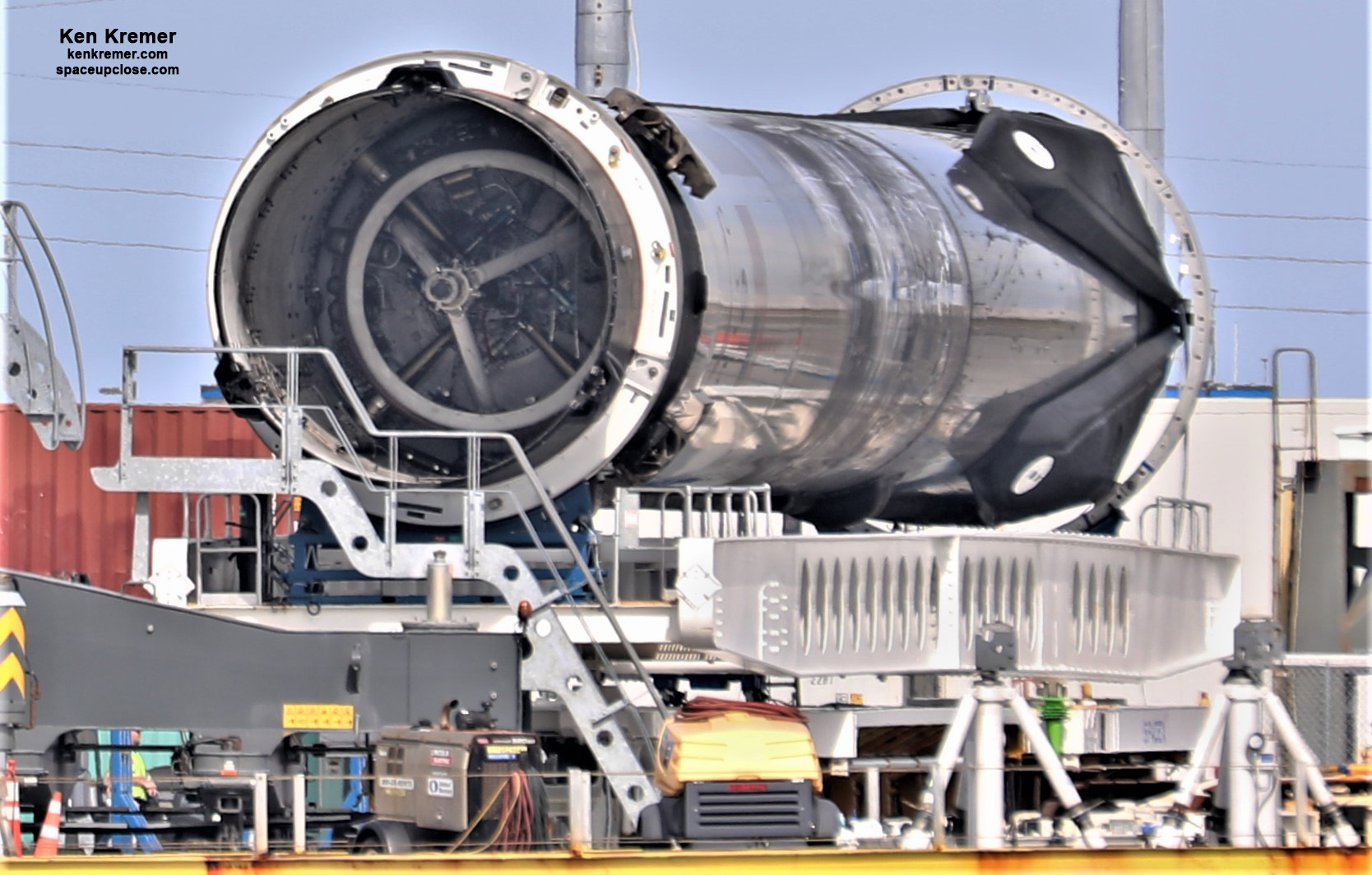 The leg retraction work using the booster hoisting device began around 4 p.m. EST Monday afternoon, Feb. 3 after the crane crew apparently took a day of rest on Super Bowl Sunday.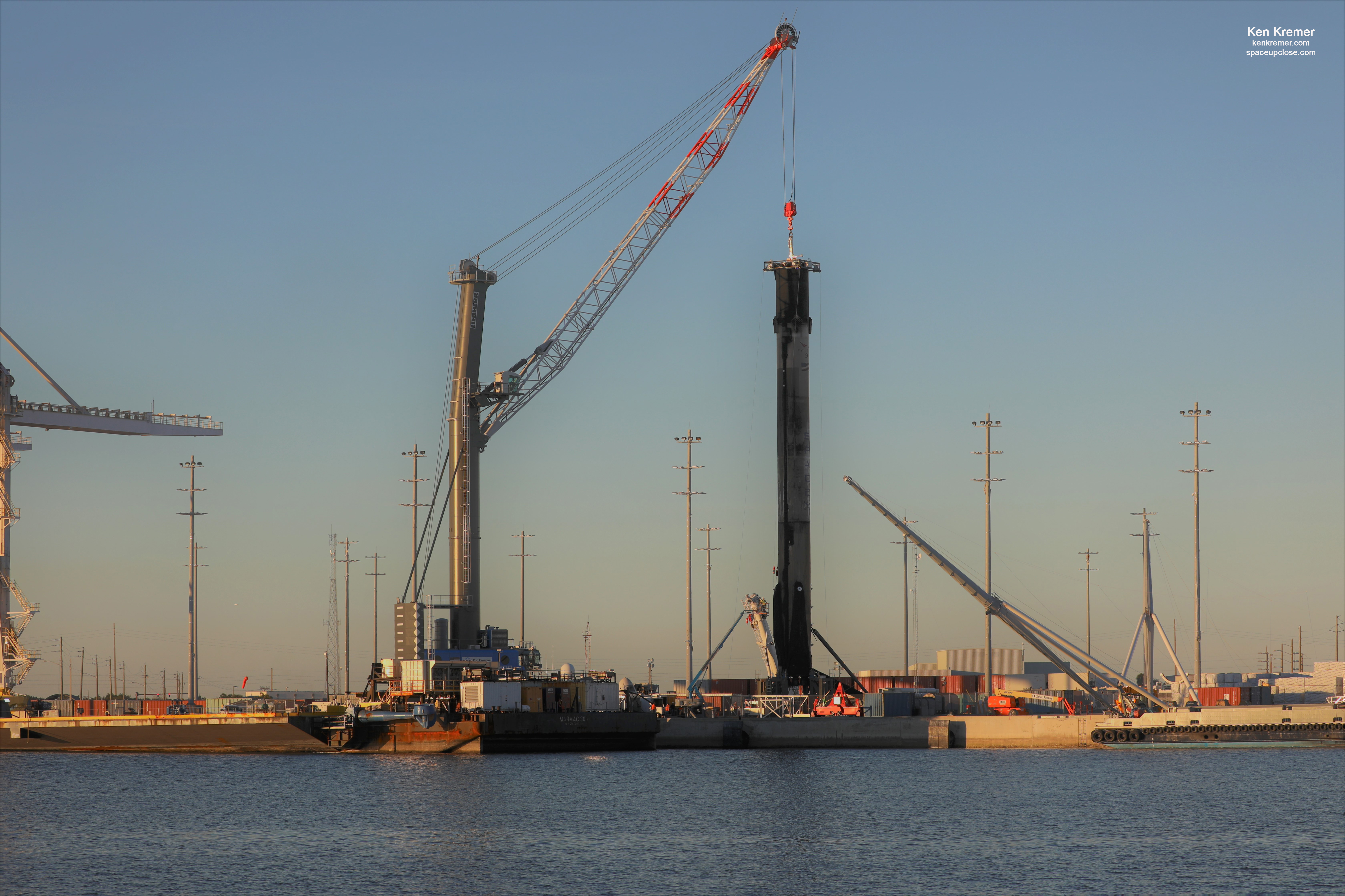 Crews attached the rope lines to the tip of the landing pad and then commanded the leg raising using the booster lift and leg retraction cap device bolted to the top of the recycled booster.
The leg retraction work started at 4 p.m. first with the back leg in one nearly continuous operation that took roughly 30 minutes. Perhaps somewhat surprising considering the force of the landing.
The port crane crew then proceeded to the front leg, followed by the left leg. Each operation appeared to go well taking some 30 to 45 minutes.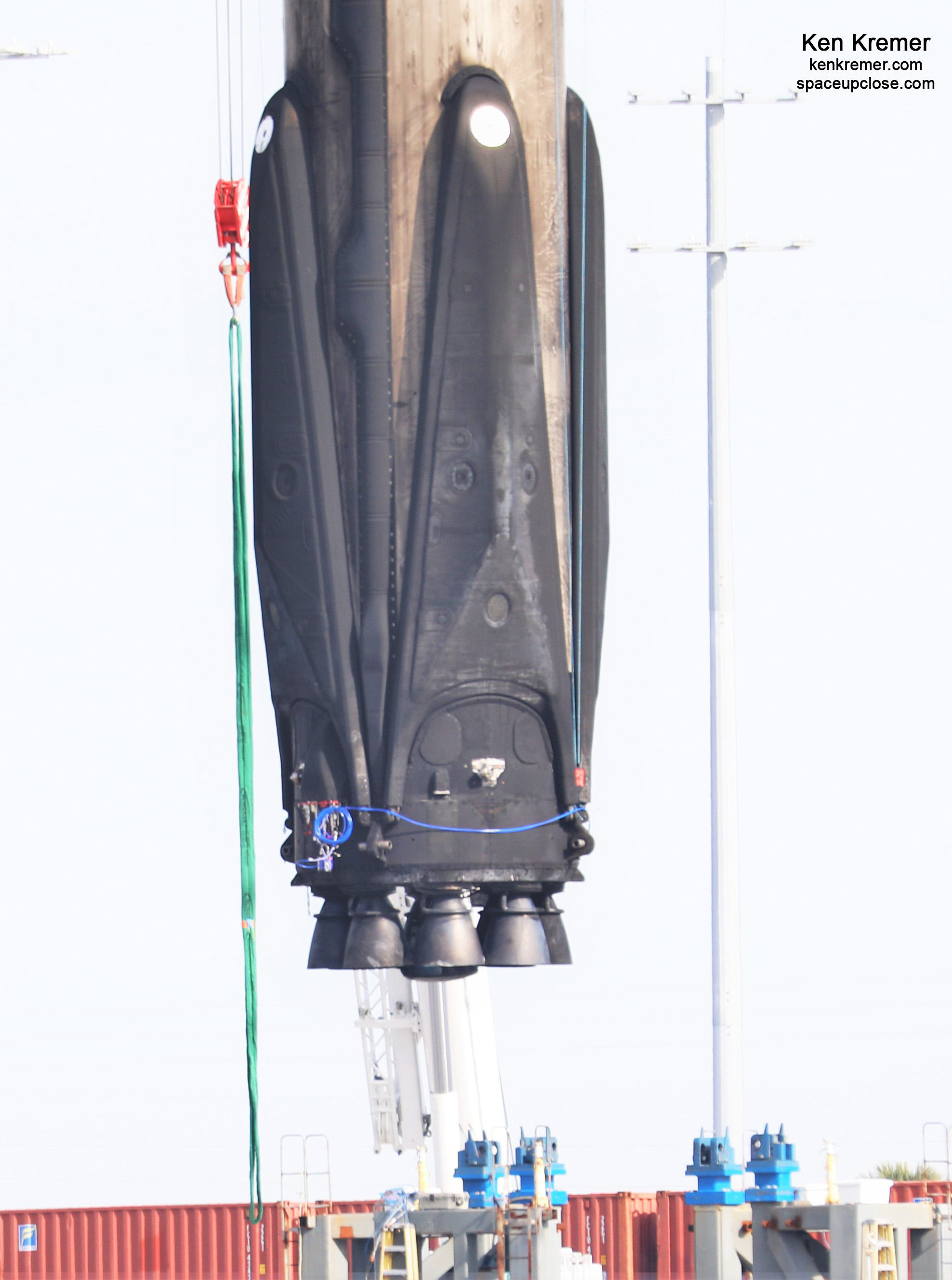 By sunset Monday three legs had been successfully retracted flush up against the booster external core.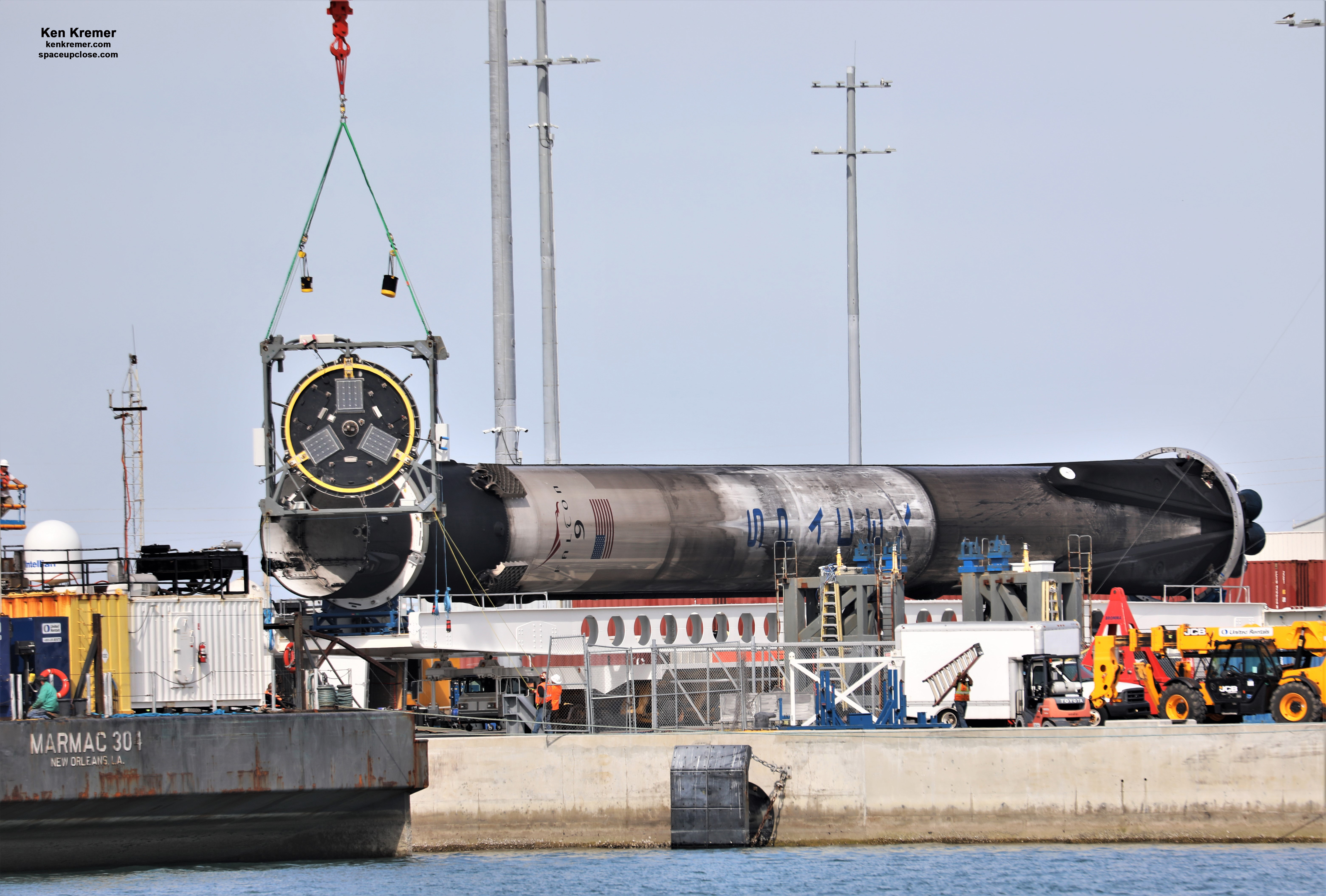 The team concluded the day's work by retracting the fourth leg after dark.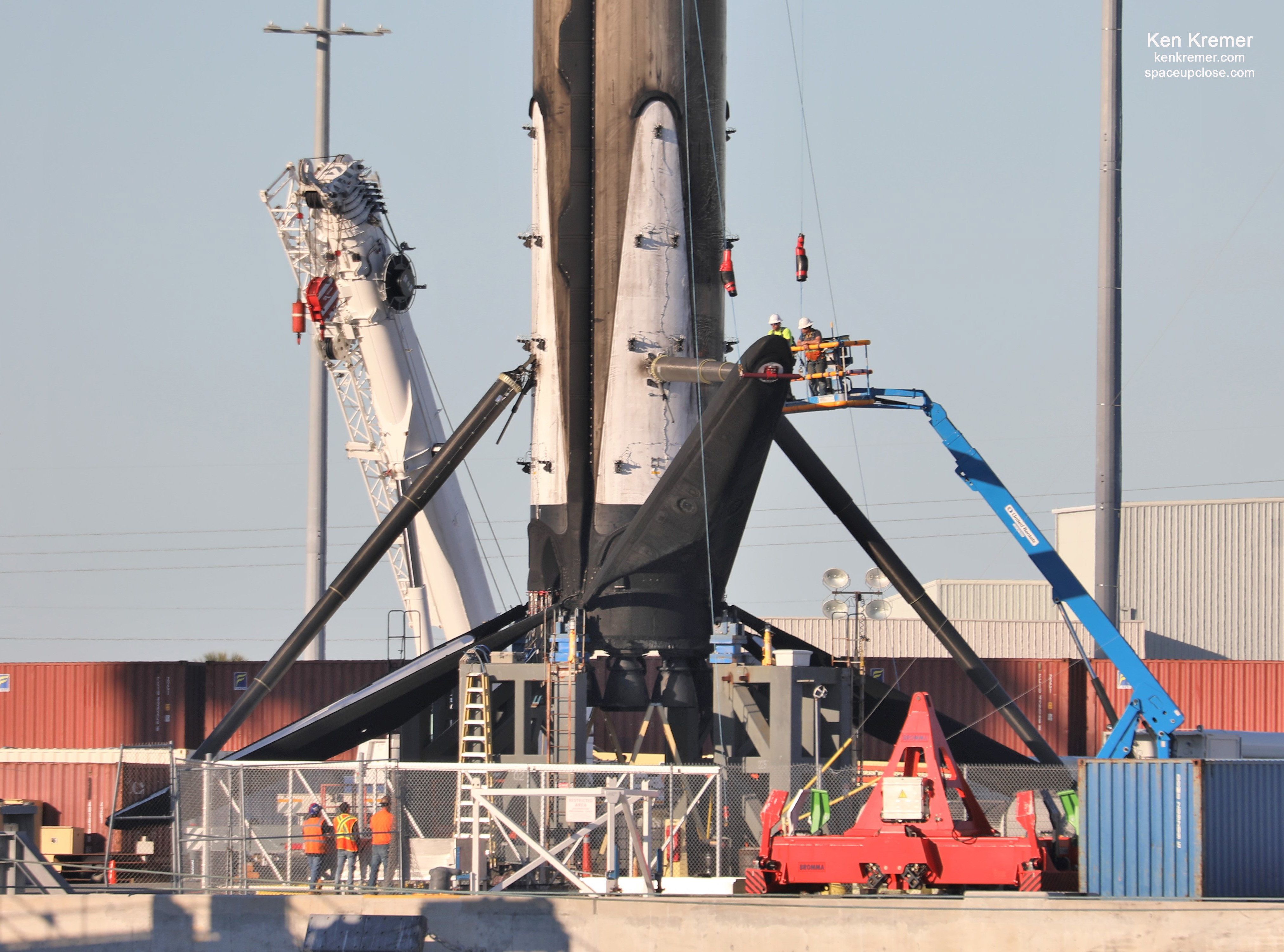 Enjoy our Space UpClose photo gallery of the Falcon 9 booster 1051.3 standing both vertical and resting horizonal throughout this week of the SpaceX crane crew efforts on at Port Canaveral.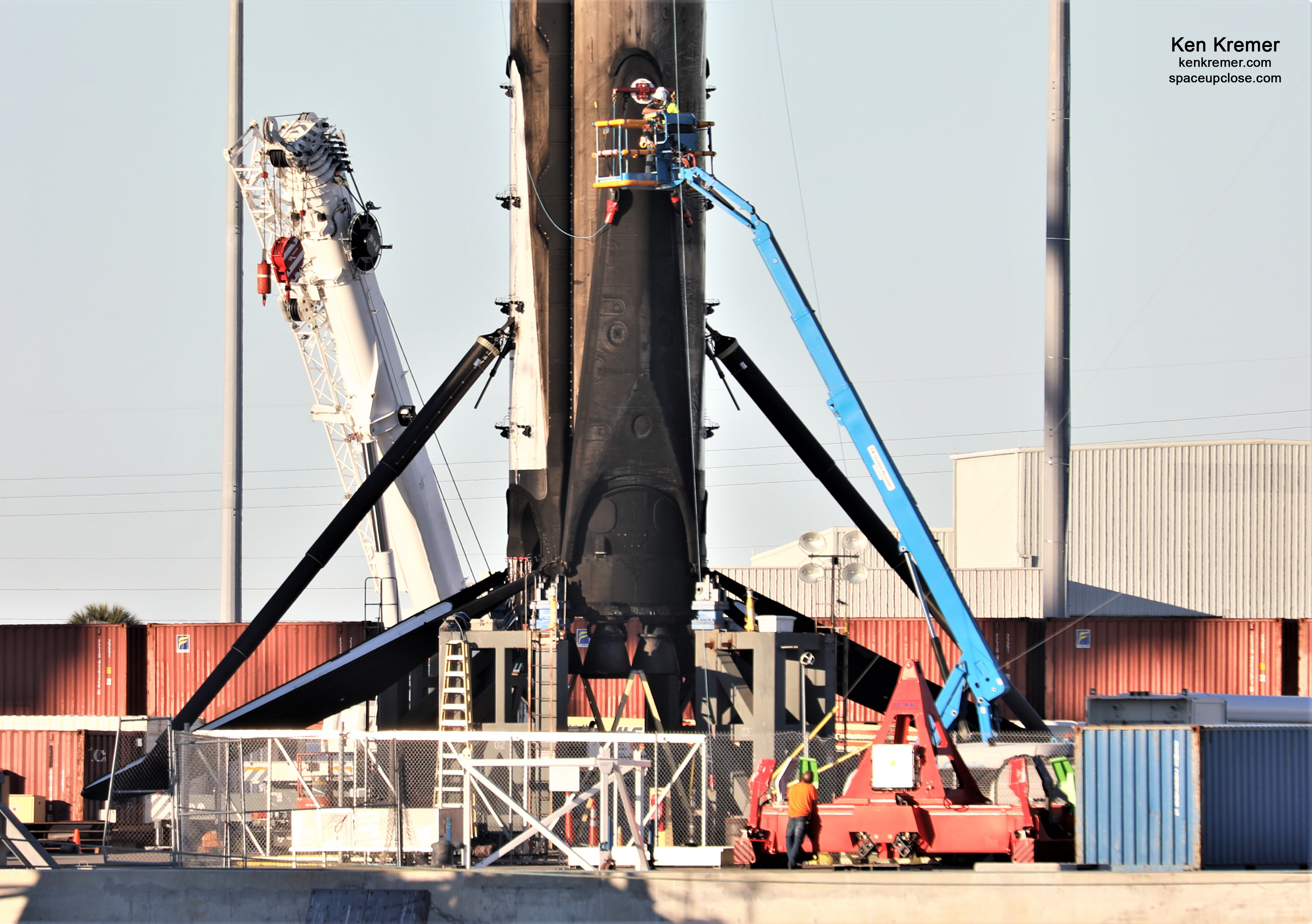 Check back as the gallery grows.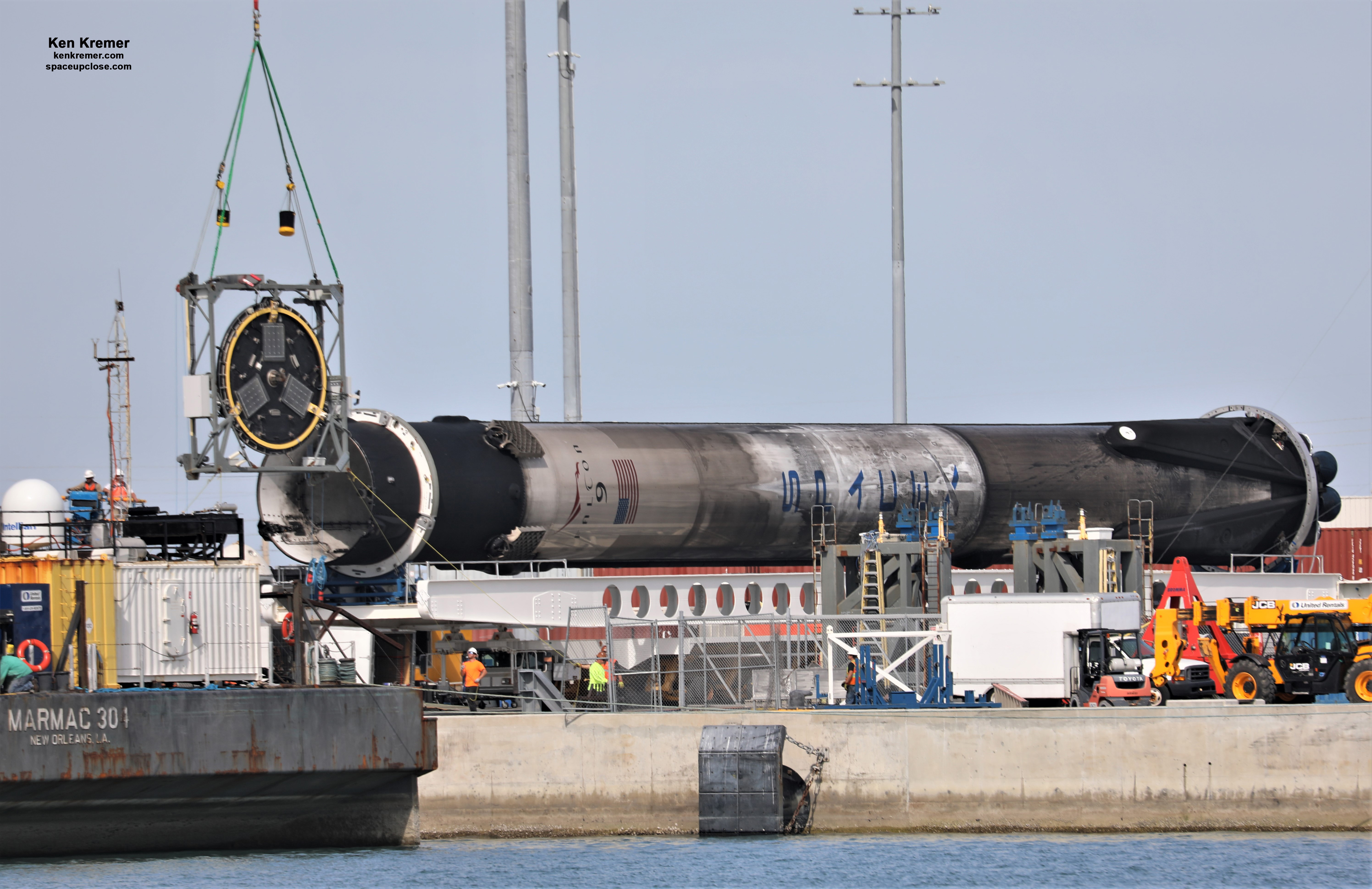 Note that the successfully retraction of all four legs on this booster B1051.3 stands in stark contrast to the evenly mixed bag of results for the SpaceX crane crews working on the landing legs of the prior 4 time recycled SpaceX Falcon 9 first stage booster B1049.4 from the Starlink 2 mission in early January, as they were only able to successfully retract two while the other two were completely detached – perfect symmetry from opposite sides no less. See our Starlink 2 stories and photos.
Liftoff of the 4th Starlink mission on a recycled SpaceX Falcon 9 finally took place at 9:06 a.m. EST, 1404 GMT, Wednesday morning, Jan. 29 from Space Launch Complex-40 (SLC-40) on Cape Canaveral Air Force Station, FL – during an instantaneous window.
SpaceX thereby enlarged their constellation of Starlink broadband internet satellites to 240 bringing the firm closer to initiating service in the USA later this year.
The launch was the third one for this Falcon 9 booster 1051 after previously flying the SpaceX Crew Dragon on its first demonstration mission Demo-1 in March 2019 (see our earlier articles and photos) and the RADARSAT Constellation Mission in June 2019.
Following stage separation, SpaceX successfully targeted the booster to land on the "Of Course I Still Love You" droneship about 8 minutes after launch – which was stationed about 400 miles (640 kilometers) northeast of Cape Canaveral in the Atlantic Ocean.
The triply launched and recovered Falcon 9 1st stage booster booster had arrived under gloomy and rainy Space Coast skies – sailing triumphantly into Port Canaveral atop the OCISLY droneship Saturday morning Feb. 1, at the channel entrance past Jetty Park Pier – nearly three days after the oft weather delayed but nevertheless spectacular launch of their next batch of their 60 Starlink satellites into sunny Florida skies on Wednesday morning, Jan. 29.
The 16 story tall booster arrival also came two days after the special SpaceX naval fleet team was able to successfully recover both halves of the payload fairing and sail them back into Port Canaveral on Thursday, Jan 30 just over a day after liftoff.
The 156 foot tall Falcon 9 booster landed on the "Of Course I Still Love You" (OCISLY) droneship arrived around 7:30 a.m. Saturday morning Feb. 1 towed by tug Hawk in the Atlantic Ocean and accompanied by the SpaceX naval fleet just offshore of the beach.
Since it had been pouring rain in the hours before arrival the crowd of spectators was smaller than normal but nonetheless still excited – comprising locals, tourists and dedicated media gathered along Jetty Park Pier and Beach.
Luckily the deluge of rain mostly ceased just as Falcon 9 and OCISLY arrived.
Enjoy our Space UpClose photo gallery of the arrival and docking of the somewhat sooty Falcon 9 booster 1051.3 at the droneships normal northside berthing port.
Rocket recycling is a major tenant of SpaceX CEO and founder Elon Musk as the driver for radically slashing launch costs.
My Starlink and Crew Dragon launch commentary and rocket and fairing recovery photos were featured on WFTV ABC TV News Orlando and WKMG CBS TV News Orlando:
https://www.wftv.com/news/local/brevard-county/brevard-county-officials-look-out-rocket-debris-beach/UN5EL6OL7FGUZEXW44QVJMYGZI/
https://www.clickorlando.com/news/local/2020/01/20/next-launch-spacex-to-send-more-starlink-satellites-into-space/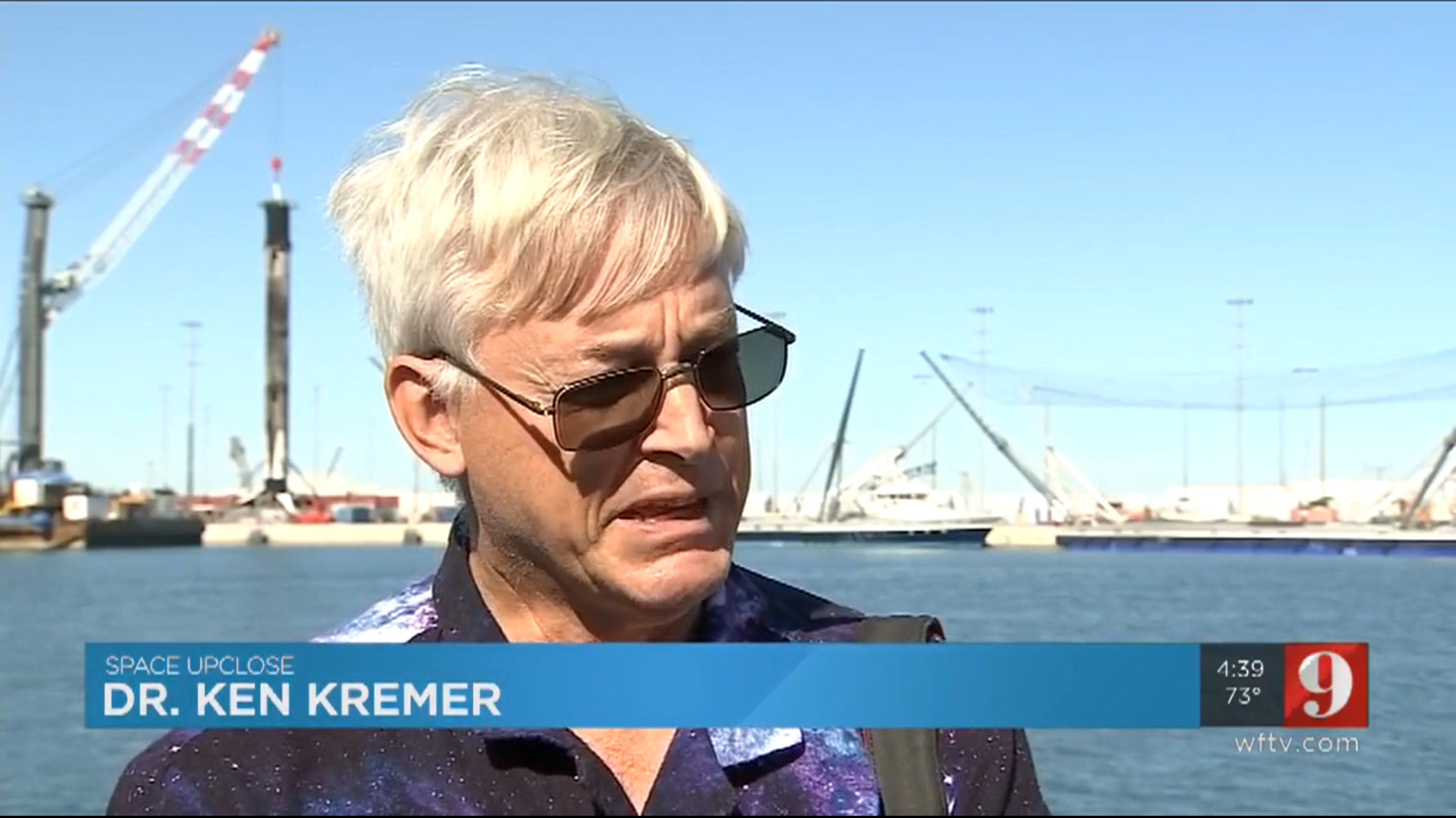 Watch Ken's continuing reports onsite for live reporting of upcoming SpaceX and ULA launches including In-Flight Abort, Starlink and Solar Orbiter in Jan/Feb 2020 at the Kennedy Space Center and Cape Canaveral Air Force Station.
Stay tuned here for Ken's continuing Earth and Planetary science and human spaceflight news: www.kenkremer.com –www.spaceupclose.com – twitter @ken_kremer – email: ken at kenkremer.com
Dr. Kremer is a research scientist and journalist based in the KSC area, active in outreach and interviewed regularly on TV and radio about space topics.
………….
Ken's photos are for sale and he is available for lectures and outreach events
Ken's upcoming outreach events:
Feb 7/8: 7 PM, Quality Inn Kennedy Space Center, Titusville, FL. "ULA Solar Orbiter Feb 9. SpaceX In Flight Abort and Starlink launches." Free. In hotel lobby. Photos for sale