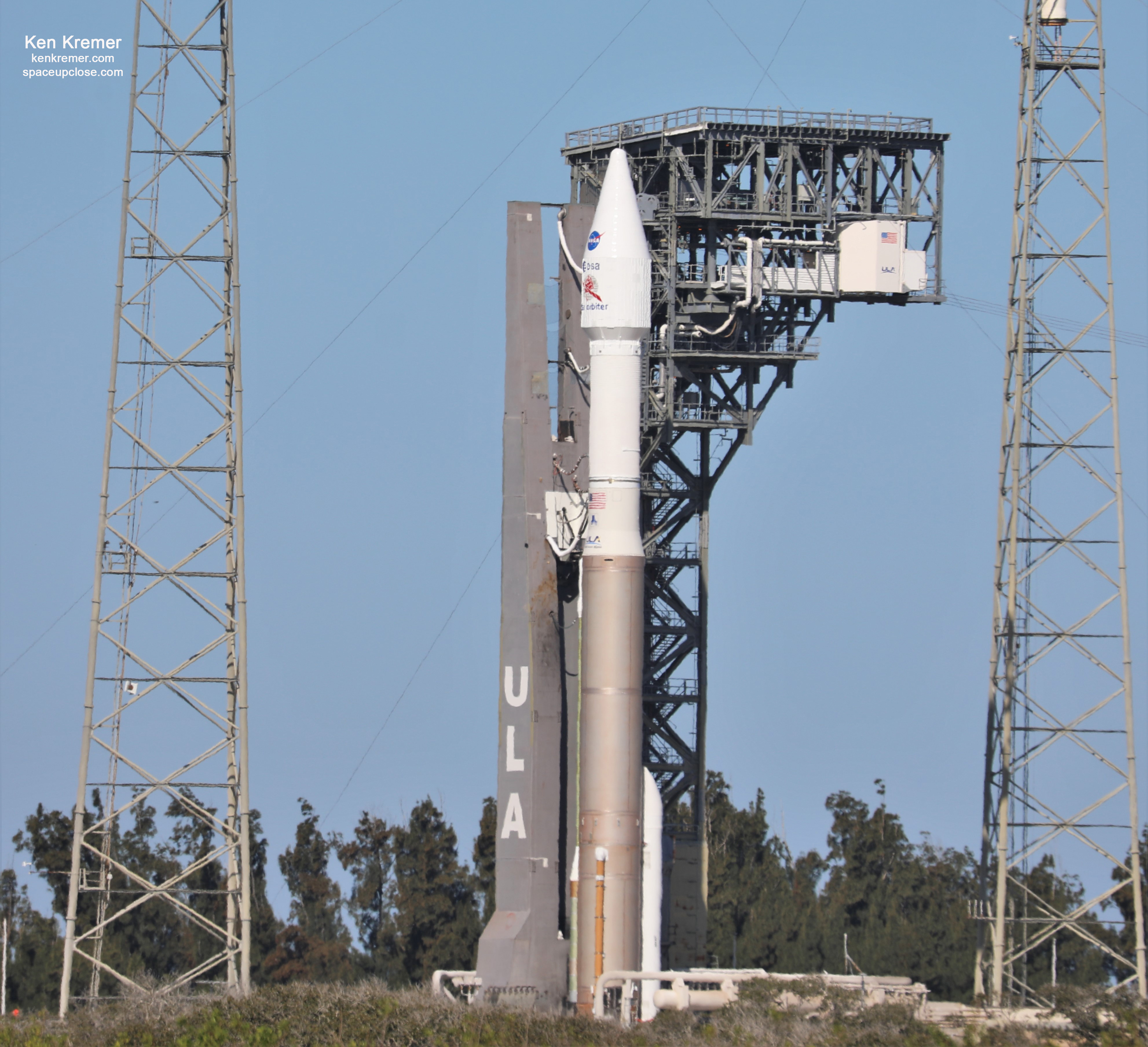 For SpaceUpClose.com & RocketSTEM
KENNEDY SPACE CENTER/CAPE CANAVERAL SPACE FORCE STATION, FL – The collaborative NASA/ESA Solar Orbiter spacecraft rolled out to the launch pad atop a United Launch Alliance Atlas V rocket at Space Launch Complex 41 at Cape Canaveral Space Force Station this morning, Saturday, February 8 under sunny blue skies on the Florida Space Coast.
Liftoff of the ULA Atlas V from seaside pad 41 is targeted for 11:03 p.m. EST on Sunday, Feb. 9. There is a two-hour launch window and weather looks very good at 80% GO.
The international Solar Orbiter is the first mission designed to image and explore the sun's polar regions thereby offering unprecedented science returns on basic understandings of how the sun works and better predictions of Space Weather events that impact everyday life on Earth and our astronauts living in space aboard the International Space Station (ISS).
Rollout of the 189-foot-tall (57.6-meter) ULA Atlas V rocket carrying the Solar Orbiter spacecraft started at 10 a.m. ET as it emerged from the 30 story tall Vertical Integration Facility (VIF) and was vertically moved 1800 ft to the launch pad at Space Launch Complex 41 over about an hour.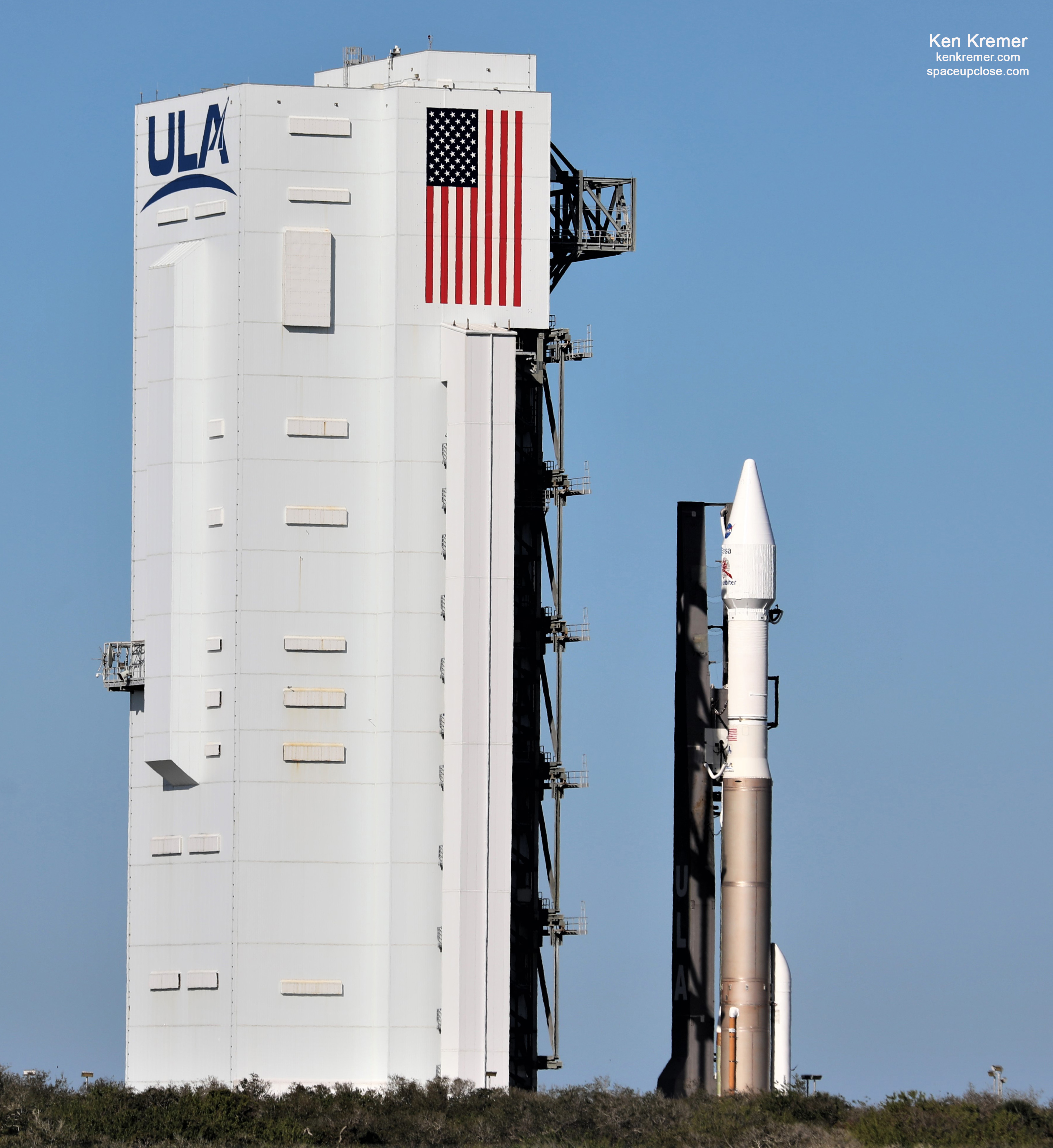 Enjoy our Space UpClose gallery of photos of the rollout sequence as witnessed from nearby pad 41 at our media viewing location.
The Atlas V will launch in the 411 configuration with a 4 meter diameter payload fairing and 1 strap on solid rocket booster.
The rollout proceeded well without any problems and was completed with hard down at the pad at about 11 a.m.
The mission and rollout were cleared to proceed during the launch readiness review (LRR) held Friday morning at NASA's Kennedy Space Center.
ESA, NASA and ULA officials evaluated the status of the spacecraft, rocket and ground-based assets needed to support launch. All parties were "go" at the review, said NASA Launch Director Tim Dunn, at the KSC Press Site prelaunch media briefing on Feb. 7.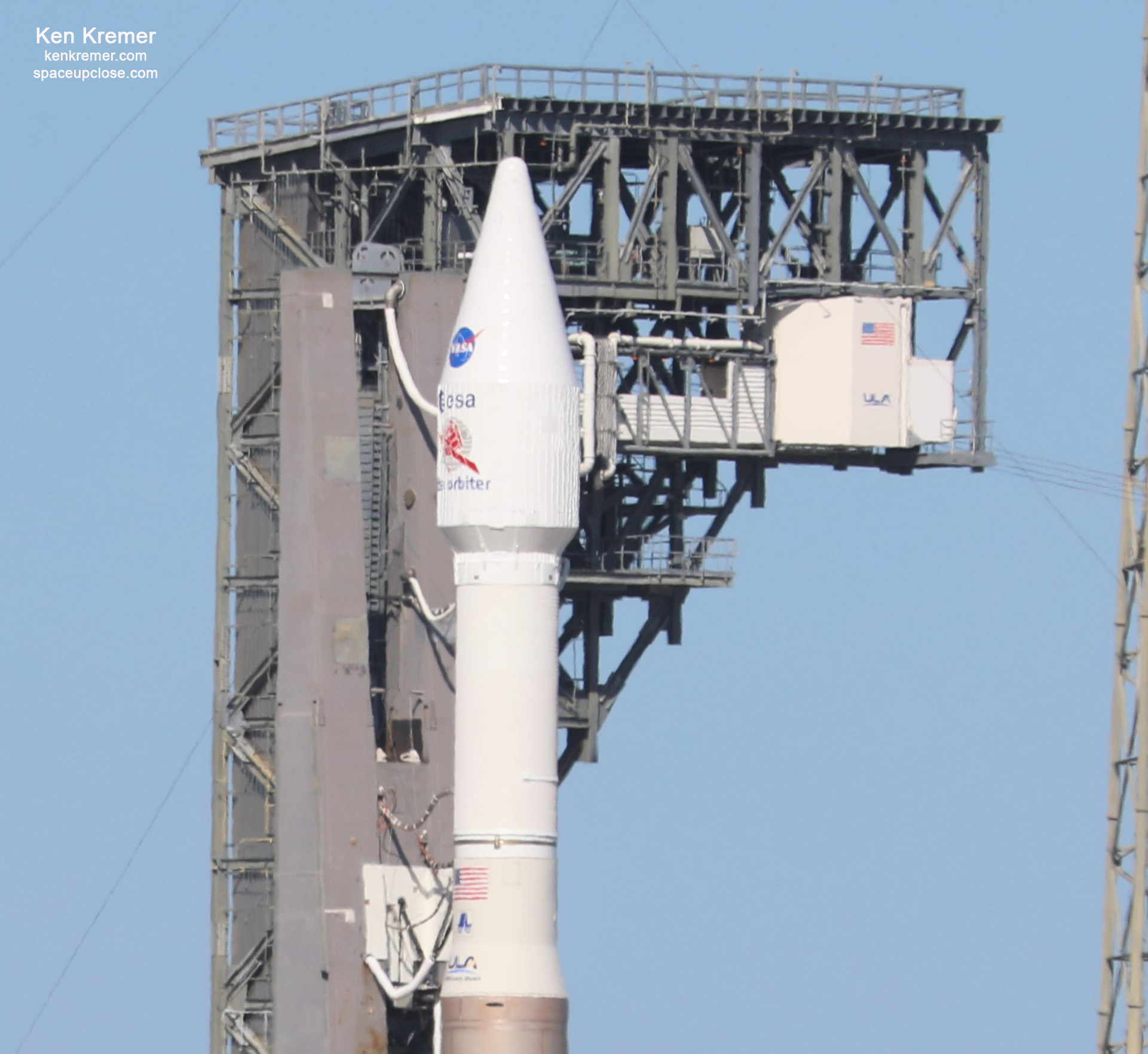 "Everything is progressing toward the ULA Atlas V launch carrying the Solar Orbiter mission for the European Space Agency (ESA) and NASA," ULA reported Saturday afternoon post rollout.
You can watch the launch live on NASA TV.
Live coverage of the countdown and liftoff will begin at 10:30 p.m. EST on Sunday, Feb. 9, on NASA TV, NASA TV online, and on NASA's Solar Orbiter blog.
The weather forecast for launch time calls for favorable conditions. Meteorologists with the U.S. Air Force 45th Space Wing continue to predict an 80% chance of weather cooperating for launch.
At the prelaunch briefing at the KSC Press Site Weather Officer Jessica Williams of the U.S. Air Force 45th Space Wing predicted a high pressure moving into the area in the wake of a cold front will keep clouds and moisture at bay for several days. An onshore flow from the east could bring in some cumulus clouds and ground winds, and those are the primary weather concerns for launch on Sunday.
In case of a delay for any reason a backup launch opportunity exists on Monday night with an 70% chance of acceptable conditions.
The 1750 kg Solar Orbiter spacecraft is encapsulated in the 4 meter payload.
It carries 10 state of the art science instruments – 9 from ESA and 1 from NASA.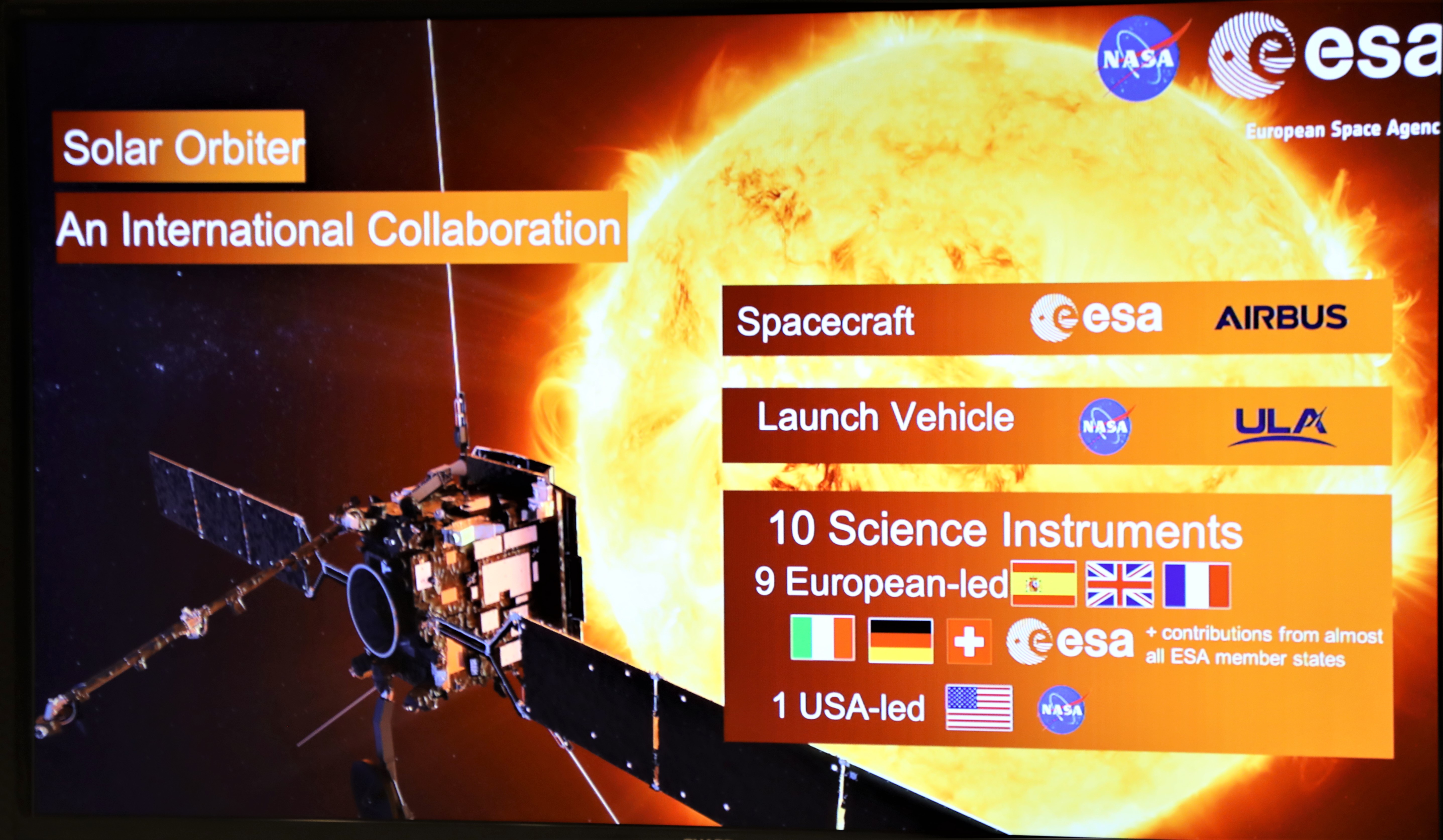 Solar Orbiter is an international collaborative mission between the European Space Agency (ESA) and NASA.
"The spacecraft will observe the Sun with high spatial resolution telescopes and capture observations in the environment directly surrounding the spacecraft to create a one-of-a-kind picture of how the Sun can affect the space environment throughout the solar system. The spacecraft also will provide the first-ever images of the Sun's poles and the never-before-observed magnetic environment there, which helps drive the Sun's 11-year solar cycle and its periodic outpouring of solar storms."
Solar Orbiter is an ESA-led mission with significant NASA participation.
Liftoff from Space Launch Complex-41 is scheduled for Feb. 9, 2020, when the alignment of Earth and Venus becomes suitable for Solar Orbiter to start its trek.
Following a successful blastoff the probe will repeatedly use the gravity of Venus and Earth via gravity assist flyby's to raise its orbit above the poles of the Sun, providing new perspectives on our star, including the first images of the Sun's polar regions over several years.
The orbit will reach an inclination of around 24 degrees and then up to 32 degrees.
"The spacecraft will make looping orbits around the Sun and use 10 instruments to observe solar physics in unprecedented detail. At closest approach, Solar Orbiter will be about approximately 26 million miles (42 million km) from the Sun."
Solar Orbiter will face the Sun from within the orbit of Mercury at its closest approach.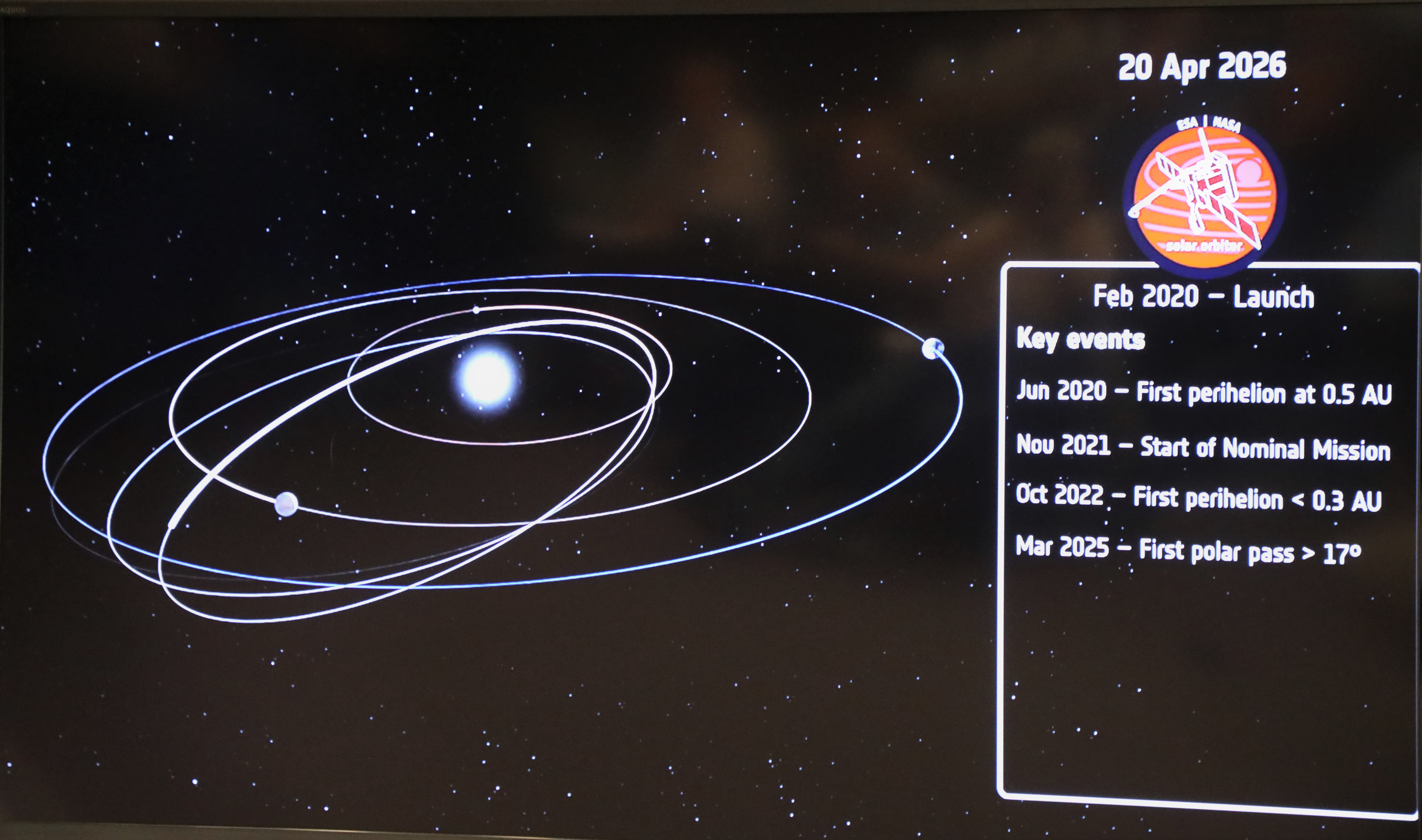 The Solar Orbiter arrived at Kennedy Space Center from Europe on Nov. 1, 2019 to begin preparations for launch.
Solar Orbiter and essential ground support equipment were transported aboard an Antonov cargo plane from Munich, Germany, to Florida, landing at the Shuttle Landing Facility at Kennedy Space Center on 1 November. From there the satellite and equipment travelled by road to the AstroTech Space Operations facility in nearby Titusville to begin prelaunch testing and checks.
Along with NASA's Parker Solar Probe launched in 2018, Solar Orbiter will revolutionize our understanding of our nearest star.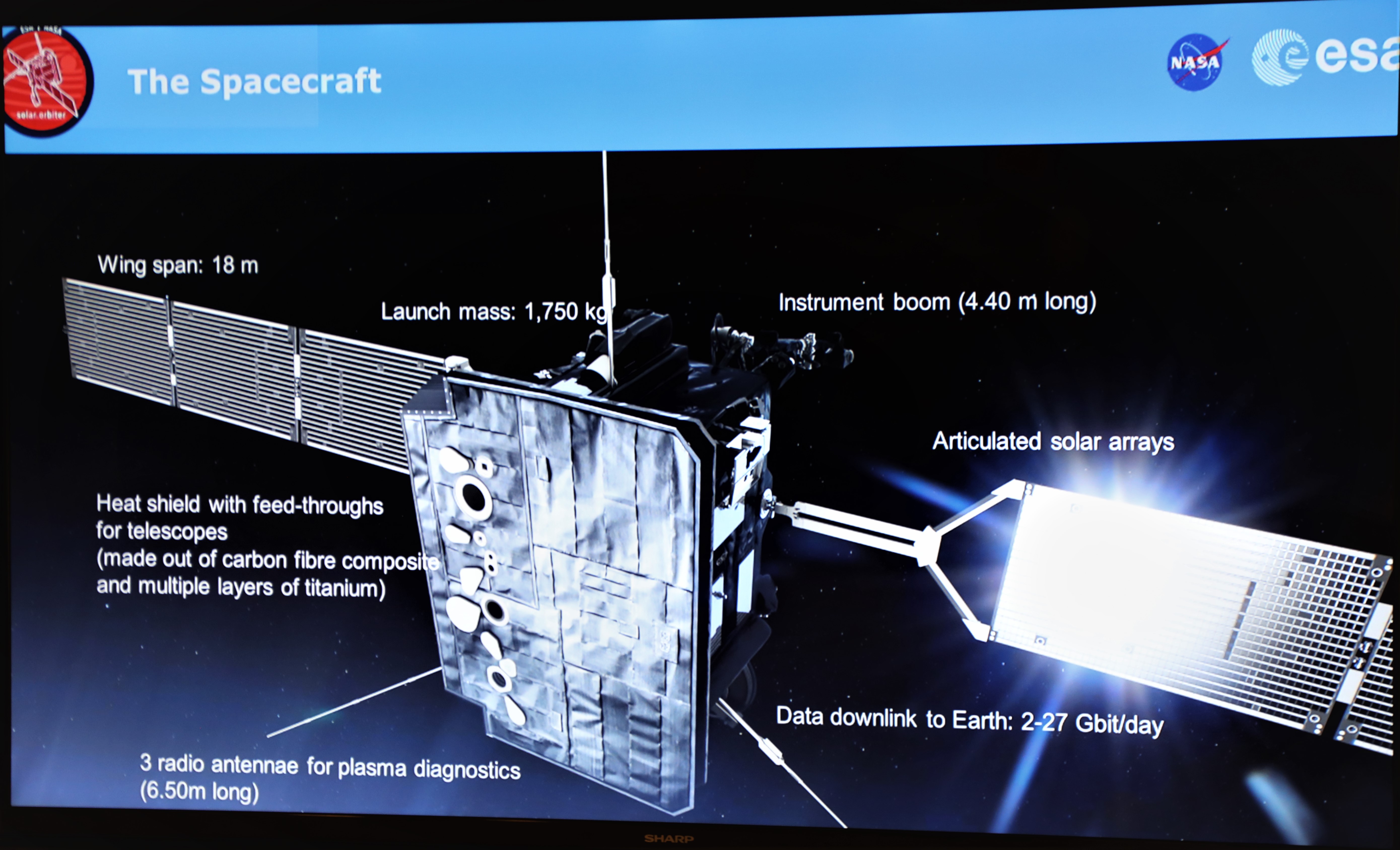 Solar Orbiter is an ESA mission with strong NASA participation. The prime contractor is Airbus Defence and Space in Stevenage, UK. The mission will provide complementary datasets to NASA's Parker Solar Probe that will allow more science to be distilled from the two missions than either could achieve on their own, says ESA.
My interview commentary about Solar Orbiter was featured on WFTV Channel 9 ABC TV News Orlando on Feb 3 & 4:
https://www.wftv.com/news/local/brevard-county/nasa-esa-send-spacecraft-study-sun-help-defend-earth-dangerous-solar-storms/EZHRVRLFAVAZROGISITJTYEGSY/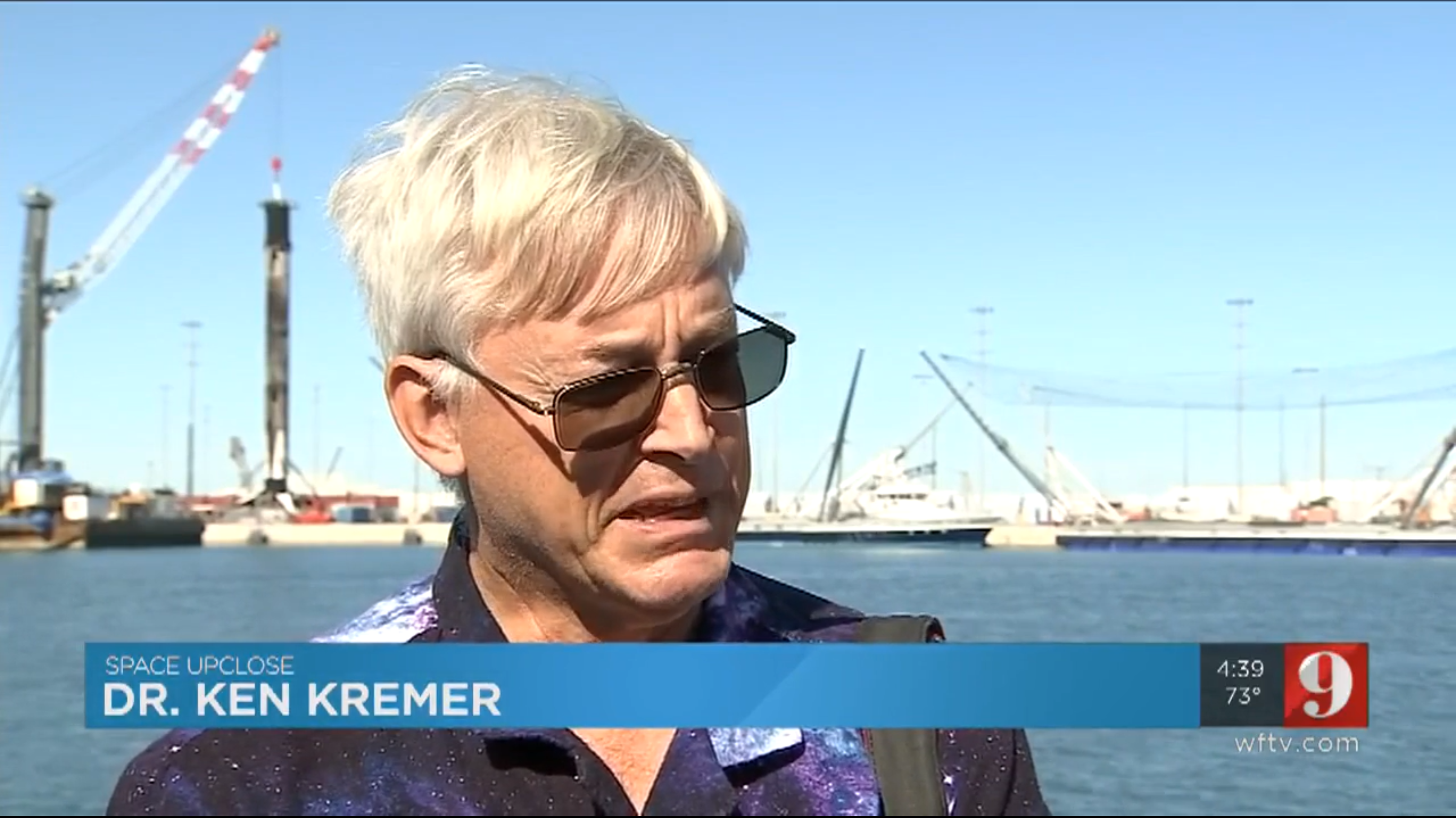 My rollout photos were featured on WFTV Channel 9 ABC TV News Orlando and WKMG Channel 6 CBS TV News Orlando on Feb 8:
Watch for Ken's continuing reports on Solar Orbiter!
Watch Ken's continuing reports onsite for live reporting of upcoming ULA and SpaceX launches including Solar Orbiter, In-Flight Abort and Starlink and in Jan/Feb 2020 at the Kennedy Space Center and Cape Canaveral Air Force Station.
Stay tuned here for Ken's continuing Earth and Planetary science and human spaceflight news: www.kenkremer.com –www.spaceupclose.com – twitter @ken_kremer – email: ken at kenkremer.com
Dr. Kremer is a research scientist and journalist based in the KSC area, active in outreach and interviewed regularly on TV and radio about space topics.
………….
Ken's photos are for sale and he is available for lectures and outreach events
Ken's upcoming outreach events: