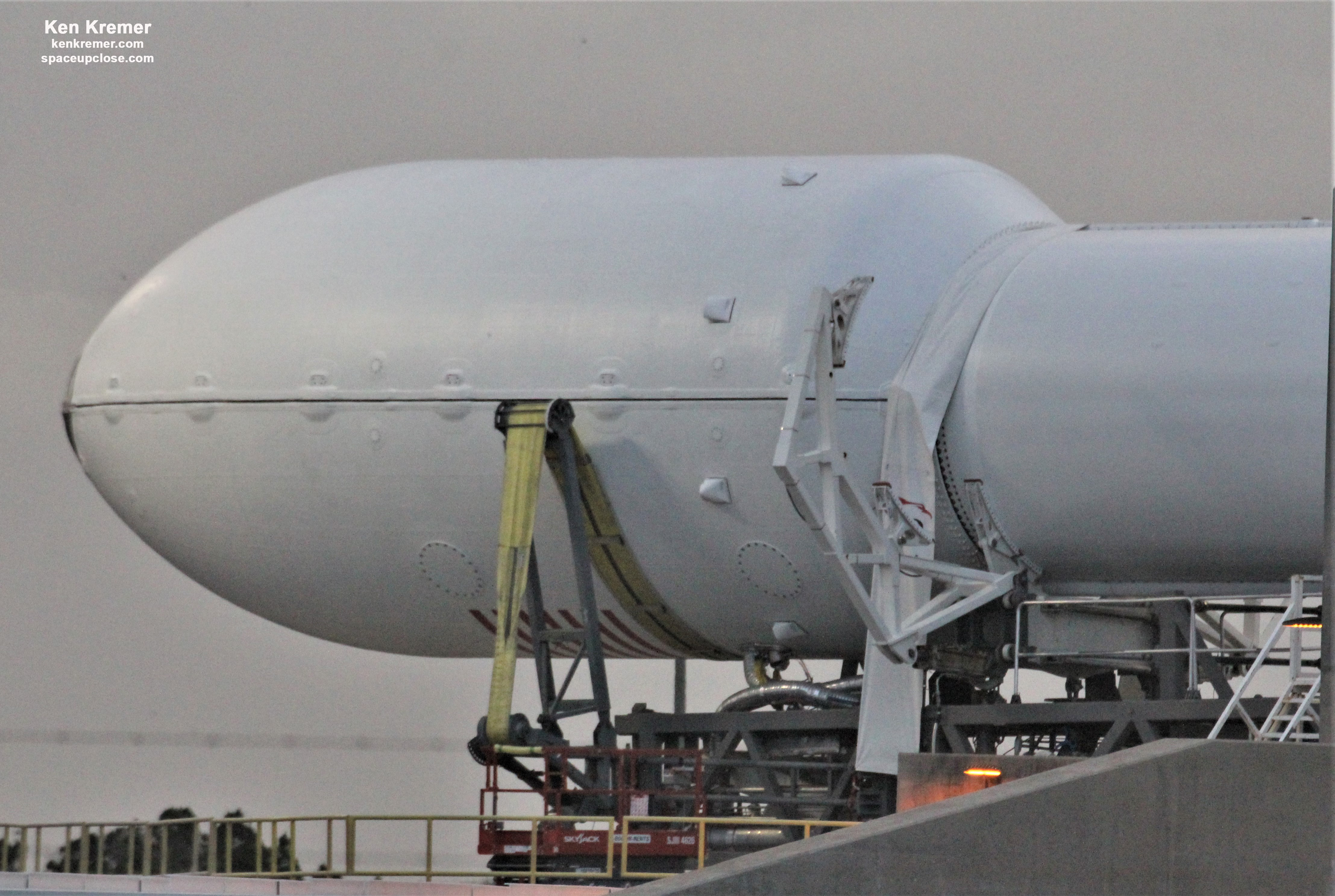 For SpaceUpClose.com & RocketSTEM
CAPE CANAVERAL AIR FORCE STATION, FL – After days of delays due to poor weather and technical problems with the rocket, a recycled SpaceX Falcon 9 is slated to launch Monday morning Feb. 17 with the next batch of Starlink broadband internet satellites – and the weather outlook is very good!
If all goes well on the Florida Space Coast the week will start with a bang and a beautiful liftoff of the SpaceX Falcon 9 for the fourth time – thereby enlarging SpaceX's Starlink constellation to 300 broadband internet satellites
Liftoff of the 5th Starlink mission is now targeted for 10:05 a.m. EST Monday, Feb 17 (1505 GMT) from Space Launch Complex-40 (SLC-40) on Cape Canaveral Air Force Station, FL.
See our Space UpClose photos of the 5th Starlink mission taken late this afternoon at pad 40 during our media remote camera setup opportunity – as the 23 story tall rocket was still resting horizontally.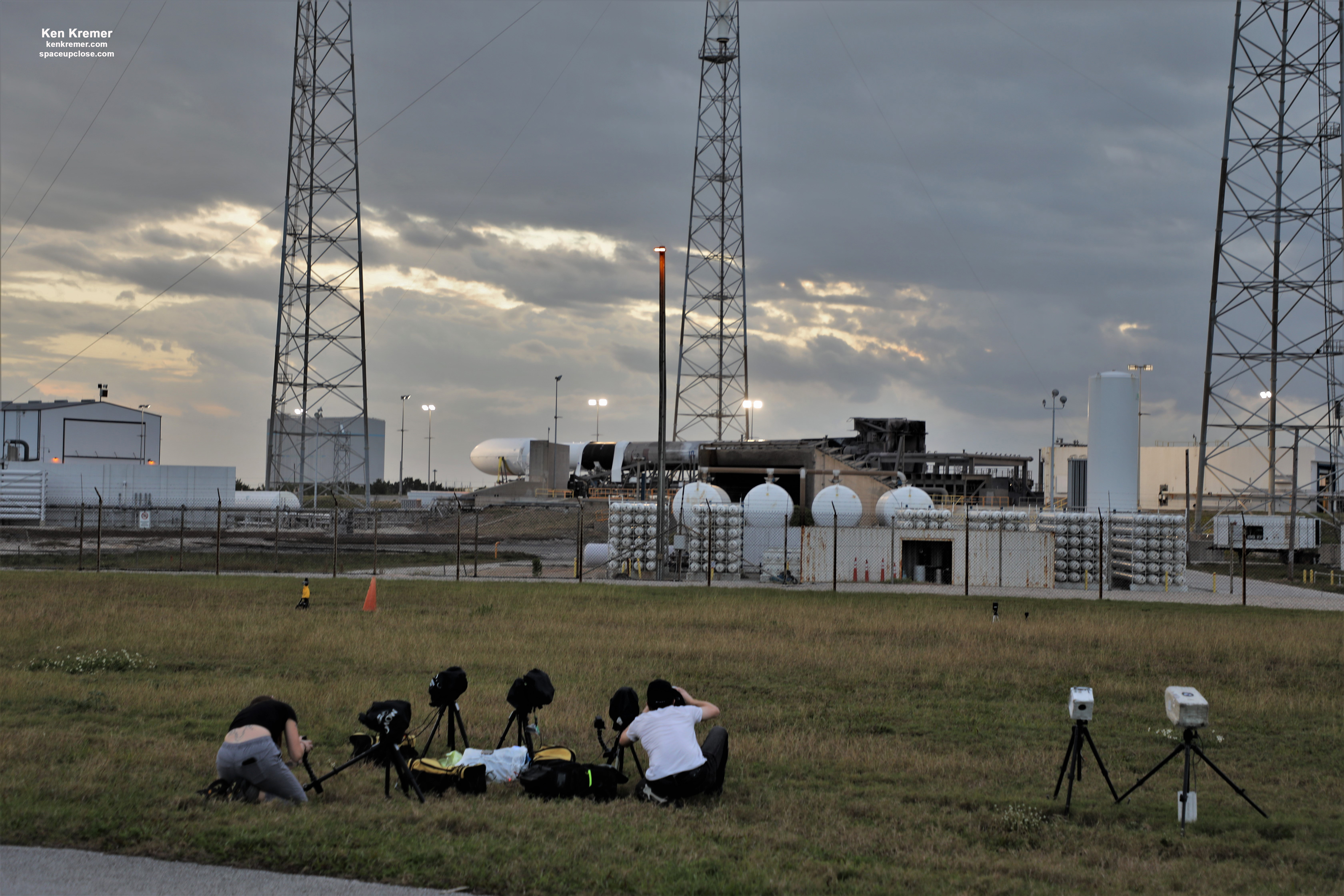 The payload comprises the fifth batch of 60 SpaceX built and owned Starlink broadband satellites launching to LEO with an overall mass of some 7.7 tons.
You can watch the launch live via SpaceX webcast.
Visit spacex.com/webcast
Watch SpaceX's live launch webcast starting about 15 minutes before liftoff to learn more about the mission.
In case of any delays for weather or technical reasons a backup launch opportunity exists on Tuesday.
Liftoff time moves slightly earlier on Tuesday, February 18 to 9:42 a.m. EST, or 1442 GMT.
The weather outlook is very promising.
Air Force meteorologists with the 45th Space Wing at Patrick Air Force Base predict a greater than 90+% chance of GO conditions at launch time – but could change at any time.
The primary concern is for cumulus clouds.
SpaceX says it is leveraging its experience in building rockets and spacecraft to deploy the world's most advanced broadband internet system.
"With performance that far surpasses that of traditional satellite internet and a global network unbounded by ground infrastructure limitations, Starlink will deliver high speed broadband internet to locations where access has been unreliable, expensive, or completely unavailable."
This Falcon 9 1st stage is flying for the fourth time. It previously launched the NASA CRS-17 space station resupply mission in May 2019, the CRS-18 mission in July 2019, and the JCSAT-18/Kacific1 mission in December 2019. See our earlier stories.
Following stage separation, SpaceX will land Falcon 9's first stage on the "Of Course I Still Love You" droneship, which will be stationed in the Atlantic Ocean approximately 400 miles (640 km) downrange.
Approximately 45 minutes after liftoff, SpaceX's two fairing recovery vessels, "Ms. Tree" and "Ms. Chief," will attempt to recover the two fairing halves encapsulating the 60 Starlink satellites.
The launch has been delayed several times.
Initially postponed from Feb 15 to Feb 16 due to poor weather in the booster and fairing recovery area
Static fire of Falcon 9 complete ahead of launching 60 Starlink satellites—due to poor weather in the recovery area tomorrow, now targeting launch on Sunday, February 16 at 10:25 a.m. EST, 15:25 UTC

— SpaceX (@SpaceX) February 14, 2020
The booster supporting this mission previously launched the CRS-17 mission in May 2019, the CRS-18 mission in July 2019, and the JCSAT-18/Kacific1 mission in December 2019 pic.twitter.com/WWLc1LPxJj

— SpaceX (@SpaceX) February 14, 2020
Then it was postponed from Feb 16 to Feb 17 to fix a fault on the upper stage.
Standing down from tomorrow's Starlink launch; team is taking a closer look at a second stage valve component. Now targeting Monday, February 17.

— SpaceX (@SpaceX) February 15, 2020
Several of my Falcon 9 photos taken at pad 40 today were featured on WKMG CBS TV News Orlando on the 11 PM ET Feb 17 and later broadcasts.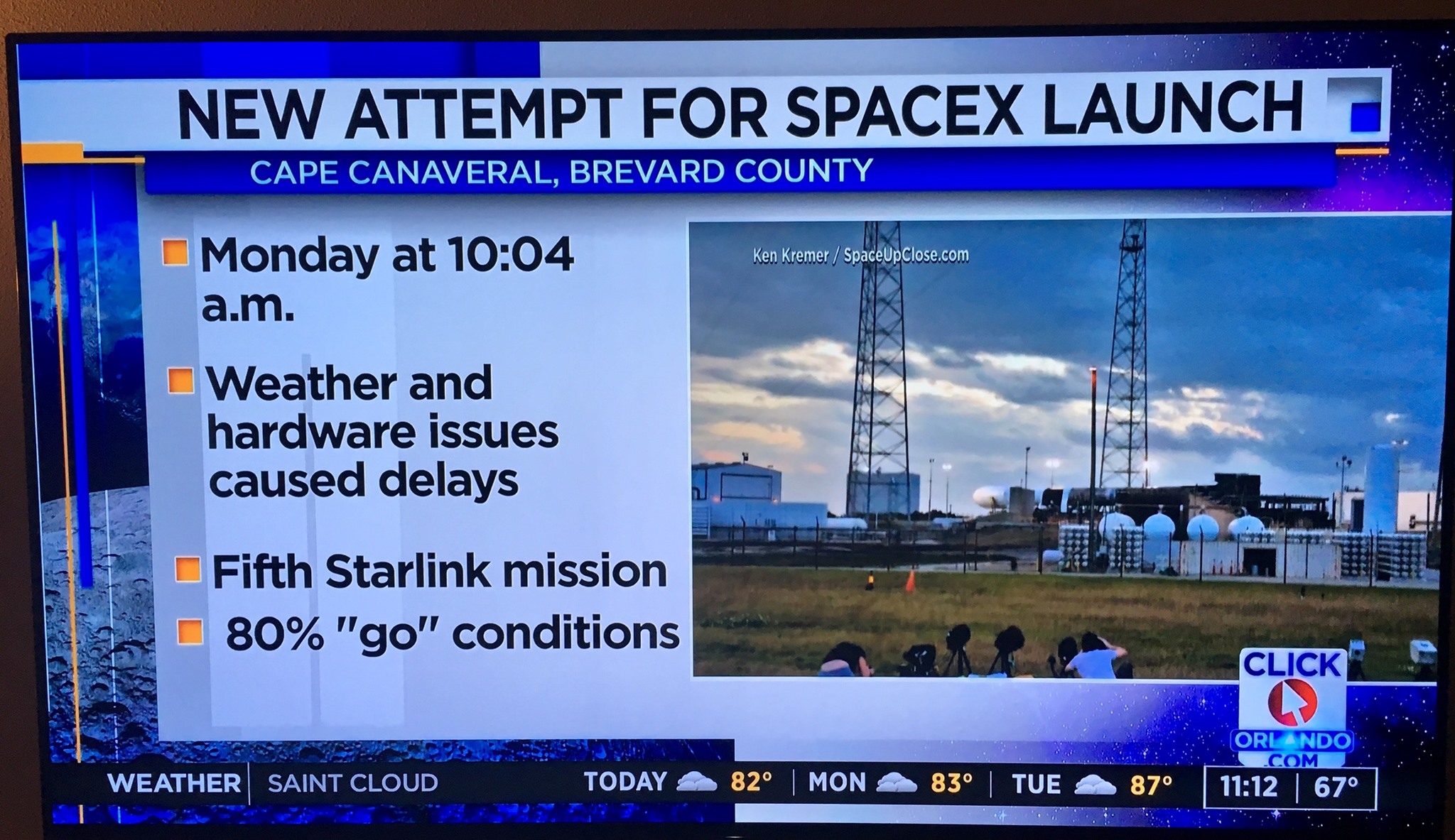 Watch Ken's continuing reports onsite for live reporting of upcoming and recent ULA and SpaceX launches including Solar Orbiter, In-Flight Abort and Starlink at the Kennedy Space Center and Cape Canaveral Air Force Station.
Stay tuned here for Ken's continuing Earth and Planetary science and human spaceflight news: www.kenkremer.com –www.spaceupclose.com – twitter @ken_kremer – email: ken at kenkremer.com
Dr. Kremer is a research scientist and journalist based in the KSC area, active in outreach and interviewed regularly on TV and radio about space topics.
………….
Ken's photos are for sale and he is available for lectures and outreach events
Ken's upcoming outreach events:
Feb 17: 7 PM, Quality Inn Kennedy Space Center, Titusville, FL. "ULA Solar Orbiter Feb 9. SpaceX In Flight Abort and Starlink launches." Free. In hotel lobby. Photos for sale