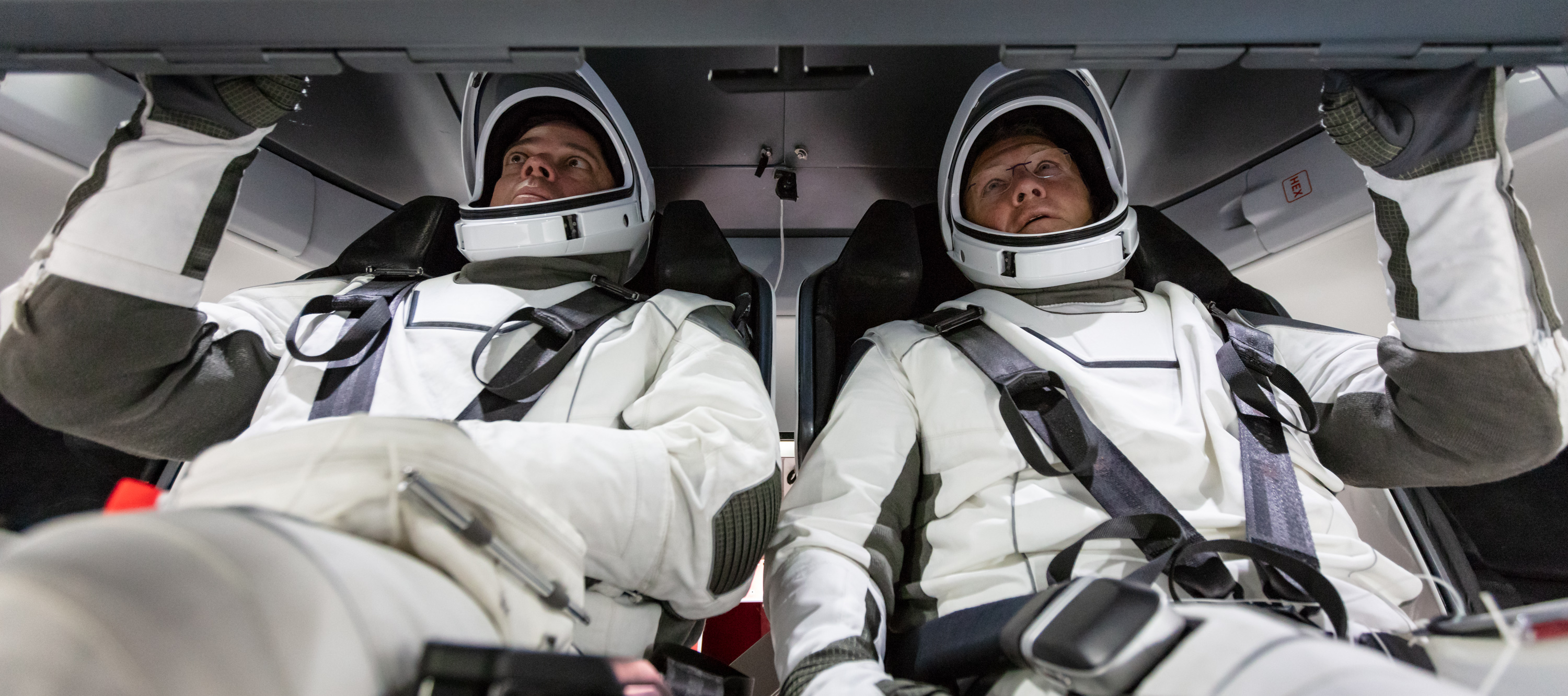 For SpaceUpClose.com & RocketSTEM
CAPE CANAVERAL, FL – NASA and SpaceX have jointly announced that they are targeting May – roughly two months or so from now – for the first launch of the private Crew Dragon ferry ship with two agency astronauts to the International Space Station (ISS) on the Demo-2 mission from the Florida Space Coast.  That is if it can go forward amidst the skyrocketing coronavirus COVID-19 pandemic disrupting virtually every aspect of life on Planet Earth right now
Furthermore the Demo-2 mission – currently slated for launch no earlier than mid to late May – carrying NASA astronauts NASA astronauts Bob Behnken and Doug Hurley would be historic – marking the resumption of American astronaut launches from American soil on American rockets for the first time since NASA's shuttles were forcibly retired in 2011.
"This mission will be the return of human spaceflight launch capabilities to the United States and the first launch of American astronauts aboard an American rocket and spacecraft since the final space shuttle mission on July 8, 2011," NASA said in a media advisory.
The SpaceX Crew Dragon will launch atop a SpaceX Falcon 9 rocket with NASA astronauts Bob Behnken and Doug Hurley on the Demo-2 test flight from historic Launch Complex 39A from NASA's Kennedy Space Center in Florida.
But will it actually happen in May?
That's a pertinent question – especially given the worldwide emergency public health crisis created by the ever growing impact of the coronavirus pandemic across the globe as known cases and deaths climb precipitously across the US and the world. And as more and more cases of COVID-19 are diagnosed among the NASA workforce and in communities nearby NASA centers critical for safely and successfully carrying out the SpaceX Demo-2 Crew Dragon mission with 2 NASA astronauts on board.
"NASA is proactively monitoring the coronavirus (COVID-19) situation as it evolves. The agency will continue to follow guidance from the Centers for Disease Control and Prevention and the agency's chief health and medical officer and communicate any updates that may impact mission planning or media access, as they become available," NASA officials say.
"NASA leadership is determined to make the health and safety of its workforce its top priority as we navigate the coronavirus (COVID-19) situation," said NASA Administrator Jim Bridenstine in a statement on March 19.
4 NASA centers have essentially closed, and employees are mostly on telework status.
Bridenstine also announced that work on multiple critical missions like the Space Launch System (SLS) rocket, Orion Deep space capsule and James Webb Space Telescope (JWST) has been halted effective immediately.
Furthermore it seems extremely unlikely that government officials would allow the congregation of the exceptionally large crowds of excited people who would certainly gather for the 1st astronaut launch from the US in nearly 9 years.
'Social distancing' is the order of the day and for the foreseeable future. That's the exact opposite of what would happen with massive crowds ringing the Space Coast.
Another factor weighing on mission planners must be the Merlin 1D engine failure experienced last week with the Falcon 9 first stage launched on the 6th Starlink mission last week on March 18 after multiple delays.
Although the primary objective was achieved when the payload of 60 Starlink satellites were successfully deployed – the recycled Falcon 9 booster also failed to land on the ocean going OCISLY droneship.
SpaceX billionaire CEO and founder Elon Musk also said that the company would conduct a thorough investigation before the next Falcon 9 launch.
"There was also an early engine shutdown on ascent, but it didn't affect orbit insertion. Shows value of having 9 engines! Thorough investigation needed before next mission," Musk tweeted.
Yeah. There was also an early engine shutdown on ascent, but it didn't affect orbit insertion. Shows value of having 9 engines! Thorough investigation needed before next mission.

— Elon Musk (@elonmusk) March 18, 2020
The Demo-2 Crew Dragon has been undergoing final pre-launch testing, processing and preparations for launch locally in a SpaceX facility on Cape Canaveral Air Force Station for well over 1 month since it arrived at the Florida Space Coast on Feb. 13 after being shipped from the SpaceX manufacturing factory in Hawthorne, California.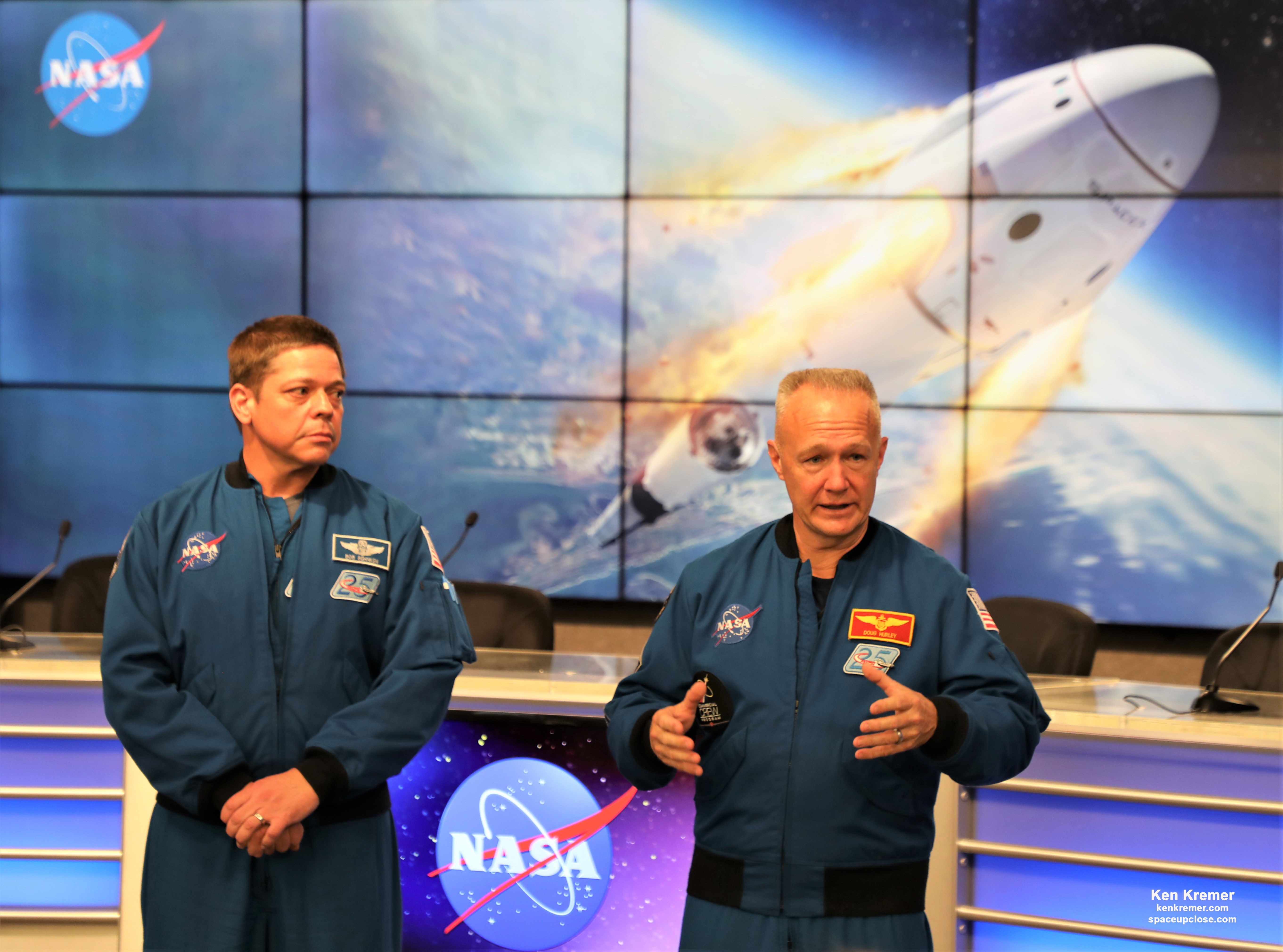 The path to blastoff of Demo-2 was paved following the successful SpaceX In Flight Abort (IFA) test in January and the uncrewed Demo-1 mission in March 2019. See our earlier articles and photos.
"This second demonstration mission of the Crew Dragon spacecraft is another end-to-end flight test of SpaceX's human spaceflight system, which will include launch, docking, splashdown and recovery operations. It is the final flight test of the system before SpaceX is certified to carry out operational crew flights to and from the space station for NASA," says NASA.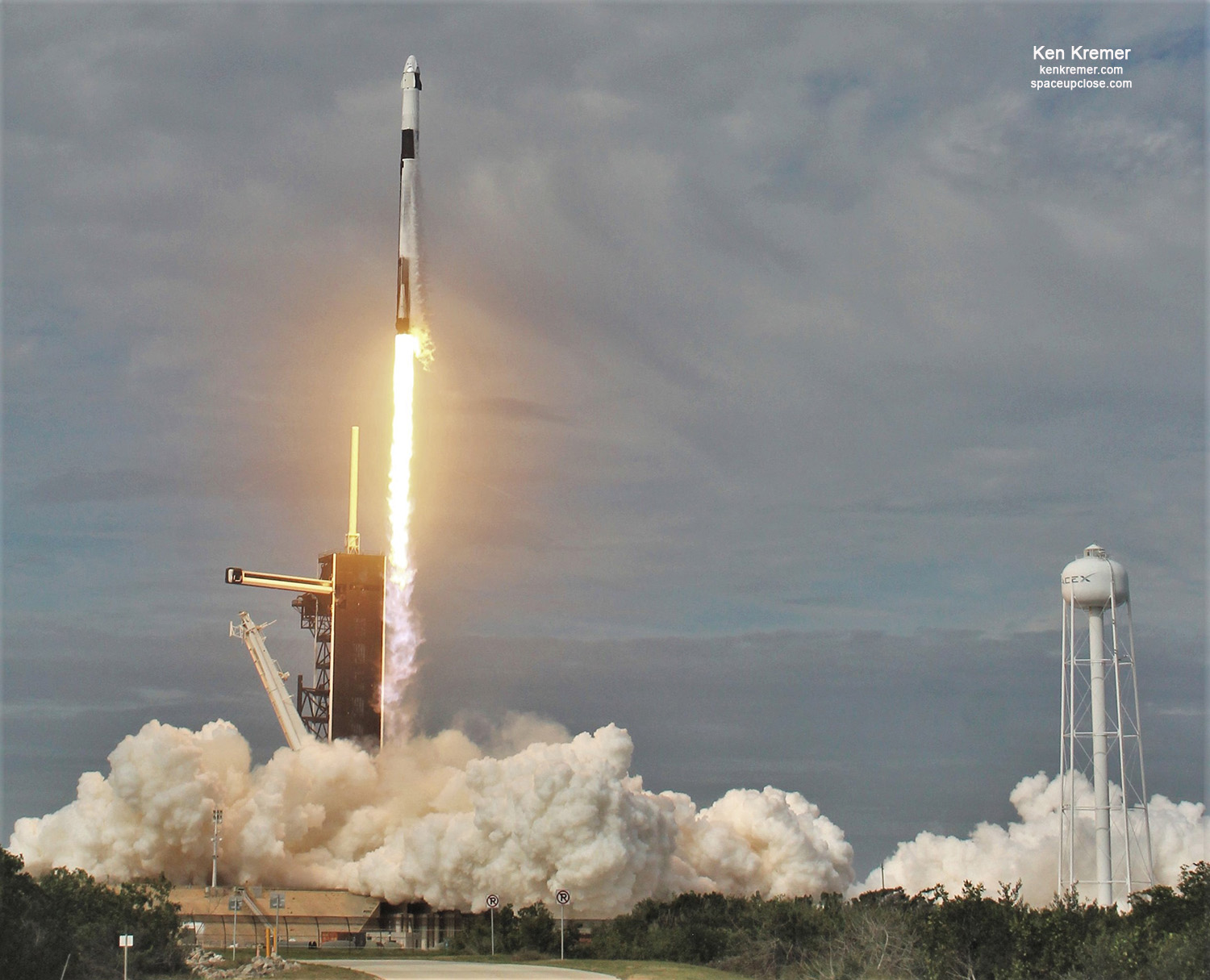 The Demo-2 mission is expected to last at least a few days and perhaps even two weeks or more after docking at the ISS.
Although NASA has indicated they may want to extend the Demo-2 mission to a month or possibly even several months – no decision has been reached and nothing has been publicly announced.
The ISS is currently operating under reduced staffing with a crew of just 3 as a result of countless years long delays in NASA's Commercial Crew program experienced by both contractors – SpaceX and Boeing.
Thus it is imperative that SpaceX launch Demo-2 as soon as possible- but only when it is safe! And with all hands on deck!
Doug Hurley was the pilot on the last manned spaceflight mission flown from the US – namely the STS-135 mission of Space Shuttle Atlantis that lifted off on July 7, 2011 from historic Launch Complex 39A – the same pad from which Demo-2 will blastoff.
Hurley will command Demo-2.
Both the SpaceX Crew Dragon and competing Boeing Starliner commercial spacecraft were developed to restore US human spaceflight and fly our astronauts to low earth orbit and the ISS with funding under the auspices of NASA's Commercial Crew Program.
Crew Dragon is now clearly poised to win the race to restore US human spaceflight before the competing Starliner crew spaceship from competitor Boeing.
Boeing botched their critical uncrewed Orbital Test Flight (OFT) mission in December that failed to dock at the ISS after launch due to a significant timing error in the elapsed timing controller.
My commentary about SpaceX Starlink launch and impact of #Covid19 pandemic on NASA, the Space Coast and the space industry featured on WFTV Channel 9 ABC News Orlando Mar 17 & Mar 18
Watch my commentary at FOX 35 Orlando TV News about significant problems on recent uncrewed #OFT test flight delaying astronauts flights of The Boeing Company #Starliner – on Feb 10 & 11 news broadcasts.
https://www.fox35orlando.com/news/nasa-proposed-budget-announced-amid-boeing-troubles
Watch Ken's continuing reports about onsite for live reporting of upcoming and recent SpaceX and ULA launches including Starlink, Solar Orbiter, In-Flight Abort, Mars 2020 and more at the Kennedy Space Center and Cape Canaveral Air Force Station.
Stay tuned here for Ken's continuing Earth and Planetary science and human spaceflight news: www.kenkremer.com –www.spaceupclose.com – twitter @ken_kremer – email: ken at kenkremer.com
Dr. Kremer is a research scientist and journalist based in the KSC area, active in outreach and interviewed regularly on TV and radio about space topics.
………….
Ken's photos are for sale and he is available for lectures and outreach events
Ken has created hundreds of widely published Mars rover mosaics and lectures also about NASA's Mars rovers