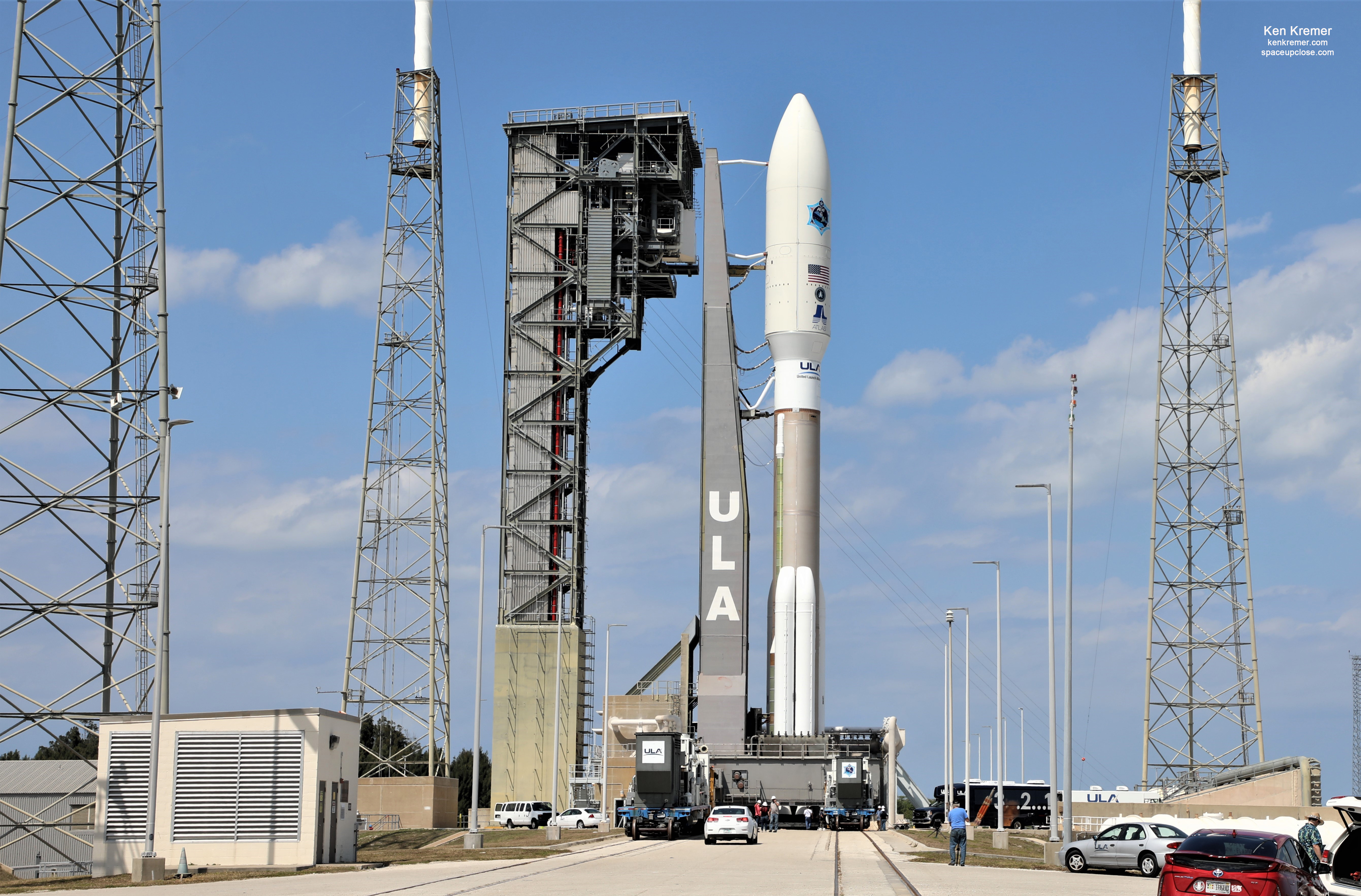 For SpaceUpClose.com & RocketSTEM
CAPE CANAVERAL AIR FORCE STATION, FL – In what may be the last launch for a while from the military run Eastern range at Cape Canaveral due to ever expanding threats from the COVID-19 pandemic crisis, the most powerful version of the venerable Atlas V rocket manufactured by rocket builder United Launch Alliance (ULA) is poised liftoff for Thursday afternoon, March 26 to GTO with the nuclear hardened AEHF-6 military communications satellite connecting U.S national security commanders with troops deployed in the field for the U.S. Air Force.
Quite notably this launch in the Advanced Extremely High Frequency (AEHF)-6 or AEHF-6 milcomsat will mark the first National Security Space mission for the U.S. Space Force.
Thursday's launch weather outlook is very good at this time. And large crowds would have been expected for a majestic launch.
But the coronavirus pandemic has forced the closure of the Kennedy Space Center Visitor Complex -where many thousands of spectators from all across the globe had been expected – as well as most local beaches and local public viewing sites in the Cape Canaveral & Port Canaveral area.
Launch of the 20 story tall ULA Atlas V carrying AEHF-6 is slated for a window that opens at 2:57 p.m. EDT (1857 GMT) Thursday March 26 at the opening of a two-hour window from seaside Space Launch Complex 41 on Cape Canaveral Space Force Station, FL.
"Everything is progressing toward the ULA Atlas V launch carrying the AEHF-6 mission for the U.S. Space Force's Space and Missile Systems Center," says ULA.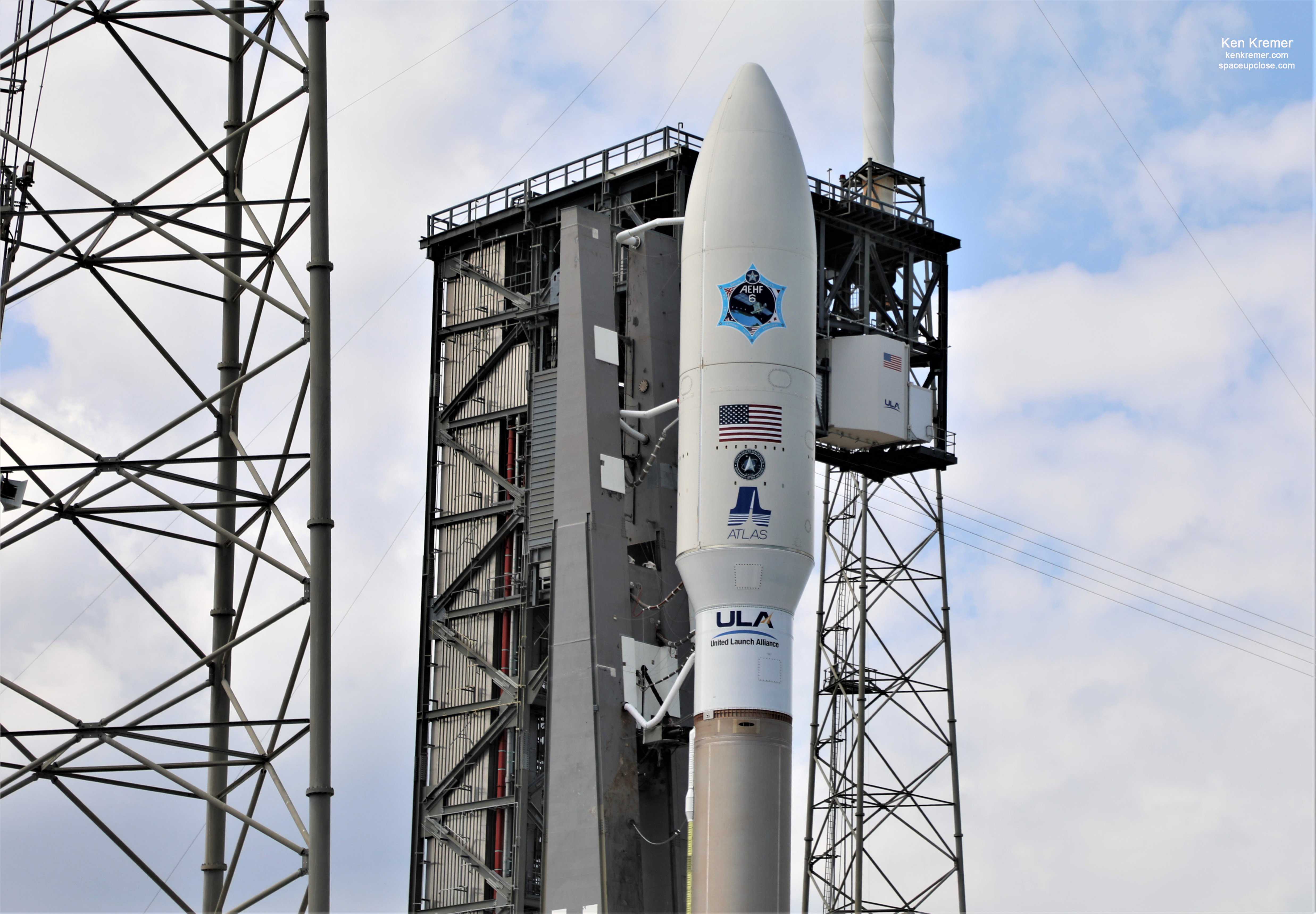 Enjoy our Space UpClose launch pad view photos by Ken Kremer and Jean Wright of the Atlas V rocket during our media camera setup opportunity this beautiful afternoon which luckily was not scrubbed by the coronavirus threat.
The rocket rolled out to pad 41 today prior to our camera setup.
The cost of the Lockheed Martin built AEHF-6 satellite years in the making and critical for U.S. national security and our troops is about $1.2 Billion.
The prior satellite in the AEHF constellation namely AEHF-5 launched on a ULA Atlas 551 vehicle in Aug. 2019. See our Space UpClose photos.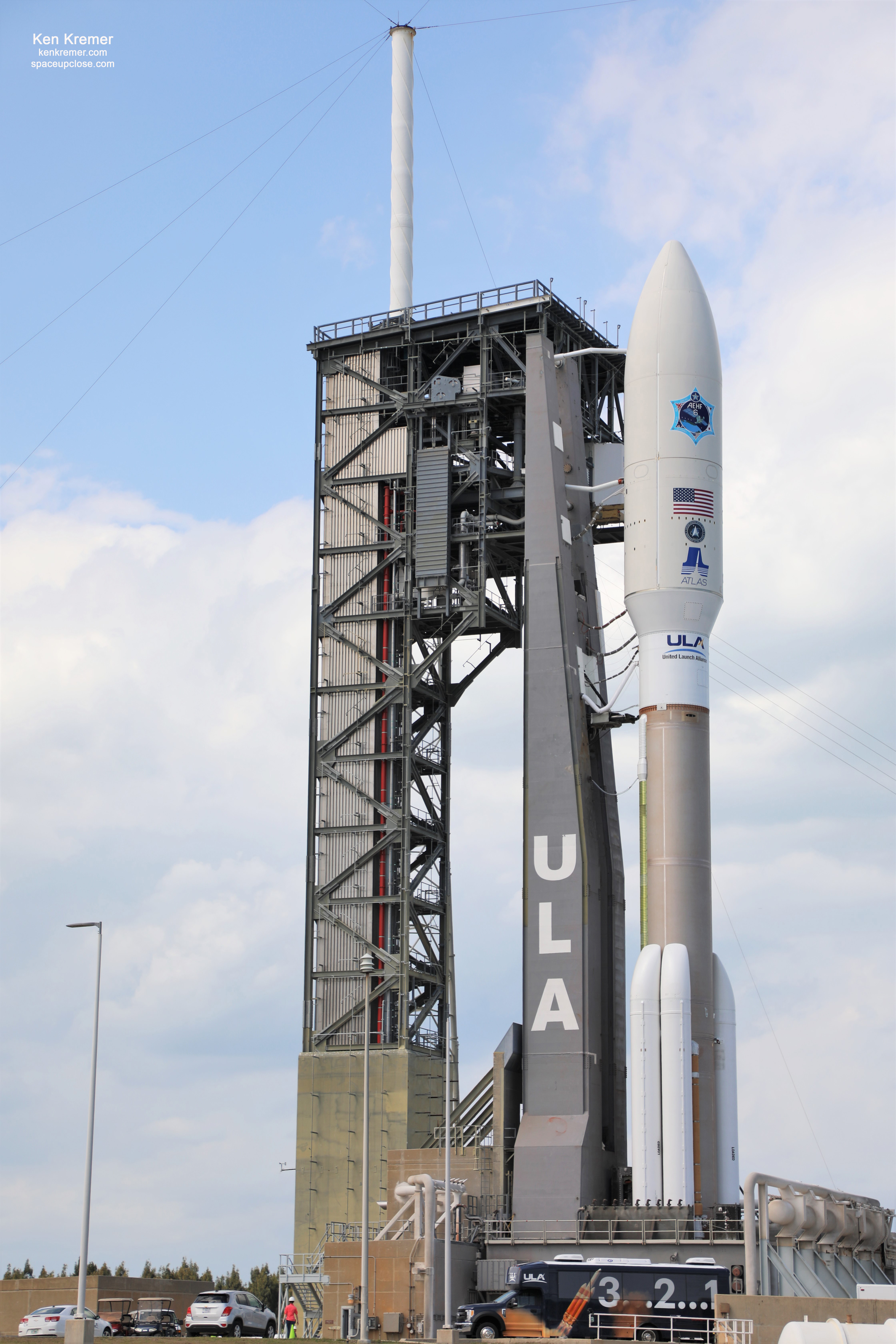 AEHF-6 is the sixth and last in line of a jam-resistant six-satellite constellation vital for U.S. National Defense joining five others already in orbit.
ULA will fly their workhorse Atlas V rocket in the commanding 551 configuration to launch the secure AEHF-6 milsatcom for Air Force Space Command.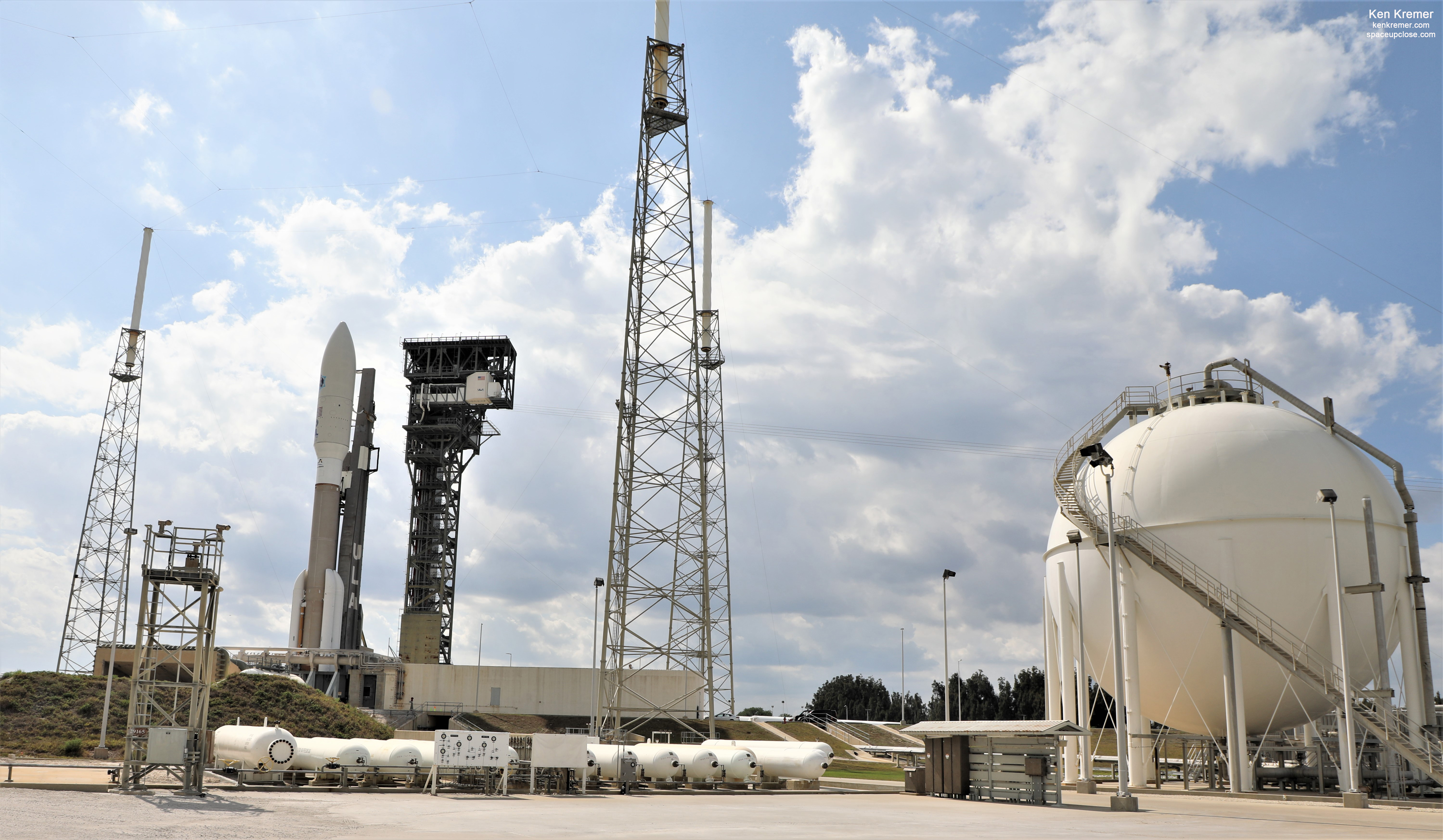 The 551 configuration includes a LOX & RP-1 kerosene-fueled common core booster, a five-meter-diameter payload fairing built by RUAG Space, five first stage strap-on AJ-60A solid rocket motors and a single engine LOX & LH2 fueled Centaur upper stage.
The Atlas V will deliver AEHF-6 to an optimized geostationary transfer orbit (GTO) on a specialized trajectory to an altitude of 22,000 miles (ca. 36,000 kilometers) above the equator to minimize the spacecrafts subsequent orbit adjusting maneuvers.
The 197-foot-tall (60 m) ULA Atlas V rocket journeyed 1,800 feet (1/3 mile) to pad 41 this morning March 25
#AEHF6 has rolled to the pad (at blistering 3mph or so) and is hard down. On track for tomorrow's trip to space for the @SpaceForceDoD 's first mission.

— Tory Bruno (@torybruno) March 25, 2020
It was pushed by two trackmobiles from the Vertical Integration Facility (VIF) to the Space Launch Complex 41 pad on the Florida Space Coast.
We saw the track mobiles depart the pad around 3:30 p.m. ET.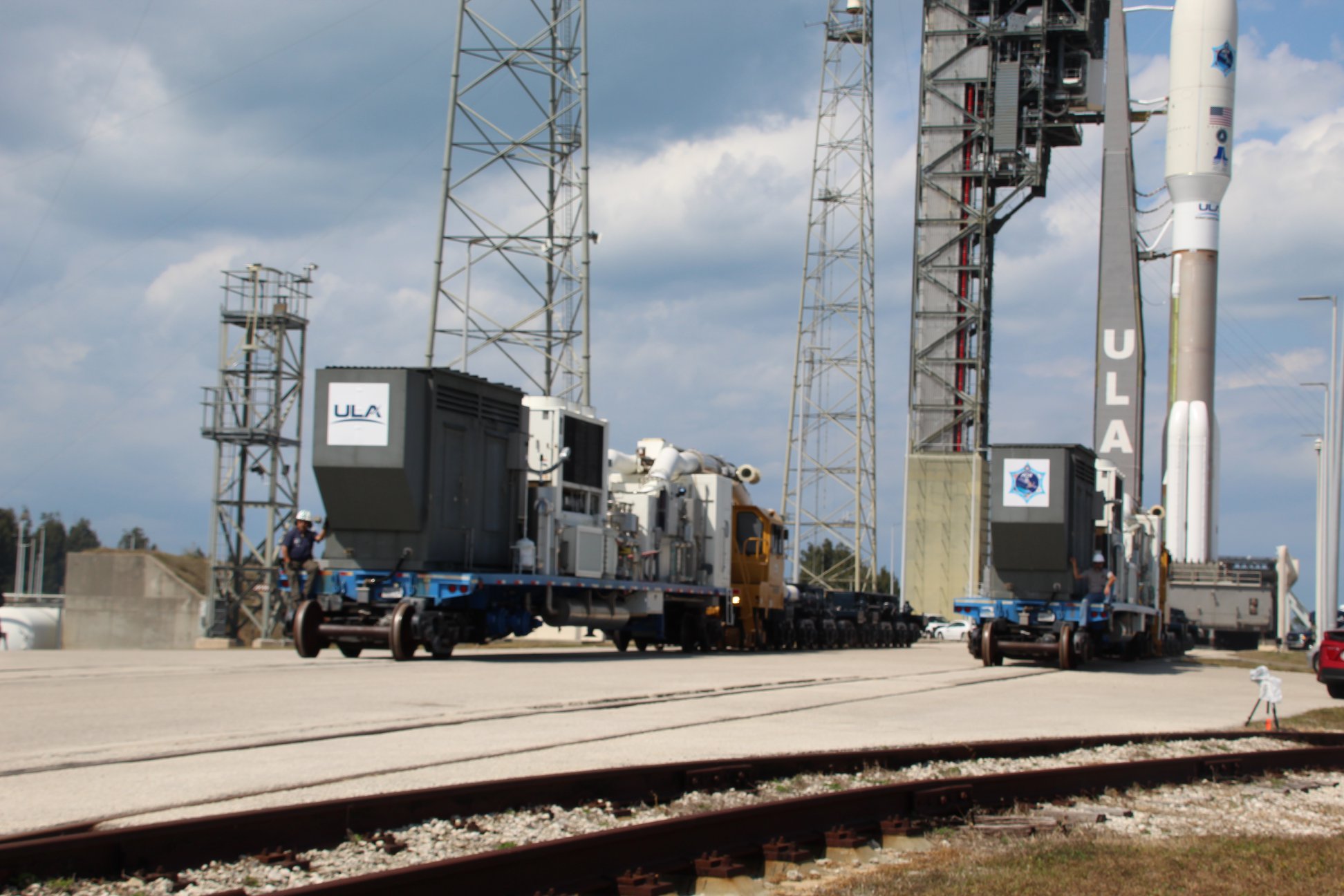 ULA plans live countdown updates at their countdown page starting Thursday morning 8 a.m. EDT (1200 GMT), just prior to starting the countdown.
https://www.ulalaunch.com/missions/atlas-v-aehf-6
The live ULA webcast of Thursday's launch begins at 2:37 p.m. EDT about 20 minutes before planned liftoff and will be viewable on the ULA Home Page.
The ULA Webcast is available at:
www.ulalaunch.com and www.youtube.com/unitedlaunchalliance
The launch countdown will begin tomorrow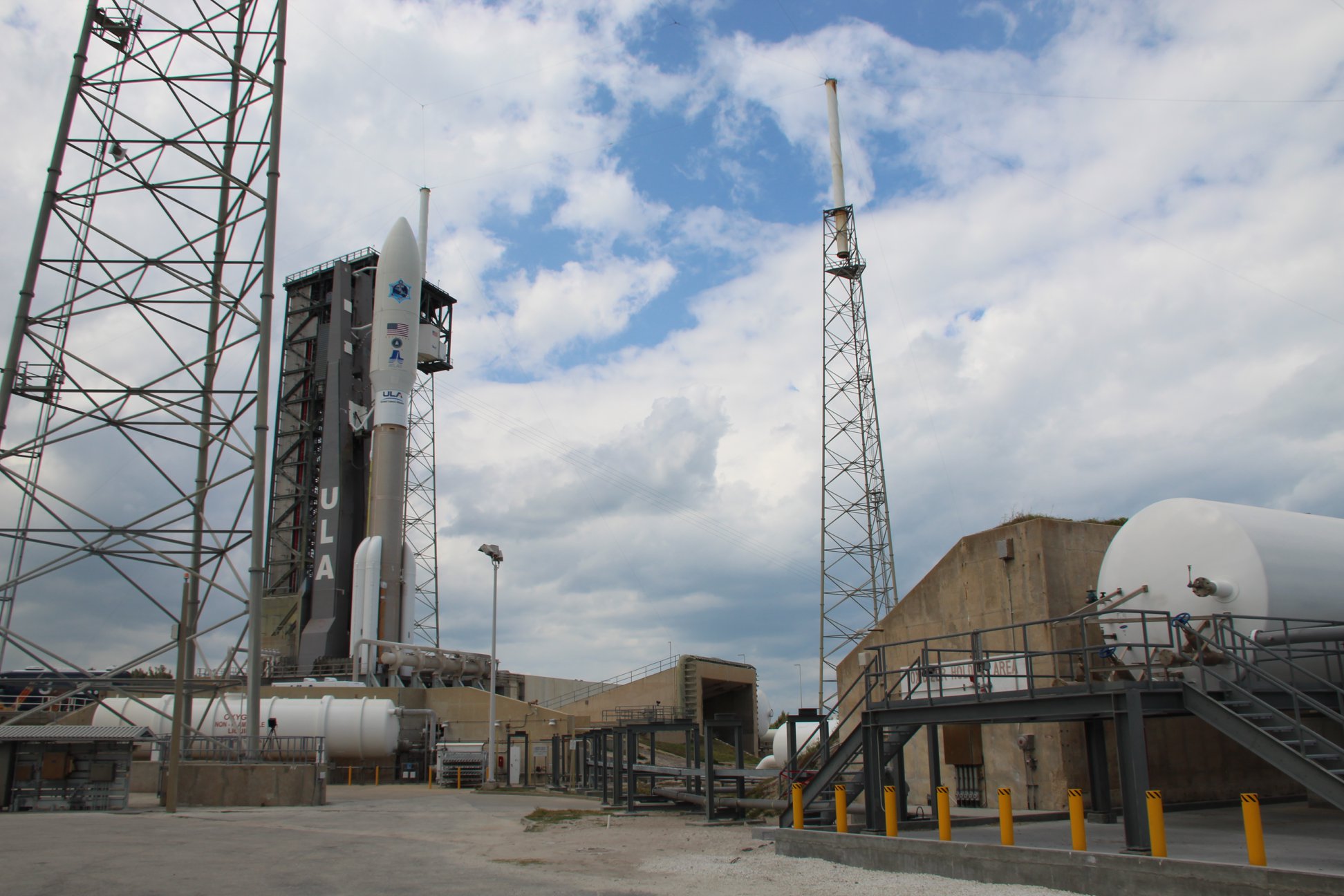 If all goes well liftoff happens at the opening of the launch window at 2:57 p.m. EDT (1857 GMT) Thursday March 26
The launch window extends for two hours until 4:57 p.m. EDT (2057 GMT).
The weather forecast is currently quite good with an 80 percent chance of acceptable conditions at launch time with mostly sunny skies and warm Florida temperatures.
"The outlook calls for just scattered clouds, good visibility, easterly winds 10 peaking to 17 knots and a temperature near 78 degrees F."
"For today, a weakening front over north Florida will bring offshore flow up to 15 to 20 knots and temperatures near 90 degrees F to the Space Coast. The remnants of the front are expected to move over the area tomorrow, bringing little more than scattered cumulus clouds off of the Atlantic and a shift in wind direction to the northeast and then east," the launch weather team reports.
In case of a 1 day launch delay the outlook rises to 90% favorable.
AEHF-6 is the fifth communications satellite in the Advanced Extremely High Frequency (AEHF) series for U.S. Air Force Space Command.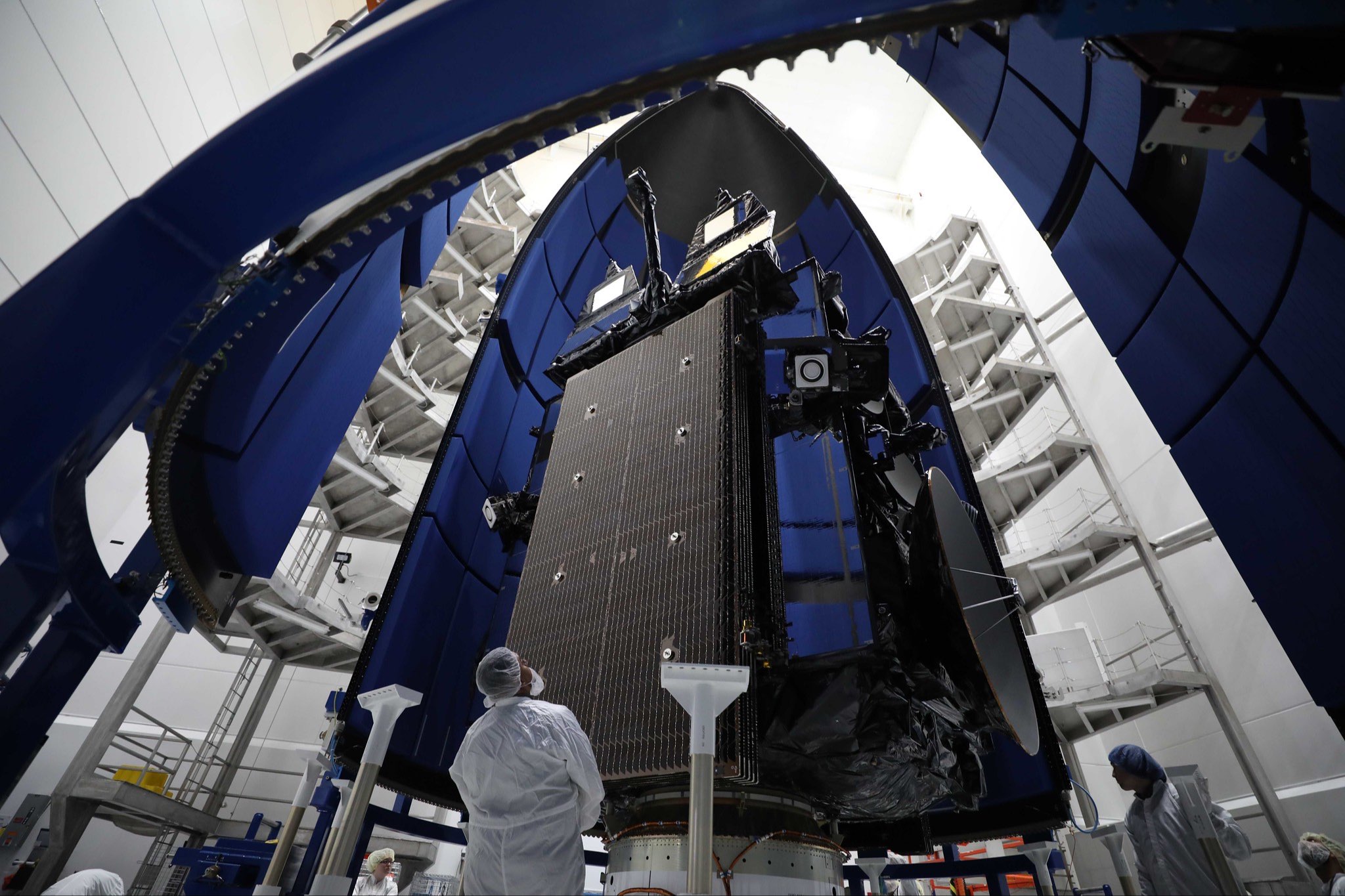 AEHF-6 counts as the newest and most advanced US Air Force jam-resistant protected military communications satellite, and will play a vital role in U.S. national security.
AEHF provides survivable, global, highly secure, protected, and jam-resistant communications for high-priority military ground, sea, and air assets, between U.S. national leadership [meaning the President] and deployed military forces, says USAF Space Command.
The AEHF constellation "provides 10 times the throughput and a substantial increase in coverage compared to the 1990s-era Milstar satellites" that it replaces and are currently in orbit.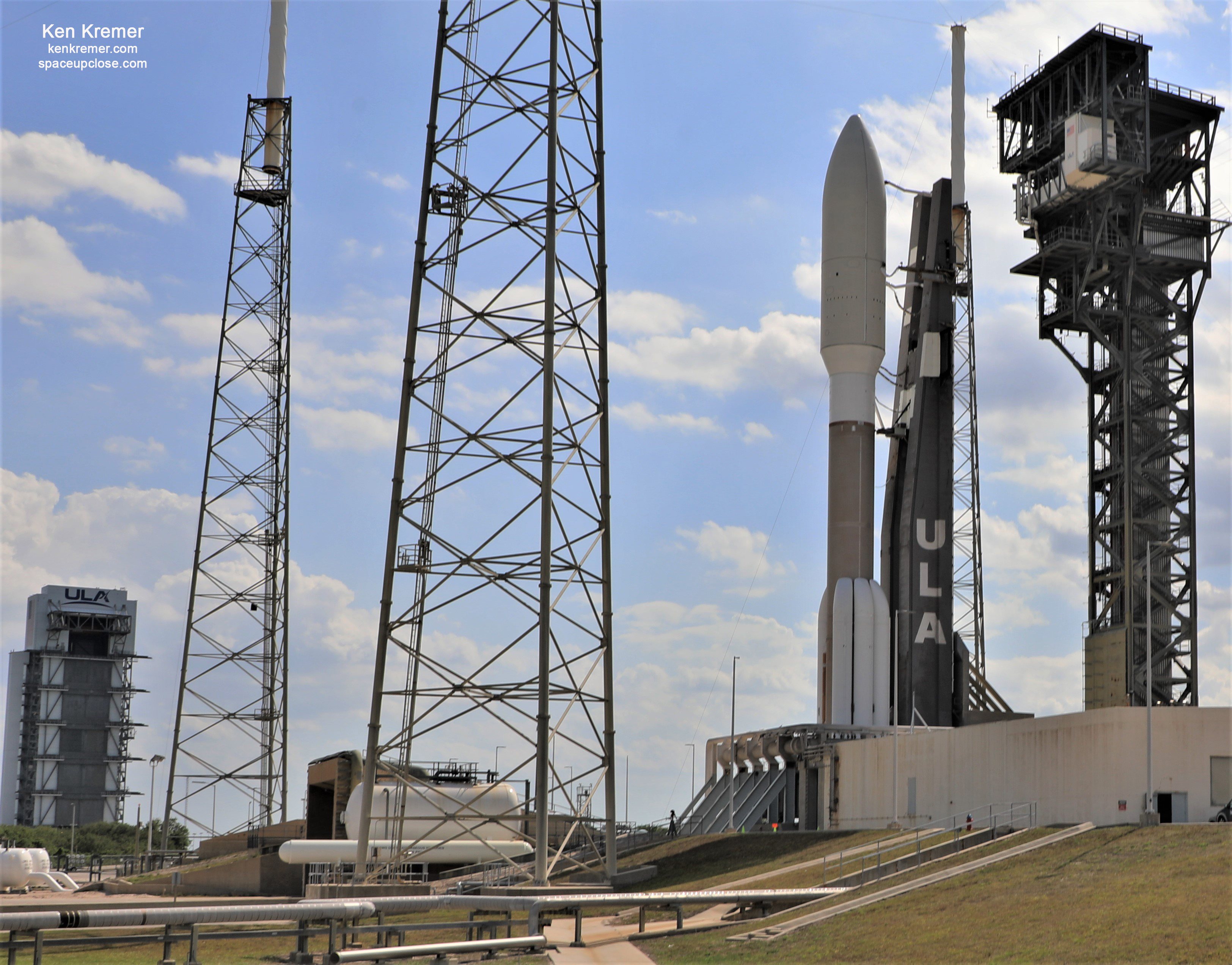 The satellite was built by prime contractor Lockheed Martin at the satellite integration facility in Sunnyvale, California, based on the A 2100 series communications satellite spacecraft model and has a mass of some 6100 kg (13600 pounds).
This will be 138th mission for ULA since the company was founded in 2006 and the 50th launch for the Air Force. It is the 80th for an Atlas V rocket and the 10th in the 551 configuration.
Atlas V rockets successfully launched the first five AEHF satellites in 2010, 2012, 2013, 2018 and 2019.
The AEHF-6 launch will mark the 83rd Atlas V mission since the inaugural launch in 2002 and the 11th in the 551 configuration.
My UpClose photos at pad 41 are featured at WKMG CBS 6 TV News Orlando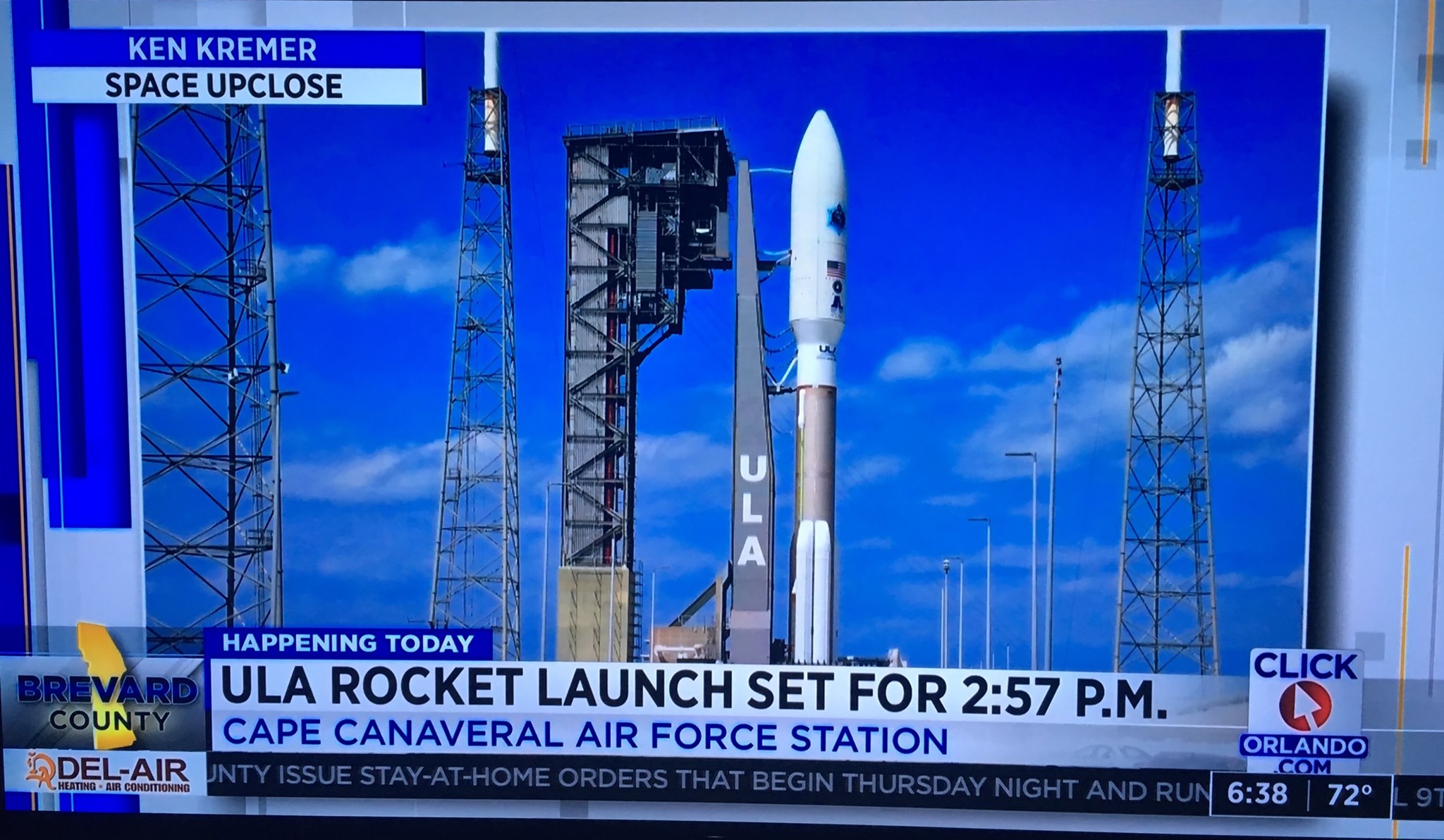 Ken is onsite at the Cape Canaveral Air Force Station for live reporting of the ULA AEHF-6 mission launch.
Watch Ken's continuing reports about onsite for live reporting of upcoming and recent ULA and SpaceX launches including Starlink, Solar Orbiter, In-Flight Abort, Mars 2020 and more at the Kennedy Space Center and Cape Canaveral Air Force Station.
Stay tuned here for Ken's continuing Earth and Planetary science and human spaceflight news: www.kenkremer.com –www.spaceupclose.com – twitter @ken_kremer – email: ken at kenkremer.com
Dr. Kremer is a research scientist and journalist based in the KSC area, active in outreach and interviewed regularly on TV and radio about space topics.
………….
Ken's photos are for sale and he is available for lectures and outreach events