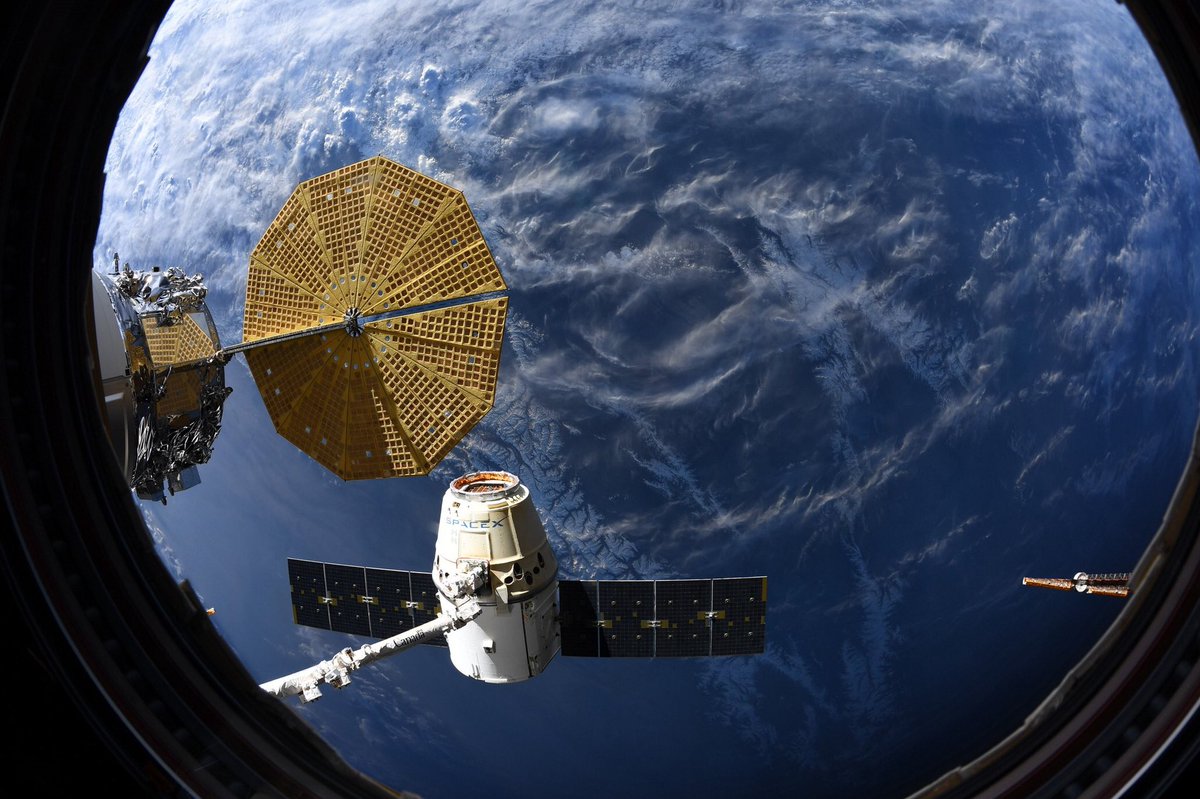 NASA Astronaut Andrew Morgan monitored the SpaceX Dragon resupply ship's release from the Canadarm2 robotic arm on April 7, 2020. Credit: @AstroDrewMorgan
For SpaceUpClose.com & RocketSTEM
CAPE CANAVERAL, FL – Following a thunderous launch and one month stay at the International Space Station (ISS) the final first generation SpaceX cargo Dragon spacecraft departed the outpost Tuesday and returned to Earth with 2 tons of valuable science samples and materials accomplishing a successful splashdown off the coast of California April 7.
SpaceX's Dragon CRS-20 cargo spacecraft splashed down in the Pacific Ocean at 2:50 p.m. (11:50 a.m. PDT), approximately 300 miles southwest of Long Beach, California – thus concluding the end of the company's 20th contracted cargo resupply mission to the International Space Station for NASA iunder the CRS-1 cargo delivery contract with NASA.
The spacecraft returned more than 4,000 pounds of valuable scientific experiments and other cargo – see details below.
"After a full month of exciting scientific payloads, #Cygnus and #Canadarm2 say goodbye to @SpaceX Dragon CRS-20 over central Asia at twilight'" tweeted astronaut Andrew Morgan.
After a full month of exciting scientific payloads, #Cygnus and #Canadarm2 say goodbye to @SpaceX Dragon CRS-20 over central Asia at twilight. pic.twitter.com/ke7s2odcRn

— Andrew Morgan (@AstroDrewMorgan) April 7, 2020
SpaceX ships will now sail to the Dragon , haul it from the ocean waters and return it to the Port of LA for retrieval of the cargo for delivery of the precious samples to researchers across the US and the globe.
Hours earlier ground controllers in Houston commanded the release of the CRS-20 Dragon from the snares of the 57 foot long Canadian-built Canadarm2 space station robotic arm at 9:06 a.m. April as the ship were orbiting 206 miles East of Vietnam at an altitude of approximately 250 miles.
NASA astronaut Andrew Morgan monitored the detachment and release and departure operation from the domed Cupola module.
After release from the arm's grasp SpaceX ground controllers in Hawthorne, CA commanded Dragon to carry out a trio of departure burns over the next 13 minutes and eventually the larger deorbit burn.
Work is ongoing at Houston despite the coronavirus COVID-19 pandemic because the ISS is considered a mission essential operation with humans onboard and cannot function for long periods without a human presence.
The SpaceX Dragon CRS-20 cargo ship streaked to space on a fantastic midnight launch March 6 on cargo delivery run carrying over two tons of NASA science and supplies to the International Space Station (ISS) Friday, March 6 from the Florida Space Coast.
Furthermore the SpaceX team accomplished the 50th landing of a Falcon 9 first stage back at the Cape some eight and a half minutes after liftoff – that thundered with sonic booms and set off car alarms too !! – to the delight of hordes of spectators gathered here from around the world.
The SpaceX Dragon CRS-20 cargo spacecraft began its journey to the International Space Station after launching atop a 'flight-proven' at 11:50 p.m. EST Friday March 6 (0449 GMT Saturday) from Space Launch Complex 40 at Cape Canaveral Air Force Station in Florida.
This final Dragon 1 liftoff also marked the 3rd cargo Dragon to fly 3 missions – the maximum for which they are certified – on what counts as the final mission of the first generation Dragon 1 vessel which has been flying to the ISS since 2012.
The Dragon 1 will be replaced by the more advanced Dragon 2 to be used for both cargo and crew flights for astronauts in different vairents.
From NASA: Here are some of the scientific investigations Dragon returned to Earth:
Generating a nutritional meal
Planning ways to supply food for a multi-year mission on the Moon or Mars may require making food and nutrients in space. BioNutrients demonstrates a technology that enables on-demand production of nutrients needed during long-duration space missions. Although designed for space, this system also could help provide nutrition for people in remote areas of our planet.
Toward printing human organs in space
Biological printing of the tiny, complex structures found inside human organs, such as capillaries, is difficult in Earth's gravity. The BioFabrication Facility (BFF) attempts to take the first steps toward the printing of human organs and tissues in microgravity. The facility may also help maintain the health of crews on deep space exploration missions by producing food and personalized pharmaceuticals on demand.
Helping the heart
The Engineered Heart Tissues (EHTs) study looks at how human heart tissue functions in space. It uses unique 3D tissues made from heart cells derived from human induced Pluripotent Stem Cells (hiPSCs), essentially adult stem cells. Researchers expect significant differences in function, structure and gene expression between EHTs in microgravity and those on the ground. Understanding these differences could help them find ways to prevent or mitigate problematic changes on future long-duration missions.
Biofilm festival
Samples from the Space Biofilms investigation, which examines microbial species and their formation of biofilms, are returning on Dragon. Biofilms are collections of one or more types of microorganisms – including bacteria, fungi and protists – that grow on wet surfaces. Better control of biofilms may help maintain crewed spacecraft and protect the health and safety of crew members as well as help prevent the introduction of Earth-based microbes to planetary bodies on which humans land.
These are just a few of the hundreds of investigations providing opportunities for U.S. government agencies, private industry and academic and research institutions to conduct microgravity research that leads to new technologies, medical treatments and products that improve life on Earth. Conducting science aboard the orbiting laboratory will help us learn how to keep astronauts healthy during long-duration space travel and demonstrate technologies for future human and robotic exploration beyond low-Earth orbit to the Moon and Mars.
……
Watch Ken's continuing reports onsite for live reporting of SpaceX CRS-20 as well as upcoming and recent ULA and SpaceX launches including Crew and Cargo Dragon, Solar Orbiter, In-Flight Abort and Starlink at the Kennedy Space Center and Cape Canaveral Air Force Station.
Stay tuned here for Ken's continuing Earth and Planetary science and human spaceflight news: www.kenkremer.com –www.spaceupclose.com – twitter @ken_kremer – email: ken at kenkremer.com
Dr. Kremer is a research scientist and journalist based in the KSC area, active in outreach and interviewed regularly on TV and radio about space topics.
………….
Ken's photos are for sale and he is available for lectures and outreach events