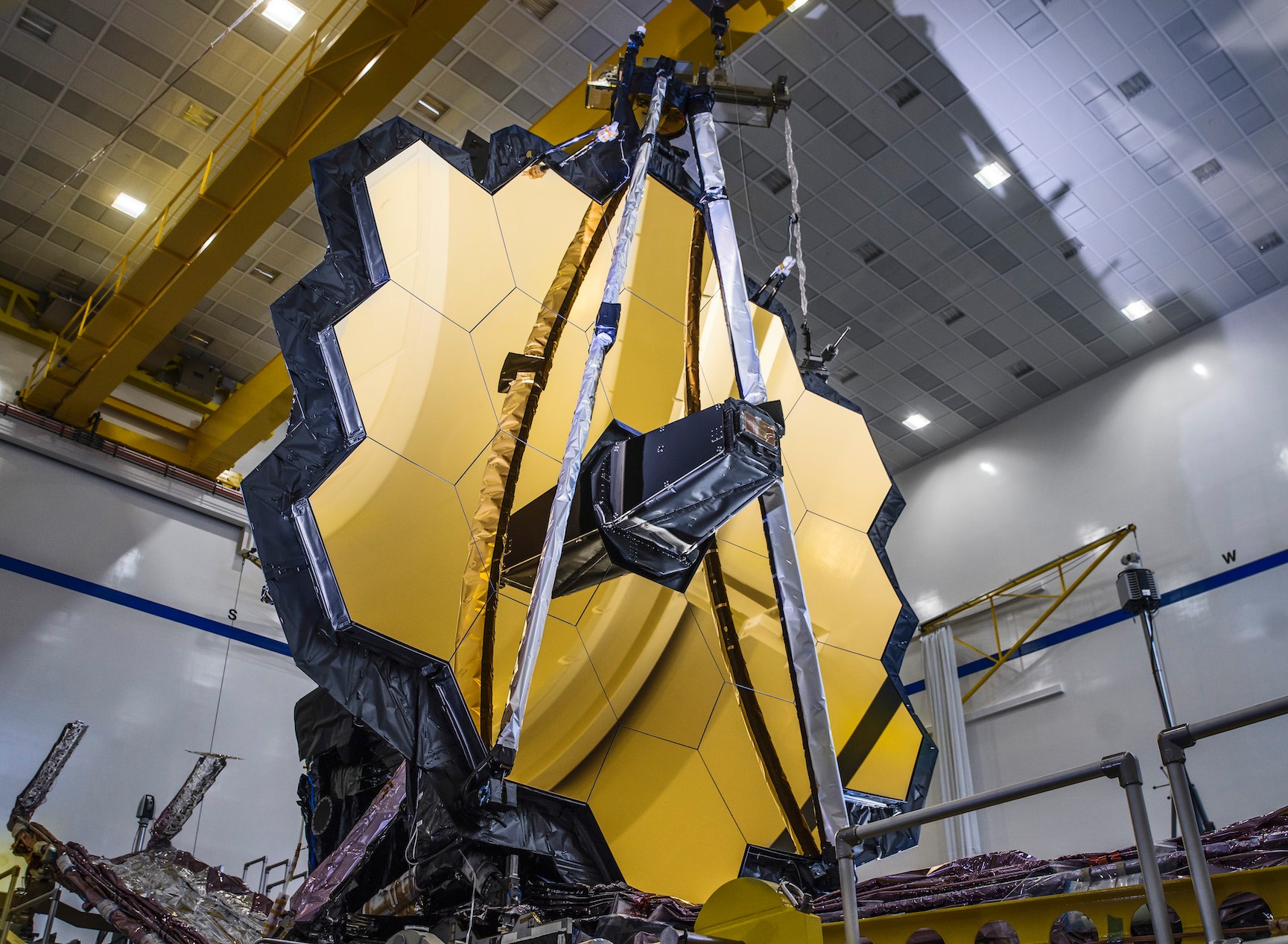 For SpaceUpClose.com & RocketSTEM – 1 April 2020
CAPE CANAVERAL, FL – The team building NASA's mammoth James Webb Space Telescope (JWST) recently accomplished a major milestone – namely fully deployed its 21 foot (6.5 meter) primary mirror into the same configuration it will have when it is carrying out astronomical observations in space.
However, NASA has also suspended virtually all future testing of the Webb Telescope – and many but not all other programs – as a direct result of the ongoing coronavirus COVID-19 pandemic – "to protect the health and safety of the NASA workforce as the nation responds to coronavirus (COVID-19), agency leadership recently completed the first assessment of work underway across all missions, projects, and programs."
Thus the expanding fallout from COVID crisis is potentially jeopardizing the scheduled 2021 launch date which is uncertain at this time.
"The James Webb Space Telescope team is suspending integration and testing operations. Decisions could be adjusted as the situation continues to unfold over the weekend and into next week. The decision was made to ensure the safety of the workforce. The observatory remains safe in its cleanroom environment," according to a NASA statement.
The critical test was carried out in March 2020 by engineers and technicians working in a humongous cleanroom at Northrop Grumman Space Systems in Redondo Beach, California where the Webb telescope is undergoing final checkouts and testing prior to its hoped for liftoff from the European spaceport in French Guiana, South America in 2021.
"Technicians and engineers have been diligently checking off a long list of final tests the observatory will undergo before being packaged for delivery to French Guiana for launch," NASA officials said.
'Performed in early March, this [mirror deployment] procedure involved commanding the spacecraft's internal systems to fully extend and latch Webb's iconic 21 feet 4-inch (6.5 meter) primary mirror, appearing just like it would after it has been launched to orbit."
Watch this short NASA video showing the deployment test:
Video Caption: Performed in early March 2020, this most recent test involved commanding the spacecraft's internal systems to fully extend, and latch Webb's iconic 21 feet 4-inch (6.5 meter) primary mirror into the same configuration it will have when in space. Credits: NASA/Sophia Roberts
Not that Webb is fully assembled the difficulty and complexity of performing tests for Webb has increased significantly says NASA.
"Special gravity offsetting equipment was attached to Webb's mirror to simulate the zero-gravity environment its mechanisms will have to operate in. Tests like these help safeguard mission success by physically demonstrating that the spacecraft is able to move and unfold as intended. The Webb team will deploy the observatory's primary mirror only once more on the ground, just before preparing it for delivery to the launch site."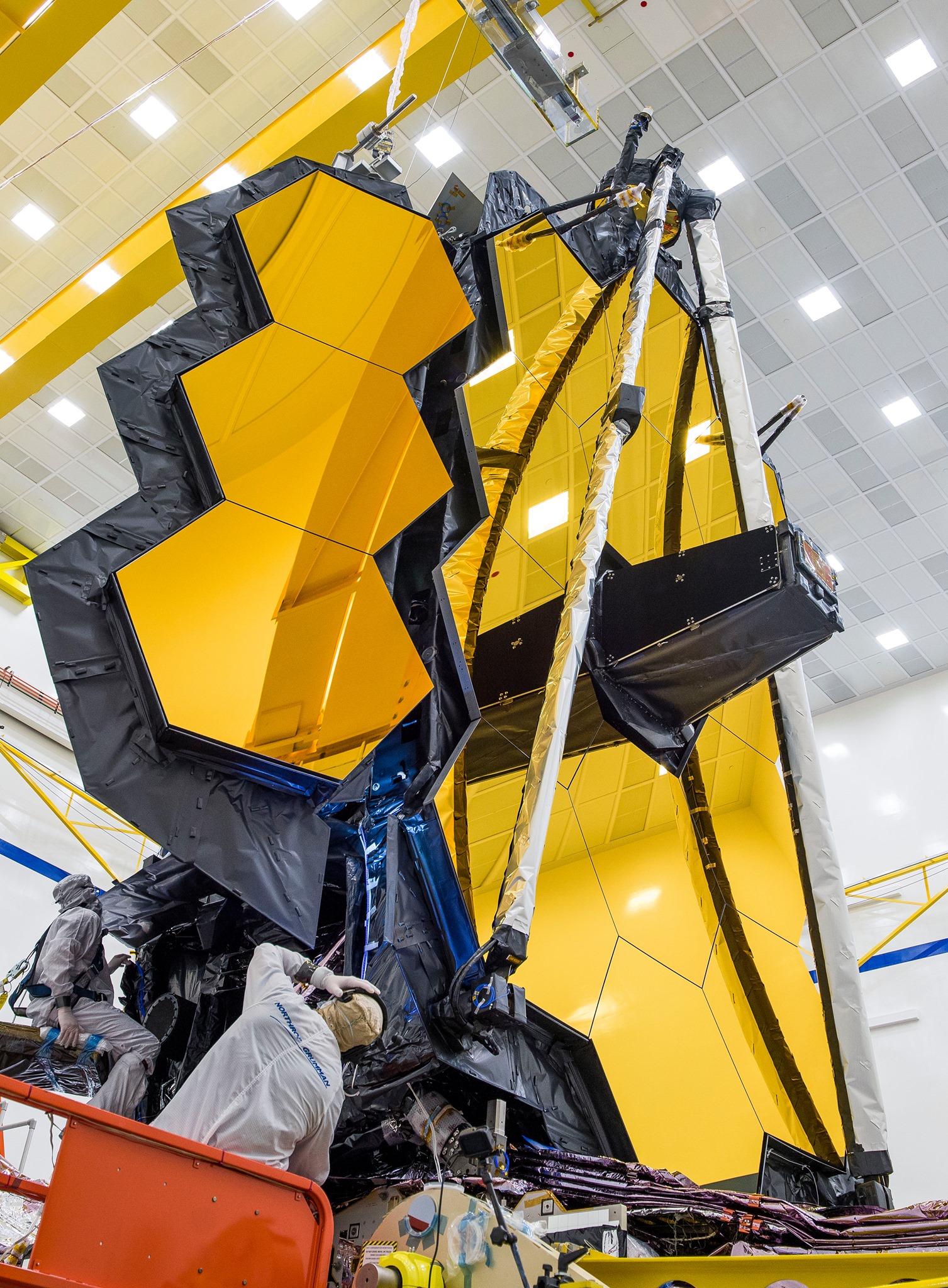 "In order to perform groundbreaking science, Webb's primary mirror needs to be so large that it cannot fit inside any rocket available in its fully extended form. Like the art of origami, Webb is a collection of movable parts employing applied material science that have been specifically designed to fold themselves to a compact formation that is considerably smaller than when the observatory is fully deployed. This allows it to just barely fit within a 16-foot (5-meter) payload fairing, with little room to spare."
"Deploying both wings of the telescope while part of the fully assembled observatory is another significant milestone showing Webb will deploy properly in space. This is a great achievement and an inspiring image for the entire team," said Lee Feinberg, optical telescope element manager for Webb at NASA's Goddard Space Flight Center in Greenbelt, Maryland, in a statement.
I observed JWST many times while under construction at NASA Goddard Spaceflight Center in Greenbelt, MD.
This photo shows the science instrument/mirror module in the Goddard cleanroom after installation of the 18 primary mirrors was completed.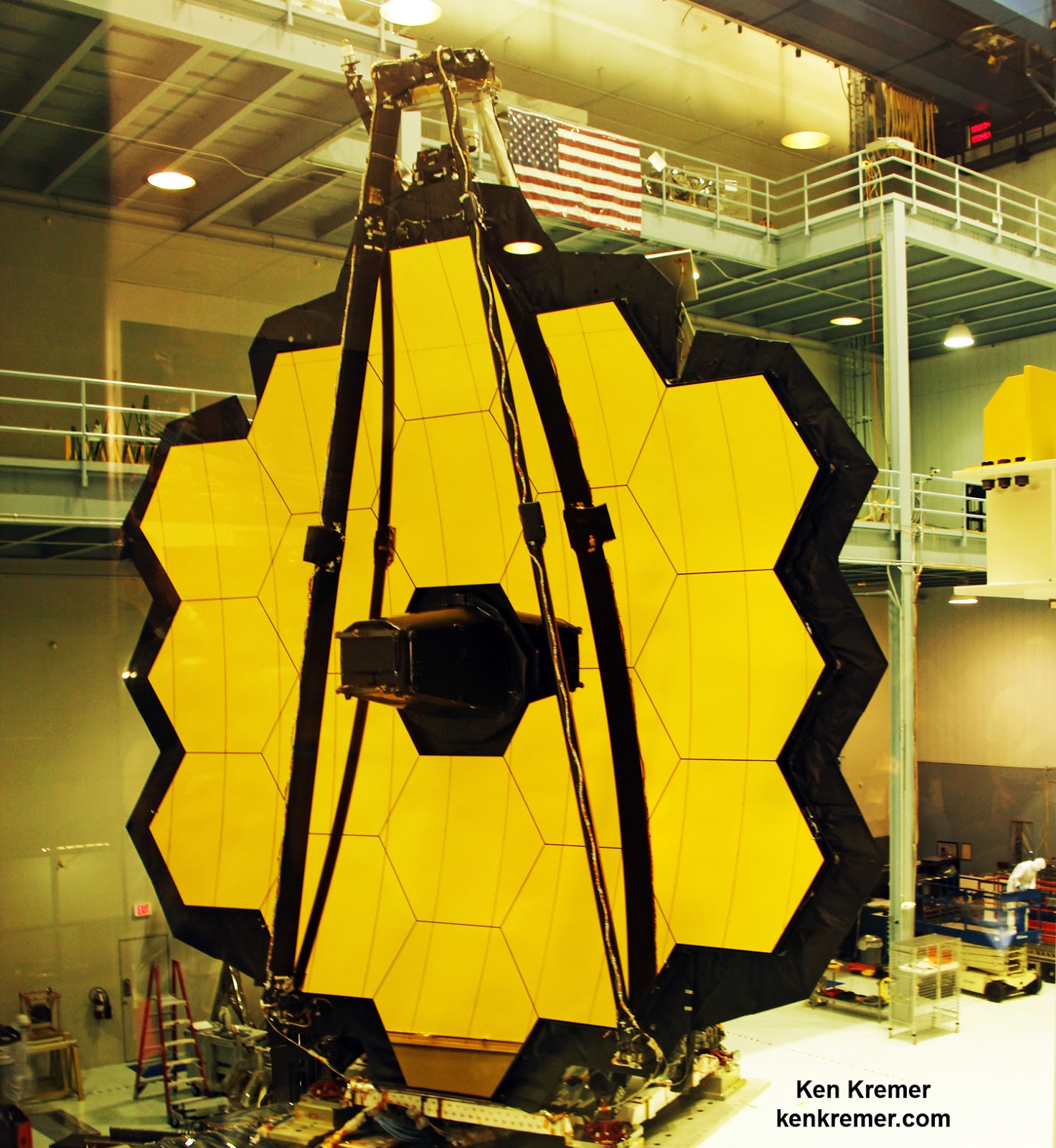 The Webb Telescope is a joint international collaborative project between NASA, the European Space Agency (ESA) and the Canadian Space Agency (CSA).
Webb is designed to look at the first light of the Universe and will be able to peer back in time to when the first stars and first galaxies were forming. It will also study the history of our universe and the formation of our solar system as well as other solar systems and exoplanets, some of which may be capable of supporting life on planets similar to Earth.
California is Webb's last assembly and testing spot before the completed telescope is shipped to its launch site in Kourou, French Guiana.
NASA is aiming for a March 30, 2021 launch target of the $9 Billion observatory – pending the outcome of the final assembly and testing of the massive observatory at Northrup Grumman.
JWST is the largest, most powerful and most complex space telescope ever built. It will serve as the scientific successor to NASA's world famous and phenomenally successful Hubble Space Telescope (HST).
It will be launched on an Ariane 5 rocket, folded up like origami inside the nose cone.
Watch this space for my ongoing reports on JWST mirrors, science, construction and testing.
Watch for Ken's continuing onsite coverage of NASA, SpaceX, ULA, Boeing, Lockheed Martin, Northrop Grumman and more space and mission reports direct from the Kennedy Space Center, Cape Canaveral Air Force Station, Florida and Wallops Flight Facility, Virginia.
Stay tuned here for Ken's continuing Earth and Planetary science and human spaceflight news: www.kenkremer.com –www.spaceupclose.com – twitter @ken_kremer – email: ken at kenkremer.com
Dr. Kremer is a research scientist and journalist based in the KSC area, active in outreach and interviewed regularly on TV and radio about space topics.
………….
Ken's photos are for sale and he is available for lectures and outreach events