For SpaceUpClose.com & RocketSTEM
CAPE CANAVERAL, FL – Despite successfully building and launching 74 satellites into low Earth orbit initiating the start of a mega satellite constellation to provide global internet low latency service London based OneWeb has filed for Chapter 11 bankruptcy in an official announcement from the company that will result in job losses after failing to secure financing from its largest investor SoftBank to move forward.
The catastrophic global threat from the coronavirus COVID-19 pandemic also played a significant role in the company's down turn – another victim of the coronavirus.
OneWeb announced the bankrupty on March 27 in a filing with the U.S. Bankruptcy Court for the Southern District of New York.
"OneWeb , the global communications company with a mission to bring connectivity to everyone everywhere, announced today that the Company and certain of its controlled affiliates have voluntarily filed for relief under Chapter 11 of the Bankruptcy Code in the U.S. Bankruptcy Court for the Southern District of New York. The Company intends to use these proceedings to pursue a sale of its business in order to maximize the value of the company," OneWeb said in a statement.
OneWeb had been negotiating to obtain full funding for the manufacture and launch of its planned low Earth orbit constellation of some 650 mass-produced satellites "into first mass-produced Low Earth Orbit constellation at 1,200km altitude."
High speed internet commercial services were scheduled to start in 2021
OneWeb was a direct competitor to the SpaceX Starlink constellation of thousands of low Earth Orbit low latency satellites.
"While the Company was close to obtaining financing, the process did not progress because of the financial impact and market turbulence related to the spread of COVID-19."
According to a report in the Financial Times OneWeb was negotiating for up to $2 billion from the Japanese conglomerate SoftBank – until the COVID-19 coronavirus pandemic caused a sharp worldwide fall in financial markets.
The satellites are built at a new manufacturing facility at Exploration Part located at the outskirts of the Kennedy Space Center and across the street from the humongous Blue Origin rocket manufacturing facility – owned by billionaire and Amazon founder Jeff Bezos who is building his own competing internet satellite constellation.
"OneWeb has been building a truly global communications network to provide high-speed low latency broadband everywhere. Our current situation is a consequence of the economic impact of the COVID-19 crisis, said Adrian Steckel, Chief Executive Officer of OneWeb.
About 250 people are employed at the KSC facility. Nearly all are being furloughed and nearly 85% of the over 530 worldwide employees have been laid off.
"We remain convinced of the social and economic value of our mission to connect everyone everywhere. Today is a difficult day for us at OneWeb. So many people have dedicated so much energy, effort, and passion to this company and our mission. Our hope is that this process will allow us to carve a path forward that leads to the completion of our mission, building on the years of effort and the billions of invested capital. It is with a very heavy heart that we have been forced to reduce our workforce and enter the Chapter 11 process while the Company's remaining employees are focused on responsibly."
OneWeb will pursue a sale of its assets and technology.
"We are a pioneering company building the first global communications network to be powered by a constellation of low-Earth-orbit satellites, and will be providing connectivity to people and businesses everywhere around the world. Available from 2021," OneWeb says in its mission statetment online.
That vision will now go unfulfilled – at least through OneWeb itself.
The most recent launch of 34 satellites took place on a Russian Soyuz rocket just days ago on March 21 aboard a Soyuz launch vehicle from the historic Baikonur Cosmodrome, Kazakhstan.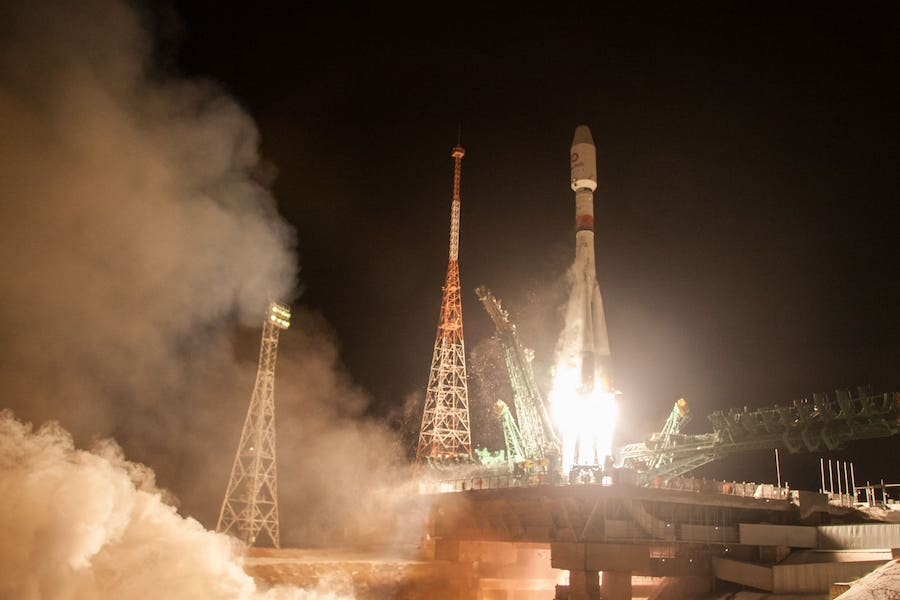 "This is the second of its 34 satellite launches in six weeks, an achievement made possible by the pace and execution of OneWeb Satellites' high-volume production factory in Florida. This launch brings the total number of satellites in the constellation to 74, further solidifying OneWeb's position as a leading global communications company," OneWeb announced.
Just one week later OneWeb declared bankruptcy !!
That is rather shocking
More launches had been planned on Soyuz from Baikonur and from the European-run spaceport in French Guiana by Arianespace in Kourou, South America.
Overall 21 Soyuz launches had been contracted by OneWeb.
However all rocket launches from Kourou have been suspended directly as a result of the COVID-19 pandemic crisis.
Watch my commentary at ABC 9 Orlando TV News about the implications for job losses on the Space Coast of One Web bankruptcy
https://www.wftv.com/news/local/brevard-county/space-coast-satellite-manufacture-oneweb-files-bankruptcy-furloughs-most-staff/E4K3SGVGC5AVXE2WI3VFNDYMJU/
Watch Ken's continuing reports about onsite for live reporting of upcoming and recent ULA and SpaceX launches including Starlink, Solar Orbiter, In-Flight Abort, Mars 2020 and more at the Kennedy Space Center and Cape Canaveral Air Force Station.
Stay tuned here for Ken's continuing Earth and Planetary science and human spaceflight news: www.kenkremer.com –www.spaceupclose.com – twitter @ken_kremer – email: ken at kenkremer.com
Dr. Kremer is a research scientist and journalist based in the KSC area, active in outreach and interviewed regularly on TV and radio about space topics.
………….
Ken's photos are for sale and he is available for lectures and outreach events