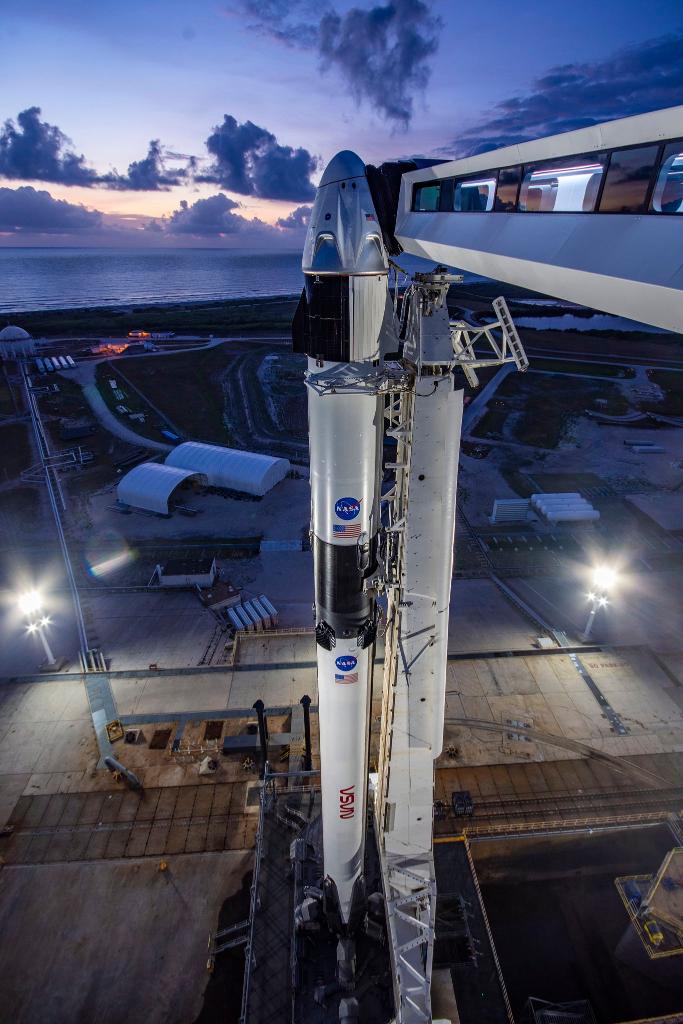 For SpaceUpClose.com & RocketSTEM
CAPE CANAVERAL, FL – Following approval from the NASA and SpaceX teams after the Launch Readiness Review on Monday and final preflight checks Tuesday the Falcon 9 rocket and Crew Dragon spacecraft are now poised for liftoff of the historic 1st human launch from US soil in nearly a decade since the retirement of NASA's Space Shuttle system in 2011 – weather permitting.
NASA astronauts Robert Behnken and Douglas Hurley participated in a thorough countdown 'dry dress rehearsal' on Saturday May 23, at NASA's Kennedy Space Center in Florida of the exact timeline of events they will run through on their history making launch on the Demo-2 mission to the International Space Station (ISS) aboard the 1st piloted Space X Crew Dragon mission planned for Wednesday, May 27 from Launch Complex-39A
The NASA SpaceX Demo-2 mission will mark the resumption of US Human spaceflight capability of launching American astronauts on American rockets in American spaceships from American soil since the forced retired of NASA's space shuttles in 2011.
"We're burning down the final paper. All the teams are a go, and we're continuing to progress toward our mission," said Kathy Lueders, manager, NASA Commercial Crew Program, at a media following the review.
"I'm very proud of the team. We are continuing to be vigilant and careful, and make sure we do this right."
The veteran pair are preparing to launch aboard a commercial SpaceX Crew Dragon spacecraft on the company's Falcon 9 rocket and fly to the International Space Station (ISS) on the Demo-2 test flight – which also counts as the first crewed mission for the agency's Commercial Crew Program.
Liftoff of the SpaceX Falcon 9 rocket with veteran NASA astronauts Bob Behnken and Doug Hurley on the Demo-2 test flight from historic Launch Complex 39A from NASA's Kennedy Space Center in Florida is slated for May 27 at 4:33 p.m. EDT (2033 GMT) for an extended mission.
Tomorrow, @AstroBehnken & @Astro_Doug become the 1st humans to launch to the @Space_Station from American soil since the final space shuttle mission in 2011. Don't miss our live coverage, including video from the @SpaceX Crew Dragon spacecraft!

Details: https://t.co/McKRZTW8rs pic.twitter.com/4CX64mc18f

— NASA (@NASA) May 26, 2020
"I don't have to tell you all how exciting it is to have the first flight of humans to space from the Kennedy Space Center in nine years," Kennedy Space Center Director Bob Cabana said during a briefing Tuesday, adding that the launch pad's history only adds to the significance of NASA's SpaceX Demo-2 launch.
"Now, rather than rusting away in the salt air, through our partnership with SpaceX, that pad is being used once again, and it's now for our Commercial Crew Program as well as other missions for SpaceX, and I think that's absolutely outstanding."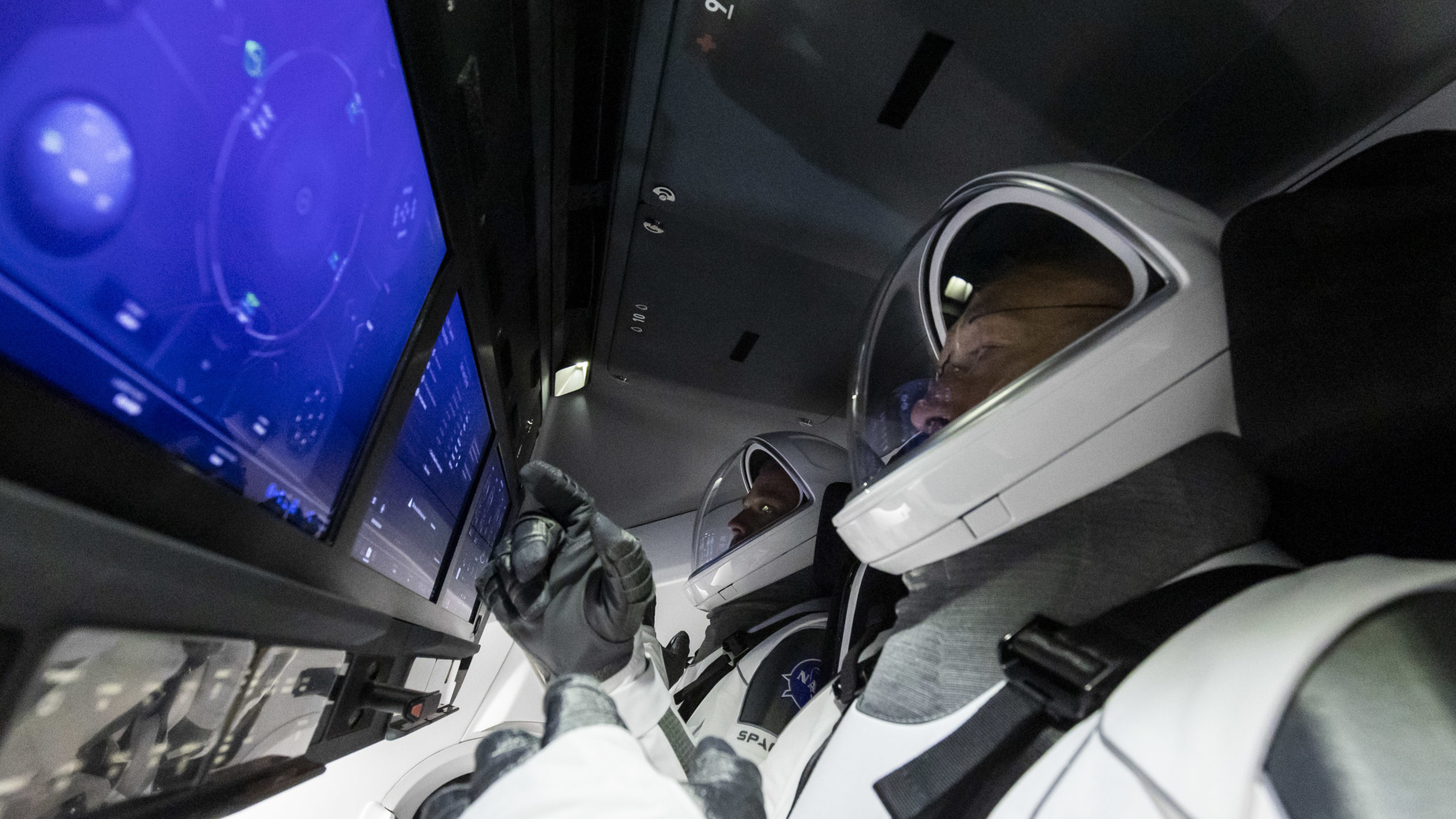 No human has launched to orbit from American soil in nearly 9 ultra-long years since the retirement of NASA's space shuttles and its final launch on July 8, 2011 on the STS-135 mission to the ISS.
The exact flight duration for Demo-2 has not yet been determined but is expected to range from 1 to 4 months.
Unfortunately, the weather is not promising for Wednesday's liftoff.
The U.S. Air Force 45th Weather Squadron are predicting only a 60% chance of favorable weather conditions for the SpaceX Demo-2 mission. The primary weather concerns for launch are flight through precipitation, anvil and cumulus clouds.
NASA and SpaceX will provide live coverage of the launch activities beginning 4 hour before launch and starting Wednesday, May 27, at 12:15 p.m., leading up to liftoff and through arrival at the space station at 11:39 a.m. on Thursday, May 28.
You can watch live at NASA TV and the SpaceX website
https://www.nasa.gov/multimedia/nasatv/index.html#public
Our #LaunchAmerica LIVE coverage includes liftoff of @SpaceX's Crew Dragon spacecraft, a @KellyClarkson performance, live video from space while @AstroBehnken & @Astro_Doug fly to the @Space_Station and much more.

Full schedule: https://t.co/n3m0Tx4yeD pic.twitter.com/xbSN9unevE

— NASA (@NASA) May 27, 2020
"It's been nine years since we've had this opportunity," NASA Administrator Jim Bridenstine said.
"And Bob Cabana, we want to thank you for all the great work you've done getting us up to this point, getting the Kennedy Space Center ready. Everything is looking good. As of right now, we are 'go' for launch."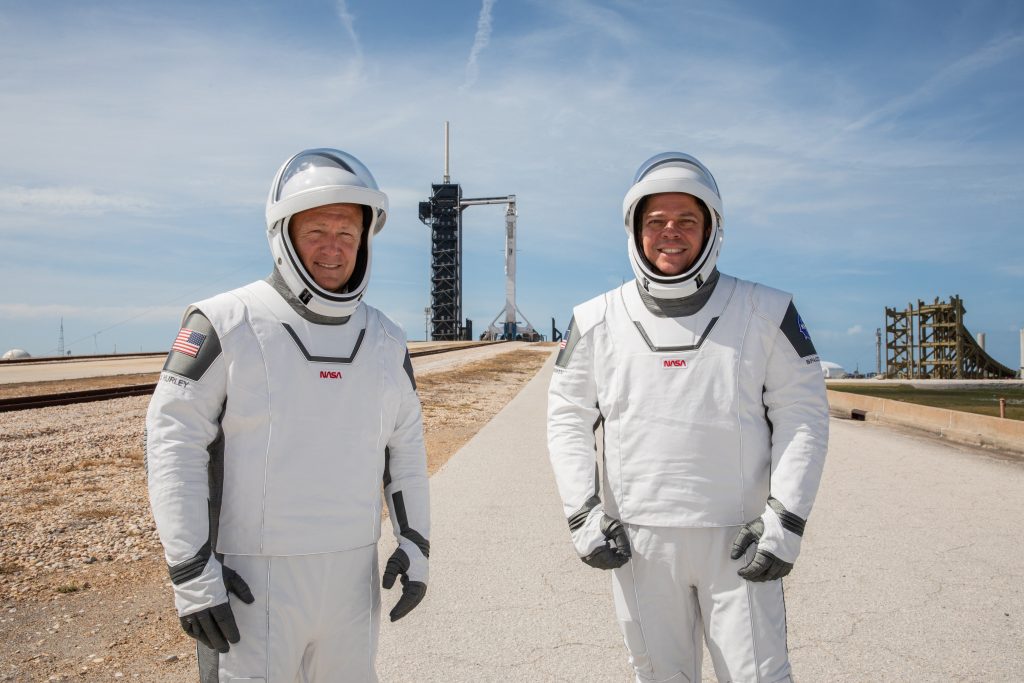 While docked to the space station, Behnken and Hurley will join the Expedition 63 crew already on board the orbiting laboratory: astronaut Chris Cassidy and cosmonauts Anatoly Ivanishin and Ivan Vagner.
"That's at the core of what we're doing here today, to continue the incredible legacy of work that we've done on the International Space Station," said NASA astronaut Kjell Lindgren, who flew to the station in 2015 aboard a Roscosmos Soyuz spacecraft as part of the Expedition 44/45 crew. "We've had humans living and working on that orbital outpost for almost 20 years, conducting science and research to extend our presence in the solar system and to improve life back here on Earth. This launch represents an extension of that capability."
Dragon Dawn pic.twitter.com/mz1EzU5GSO

— Elon Musk (@elonmusk) May 26, 2020
Here's my view of the Crew Dragon used in the In Flight Abort (IFA) Test in Jan 2020.
"Demo-2 will be SpaceX's final test flight to validate its crew transportation system, including the Crew Dragon, Falcon 9, launch pad and operations capabilities. During the mission, the crew and SpaceX mission controllers will verify the performance of the spacecraft's environmental control system, displays and control system, maneuvering thrusters, autonomous docking capability, and more."
"The length of the Demo-2 mission will be determined after Behnken and Hurley arrive at the station, depending on the readiness of the next commercial crew launch."
"Team is performing additional pre-flight checkouts of Falcon 9, Crew Dragon, and the ground support system ahead of tomorrow's Demo-2 mission. Weather forecast for launch is 60% favorable," SpaceX tweeted.
Team is performing additional pre-flight checkouts of Falcon 9, Crew Dragon, and the ground support system ahead of tomorrow's Demo-2 mission. Weather forecast for launch is 60% favorable. pic.twitter.com/RgzkPfS8LW

— SpaceX (@SpaceX) May 26, 2020
Watch my commentary at WKMG CBS 6 TV News about SpaceX Demo-2 launch:
https://www.clickorlando.com/news/local/2020/05/25/the-mission-nasa-astronauts-will-be-first-to-fly-in-spacex-spacecraft/
Watch Ken's continuing reports about Commercial Crew and Artemis and onsite for live reporting of upcoming and recent SpaceX and ULA launches including Demo-2, Starlink, X-37B, Solar Orbiter, Mars 2020 and more at the Kennedy Space Center and Cape Canaveral Air Force Station.
Stay tuned here for Ken's continuing Earth and Planetary science and human spaceflight news: www.kenkremer.com –www.spaceupclose.com – twitter @ken_kremer – email: ken at kenkremer.com
Dr. Kremer is a research scientist and journalist based in the KSC area, active in outreach and interviewed regularly on TV and radio about space topics.
………….
Ken's photos are for sale and he is available for lectures and outreach events
Ken's upcoming outreach events:
May 26: 7 PM, Quality Inn Kennedy Space Center, Titusville, FL. "SpaceX Demo-2 and ULA Atlas V launches" Free. In hotel lobby. Photos for sale