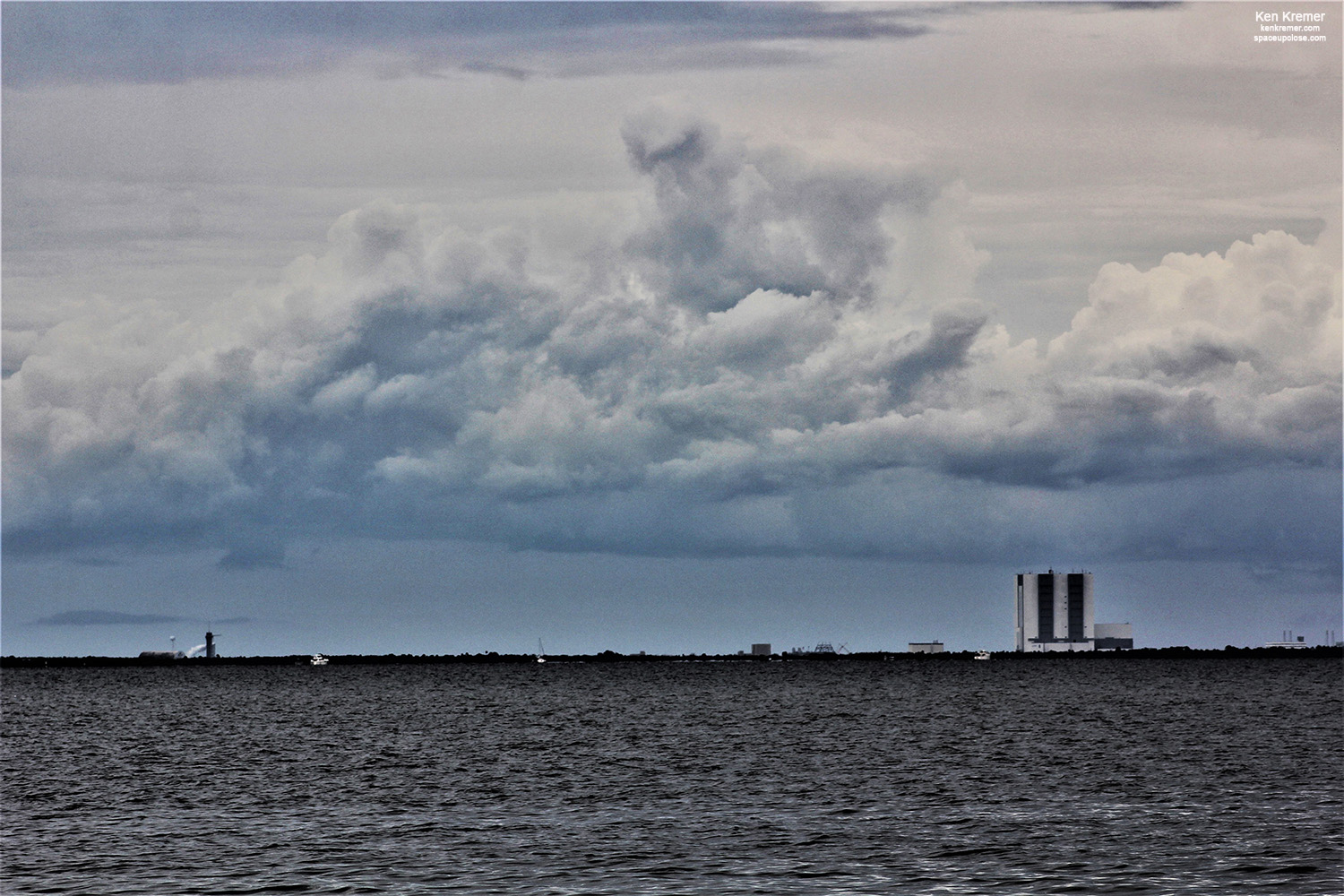 For SpaceUpClose.com & RocketSTEM
TITUSVILLE, FL – Dismal weather forced SpaceX and NASA to scrub the first launch attempt of American astronauts from Florida's Space Coast in nearly 9 years this afternoon on the historic first ever piloted launch of the commercial SpaceX Crew Dragon spacecraft to orbit from NASA's Kennedy Space Center in Florida.
Extended periods of drenching rain, high winds, thick clouds and even a tornado passing nearby marked launch day today, Wednesday, May 27, as untold hordes of spectators gather from around America to witness history in the making.
Ultimately multiple thunder strikes at around T Minus 16 minutes forced SpaceX to halt the countdown and derailed history for a few more days- disappointing the massive crowds – but doing exactly as the launch team was trained to do to keep the astronauts safe and sound for another try this weekend.
Veteran NASA astronauts Robert Behnken and Douglas Hurley were seated inside their SpaceX Crew Dragon spacecraft atop the 23 story tall Falcon 9 rocket at historic Launch Complex-39A when the scrub was called at 4:16 p.m. for the planned 4:33 p.m. EDT liftoff of the Demo-2 mission.
Today's launch was scrubbed due to weather. There were no issues with the @SpaceX Falcon 9 rocket and Crew Dragon spacecraft. The next launch attempt is Saturday, May 30 at 3:22 p.m. ET. #LaunchAmerica More photos from today: https://t.co/8due5jBg5Y pic.twitter.com/wvvd3WcnWz

— NASA HQ PHOTO (@nasahqphoto) May 27, 2020
Their history making launch on the Demo-2 mission to the International Space Station (ISS) aboard the 1st piloted Space X Crew Dragon mission is now retargeted to three days later on Saturday, May 30 at 3:22.p.m. EDT from Launch Complex-39A at the Kennedy Space Center.
NASA TV Launch coverage on Saturday, May 30, will begin at 11 a.m. EDT, on the web at http://www.nasa.gov/live and on the blog.
"I know there's a lot of disappointment about today's #LaunchAmerica mission, but rest assured that we made the right decisions for @NASA, @SpaceX and our @Commercial_Crew program," said NASA Administrator Jim Bridenstine post scrub.
I know there's a lot of disappointment about today's #LaunchAmerica mission, but rest assured that we made the right decisions for @NASA, @SpaceX and our @Commercial_Crew program. pic.twitter.com/53urYm0xdR

— Jim Bridenstine (@JimBridenstine) May 27, 2020
I was watching from about 12 miles away across the Indian River Lagoon in Titusville and helping with live launch coverage for CBS 12 TV News affiliate – see full video below
Enjoy our Space UpClose photos of the launch attempt and massive crowds taken by Ken Kremer and Jean Wright.
The NASA SpaceX Demo-2 mission will mark the resumption of US Human spaceflight capability on American rockets in American spaceships from American soil since the forced retired of NASA's space shuttles in 2011.
No human has launched to orbit from American soil in nearly 9 ultra-long years since the forced retirement of NASA's space shuttles and its final launch on July 8, 2011 on the STS-135 mission to the ISS.
The exact flight duration for Demo-2 has not yet been determined but is expected to range from 1 to 4 months.
Astronaut Behnken tweeted his appreciation of the team post scrub:
I'm so proud of the @NASA and @SpaceX team today, they were ready for launch. @Astro_Doug and I will be ready with them again on Saturday! #LauchAmerica https://t.co/n8gnyb9SKW

— Bob Behnken (@AstroBehnken) May 28, 2020
"We can see raindrops on the windows," Hurley said as he and Behnken received the news that weather had prevented a liftoff Wednesday. "We understand everybody's probably a little bummed out, but that's part of the deal," he added.
After Saturday another backup opportunity exists on Sunday at 3 p.m. EDT.
Unfortunately, the weather outlook remains rather port at only 40% chance of GO acceptable conditions says the 45th Weather Squadron.
"The weather got us. But it was a great day for NASA," said Bridenstine.
"It was a great day for SpaceX. Our teams worked together in a really impressive way, making good decisions all along."
President Trump and Vice President Pence flew from DC to KSC to attend witness the launch in person.
Trump took a tour of KSC facilities including the Orion crew capsules and departed after the scrub and tweeted that he would return on Saturday.
Thank you to @NASA and @SpaceX for their hard work and leadership. Look forward to being back with you on Saturday!

— Donald J. Trump (@realDonaldTrump) May 27, 2020
The countdown proceeded smoothly throughout the day Wednesday, said NASA with no technical issues raised regarding the SpaceX Falcon 9 rocket or the Crew Dragon spacecraft.
"NASA astronauts Robert Behnken and Douglas Hurley suited up, walked out of Kennedy's Neil Armstrong Operations and Checkout Building and rode out to the launch complex in a Tesla Model X before climbing on board the SpaceX Crew Dragon spacecraft a few minutes ahead of schedule."
"However, later in the countdown, with operations underway to load the rocket's propellants and the instantaneous launch window of 4:33 p.m. EDT drawing near, launch weather officials briefed SpaceX Launch Director Mike Taylor that there just wasn't enough time to wait for weather to improve. Rain, cumulus clouds, attached anvil clouds, lightning and field mill data – which measure the amount of electricity in the atmosphere – all violated Falcon 9 and Crew Dragon launch criteria at times throughout the day."
"There was a concern that if we did launch, it could actually trigger lightning," Bridenstine said. "We made the right decision."
The two stage Falcon 9 rocket stands 230 feet (70 meters) tall and measures 12 feet (3,7 meters) in diameter. It has a mass of 549,054 kilograms or 1,207,920 pounds.
The Payload to Low Earth Orbit is 22,800 kilograms or 50,265 pounds.
Here's my view of the Crew Dragon used in the In Flight Abort (IFA) Test in Jan 2020.
"Demo-2 will be SpaceX's final test flight to validate its crew transportation system, including the Crew Dragon, Falcon 9, launch pad and operations capabilities. During the mission, the crew and SpaceX mission controllers will verify the performance of the spacecraft's environmental control system, displays and control system, maneuvering thrusters, autonomous docking capability, and more."
"The length of the Demo-2 mission will be determined after Behnken and Hurley arrive at the station, depending on the readiness of the next commercial crew launch."
Team is performing additional pre-flight checkouts of Falcon 9, Crew Dragon, and the ground support system ahead of tomorrow's Demo-2 mission. Weather forecast for launch is 60% favorable. pic.twitter.com/RgzkPfS8LW

— SpaceX (@SpaceX) May 26, 2020
Watch my live launch commentary with CBS 12 here for a full hour May 27:
SPACE: BACK TO THE FUTURE: Watch CBS12 News' special report on today's historic SpaceX launch. Read more: https://t.co/OeyJXlv0Wq https://t.co/O2DPRVrIzQ

— WPEC CBS12 News (@CBS12) May 27, 2020
Watch my commentary at CBS 6 TV News Orlando here:
https://www.clickorlando.com/news/local/2020/05/25/the-mission-nasa-astronauts-will-be-first-to-fly-in-spacex-spacecraft/
Watch Ken's continuing reports about Commercial Crew and Artemis and onsite for live reporting of upcoming and recent SpaceX and ULA launches including Demo-2, Starlink, X-37B, Solar Orbiter, Mars 2020 and more at the Kennedy Space Center and Cape Canaveral Air Force Station.
Stay tuned here for Ken's continuing Earth and Planetary science and human spaceflight news: www.kenkremer.com –www.spaceupclose.com – twitter @ken_kremer – email: ken at kenkremer.com
Dr. Kremer is a research scientist and journalist based in the KSC area, active in outreach and interviewed regularly on TV and radio about space topics.
………….
Ken's photos are for sale and he is available for lectures and outreach events
Ken's upcoming outreach events:
May 29: 7 PM, Quality Inn Kennedy Space Center, Titusville, FL. "SpaceX Demo-2 and ULA Atlas V launches" Free. In hotel lobby. Photos for sale
x