For SpaceUpClose.com & RocketSTEM
TITUSVILLE, FL – A pair of veteran NASA astronauts flying aboard a commercial SpaceX Crew Dragon spacecraft safely docked at the International Space Station ISS) this Sunday morning just 19 hours after the first human launch from US soil for the first time in nine years on a history making and flawless blastoff from the Florida Space Coast.
NASA astronauts Robert Behnken and Douglas Hurley arrived in the vicinity of the International Space Station on Sunday morning, May 31, aboard the first ever commercially built and operated American spacecraft to carry humans to orbit – thus opening a fabulous new era in human spaceflight with virtually unlimited potential.
Hurley and Behnken docked to the forward-facing end of the space station's Harmony module at 10:16 a.m. EDT (1416 GMT) Sunday as the orbiting laboratory complex flew 262 miles (421 km) above the border between northern China and Mongolia – just under 19 hours after liftoff.
Following the soft dock between Crew Dragon and station the teams worked to close the 12 hooks and latches binding the two ships together for a hard mate and air tight seal.
.@Astro_Doug and @AstroBehnken were aboard the @SpaceX #CrewDragon as it approached the station. https://t.co/IXnE4DimeS pic.twitter.com/AtqnUA9GdN

— Intl. Space Station (@Space_Station) June 1, 2020
After completing leak checks and other critical chores over the next few hours the hatches on both sides were opened one by one at 1:02 p.m. ET.
The newly arrived dynamic duo from the SpaceX Demo-2 test flight mission then gently floated through the opening and joined the 3 crewmates of Expedition already aboard.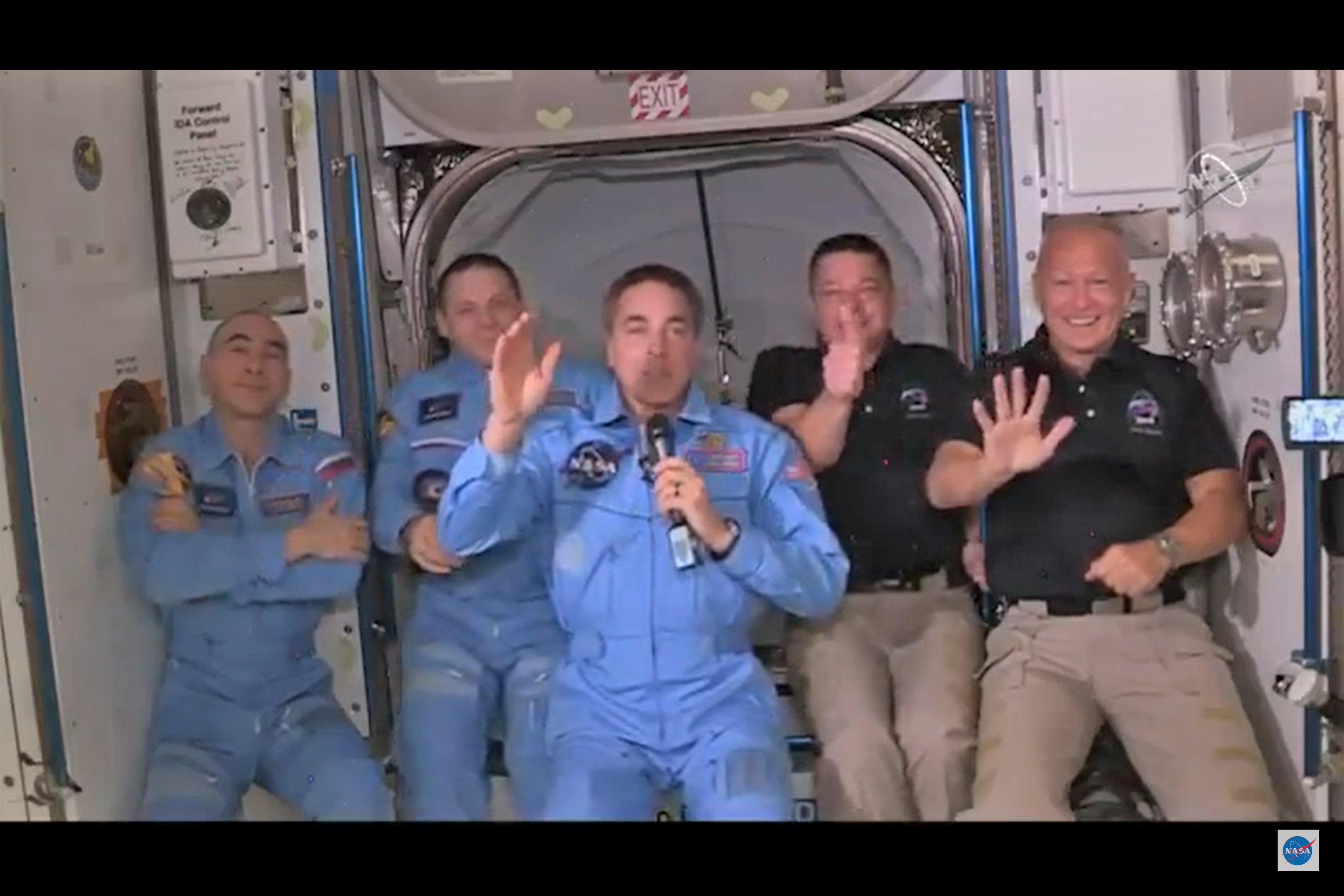 Behnken and Hurley are the first astronauts to fly SpaceX's Crew Dragon to the station.
They were welcomed as crew members of Expedition 63 by fellow NASA astronaut Chris Cassidy and two Russian cosmonauts Anatoly Ivanishin and Ivan Vagner.
This is the first time in human history @NASA_Astronauts have entered the @Space_Station from a commercially-made spacecraft. @AstroBehnken and @Astro_Doug have finally arrived to the orbiting laboratory in @SpaceX's Dragon Endeavour spacecraft. pic.twitter.com/3t9Ogtpik4

— NASA (@NASA) May 31, 2020
They posed for pictures and congratulatory phone call from NASA Administrator Jim Bridenstine and other dignitaries gathered at Mission Control at the Johnson Space Center in Houston , Texas.
"The whole world saw this mission, and we are so, so proud of everything you've done for our country and, in fact, to inspire the world," NASA Administrator Jim Bridenstine told the crew from the floor of Mission Control in Houston.
"This represents a transition in how we do spaceflight from the United States of America. NASA is not going to purchase, own and operate rockets and capsules the way we used to; we're going to partner with commercial industry.
"This model is going to apply when we go to the Moon," Bridenstine said. " When we go to the Moon we're going to land on the surface of the Moon with commercial landers. All of this is leading up to an amazing day where we have humans living and working for long periods of time on the surface of the Moon, and doing it with a purpose. And that purpose, of course, is to go to Mars."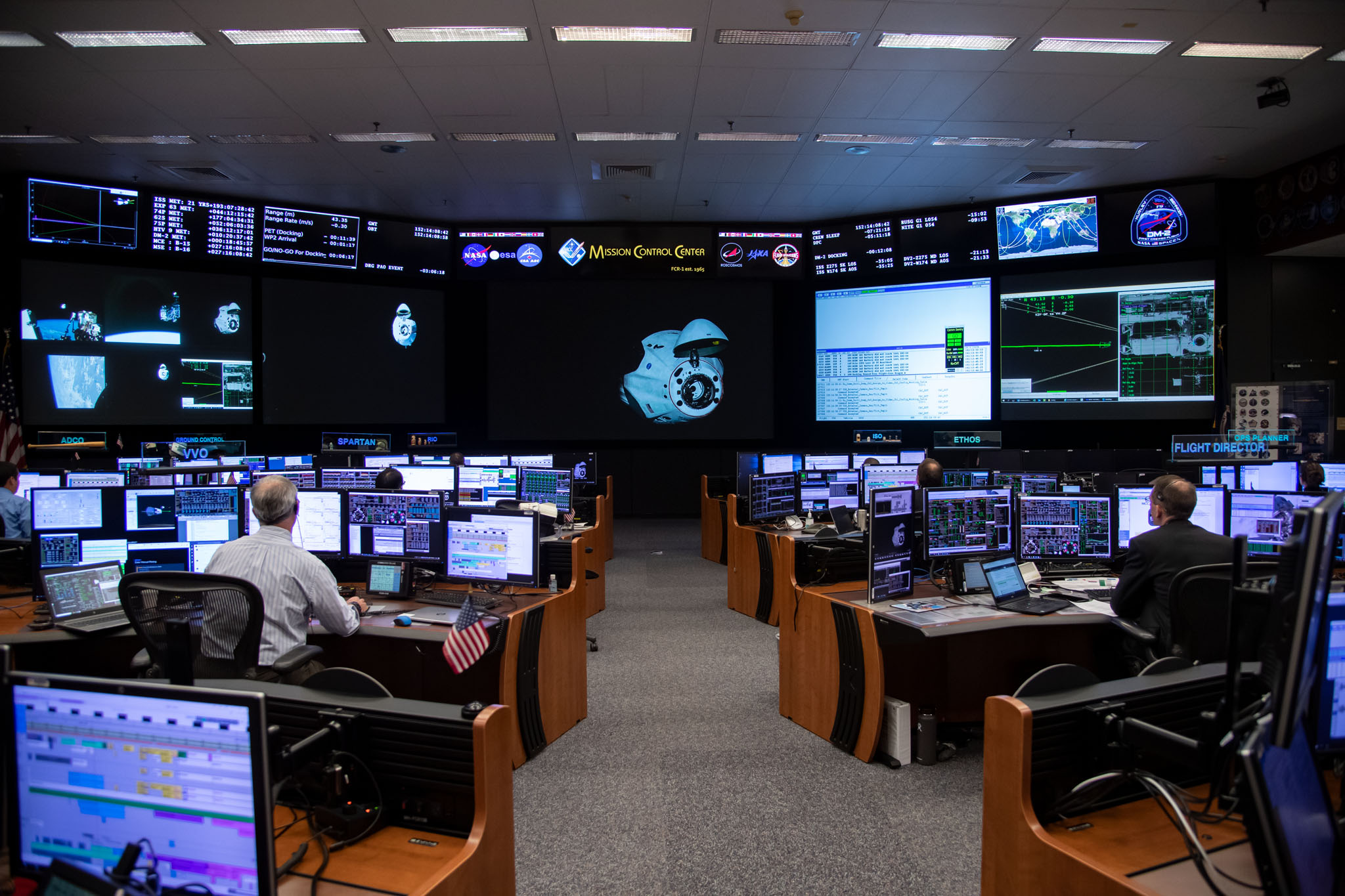 The beautiful and flawless blastoff of the Crew Dragon spacecraft carrying NASA veteran astronauts Robert Behnken and Douglas Hurley lifted off on the historic test flight at 3:22 p.m. EDT Saturday, May 30, on the company's Falcon 9 rocket from Launch Complex 39A at NASA's Kennedy Space Center in Florida bound for the International Space Station (ISS) – to the cheers of tens of thousands of spectators gathered from around America and three days after dismal weather forced a scrub of the first attempt on Wednesday.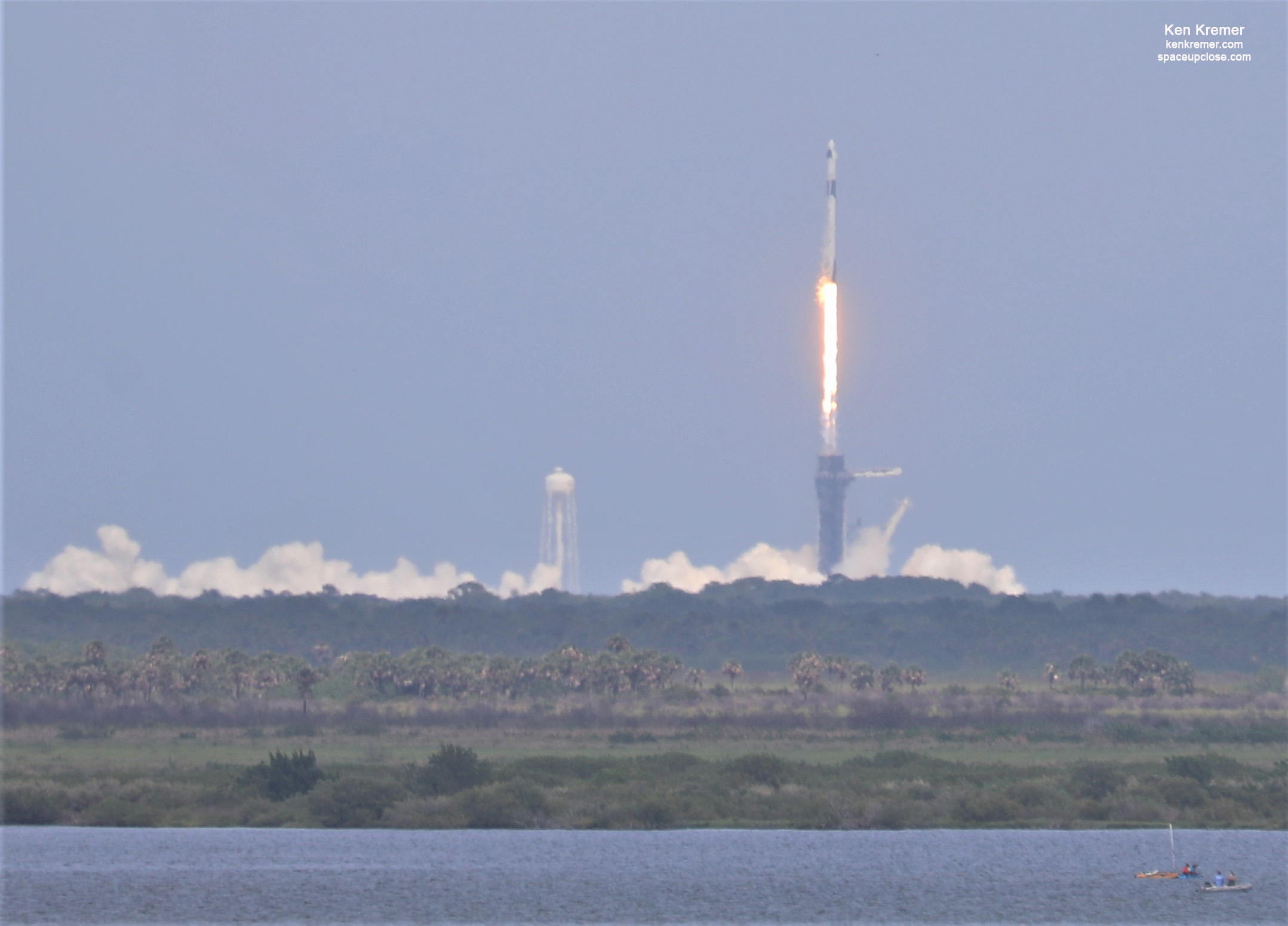 The NASA SpaceX Demo-2 test flight mission marks the resumption and restoration of US Human spaceflight capability on American rockets in American spaceships from American soil for the first time since the forced retired of NASA's space shuttles in 2011.
In another historic first the Demo-2 mission marks the first time in history that NASA astronauts have launched from American soil in a commercially built and operated American crew spacecraft on its way to the International Space Station.
The veteran pair launched aboard a commercial SpaceX Crew Dragon spacecraft on the company's Falcon 9 rocket and flew to the International Space Station (ISS) on the Demo-2 test flight which also counts as the first crewed mission for the agency's Commercial Crew Program.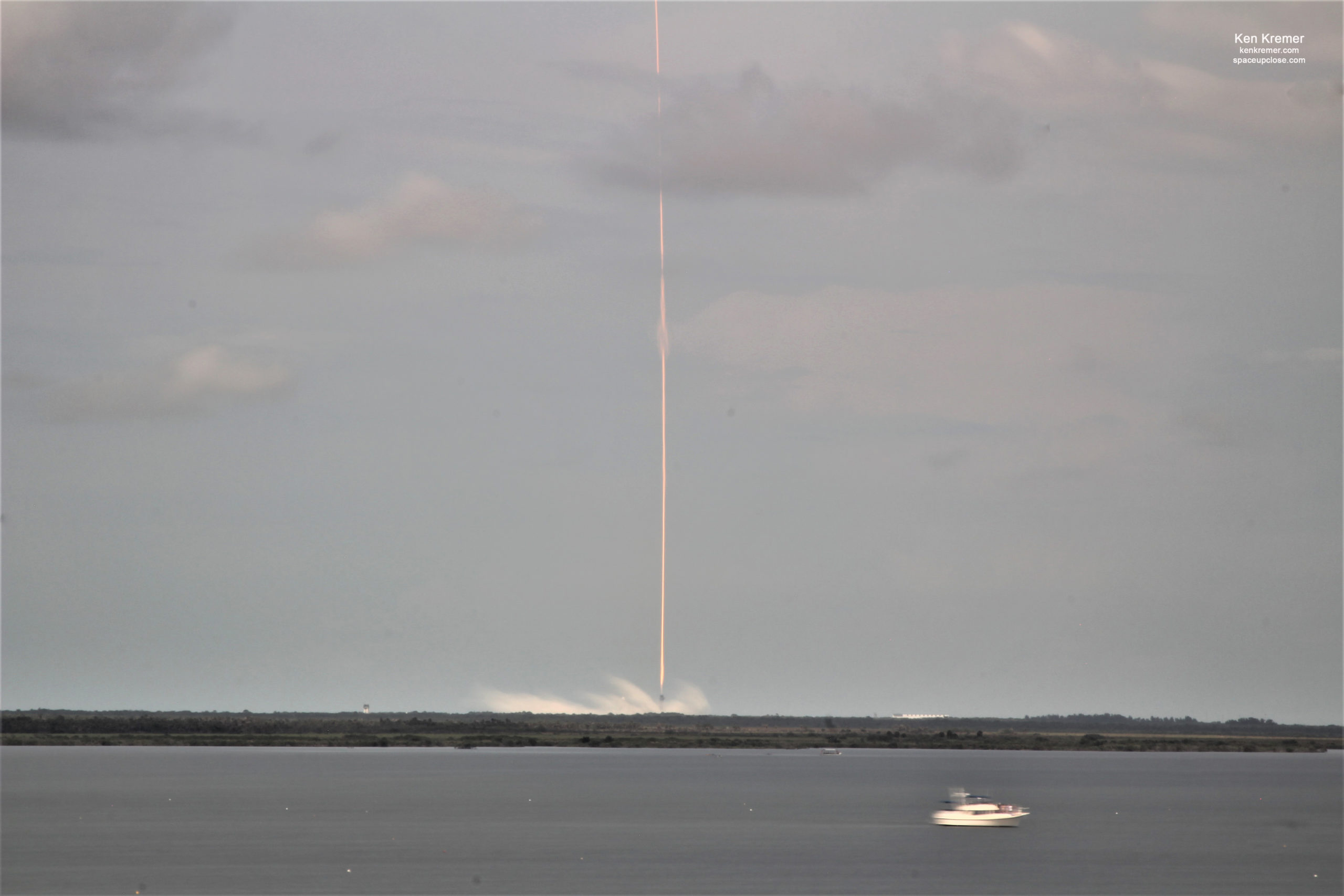 "Dragon was huffing and puffing all the way into orbit, and we were definitely driving or riding a Dragon all the way up," Behnken said during the welcoming ceremony inside the space station's Harmony module.
"While we're on-board the space station with a new spacecraft, we do hope to put her through her paces. So the good ship Endeavour is going to get a lot of checkout over the next week or two here, and hopefully we'll be able to declare her operational."
"It's great to get the United States back in the crewed launch business and we're just really glad to be onboard this magnificent complex. We're just happy to be here, and Chris is going to put us work," Hurley added.
"We had a couple of opportunities to take it (Dragon) out for a spin so to speak, once after we got into orbit last night and today about 20 minutes before we docked. My compliments to the folks back at Hawthorne and SpaceX on how it flew. We couldn't be happier about the performance of the vehicle."
The SpaceX Crew Dragon launch on the Demo-2 also counts as just the fifth time in U.S. history that astronauts flew into orbit on a new type of human rated spacecraft. Its also the first time since the inaugural space shuttle launch in 1981. The other first time human spacecraft involve Mercury, Gemini and Apollo.
No human has launched to orbit from American soil in nearly 9 ultra-long years since the forced retirement of NASA's space shuttles and its final launch on July 8, 2011 on the STS-135 mission to the ISS.
The exact flight duration for Demo-2 has not yet been determined but is expected to range from 1 to 4 months.
The Demo-2 mission "is an end-to-end test flight to validate the SpaceX crew transportation system, including launch, in-orbit, docking and landing operations. This is SpaceX's second spaceflight test of its Crew Dragon and its first test with astronauts aboard, which will pave the way for its certification for regular crew flights to the station as part of NASA's Commercial Crew Program."
Both the SpaceX Crew Dragon and competing Boeing Starliner commercial spacecraft were developed to restore US human spaceflight and fly our astronauts to low earth orbit and the ISS with funding under the auspices of NASA's Commercial Crew Program.
Edit June 1: Watch my live interview on TRT about the launch and successful arrival and docking:
Watch my live SpaceX Demo-2 launch commentary from the 1st attempt with CBS 12 here for a full hour May 27:
SPACE: BACK TO THE FUTURE: Watch CBS12 News' special report on today's historic SpaceX launch. Read more: https://t.co/OeyJXlv0Wq https://t.co/O2DPRVrIzQ

— WPEC CBS12 News (@CBS12) May 27, 2020
Watch my prelaunch commentary at CBS 6 TV News Orlando here:
https://www.clickorlando.com/news/local/2020/05/25/the-mission-nasa-astronauts-will-be-first-to-fly-in-spacex-spacecraft/
Watch my prelaunch commentary at Newsmax here:

Watch Ken's continuing reports about Commercial Crew and Artemis and onsite for live reporting of upcoming and recent SpaceX and ULA launches including Demo-2, Starlink, X-37B, Solar Orbiter, Mars 2020 and more at the Kennedy Space Center and Cape Canaveral Air Force Station.
Stay tuned here for Ken's continuing Earth and Planetary science and human spaceflight news: www.kenkremer.com –www.spaceupclose.com – twitter @ken_kremer – email: ken at kenkremer.com
Dr. Kremer is a research scientist and journalist based in the KSC area, active in outreach and interviewed regularly on TV and radio about space topics.
………….
Ken's photos are for sale and he is available for lectures and outreach events