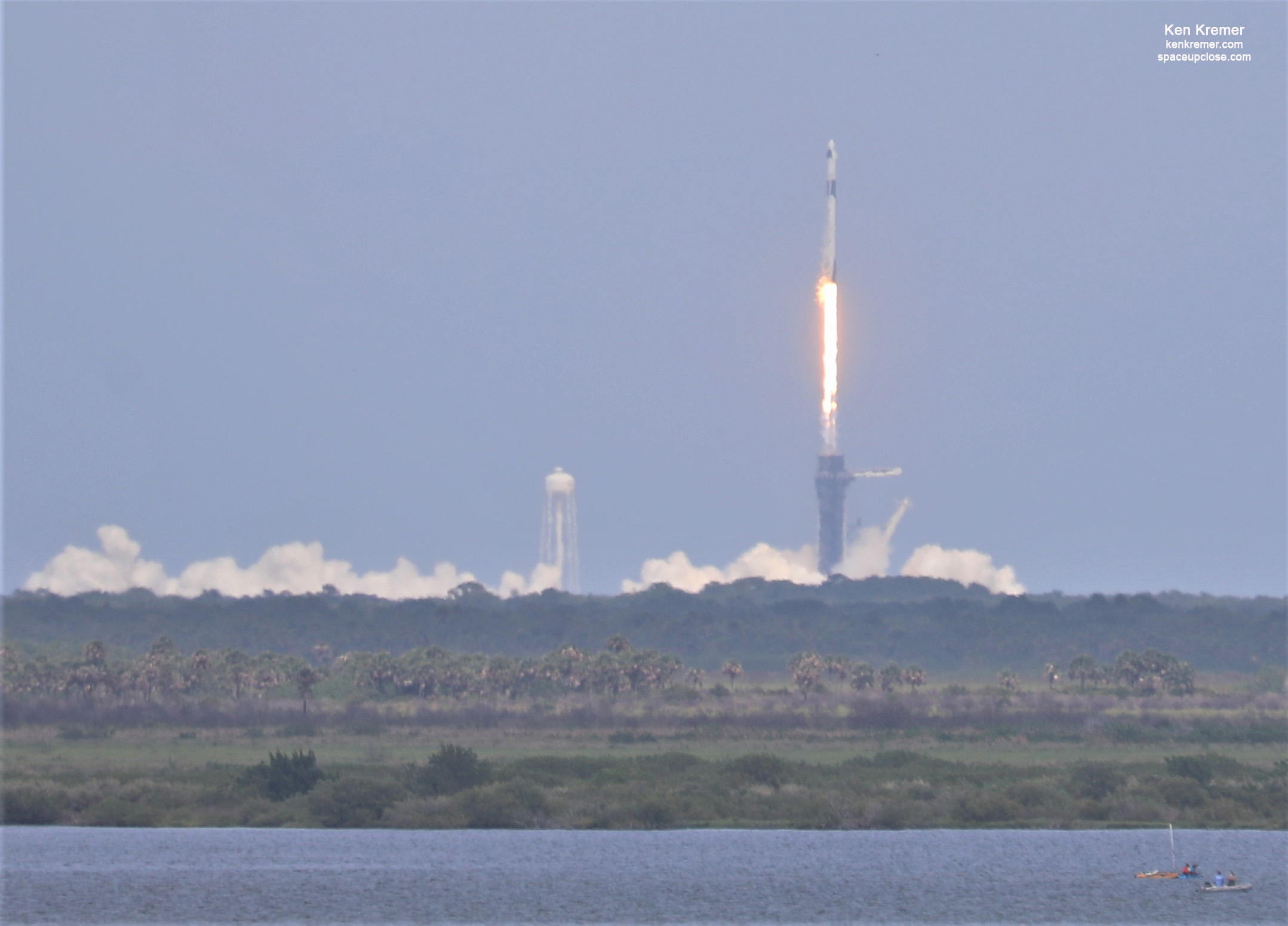 For SpaceUpClose.com & RocketSTEM
TITUSVILLE, FL – NASA astronauts launched from American soil for the first time in nine years and accomplished the history making event aboard a commercial SpaceX Crew Dragon spacecraft soaring from the Florida space coast and bound for the International Space Station (ISS) – to the cheers of tens of thousands of spectators gathered from around America and three days after dismal weather forced a scrub of the first attempt on Wednesday.
The beautiful and flawless blastoff of the Crew Dragon spacecraft carrying NASA veteran astronauts Robert Behnken and Douglas Hurley lifted off on the historic test flight at 3:22 p.m. EDT Saturday, May 30, on the company's Falcon 9 rocket from Launch Complex 39A at NASA's Kennedy Space Center in Florida.
The NASA SpaceX Demo-2 test flight mission marks the resumption and restoration of US Human spaceflight capability on American rockets in American spaceships from American soil for the first time since the forced retired of NASA's space shuttles in 2011.
In another historic first the Demo-2 mission marks the first time in history that NASA astronauts have launched from American soil in a commercially built and operated American crew spacecraft on its way to the International Space Station.
The veteran pair launched aboard a commercial SpaceX Crew Dragon spacecraft on the company's Falcon 9 rocket and are flying to the International Space Station (ISS) on the Demo-2 test flight which also counts as the first crewed mission for the agency's Commercial Crew Program.
They achieved orbit nine minutes later after release from the Falcon 9 second stage.
The SpaceX Crew Dragon spacecraft is scheduled to dock to the space station at a forward port at the Harmony node at 10:29 a.m. Sunday, May 31.
NASA Television and the agency's website are providing ongoing live coverage of the Crew Dragon's trip to the orbiting laboratory from launch to docking.
"Today a new era in human spaceflight begins as we once again launched American astronauts on American rockets from American soil on their way to the International Space Station, our national lab orbiting Earth," said NASA Administrator Jim Bridenstine.
"I thank and congratulate Bob Behnken, Doug Hurley, and the SpaceX and NASA teams for this significant achievement for the United States. The launch of this commercial space system designed for humans is a phenomenal demonstration of American excellence and is an important step on our path to expand human exploration to the Moon and Mars."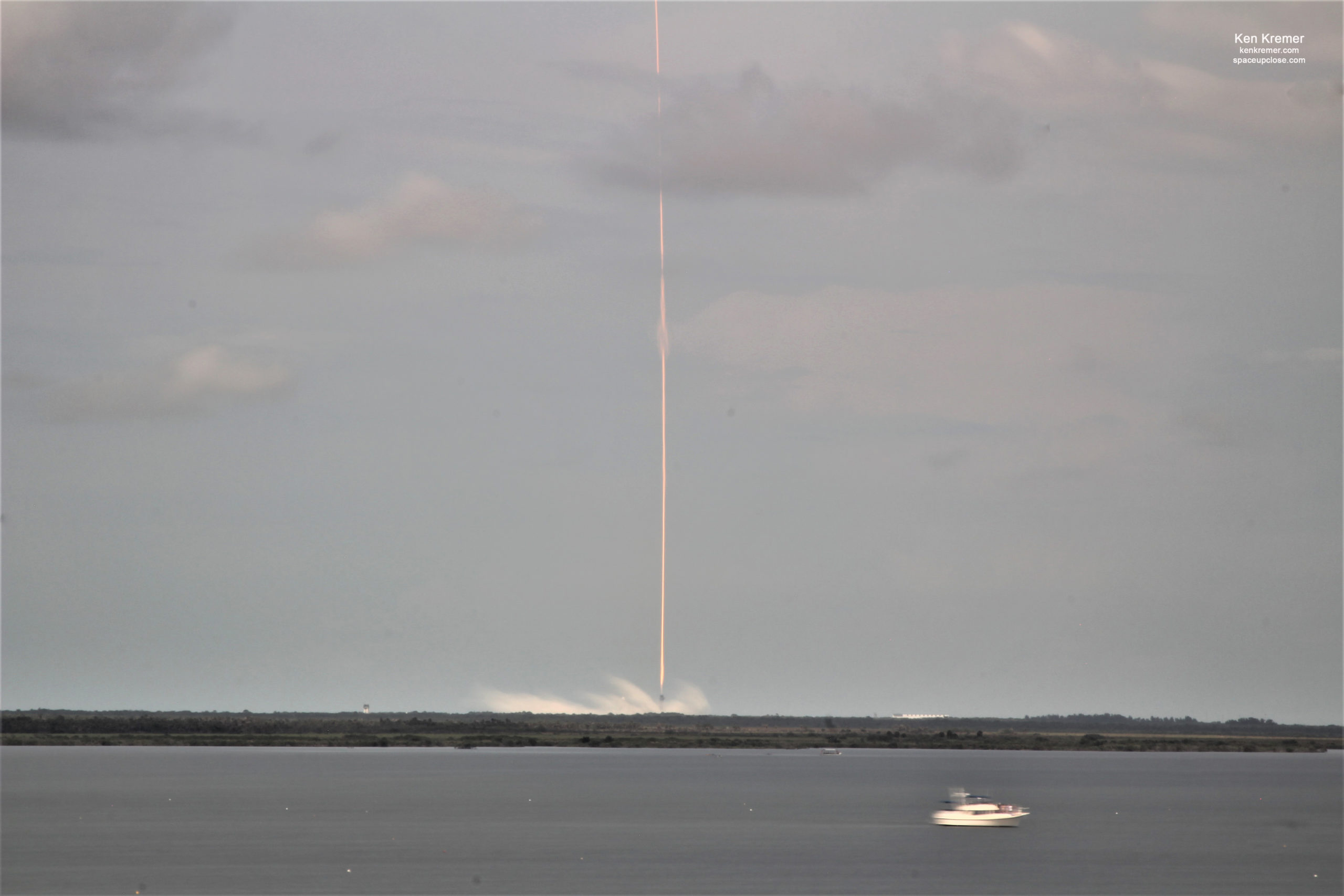 The SpaceX Crew Dragon launch on the Demo-2 also counts as just the fifth time in U.S. history that astronauts flew into orbit on a new type of human rated spacecraft. Its also the first time since the inaugural space shuttle launch in 1981. The other first time human spacecraft involve Mercury, Gemini and Apollo.
No human has launched to orbit from American soil in nearly 9 ultra-long years since the forced retirement of NASA's space shuttles and its final launch on July 8, 2011 on the STS-135 mission to the ISS.
The exact flight duration for Demo-2 has not yet been determined but is expected to range from 1 to 4 months.
The Demo-2 mission "is an end-to-end test flight to validate the SpaceX crew transportation system, including launch, in-orbit, docking and landing operations. This is SpaceX's second spaceflight test of its Crew Dragon and its first test with astronauts aboard, which will pave the way for its certification for regular crew flights to the station as part of NASA's Commercial Crew Program."
"This is a dream come true for me and everyone at SpaceX," said Elon Musk, chief engineer at SpaceX.
"It is the culmination of an incredible amount of work by the SpaceX team, by NASA and by a number of other partners in the process of making this happen. You can look at this as the results of a hundred thousand people roughly when you add up all the suppliers and everyone working incredibly hard to make this day happen."
Following launch Behnken and Hurley "will work with SpaceX mission control to verify the spacecraft is performing as intended by testing the environmental control system, the displays and control system, and by maneuvering the thrusters, among other things."
The first docking maneuver began Saturday, May 30, at 4:09 p.m., and the spacecraft will begin its close approach to the station at about 8:27 a.m. Sunday, May 31.
Crew Dragon is designed to dock autonomously, but the crews onboard the spacecraft and the space station will diligently monitor the performance of the spacecraft as it approaches and docks to the forward port of the station's Harmony module.
In fact Hurley and Behnken will take control twice for manual piloting operation demonstrations to confirm and prove out all spacecraft systems operate in both autonomous and manual modesi n case the crew needs to take manual control.
President Trump and Vice President Pence flew from DC to KSC to attend witness the launch in person.
They had returned to KSC after attending the 1st attempt scrubbed by poor weather. Trump had taken a tour of KSC facilities including the Orion crew capsules and departed after the scrub and tweeted that he would return on Saturday.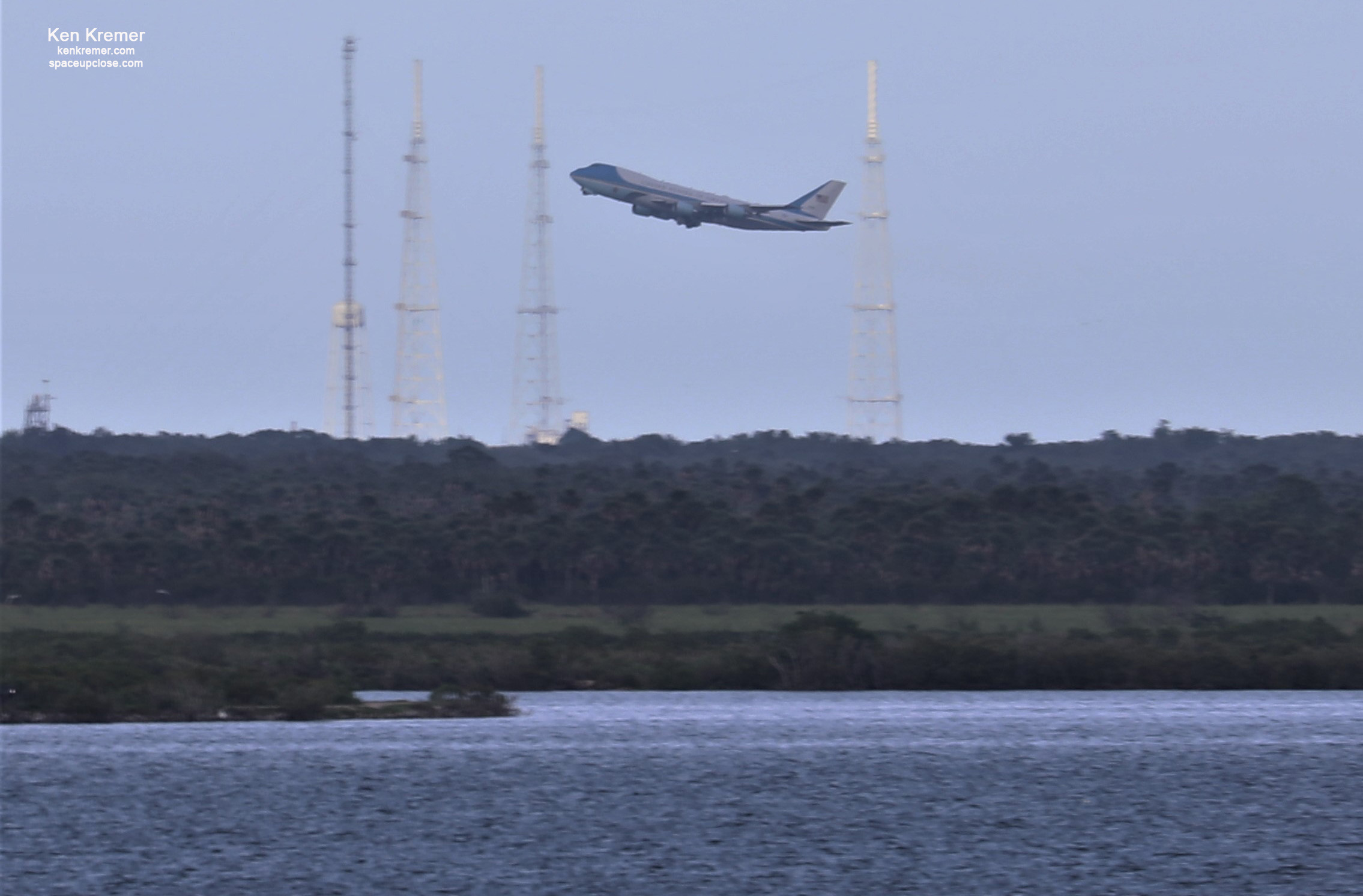 I was watching from about 12 miles away across the Indian River Lagoon in Titusville.
Enjoy our Space UpClose photos of the launch taken by Ken Kremer and Jean Wright.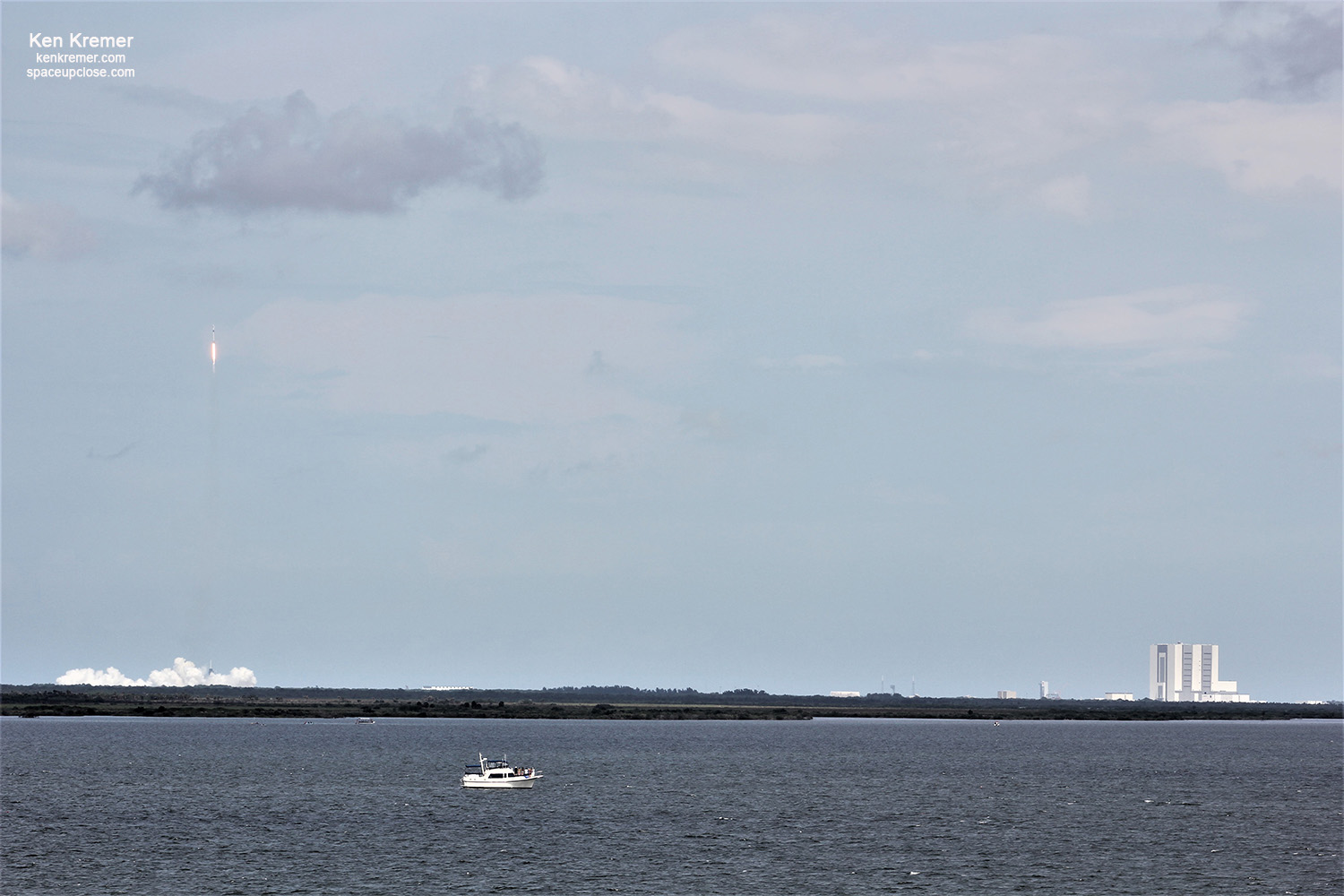 "It's difficult to put into words how proud I am of the people who got us here today," said Kathy Lueders, NASA's Commercial Crew Program manager.
"When I think about all of the challenges overcome – from design and testing, to paper reviews, to working from home during a pandemic and balancing family demands with this critical mission – I am simply amazed at what the NASA and SpaceX teams have accomplished together. This is just the beginning; I will be watching with great anticipation as Bob and Doug get ready to dock to the space station tomorrow, and through every phase of this historic mission."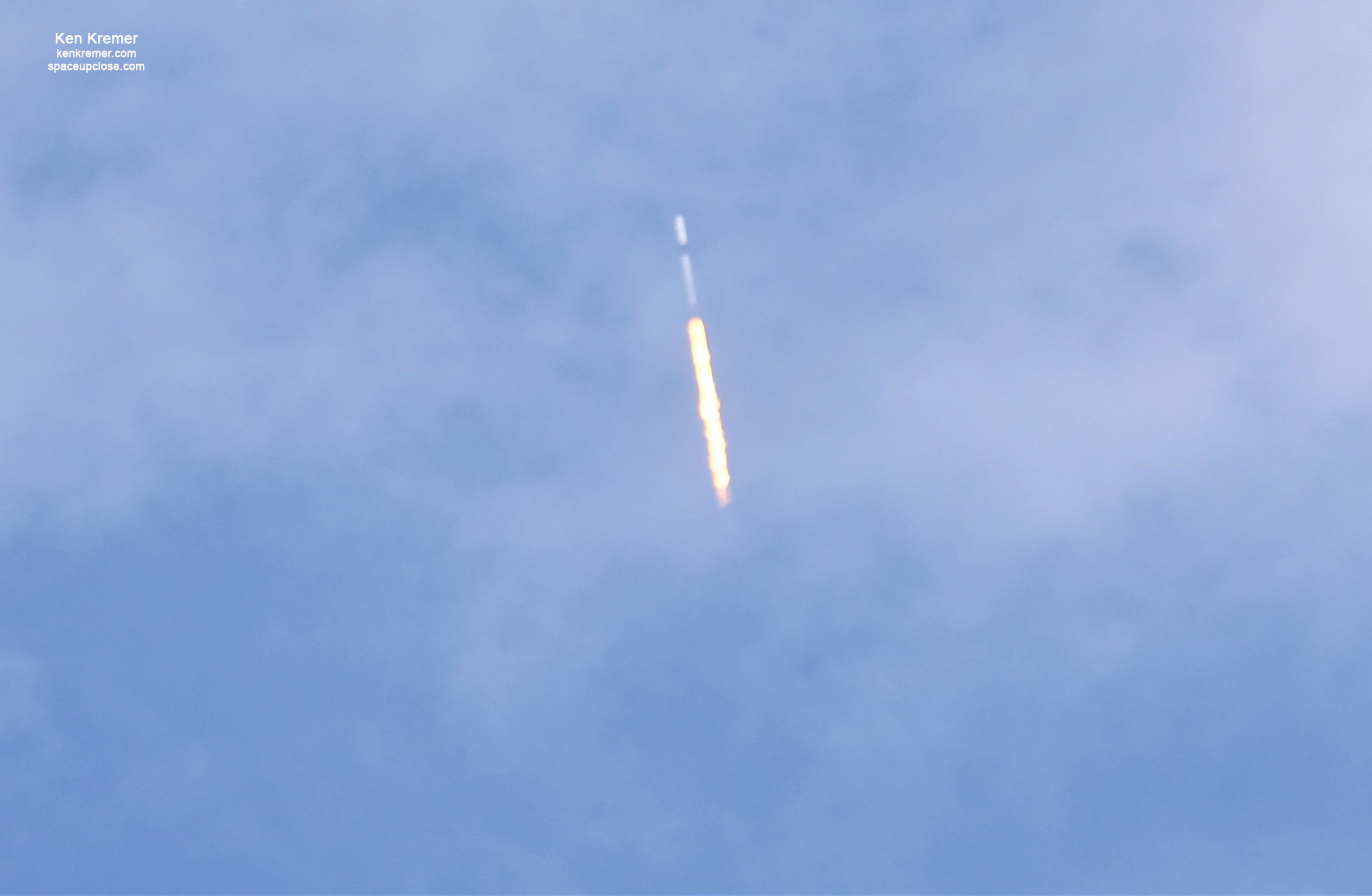 The two stage Falcon 9 rocket stands 215 feet (67 meters) tall and measures 12 feet (3,7 meters) in diameter. It has a mass of 549,054 kilograms or 1,207,920 pounds.
The Payload to Low Earth Orbit is 22,800 kilograms or 50,265 pounds
This test Crew Dragon can stay at the station a maximum of 110 days. The Demo-2 duration will depend on when the next commercial crew vehicle is ready – namely the 1st operational SpaceX Crew Dragon which can stay at station for at least 210 days.
Hurley and Behnken will join the Expedition 63 crew when they arrive.
Expedition 63 officially began aboard the station on Thursday April 16 with NASA astronaut Chris Cassidy serving as station commander and Roscosmos' Anatoly Ivanishin and Ivan Vagner serving as flight engineers – and after the Expedition 62 crew departed aboard the Soyuz MS-15 spacecraft with Meir, Morgan and Skripochka. Read our stories.
Doug Hurley was the pilot on the last manned spaceflight mission flown from the US – namely the STS-135 mission of Space Shuttle Atlantis that lifted off on July 7, 2011 from historic Launch Complex 39A – the same pad from which Demo-2 will blastoff. He also flew on STS-127 in July 2009
Hurley will command Demo-2 and is responsible for launch, landing and recovery.
Behnken is a veteran of two space shuttle missions. He flew on STS-123 in March 2008 and STS-130 in February 2010.
Behnken will serve as joint operations commander, responsible for activities such as rendezvous, docking and undocking as well as Demo-2 activities while the Dragon is docked at the ISS.
Both the SpaceX Crew Dragon and competing Boeing Starliner commercial spacecraft were developed to restore US human spaceflight and fly our astronauts to low earth orbit and the ISS with funding under the auspices of NASA's Commercial Crew Program.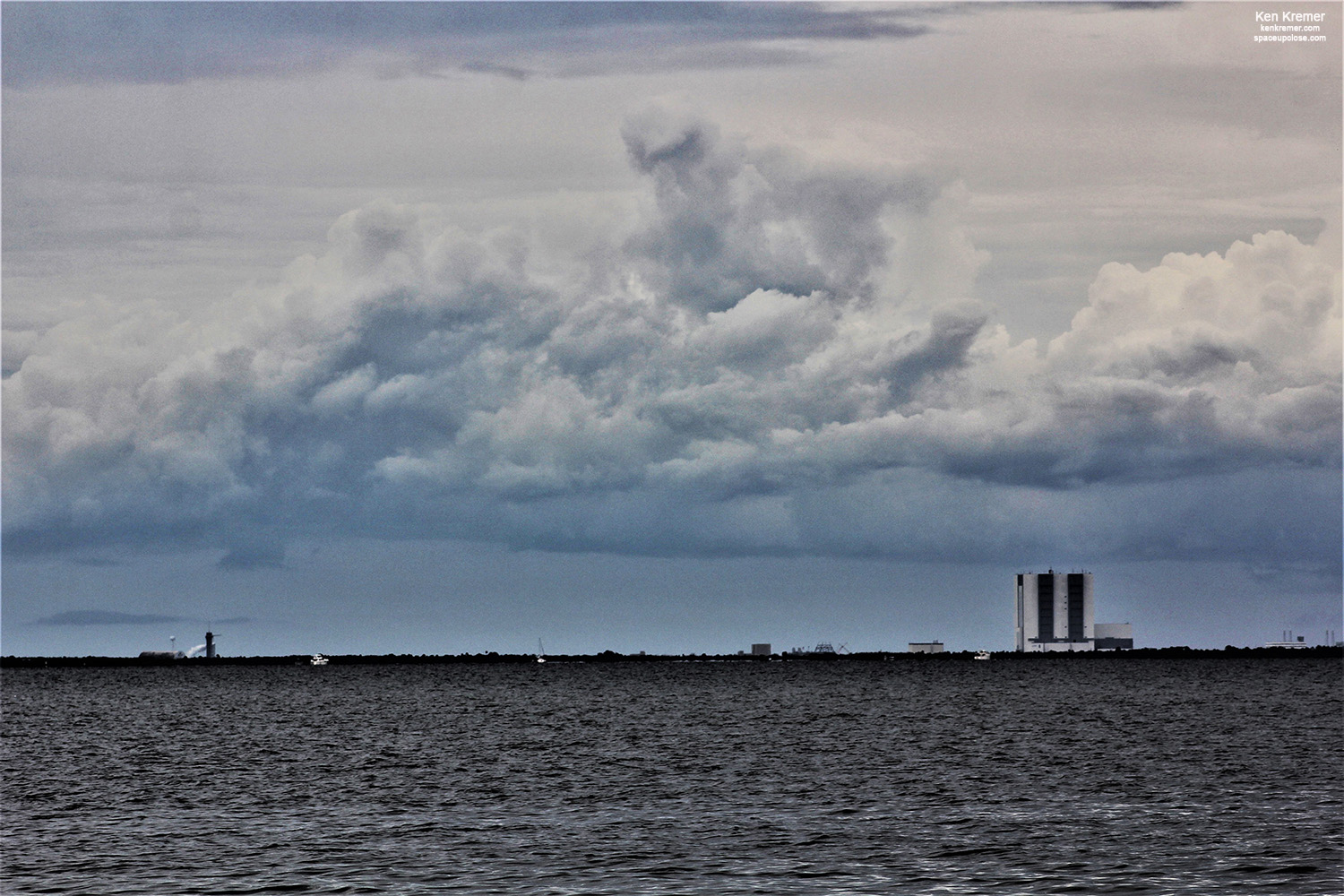 Watch my live SpaceX Demo-2 launch commentary from the 1st attempt with CBS 12 here for a full hour May 27:
SPACE: BACK TO THE FUTURE: Watch CBS12 News' special report on today's historic SpaceX launch. Read more: https://t.co/OeyJXlv0Wq https://t.co/O2DPRVrIzQ

— WPEC CBS12 News (@CBS12) May 27, 2020
Watch my prelaunch commentary at CBS 6 TV News Orlando here:
https://www.clickorlando.com/news/local/2020/05/25/the-mission-nasa-astronauts-will-be-first-to-fly-in-spacex-spacecraft/
Watch my prelaunch commentary at Newsmax here:
Watch Ken's continuing reports about Commercial Crew and Artemis and onsite for live reporting of upcoming and recent SpaceX and ULA launches including Demo-2, Starlink, X-37B, Solar Orbiter, Mars 2020 and more at the Kennedy Space Center and Cape Canaveral Air Force Station.
Stay tuned here for Ken's continuing Earth and Planetary science and human spaceflight news: www.kenkremer.com –www.spaceupclose.com – twitter @ken_kremer – email: ken at kenkremer.com
Dr. Kremer is a research scientist and journalist based in the KSC area, active in outreach and interviewed regularly on TV and radio about space topics.
………….
Ken's photos are for sale and he is available for lectures and outreach events
x