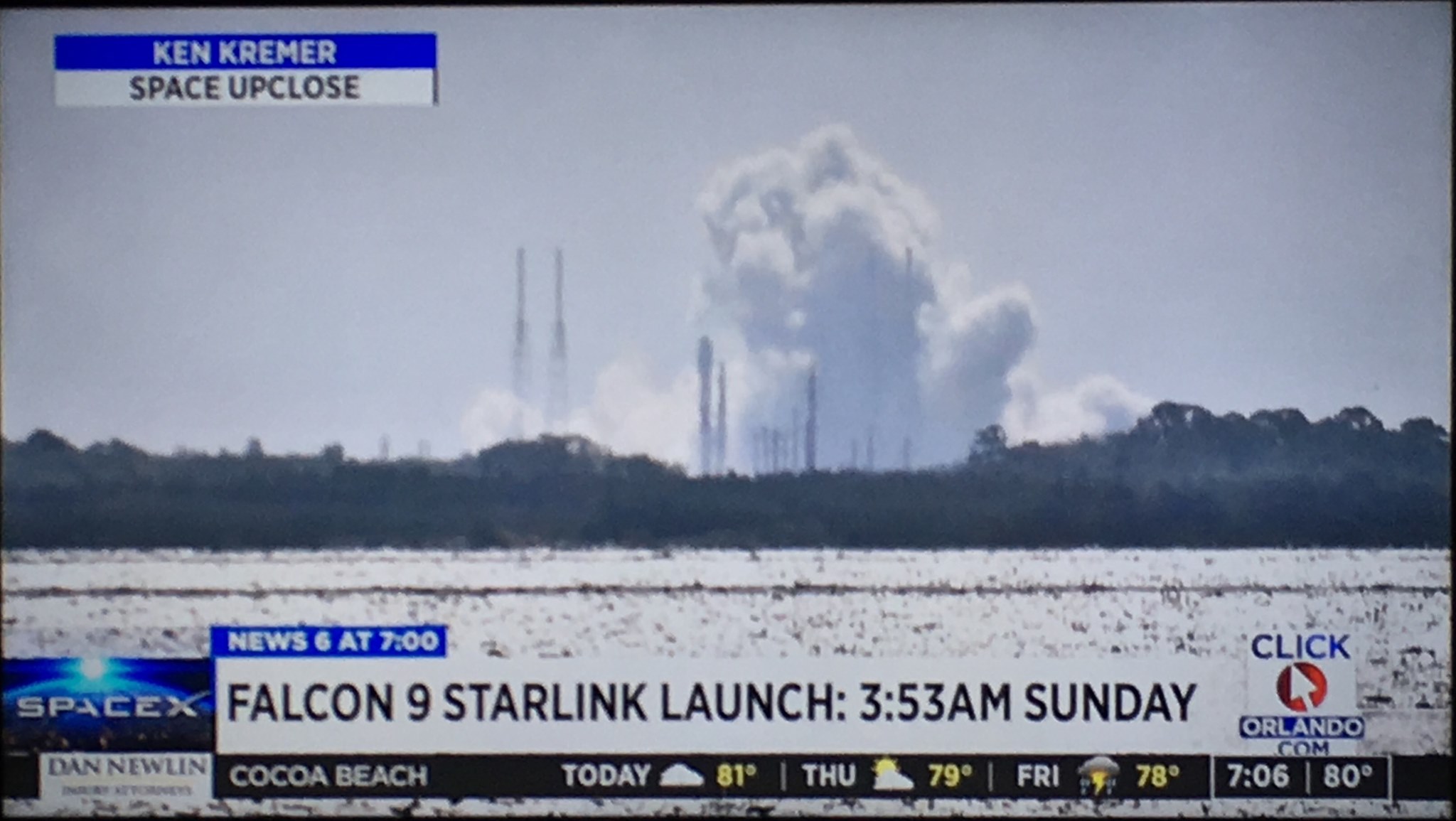 For SpaceUpClose.com & RocketSTEM
TITUSVILLE, FL – SpaceX engineers completed a successful morning time static fire test of the now 5 times recycled Falcon 9 first stage and engines on Wednesday, May 13 for the upcoming eighth Starlink launch of broadband internet satellites now targeting Sunday middle-of-the-night from the Florida Space Coast – although stormy weather could intervene.
Furthermore and rather remarkably under current plans SpaceX's Falcon 9 launch on Sunday would comprise the second half of a double header of weekend launches from Florida following less than 1 day after a ULA Atlas V launch of the secretive X37-B spaceplane for the new United States Space Force on Saturday morning.
The double header of launches is set to take place amidst the ongoing coronavirus pandemic that has forced closures of public places, schools and travel hubs all across the US and the world – but not forced a rocket cancellation for this mission.
Other rocket launches including those scheduled for the US Air Force have been delayed precisely due to requirements for mitigating the coronavirus that has now claimed the lives of more than 85,000 Americans.
The brief static fire test of the recycled Falcon 9 rocket with the nose cone attached was carried out precisely at 10 a.m. (1400 GMT), Wednesday, May 13 at Space Launch Complex-40 on Cape Canaveral Space Force Station and appeared to go well.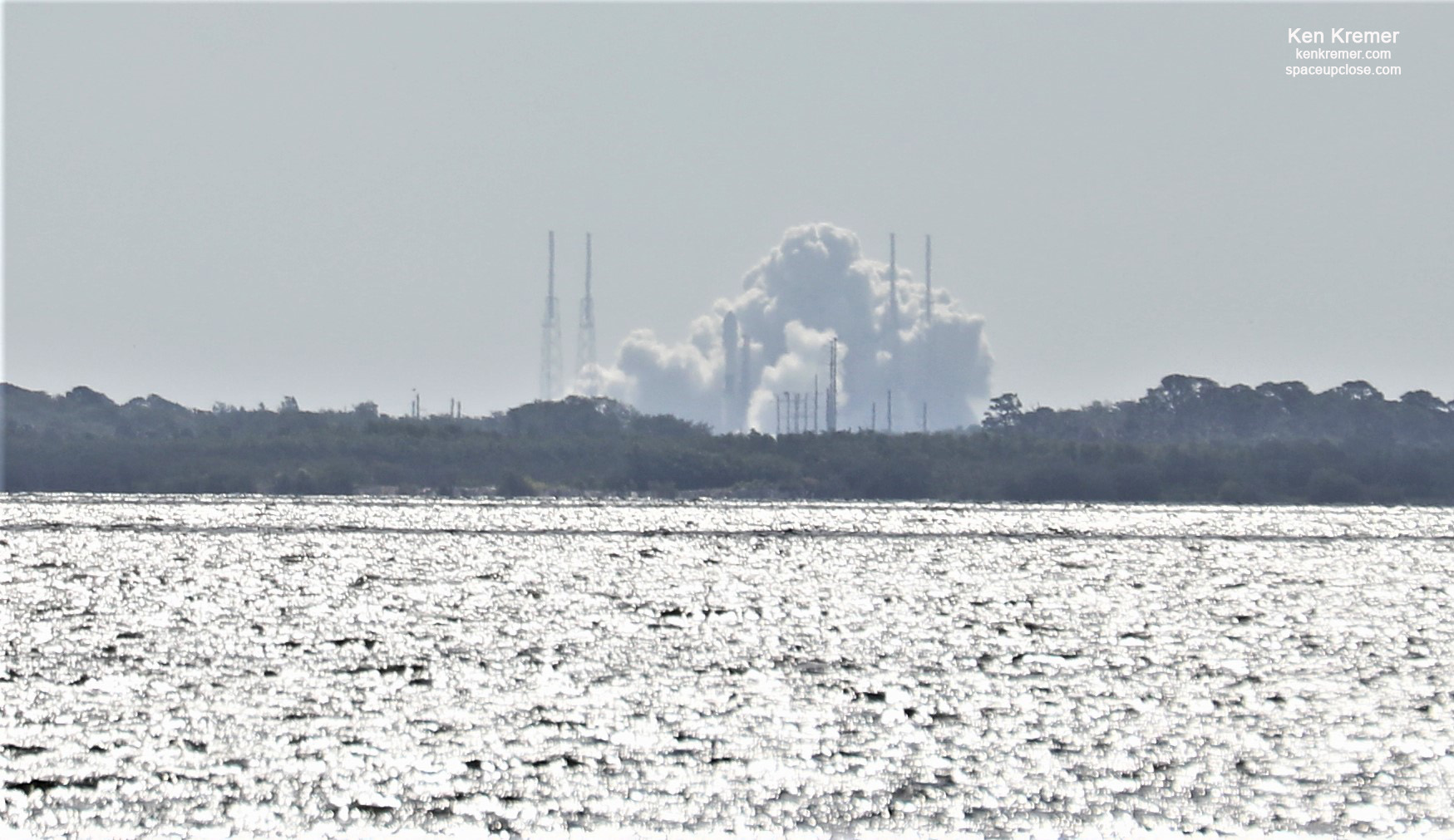 I watched the breakfast time engine test Wednesday from nearby in Titusville, Fl about a dozen miles away across the Indian River lagoon and observed the exhaust plume and vapor cloud emanating from the bottom of the booster.
Enjoy my eyewitness photos of the static fire test at Space UpClose under beautiful weather conditions with mostly and scattered clouds and minimal haze.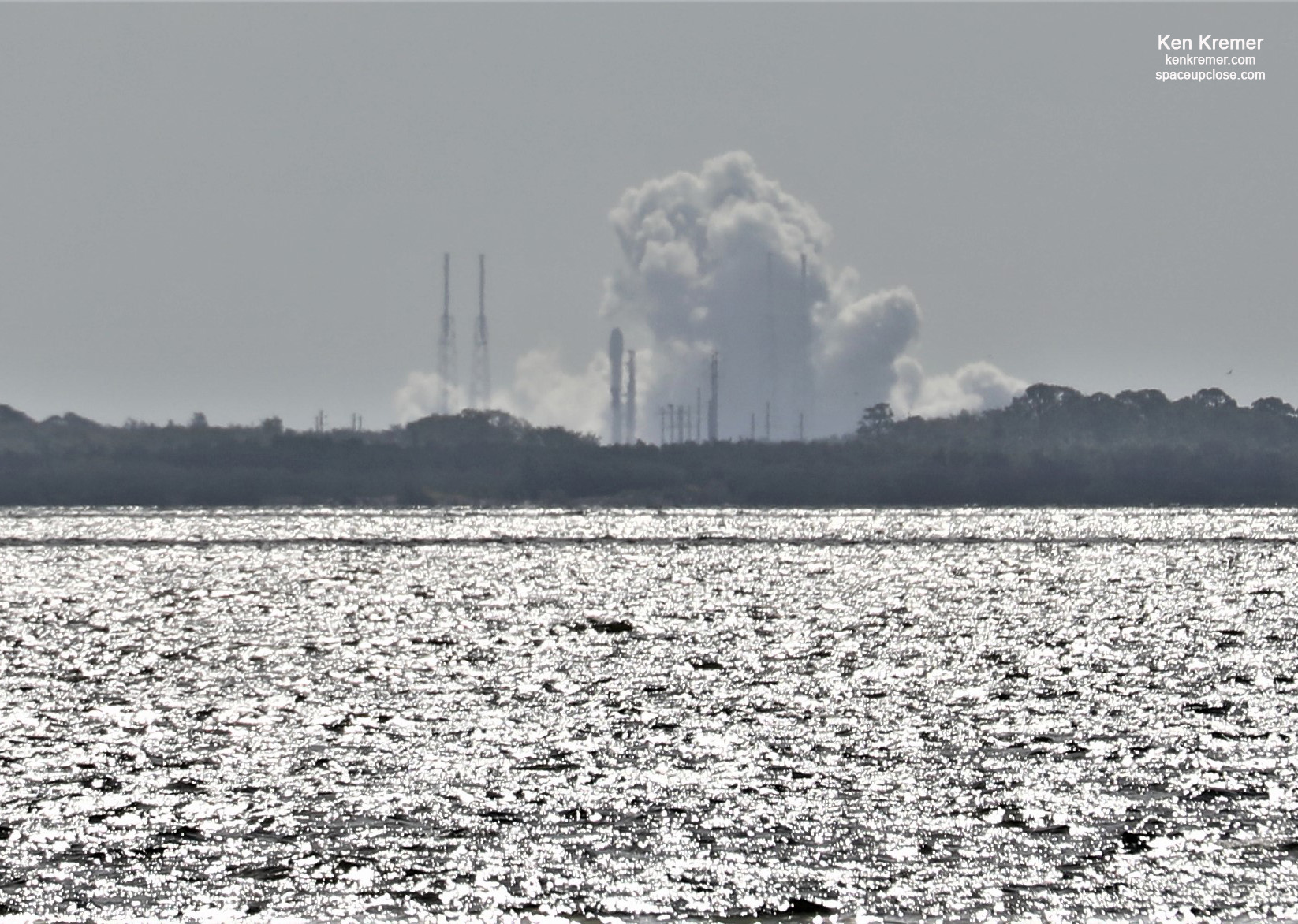 The exhaust was easily visible and wafting overhead and dissipating quickly in the winds about 12 miles away.
Notably this recycled first stage B1049 will launch for the fifth time and attempt a sixth landing as well on the OCISLY droneship.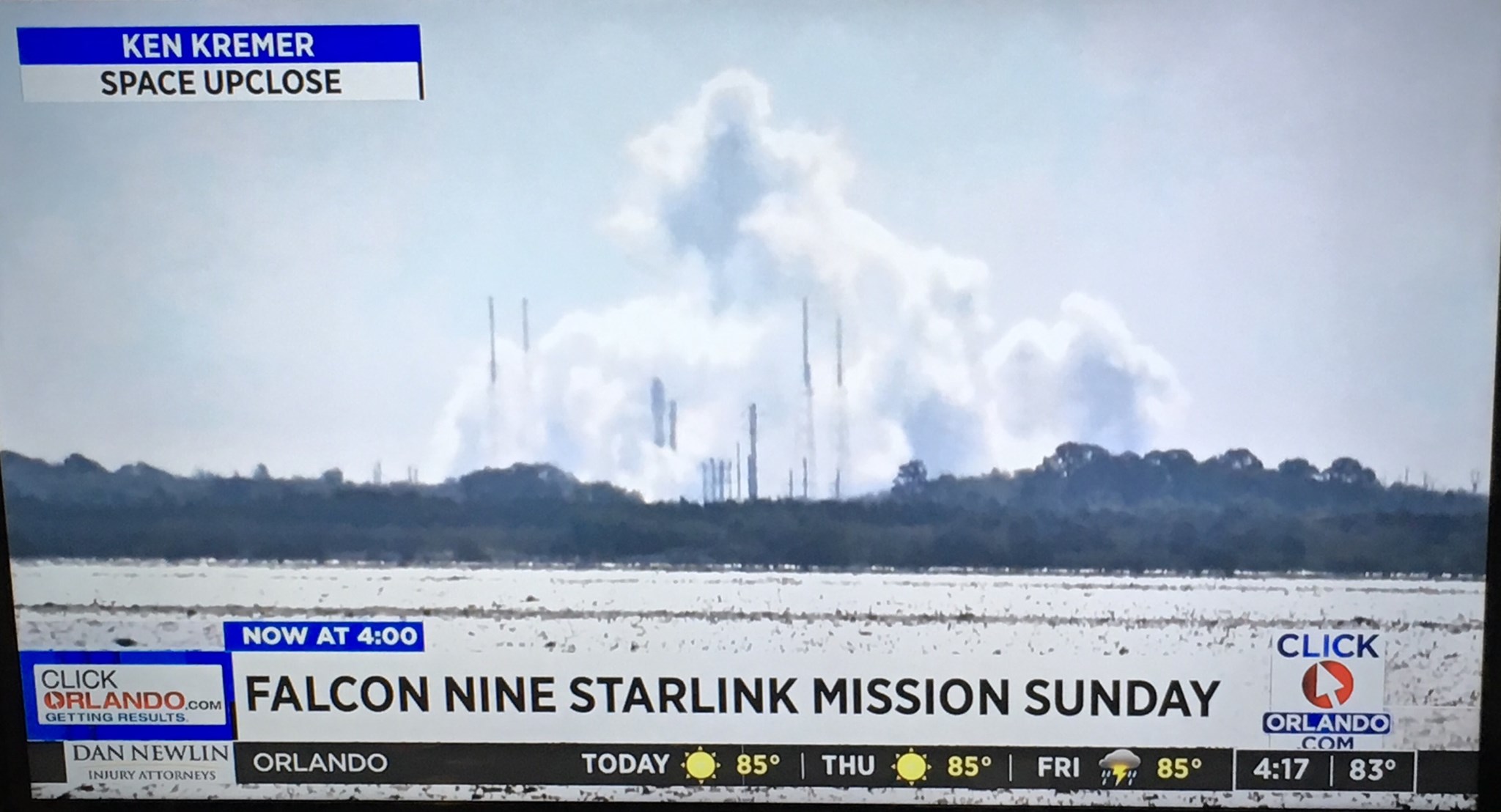 Rather strangely it took SpaceX over 2 hours to tweet a confirmation of a good test result.
"Static fire test of Falcon 9 complete—targeting Sunday, May 17 at 3:53 a.m. EDT, 7:53 UTC, for launch of the eighth Starlink mission, which will lift off from SLC-40 in Florida," SpaqceX tweeted.
"The first stage rocket booster supporting this mission previously launched two Starlink missions, as well as the Iridium-8 and Telstar 18 VANTAGE missions."
The first stage rocket booster supporting this mission previously launched two Starlink missions, as well as the Iridium-8 and Telstar 18 VANTAGE missions pic.twitter.com/rvQ6Mh4ZxZ

— SpaceX (@SpaceX) May 13, 2020
The brief hold down hotfire test of the fully integrated SpaceX Falcon 9 first stage rocket and Merlin 1D engines raised vertical took place at 10 a.m. Wednesday and is routinely done to confirm the readiness of the rocket for launch.
All 9 Merlin 1D first stage engines are ignited to generate approx. 1.7 million pounds of thrust for about 3 seconds or so
The two stage Falcon 9 rocket stands 229 feet (70 meters) tall.
The integrated stack was rolled out from the hangar to pad 40 and raised erect by early Wednesday morning, May 13.
The window is 'instantaneous' meaning any delay for weather or technical reason forces a minimum 1 day scrub.
My SpaceX Starlink static fire photos were featured at WKMG CBS 6 TV News Orlando on May 13, 14 and 15: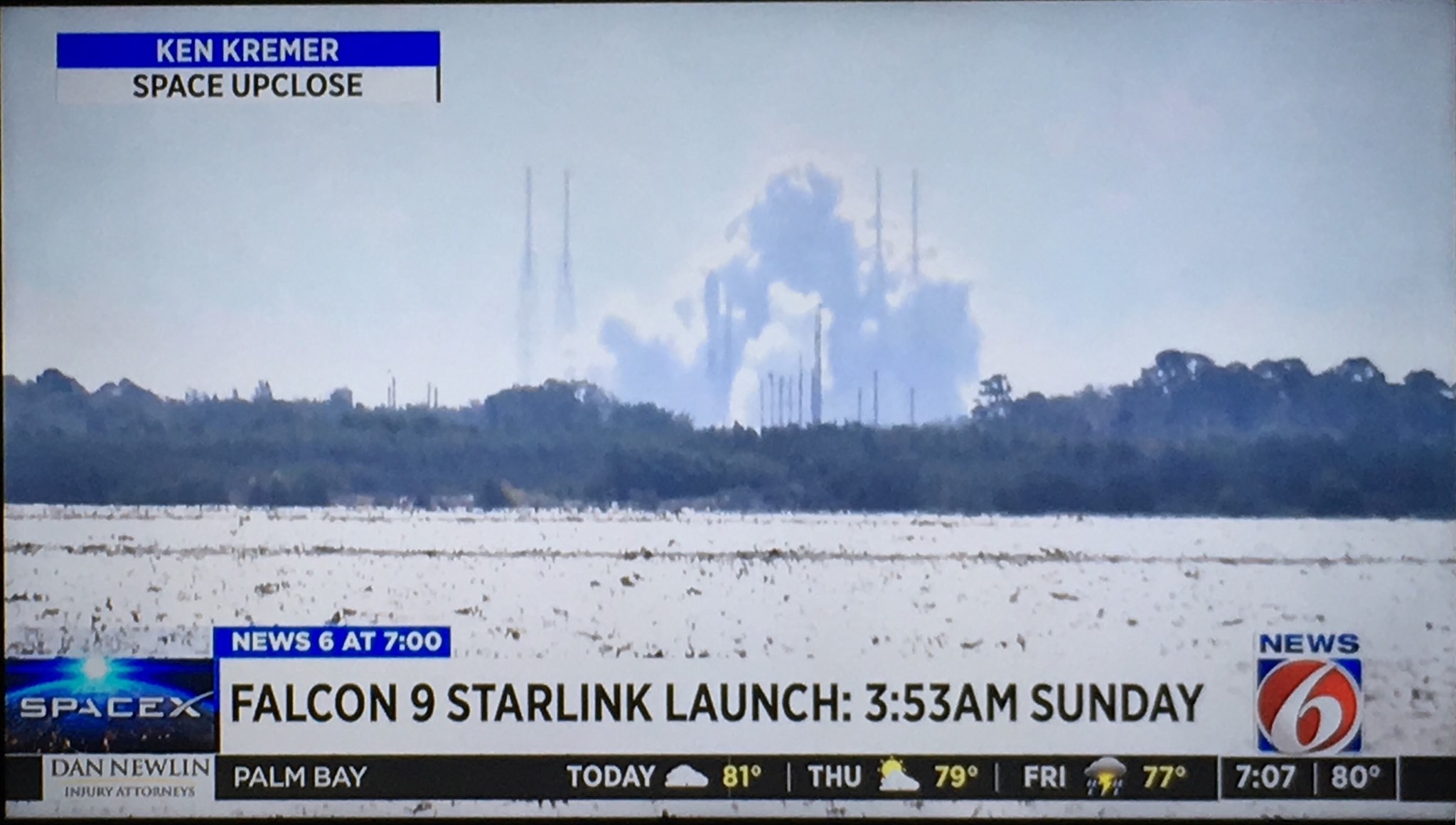 The payload comprises the eighth batch of 60 SpaceX built and owned Starlink broadband satellites launching to LEO with an overall mass of about 7.7 tons.
The Falcon 9 was previously used to launch two Starlink missions – most recently on Jan. 6 – as well as the Iridium-8 and Telstar 18 VANTAGE.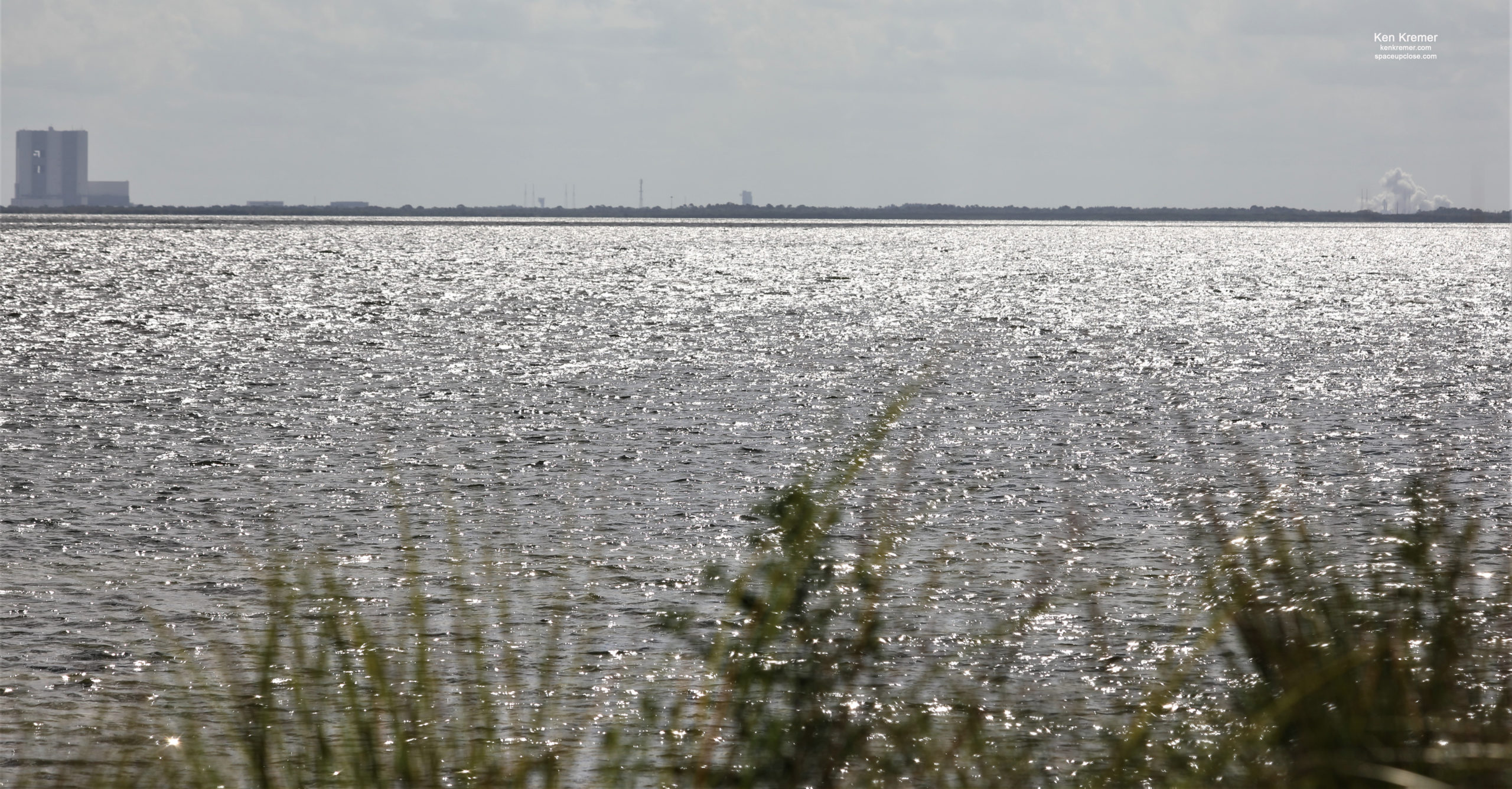 The Starlink fleet of broadband internet satellites in low Earth orbit will grow to some 480 satellites if all goes well.
Watch Ken's continuing reports about Artemis and onsite for live reporting of upcoming and recent SpaceX and ULA launches including Starlink, Solar Orbiter, In-Flight Abort, Mars 2020 and more at the Kennedy Space Center and Cape Canaveral Air Force Station.
Stay tuned here for Ken's continuing Earth and Planetary science and human spaceflight news: www.kenkremer.com –www.spaceupclose.com – twitter @ken_kremer – email: ken at kenkremer.com
Dr. Kremer is a research scientist and journalist based in the KSC area, active in outreach and interviewed regularly on TV and radio about space topics.
………….
Ken's photos are for sale and he is available for lectures and outreach events