For Space Upclose.com and RocketSTEM
CAPE CANAVERAL, FL – An exciting and utterly rare weekend double header of rocket launches is slated for this weekend from the Florida Space Coast by rocket makers ULA and SpaceX respectively – weather permitting – as storm clouds and rain inundate central Florida.
2 rockets on 2 launch pads are currently raised at adjoining Cape Canaveral launch complexes barely 1.5 miles apart – namely the ULA Atlas V on pad 41 and the SpaceX Falcon 9 on pad 40.
Under current plans the launch double header comprises back to back liftoffs of a ULA Atlas V launch of the secretive X-37B reusable spaceplane for the new United States Space Force is scheduled for Saturday morning at 8:24 a.m. EDT May 16 followed barely 20 hours later by SpaceX's Falcon 9 launch on Sunday morning at 3:53 a.m. ET May 17.
The double header of launches is set to take place amidst the ongoing coronavirus pandemic that has forced closures of public places, schools and travel hubs all across the US and the world – but not forced a rocket cancellation for this mission.
Other rocket launches including those scheduled for the US Air Force have been delayed precisely due to requirements for mitigating the coronavirus that has now claimed the lives of more than 88,000 Americans.
The State of Florida has relaxed some stay at home restrictions. Hotels are allowed to book some visitor travel.
However the weather outlook for Saturday is not good.
The chance of favorable weather for the ULA Atlas V is only 40% GO on Saturday.
But on Sunday the odds increase to 80% GO.
The ULA/USSF mission has priority in case of a delay as a U.S. National Security mission and will take the Sunday launch slot away from the SpaceX commercial Starlink mission.
You can watch both launches live at the company websites:
www.ulalaunch.com  or
http://www.ulalaunch.com/site/pages/multimedia_webcasts.html
and www.spaceX.com
Last August the Eastern Range managed to launch 2 missions just 34 hours apart – an Atlas V and a Falcon 9.
But it has been decades since 2 missions launched closer in the late 1960s.
The SpaceX Falcon 9 arrived at its pad 40 first on Wednesday morning May 13 whereupon engineers conducted a successful static hot fire test of the first stage engines. See our story and eyewitness photos.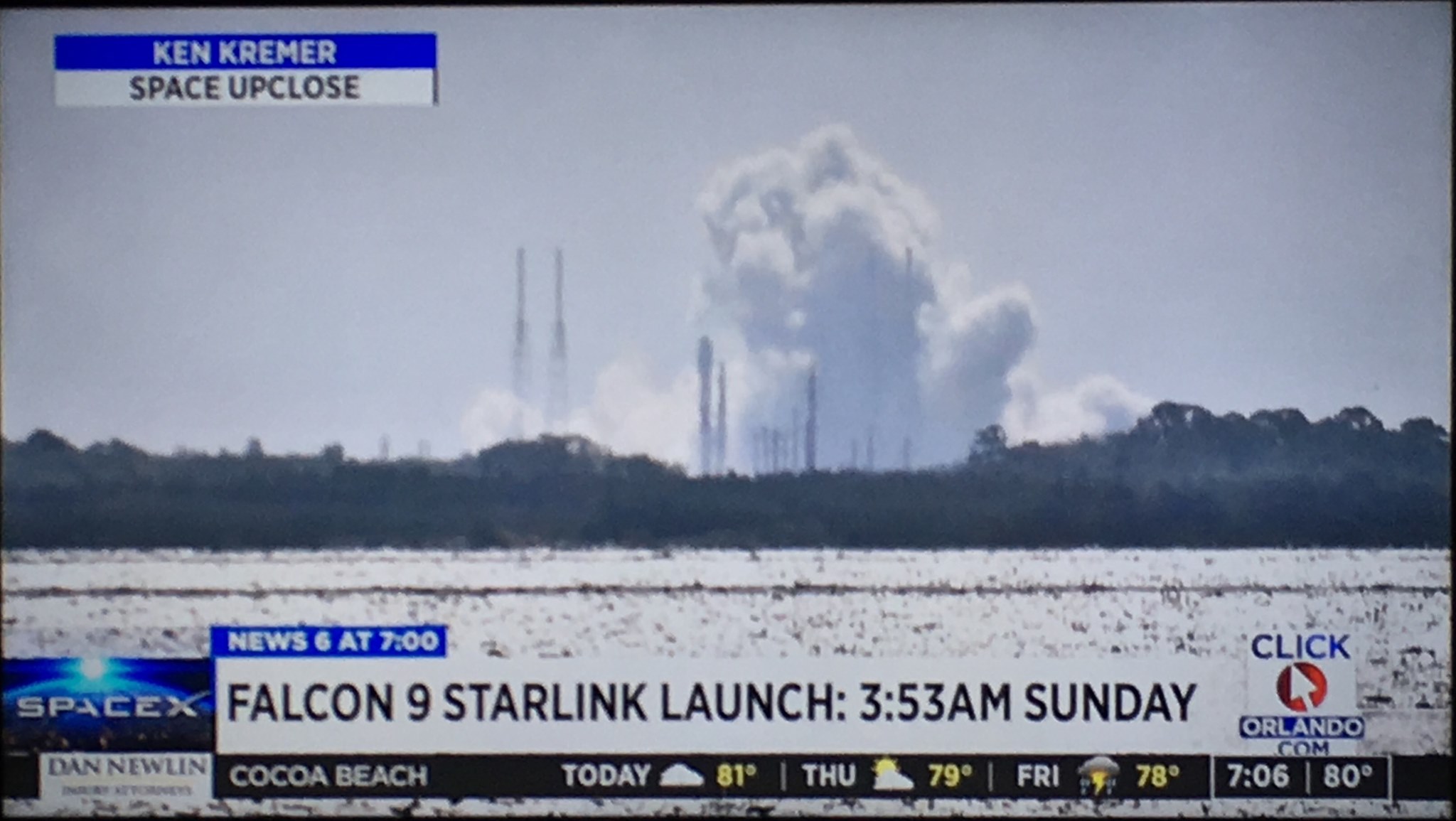 The ULA Atlas V arrived at its pad 41 on Thursday morning May 14 and will be the first of the two rockets to liftoff
The ULA Atlas V 501 rocket is scheduled to launch the USSF-7 mission for the U.S. Space Force from Space Launch Complex-41 on May 16, 8:24 a.m. EDT.
ULA says this mission is a collaborative salute to honor front-line responders and those affected by COVID-19.
ULA, in partnership with the @SpaceForceDoD and @usairforce, is dedicating the #USSF7 launch to all those affected by #COVID19. A written dedication is affixed to the #AtlasV rocket's payload fairing #AmericaStrong pic.twitter.com/6VVTHH0R3v

— ULA (@ulalaunch) May 15, 2020
This launch will mark the sixth flight of the X-37B Orbital Test Vehicle (OTV-6) and the second mission for the U.S. Space Force.
"Despite unprecedented circumstances, we continue to launch critical missions," said Gary Wentz, ULA vice president of Government and Commercial Programs, in a statement.
"We are honored to partner with the U.S. Space Force and Air Force to recognize healthcare workers, first responders and other essential personnel affected by the COVID-19 pandemic."
In addition to the X-37B the mission "will deploy FalconSat-8, a small satellite developed by the U.S. Air Force Academy and sponsored by the Air Force Research Laboratory (AFRL) to conduct experiments on orbit. The mission also carries two NASA experiments, including a material sample plate to determine the results of radiation and other space effects on various materials. Another NASA experiment will assess space effects on seeds used to grow food. Another experiment sponsored the Naval Research Laboratory will examine the ability to transform solar power into radio frequency microwave energy which could be transmitted to the ground," says ULA.
The Atlas V will launch in the 501 configuration rocket, which includes a 5-meter-diameter payload fairing. The Atlas booster is powered by the RD AMROSS RD-180 engine, and the Centaur upper stage is powered by the Aerojet Rocketdyne RL10C-1 engine.
This will be the 84th launch of an Atlas V rocket and the seventh launch of the 501 configuration. The Atlas V 501 has been used exclusively for national security missions.
To date ULA has a track record of 100 percent mission success with 138 successful launches.
All OTV missions except the last one (OTV-5) have been launched by ULA.
The U.S. Air Force X-37B secretive reusable mini spaceplane landed in the middle of the night under cover of darkness this morning, Sunday, Oct. 27, at the Kennedy Space Center in Florida after a record breaking mission of well over two years in orbit.
The SpaceX Falcon 9 is the upcoming eighth Starlink launch of broadband internet satellites.
The payload comprises the eighth batch of 60 SpaceX built and owned Starlink broadband satellites launching to LEO with an overall mass of about 7.7 tons.
Watch Ken's continuing reports about Artemis and onsite for live reporting of upcoming and recent SpaceX and ULA launches including Starlink, Solar Orbiter, In-Flight Abort, Mars 2020 and more at the Kennedy Space Center and Cape Canaveral Air Force Station.
Stay tuned here for Ken's continuing Earth and Planetary science and human spaceflight news: www.kenkremer.com –www.spaceupclose.com – twitter @ken_kremer – email: ken at kenkremer.com
Dr. Kremer is a research scientist and journalist based in the KSC area, active in outreach and interviewed regularly on TV and radio about space topics.
………….
Ken's photos are for sale and he is available for lectures and outreach events