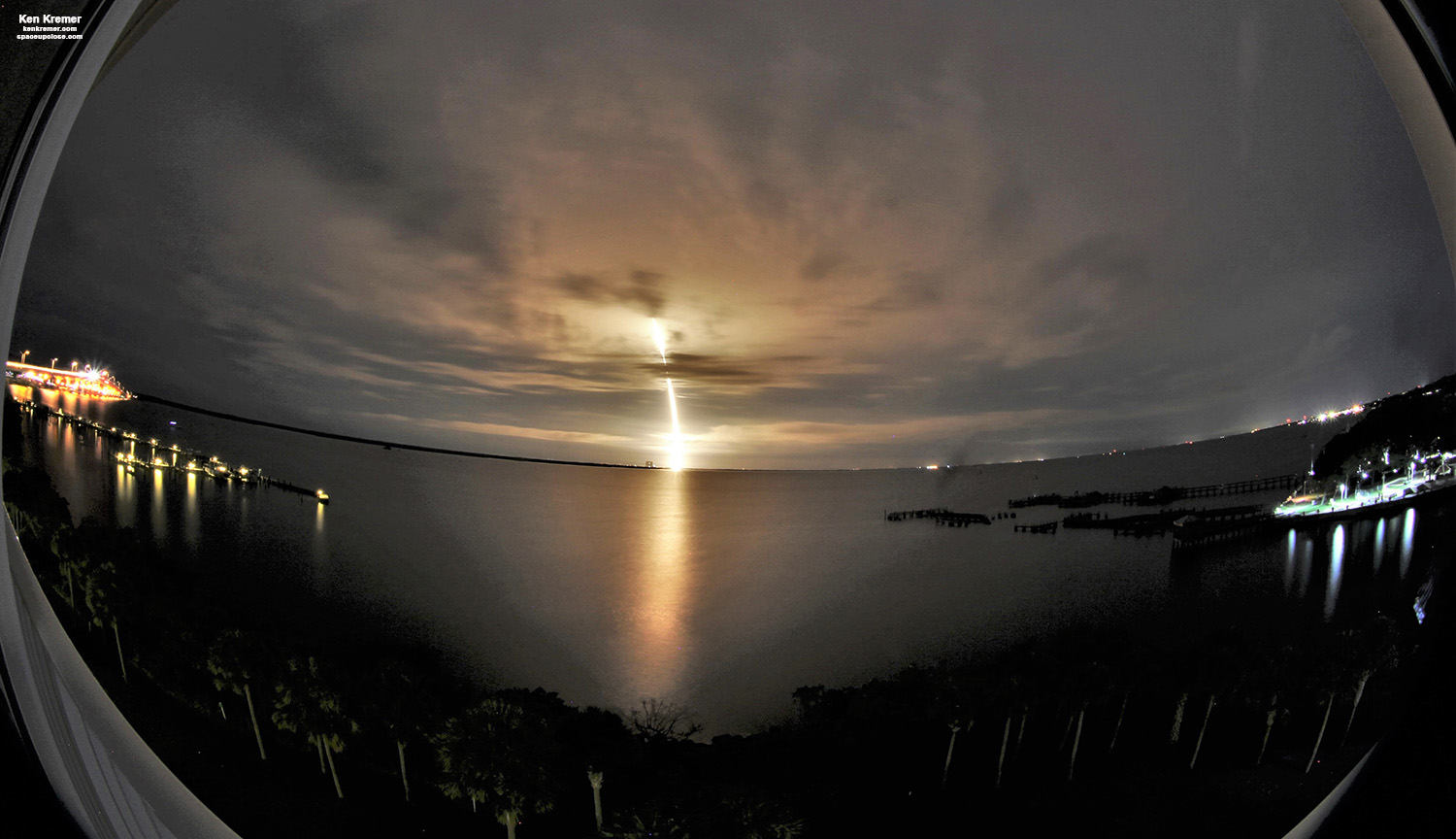 For SpaceUpClose.com & RocketSTEM
TITUSVILLE, FL – Riding on a now 5 times recycled Falcon 9 first stage SpaceX successfully streaked to orbit on and carried out the eighth Starlink launch of broadband internet satellites into heavily overcast skies Wednesday evening from the Florida Space Coast– making for a remarkable launch cadence coming just 4 days after the historic launch of the 1st NASA astronauts from US soil in nearly nine years on the Demo-2 test flight.
Furthermore the SpaceX team again landed the 16 story tall booster on a platform at sea – marking a record breaking 1st 5th touchdown and thereby very likely setting up the prospect of a first ever sixth launch of a recycled Falcon 9 first stage at some point in the not to distant future.
The spectacular liftoff of the 8th Starlink commercial mission took place Wednesday at 9:25 p.m. Wednesday June 3 (0125 GMT Thursday June 4 from seaside Launch Complex-40 on Cape Canaveral Space Force Station, FL.
The nine Merlin 1D engines ignited to generate 1.7 million pounds of liftoff thrust and propelled the 229-foot-tall (70-meter) Falcon 9 rocket off from pad 40.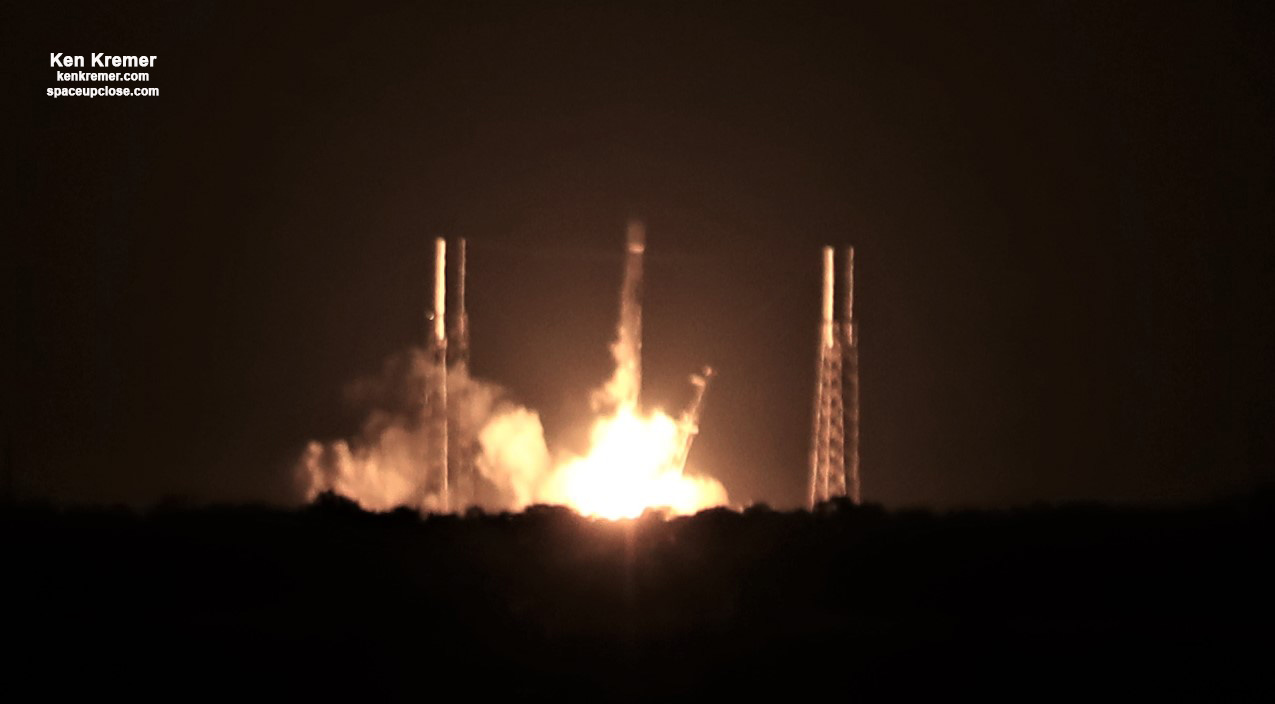 We heard the rockets mighty roar seconds later from our perch at an elevated location in Titusville along the Indian River.
Enjoy our Space UpClose team photos from Ken Kremer and Jean Wright.
The payload comprises the eighth batch of 60 SpaceX built and owned Starlink broadband satellites launching to LEO with an overall mass of about 7.7 tons.
Starlink deployments began about 15 minutes after launch
https://mobile.twitter.com/SpaceX/status/1268357720974823425
https://mobile.twitter.com/SpaceX/status/1268357720974823425
Although this was the third Falcon 9 first stage to be recycled to a fifth launch – today marked the first time a fifth launch booster was safely and softly landed for another recycle.
Thus this recycled first stage B1049 launched for the fifth time and landed as well on the 'Just Read the Instructions' (JRTI) ocean going droneship some eight and a half minutes after liftoff.
JRTI was prepositioned some 400 miles (640 km) downrange off the Carolinas coast.
The SpaceX pair of fairing catcher ships GO Ms TREE and GO Ms CHIEF also attempted to catch the two fairing halves.
The Falcon 9 was previously used to launch two Starlink missions – most recently on Jan. 6 – as well as the Iridium-8 and Telstar 18 VANTAGE.
The Starlink fleet of broadband internet satellites in low Earth orbit will now grow to some 480 satellites since all went well.
This Starlink launch counts as the 86th Falcon 9 launch and the 9th SpaceX Falcon 9 launch of 2020.
The safe landing on JRTI counts as the 53rd to date – by land or by sea since Dec 2015.
Originally SpaceX's Falcon 9 launch was to have taken place in mid-May comprise the second half of a double header of weekend launches from Florida following less than 1 day after a ULA Atlas V launch of the secretive X37-B spaceplane for the new United States Space Force .
However dismal weather caused by Tropical Storm Arthur forced a postponement into June after Demo-2
The double header of launches was set to take place amidst the ongoing coronavirus pandemic that has forced closures of public places, schools and travel hubs all across the US and the world – but not forced a rocket cancellation for this mission.
My SpaceX Starlink static fire photos were previously featured at WKMG CBS 6 TV News Orlando on May 13, 14 and 15 when the launch was set for May 17 but delayed a few weeks by poor weather resulting from Tropical Storm Arthur until after launch of the historic Demo-2 mission with 2 NASA astronauts: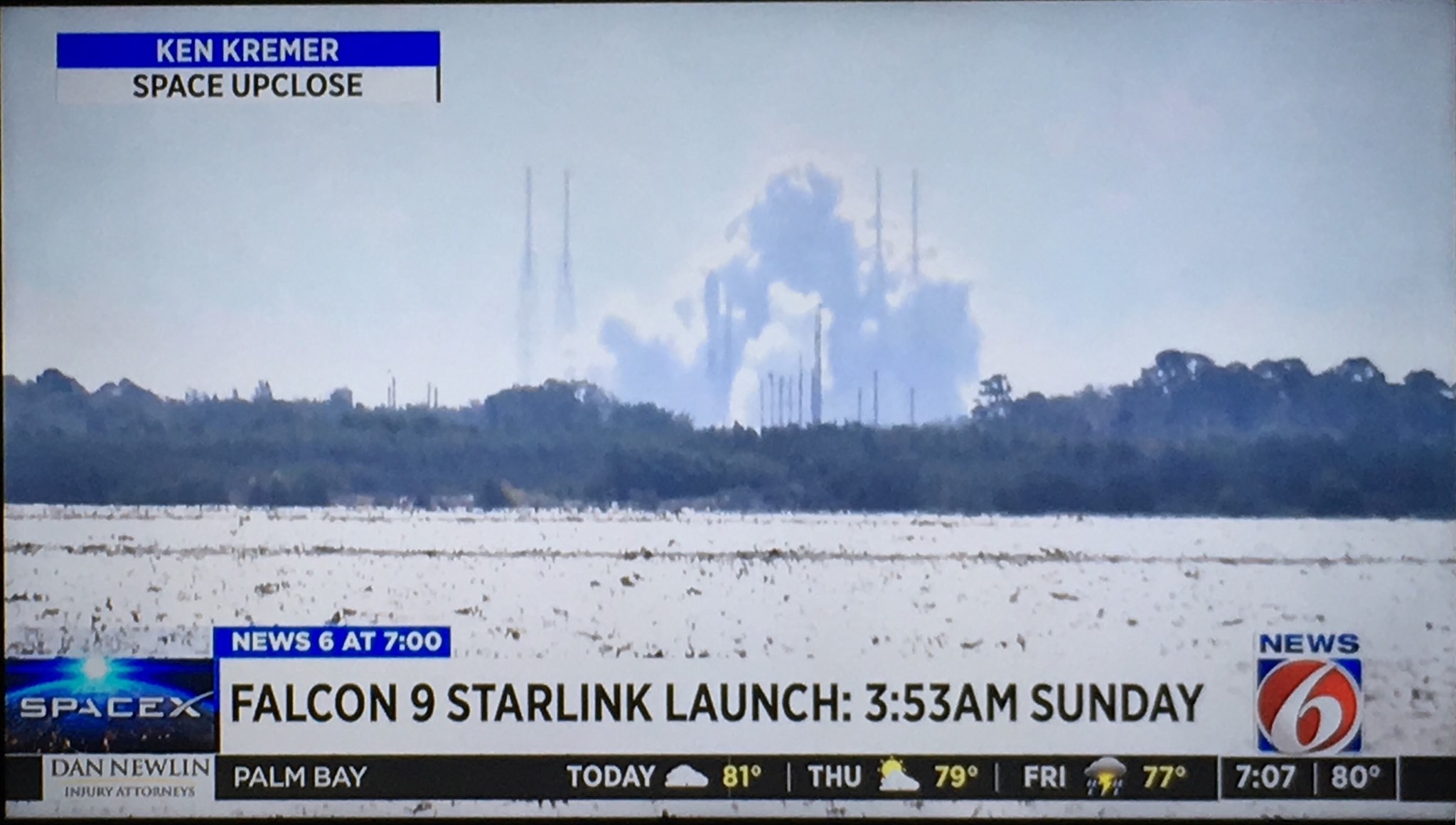 Watch Ken's continuing reports about Commercial Crew and Artemis and onsite for live reporting of upcoming and recent SpaceX and ULA launches including Demo-2, Starlink, X-37B, Solar Orbiter, Mars 2020 and more at the Kennedy Space Center and Cape Canaveral Space Force Station.
Stay tuned here for Ken's continuing Earth and Planetary science and human spaceflight news: www.kenkremer.com –www.spaceupclose.com – twitter @ken_kremer – email: ken at kenkremer.com
Dr. Kremer is a research scientist and journalist based in the KSC area, active in outreach and interviewed regularly on TV and radio about space topics.
………….
Ken's photos are for sale and he is available for lectures and outreach events
x