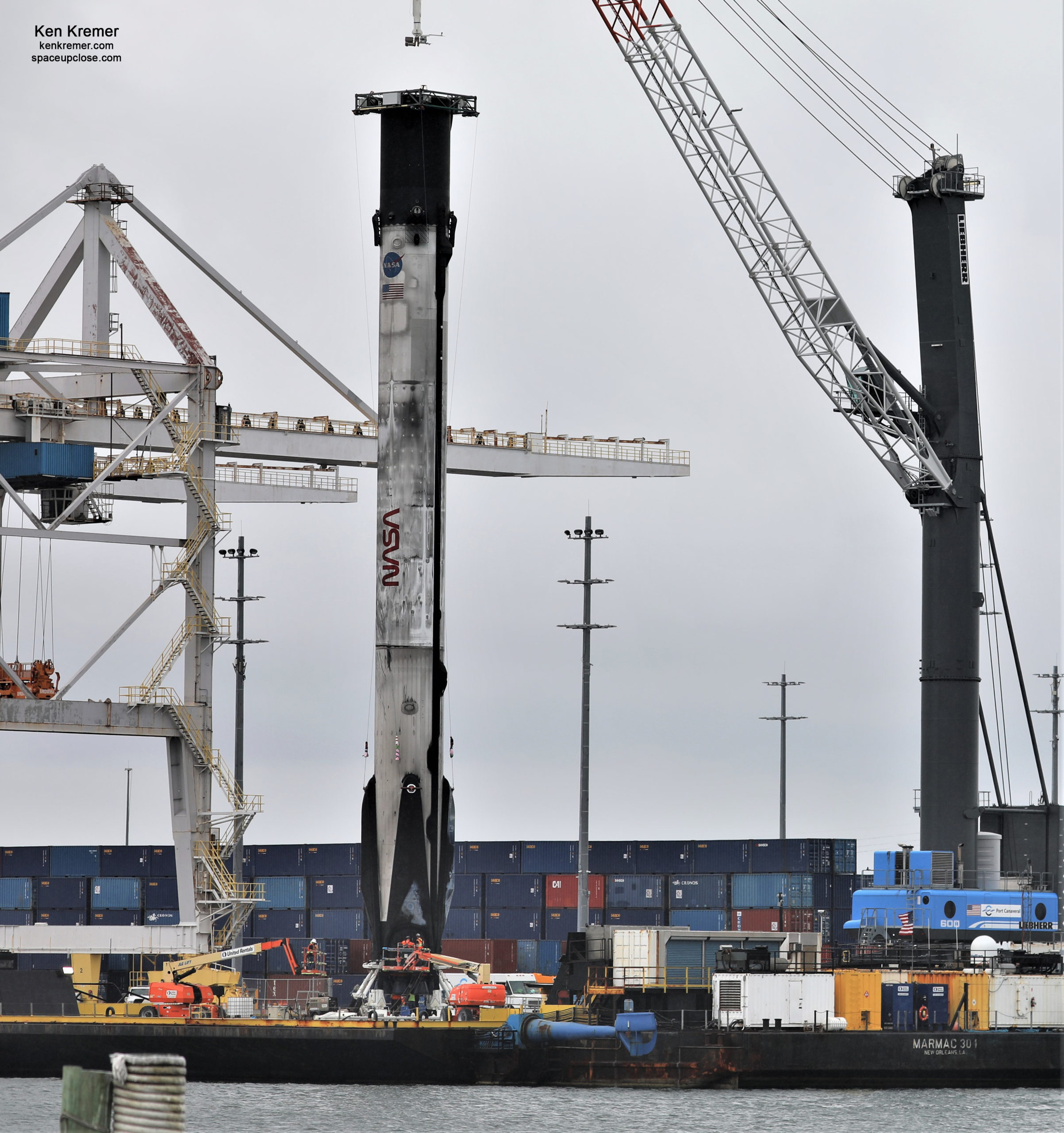 For SpaceUpClose.com & RocketSTEM
PORT CANAVERAL, FL – In another remarkable first for a mission already full of stunning firsts all four landing legs were retracted today while still on the droneship upon which the commercial SpaceX Falcon 9 1st stage landed at sea following its first ever launch of humans to space just days ago on May 30 – marking a major advance in rocket reusability.
What a spectacular sight it was to see the 156 foot tall landed 1st stage with all landing legs fully upright against the rockets outer core at lunchtime today, June 3.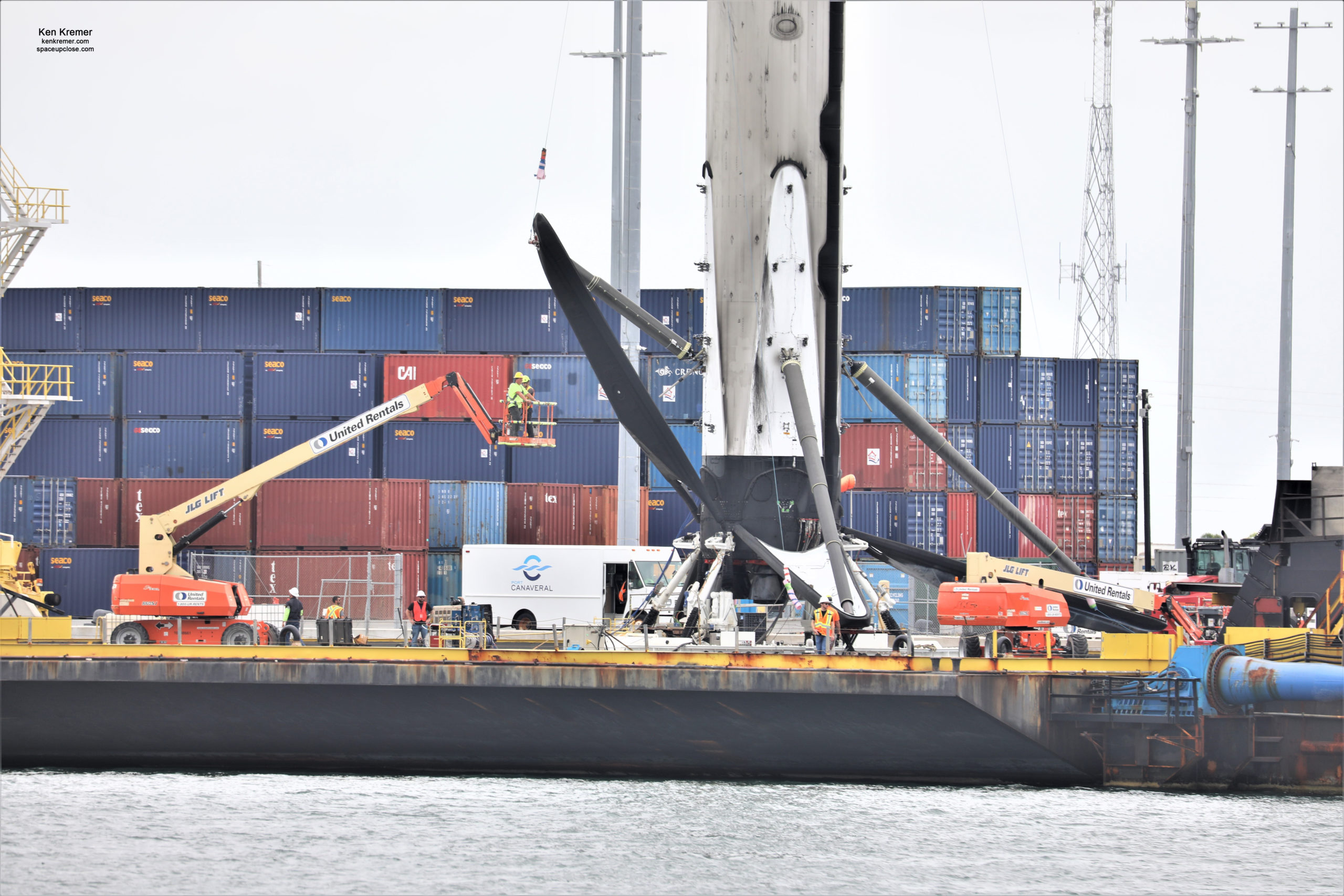 Normally the recovered / landed boosters are capped with a hoisting device and then craned off the 'Of Course I Still Love You' (OCISLY) ocean going droneship upon which they soft land after returning to Port Canaveral and berthing at the cargo pier using the giant Liebherr crane – before any attempts to retract the four landing legs.
In marked contrast the process for this 1st stage booster was completely reversed – first retracting all four landing legs one by one Wednesday, June 3, starting around 11 a.m. ET as I witnessed the action after attaching the hoisting cap to the top of the booster.
Only then was the 16 story tall first stage craned off OCISLY onto land at the Port at days end at North Cargo Pier 6.
Thus the booster was still technically 'at sea' while the legs were sequentially retracted.
Adding another layer of advancement, the landing legs were retracted with no crane cable attached to the hoisting cap – which provides a steadying stabilizing force via the Liebherr crane.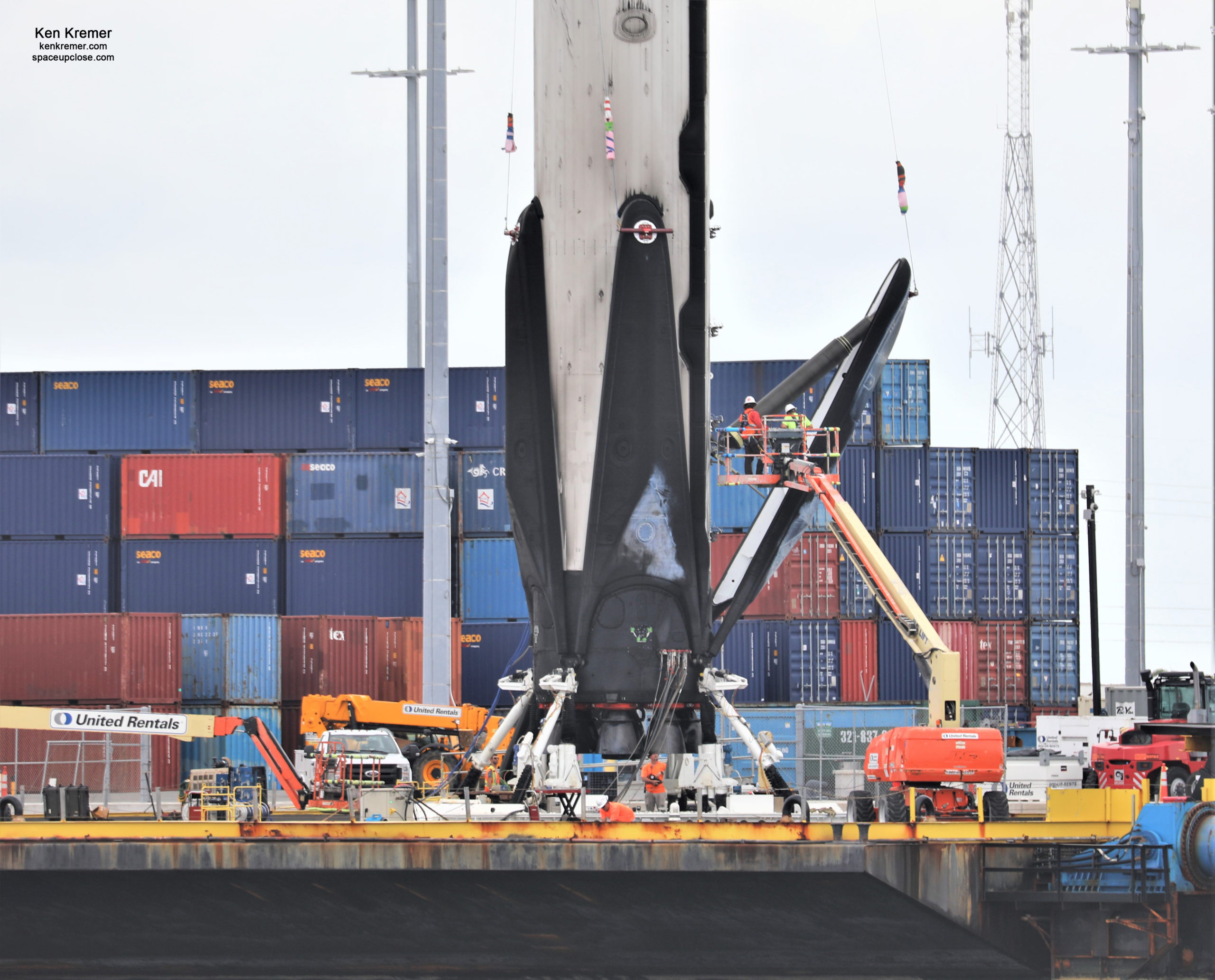 Enjoy our eyewitness Space UpClose photo gallery of the launched and landed Falcon 9 booster 1058.1 standing both vertical and resting horizonal throughout this week of the SpaceX crane crew efforts ongoing at Port Canaveral.
Check back as the gallery grows.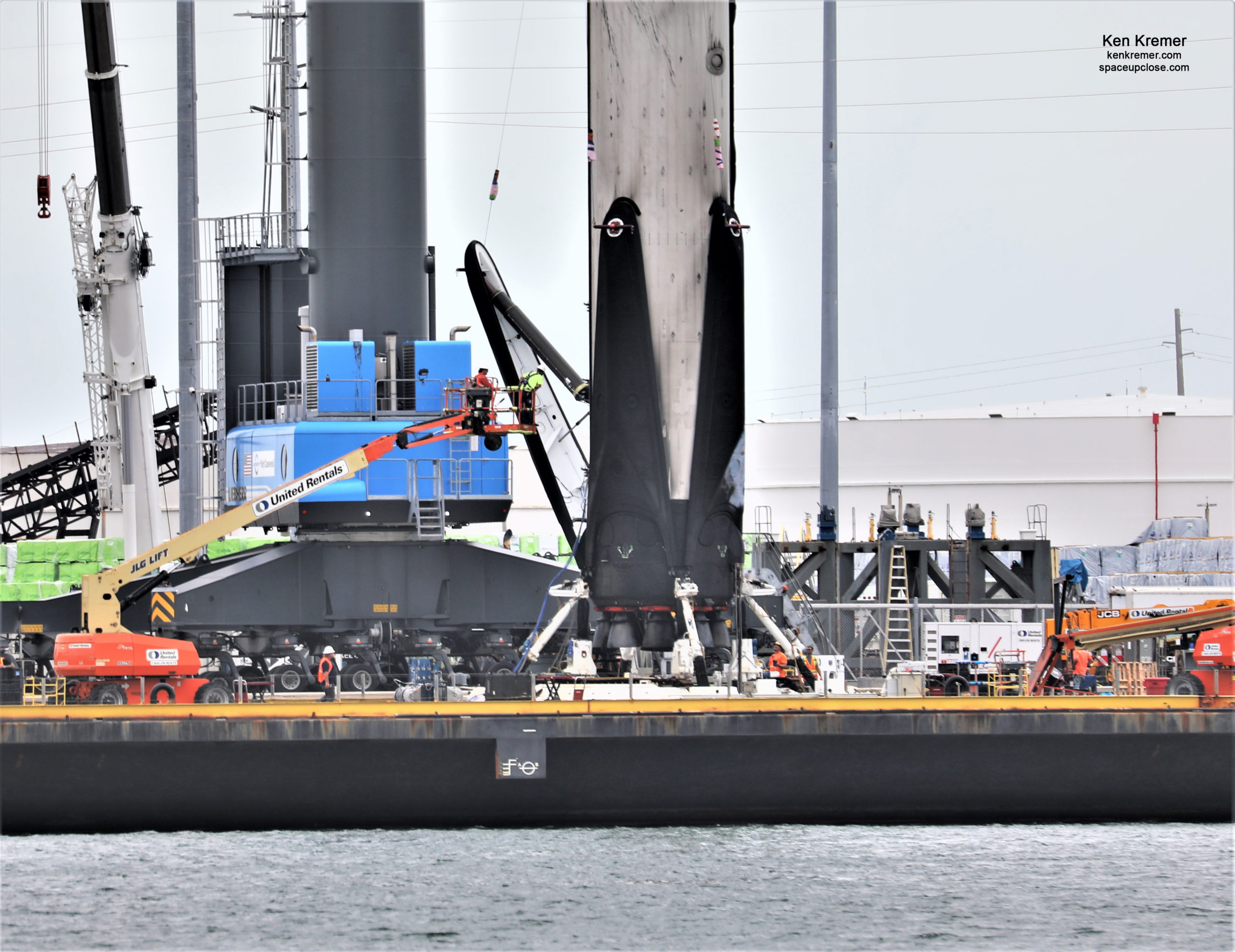 The booster was held vertically in place apparently only by the octagrabber device that rolls beneath at sea and grasps the stage between each leg to secure it firmly on the deck of OCISLY for the three day voyage back from the landing zone to Port Canaveral.
This feat of landing leg retraction while still vertical on the OCISLY droneship has never been accomplished before – to the nest of my knowledge and I have witnessed almost every one of these operations.
Previously all booster landing leg retraction efforts were carried out after craning off OCISLY onto a land based pedestal at North Cargo Pier 6.
Overall it took just over 90 minutes from the first retraction starting with the left leg at 11 a.m. to the last leg at the rear finishing up at about 12:35 p.m. ET, today, Wednesday, June 3.
The leg retraction order was left, front, right, back.
There appeared to be no problems, just minor pauses in the retraction work by the crane crews. The first two legs took about a half hour each to retract. The final two legs were completed more briskly in about 20 minutes each.
This new advance in leg retraction marks another huge milestone on the road to rocket reusability pioneered by SpaceX and CEO Elon Musk – in order to slash launch costs drastically and thereby enable more satellite, science and exploration mission launches.
This Block 5 Falcon 5 is the most advanced version. Musk hope to recycle the 1st stage boosters 10 times before major refurbishment. So far he has achieved 5 launches with the same booster.
The next step is to lower the booster onto a transporter and drive it back to the Cape- either for refurbishment and reuse most likely or perhaps for a museum display. Listen to my Wesh 2 NBC Orlando commentary below
Three days after briefly departing Earth on a historic mission launching humans from US soil for the 1st time in 9 years and for the 1st time on a SpaceX Falcon 9 rocket the booster that successfully and safely delivered a pair of veteran NASA astronauts to the ISS the booster returned to Port Canaveral Tuesday, June 2, around 2 p.m. ET atop the drone ship upon which it touched down at sea returned to a triumphant welcome at Port Canaveral and the Florida Space Coast – albeit under hazy skies and windy conditions.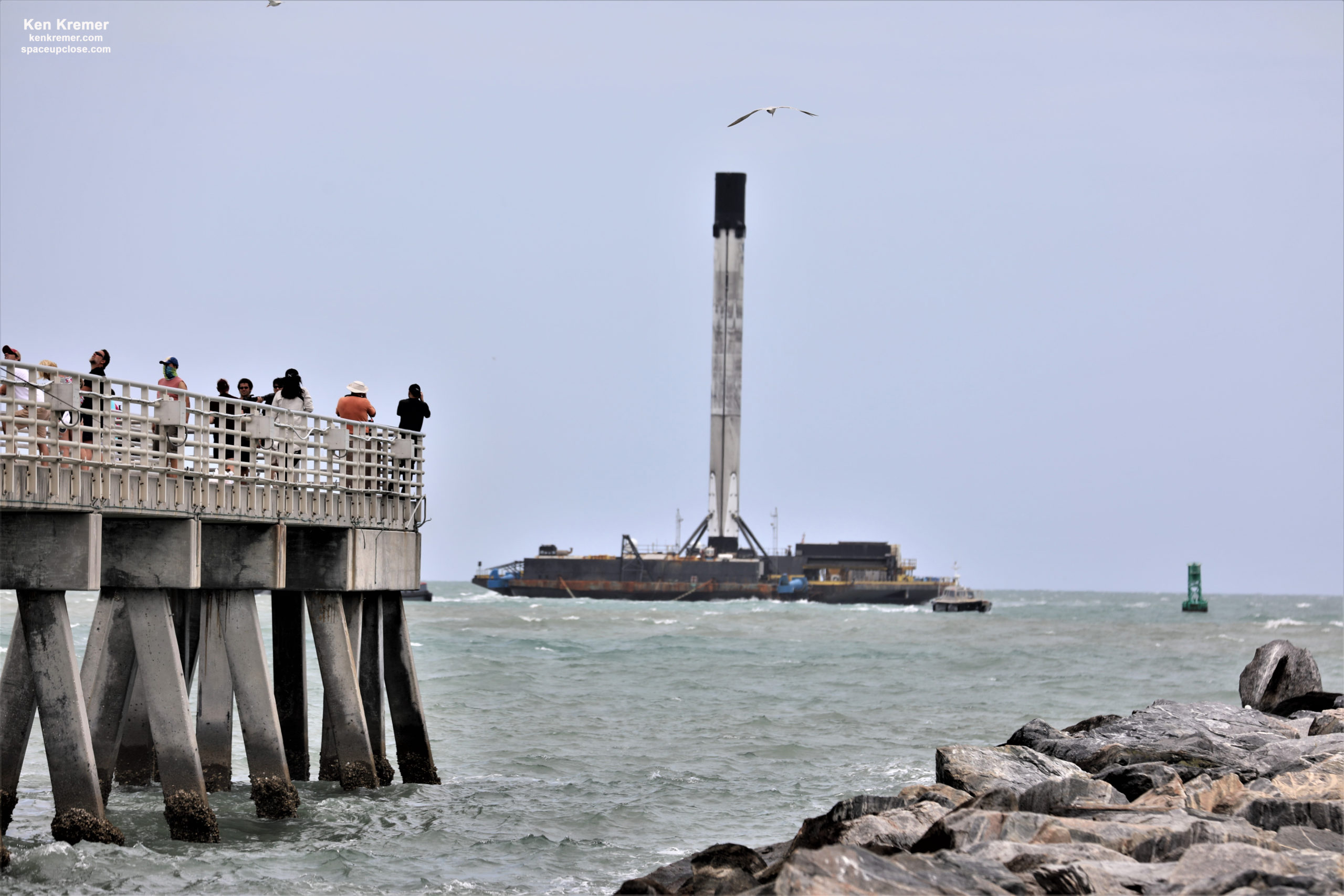 The beautiful and flawless blastoff of the Crew Dragon spacecraft carrying NASA veteran astronauts Robert Behnken and Douglas Hurley lifted off on the historic test flight at 3:22 p.m. EDT Saturday, May 30, on the company's Falcon 9 rocket from Launch Complex 39A at NASA's Kennedy Space Center in Florida bound for the International Space Station (ISS) – to the cheers of tens of thousands of spectators gathered from around America and three days after dismal weather forced a scrub of the first attempt on Wednesday.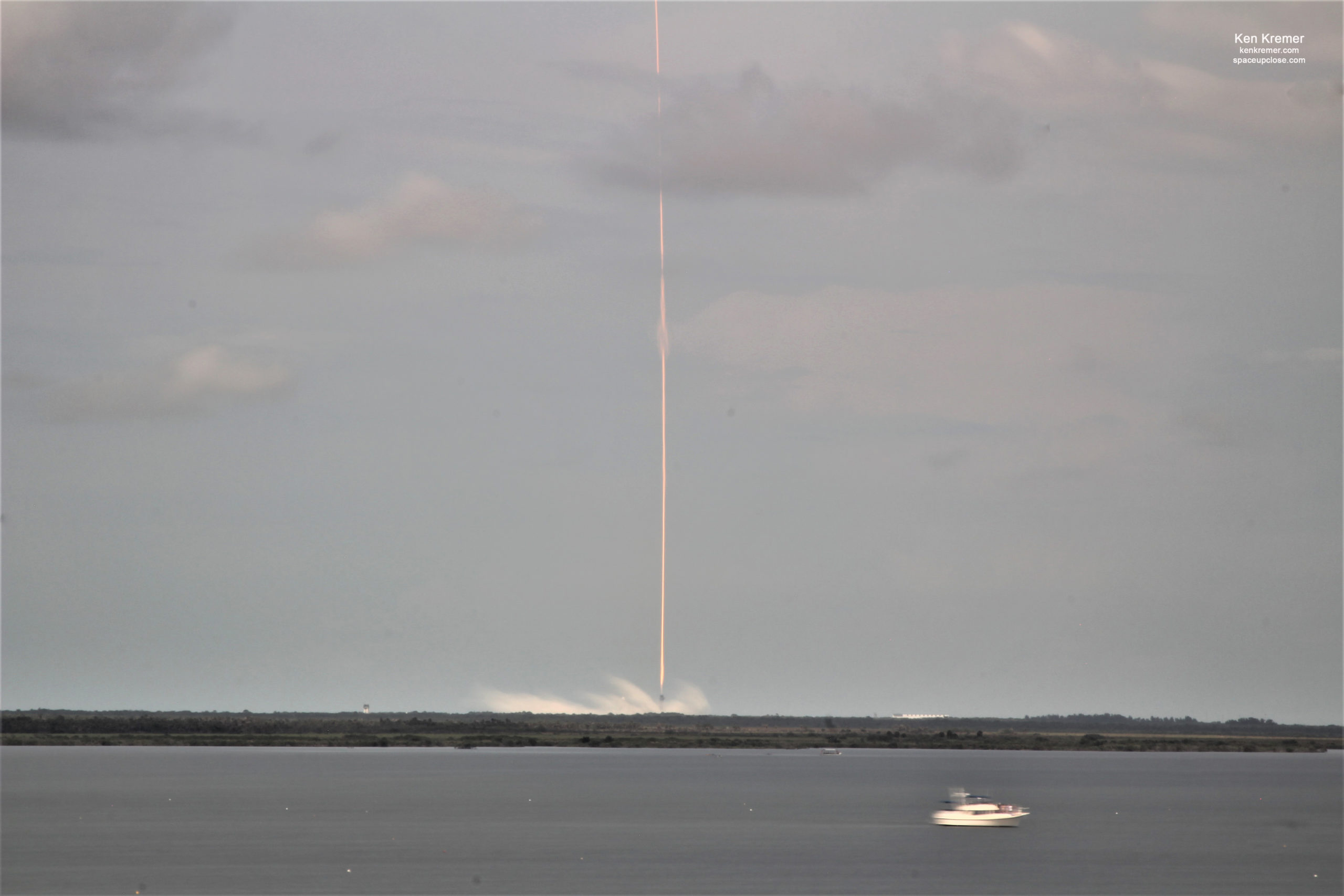 Veteran NASA astronauts Robert Behnken and Douglas Hurley soared to space atop this Falcon 9 first stage flying aboard a commercial SpaceX Crew Dragon spacecraft that safely docked at the International Space Station ISS) Sunday morning, May 31, just 19 hours after the first human launch from US soil for the first time in nine years on a history making and flawless blastoff from the Florida Space Coast.
The 156 foot tall brand new Falcon 9 booster landed on the "Of Course I Still Love You" (OCISLY) droneship arrived here at 2 p.m. June 2 towed by tugboat Hawk in the Atlantic Ocean into the Port Canaveral channel past Jetty Park pier and accompanied by the SpaceX naval fleet just offshore of the beach.
Enjoy our earlier Space UpClose photo gallery and article of the arrival and docking of the somewhat sooty Falcon 9 booster 1058.1 at the droneships normal northside berthing port at North Cargo Pier 6. Photos by the team of Ken Kremer & Jean Wright.
The NASA SpaceX Demo-2 test flight mission marks the resumption and restoration of US Human spaceflight capability on American rockets in American spaceships from American soil for the first time since the forced retired of NASA's space shuttles in 2011.
Both the SpaceX Crew Dragon and competing Boeing Starliner commercial spacecraft were developed to restore US human spaceflight and fly our astronauts to low earth orbit and the ISS with funding under the auspices of NASA's Commercial Crew Program.
Watch my commentary at Wesh 2 NBC TV News Orlando on June 2 about the booster arrival in Port and its meaning:
https://www.wesh.com/article/historic-falcon-9-rocket-astronauts-back-in-brevard-county/32746787
Watch my live Jun 1 interview on TRT about the launch and successful arrival and docking:

Watch my live SpaceX Demo-2 launch commentary from the 1st attempt with CBS 12 here for a full hour May 27:
SPACE: BACK TO THE FUTURE: Watch CBS12 News' special report on today's historic SpaceX launch. Read more: https://t.co/OeyJXlv0Wq https://t.co/O2DPRVrIzQ

— WPEC CBS12 News (@CBS12) May 27, 2020
Watch my prelaunch commentary at CBS 6 TV News Orlando here:
https://www.clickorlando.com/news/local/2020/05/25/the-mission-nasa-astronauts-will-be-first-to-fly-in-spacex-spacecraft/
Watch my prelaunch commentary at Newsmax here:

Watch Ken's continuing reports about Commercial Crew and Artemis and onsite for live reporting of upcoming and recent SpaceX and ULA launches including Demo-2, Starlink, X-37B, Solar Orbiter, Mars 2020 and more at the Kennedy Space Center and Cape Canaveral Air Force Station.
Stay tuned here for Ken's continuing Earth and Planetary science and human spaceflight news: www.kenkremer.com –www.spaceupclose.com – twitter @ken_kremer – email: ken at kenkremer.com
Dr. Kremer is a research scientist and journalist based in the KSC area, active in outreach and interviewed regularly on TV and radio about space topics.
………….
Ken's photos are for sale and he is available for lectures and outreach events