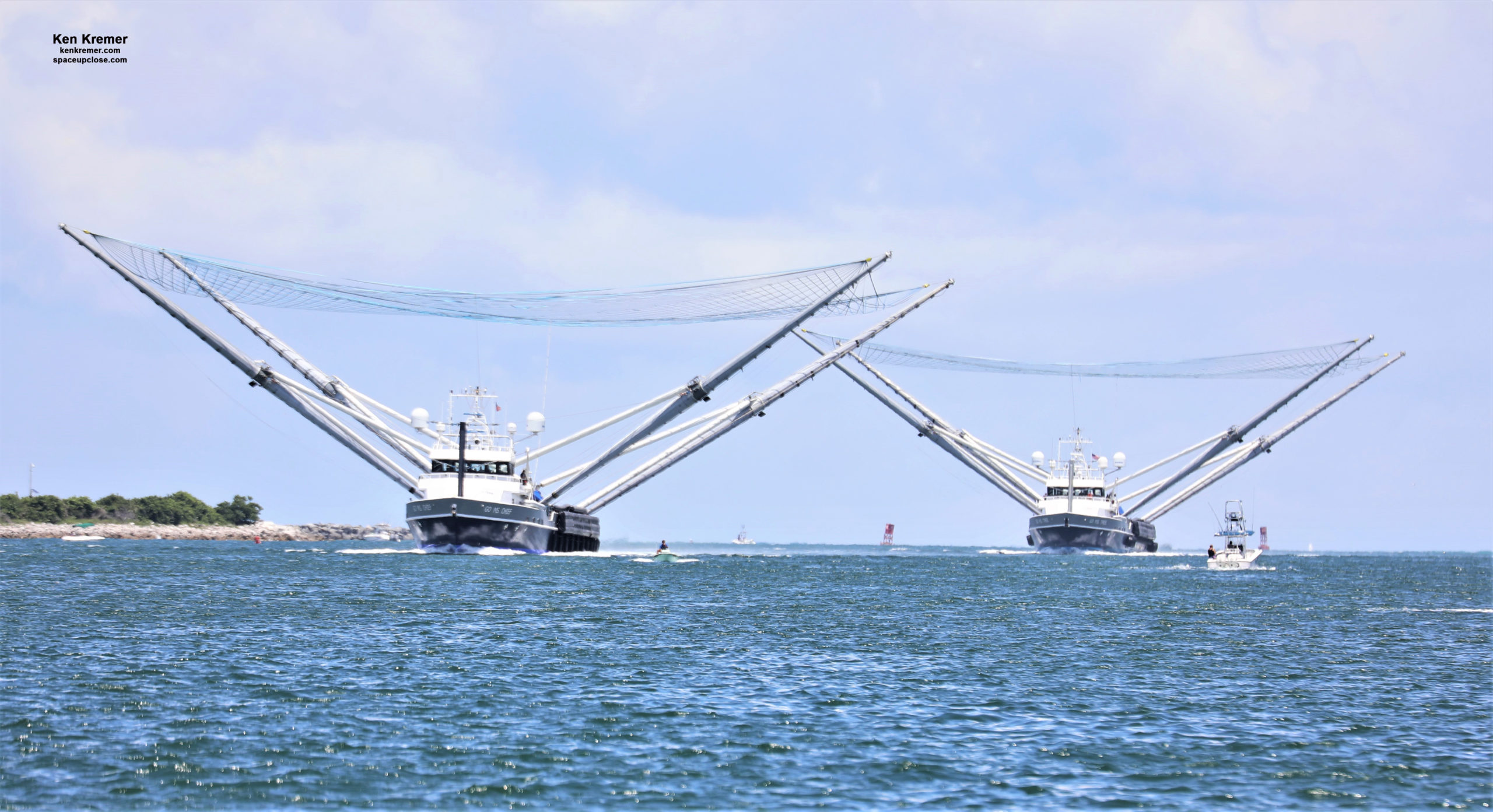 For SpaceUpClose.com & RocketSTEM
PORT CANAVERAL, FL – SpaceX crews managed to recover both of the recycled payload fairing halves from ocean waters and returned them to Port Canaveral Sunday afternoon aboard the two fairing recovery ships outfitted with giant nets akin to a 'catchers mitt' – from yesterday's spectacular predawn launch of the 9th Starlink mission also carrying a trio of SkySat spacecraft on the forms first rideshare mission.
Both of the huge fairing halves were covered and hidden behind big blue tarps and resting on the deck of the completely unique and specially designed SpaceX Fleet boats named GO MS TREE and GO MS CHIEF as they sailed into Port Canaveral channel past Jetty Park Pier at about 2 p.m. today, Sunday, June 14.
They made a dramatic entrance to the Port following one another one by one at the center of the channel.
GO MS CHIEF led first as lead ship and GO MS TREE followed second close behind.
Both fairings seemed to be of the right shape sitting on the deck as they passed by my up close view from a Port Canaveral pier as they passed by quickly atop GO MS CHIEF and GO MS TREE.
But its not really possible to make a conclusion as to their condition – whether they are intact or somewhat or heavily damaged since only a small sliver of the white fairings was visible hidden behind the tarp.
Enjoy our Space UpClose eyewitness photos of the fairing arrival into Port Canaveral today June 14.
Check back as the gallery grows.
SpaceX has not announced whether the fairings were caught mid-air in the nets as they descended on parachutes some 40 minutes after launch or whether the ship crews scooped them out of the corrosive Atlantic Ocean waters after splashdown several hundred miles downrange of the Cape Canaveral pad 40 launch site.
However SpaceX did announce that both payload fairings encapsulating the satellites were also recycled from prior missions. See out photos.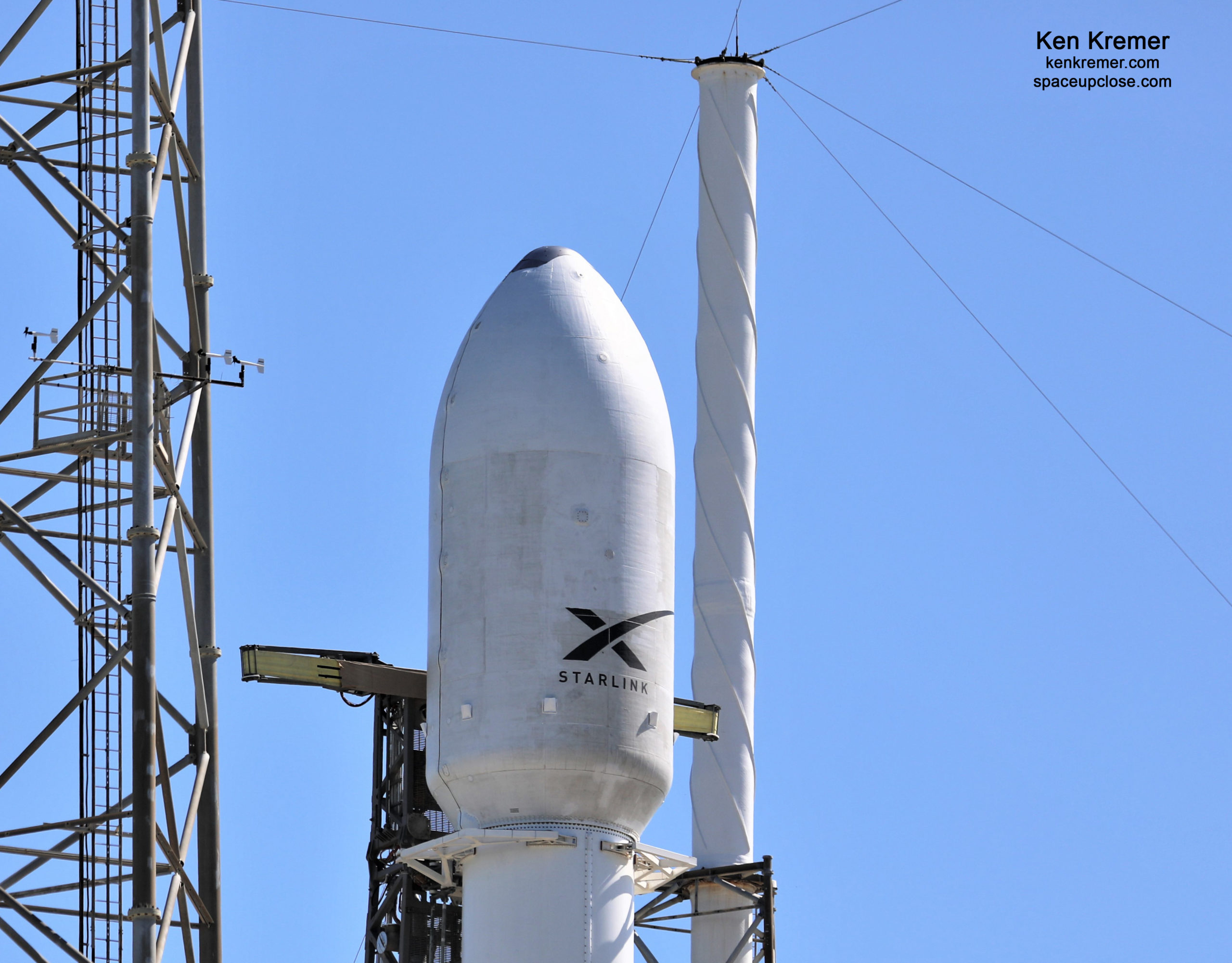 "Half of Falcon 9's fairing previously flew on the JCSAT-18/Kacific1 mission, and the other half previously flew on SpaceX's third Starlink mission," said SpaceX officials.
Overall it took about 45 minutes from both ships arrival at Jetty Park Pier until both ships docked in the far back of the West Turning Basin where cruise ships sometime dock.
The fairings measure about 45 feet (13.9 m) in length and 17 feet (5,2 m) in diameter.
The fairings were used to launch the recycled SpaceX Falcon 9 that streaked to orbit in the predawn hour Saturday morning and put on a spectacular sky show over the Florida Space Coast and successfully deliver its mixed payload of the next batch of of Starlink broadband internet satellites flying along with Planets' SkySat Earth-imaging satellites on the inaugural mission of SpaceX's SmallSat Rideshare Program.
Liftoff of the now thrice-flown SpaceX Falcon 9 booster took place right on Saturday, June 13 at 5:21 a.m. EDT, 921 GMT for launch of its SpaceX's ninth Starlink mission from Space Launch Complex 40 (SLC-40) at Cape Canaveral Air Force Station.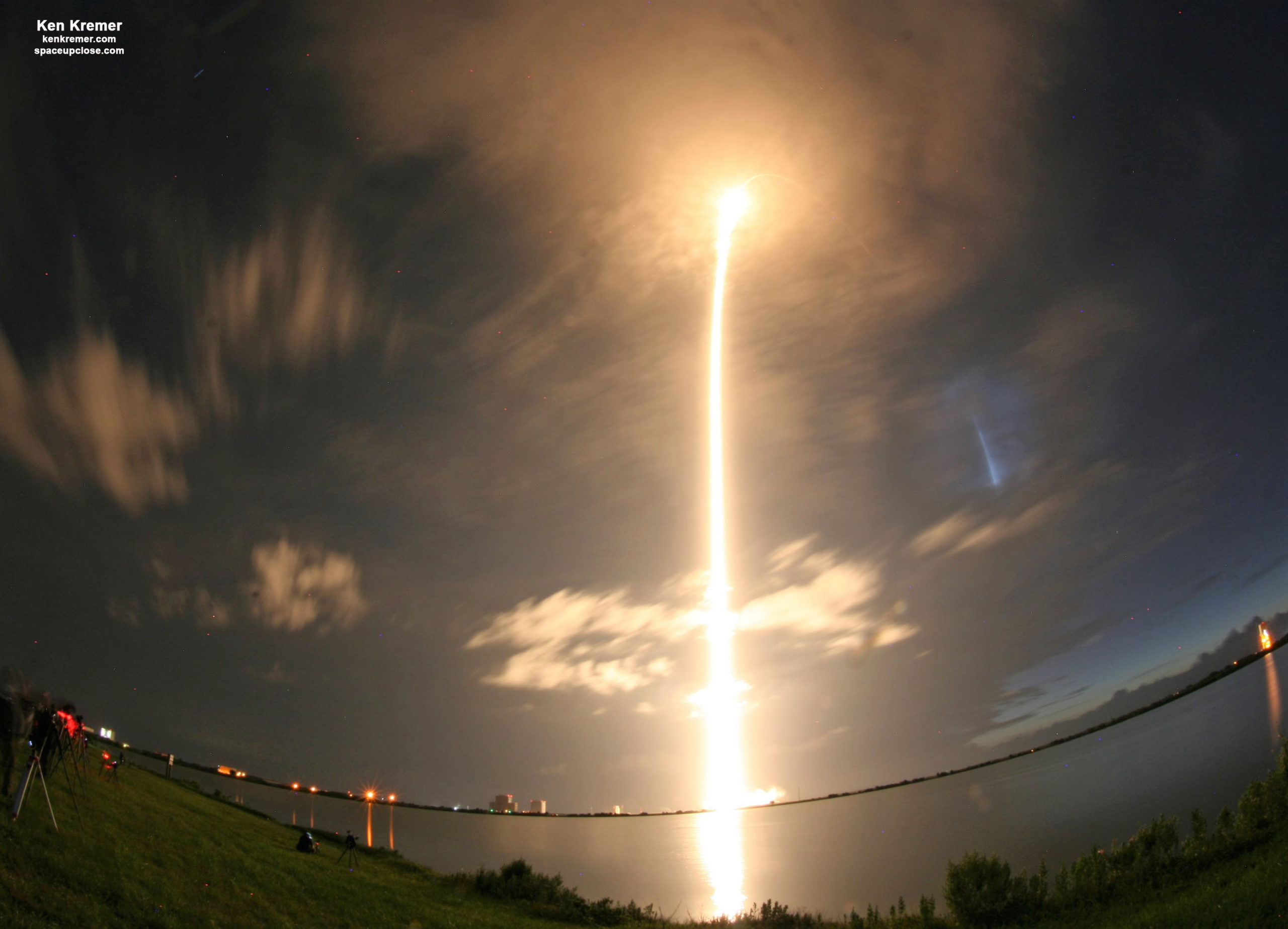 Eight- and one-half minutes later the 'flight-proven' booster accomplished a precision guided soft landing touchdown on the "Of Course I Still Love You" (OCISLY) droneship, stationed in the Atlantic Ocean about 400 miles (640 km) downrange off the Carolina's coast- following stage separation from the upper stage that continued upwards to propel the massive payload to low Earth orbit.
SpaceX announced that after reaching orbit the trio of Planet's SkySats were successfully deployed sequentially beginning about 12 minutes after liftoff, and the 58 Starlink satellites deployed approximately 26 minutes after liftoff.
The now 3x launched/landed first stage B1059.3 is being towed back atop OCISLY and is expected to arrive at Port Canaveral Monday afternoon.
But the ports North Cargo Pier 6 home to the droneship is completely full at the moment after a humongous and rather ugly cargo ship SLNC York docked there about an hour afterwards.
SpaceX will also have to move the JRTI droneship that arrived last week with another recycled booster from 8th Starlink mission so that OCISLY can dock nearby the giant Liebherr port crane used for booster hoisting and leg retraction operations.
See our photos.
The Falcon 9 Starlink SkySat blastoff continued a remarkable launch cadence counting as the third for SpaceX in just two week's time.
The prior 8th Starlink mission launched last week on June 3 on a 5x recycled 1st stage booster that returned to Port Canaveral on June 7.
Before that two NASA astronauts launched on another brand new Falcon 9 on the Demo-2 test flight mission on May 30 – the first US human spaceflight mission launched from US soil in 9 years since the NASA shuttle's forced retirement in 2011.
With this successful launch of Starlink 8 SpaceX's Starlink constellation now grows to approximately 540 satellites.
Overall the Starlink constellation could eventually number over 12,000 satellites.
SpaceX plans to launch 1 or 2 Starlink missions per month for the foreseeable future.
The goal according to SpaceX CEO Elon Musk is to provide cost competitive internet services around the globe.
Initial beta test service in the US is expected later this year.
Watch Ken's continuing reports about Commercial Crew and Artemis and onsite for live reporting of upcoming and recent SpaceX and ULA launches including Demo-2, Starlink, X-37B, Solar Orbiter, Mars 2020 and more at the Kennedy Space Center and Cape Canaveral Space Force Station.
Stay tuned here for Ken's continuing Earth and Planetary science and human spaceflight news: www.kenkremer.com –www.spaceupclose.com – twitter @ken_kremer – email: ken at kenkremer.com
Dr. Kremer is a research scientist and journalist based in the KSC area, active in outreach and interviewed regularly on TV and radio about space topics.
………….
Ken's photos are for sale and he is available for lectures and outreach events
x