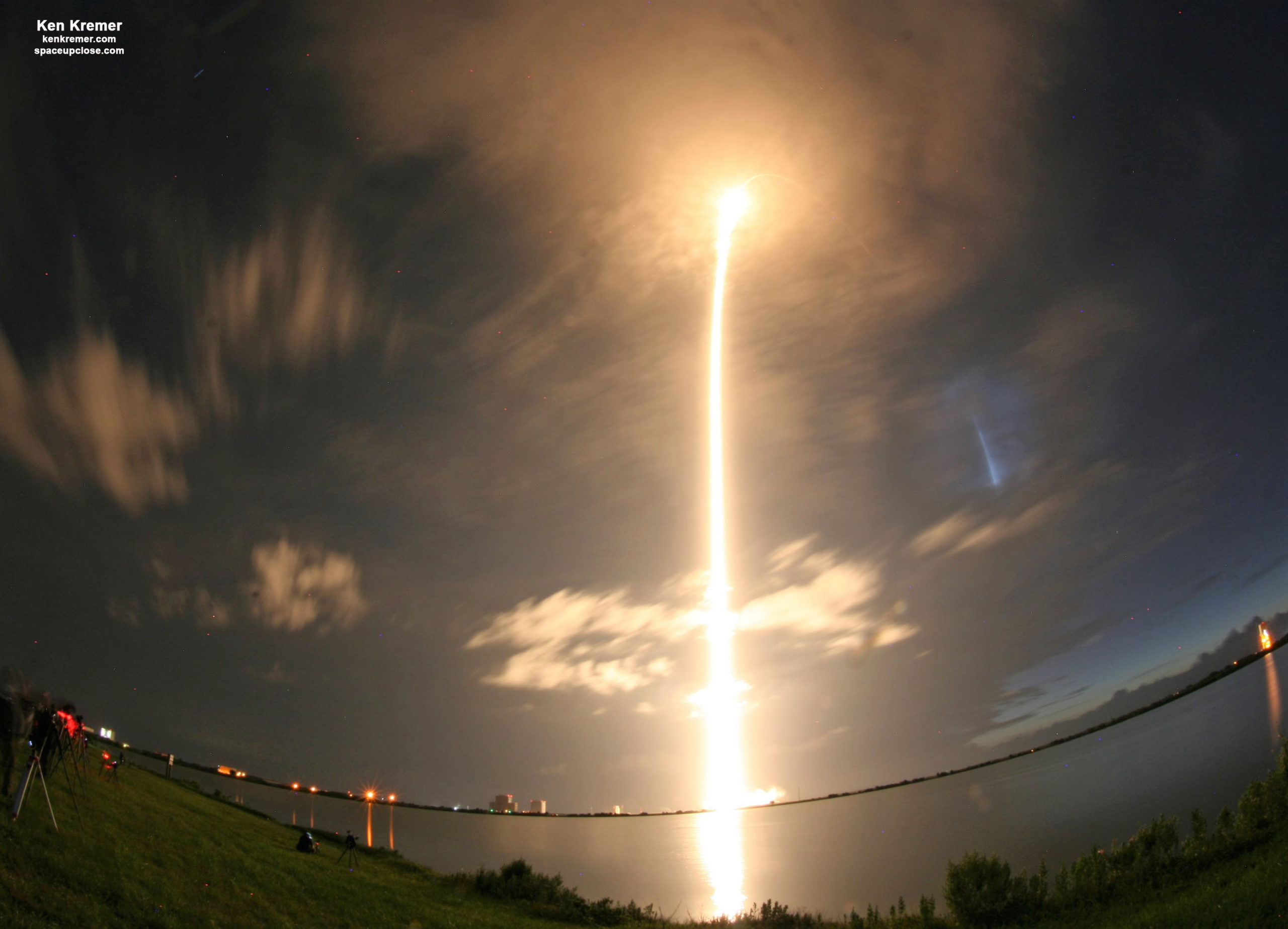 For SpaceUpClose.com & RocketSTEM
CAPE CANAVERAL SPACE FORCE STATION, FL – A recycled SpaceX Falcon 9 streaked to orbit in the predawn hour this Saturday morning and put on a spectacular sky show over the Florida Space Coast and successfully deliver its mixed payload of the next batch of of Starlink broadband internet satellites flying along with Planets' SkySat Earth-imaging satellites on the inaugural mission of SpaceX's SmallSat Rideshare Program.
Liftoff of the now thrice-flown SpaceX Falcon 9 booster took place right on Saturday, June 13 at 5:21 a.m. EDT, 921 GMT for launch of its SpaceX's ninth Starlink mission from Space Launch Complex 40 (SLC-40) at Cape Canaveral Air Force Station.
The nine Merlin 1D engines ignited to generate 1.7 million pounds of liftoff thrust and propelled the 229-foot-tall (70-meter) Falcon 9 rocket B1059 off from pad 40.
The rocket soon disappeared for the most part behind a thick bank of clouds that rolled in over the final half hour – darting in and out – before finally generating a roundish space jelly fish blob in the heavens above as it arced over approaching near the horizon.
A trio of Planets' SkySat Earth-imaging satellites was mounted as the secondary payload atop 58 of SpaceX's Starlink internet satellites as the primary payload for Saturdays ride to space on this first ever SpaceX rideshare mission.
Rideshares are a low cost alternative for small satellite payload launches that don't need the full rocket to get to space.
Eight- and one-half minutes later the 'flight-proven' booster accomplished a precision guided soft landing touchdown on the "Of Course I Still Love You" (OCISLY) droneship, stationed in the Atlantic Ocean about 400 miles (640 km) downrange off the Carolina's coast- following stage separation from the upper stage that continued upwards to propel the massive payload to low Earth orbit.
SpaceX deleted two of their home manufactured Starlink comsats from the usual batch of 60 to make way for three of Planet's SkySats imaging satellites.
Enjoy our Space UpClose team photos from Ken Kremer and Jean Wright.
SpaceX announced that after reaching orbit the trio of Planet's SkySats were successfully deployed sequentially beginning about 12 minutes after liftoff, and the Starlink satellites deployed approximately 26 minutes after liftoff.
https://mobile.twitter.com/SpaceX/status/1271752557610725377
"Successful deployment of 58 Starlink satellites confirmed," SpaceX tweeted.
https://mobile.twitter.com/SpaceX/status/1271744415363563520
Planet also confirmed successful SkySat deployments:
Today, Planeteers excitedly watched the successful launch of SkySats 16-18 aboard @SpaceX's Falcon 9 rocket. Cheers were loud. Celebratory pancakes were eaten over Zoom. All in all, a great start to the weekend!

More details in our blog: https://t.co/DmylYoetQO https://t.co/X6JNIcDZ94

— Planet (@planetlabs) June 13, 2020
Successful deployment ?Our mission ops team will now work to make contact with the three satellites. Updates to come! https://t.co/X6JNIcDZ94

— Planet (@planetlabs) June 13, 2020
"On June 13, 2020, SpaceX's Falcon 9 rocket successfully lofted three of Planet's high-resolution imaging SkySats along with a batch of its Starlink communications satellites. SkySats 16, 17 and 18 were successfully deployed into a drop-off orbit of 205 x 380 km, 53 degree inclination. Planet's launch operations team has successfully acquired all three satellites and started performing operational checkouts. Over the next several weeks they will use their onboard propulsion to boost themselves up to their operational orbit of 400 km circular altitude," Planet said in a statement.
"These three new SkySats join the 15 others already in orbit and expand our capacity to provide world class, high resolution images to a variety of governmental, commercial, academic and non-profit organizations."
Each SkySat satellite weighs around 242 pounds (110 kilograms) and is the size of a small refrigerator.
The now 3x launched/landed first stage B1059.3 is being towed back and is expected to arrive at Port Canaveral in roughly two or three days depending on weather and sea states.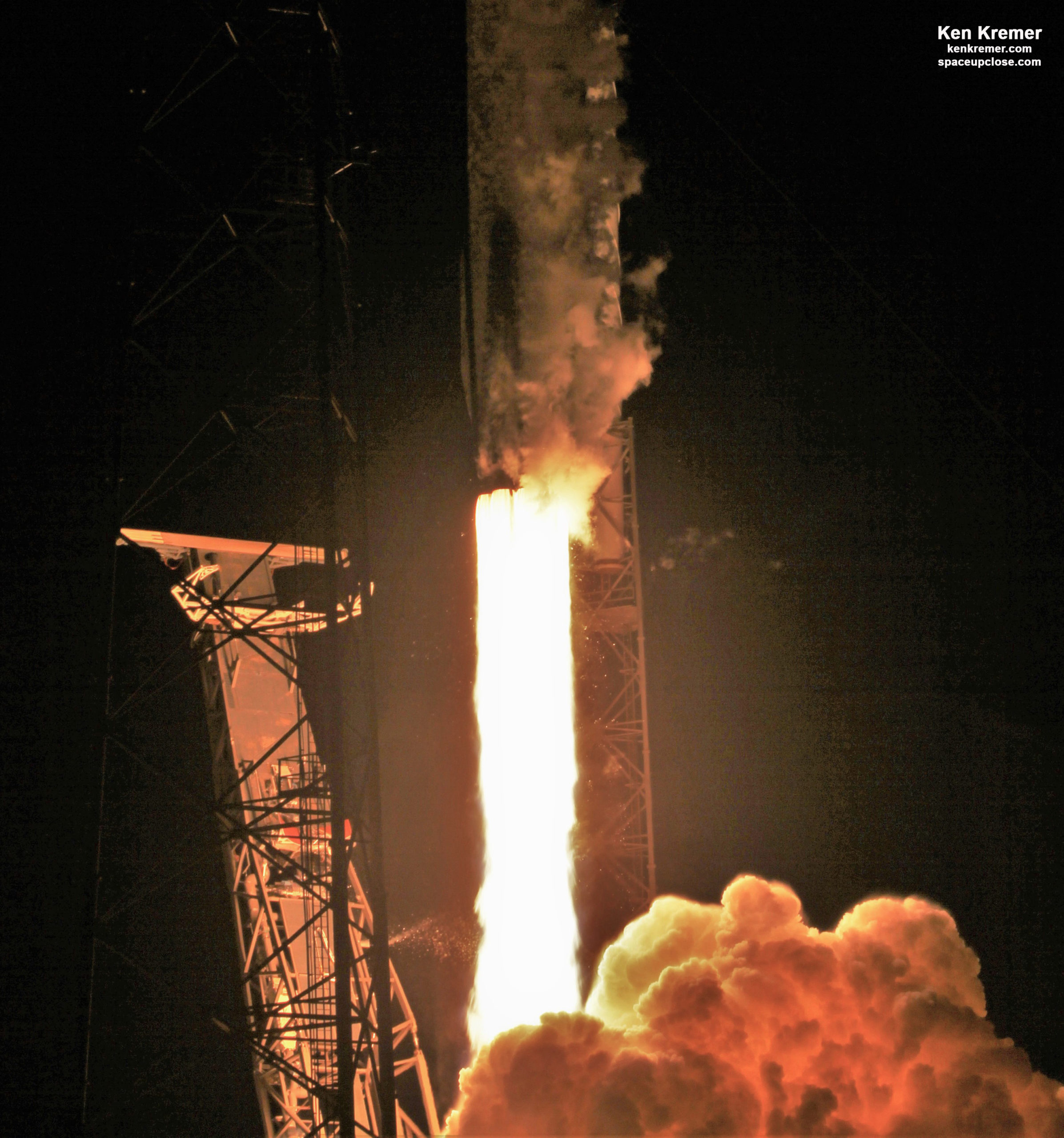 The Falcon 9 blastoff continued a remarkable launch cadence counting as the third for SpaceX in just two weeks time.
The prior 8th Starlink mission launched last week on June 3 on a 5x recycled 1st stage booster that returned to Port Canaveral on June 7.
Before that two NASA astronauts launched on another brand new Falcon 9 on the Demo-2 test flight mission on May 30 – the first US human spaceflight mission launched from US soil in 9 years since the NASA shuttle's forced retirement in 2011.
This recycled Falcon 9 first stage was flying for the third time – after previously launching a duo of Dragon cargo missions for NASA to the International Space Station (ISS) on the CRS-19 and CRS-20 missions.
https://mobile.twitter.com/SpaceX/status/1271116917420388352
Both payload fairings encapsulating the satellites are also recycled.
"Half of Falcon 9's fairing previously flew on the JCSAT-18/Kacific1 mission, and the other half previously flew on SpaceX's third Starlink mission," said SpaceX officials.
SpaceX also attempted to catch the payload fairing halves.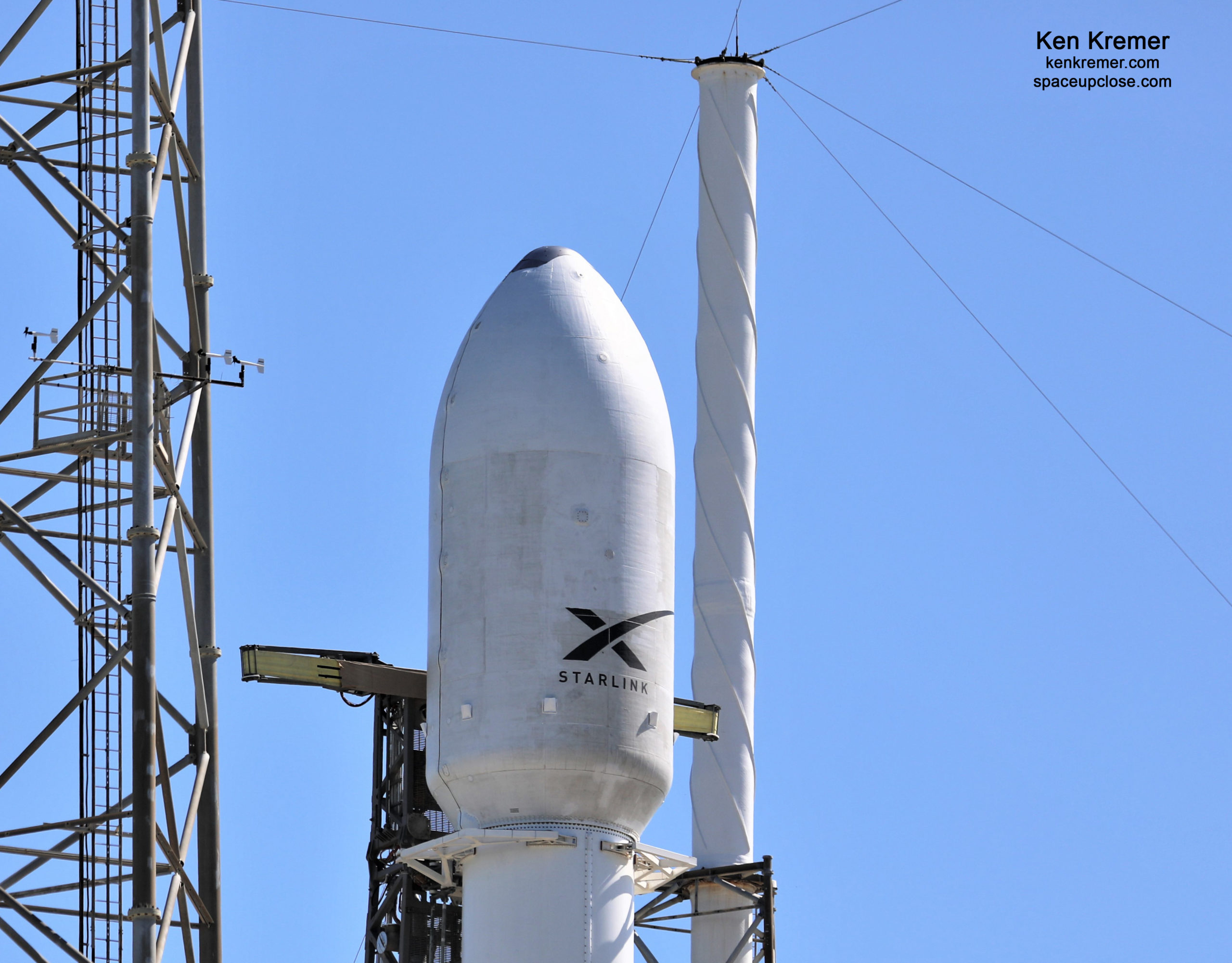 The two special fairing boats GO MS TREE and GO MS CHIEF have also deployed downrange with giant nets.
With this successful launch of Starlink 8 SpaceX's Starlink constellation now grows to approximately 540 satellites.
Overall the Starlink constellation could eventually number over 12,000 satellites.
SpaceX plans to launch 1 or 2 Starlink missions per month for the foreseeable future.
The goal according to SpaceX CEO Elon Mush is to provide cost competitive internet services around the globe.
Initial beta test service in the US is expected later this year.
Watch Ken's continuing reports about Commercial Crew and Artemis and onsite for live reporting of upcoming and recent SpaceX and ULA launches including Demo-2, Starlink, X-37B, Solar Orbiter, Mars 2020 and more at the Kennedy Space Center and Cape Canaveral Space Force Station.
Stay tuned here for Ken's continuing Earth and Planetary science and human spaceflight news: www.kenkremer.com –www.spaceupclose.com – twitter @ken_kremer – email: ken at kenkremer.com
Dr. Kremer is a research scientist and journalist based in the KSC area, active in outreach and interviewed regularly on TV and radio about space topics.
………….
Ken's photos are for sale and he is available for lectures and outreach events
x