For SpaceUpClose.com & RocketSTEM
TITUSVILLE, FL – The newest GPS III series navigations satellite for the U.S. military and the Space Force has been encapsulated inside its payload fairing and transported to the launch site joining atop a brand new SpaceX Falcon 9 rocket for a launch planned on Tuesday, June 30 – and the weather outlook is improving.
"The Space and Missile Systems Center's (SMC) Lockheed Martin-built GPS III SV03 satellite was encapsulated within a SpaceX payload fairing at Astrotech on June 21 in preparation for its upcoming launch on June 30 from Cape Canaveral Air Force Station, Florida," said the military's Space and Missile Systems Center.
"Encapsulation of the satellite within the payload fairing protects the satellite against the impact of dynamic pressure and aerodynamic heating during its harrowing journey through the earth's atmosphere, and supports the ability to communicate with the satellite until separation from the launch vehicle on-orbit."
Liftoff of the GPS III Space Vehicle 03 navigation satellite mission on a new SpaceX Falcon 9 rocket is slated for 3:55 p.m. Tuesday June 30 from seaside Launch Complex-40 on Cape Canaveral Space Force Station, FL.
The launch was delayed for 2 months due to restrictions imposed as a result of the coronavirus epidemic and "to implement new health and safety measures to protect launch and operations crew during the ongoing COVID-19 pandemic," said SMC.
The June 30 launch window extends 15 minutes from 3:55 p.m. to 4:10 p.m. ET.
In case of any delays a backup opportunity is available on July 1.
GPS III SV 03 has three times more accuracy and up to eight times improved anti-jamming capability vs the currently orbiting GPS constellation in the earlier GPS II series. A vast improvement for both military and civilian users of GPS.
"We excited to be here for the launch of our third GPS III satellite… GPS III SV03. It will soon join SV01 and SV02 which were declared operational in January and April," said Tonya Ladwig, vice president of Navigation Systems Division, Lockheed Martin Space Systems, at a prelaunch telecon with the media last week.
"GPS III now offers new technology and much greater capability over 29 of 31 of the current satellites in the GPS constellation. GPS III provides 3x greater accuracy and up to 8x improved anti-jamming power — and adds a new L1C Civil signal."
"Significantly, this satellite, GPS III SV03, will be the 22nd M-Code enabled satellite in the constellation — just two short now of global coverage. M-code is a more-secure, harder-to-jam or spoof signal for our military forces," said Ladwig.
You can watch a SpaceX webcast live-feed beginning about 20 minutes prior to the launch, concluding approximately 45 minutes afterward.
SpaceX webcast: spacex.com/launches
Weather forecasters with the 45th Space Wing say there is a 60% chance of favorable conditions or 'GO' at launch time.
The forecast drops to only 40% GO on July 1 as afternoon thunderstorms roll into central Florida.
The U.S. military has not yet approved use of recycled rockets to launch its satellites to space- but are evaluating options for the future, military officials said at a media telecon last week.
The massive 5 ton Lockheed Martin-built GPS III Space Vehicle 03 satellite is the most powerful Global Positioning System (GPS) satellite ever built as part of the GPS III series.
Lockheed Martin is the prime contractor for the GPS III navigation satellite series comprising a constellation of 10 satellites.
"The U.S. economic benefit of GPS is estimated to be over $300 Billion per year and $1.4 Trillion since inception. We believe that continued investment in GPS… to update technology… improve its capabilities… is worth it," said Ladwig at the briefing.
The GPS III-3 mission will be the third on behalf of the U.S. Space Force launch and the second NSSL (National Security Space Launch) mission to be launched on a SpaceX Falcon 9.
This mission also counts as the first where a booster will be recovered – but NOT for use by the military only by SpaceX for another customer.
Overall the military has 31 operational GPS satellites operating at this time – not including the decommissioned, on-orbit spares.
Space Operations Command's 50th Space Wing and 2nd Space Operations Squadron in Colorado operates the GPS constellation.
SpaceX launched the first in this GPS III series on a Falcon 9 in Dec 2018 followed by ULA on a Delta IV Medium in August 2019.
See our earlier articles and photos.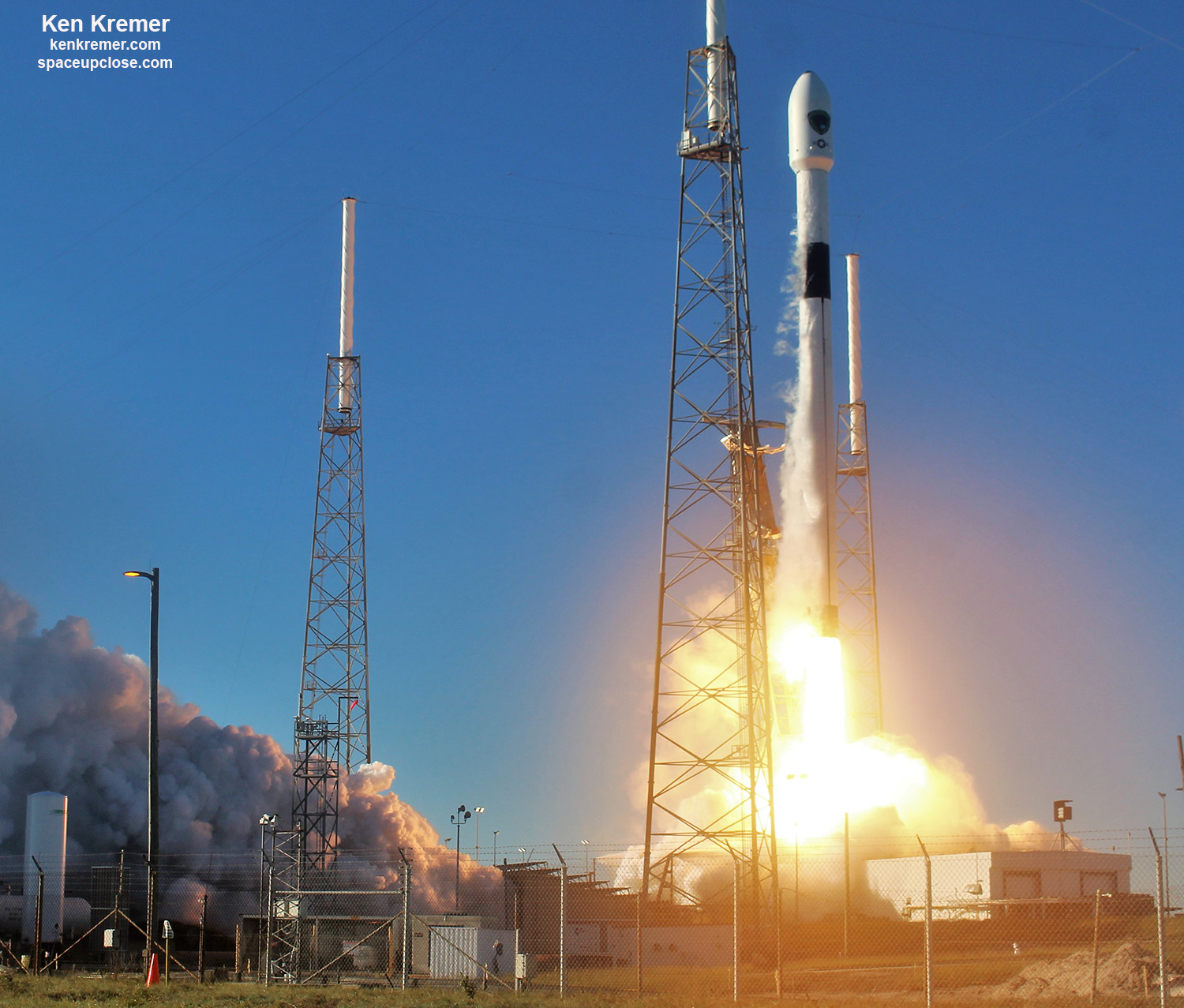 SpaceX will launch the remaining GPS III series satellites says SMC.
GPS satellites operate in medium earth orbit at an altitude of approximately 20,200 km (12,550 miles) in six planes. Each satellite circles the earth twice per day.
GPS provides the "Gold Standard" of position, navigation, and timing services for billions of users worldwide. GPS III, the newest generation of GPS satellites. It brings new capabilities to users, including three times greater accuracy, and up to eight times improved anti-jamming capabilities, says the USAF.
It is the third in the $5.8 Billion GPS III constellation that eventually will include up to 32 satellites counting a recent $7.2 Billion USAF contract with Lockheed Martin to build an additional 22 GPS III Follow On (GPS IIIF) program satellites.
This $500 million GPS III SV03 mission is historic in a number of ways. The first satellite in the GPSIII series SV01 counted as the first National Security Space (NSS) mission launched aboard a SpaceX Falcon 9 launch vehicle from Cape Canaveral Air Force Station, Florida.
The new GPS III series satellites also have a much longer design lifetime of 15 years, 25 percent longer than any of the prior GPS II series satellites on-orbit today and double the 7.5 year lifetime of the initial GPS series.
The Air Force nicknamed the satellite "Columbus" in honor of Christopher Columbus, the Italian explorer.
"Columbus will augment the current 31-satellite constellation to continue to provide the "gold standard" in positioning, navigation, and timing services for more than four billion users worldwide," says the USAF.
The path to launch was cleared after the SpaceX team conducted a successful hold down static fire test on June 25 – as witnessed by Space UpClose.
That static fire was the second Falcon 9 engine test in less than 16 hours- following one for the Starlink 9 mission launch.
Read our static fire story and eyewitness photos – photos also featured at WKMG CBS News 6 Orlando.
The Starlink 9 mission launching the 10th batch of broadband internet satellites was scrubbed less than 3 hours before lift off due to technical issues with the rocket.
No new target date for Starlink 9 has been announced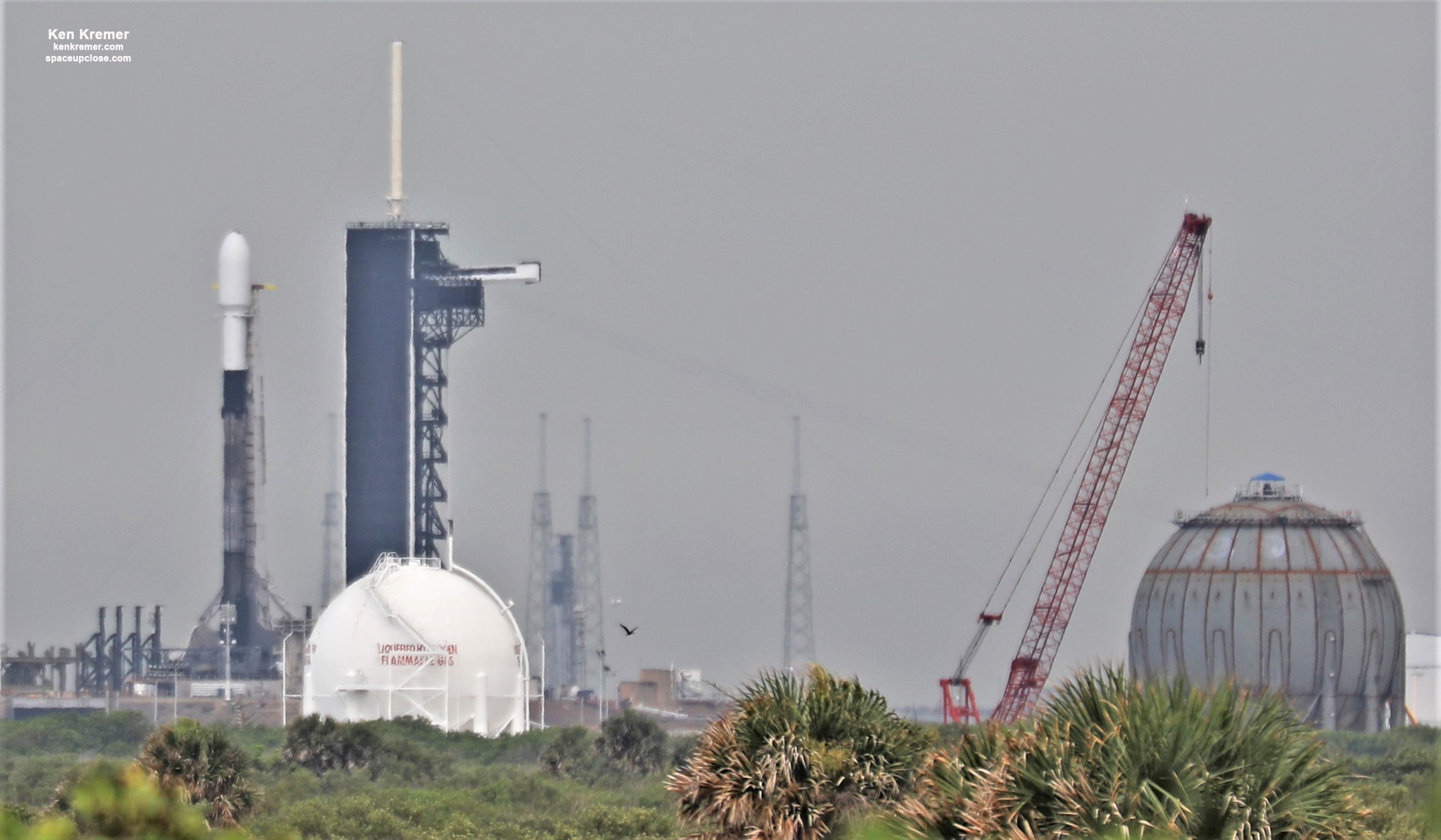 Watch my commentary about the SpaceX Starlink/GPS launches at WFTV ABC 9 Orlando TV News on Jun 25
https://www.wftv.com/news/local/brevard-county/spacex-launch-another-round-starlink-satellites-friday/4WKS5J4QDBA7TJ2E4SPI5UJQRI/
Watch my live post interview about SpaceX launches, Artemis, ULA WDR for Mars 2020, Mars 2020 rover and more at the American Space Museum 'Stay Curious' daily weekday show on June 22, 2020
Watch Ken's continuing reports about Mars 2020, Commercial Crew and Artemis for live reporting of upcoming and recent NASA, ULA and SpaceX launches including Demo-2, Starlink, X-37B, Solar Orbiter and more at the Kennedy Space Center and Cape Canaveral Space Force Station.
Stay tuned here for Ken's continuing Earth and Planetary science and human spaceflight news: www.kenkremer.com –www.spaceupclose.com – twitter @ken_kremer – email: ken at kenkremer.com
Dr. Kremer is a research scientist and journalist based in the KSC area, active in outreach and interviewed regularly on TV and radio about space topics.
………….
Ken's photos are for sale and he is available for lectures and outreach events
Ken's upcoming outreach events:
Jun 29: 7 PM, Quality Inn Kennedy Space Center, Titusville, FL. "SpaceX GPS, Starlink and Demo-2 and NASA/ ULA Atlas V Mars 2020 rover and more launches" Free. In hotel lobby. Photos for sale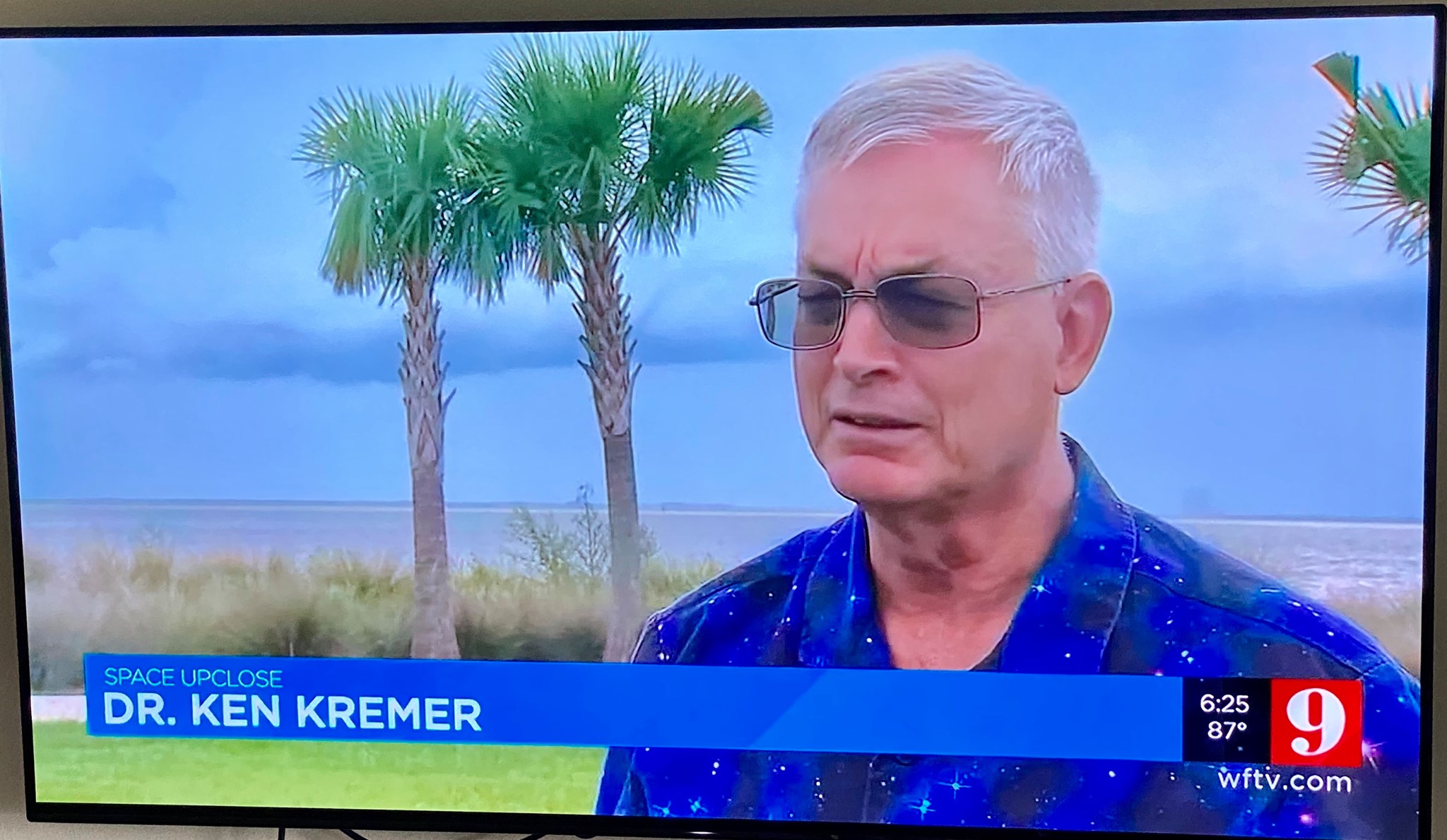 x