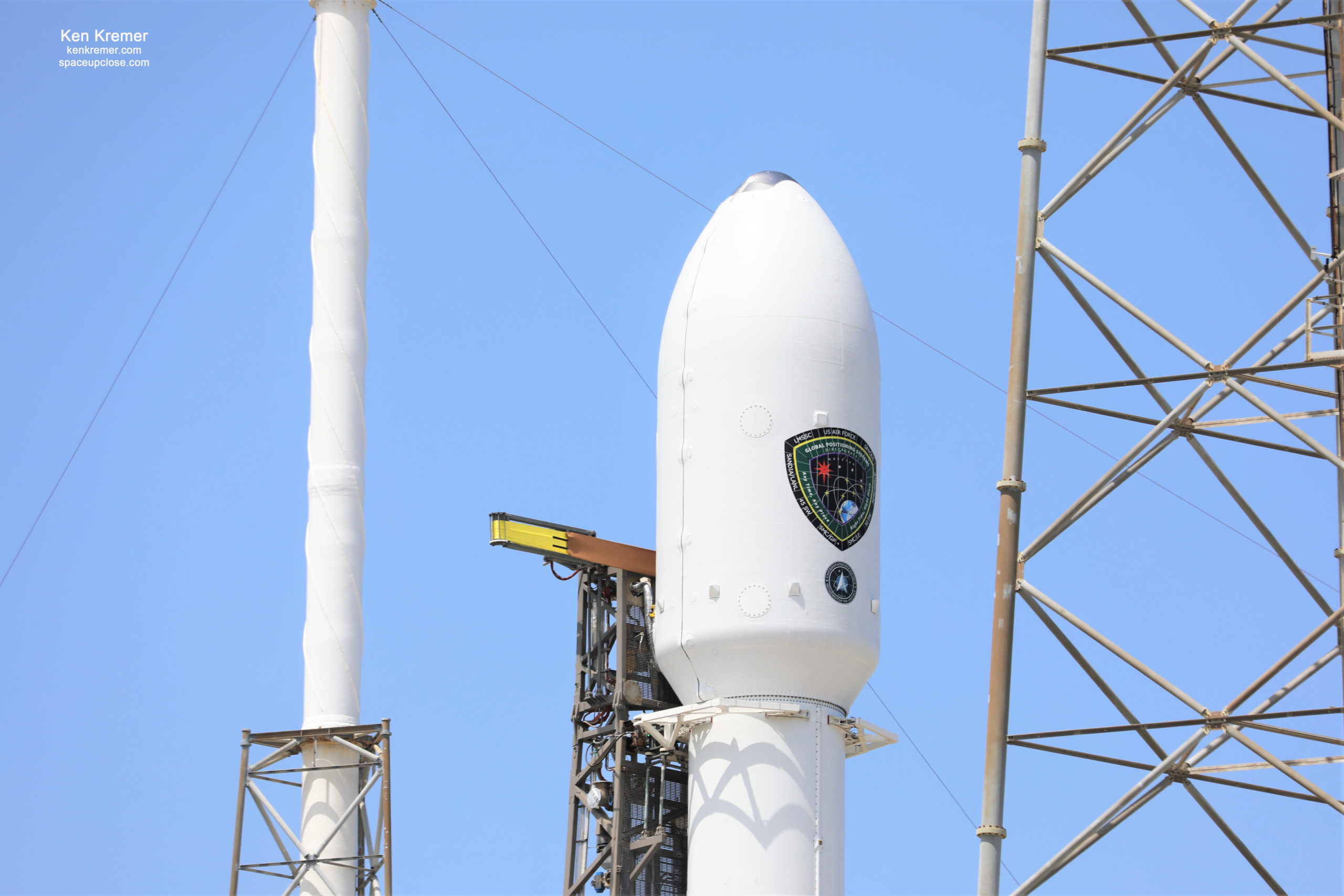 For SpaceUpClose.com & RocketSTEM
CAPE CANAVERAL SPACE FORCE STATION, FL – A new SpaceX Falcon 9 rocket is poised for liftoff carrying the newest GPS III series navigations satellite for the U.S. military and the Space Force to orbit for a launch planned today Tuesday afternoon June 30 – weather permitting.
The Global Positioning System (GPS) III satellite, Space Vehicle 03 (SV03) rolled out to Cape Canaveral's Space Launch Complex-40 launch pad and has been raised vertical into launch position.
Falcon 9 and GPS III Space Vehicle 03 vertical on SLC-40 ahead of tomorrow's launch for the @SpaceForceDoD. The 15-minute window opens at 3:55 p.m. EDT, and weather is looking 60% favorable → https://t.co/bJFjLCzWdK pic.twitter.com/4QfF4KtDDH

— SpaceX (@SpaceX) June 30, 2020
Liftoff of the GPS III Space Vehicle 03 navigation satellite mission on a new SpaceX Falcon 9 rocket is slated for 3:55 p.m. Tuesday June 30 from seaside Launch Complex-40 on Cape Canaveral Space Force Station, FL.
The June 30 launch window extends 15 minutes from 3:55 p.m. (1955 GMT) to 4:10 p.m. ET.
In case of any delays a backup opportunity is available on July 1 with a 15-minute launch window opening at 3:51 p.m. EDT (1951 GMT).
You can watch a SpaceX webcast live-feed beginning about 20 minutes prior to the launch, concluding approximately 45 minutes afterward.
SpaceX webcast: www.spacex.com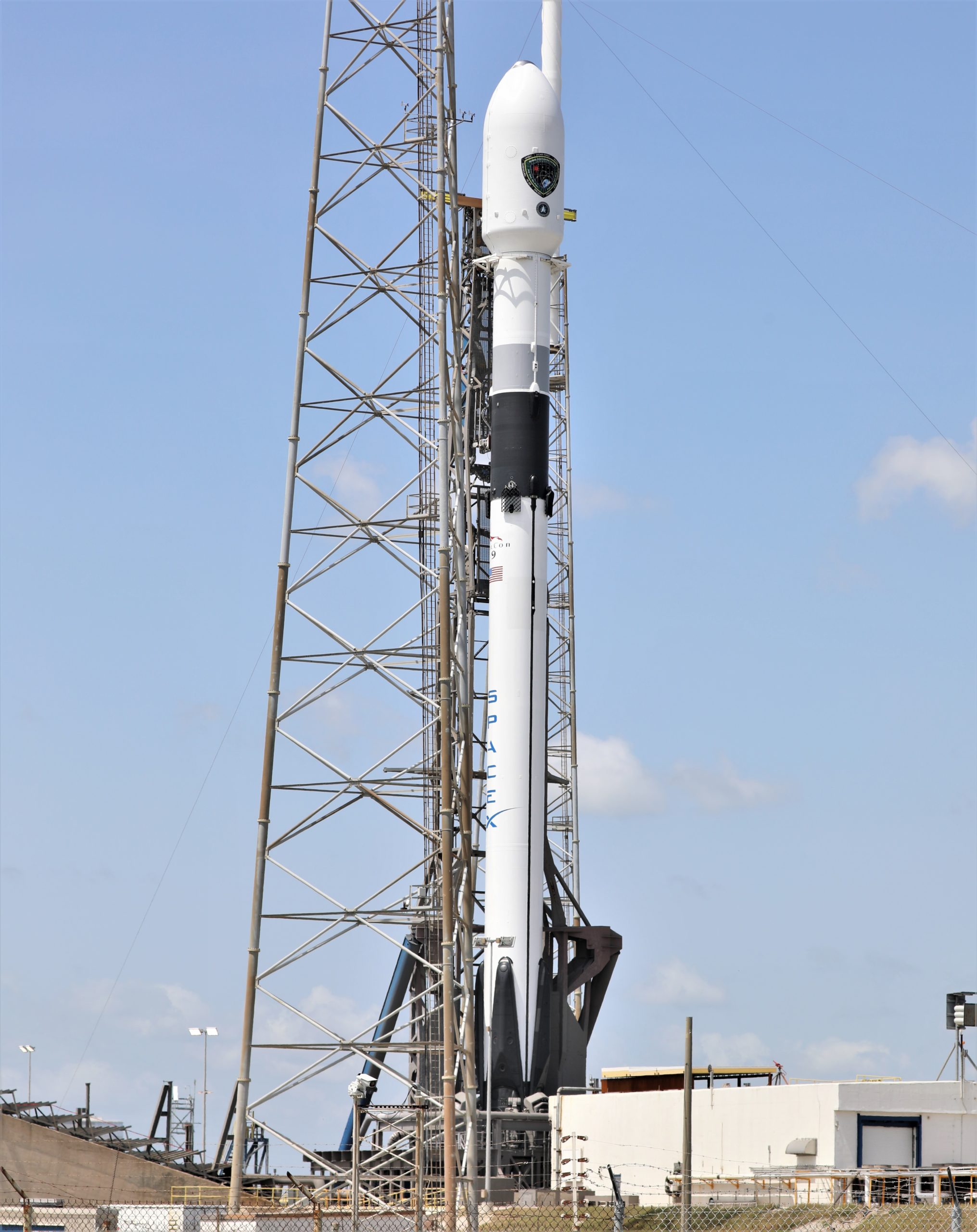 SpaceX Falcon 9 rocket poised for liftoff carrying GPS III SV03 mission on June 30, 2020 for the US Space Force on Space Launch Complex-40 on Cape Canaveral Air Force Station, FL. Credit: Ken Kremer/kenkremer.com/spaceupclose.com
The GPS III-3 mission will be the third on behalf of the U.S. Space Force launch and the second NSSL (National Security Space Launch) mission to be launched on a SpaceX Falcon 9.
This mission also counts as the first where a booster will be recovered – but NOT for use by the military – only by SpaceX for another customer.
"The NSSL program's number one priority is to achieve mission success on each and every National Security Space launch," said Col. Robert Bongiovi, Launch Enterprise director, in a statement.
"We also strive to procure affordable launch services that maintain assured access to space for the Nation. Our goal with GPS III SV03 was to maintain our mission assurance record, while exploring unique cost saving opportunities like recovering a booster to deliver the capabilities our warfighters demand."
"The GPS III program brings a new standard of excellence for the entire space community. Our production team and contract partners have developed an indispensable tool that is available to military and civil users around the world." said Cordell DeLaPena, program executive officer for SMC's Space Production Corps, in a statement.
"Our team will continue to advance the launch campaign for the remaining space vehicles and I anticipate the successful launch of SV03 on the Falcon 9."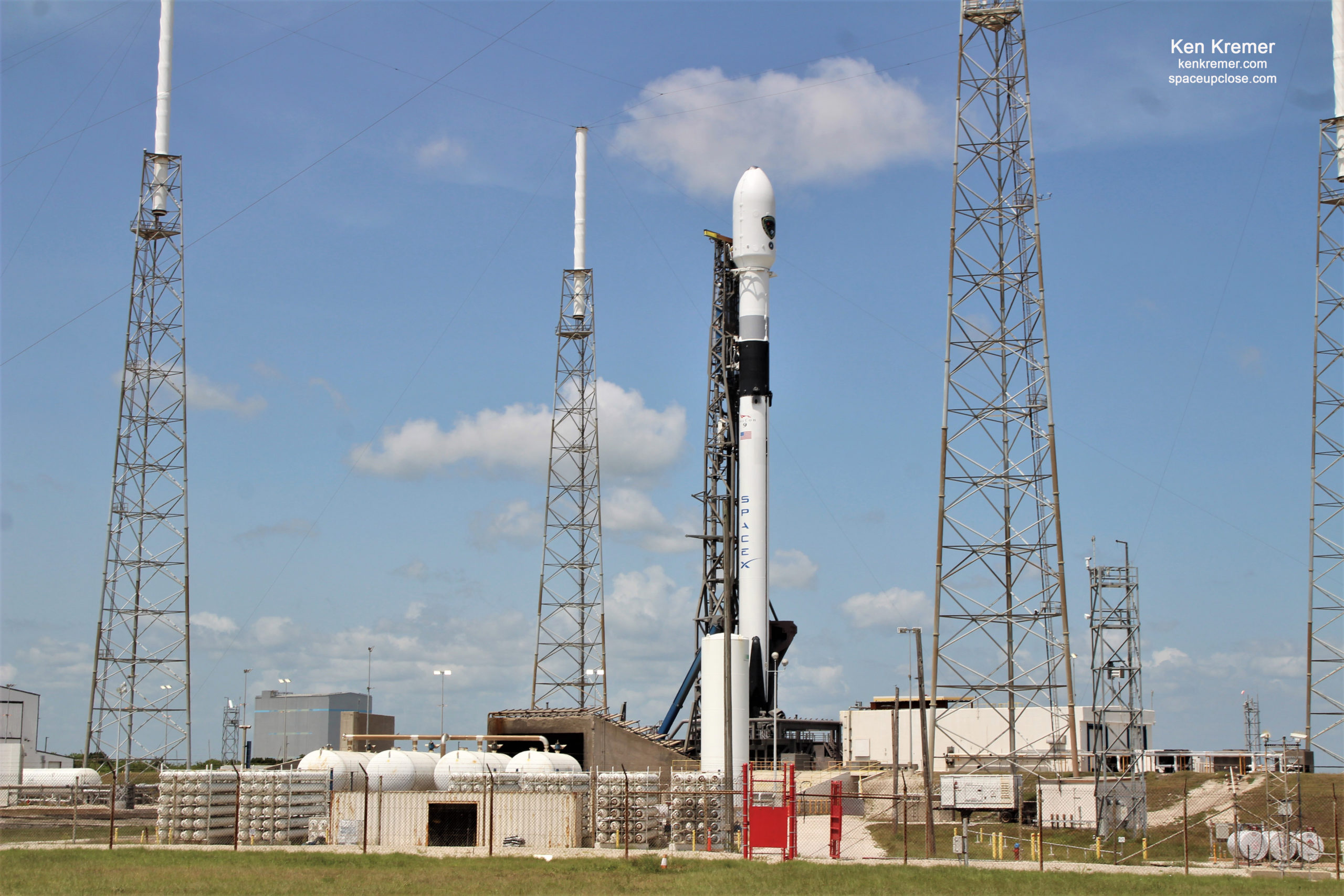 GPS III SV 03 has three times more accuracy and up to eight times improved anti-jamming capability vs the currently orbiting GPS constellation in the earlier GPS II series. A vast improvement for both military and civilian users of GPS.
The GPS III SV 03 spacecraft will deploy approximately 1 hour and 29 minutes after liftoff.
Following stage separation, SpaceX will attempt to land Falcon 9's first stage on the "Just Read the Instructions" (JRTI) droneship, which will be stationed in the Atlantic Ocean about 400 miles (640 km) off the Carolina's coast.
Weather forecasters with the 45th Space Wing say there is a 60% chance of favorable conditions or 'GO' at launch time.
The forecast drops to only 40% GO on July 1 as afternoon thunderstorms roll into central Florida.
The path to launch was cleared after the SpaceX team conducted a successful hold down static fire test on June 25 – as witnessed by Space UpClose.
That static fire was the second Falcon 9 engine test in less than 16 hours- following one for the Starlink 9 mission launch
Read our static fire story and eyewitness photos – also featured at WKMG CBS News 6 Orlando.
Watch my commentary about the SpaceX Starlink/GPS launches at WFTV ABC 9 Orlando TV News on Jun 25
https://www.wftv.com/news/local/brevard-county/spacex-launch-another-round-starlink-satellites-friday/4WKS5J4QDBA7TJ2E4SPI5UJQRI/
Watch my live post interview about SpaceX launches, Artemis, ULA WDR for Mars 2020, Mars 2020 rover and more at the American Space Museum 'Stay Curious' daily weekday show on June 22, 2020
Watch Ken's continuing reports about GPS, Mars 2020, Commercial Crew and Artemis for live reporting of upcoming and recent NASA, ULA and SpaceX launches including Demo-2, Starlink, X-37B, Solar Orbiter and more at the Kennedy Space Center and Cape Canaveral Space Force Station.
Stay tuned here for Ken's continuing Earth and Planetary science and human spaceflight news: www.kenkremer.com –www.spaceupclose.com – twitter @ken_kremer – email: ken at kenkremer.com
Dr. Kremer is a research scientist and journalist based in the KSC area, active in outreach and interviewed regularly on TV and radio about space topics.
………….
Ken's photos are for sale and he is available for lectures and outreach events