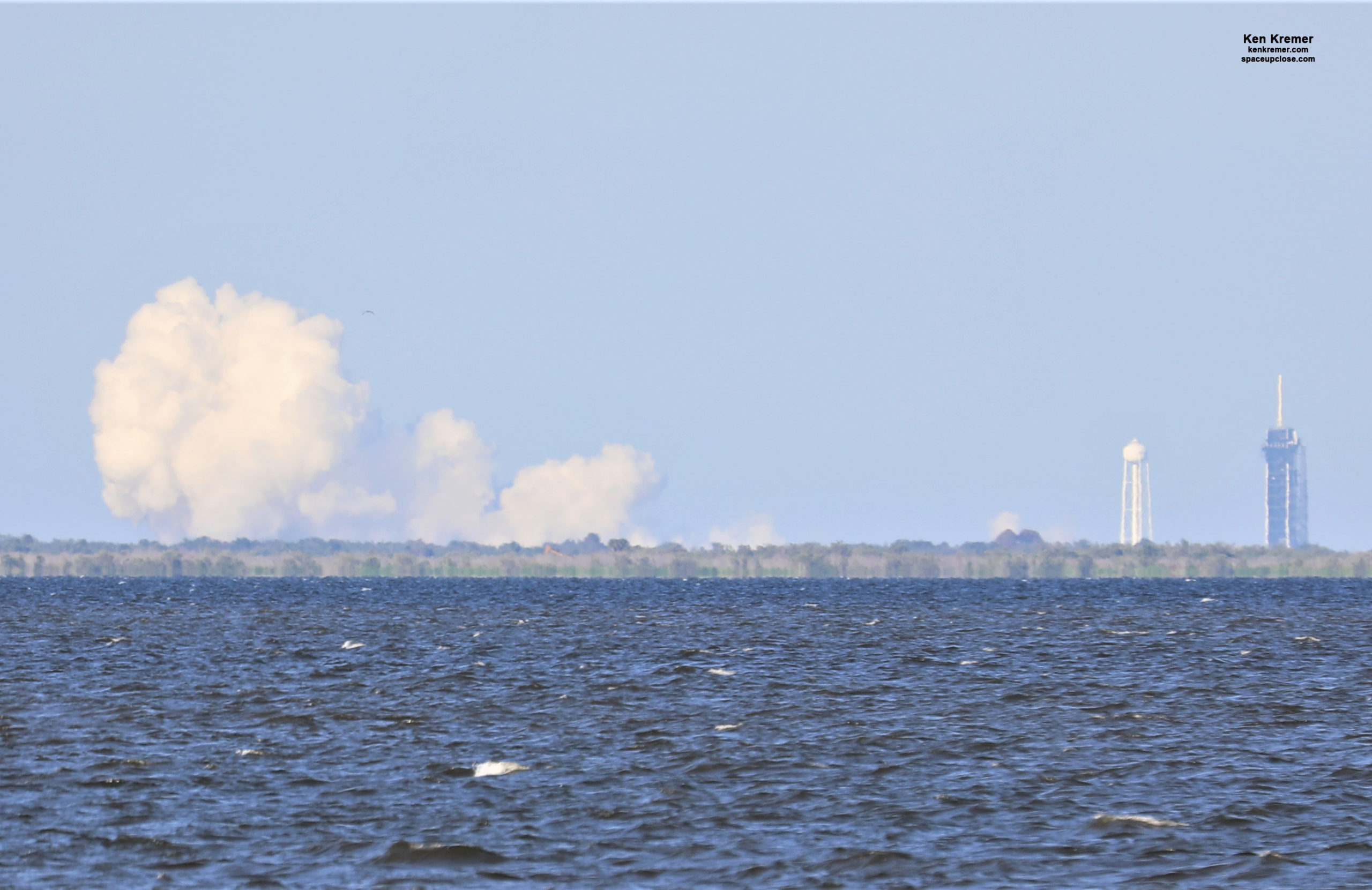 For SpaceUpClose.com & RocketSTEM
TITUSVILLE, FL – SpaceX is now set to launch the 3rd batch of satellites for their Starlink broadband internet constellation this month on Friday June 26 after engineers carried out a brief static hot fire test of the recycled Falcon 9 first stage engines yesterday, Wednesday, June 24 – and the weather looks promising.
However the SpaceX team did not confirm a successful outcome of the test fire until this morning Thursday, June 25 – in an utterly rare delay over 15 hours later – which also thereby forced another 1 day delay liftoff.
Targeting tomorrow, June 26 at 4:18 p.m. EDT for launch of 57 Starlink satellites and 2 spacecraft from @SpaceflightInc's customer BlackSky

— SpaceX (@SpaceX) June 25, 2020
Liftoff of the tenth batch of Starlink broadband internet satellites on a SpaceX Falcon 9 two stage rocket is now rescheduled to 4:18 p.m. EDT (2018 GMT) Friday, June 26 from seaside Launch Complex-39A (LC-39A) on NASA's Kennedy Space Center, FL.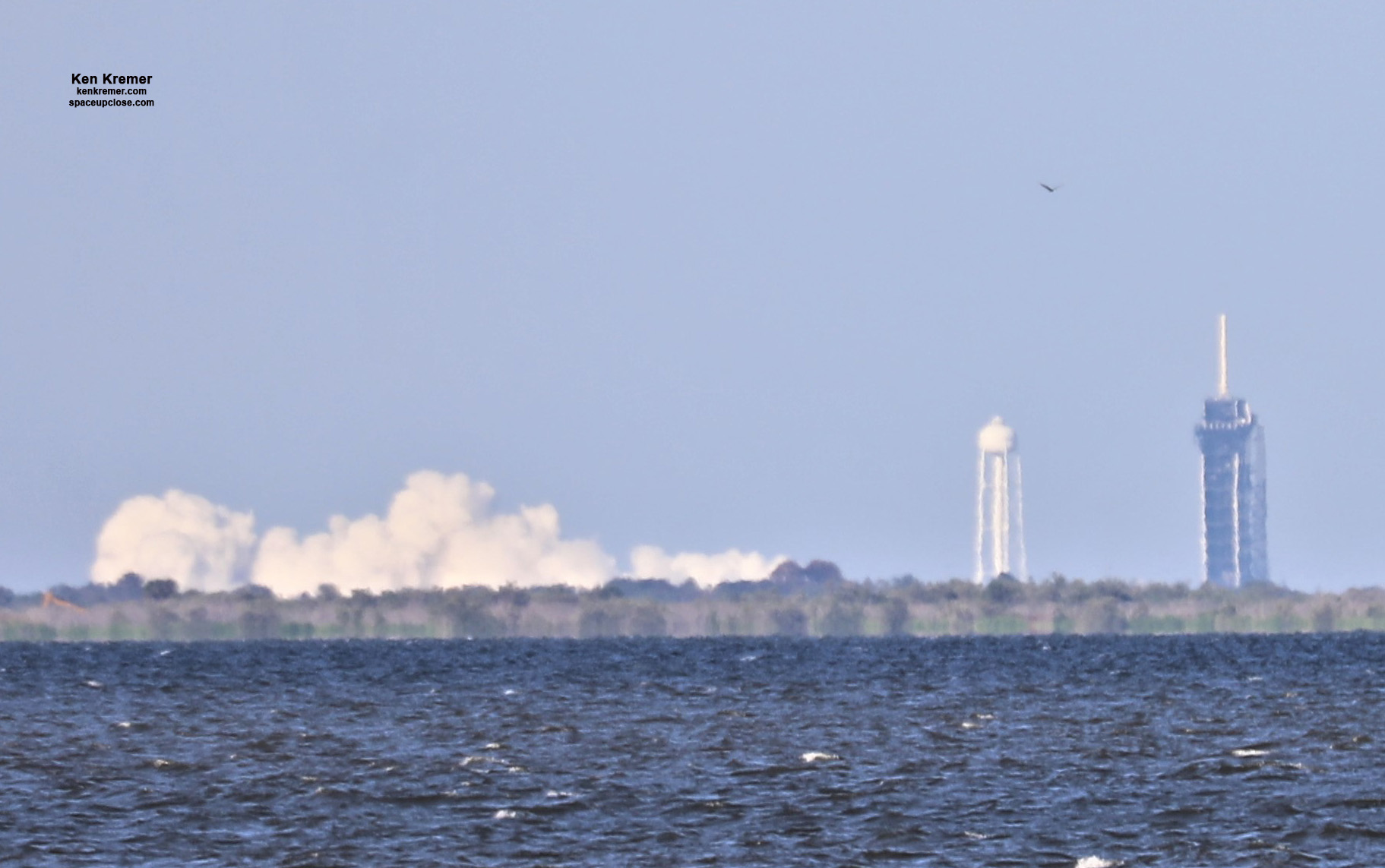 The payload is comprised of the tenth batch of Starlink satellites.
The mission designated Starlink 9 is comprised of 57 Starlink satellites as well as a pair of Earth observation satellites for BlackSky Global for what counts as SpaceX's second rideshare mission in 2 weeks.
The brief hold down static fire test of the recycled Falcon 9 rocket booster B1051.5 with the nose cone and Starlink payload attached was carried out precisely at 6:30 p.m. Wednesday, June 24 at Launch Complex-39A on NASA's Kennedy Space Center.
From a distance the test appeared normal but we always await SpaceX confirmation of a good result.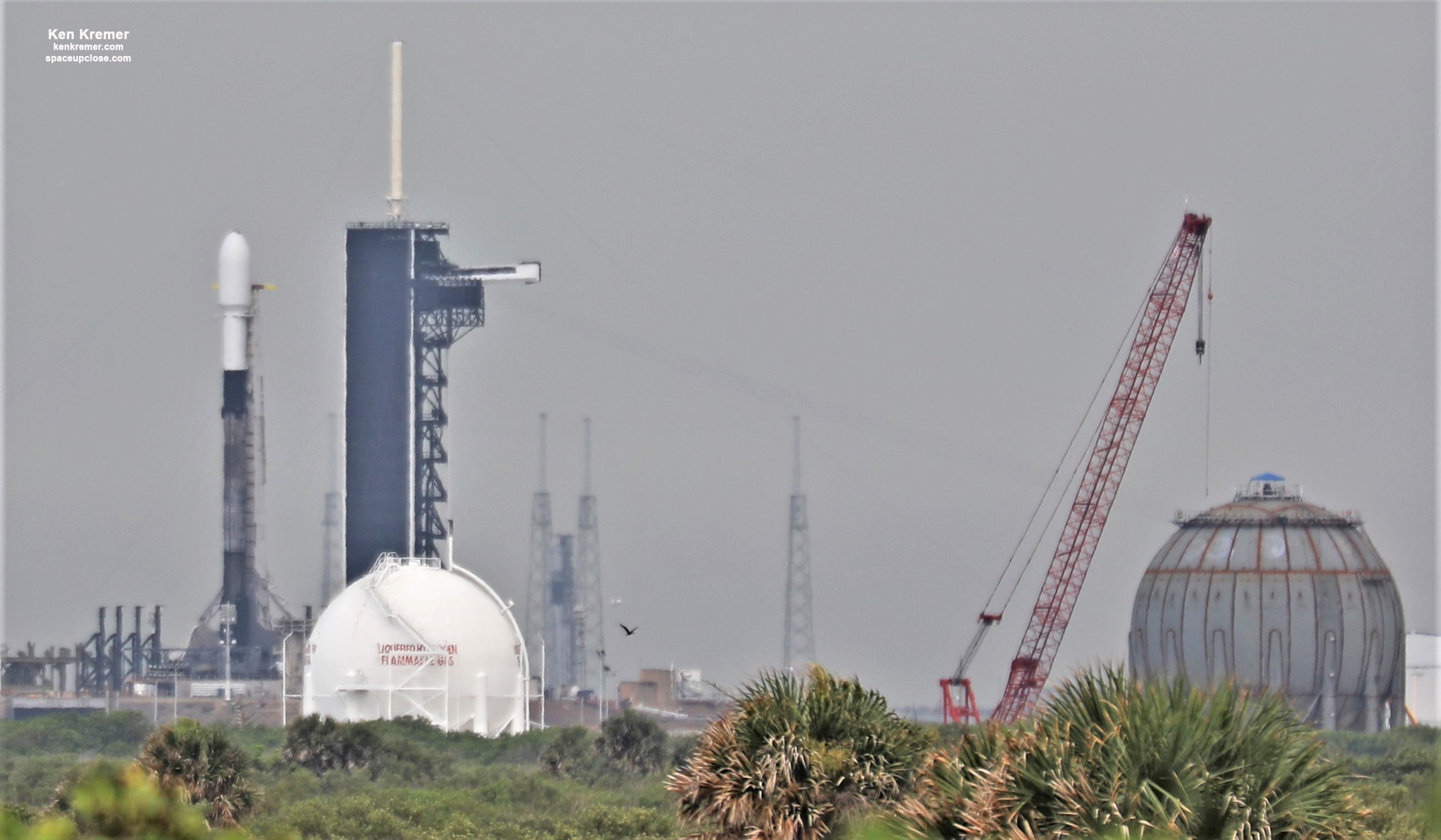 I watched the breakfast time engine test Wednesday from nearby in Titusville, Fl about a dozen miles away across the Indian River lagoon and observed the exhaust plume and vapor cloud emanating from the bottom of the booster.
Enjoy my eyewitness photos of the static fire test at Space UpClose under beautiful weather conditions with minimal haze.
The exhaust was easily visible and wafting overhead and dissipating quickly in the winds about 12 miles away.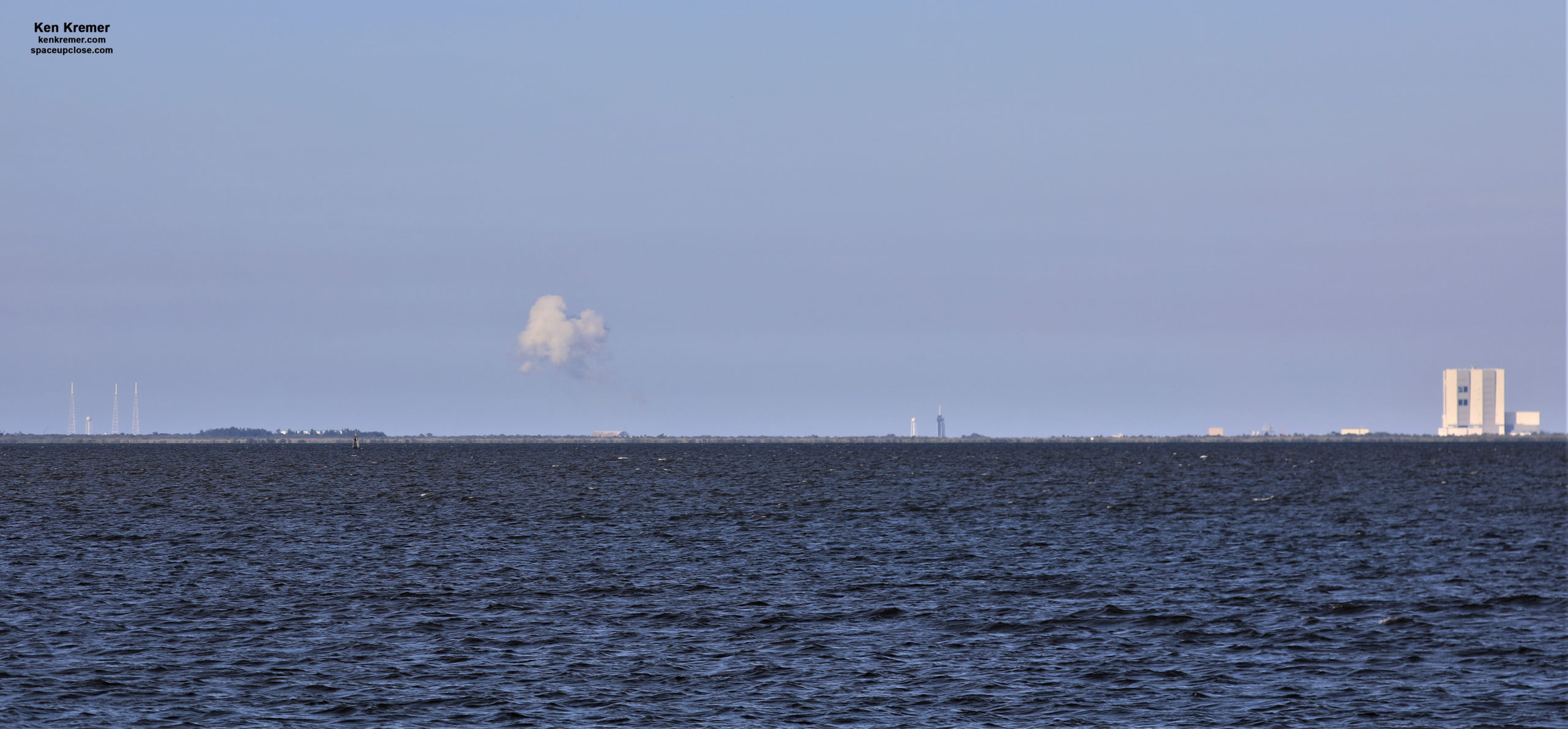 Normally SpaceX announces a confirmation by tweet of a good hot fire test result and launch target date with 30 to 60 minutes or sometimes 2 hours of the test.
No reason for the delayed test notification was given by SpaceX.
The brief hold down hotfire test of the fully integrated SpaceX Falcon 9 first stage rocket and Merlin 1D engines is run after the rocket is raised vertical and is routinely done to confirm the readiness of the rocket for launch.
All 9 Merlin 1D first stage engines are ignited to generate approx. 1.7 million pounds of thrust for about 3 seconds or so.
During the hold down static fire test, the rocket's first and second stages are fueled with liquid oxygen and RP-1 propellants just like an actual launch, and a simulated countdown was carried out to the point of a brief engine ignition lasting around 3 seconds or so.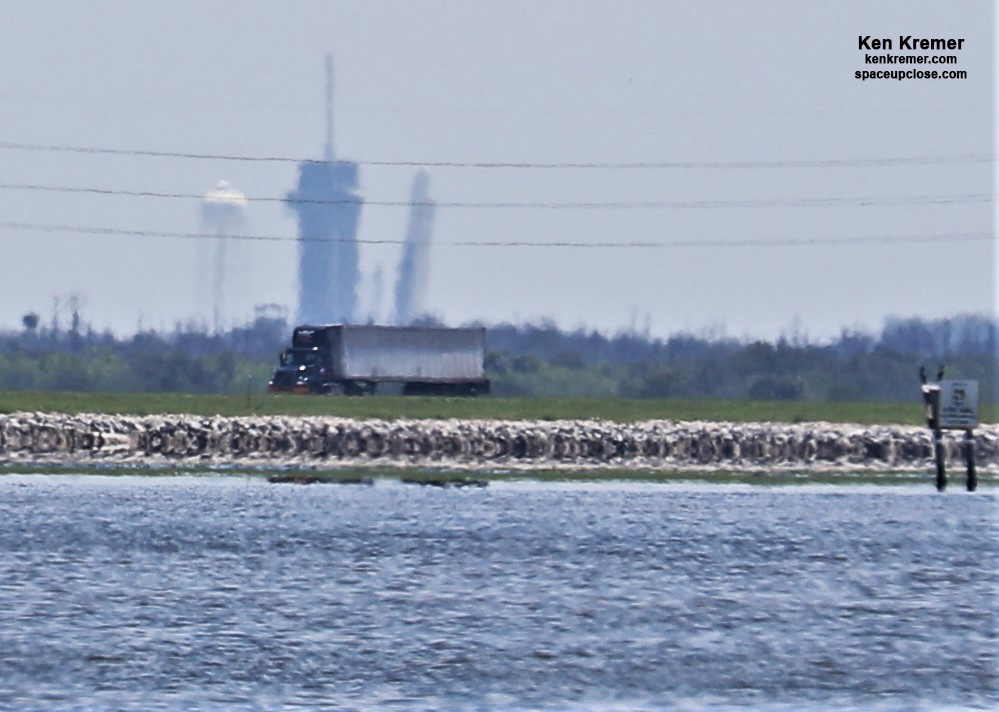 The weather outlook currently shows a 70% chance of acceptable conditions at launch time.
The primary concerns are the Cumulus Cloud Rule and the Anvil Cloud rule.
In case of a delay another launch opportunity is available on June 27 with the same weather forecast.
If all goes well the Starlink constellation will increase to about 600 satellites total.
Prelaunch preparations for the next SpaceX Starlink mission began last week marked by the departure of the "Of Course I Still Love You" (OCISLY) droneship under spectacular twilight sunset skies Friday, June 19.
OCISLY was towed away from her berthing spot at North Cargo Pier 6 by tug Finn Falgout at approximately 7:15 p.m. Friday evening as I watched from across the south pier.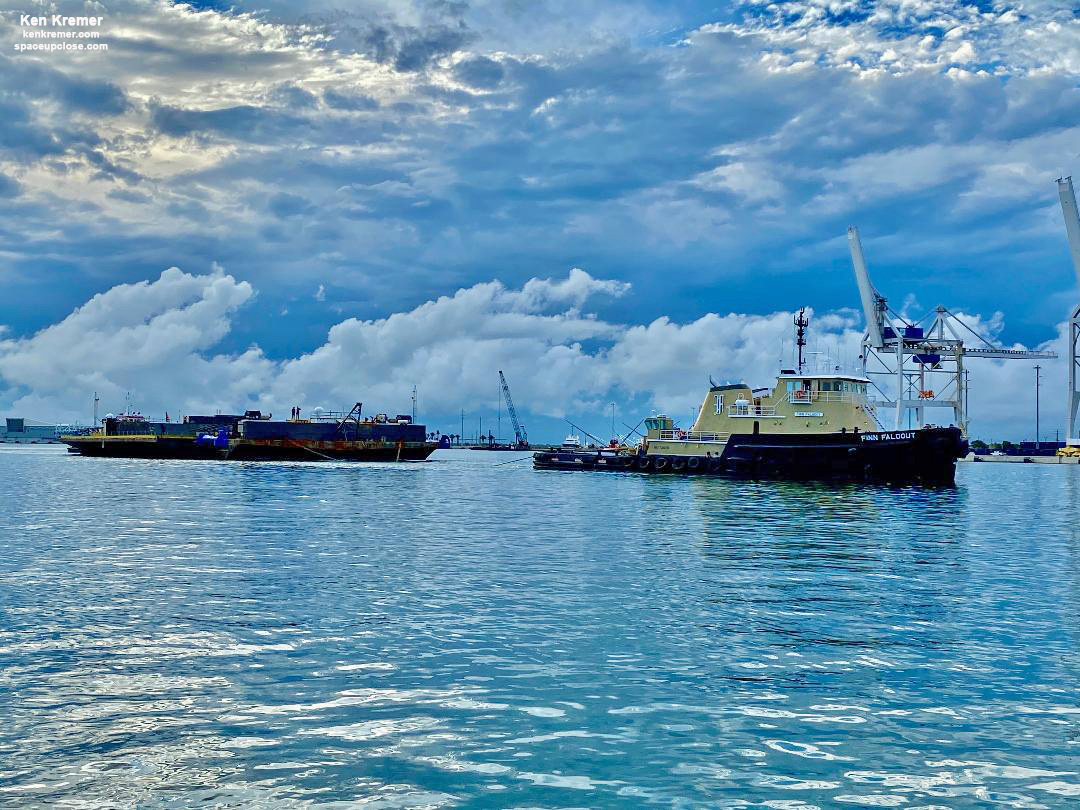 Enjoy our Space UpClose eyewitness photos of the OCISLY droneship departure taken Friday evening at Port Canaveral.
SpaceX also dispatched their two special fairing boats GO MS TREE and GO MS CHIEF to retrieve the payload fairing halves.
Normally they feature giant nets akin to a catchers mitt and deploy them downrange to catch the two payload fairing halves. They departed minus the ships rigged with the nets – indicating the crew may only attempt to scoop the fairing out of the Atlantic Ocean post splashdown.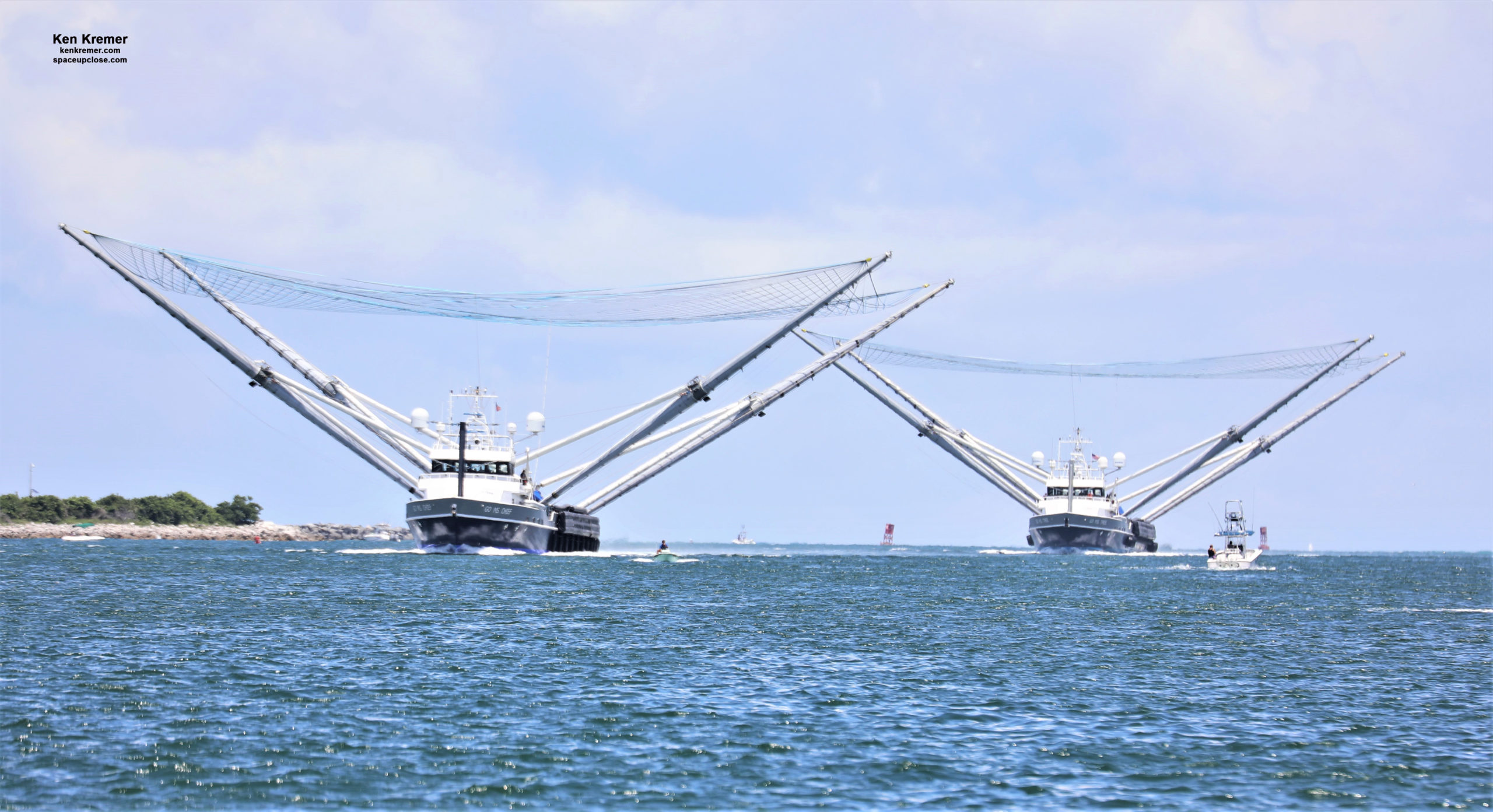 The two stage Falcon 9 rocket stands 229 feet (70 meters) tall.
SpaceX CEO Elon Musk has made rocket recycling a top priority in order to slash launch costs.
Musk says that the fairings cost approximately $6 million or roughly 10% of the approximate cost of $60 million for a new Falcon 9 rocket.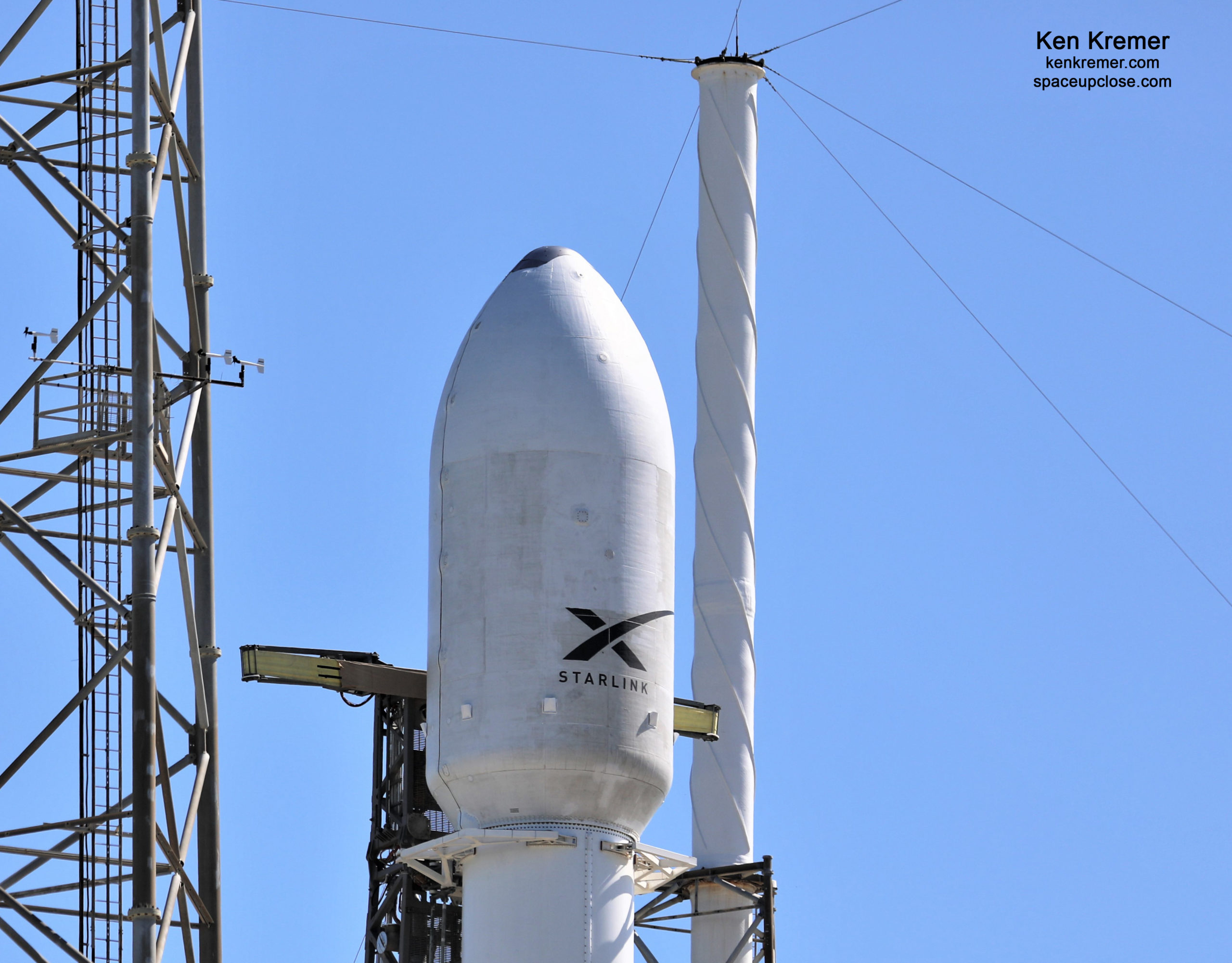 Watch my commentary about the SpaceX Starlink launch at WFTV ABC 9 Orlando TV News on Jun 25
https://www.wftv.com/news/local/brevard-county/spacex-launch-another-round-starlink-satellites-friday/4WKS5J4QDBA7TJ2E4SPI5UJQRI/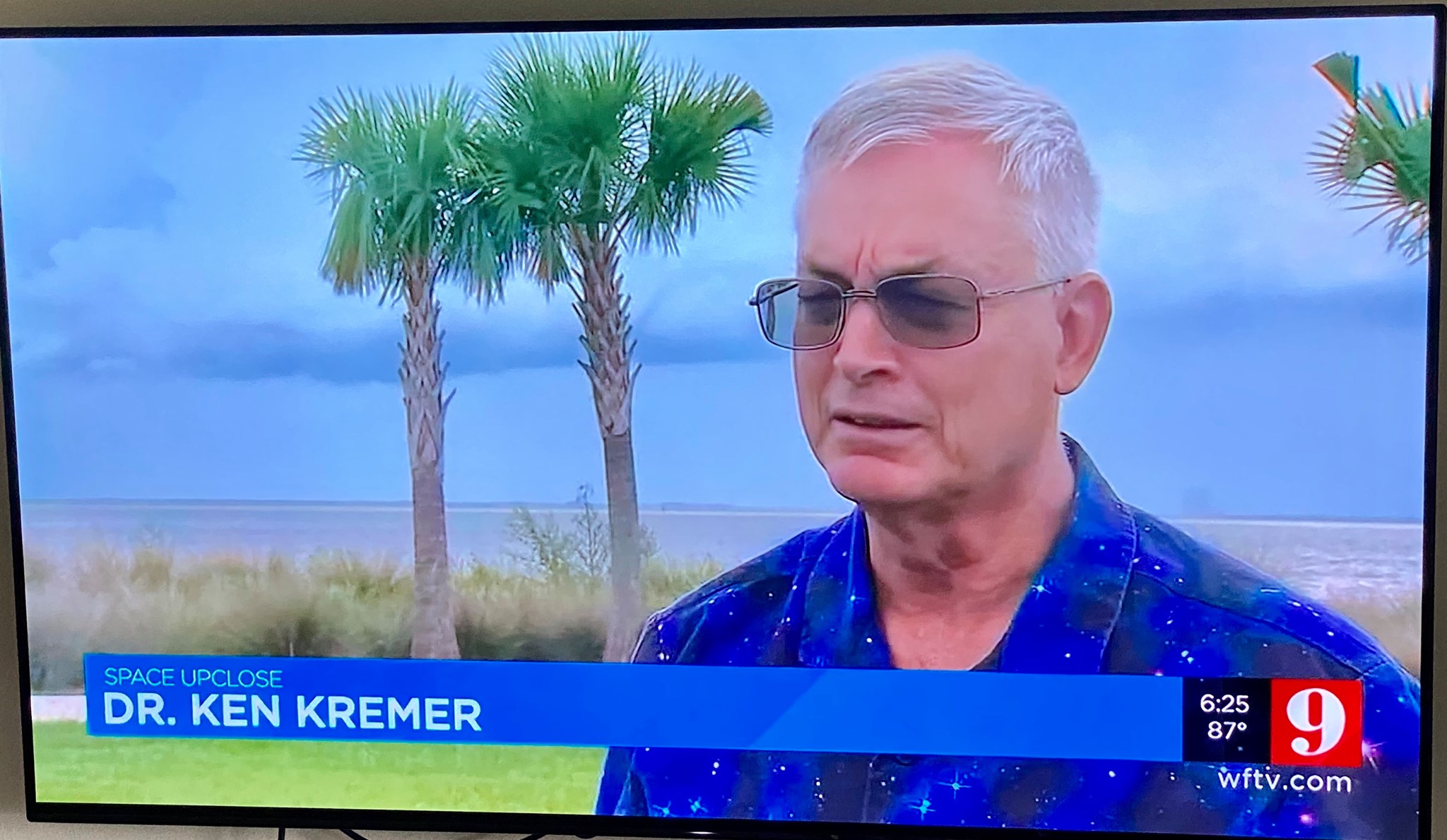 Watch my live Starlink launch and post ULA Atlas V WDR interview about Mars 2020 rover and more at the American Space Museum 'Stay Curious' daily weekday show on June 22, 2020
Watch Ken's continuing reports about Commercial Crew and Artemis and onsite for live reporting of upcoming and recent SpaceX and ULA launches including Demo-2, Starlink, X-37B, Solar Orbiter, Mars 2020 and more at the Kennedy Space Center and Cape Canaveral Space Force Station.
Stay tuned here for Ken's continuing Earth and Planetary science and human spaceflight news: www.kenkremer.com –www.spaceupclose.com – twitter @ken_kremer – email: ken at kenkremer.com
Dr. Kremer is a research scientist and journalist based in the KSC area, active in outreach and interviewed regularly on TV and radio about space topics.
………….
Ken's photos are for sale and he is available for lectures and outreach events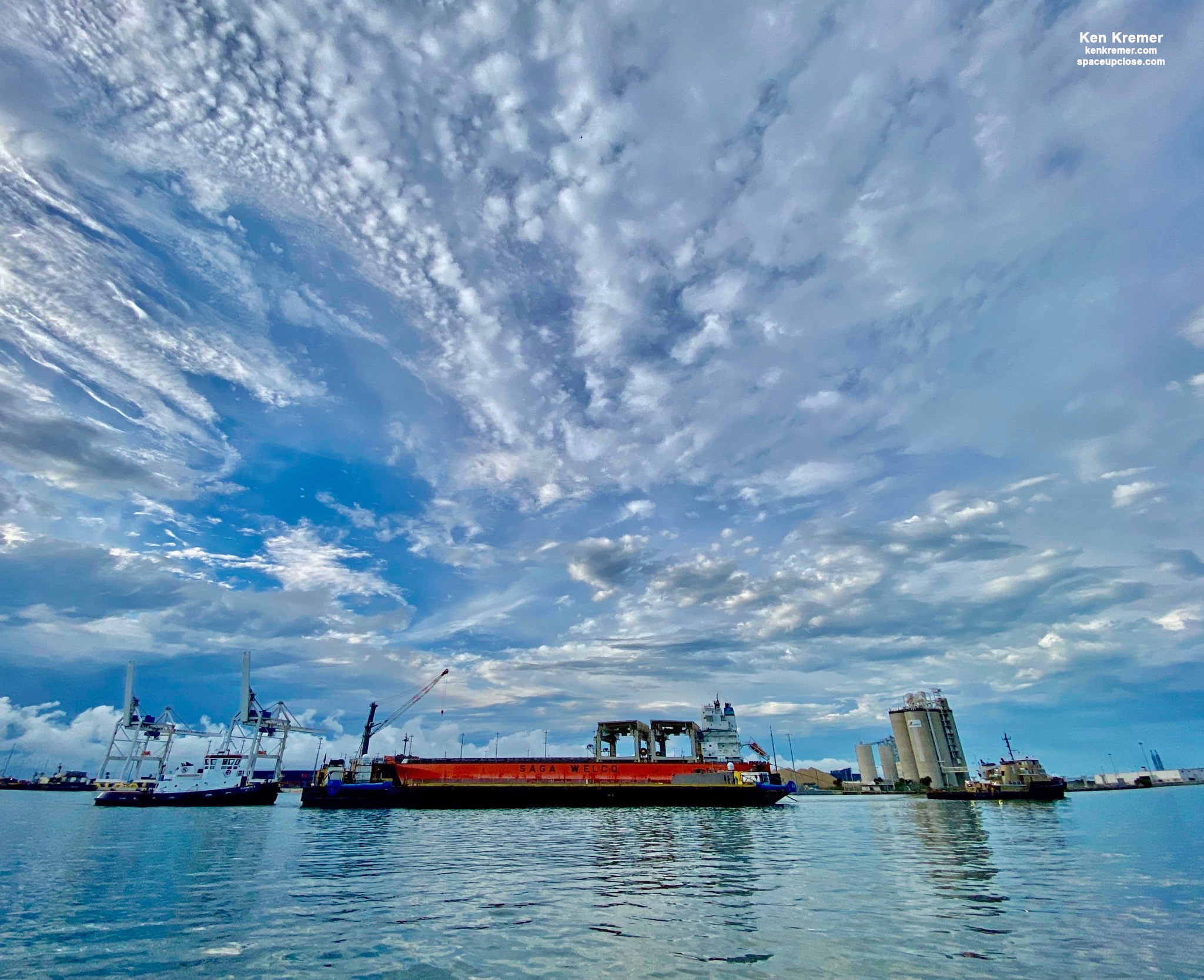 x