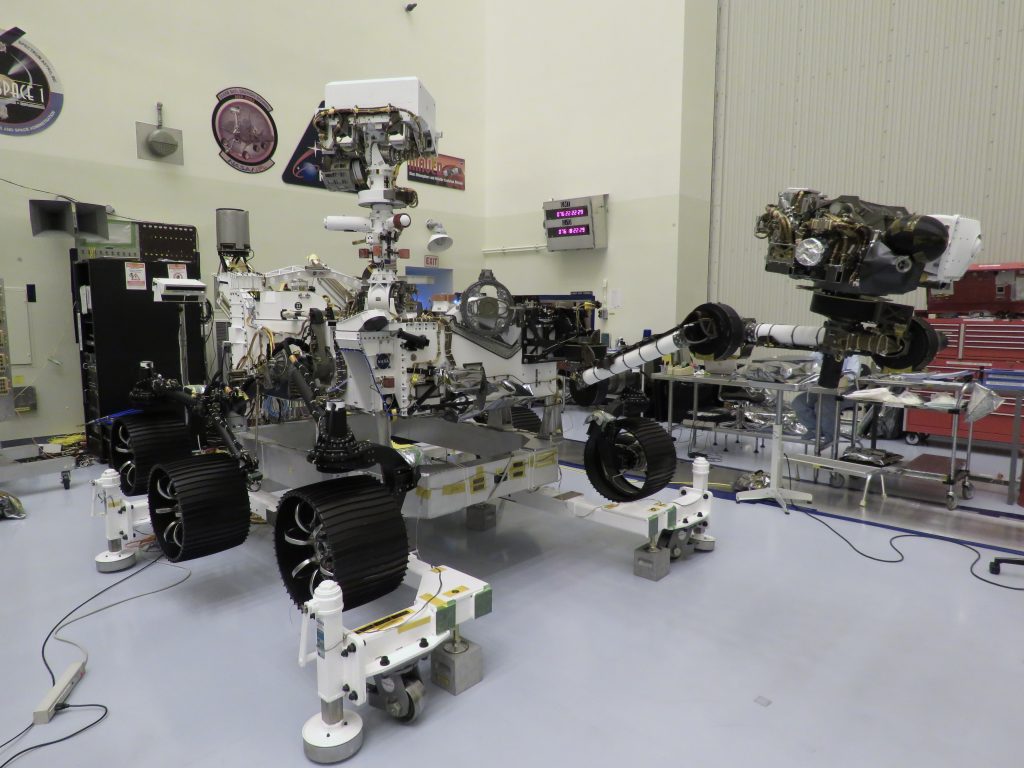 For SpaceUpClose.com & RocketSTEM
CAPE CANAVERAL, FL – NASA's flagship $2.4 Billion Mars 2020 Perseverance rover mission has suffered another significant delay to her launch from the Florida Space Coast to the Red Planet – dedicated to the search for signs of life beyond Earth.
The delay is a big deal because NASA only has a narrow three and a half week long window until mid-August to launch Perseverance and this wipes out half of the launch window – otherwise she will be stuck on the ground and have to wait over 2 years until the orbits of our Home Planet and the Red Planet align properly to enable blastoff.
And such a postponement will cost significant money – $0.5 Billion  – and negatively impact funding for follow on missions to Mars aimed at achieving the 'holy grail' goal of retrieving and returning Martian soil and rock samples for return to Earth and high powered science analysis.
The new delay amounts to a minimum of one week long to No Earlier Than (NET) July 30 arising from issues with the United Launch Alliance (ULA) Atlas V carrier rocket comes on the heels of the prior delay to July 22 due to contamination concerns as the final encapsulation process was underway at NASA's Kennedy Space Center on Florida's Space Coast.
"Due to launch vehicle processing delays in preparation for spacecraft mate operations, NASA and United Launch Alliance have moved the first launch attempt of the Mars 2020 mission to no earlier than July 30," NASA announced in a June 30 statement.
Thus Perseverance has now lost fully half of the narrow original three week long launch window.
Engineers working diligently to find ways to add a few more days of margin have just been able to add another 4 days to the window of opportunity and extended the window closing from the date of August 11 to August 15.
Due to processing delays in preparations to unite me with the rocket, my first launch attempt will be no earlier than July 30. @NASA and @ulalaunch are working to update the target launch date and have been able to expand the launch period until Aug. 15. https://t.co/cwfwy5cTY0 pic.twitter.com/XICMjwtx7h

— NASA's Perseverance Mars Rover (@NASAPersevere) June 30, 2020
The team has also determined that the problem with the rocket was traced to a liquid oxygen (LOX) sensor used during the Wet Dress Rehearsal (WDR) practice countdown test on June 22 with the ULA Atlas V carrier rocket at Space Launch Complex-41 on Cape Canaveral Air Force Station.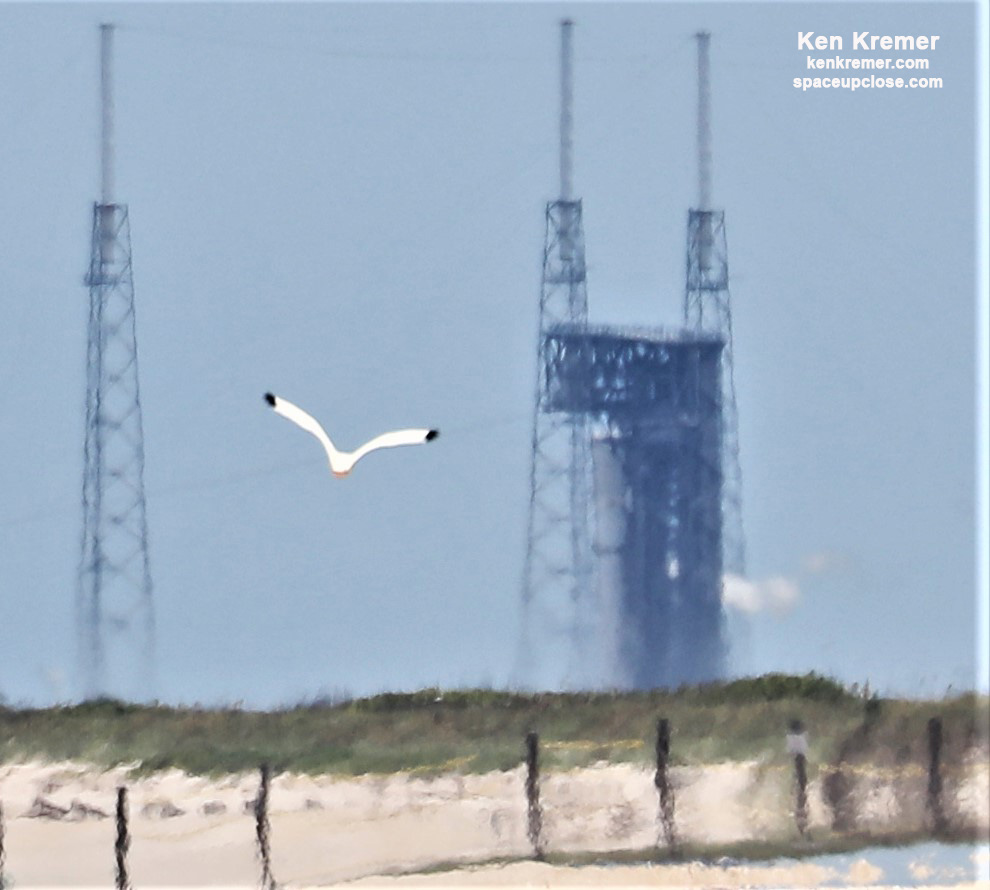 "A liquid oxygen sensor line presented off-nominal data during the Wet Dress Rehearsal, and additional time is needed for the team to inspect and evaluate. Flight analysis teams have expanded the mission launch opportunities to August 15 and are examining if the launch period may be extended further into August.
Enjoy our eyewitness photos of the WDR test and read our story for complete details.
I observed vigorous venting of the second stage liquid oxygen or LOX during the fuel loading leading up to the WDR conclusion and after it was completed.
Boosters, birds and beachcombers with 2nd stage LOX venting at Playalinda Beach this afternoon as #ULA conducts Wet Dress Rehearsel #WDR on #AtlasV rocket for @NASAPersevere Mars Rover. Launch target July 20 #Pad41 pic.twitter.com/ZVDbjhaNCN

— Ken Kremer (@ken_kremer) June 22, 2020
The WDR is a practice countdown demonstration to fuel and test all systems of the ULA Atlas V rocket to ensure the rockets readiness for launch during the upcoming launch window when spacecraft can launch to the Red Planet from Earth.
Such opportunities are dictated purely by celestial mechanics and only occur every 26 months when the Earth and Mars are properly aligned.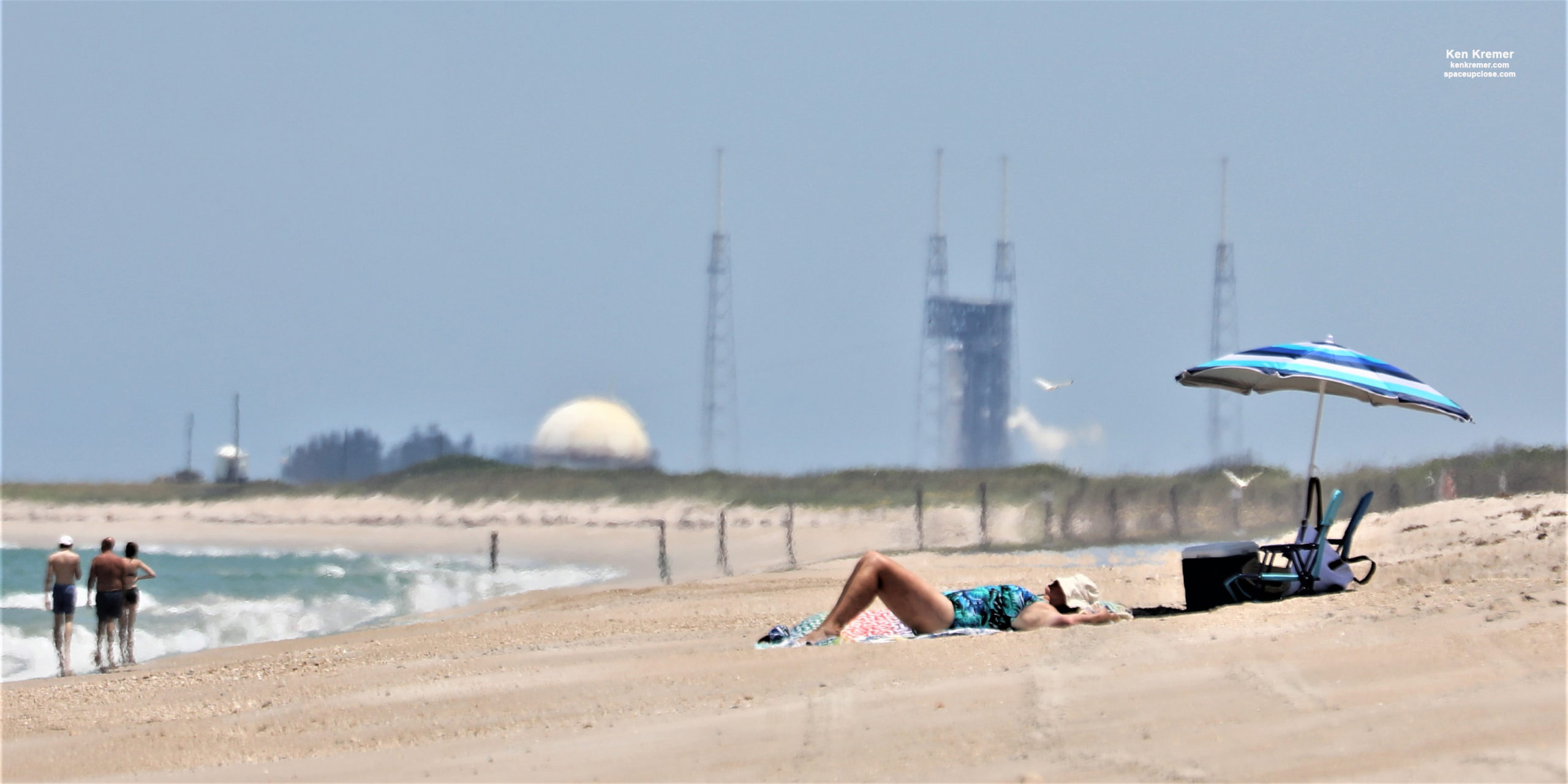 Following the WDR the Atlas V was rolled back to the Vertical Integration Facility (VIF) at SLC-41 for evaluation of the LOX sensor and continuing operations to ready the rocket for flight.
After a fix is identified, implemented and verified the now encapsulated rover inside the nose cone will be hoisted and bolted on top.
The launch of the Mars 2020 mission on an Atlas V rocket from seaside Space Launch Complex-41 on Cape Canaveral Space Force Station is scheduled for 7:50 a.m. EDT (1150 GMT) July 30 with a two-hour window.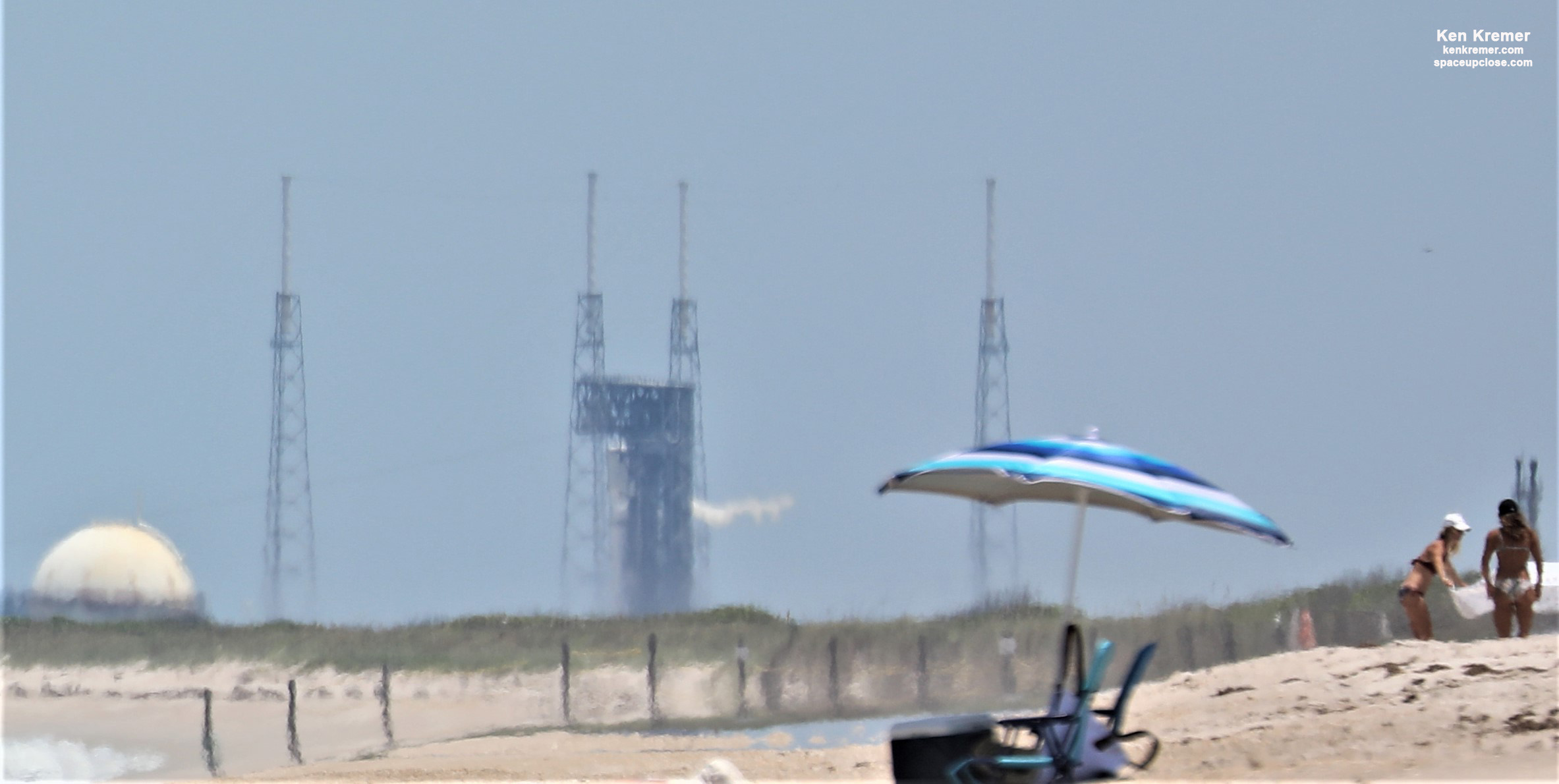 NASA and ULA have only a three-week-long window to launch the Mars 2020 Perseverance rover that extends until August 11.
The rover then begins a seven-month-long interplanetary journey to the Red Planet where it will search for signs of life.
Inside the PHFS the Backshell-Powered Descent Vehicle and Entry Vehicle assemblies are now attached to Perseverance, says NASA.
"The cone-shaped backshell contains the parachute, and along with the mission's heat shield, will provide protection for the rover and descent stage during entry into the Martian atmosphere."
Perseverance is a robotic scientist weighing about 2,260 pounds (1,025 kilograms).
The rover is equipped with seven different scientific instruments and 25 cameras.
Scheduled to launch in July 2020, the Perseverance Mars 2020 mission will search for signs of past microbial life, characterize Mars' climate and geology, collect samples for future return to Earth, and pave the way for human exploration of the Red Planet.
The car-sized Perseverance Mars 2020 rover is targeted for liftoff on NET 30 July 2020 aboard a United Launch Alliance (ULA) Atlas V 541 rocket from Space Launch Complex 41 on Cape Canaveral Air Force Station.
She is scheduled to touch down in an area of Mars known as Jezero Crater on Feb. 18, 2021. The crater is home to an ancient dried-up river delta.
The 1 ton rover is nearly a copy of the NASA's Curiosity Mars Science Lab rover still operating on Mars – but with a completely new suite of science instruments and cameras as well as the 1st Mars Helicopter.
Watch my commentary about the impact of the latest launch delay at Fox 35 TV News Orlando on July 3:
https://www.fox35orlando.com/video/736211
Watch my live post ULA Atlas V WDR interview about Mars 2020 rover and more at the American Space Museum 'Stay Curious' daily weekday show on June 22, 2020
Watch Ken's continuing reports about Mars 2020, Commercial Crew and Artemis for live reporting of upcoming and recent NASA, ULA and SpaceX launches including Demo-2, Starlink, X-37B, Solar Orbiter and more at the Kennedy Space Center and Cape Canaveral Space Force Station.
Watch my July 2 interview on Pressing For Flight about Mars 2020, COVID-19, Artemis, SpaceX GPS/.Starlink and More:
Stay tuned here for Ken's continuing Earth and Planetary science and human spaceflight news: www.kenkremer.com –www.spaceupclose.com – twitter @ken_kremer – email: ken at kenkremer.com
Dr. Kremer is a research scientist and journalist based in the KSC area, active in outreach and interviewed regularly on TV and radio about space topics.
………….
Ken's photos are for sale and he is available for lectures and outreach events
Ken has created hundreds of widely published Mars rover mosaics and lectures also about NASA's Mars rovers
Ken's upcoming outreach events:
Jul 7, 7 PM: Quality Inn Kennedy Space Center, Titusville, FL. "SpaceX GPS, Starlink and Demo-2 and NASA/ ULA Atlas V Mars 2020 rover and more launches." Free. In hotel lobby. Photos for sale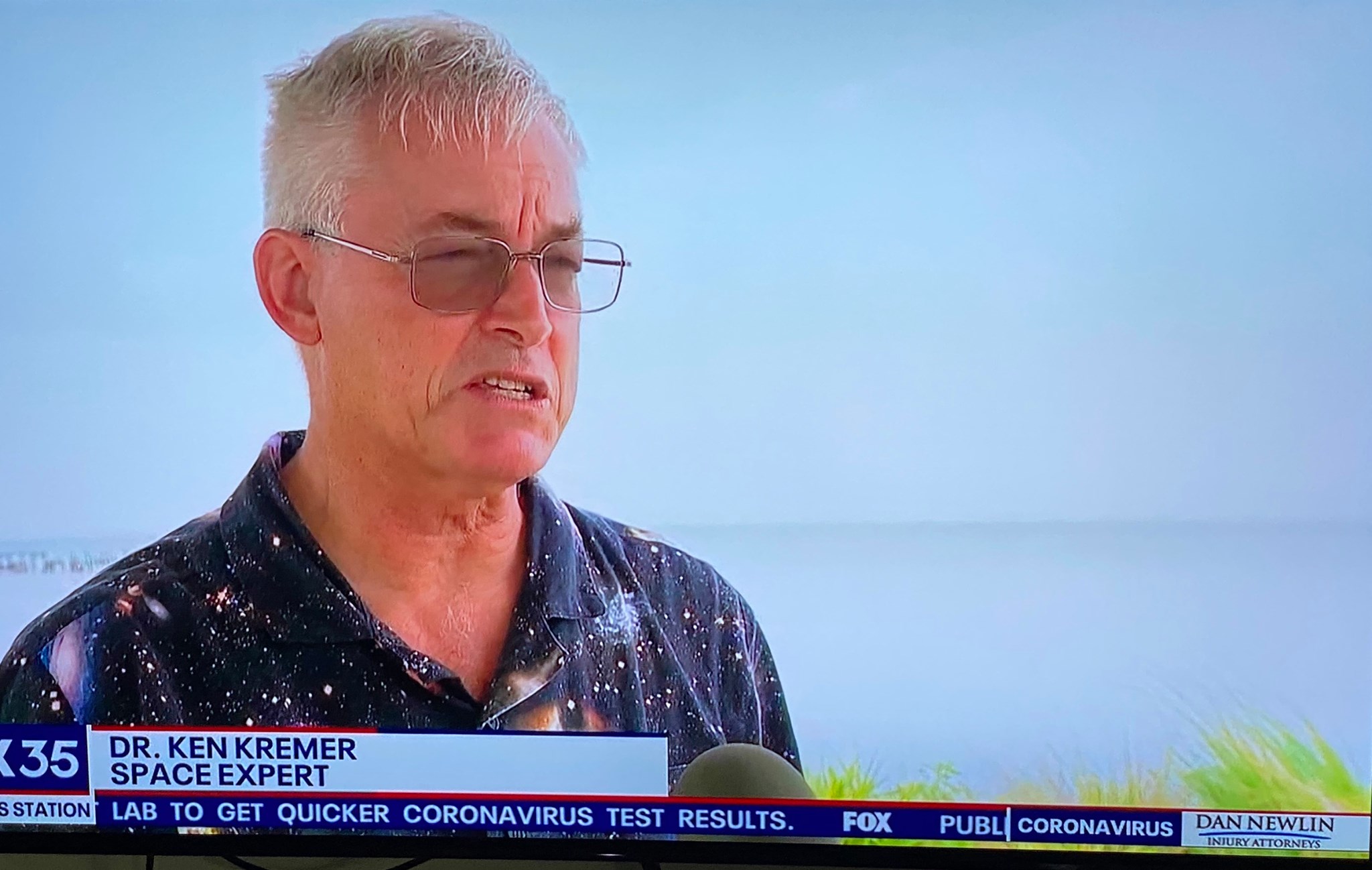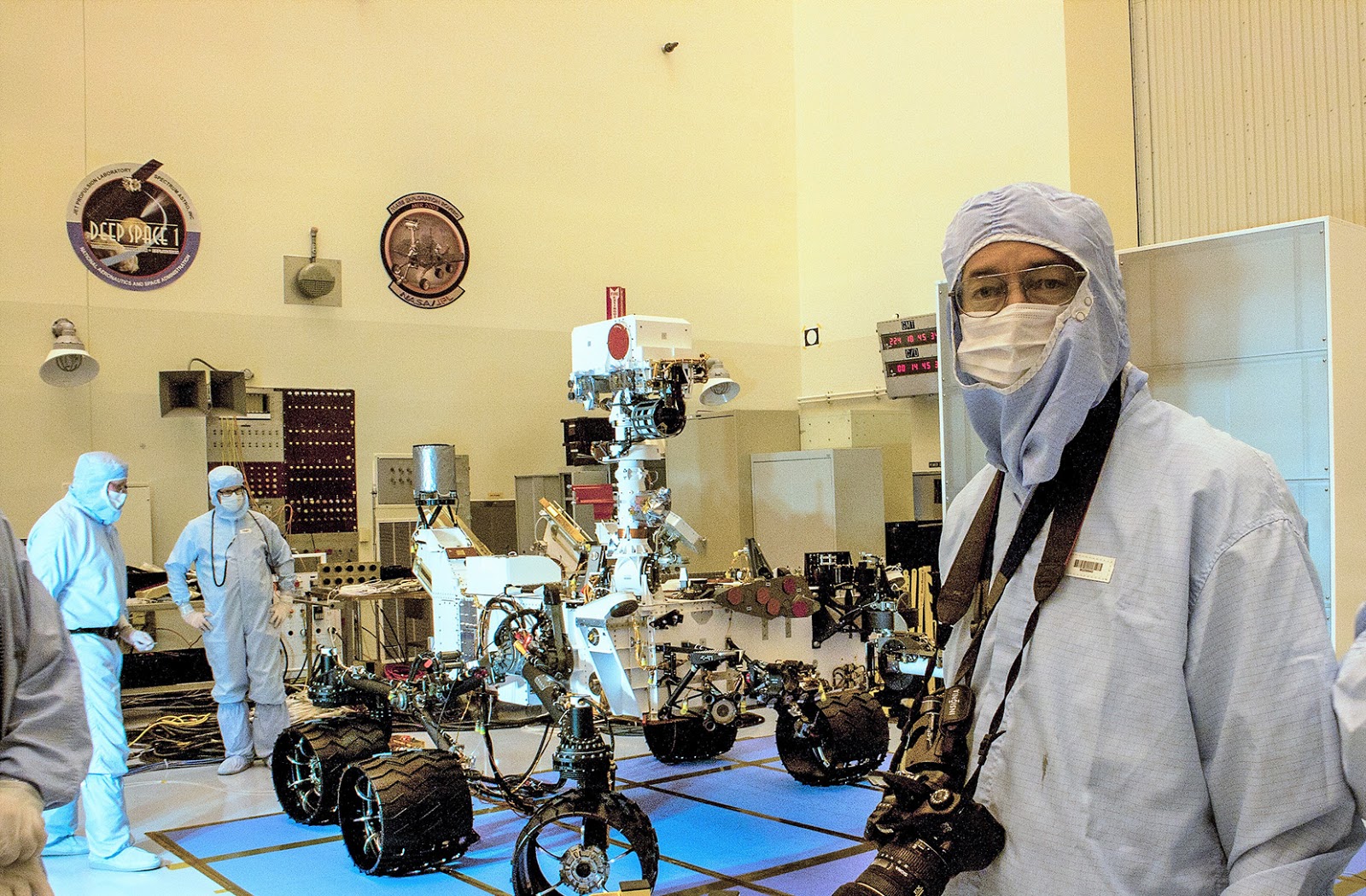 ….