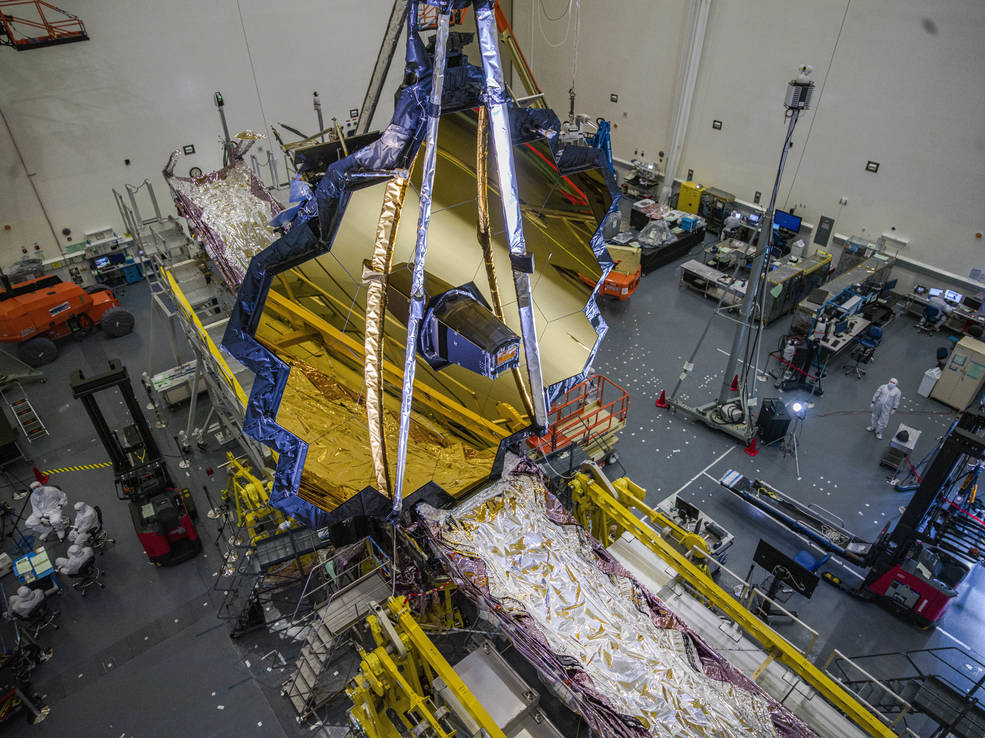 For SpaceUpClose.com & RocketSTEM
CAPE CANAVERAL, FL – NASA has once again delayed the launch of the  mammoth James  Webb Space Telescope (JWST) by seven months and is now targeting liftoff for Oct. 31, 2021, from French Guiana, due to impacts from the ongoing coronavirus (COVID-19) pandemic, as well as technical challenges.
The latest Webb launch postponement from March 30 to October 31, 2021 was announced by NASA managers during a media briefing with reporters this week on July 16 after the agency "recently  completed schedule risk assessment of the remaining integration and test activities prior to launch."
"#NASA now is targeting Oct. 31, 2021, for the launch of the agency's James Webb Space Telescope from French Guiana, due to impacts from the ongoing coronavirus (COVID-19) pandemic, as well as technical challenges," NASA tweeted during the briefing.
#NASA now is targeting Oct. 31, 2021, for the launch of the agency's James Webb Space Telescope from French Guiana, due to impacts from the ongoing coronavirus (COVID-19) pandemic, as well as technical challenges. Read more: https://t.co/uw55FazSzH #NASAWebb #JWST pic.twitter.com/v5gXa71Es2

— NASA Webb Telescope (@NASAWebb) July 16, 2020
Despite the seven-month launch delay NASA says the agency can still remain within the observatory's development budget  cost cap of $8.8 Billion and not require another budget boost from Congress – although it will consume some margin within NASA's discretionary funding
"Based on current projections, the program expects to complete the remaining work within the new schedule without requiring additional funds," said Gregory Robinson, NASA Webb program director at the agency's headquarters, at the briefing.
"Although efficiency has been affected and there are challenges ahead, we have retired significant risk through the achievements and good schedule performance over the past year. After resuming full operations to prepare for upcoming final observatory system-level environmental testing this summer, major progress continues towards preparing this highly complex observatory for launch."
Impacts from the COVID-19 pandemics forced a halt to virtually all work in March 2020  and then further slowdowns when work resumed at a slower pace.
"The perseverance and innovation of the entire Webb Telescope team has enabled us to work through challenging situations we could not have foreseen on our path to launch this unprecedented mission," said Thomas Zurbuchen, associate administrator for NASA's Science Mission Directorate at the agency's headquarters in Washington.
"Webb is the world's most complex space observatory, and our top science priority, and we've worked hard to keep progress moving during the pandemic. The team continues to be focused on reaching milestones and arriving at the technical solutions that will see us through to this new launch date next year."
#NASAWebb has a new launch date of Oct 31, 2021. More #ICYMI: https://t.co/EJghEPDfar

Program Scientist Eric Smith during yesterday's announcement: Webb's powerful science capabilities will allow us to see with completely new eyes and learn things we cannot anticipate today. pic.twitter.com/iBumIngMCx

— NASA Webb Telescope (@NASAWebb) July 17, 2020
Just before the full impact of the COVID-19 pandemic hit, the team building NASA's mammoth James  Webb Space Telescope (JWST) accomplished a major milestone – namely fully deployed its 21 foot (6.5 meter) primary mirror into the same configuration it will have when it is carrying out astronomical observations in space.
The critical test was carried out in March 2020 by engineers and technicians working  in a humongous cleanroom at Northrop Grumman Space Systems in Redondo Beach, California where the Webb telescope is undergoing final checkouts and testing prior to its hoped for liftoff from the European spaceport in French Guiana, South America now delayed to late 2021.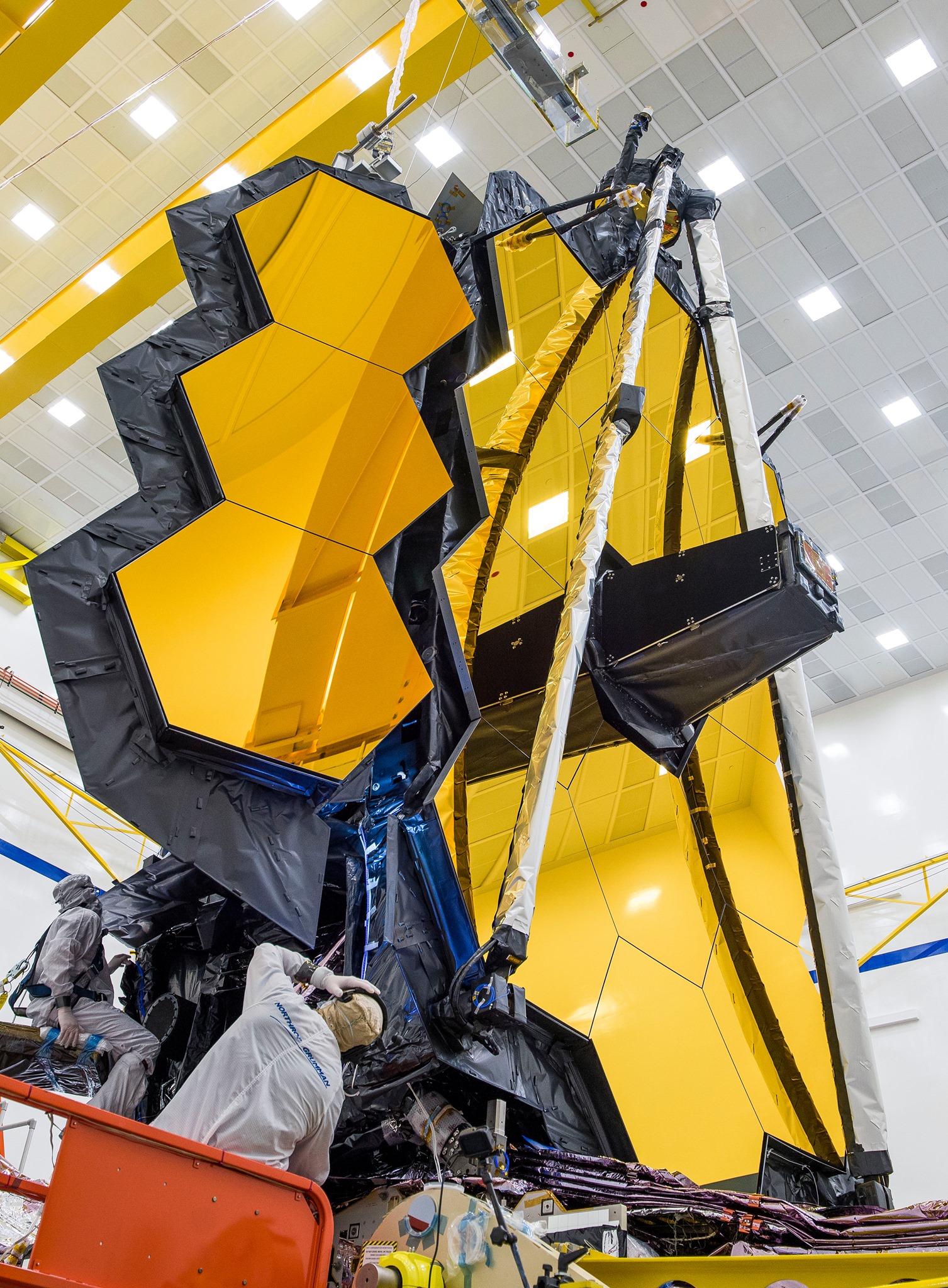 Much test work has been completed but must test work also remains before the observatory can be shipped French Guiana.
"This week, the project successfully completed electrical testing of the observatory. The test highlighted a major milestone in preparation for the upcoming acoustics and vibration environmental tests of the full observatory that are scheduled to start in August. In addition to ongoing deployments, ground system testing of the fully integrated observatory has followed immediately afterwards. Ensuring that every element of Webb functions properly before it gets to space is critical to its success."
When will JWST ship to French Guiana I asked at the media briefing and will COVID stretch out the processing?
"Webb will ship 13 months from today," Robinson told Space UpClose.
He added that he did see much impact to the French Guiana processing but there is some margin built in.
Watch this video for an overview of the JWST mission, its goals, and its challenges.
Video Caption: An Introduction to the James Webb Space Telescope Mission: The James Webb Space Telescope is your eye-piece to the uncharted, unknown, and unimagined. This video is an overview of the mission, its goals, and its challenges.   Credits: NASA's Goddard Space Flight Center.
I observed JWST many times while under construction at NASA Goddard Spaceflight Center in Greenbelt, MD.
This photo shows the science instrument/mirror module in the Goddard cleanroom after installation of the 18 primary mirrors was completed.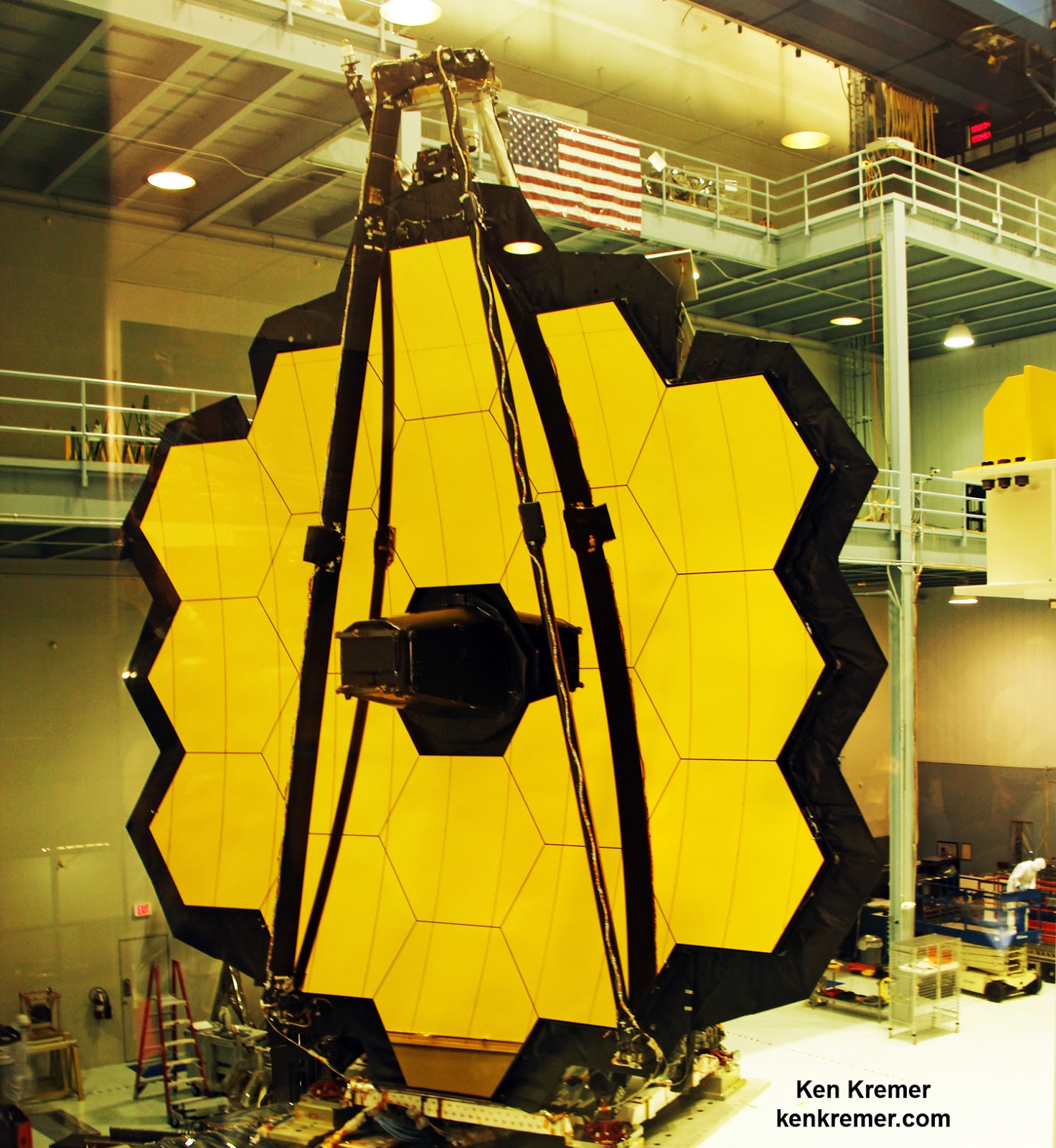 The Webb Telescope is a joint international collaborative project between NASA, the European Space Agency (ESA) and the Canadian Space Agency  (CSA).
Webb is designed to look at the first light of the Universe and will be able to peer back in time to when the first stars and first galaxies were forming.  It will also study the history of our universe and the formation of our solar system as well as other solar systems and exoplanets, some of which may be capable of supporting life on planets similar to Earth.
California is Webb's last assembly and testing spot before the completed telescope is shipped to its launch site in Kourou, French Guiana.
JWST is the largest, most powerful and most complex space telescope ever built. It will serve as the scientific successor to NASA's world famous and phenomenally successful Hubble Space Telescope (HST).
It will be launched on an Ariane 5 rocket, folded up like origami inside the nose  cone.
Watch this space for my ongoing reports on JWST mirrors, science, construction and testing.
Watch Ken's continuing reports about Commercial Crew and Artemis and onsite for live space and mission reporting of upcoming and recent NASA, SpaceX and ULA launches including Demo-2, Starlink, X-37B, Solar Orbiter, Mars 2020 and more at the Kennedy Space Center and Cape Canaveral Space Force Station.
Stay tuned here for Ken's continuing Earth and Planetary science and human spaceflight news: www.kenkremer.com –www.spaceupclose.com – twitter @ken_kremer – email: ken at kenkremer.com
Dr. Kremer is a research scientist and journalist based in the KSC area, active in outreach and interviewed regularly on TV and radio about space topics.
………….
Ken's photos are for sale and he is available for lectures and outreach events