For SpaceUpClose.com & RocketSTEM
PORT CANAVERAL, FL – Amidst all the excitement this past week from NASA's successful launch of the spectacular Mars 2020 Perseverance rover astrobiology science mission to the Red Planet on July 30 and the events leading up to the successful 1st splashdown of American astronauts in 45 years on Aug. 2 and 1st crewed launch from US soil in 9 years on a SpaceX Crew Dragon, other SpaceX workers toiled away at Port Canaveral and successfully retracted the landing legs on the recycled   Falcon 9 booster at Port Canaveral  from the Korean military satellite launch from Cape Canaveral.
I finally have a brief moment to catch up on the completion of Falcon 9 Anasis-II booster B1058.2 recovery, recycling, and retraction operations – just as SpaceX gets set for their next Falcon 9 Starlink launch just past midnight on Aug. 7.
Enjoy our Space UpClose gallery of before and after landing leg raising photos and brief recap of the leg retraction and booster recovery work at Port Canaveral.
In between the two fairing catcher ships completed practice runs just off shore departing and returning and my photo gallery is also included here.
The 2x launched and landed SpaceX Falcon 9 booster from the Falcon 9 rocket launch of South Korea's first dedicated military satellite on July 20, 3.5 days earlier, triumphantly returned to Port Canaveral during a glorious sunrise Friday morning, July 24, atop the JRTI droneship to a wonderful welcome from the Sunshine State on Florida's Space Coast.
See our earlier Port arrival story and photos here.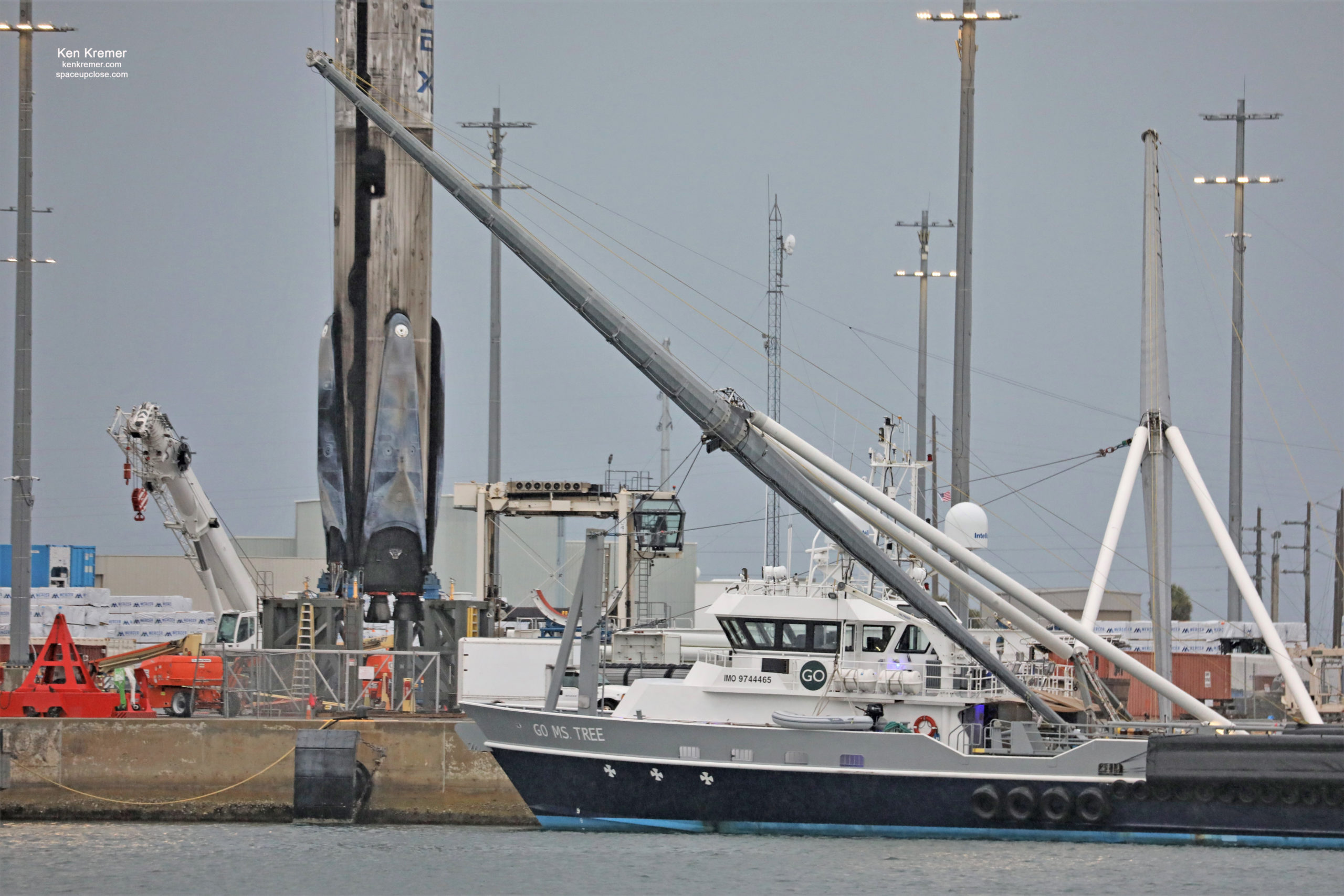 Poor weather then intervened  with days long torrential rainstorms and lightning strikes around the Florida Space Coast all weekend along and significantly impacted and delayed the landing leg work on the twice launched and landed Falcon 9 – which is also a historic rocket being the first Falcon 9 to launch humans to space and the 1st US human spaceflight launch from US soil in 9 years.
So this Falcon 9 B1058.2 is a special baby!
Furthermore, it is still endowed with the NASA Worm and NASA meatball logos on the exterior core with which it blasted off originally on May 30 on the first piloted Crew Dragon spacecraft with NASA's pair of veteran astronauts Bob Behnken and Doug Hurley and who safely splashed down on Sunday, Aug. 2 in the Gulf of Mexico – 1st US splashdown since the historic Apollo Soyuz Test Project mission 45 years ago in July 1975.
Once the weather cleared for a few hours anyway on Monday, July 27, the SpaceX crane crews methodically retracted all four legs one by one – flush against the booster core without too much difficulty – until a return of drenching downpours halted further work until Tuesday, July 28.
In between Mars rover activities I captured photos of the fully leg retracted Booster on July 27.
The booster was lowered onto the wheeled transporter on Tuesday and driven away back to the Cape for eventual reuse.
The South Korean Anasis 2 military communications satellite was launched aboard the flight-proven SpaceX Falcon 9 rocket launched at 5:30 p.m. EDT (2130 GMT) Monday, July 20 from Space Launch Complex 40 (SLC-40) at Cape Canaveral Space Force Station in Florida.
Furthermore its very noteworthy is that this recycled Falcon booster featured a record turnaround launch period of just 51 days from its last launch on Demo-2.
Both payload fairings were caught mid-air by SpaceX's twin fairing catcher ships GO Ms. Tree and GO Ms. Chief.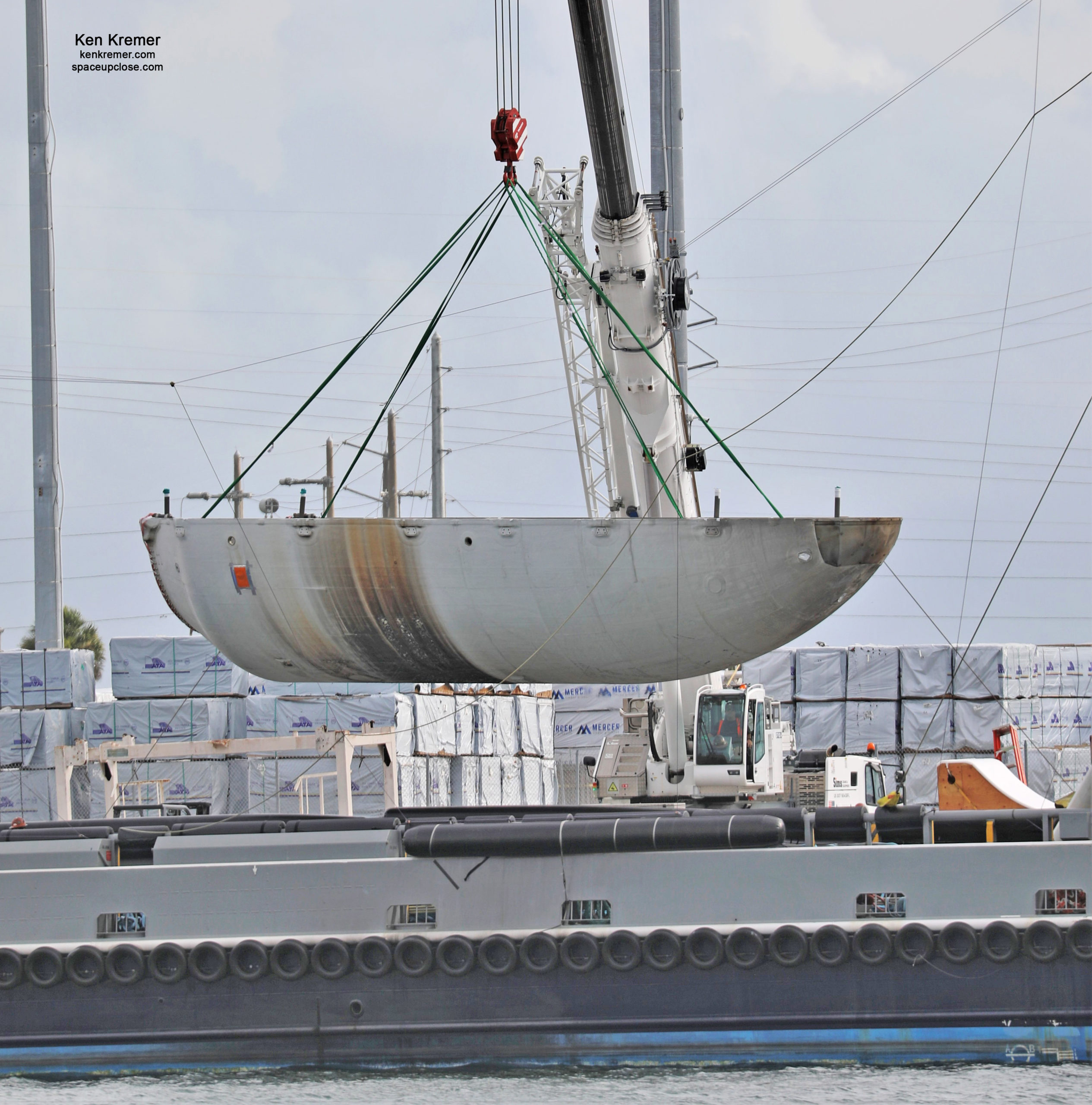 They had returned to Port Canaveral overnight in darkness and were subsequently hoisted off mere hours later on Wednesday, July 22, onto cradled transporters after daylight dawned and driven away in rapid succession – presumably for eventual reuse.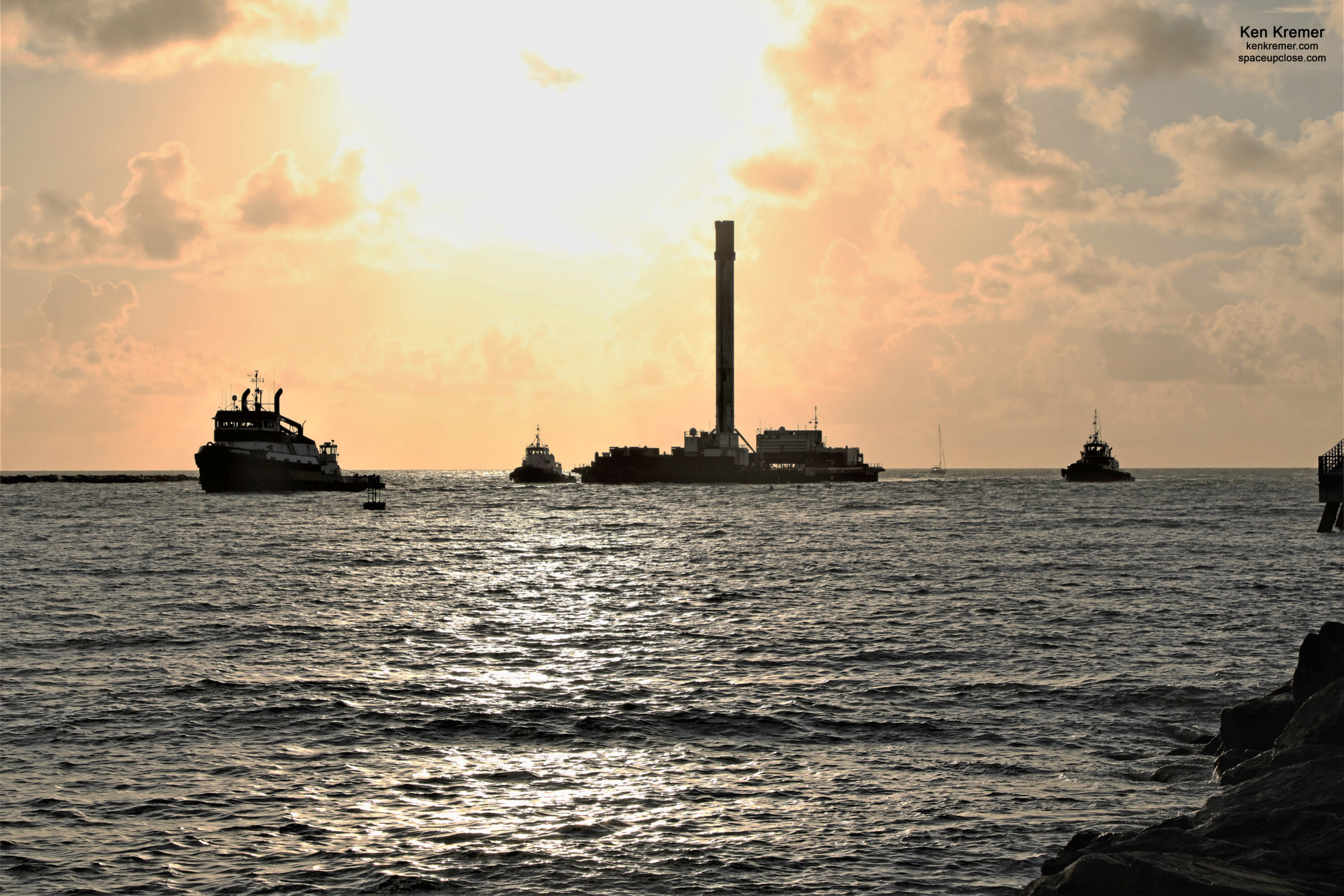 See our earlier story and photos.
Watch my Aug 3 interview at 'Stay Curious' show American Space Museum about successful Mars Perseverance launch, successful splashdown SpaceX Crew Dragon on Demo-2 1st commercial mission, Artemis Moon mission and more:
My commentary about the Anasis-II mission was featured on WESH 2 NBC TV New Orlando on July 20 and 21 along with my prelaunch photos as well as WFTV ABC TV News Orlando on July 20 and 21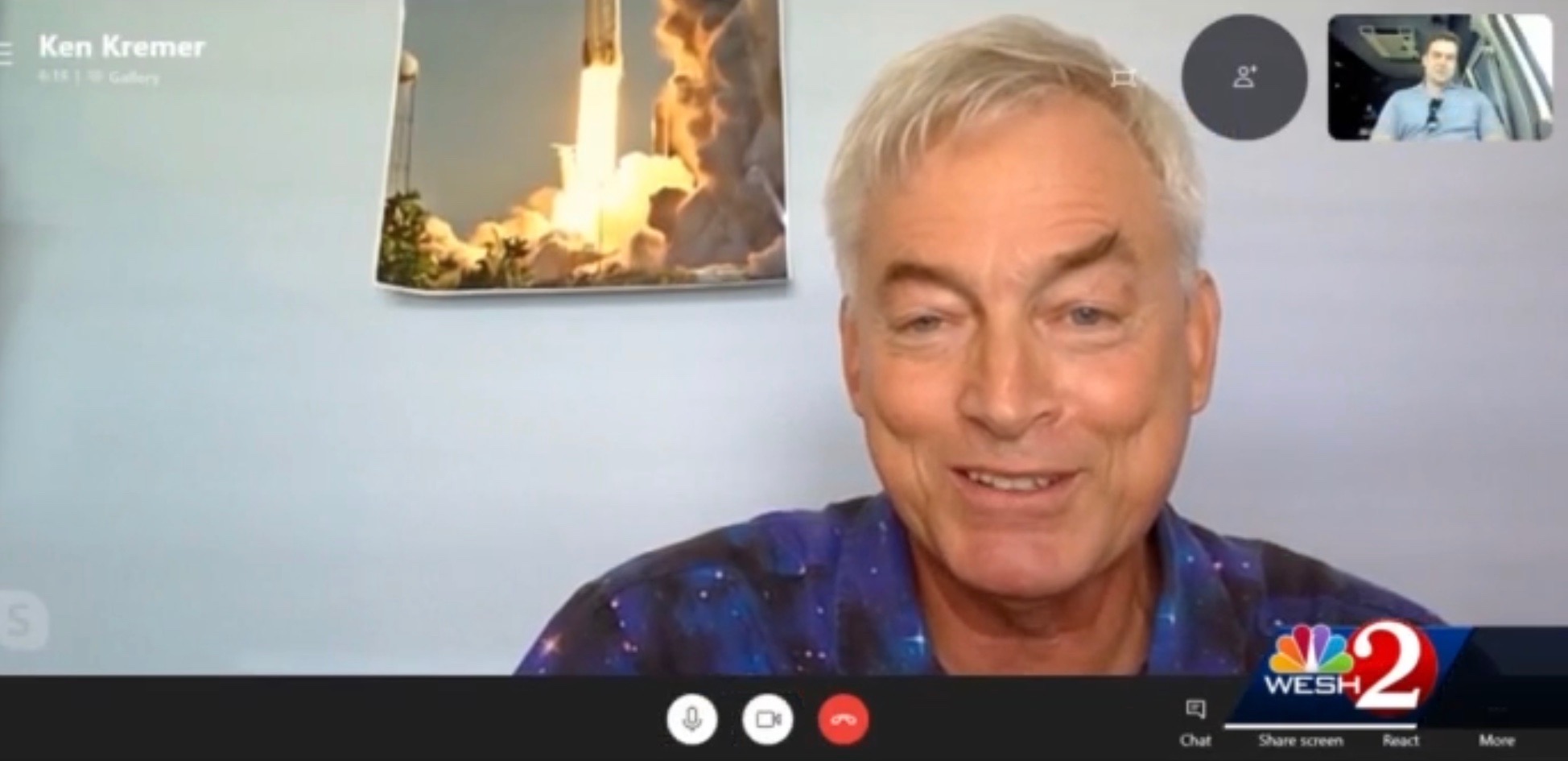 My launch and prelaunch photos were featured at Spaceflight Now
https://spaceflightnow.com/2020/07/20/spacex-delivers-south-koreas-first-military-satellite-into-on-target-orbit/
https://twitter.com/SpaceflightNow/status/1285371705062559746
https://twitter.com/SpaceflightNow/status/1285288758015926274
Watch Ken's continuing reports about Artemis, Commercial Crew, Mars and more onsite for live reporting of upcoming and recent SpaceX and ULA launches including Starlink, Solar Orbiter, In-Flight Abort, Mars 2020 and more at the Kennedy Space Center and Cape Canaveral Air Force Station.
Stay tuned here for Ken's continuing Earth and Planetary science and human spaceflight news: www.kenkremer.com –www.spaceupclose.com – twitter @ken_kremer – email: ken at kenkremer.com
Dr. Kremer is a research scientist and journalist based in the KSC area, active in outreach and interviewed regularly on TV and radio about space topics.
………….
Ken's photos are for sale and he is available for lectures and outreach events
2x recovered SpaceX Falcon 9 1st stage glistens in blue hued sunset after all four landing legs are retracted by crane workers at Port Canaveral, on July 27, 2020. From Anasis-II launch for South Korean military on July 20, 2020 from Space Launch Complex-40 on Cape Canaveral Space Force Station, FL. Credit: Ken Kremer/kenkremer.com/spaceupclose.com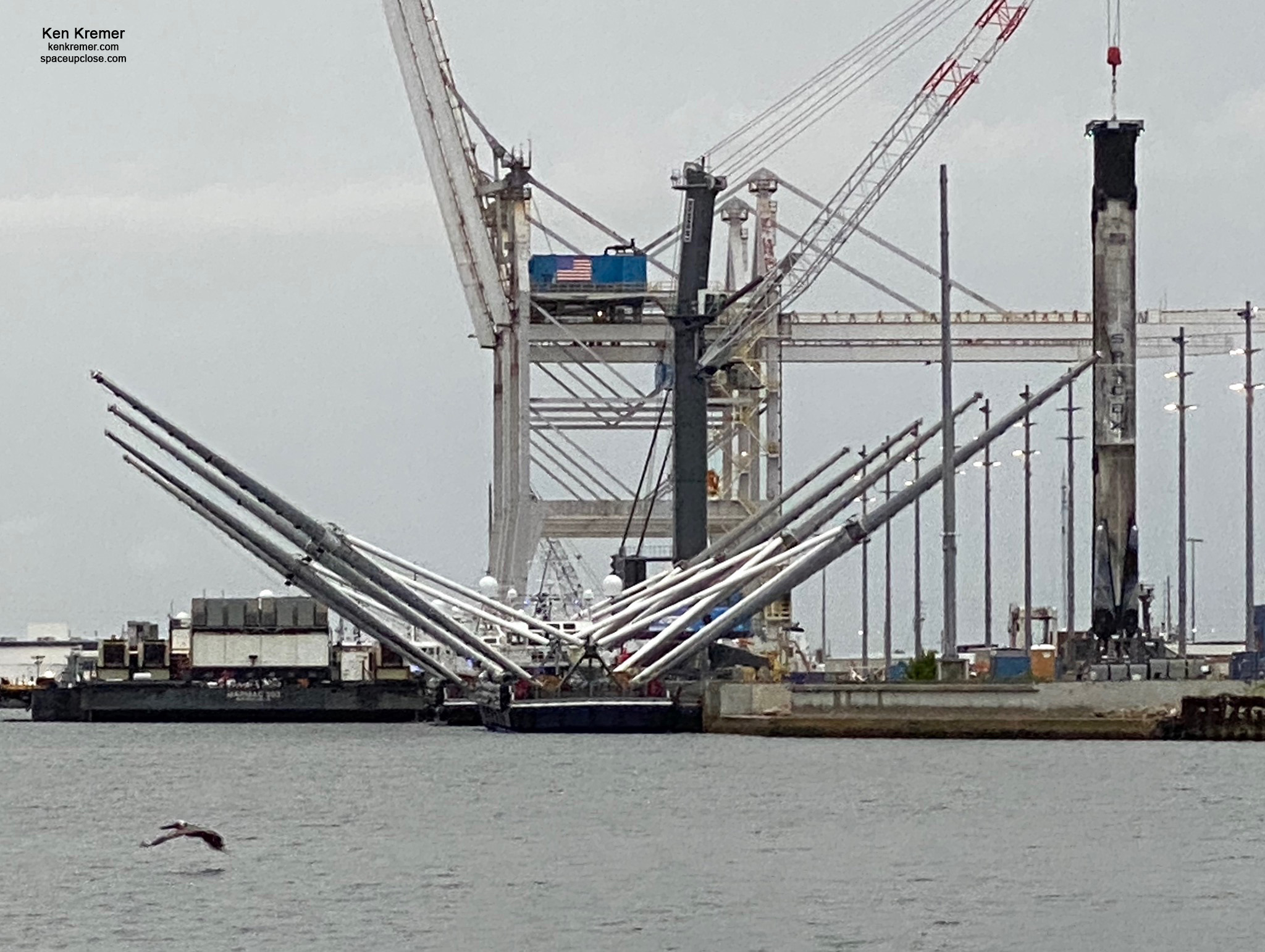 x