For SpaceUpClose.com & RocketSTEM
KENNEDY SPACE CENTER, FL –  After multiple delays amounting to six weeks resulting from unspecified technical issues and definitively horrendous weather conditions SpaceX is set to try again to the launch of the next batch of their Starlink broadband internet satellites overnight Friday Aug. 7 just past midnight from the Kennedy Space Center in Florida.
And the weather outlook is decent finally after days of torrential rain and thunderstorms over the past week as well as the devastation wreaked by Hurricane Isais which likely forced a few more days of prudent delays.
SpaceX Falcon 9 for 10th Starlink broadband internet comsat launch stands vertical at Launch Complex-39A on NASA's Kennedy Space Center for launch targeted for Aug 7, 2020. Credit: Ken Kremer/kenkremer.com/spaceupclose.comThe integrated Falcon 9 rocket was raised vertical early this morning, Thursday, Aug. 7.
The integrated Falcon 9 rocket was raised vertical early this morning, Thursday, Aug. 7.
Liftoff of the oft delayed 10th SpaceX Starlink mission is now targeting Friday, August 7 at 1:12 a.m. EDT, 512 GMT for launch of its tenth Starlink mission, which will include 57 Starlink satellites and 2 satellites from BlackSky, a Spaceflight customer.
Falcon 9 will lift off from Launch Complex 39A (LC-39A) at Kennedy Space Center in Florida.
Originally this Starlink mission was to blastoff on June 26, but it was called off because SpaceX need to conduct additional unspecified checks on the launch vehicle- possibly related to the second stage as was the case with a different Falcon 9.
A backup opportunity is available on Saturday, August 8 at 12:50 a.m. EDT, 450 GMT.
"Targeting Friday, August 7 at 1:12 a.m. EDT for Falcon 9's launch of 57 Starlink satellites and 2 spacecraft from @spaceflight's customer BlackSky http://spacex.com/launches," SpaceX tweeted.
Falcon 9's first stage booster supporting this mission previously launched two Starlink missions, Crew Demo-1, and the RADARSAT Constellation Mission pic.twitter.com/eCsqnBYD04

— SpaceX (@SpaceX) August 6, 2020
Enjoy our Space UpClose gallery of photos of the SpaceX Falcon 9 rocket standing vertical at pad 39A taken this afternoon Aug. 6.
The mission designated Starlink 9 is comprised of 57 Starlink satellites as well as a pair of commercial Earth observation satellites for Seattle-based BlackSky Global for what counts as SpaceX's second rideshare mission
You can watch the launch live via SpaceX webcast:  spacex.com/launches.
Live launch coverage will begin about 15 minutes before liftoff.
The BlackSky Global spacecraft will deploy sequentially beginning 1 hour and 1 minute after liftoff, and the Starlink satellites will deploy approximately 1 hour and 33 minutes after liftoff.
Starlink satellites will be deployed in a circular orbit, as was done on the first through fourth Starlink missions.
"Additionally, all Starlink satellites  on this flight are equipped with a deployable visor to block sunlight from hitting the brightest spots of the spacecraft – a measure SpaceX has taken as part of our work with leading astronomical groups to mitigate satellite reflectivity," says SpaceX.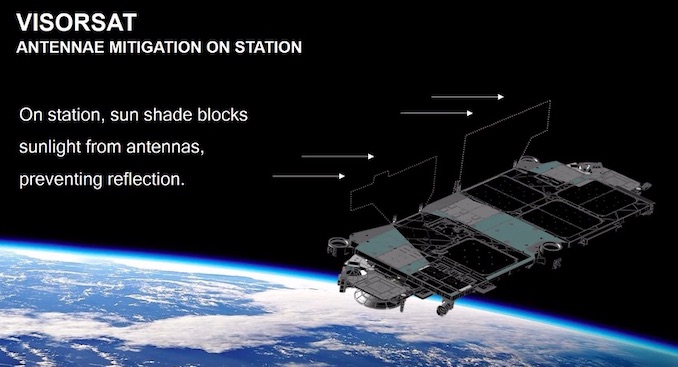 The latest weather outlook from the 45th Space Wing Weather Squadron currently shows a 70% chance of acceptable conditions at launch time.
The primary concerns are the Thick Cloud Rule and Cumulus Cloud Rule.
Upper level winds and booster recovery issues are rated as low risk.
In case of a delay to Saturday the chances increase to  80% chance of acceptable conditions at launch time.
The primary concerns are only the Cumulus Cloud Rule.
The two stage Falcon 9 rocket stands 229 feet (70 meters) tall.
If all goes well the Starlink constellation will increase to about 600 satellites total.
The payload is comprised of the tenth batch of Starlink satellites.
This blackened and sooty Falcon 9 first stage B1051.5 will be flying for the fifth time.
Falcon 9's first stage previously supported Crew Dragon's first demonstration mission to the International Space Station on March 2, 2019, launch of the RADARSAT Constellation Mission on June 12, 2019, and the fourth and seventh Starlink missions on Jan. 29 and April 22 respectively this year.
SpaceX will attempt to land the 1st stage on OCISLY for the fifth time about eight minutes after launch
SpaceX has also dispatched the twin payload fairing catching boats GO Ms. Tree and GO Ms. Chief to attempt to either catch the nose come halves mid-air or scoop them out of the corrosive ocean water if they miss.
Droneship OCISLY is waiting at its stationing position some 400 mi (640 km) north east of KSC off the coast of the Carolina's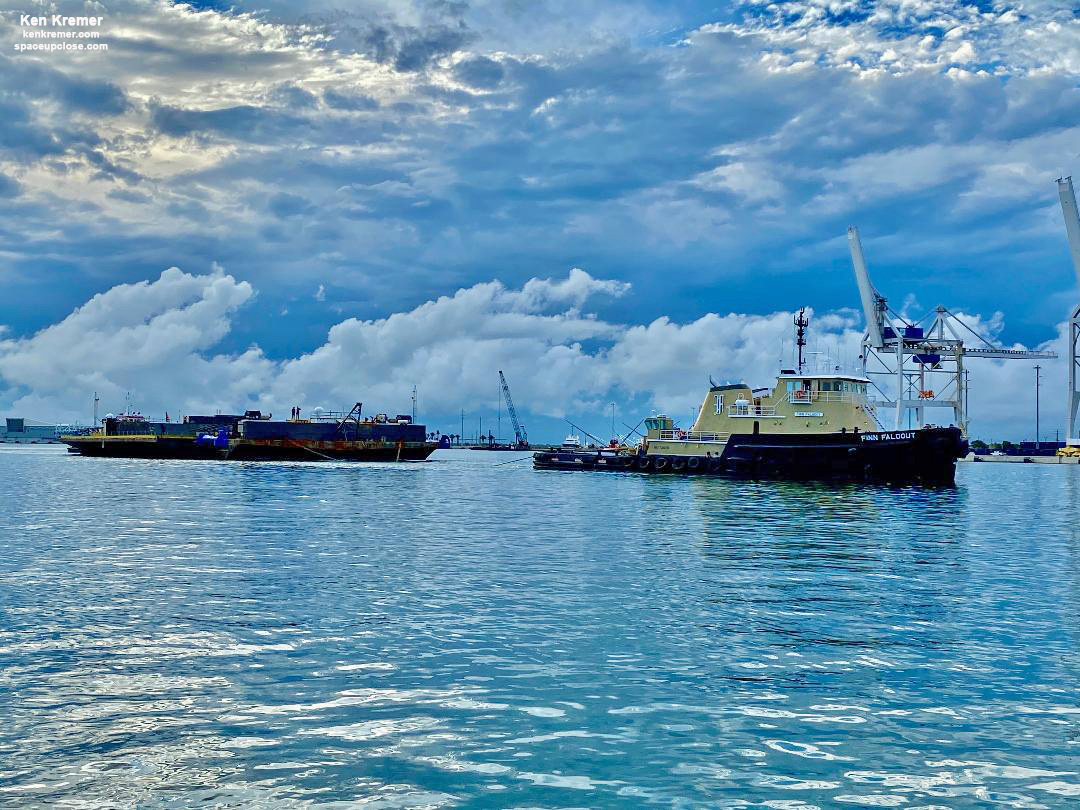 And the fairing boats are nearby ready to catch some 40 minutes after blastoff.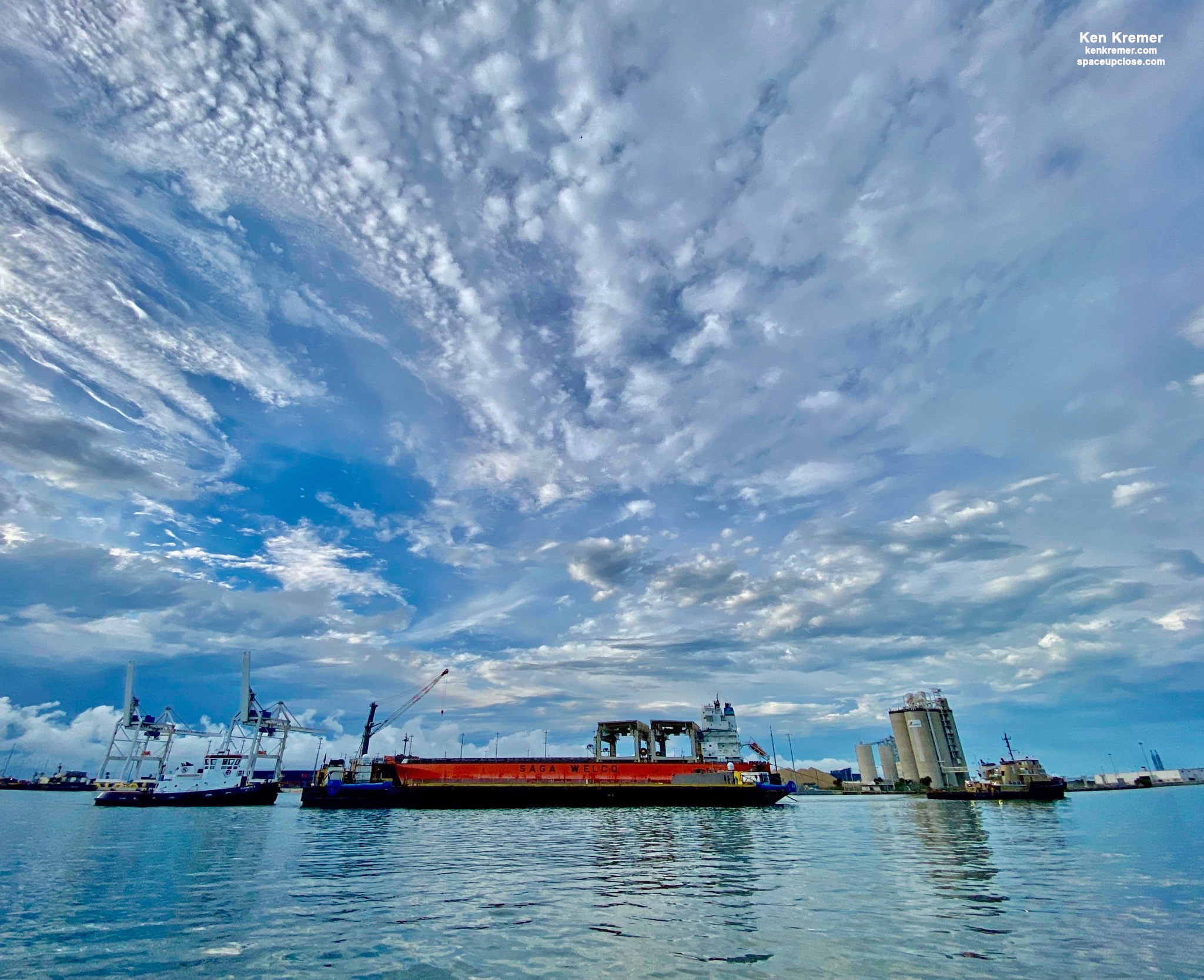 Watch Ken's continuing reports about Commercial Crew and Artemis and onsite for live reporting of upcoming and recent SpaceX and ULA launches including Demo-2, Starlink, X-37B, Solar Orbiter, Mars 2020 and more at the Kennedy Space Center and Cape Canaveral Space Force Station.
Stay tuned here for Ken's continuing Earth and Planetary science and human spaceflight news: www.kenkremer.com –www.spaceupclose.com – twitter @ken_kremer – email: ken at kenkremer.com
Dr. Kremer is a research scientist and journalist based in the KSC area, active in outreach and interviewed regularly on TV and radio about space topics.
………….
Ken's photos are for sale and he is available for lectures and outreach events
x