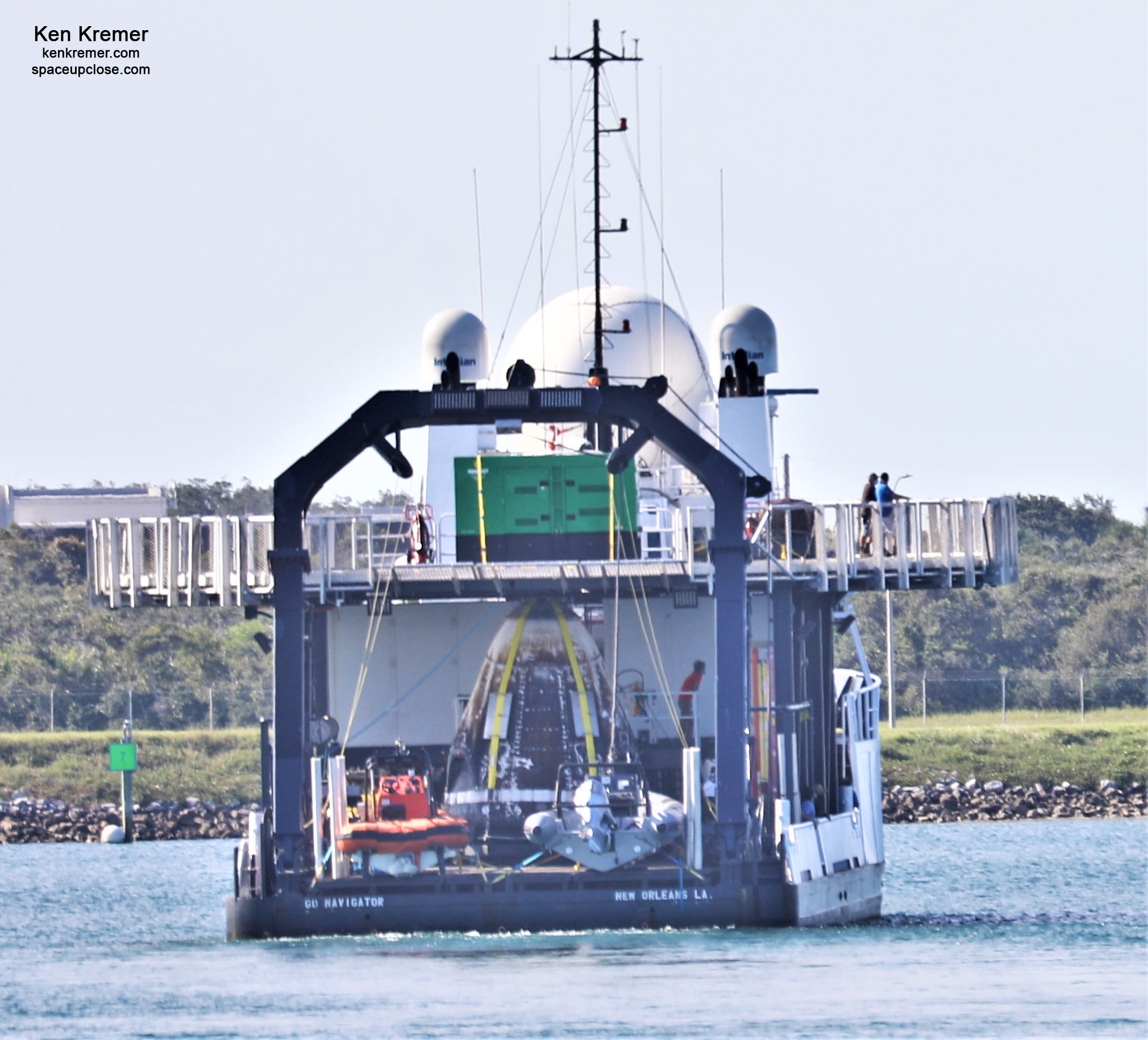 For SpaceUpClose.com & RocketSTEM
PORT CANAVERAL, FL – After two action packed months in Earth orbit at the International Space Station (ISS) on the history-making first human spaceflight launch from US soil in nine years and five days after the safe splashdown by the crew of veteran NASA astronauts Behnken and Hurley in the Gulf of Mexico on Aug. 2, the SpaceX Crew Dragon Endeavour sailed triumphantly into Port Canaveral, Florida, on a sunny Friday afternoon, Aug. 7, aboard the Go Navigator recovery ship that hauled the charred spaceship from the ocean waters off Pensacola, Florida.
Crew Dragon Endeavour arrived at the picturesque mouth of Port Canaveral channel around 5:30 p.m. EDT, Friday, Aug. 7 sailing north in the Atlantic Ocean along Florida's East Coast – on deck of Go Navigator.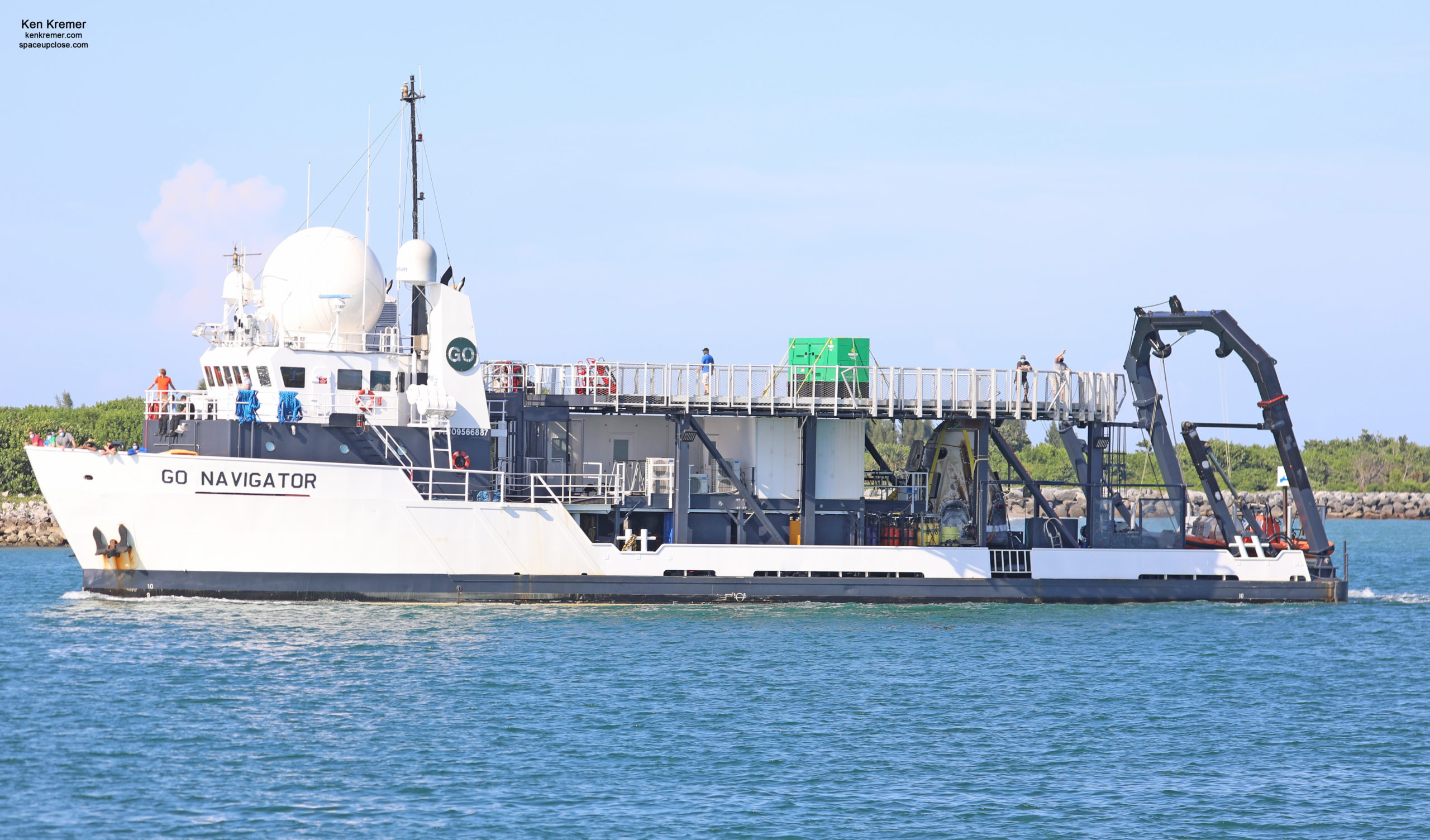 The ship sailed past a small crowd of spectators, space buffs and media awaiting the spaceship at Jetty Park with great anticipation and  excitement – to see first hand the new SpaceX commercial crew spaceship funded in a public/private partnership that ended the painfully long drought in US human spaceflight and at last restored US access to low Earth orbit and the mammoth, mostly US built Space Station.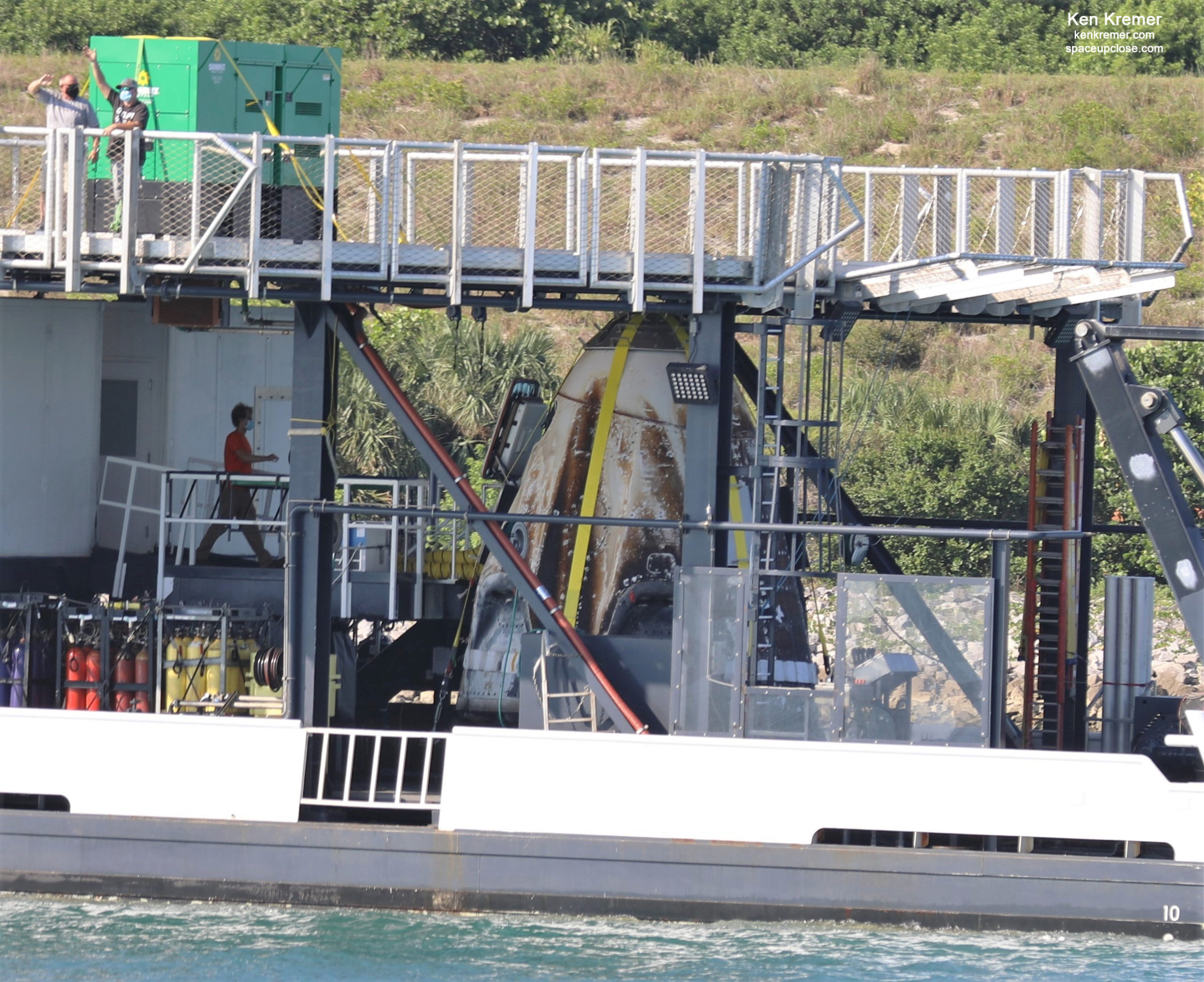 Remarkably the Crew Dragon arrival in Port took place just hours after the just past midnight launch by SpaceX of a 5x recycled Falcon 9 from the Kennedy Space Center delivering the 10th batch of Starlink internet satellites.
The 'Space Pace' at the 'Space Coast' is just relentless these days – and also follows the launch of NASA's Perseverance Mars rover to the Red Planet on a ULA Atlas V from the Cape last week!!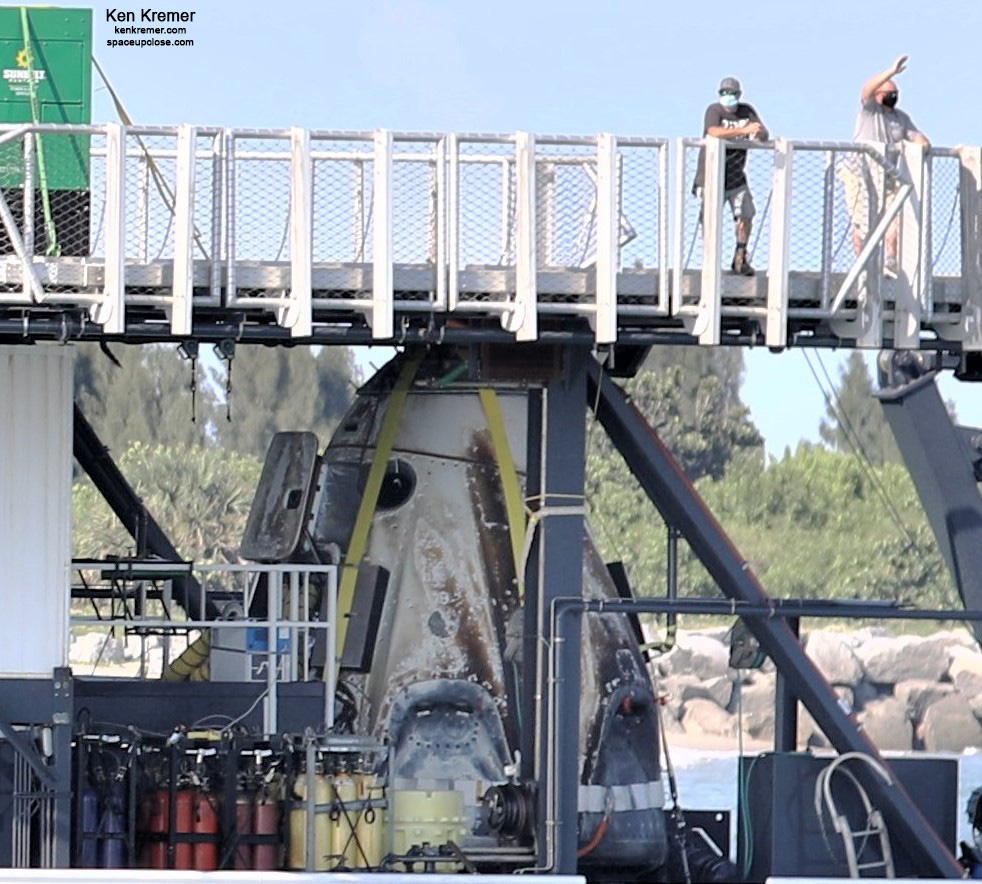 Be sure to read all our Space UpClose articles and check out our photos.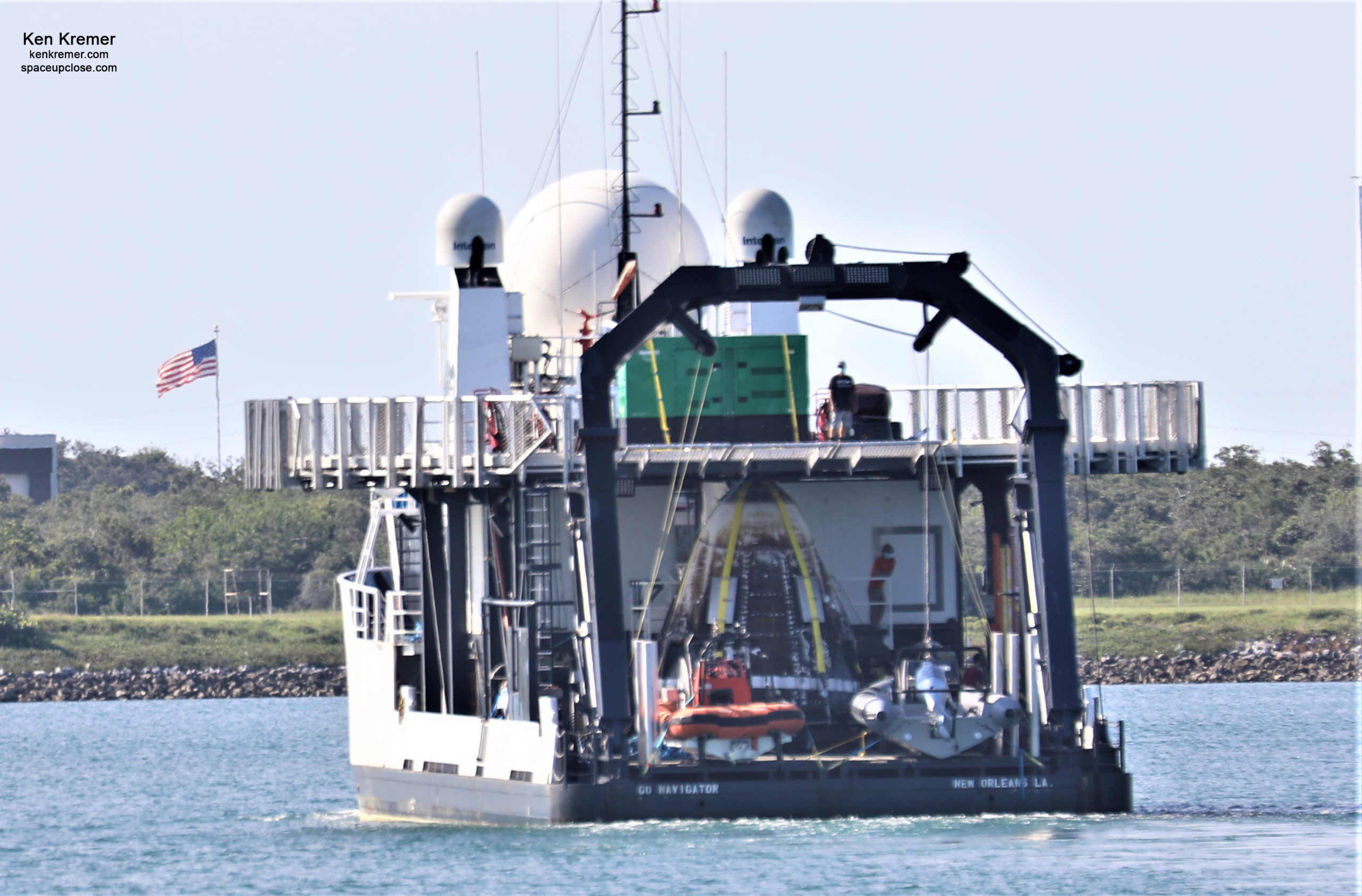 The NASA/SpaceX Demo-2 test flight to the ISS and back further counts as the first ever commercially built and operated human space mission and opens a revolutionary new era in human spaceflight while simultaneously cutting costs and  increasing access.
We all appreciated the fantastic birdseye view of Crew Dragon Endeavour on deck – extensively charred in alternating vertical orange and white striped areas as the crew on board Go Navigator greeted us with glee as it sailed by and waved to us on shore – closing out the 5 day voyage from Pensacola Naval Air Station and around the Florida Keys to Port Canaveral.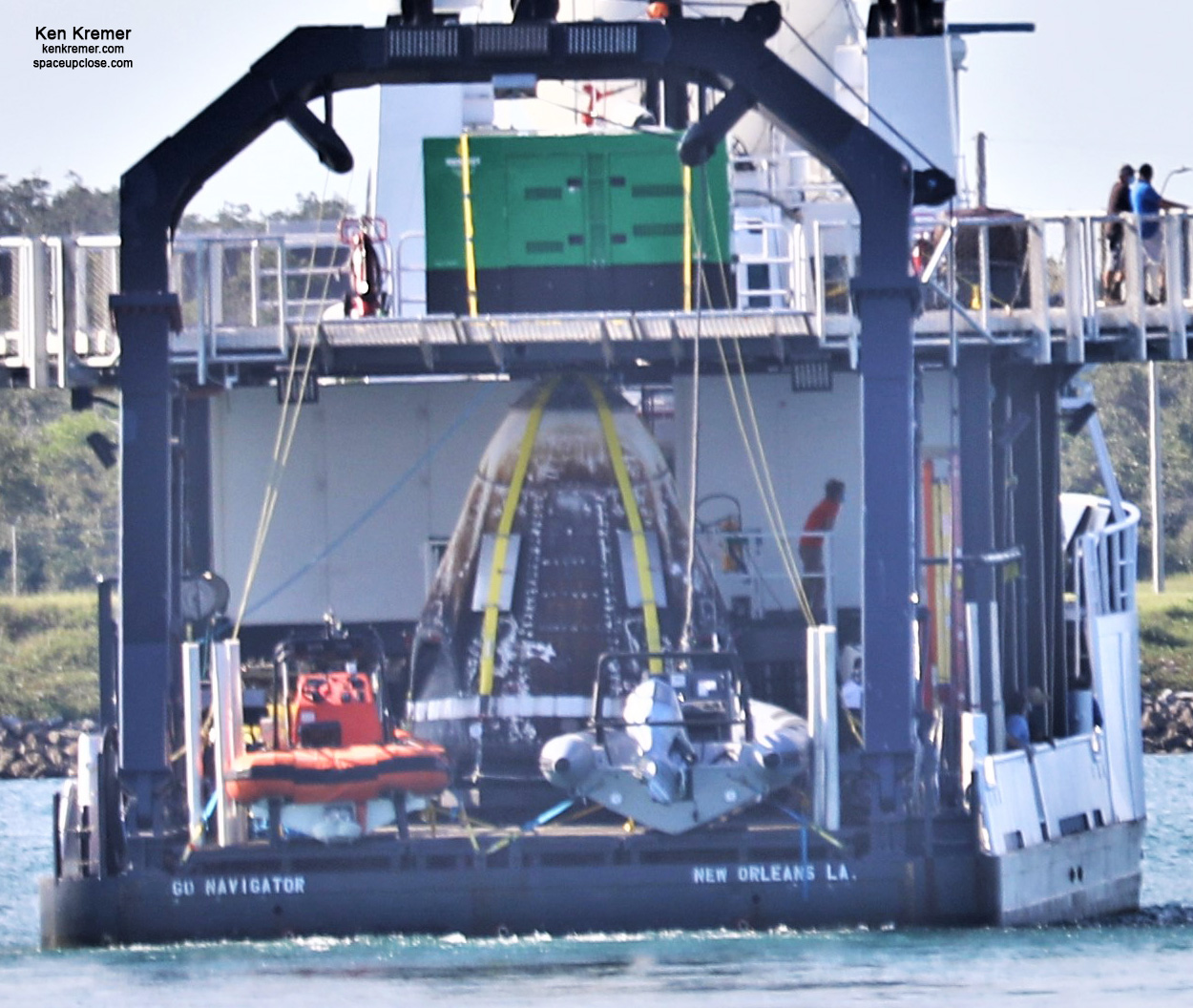 The extensive charring resulted from peak Earth reentry heating reaching 3500 F as the Dragon was slowed from 17500 MPH to about 15 MPH for the splashdown of Behnken and Hurley.
Enjoy our Space UpClose gallery of photos and videos from Crew Dragon Endeavour's Aug. 7 arrival on Go Navigator.
Endeavour sure looked like a toasty marshmallow for the few minutes we were able to get a spectacular up close look as it entered Port Canaveral channel – sailing past Jetty Park Pier and then veering north quickly into the Trident Submarine Turn Basin and docking inside the restricted military naval base.
Here a compilation of my Crew Dragon Port Canaveral arrival videos featured on Spectrum Channel 13 News Orlando by reporter Krystel Knowles:
BACK FROM SPACE: Historic #SpaceX #CrewDragon Endeavour on #GoNavigator recovery ship arrived at @jettypark @PortCanaveral 5:30 p.m. on Aug7. Thanks @ken_kremer for the amazing video @MyNews13 pic.twitter.com/GB8QXS1iIH

— Krystel Knowles (@KnowlesKrystel) August 8, 2020
10PM/11PM:My vids todays arriv historic #SpaceX #CrewDragon Endeavour astronaut capsule @jettypark @PortCanaveral this eve aboard #GoNavigator recov ship to be featured @MyNews13 Orlando + @WFTV CH9 ABC News Orlando. Recov from Aug2 splashdown Gulf of Mexico.1st crewvehicle 9yrs pic.twitter.com/jnCzaM7IKf

— Ken Kremer (@ken_kremer) August 8, 2020
The Crew Dragon hatch was still open from when the SpaceX team opened it up last Sunday to extract NASA astronauts Robert Behnken and Douglas Hurley who splashed down safely under four huge red and while parachutes in the Gulf of Mexico off the coast of Pensacola, Florida at 2:48 p.m. EDT (1848 GMT) Sunday, Aug. 2 after undocking from the ISS Saturday evening, Aug. 1.
The splashdown successfully concluded the Demo-2 test flight mission by Behnken and Hurley.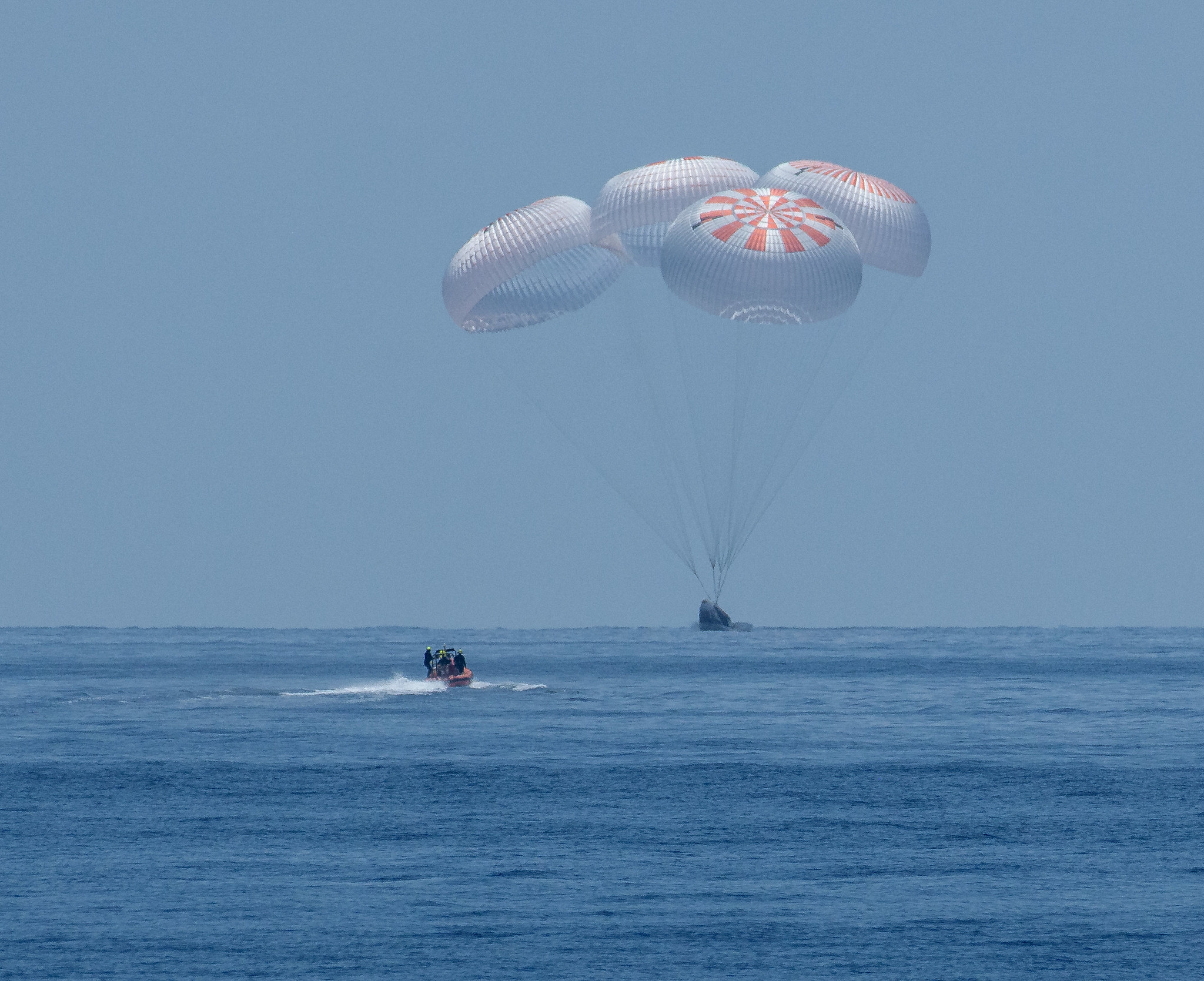 As Go Navigator turned north into the Trident sub basin we got a nearly unobstructed view of the Crew Dragon capsule from the opposite side of the hatch.
Naval ships closed the sea gates to the basin very quickly after it entered.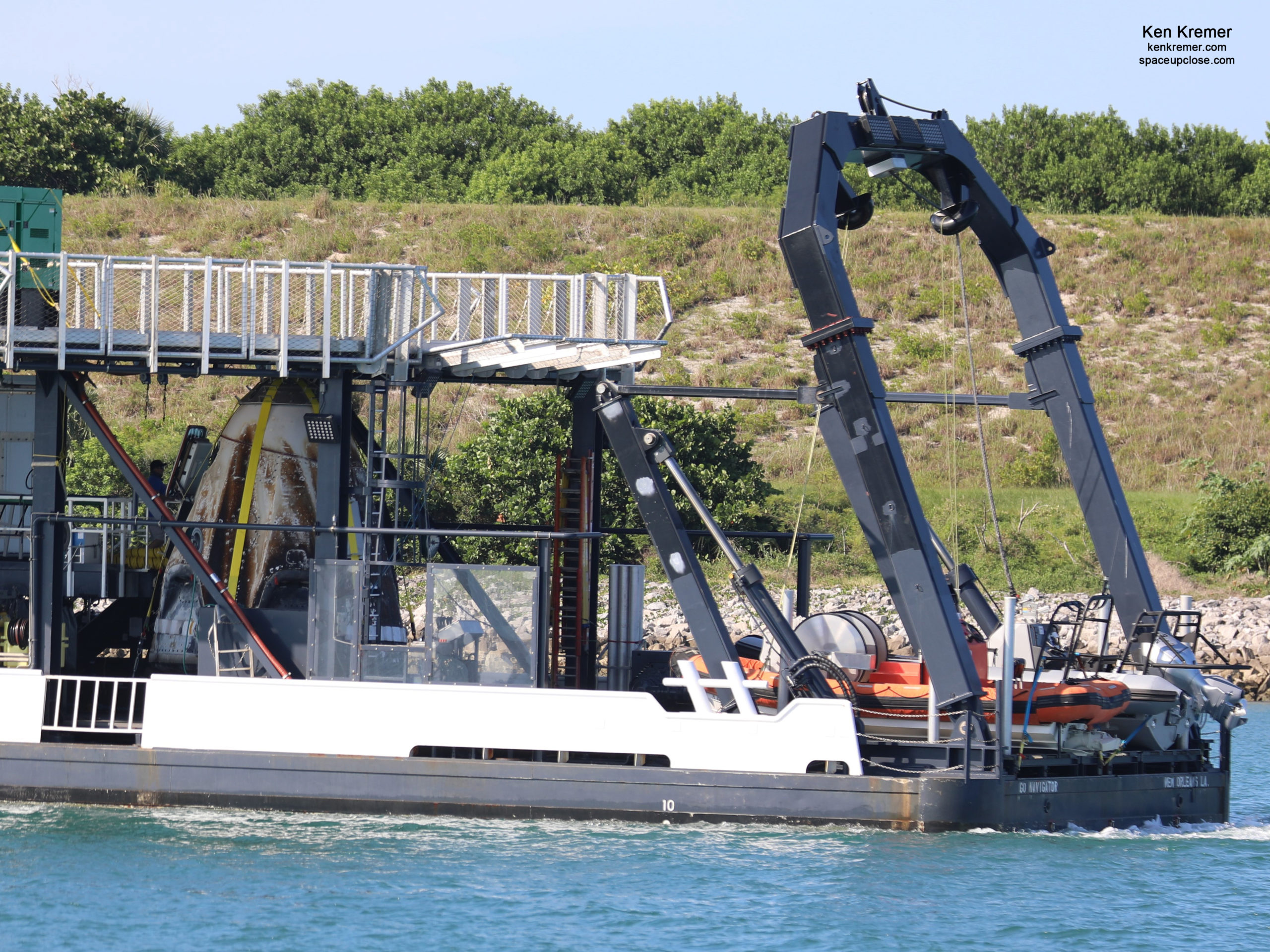 The ISS and its peaceful pursuit of science is a big bright spot for all the world to enjoy and relish in the cause of science to benefit all humanity – especially in these dark times with the world gripped by the health emergency caused by the COVID-19 coronavirus pandemic.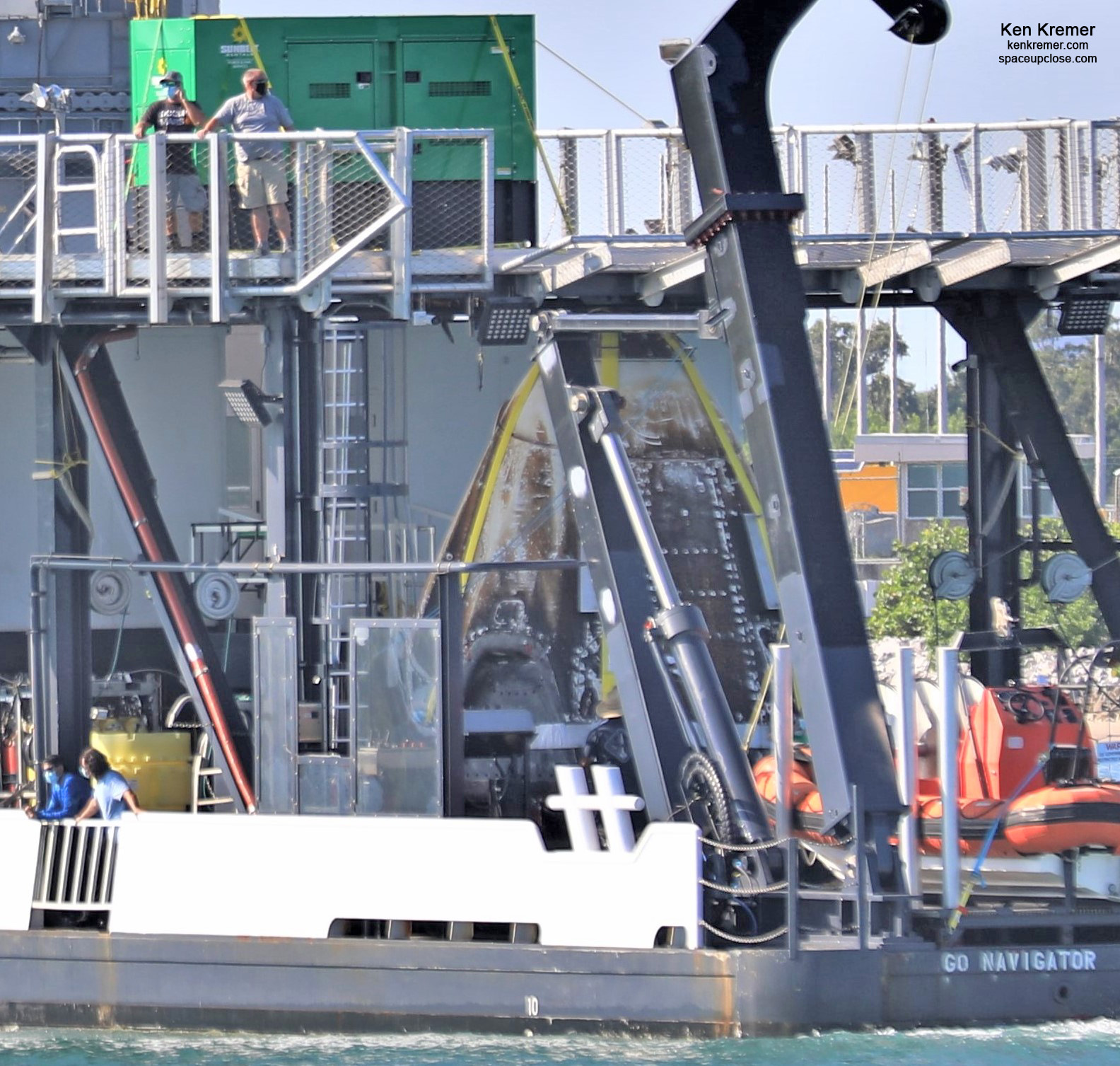 Crew Dragon was developed under the auspices of NASA's commercial crew program with the goal of restoring US human spaceflight capability to low Earth orbit (LEO) – lost since the forced retirement of the space shuttle orbiters.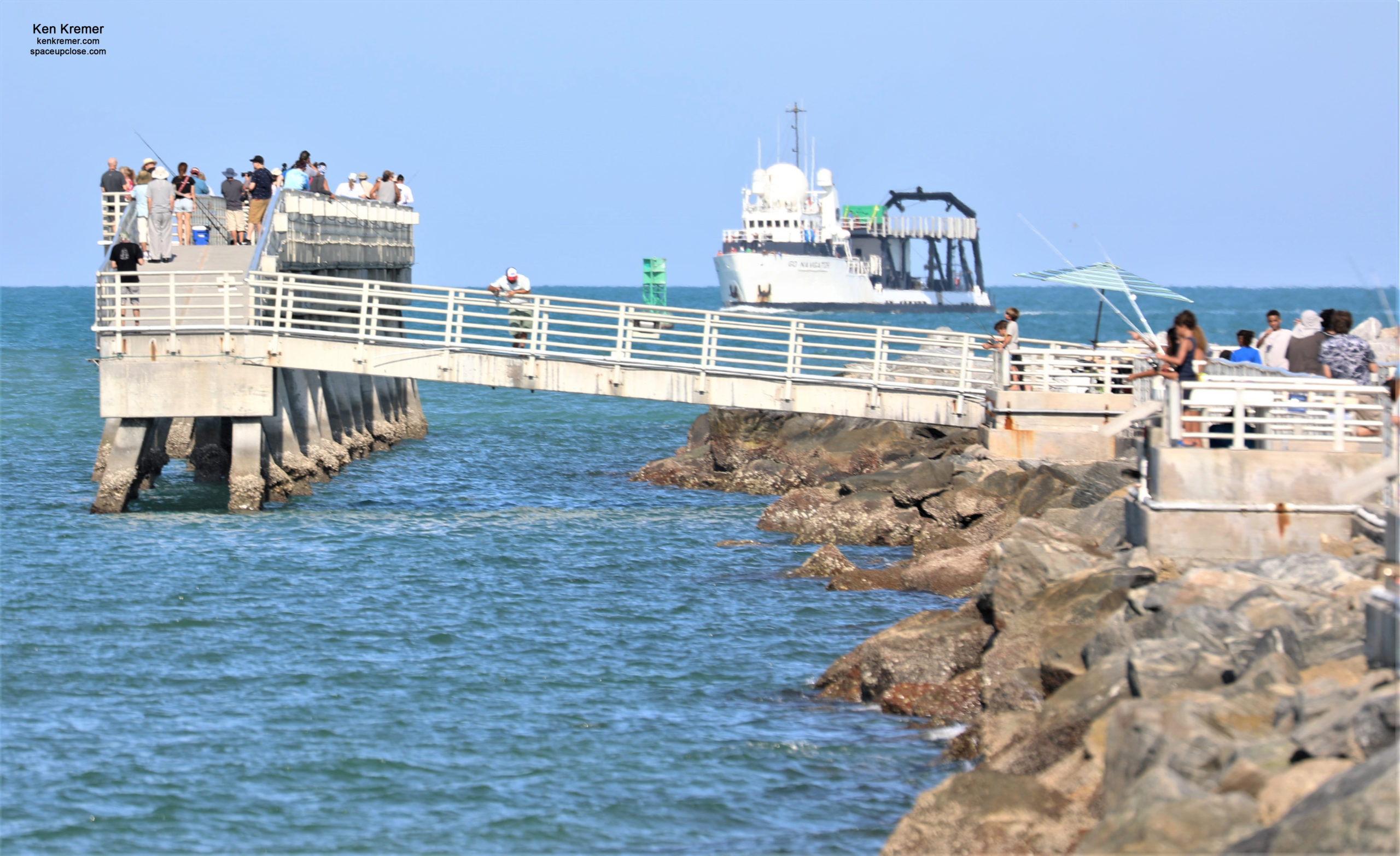 With SpaceX Crew Dragon available NASA's complete dependence on the Russian Soyuz for astronauts seats to orbit since the space shuttle era ended in 2011 will end.
The hugely successful Demo-2 test flight concluded after 64 days in space when Crew Dragon Endeavour and the dynamic duo of Bob and Doug were successfully plucked from the ocean waters by SpaceX's GO Navigator recovery ship.
"Welcome home, Bob and Doug! Congratulations to the NASA and SpaceX teams for the incredible work to make this test flight possible," said Bridenstine.
"It's a testament to what we can accomplish when we work together to do something once thought impossible. Partners are key to how we go farther than ever before and take the next steps on daring missions to the Moon and Mars."
The success of the Crew Dragon Demo-2 test flight on SpaceX's 1st crewed mission paves the way to regular NASA contracted astronaut missions by SpaceX – assuming all goes well with certification reviews by the agency starting now.
The Crew Dragon splashdown also counts as the 1st splashdown of Americans astronauts from space in 45 years since the return of Thomas Stafford, Vance Brand, and Donald "Deke" Slayton landed in the Pacific Ocean off the coast of Hawaii on July 24, 1975, to conclude the historic Apollo-Soyuz Test Project or ASTP.
ASTP counts as the first international joint space mission and the first handshake in space between the US and the then Soviet Union that absolutely paved the way to international cooperation culminating in the creation, building and operation of International Space Station.
https://twitter.com/nasahqphoto/status/1290045009018806272
This year ISS celebrates 20 years of continuous human presence in space from which Bob and Doug just returned.
Within an hour of splashdown Crew Dragon was hoisted aboard GO Navigator by the hydraulic lift.
The Demo-2 mission also marks the first piloted return of a SpaceX Crew Dragon – a flight of many historic firsts already including the first launch of US astronauts from US soil on US rockets in 9 years.
The NASA and SpaceX teams had seven splashdown zones to choose from on the East and Gulf coasts of Florida.
Altogether Behnken and Hurley spent 64 days in orbit or just over two months. For both it was their third space flight.
The historic Demo-2 test flight mission began with the beautiful and flawless blastoff of the SpaceX Crew Dragon spacecraft carrying NASA veteran astronauts Robert Behnken and Douglas Hurley lifting off  at 3:22 p.m. EDT Saturday, May 30, on the company's Falcon 9 rocket from Launch Complex 39A at NASA's Kennedy Space Center in Florida bound for the International Space Station (ISS) – to the cheers of tens of thousands of spectators gathered from around America and three days after dismal weather forced a scrub of the first attempt on Wednesday.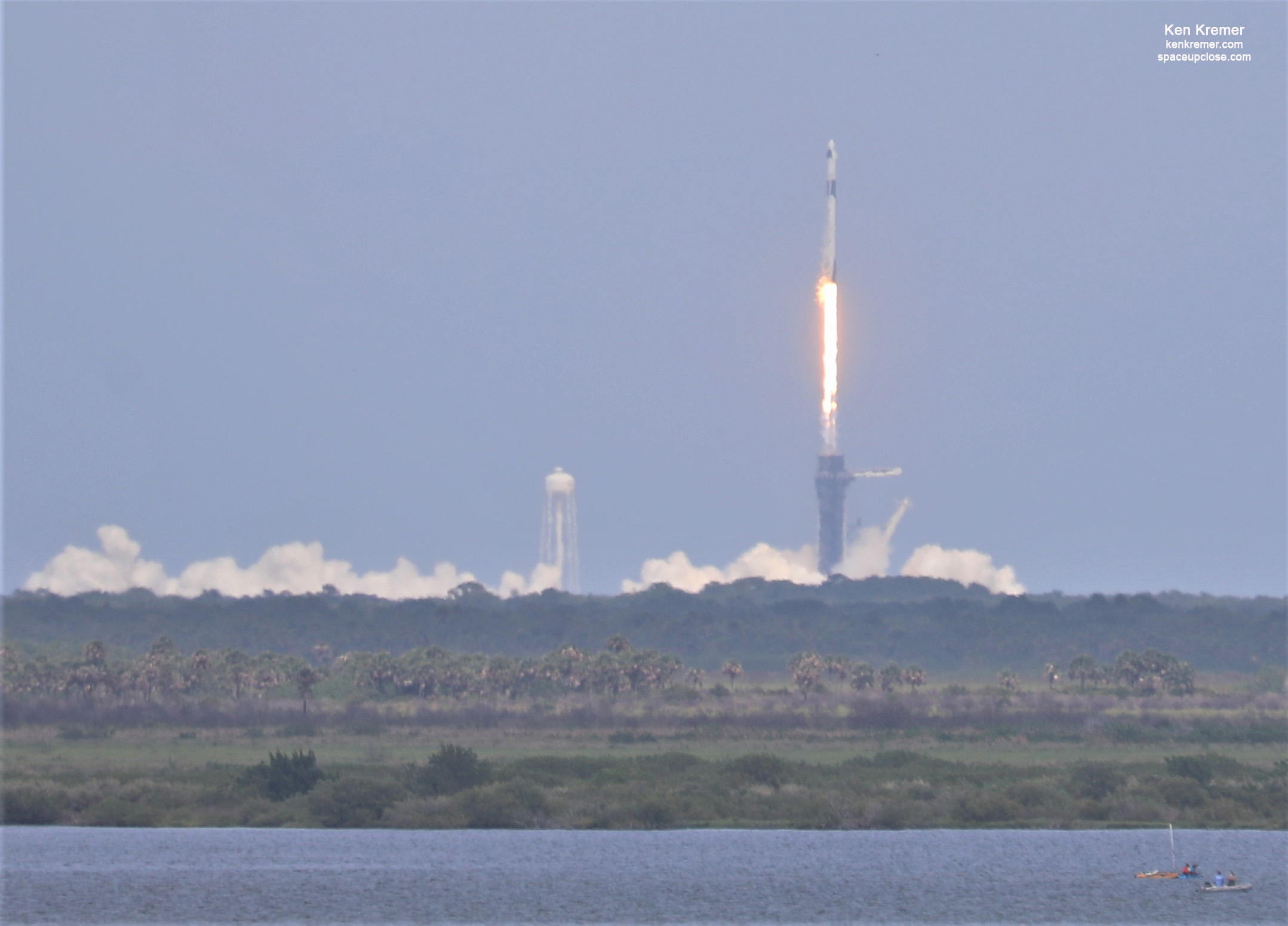 Behnken and Hurley flying aboard the commercial SpaceX Crew Dragon Endeavour  safely docked at the ISS Sunday morning, May 31, just 19 hours after the first human launch from US soil for the first time in nine years on a history making and flawless blastoff from the Florida Space Coast.
The next crewed launch of a SpaceX Crew Dragon on the 1st crew rotation mission to the ISS  is planned for NET late September 2020 on the Crew-1 flight.
That's if all goes well after teams thoroughly check all systems aboard Endeavour to ensure its safety and operability.
NASA needs a minimum of 6 weeks to certify the SpaceX Crew Dragon vehicles are safe and ready for future human spaceflight missions.
A crew of 4 astronauts from NASA and Japan have already been announced and are in training for the Crew-1 mission launching from the Kennedy Space Center pad 39A.
"You're up next Crew-1! #LaunchAmerica"," NASA Administrator Jim Bridenstine tweeted from JSC at a briefing with the crew and Elon Musk.
You're up next Crew-1! #LaunchAmerica pic.twitter.com/9NtAulicVG

— Jim Bridenstine (@JimBridenstine) August 3, 2020
Crew-1 were on hand at JSC to congratulate Bob and Doug.
"On behalf of Crew-1 and our families, we want to say congratulations to @AstroBehnken and @Astro_Doug." One of our @NASA_Astronauts scheduled for the next @SpaceX mission to the @Space_Station, Mike Hopkins, congratulates the #LaunchAmerica team:"
Watch my Aug 3 interview at 'Stay Curious' show American Space Museum about successful Mars Perseverance launch, successful splashdown SpaceX Crew Dragon on Demo-2 1st commercial mission , Artemis Moon mission and more:
Watch my Aug. 3 TRT World Interview about successful splashdown SpaceX Crew Dragon on Demo-2 1st commercial mission ever to ISS: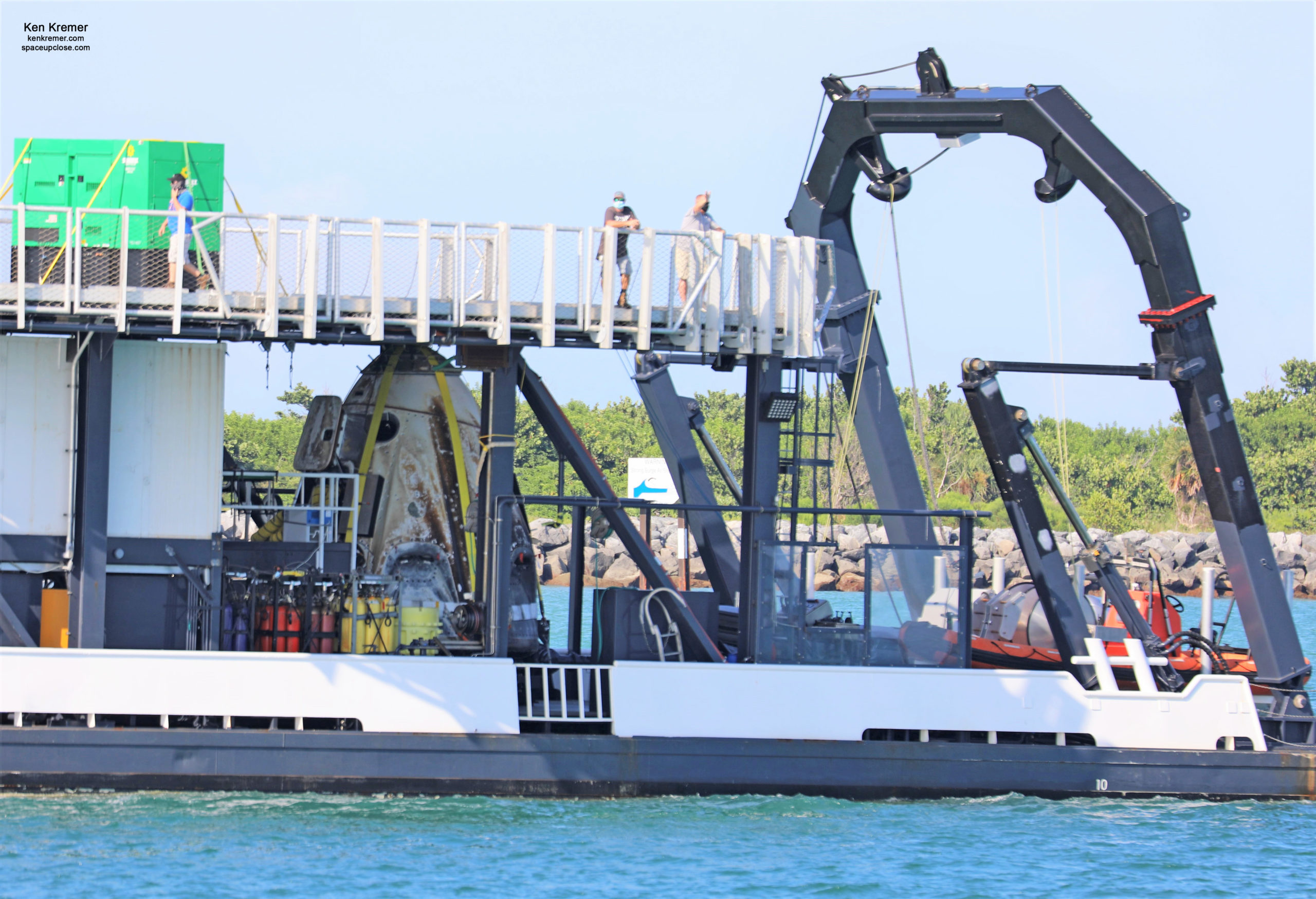 Watch Ken's continuing reports about Commercial Crew and Artemis and onsite for live reporting of upcoming and recent SpaceX and ULA launches including Demo-2, Starlink, X-37B, Solar Orbiter, Mars 2020 and more at the Kennedy Space Center and Cape Canaveral Space Force Station.
Stay tuned here for Ken's continuing Earth and Planetary science and human spaceflight news: www.kenkremer.com –www.spaceupclose.com – twitter @ken_kremer – email: ken at kenkremer.com
Dr. Kremer is a research scientist and journalist based in the KSC area, active in outreach and interviewed regularly on TV and radio about space topics.
………….
Ken's photos are for sale and he is available for lectures and outreach events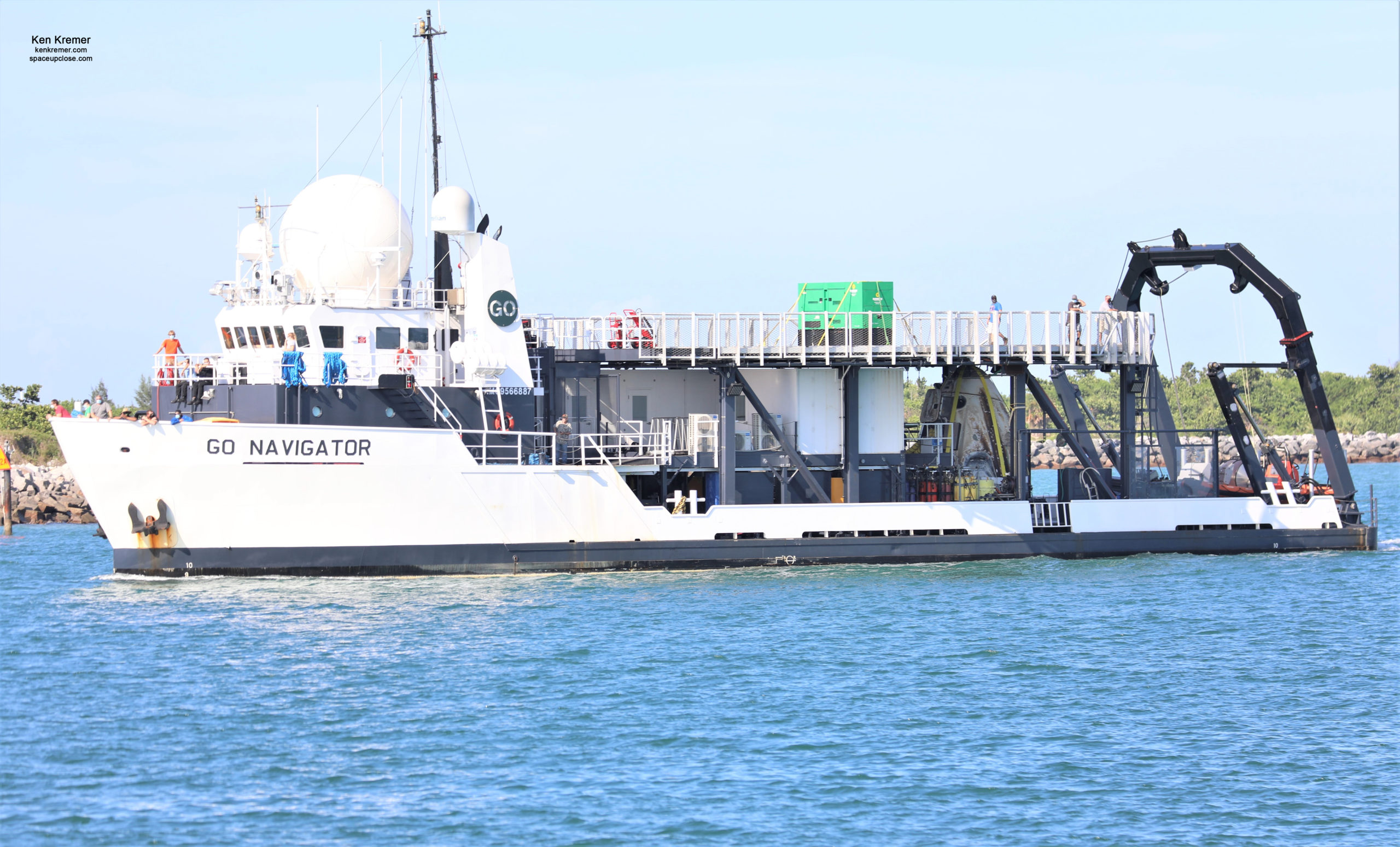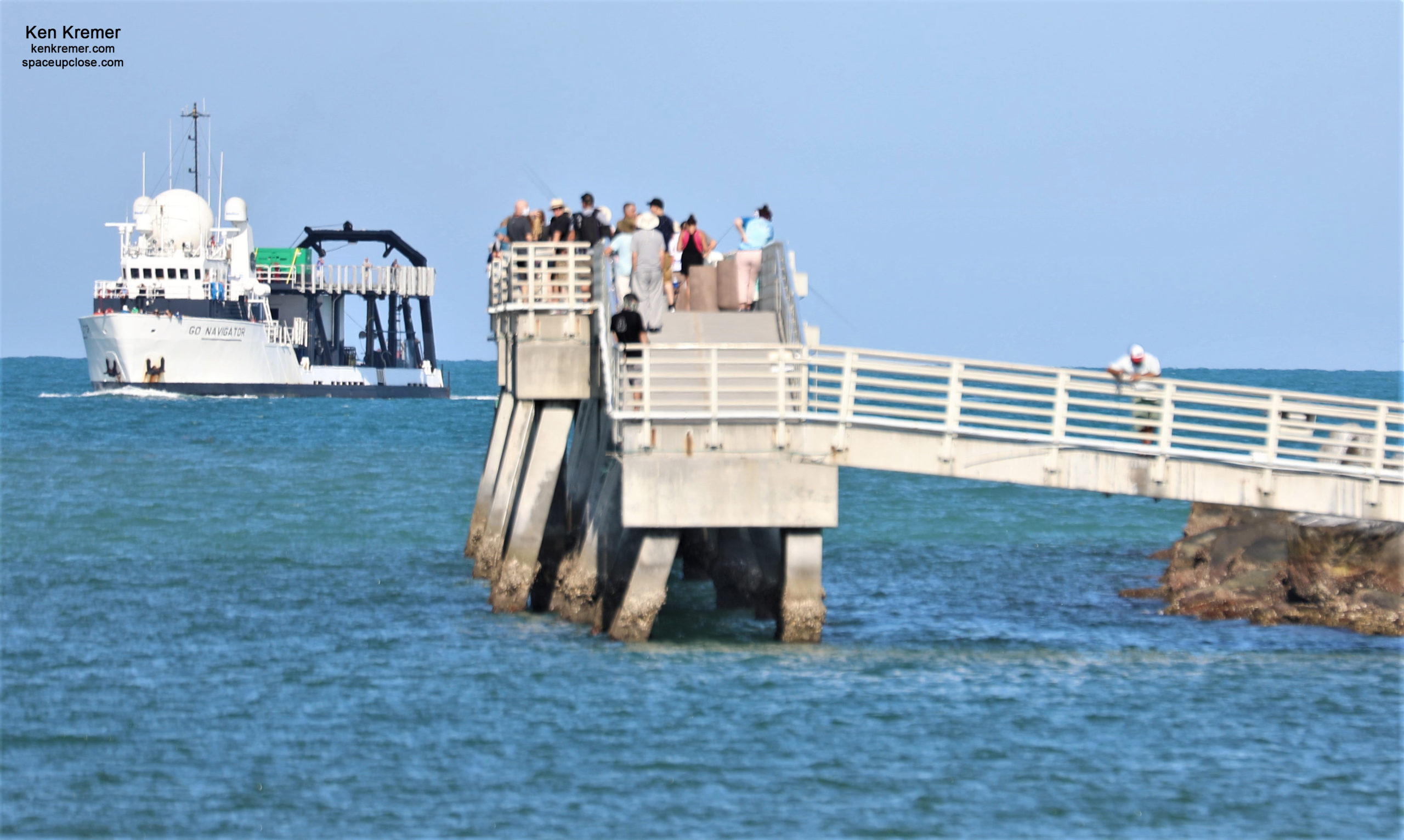 x