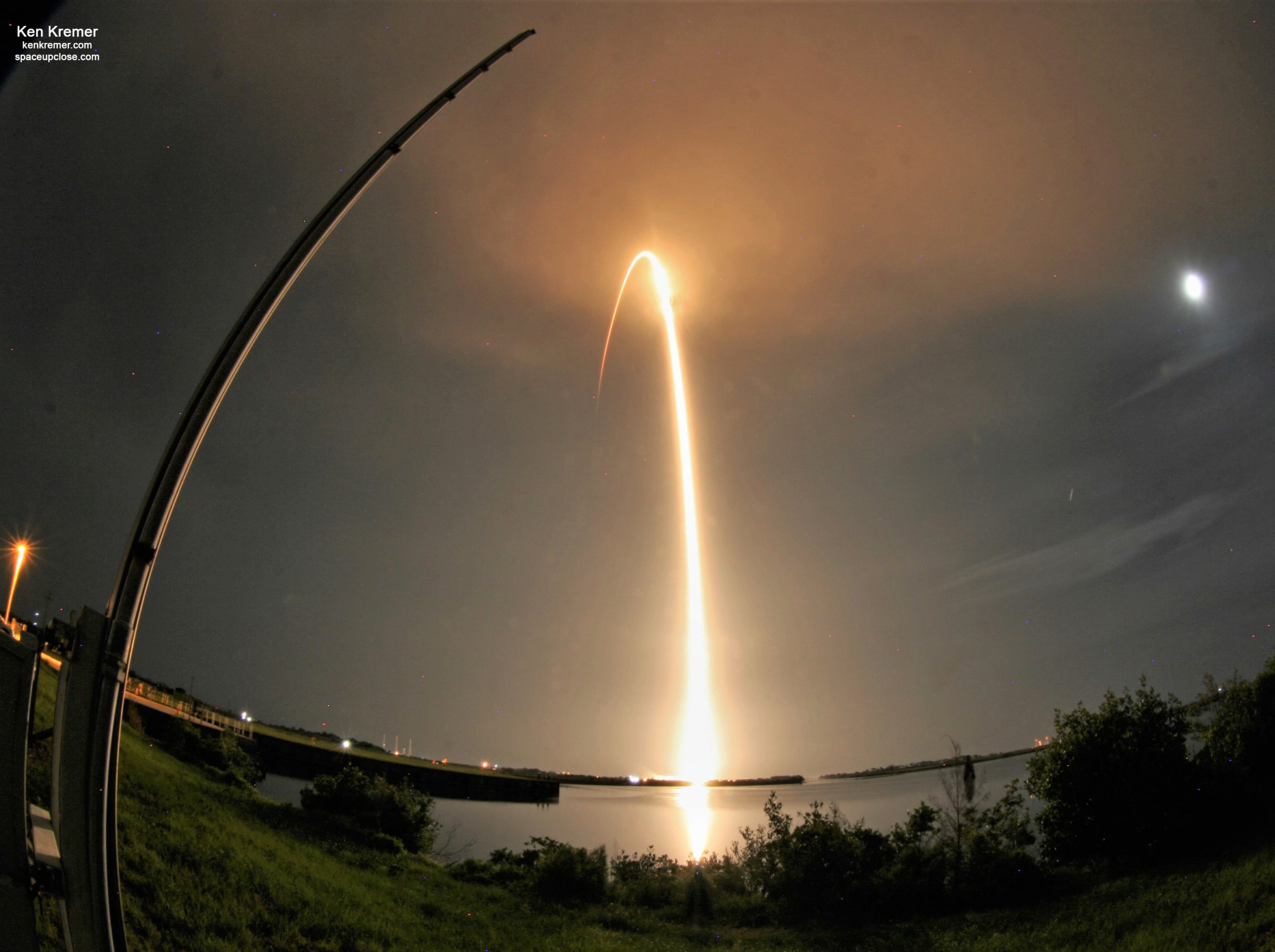 For SpaceUpClose.com & RocketSTEM
KENNEDY SPACE CENTER, FL –  After six weeks of delays resulting from unspecified technical hardware issues and absolutely horrendous Space Coast weather conditions SpaceX at last launched the next batch of their Starlink broadband internet satellites to orbit on a beautiful and hazy overnight launch vaulting aloft atop a 5x recycled Falcon 9 just past midnight Friday Aug. 7 from the Kennedy Space Center in Florida.
The Falcon 9 blastoff comes during a very busy week for SpaceX – including the splashdown return of the Crew Dragon Endeavour spacecraft on Sunday, Aug. 2 that launched two US astronauts to space from US soil for the first time in 9 years, and the short test hop of the firm's next generation Starship test article.
Nighttime liftoff of the oft delayed 10th SpaceX Starlink mission took place at last Friday, August 7 at 1:12 a.m. EDT, 512 GMT from Launch Complex 39A (LC-39A) at Kennedy Space Center in Florida – heading on a trajectory northeast.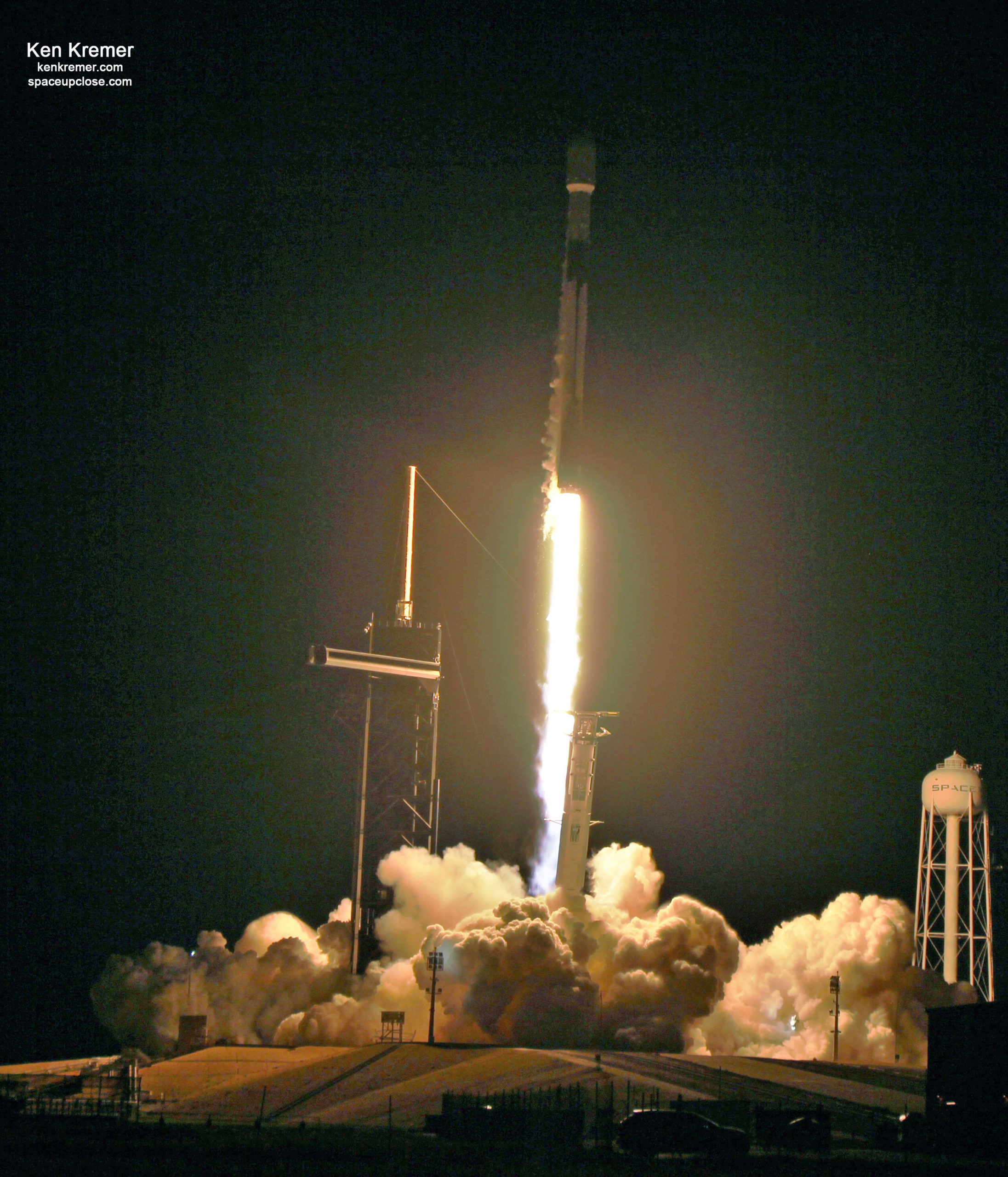 This rather blackened and sooty 'flight-proven' Falcon 9 first stage B1051.5 flew brilliantly for the fifth time.
The launch counts as the tenth Starlink mission, delivering 57 Starlink internet satellites and 2 satellites from BlackSky, a Spaceflight customer to low earth orbit.
The Starlink constellation now totals nearly 600 internet satellites in all.
Successful satellites deployments from the second stage were confirmed by SpaceX at 2:45 a.m. ET
In the minutes before the Falcon 9 liftoff we observed vigorous venting of liquid oxygen (LOX) from the 2nd stage under the somewhat hazy night skies that mostly but not fully  cleared from another bout of stormy weather that delivered rain storms and thunder all around the launch pad and Florida Space Coast region.
Then at the appointed moment in the instantaneous launch window all 9 Merlin 1D first stage engines ignited to generate approx. 1.7 million pounds of thrust fueled by LOX and RP-1 propellants.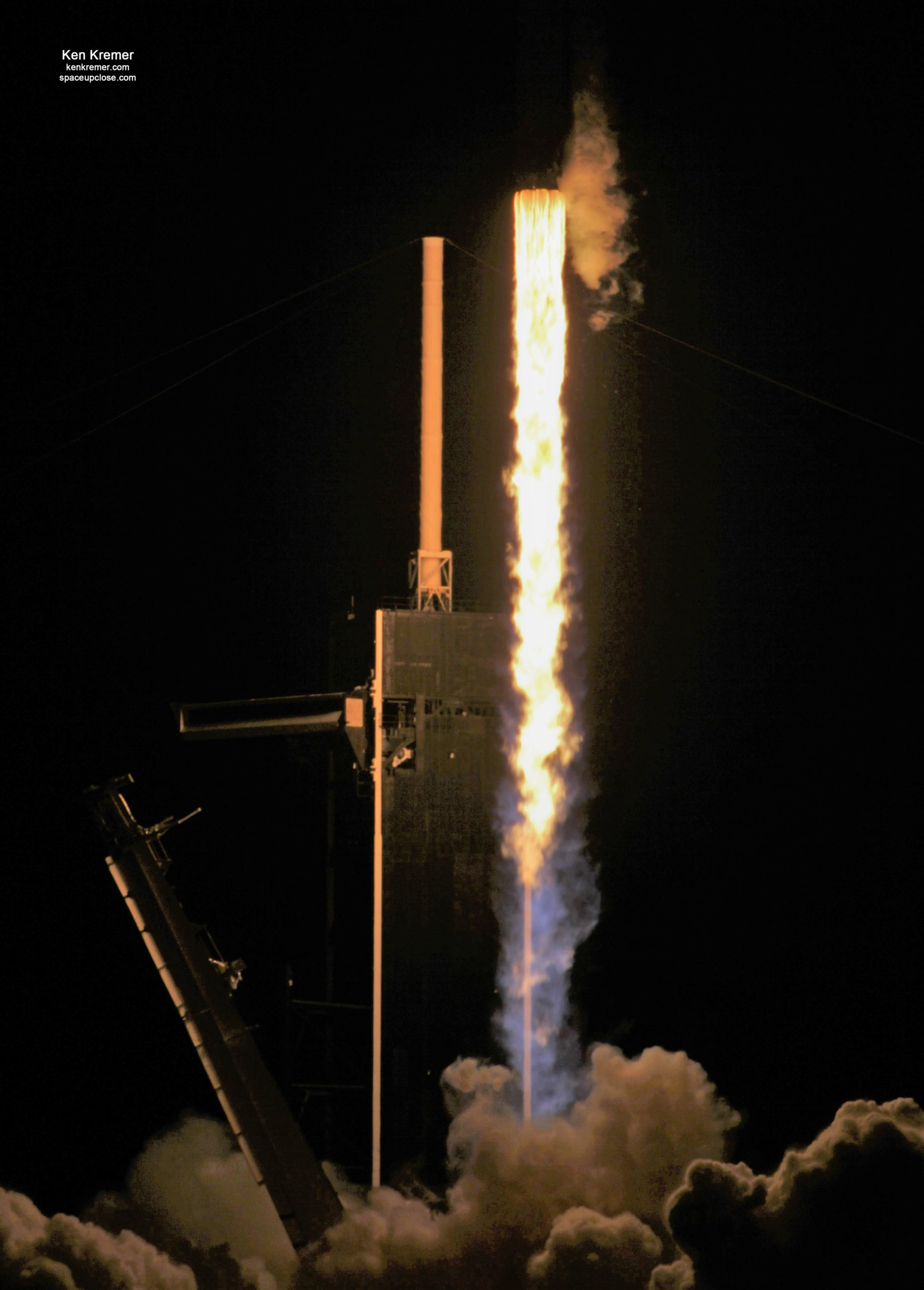 Fiery red-orange flames spewed from the Merlin engines and Falcon 9 vaulted off pad 39A.
Moments later we heard the engines rumbling thunder grow louder and louder as Falcon 9 cleared the tower – briefly turning night into day as the 23 story tall rocket rose higher and higher and eventually arced over in a northeasterly direction following the curvature of the Earth to orbit.
The Falcon 9 1st stage separated as planned two and a half minutes into flight. See that in our streak shot lead image
The 15 story tall stage then carried out a precision guided propulsive descent by reigniting a subset of the Merlin's and successfully landed on the "Of Course I Still Love You" (OCISLY) droneship for the fifth time about eight minutes after launch
Droneship OCISLY was waiting at its stationing position some 400 mi (640 km) north east of KSC off the coast of the Carolina's with a football field sized platform.
The two stage Falcon 9 rocket stands 229 feet (70 meters) tall.
The integrated Falcon 9 rocket was raised vertical at pad 39A early Thursday morning, Aug. 6.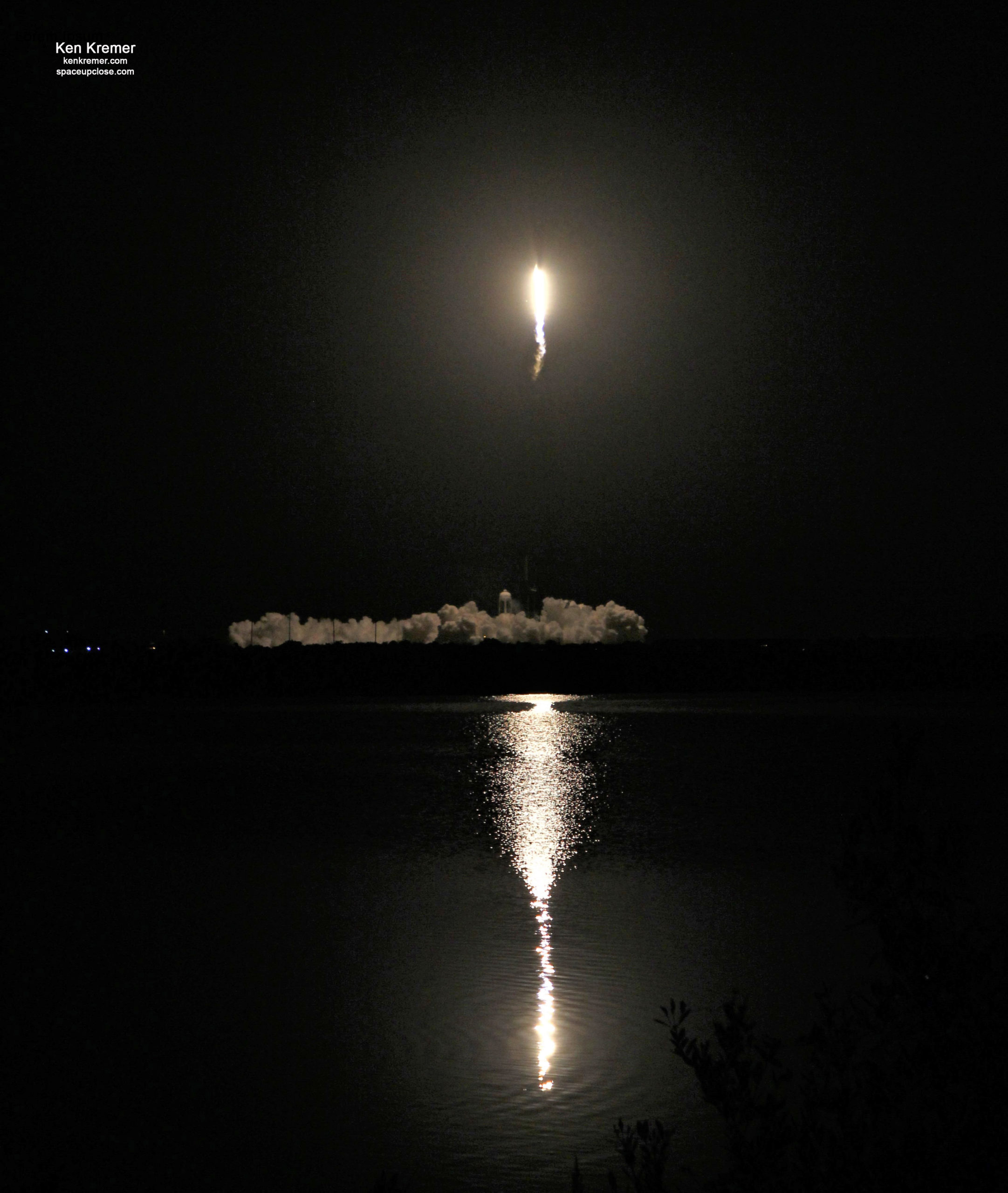 Originally this Starlink mission was to blastoff on June 26, but it was called off because SpaceX needed to conduct additional unspecified checks on the launch vehicle- possibly related to the second stage as was the case with a different Falcon 9.
Enjoy our Space UpClose gallery of photos of the SpaceX Falcon 9 rocket launch here and earlier prelaunch photos from pad 39A.
Watch these launch and landing videos courtesy of SpaceX.
Liftoff!
Liftoff! pic.twitter.com/puG31v239X

— SpaceX (@SpaceX) August 7, 2020
"Falcon 9's first stage has landed on the Of Course I Still Love You droneship," SpaceX tweeted.
Falcon 9's first stage has landed on the Of Course I Still Love You droneship pic.twitter.com/szO3thMxqa

— SpaceX (@SpaceX) August 7, 2020
The mission designated Starlink 9 is comprised of 57 Starlink satellites as well as a pair of commercial Earth observation satellites for Seattle-based BlackSky Global for what counts as SpaceX's second rideshare mission
Rideshares are a very low cost alternative for small satellite payload launches that don't need the full rocket to get to space.
Altogether the Starlink constellation now totals 595 satellites since May 2019.
SpaceX is thus the top satellite operator in the world.
The BlackSky Global spacecraft were deployed sequentially beginning 1 hour and 1 minute after liftoff, and the Starlink satellites were deployed starting approximately 1 hour and 33 minutes after liftoff.
"Both BlackSky satellites have been deployed," SpaceX tweeted.
Both BlackSky satellites have been deployed

— SpaceX (@SpaceX) August 7, 2020
The Starlink satellites were deployed in a circular orbit about 250 miles (400 km) above Earth, as was done on the first through fourth Starlink missions according to SpaceX.
"Deployment of 57 Starlink satellites confirmed," in this SpaceX video tweet.
Deployment of 57 Starlink satellites confirmed pic.twitter.com/myKxr3QSTu

— SpaceX (@SpaceX) August 7, 2020
"Additionally, all Starlink satellites  on this flight are equipped with a deployable visor to block sunlight from hitting the brightest spots of the spacecraft – a measure SpaceX has taken as part of our work with leading astronomical groups to mitigate satellite reflectivity," says SpaceX.
"We're excited to report that all 57 of the satellites on today's mission do have sun visors and all future satellites will be outfitted with these visors as well," said SpaceX engineer Youmei Zhou during the live launch webcast.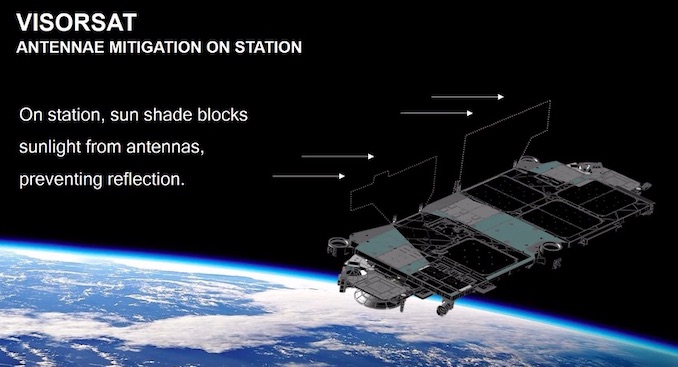 The Starlink satellites will now gradually raise their orbits over the next few week to about 340 miles (550 km) altitude via the krypton ion propulsion system.
The flat panel satellites weigh about 500 pounds each and are manufactured by SpaceX in Redmond, Washington.
Falcon 9's first stage previously supported Crew Dragon's first demonstration mission to the International Space Station on March 2, 2019, launch of the RADARSAT Constellation Mission on June 12, 2019, and the fourth and seventh Starlink missions on Jan. 29 and April 22 respectively this year.
SpaceX has also dispatched the twin payload fairing catching boats GO Ms. Tree and GO Ms. Chief to attempt to either catch the nose come halves mid-air or scoop them out of the corrosive ocean water if they miss.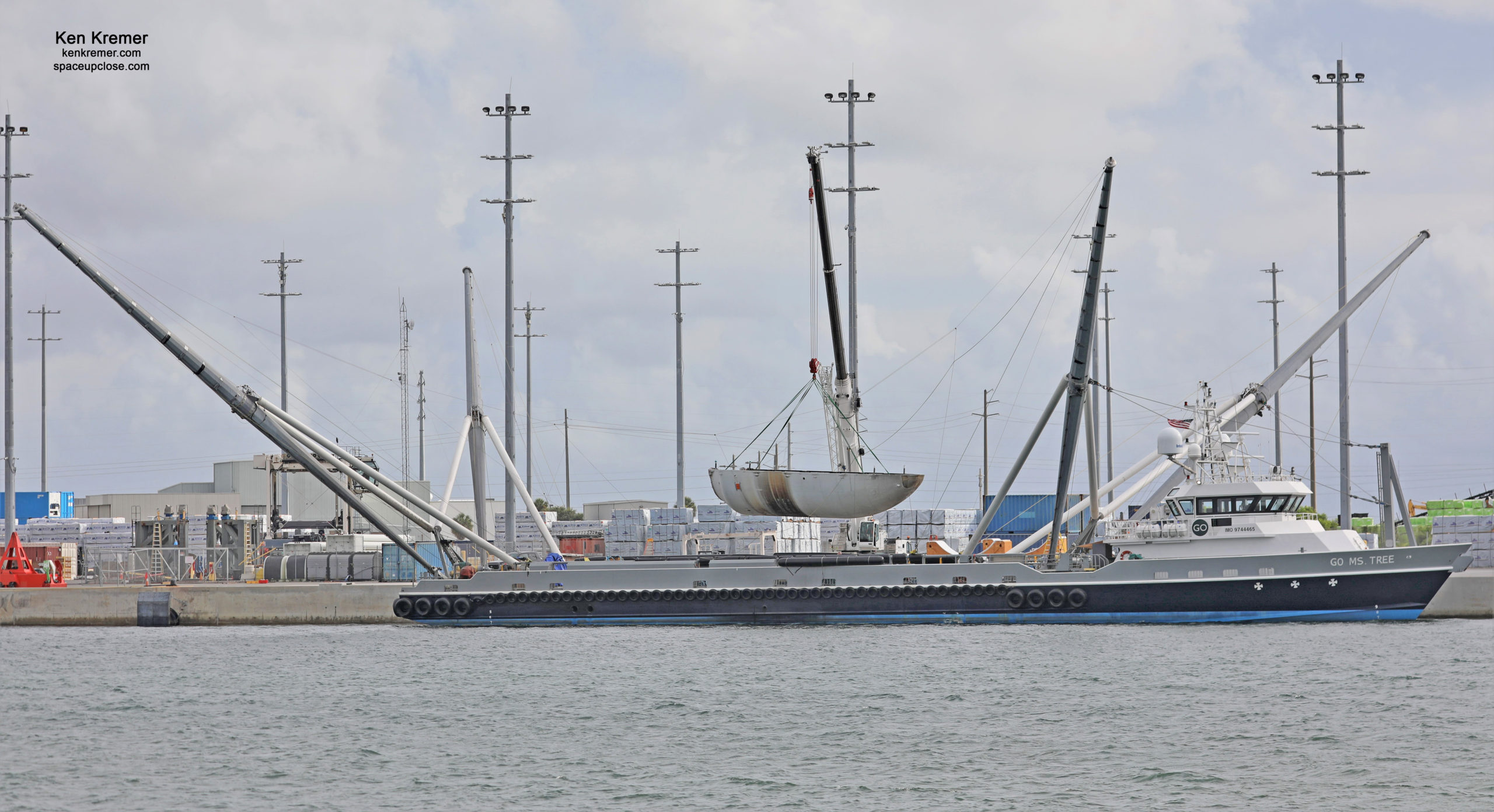 The fairing boats are nearby ready to catch some 40 minutes after blastoff.
They boats were unable to catch the fairings but apparently did scoop them out of the ocean waters.
The fairings and booster are expected back at Port Canaveral in a few days
Overall the Starlink constellation could eventually number over 12,000 satellites.
SpaceX plans to launch 1 or 2 Starlink missions per month for the foreseeable future.
The goal according to SpaceX CEO Elon Musk is to provide cost competitive internet services around the globe – especially for remote and underserved areas.
Initial beta test service in North America is expected later this year.
The pricing information for the Starlink service or terminal has not been announced.
Musk has said previously that the pizza-sized receiver dishes will be simple to operate – basically just point to the sky.
Prelaunch preparations for this SpaceX  Starlink mission began weeks ago with the  departure of the "Of Course I Still Love You" (OCISLY) droneship in late June and again on July 4 – which subsequently returned to Port Canaveral and was dispatched again
OCISLY was towed away from her berthing spot at North Cargo Pier 6 by tug Finn Falgout for the second time as I watched from Jetty Pork Beach. When it departed for the first time I watched from across the south pier.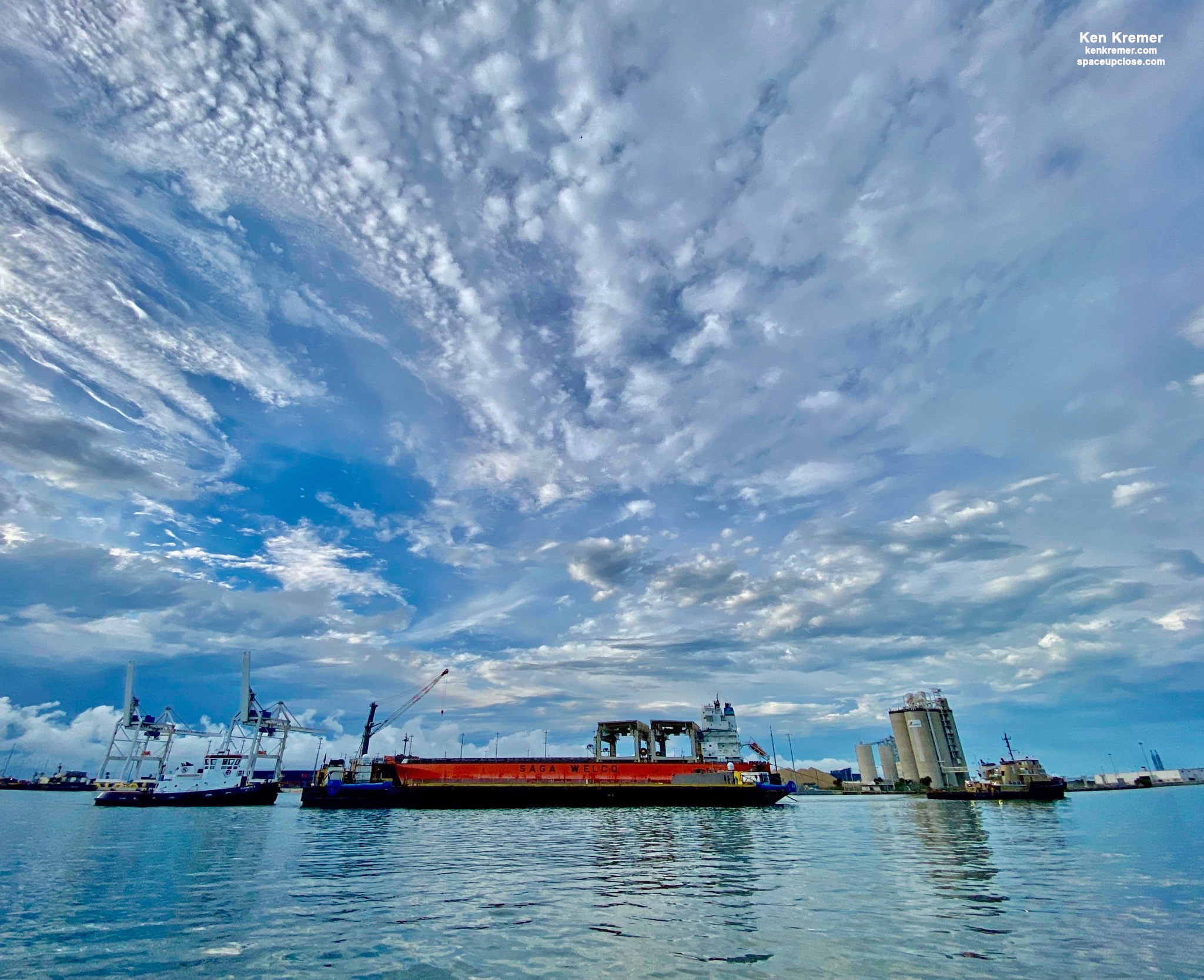 Enjoy our Space UpClose eyewitness photos of the prior OCISLY droneship departures.
SpaceX CEO Elon Musk has made rocket recycling a top priority in order to slash launch costs.
Musk says that the fairings cost approximately $6 million or roughly 10% of the approximate cost of $60 million for a new Falcon 9 rocket.
Overall this counts as the 90th flight of a Falcon 9 rocket since 2010 and the 13th Falcon 9 launch of 2020.
To date SpaceX has recovered the Falcon 9 first stage booster 57 times by land and by sea.
Watch my Aug 3 interview at 'Stay Curious' show American Space Museum about successful Mars Perseverance launch, successful splashdown SpaceX Crew Dragon on Demo-2 1st commercial mission, Artemis Moon mission and more:
Watch my commentary about the 1st SpaceX Starlink launch attempt for this mission at WFTV ABC 9 Orlando TV News on Jun 25
https://www.wftv.com/news/local/brevard-county/spacex-launch-another-round-starlink-satellites-friday/4WKS5J4QDBA7TJ2E4SPI5UJQRI/
Watch Ken's continuing reports about Commercial Crew and Artemis and onsite for live reporting of upcoming and recent SpaceX and ULA launches including Demo-2, Starlink, X-37B, Solar Orbiter, Mars 2020 and more at the Kennedy Space Center and Cape Canaveral Space Force Station.
Stay tuned here for Ken's continuing Earth and Planetary science and human spaceflight news: www.kenkremer.com –www.spaceupclose.com – twitter @ken_kremer – email: ken at kenkremer.com
Dr. Kremer is a research scientist and journalist based in the KSC area, active in outreach and interviewed regularly on TV and radio about space topics.
………….
Ken's photos are for sale and he is available for lectures and outreach events
x