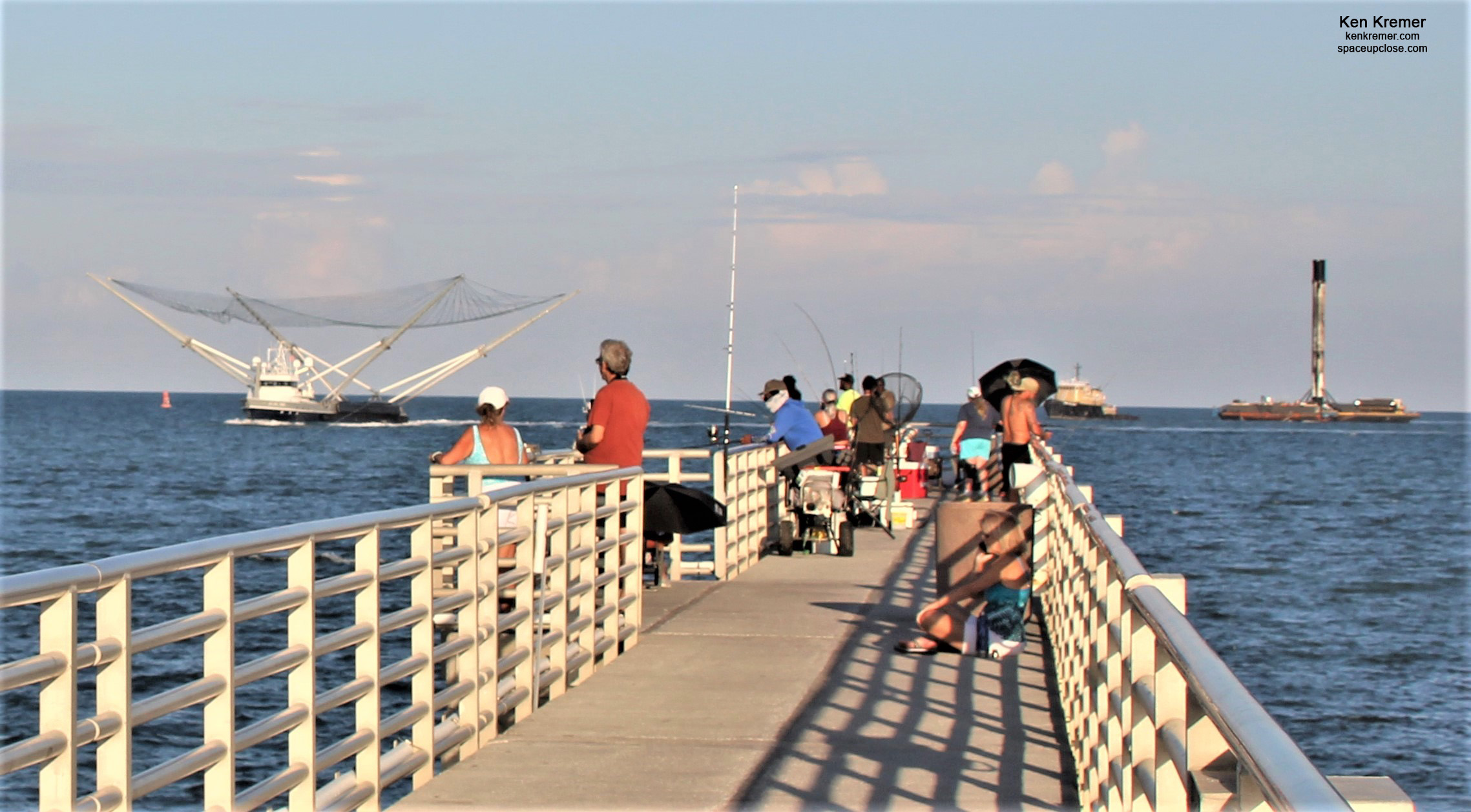 For SpaceUpClose.com & RocketSTEM
KENNEDY SPACE CENTER, FL –   Just two and a half days after its scrub streak breaking Starlink launch the 3x flown and landed SpaceX Falcon 9 1st stage from Tuesdays Starlink mission staged an absolutely stellar and uncommon sunset return to Port Canaveral and Florida's Space Coast atop the 'Of Course I Still Love You' (OSICLY) droneship Thursday evening Oct. 8 to a delighted crowd of space enthusiasts and media.
And in what is an unprecedented double treat event for spectators making the triumphant return even more remarkable for the recovered booster from SpaceX's launch of the 13th batch of the firms Starlink constellation of broadband internet satellites was the double treat presence of the SpaceX payload fairing catcher ship GO Ms. Tree simultaneously staging practice nose cone recovery exercises just off shore of the beach in the Atlantic Ocean.
As the booster made its final approach to Jetty Park pier it started idling and allowed Go Ms Tree the honor of going first and leading the procession of the SpaceX fleet of ships into the narrow channel of Port Canaveral.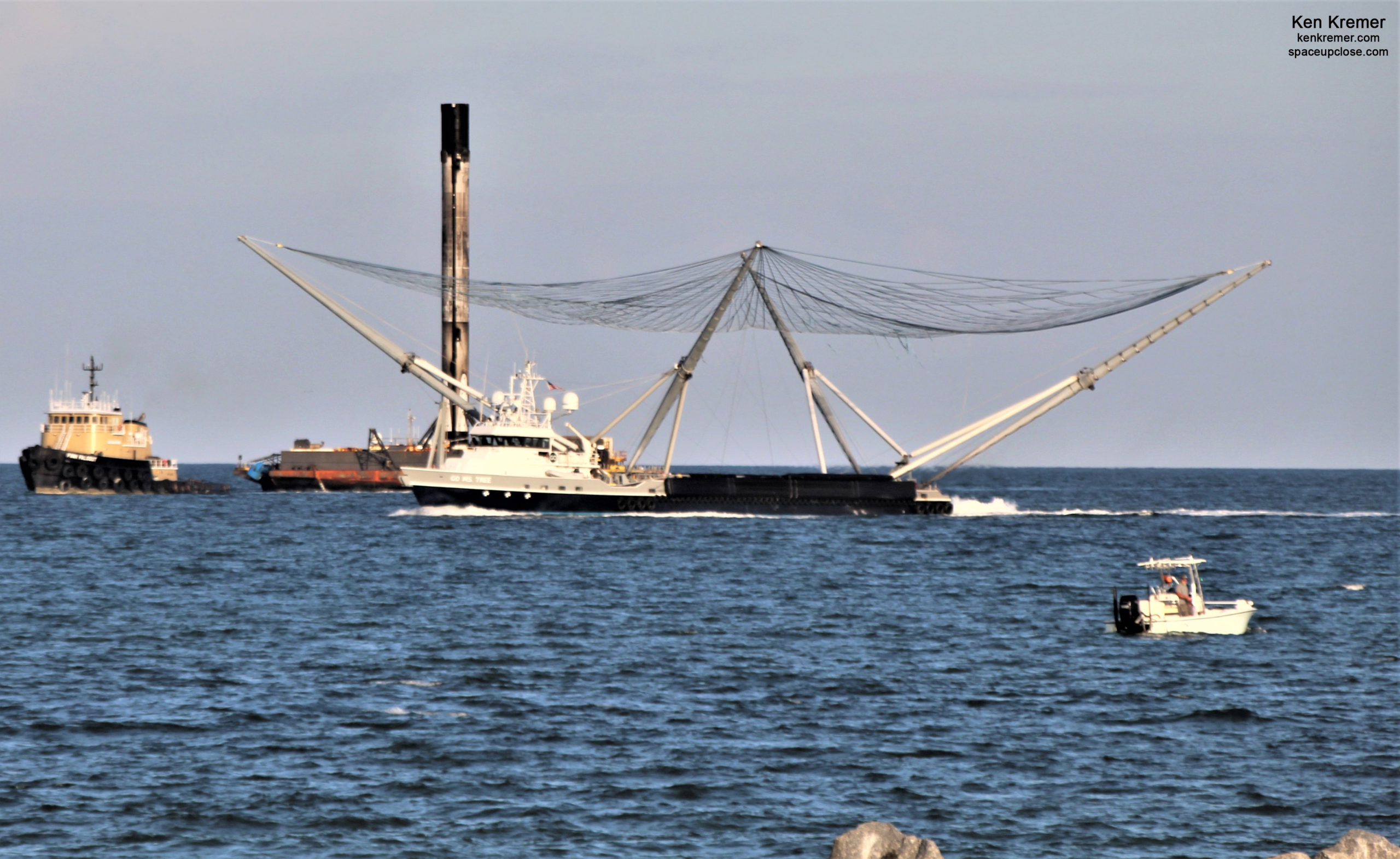 The OCISLY droneship and the now 3x recovered launched/landed booster B1058.3 at last began her final approach to Jetty Park and Pier just before sunset around 6:15 p.m. ET Oct. 8 towed by now veteran tugboat Finn Falgout and accompanied by the SpaceX fleet and welcomed by a small crowd of my media colleagues and beachgoers.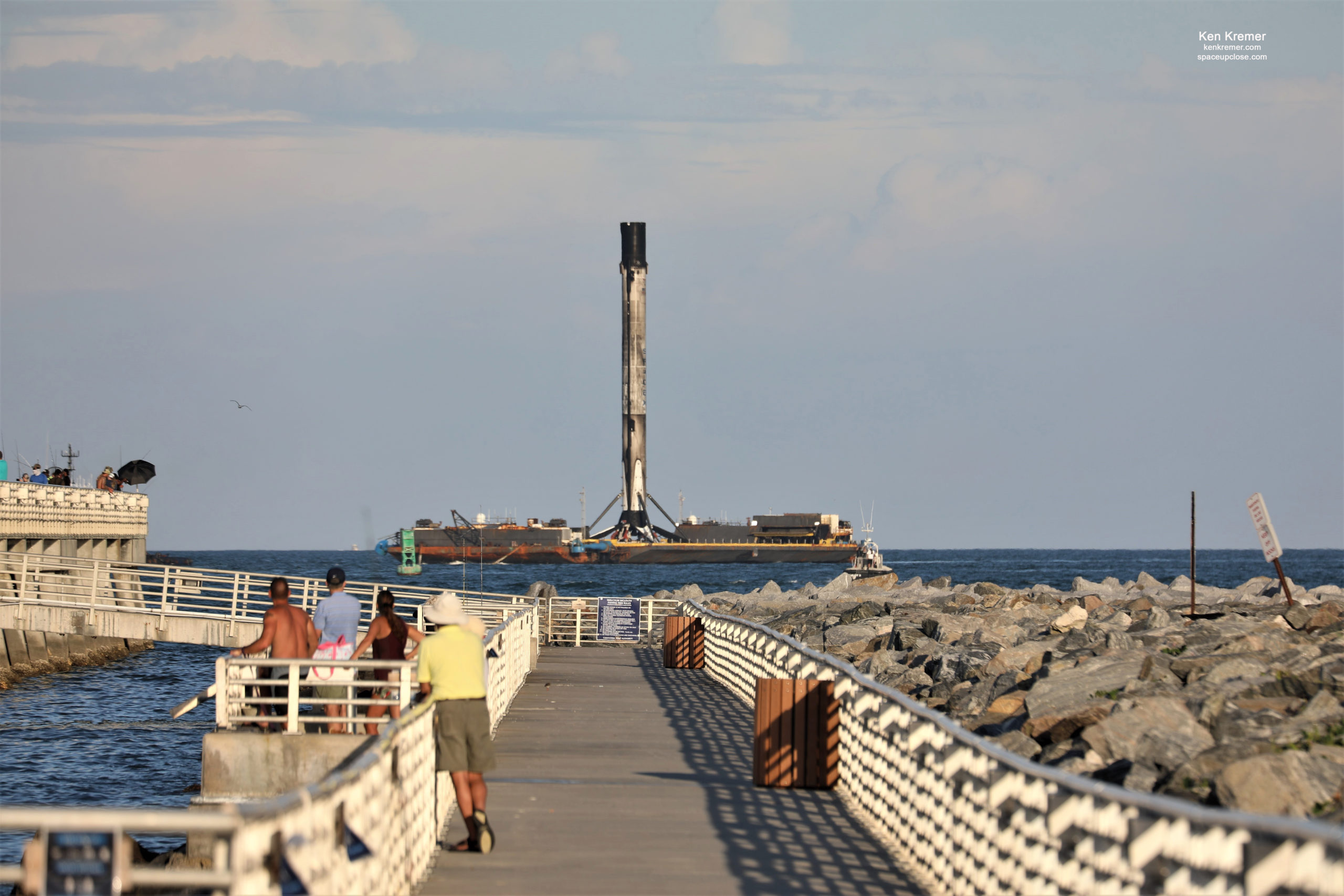 Today's sunset booster arrival was greeted by stunning sunglare reflecting off the booster core with broken clouds and fine Space Coast weather – very luckily warm, dry and calm compared to the continuing torrential downpours inundating the region much of the past week.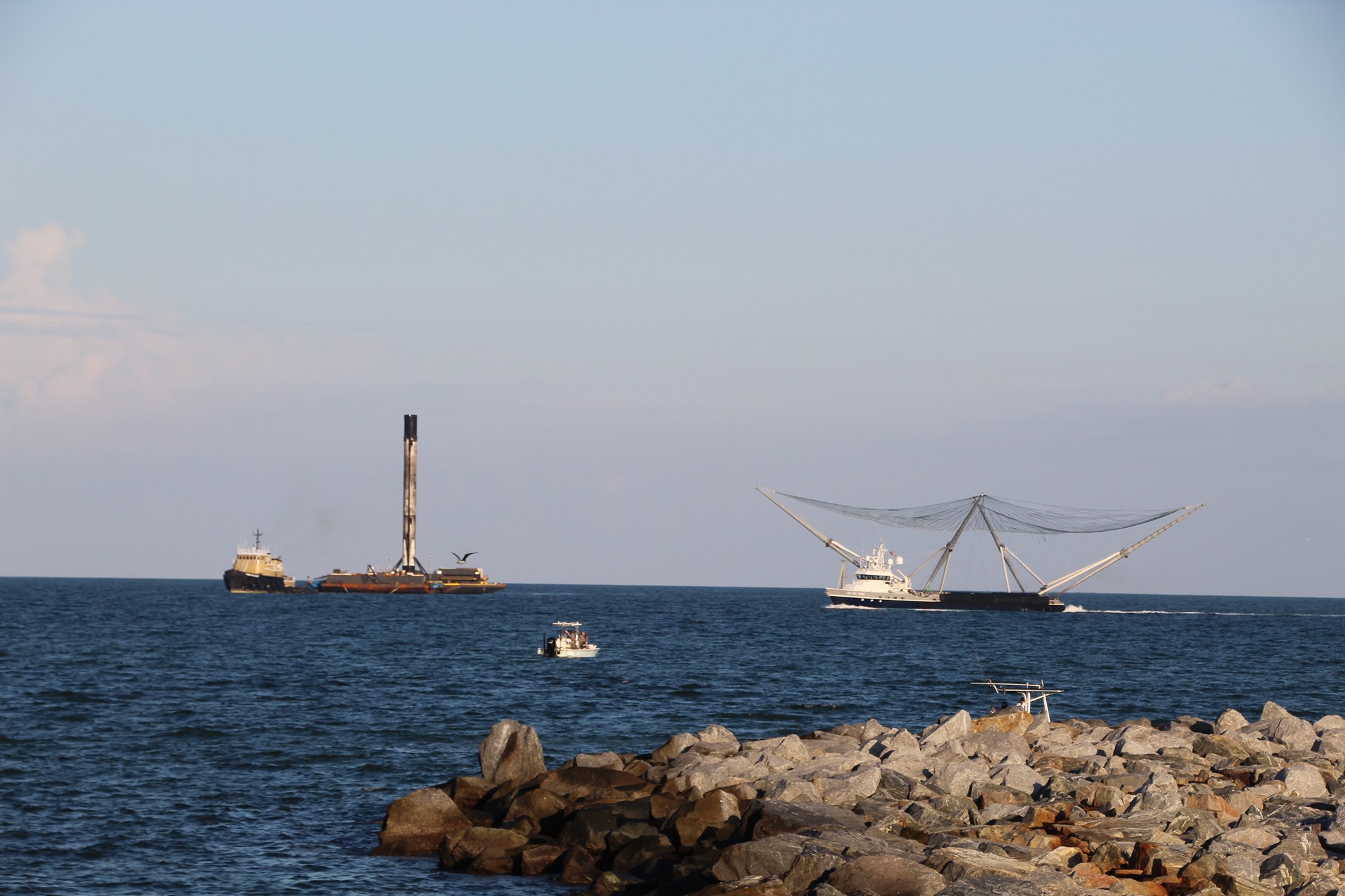 Enjoy our Space UpClose gallery of booster return, launch and prelaunch images from the Jetty Park, Port Canaveral and the KSC press site from the team of Ken Kremer and Jean Wright.
Check back as the gallery grows.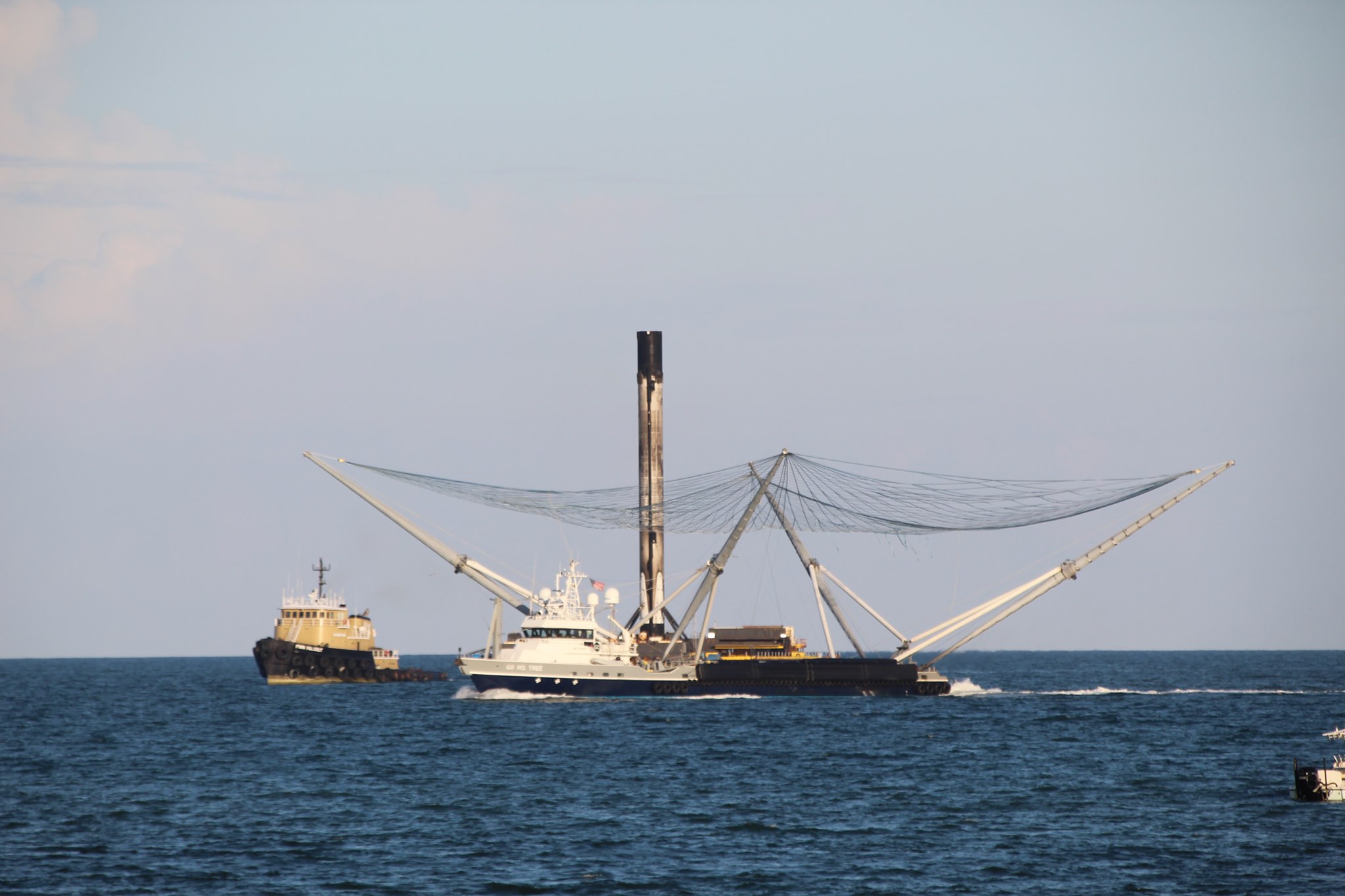 The now blacker from being thrice flown 16-story tall booster standing firmly upright on OCISLY sailed swiftly past Jetty Park Pier and reached the northside berthing port as usual some 45 minutes after sunset port arrival.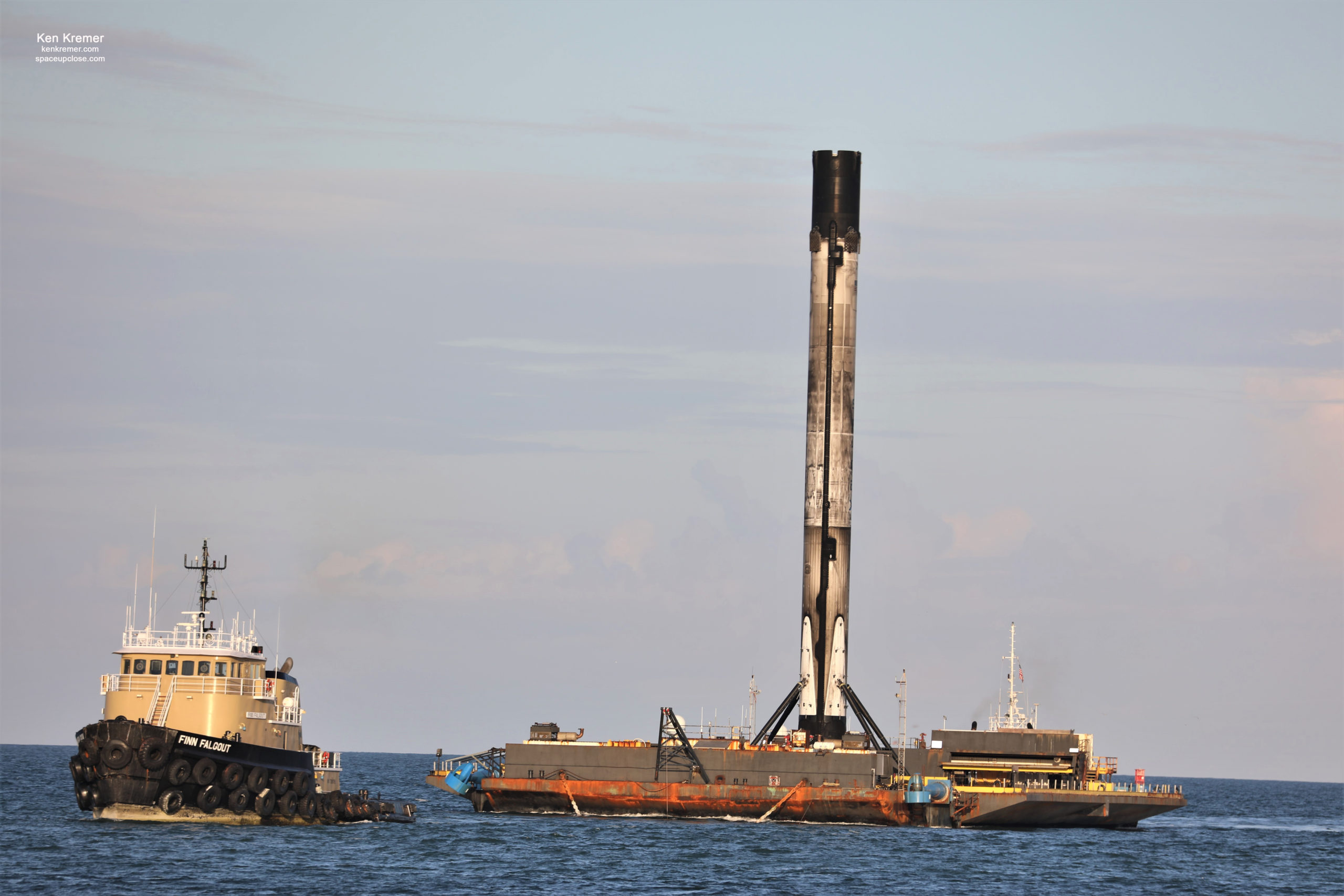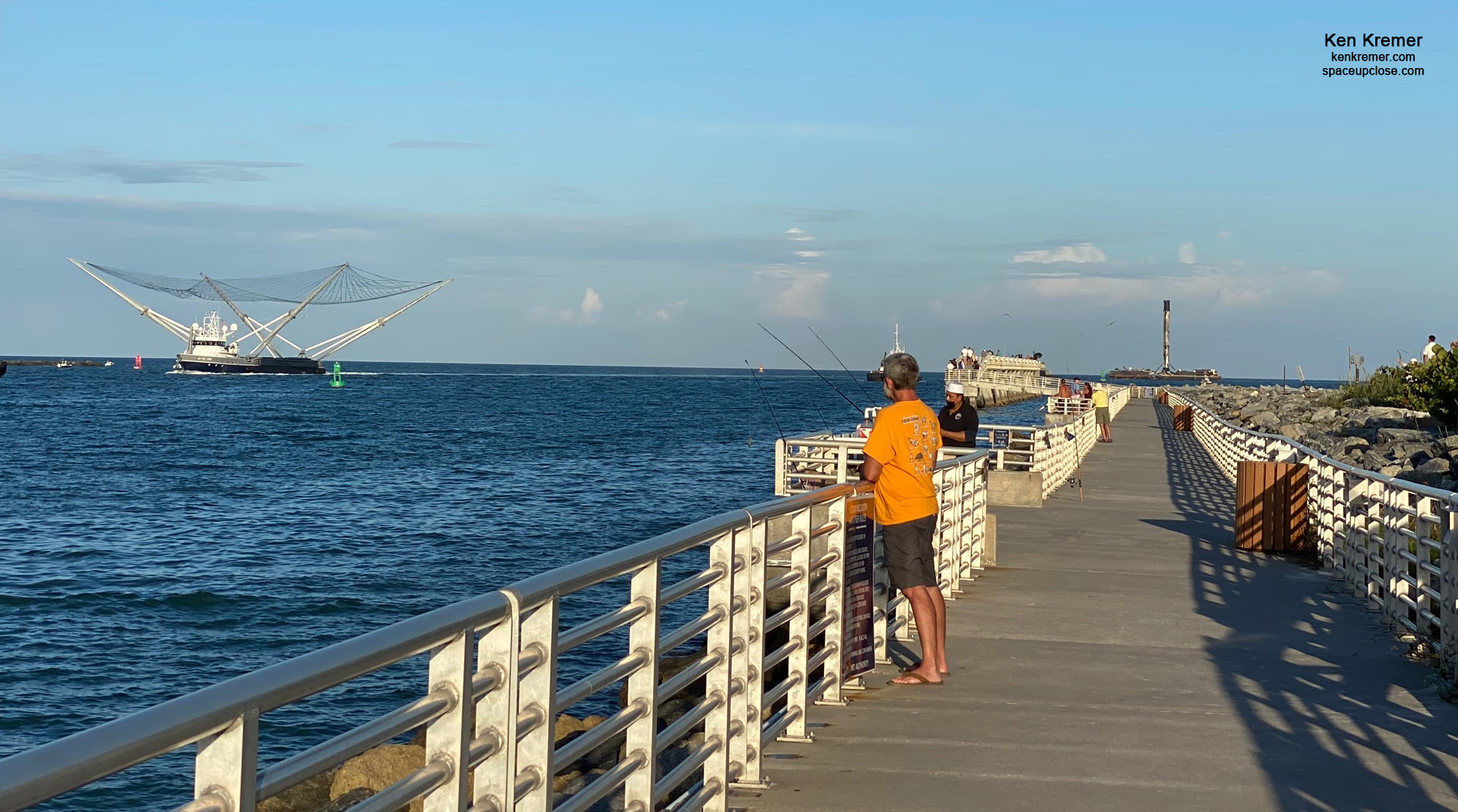 After berthing at the north pier that pretty much concluded the work for the day.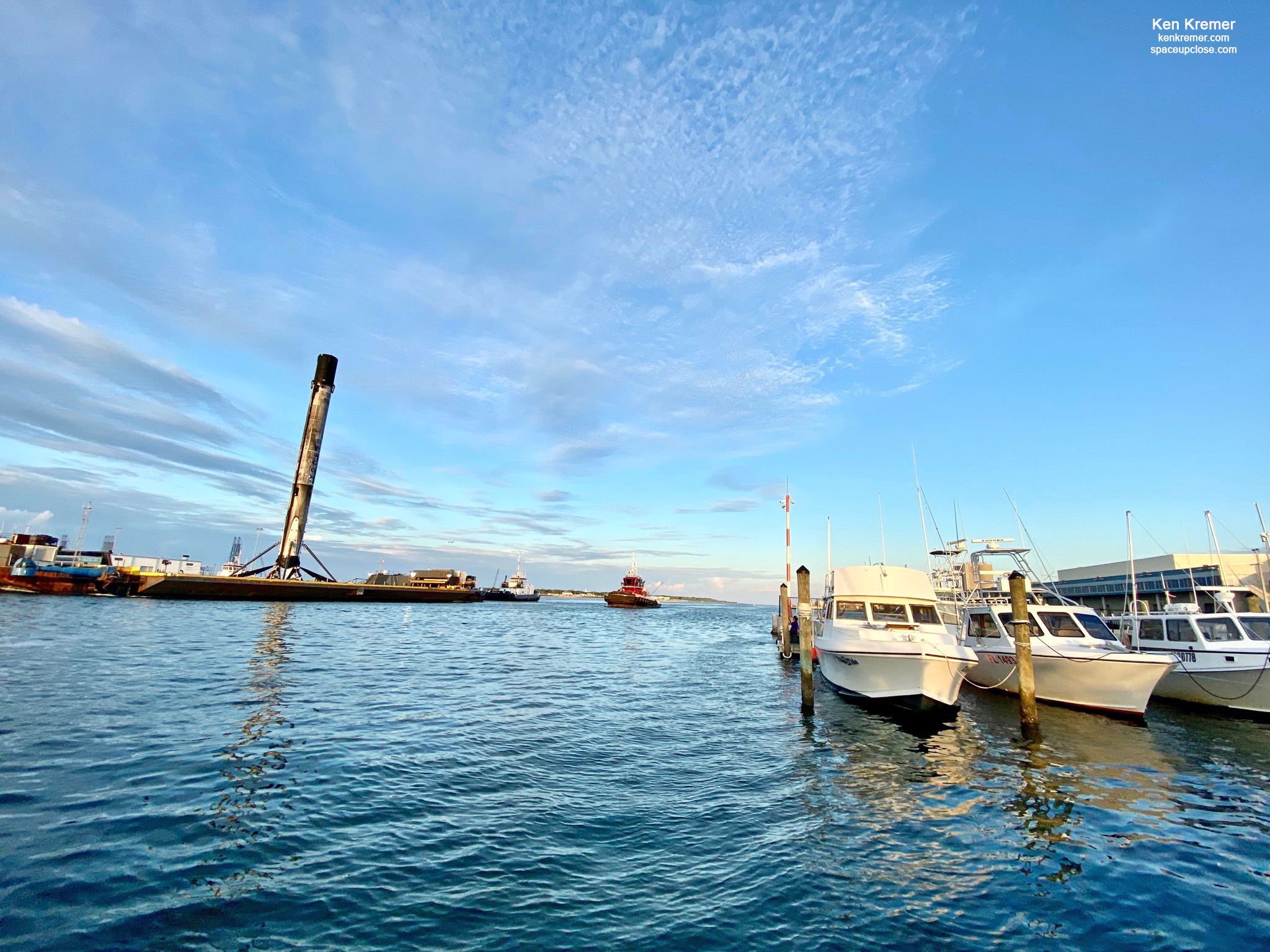 The booster cap was not attached by the crane crew as dusk and night took hold – making for more stunning view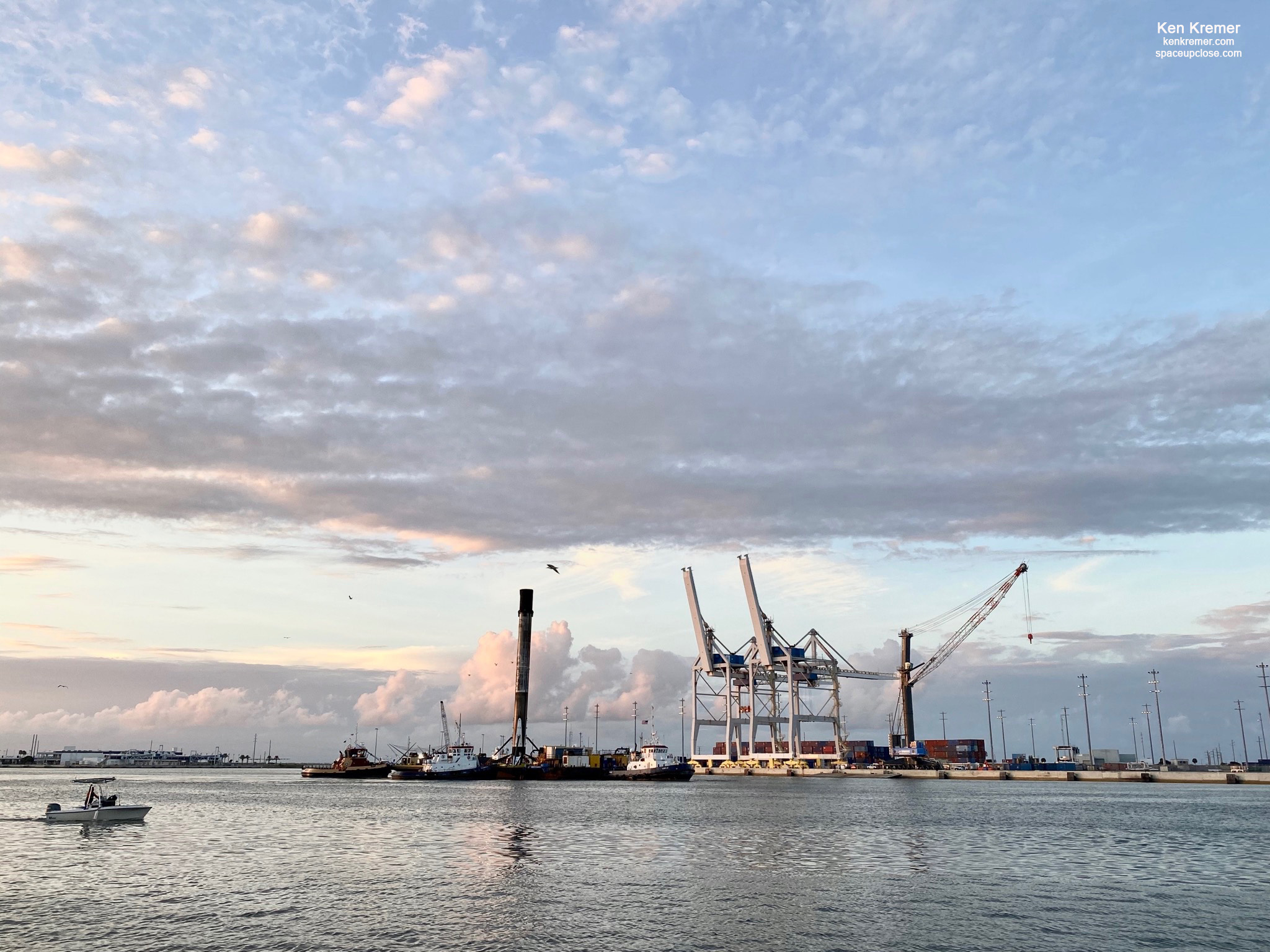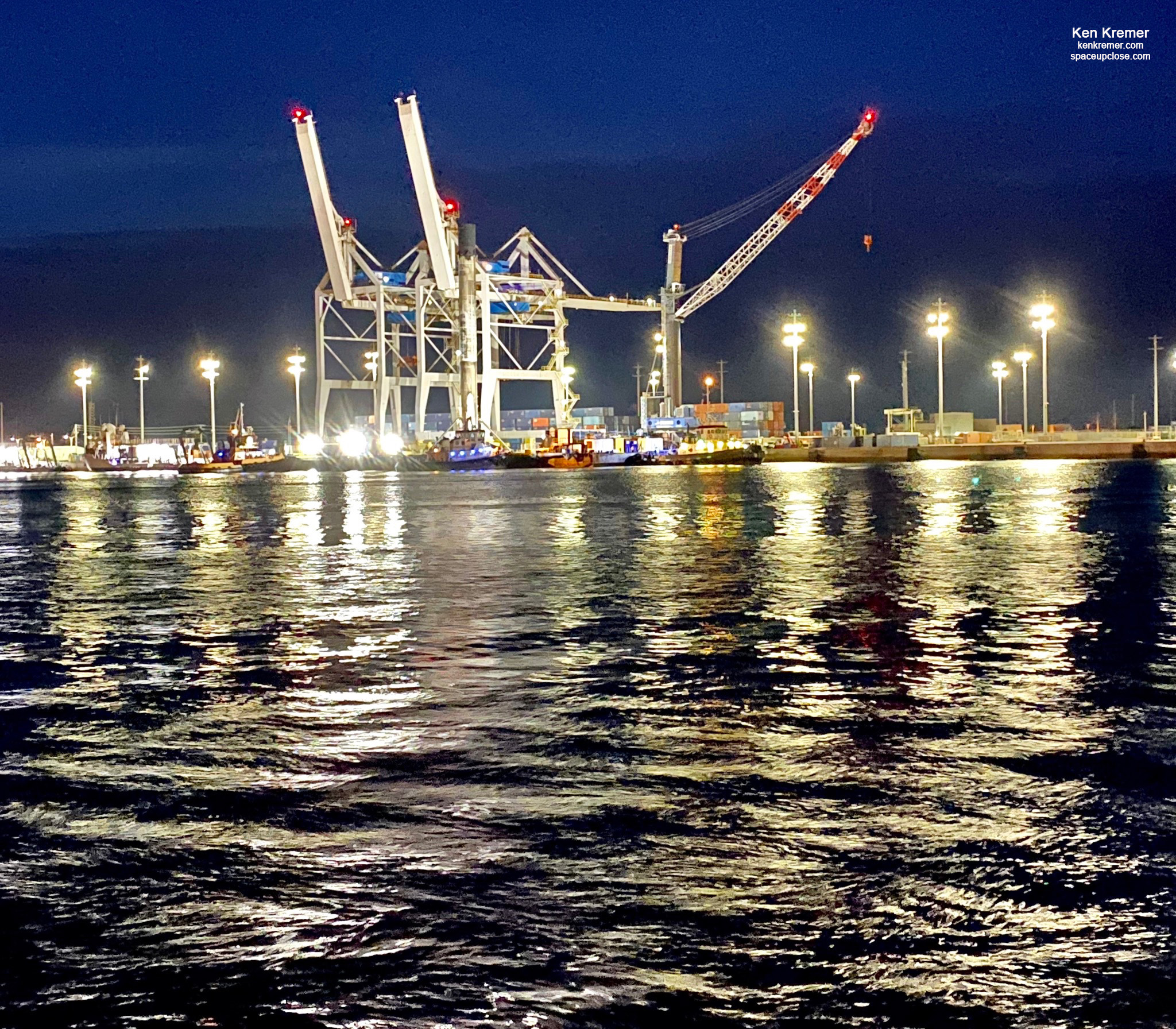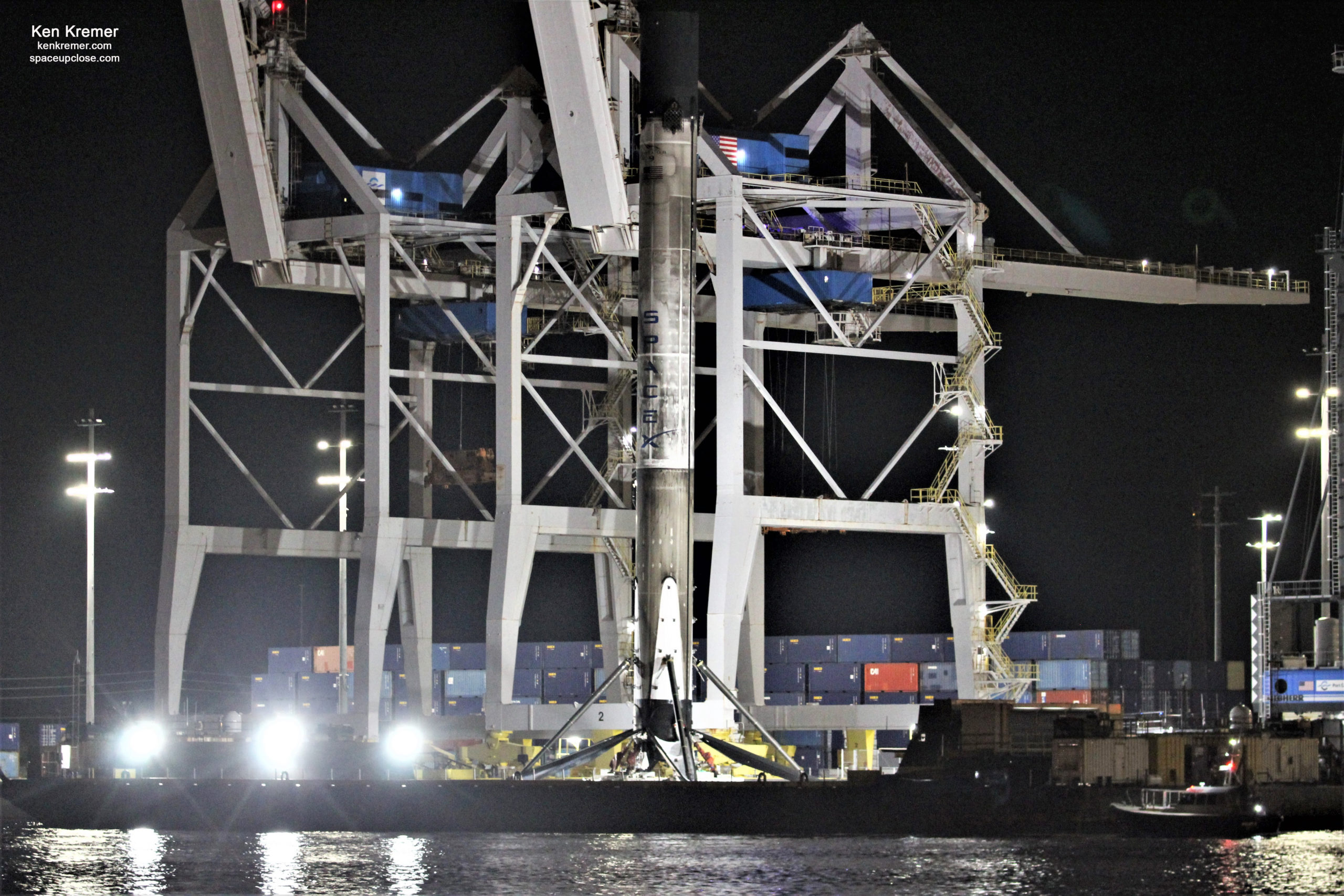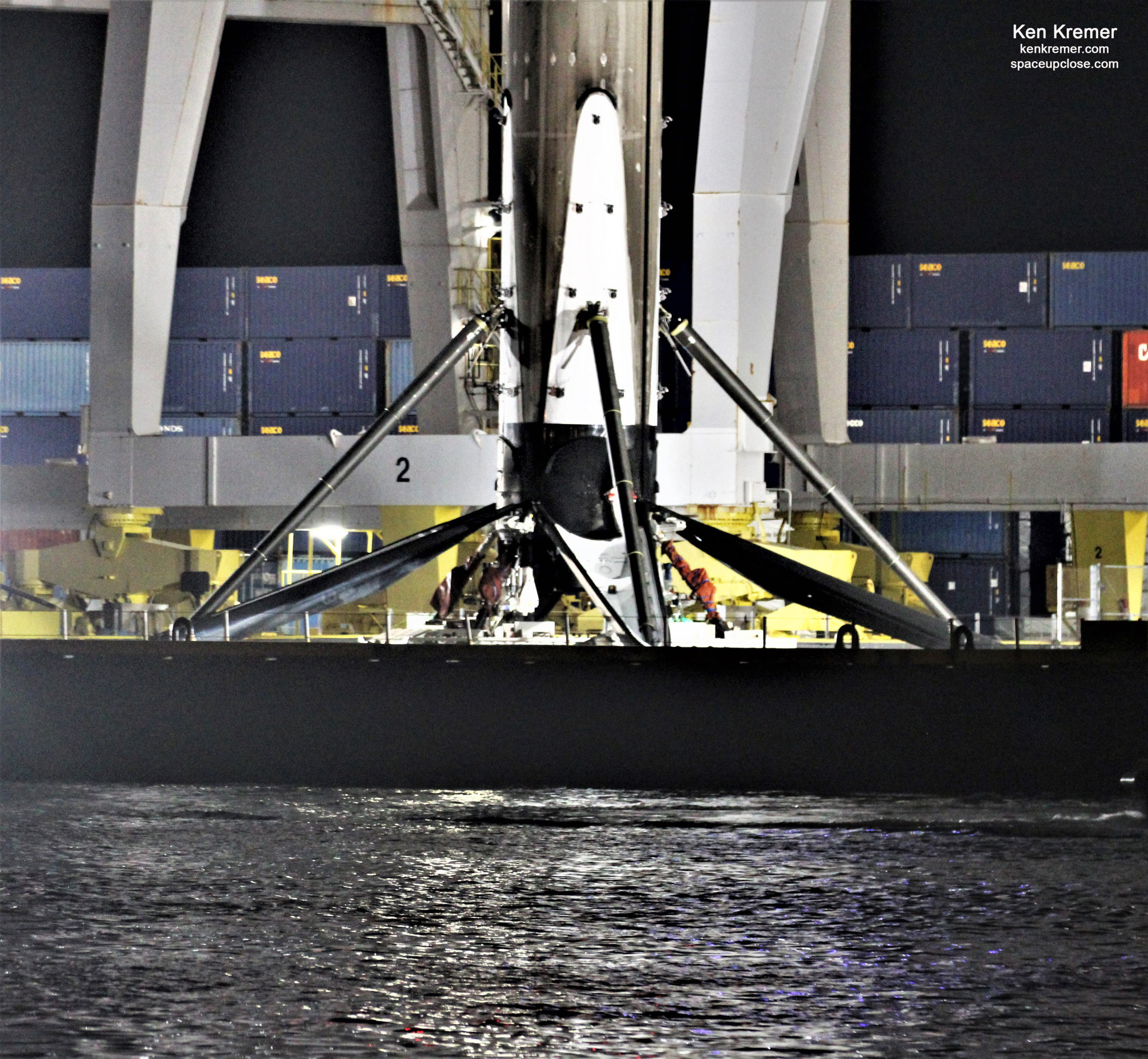 It should be noted this a rather special Falcon 9 booster.
Falcon 9's first stage previously supported launch of Crew Dragon's first flight to the International Space Station on May 30 on the Demo-2 mission with NASA astronauts Bob Behnken and Doug Hurley onboard and the ANASIS-II commercial communications satellite mission on July 20.
As such the booster still features the NASA Worm logo on the side from the Demo-2 mission – see our photos.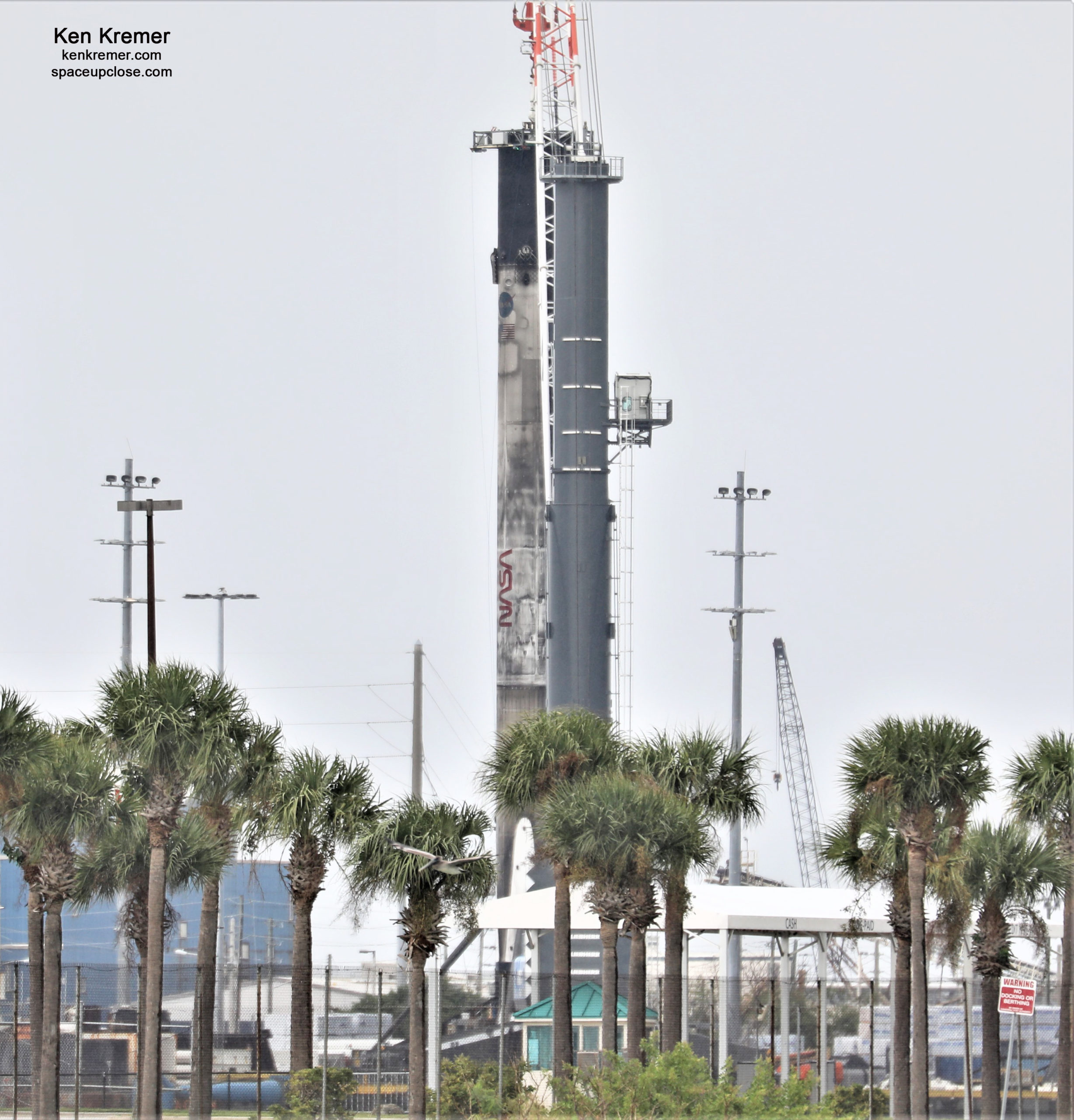 Liftoff of the 23 story tall single stick recycled SpaceX Falcon 9 on the 13th  mission carrying Starlink broadband internet satellites took place during the instantaneous window at 7:29 a.m. EDT  (1129 GMT) Tuesday morning, Oct. 6 from Launch Complex-39A on NASA's Kennedy Space Center – just a few minutes after sunrise.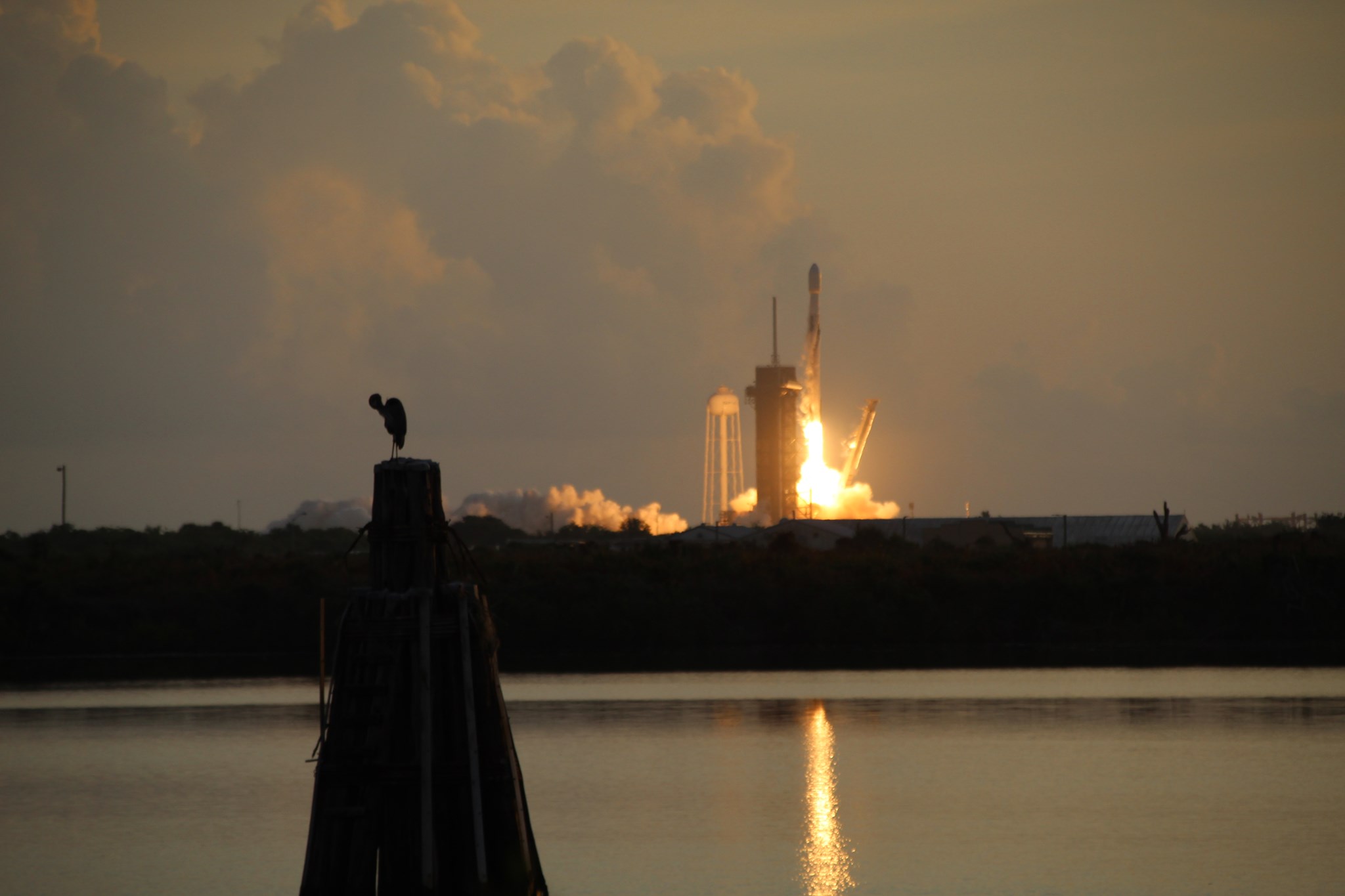 Breaking the launch scrub streak was spectacular! The seemingly endless and unprecedented series of Florida Space Coast launch scrubs by both SpaceX and ULA for more than a month and given names such as 'Scrubitis', 'Scrubtober', "Scrubtoberfest' or 'Scrubtember' – mostly for technical reasons – was at last ended with the spectacular sunrise blastoff Tuesday morning of a SpaceX Falcon 9 carrying 60 Starlink internet satellite to orbit from the Kennedy Space Center.
Overall this marked the 43rd flight of a reflown 1st stage booster.
Altogether SpaceX has successfully landed  61 flown boosters by land or by sea.
Loaded with LOX and HH2 propellants all none Falcon 9 Merlin 1D first stage engines on flight- proven booster B1058.3  ignited to generate 1.7 million pounds of liftoff thrust and roared off pad 39A with crackling thunder into a mostly cloud free sky that luckily cleared in the final minutes – heading northeasterly with a packed nose cone of Starlink broadband satellites.
'With that, we hope you have a wonderful end of your day and a happy end to Scrubtober," said SpaceX engineer Siva Bharadvaj, towards the conclusion of the SpaceX live launch webcast.
Overall this was the fourth launch attempt for this mission due to rocket, ground system and weather issues.  In fact this launch was also scrubbed yesterday, Monday, due to torrential downpours and thunder in the region.
The Starlink satellites were successfully deployed approximately 1 hour and 1 minute after liftoff.
As such the ever expanding Starlink constellation will rise to about 773 launched satellites.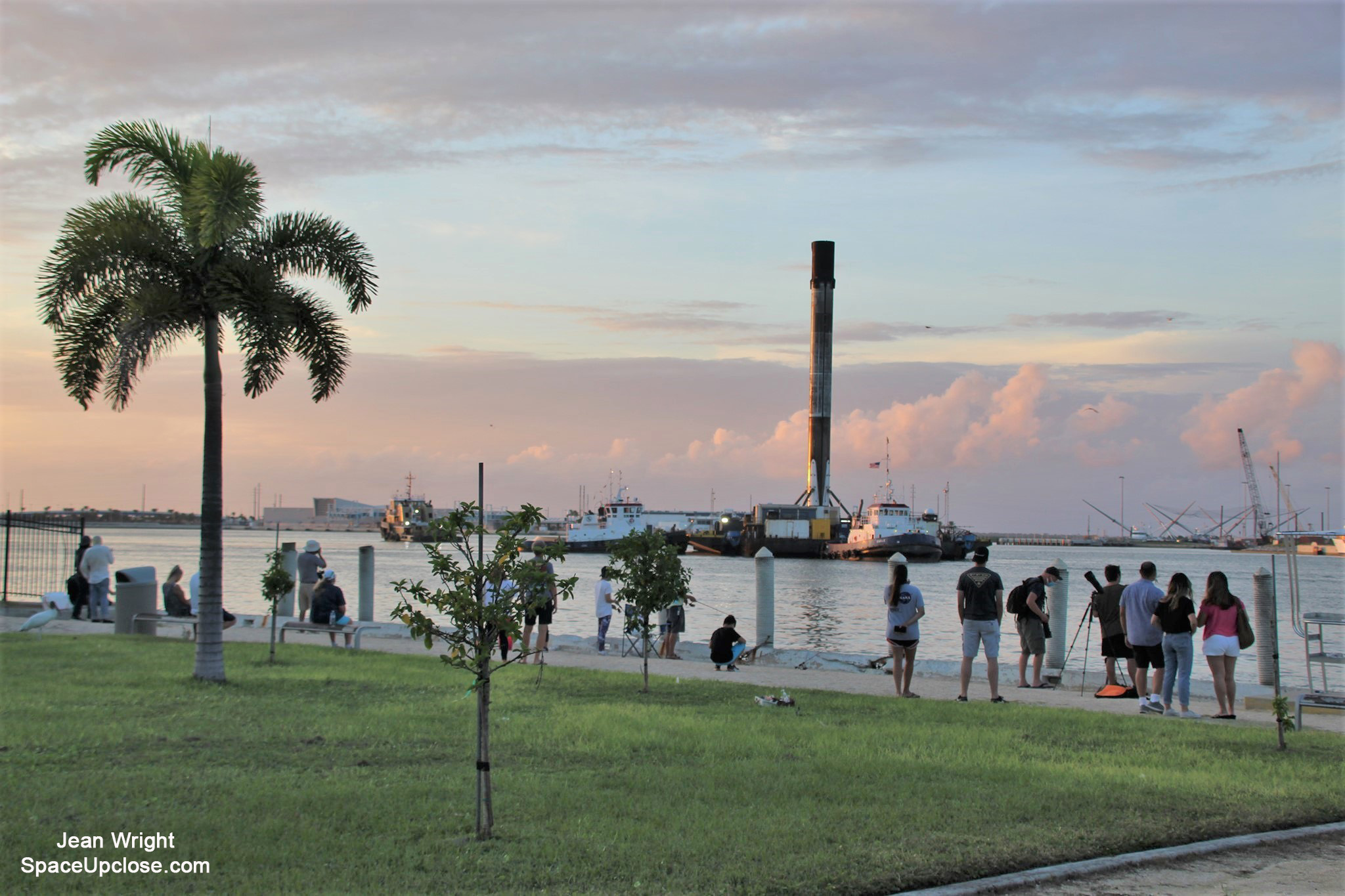 The flat panel, refrigerator sized broadband internet relay satellites launched to orbit are aimed at serving rural and underserved areas across the globe – where service is "unreliable, expensive, or completely unavailable."
The two stage Falcon 9 rocket stands 229 feet (70 meters) tall.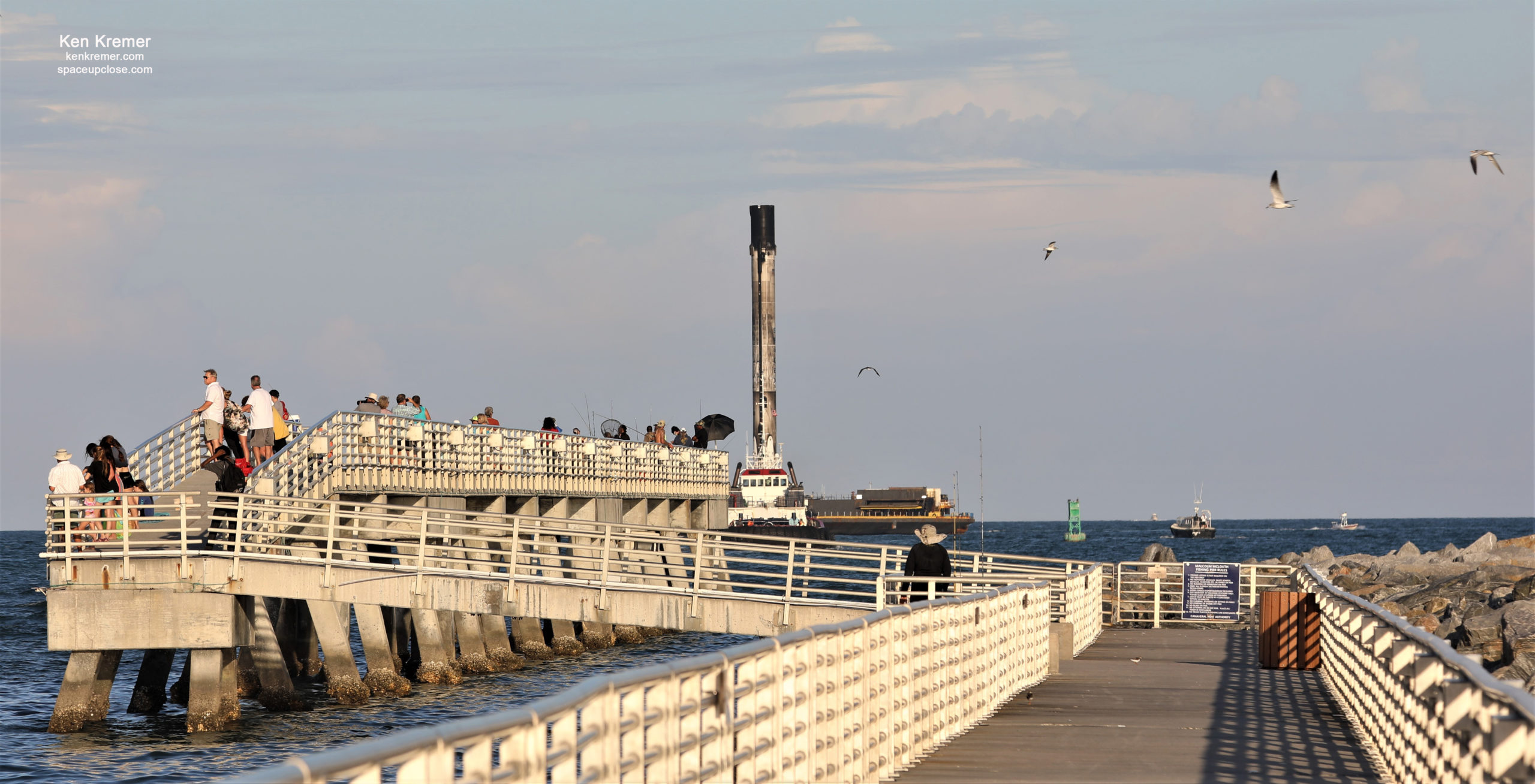 Watch my prelaunch commentary at WESH 2 NBC News and WKMG CBS 6 New Orlando on Oct. 5/6  about SpaceX CEO Elon Musk visit to the Cape to determine cause of so many launch scrubs
https://www.wesh.com/article/spacex-delays-elon-musk-cape-canaveral/34271894
https://www.clickorlando.com/news/2020/10/05/spacex-ceo-elon-musk-coming-to-cape-to-investigate-scrub-issues/
Watch my SpaceX GPS post scrub commentary at Fox 35 News Orlando on Oct. 3
https://www.fox35orlando.com/news/elon-musk-heading-to-cape-canaveral-after-a-week-of-scrubbed-launches
https://www.fox35orlando.com/video/857194
"They need to stand back. They need to rethink. They need to look at all of their procedures and that's why Musk is coming here for. He's going to do a thorough review," I explained to Fox 35 about the many launch scrubs.
"We hope the weather is good, but we have no control over the weather. But they have plenty of control over the rocket and the pad to make sure they're in order."
Watch my commentary at WFTV Channel 9 ABC TV News Orlando in this Sept. 25/26 report about 3 upcoming Space Coast launches in 3 days by ULA and SpaceX.
https://www.wftv.com/news/local/brevard-county/space-coast-could-see-three-rocket-launches-three-days/KBPD2XR4YZGJFBXCLXBG3VSK7Y/
Also Fox 35 TV News Orlando on Sep 28/29 about the impact of scheduling so many back to back launches and impact of repeated launch scrubs.
Watch my live interview discussion of current space missions and launches on Sept. 18 edition of  'Stay Curious' daily space show presented by the American Space Museum, Titusville, FL.
Watch Ken's continuing reports about Starlink, Commercial Crew and Artemis and onsite for live reporting of upcoming and recent SpaceX and ULA launches including Demo-2, Starlink, X-37B, Solar Orbiter, Mars 2020 and more at the Kennedy Space Center and Cape Canaveral Space Force Station.
Stay tuned here for Ken's continuing Earth and Planetary science and human spaceflight news: www.kenkremer.com –www.spaceupclose.com – twitter @ken_kremer – email: ken at kenkremer.com
Dr. Kremer is a research scientist and journalist based in the KSC area, active in outreach and interviewed regularly on TV and radio about space topics.
………….
Ken's photos are for sale and he is available for lectures and outreach events
Please consider supporting Ken's work by donating at Patreon:
https://www.patreon.com/kenkremer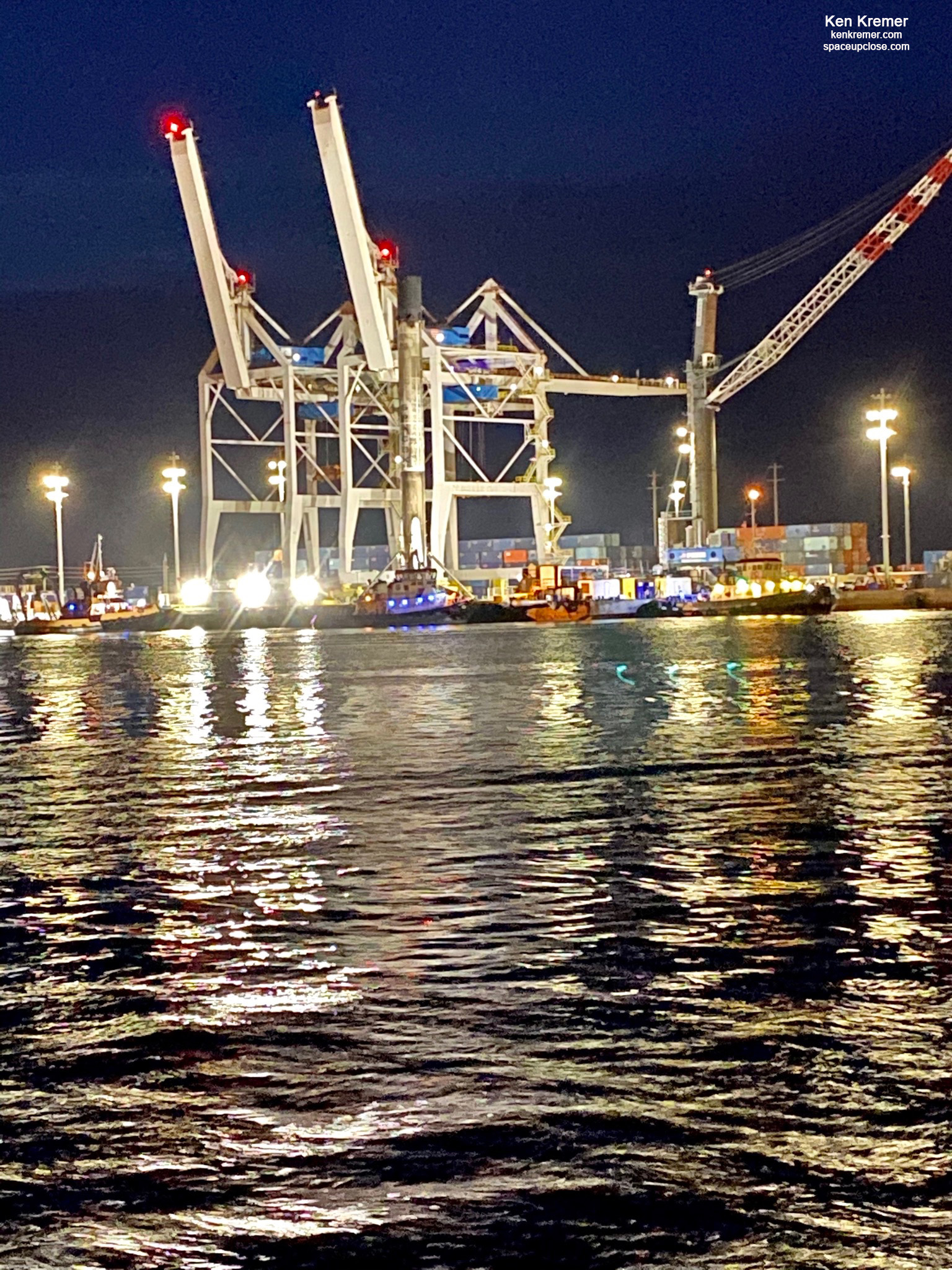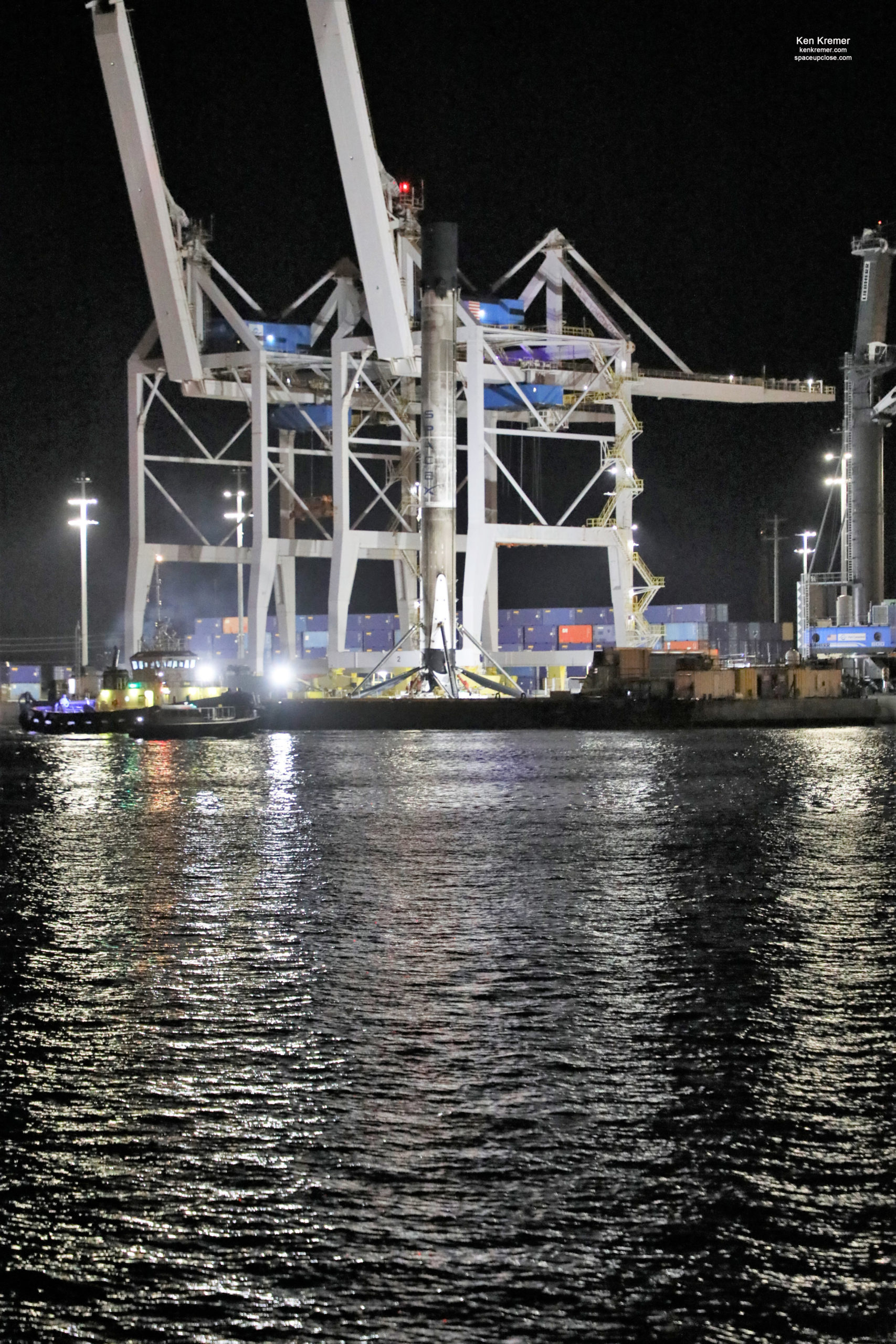 x