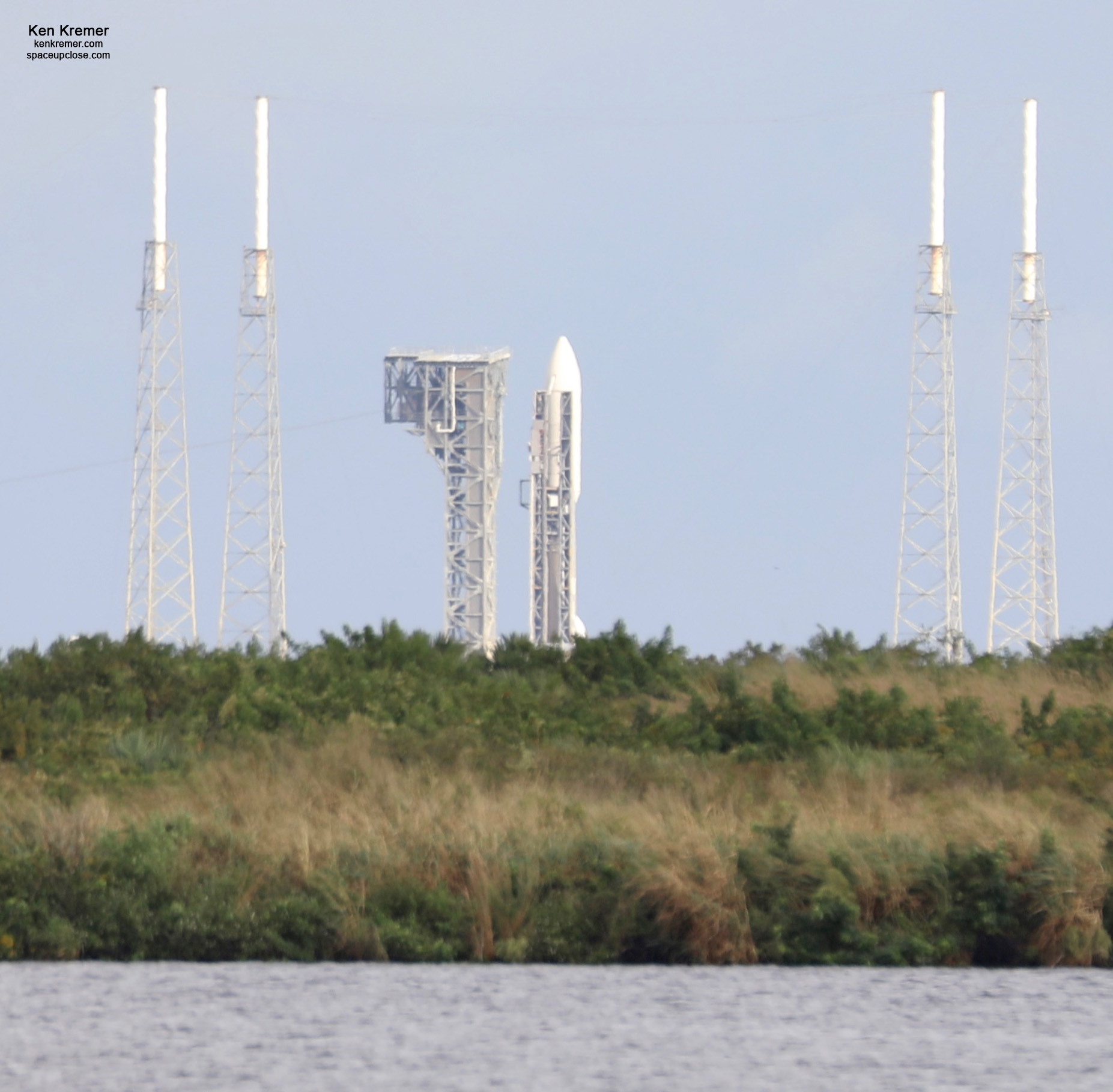 For SpaceUpClose.com & RocketSTEM
KENNEDY SPACE CENTER/CAPE CANAVERAL AIR FORCE STATION, FL –  A United Launch Alliance Atlas V rocket has again rolled out to launch pad 41 for launch of the top secret NROL-101 spysat currently targeting Friday, Nov. 13, following multiple delays from erratic Hurricane and Tropical Storm Eta that once again hit central Florida with high winds and torrential rains and last Thursday's scrub due to a ground system LOX valve issue.
The ULA Atlas V rocket was rolled out 1800 feet from the Vertical Integration Facility (VIF) to pad 41 Thursday afternoon Nov. 12 at around 2 p.m. ET.
Liftoff of the United Launch Alliance (ULA) Atlas V rocket carrying the classified NROL-101 mission for the National Reconnaissance Office is now planned for dinnertime Friday, Nov. 13, 2020, at 5:13 p.m. EST (2213 GMT) from seaside Space launch Complex-41 on Cape Canaveral Air Force Station.
The #AtlasV rolled out today, moving by rail from the Vertical Integration Facility to Cape Canaveral's Space Launch Complex-41 for Friday's #NROL101 launch at 5:13pmEST (2213 UTC).

Live blog begins at 10:25amEST and launch webcast starts at 4:53pmEST: https://t.co/M91ugJaYds pic.twitter.com/2fVo7nu2vI

— ULA (@ulalaunch) November 12, 2020
You can watch the launch live at ULA webpage: https://www.ulalaunch.com
Live video webcast starts 20 minutes before blastoff
The seven-hour launch countdown Wednesday, Nov 4 leads up to liftoff at 5:13 p.m. EST (2213 GMT)
ULA live countdown updates will begin at 11:00 a.m. EST (1600 UTC) at this page.
https://www.ulalaunch.com/missions/next-launch/atlas-v-nrol-101
Weather forecasters says conditions are 90% favorable at launch time
The primary weather concern is with cumulus clouds at Cape Canaveral.
The goal of the Atlas V rocket is carrying a clandestine surveillance satellite to orbit for the National Reconnaissance Office (NRO).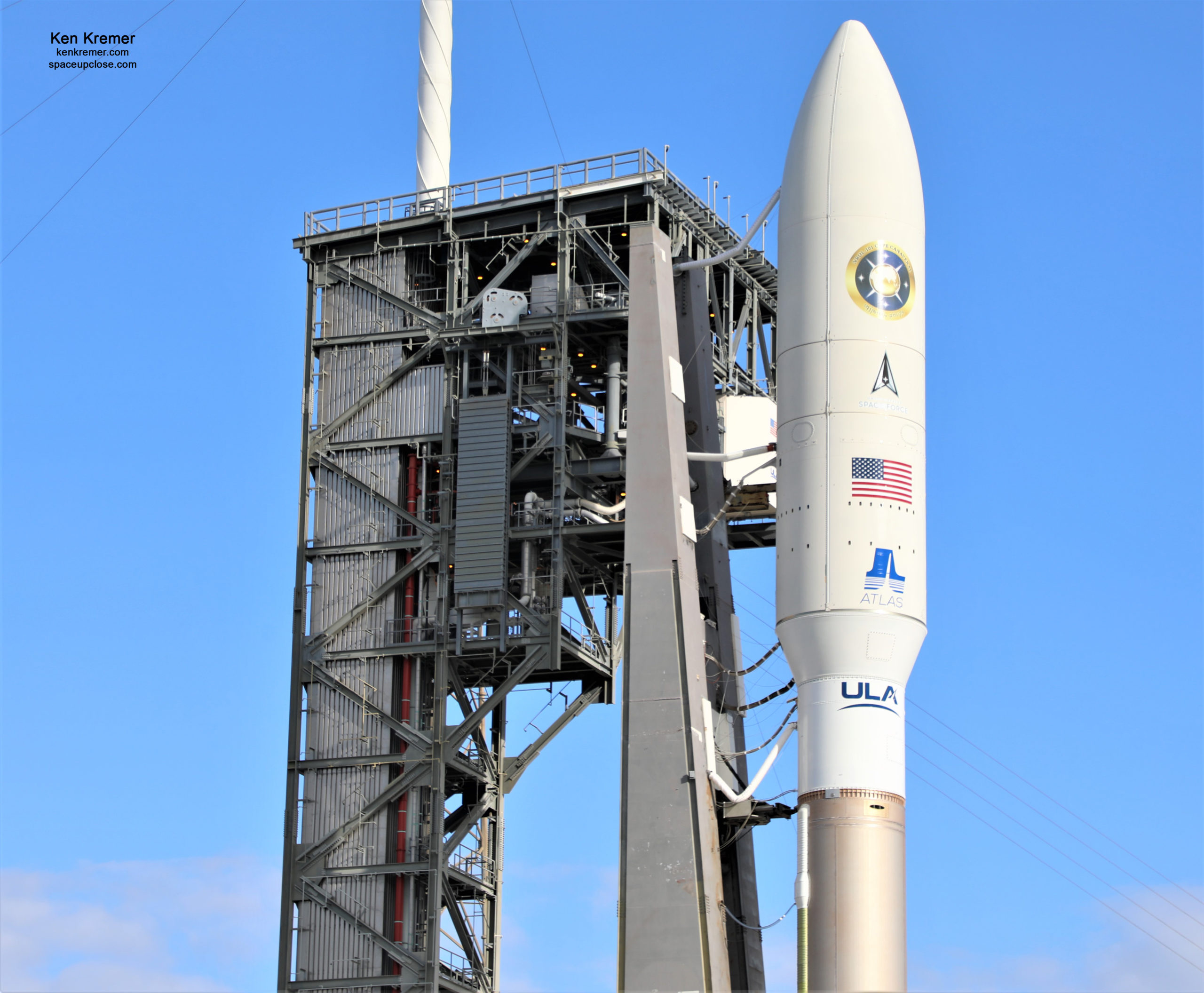 Enjoy our Space UpClose photos of the Atlas V at pad 41 from the team of Ken Kremer and Jean Wright.
Ken's Atlas V rocket photos featured at FOX 35 Orlando and WKMG CBS 6 Orlando TV News Nov 2/3/4/5/6:
Watch for Ken's on site reporting about the ULA NROL-101 launch at Cape Canaveral Space Force Station
Watch Ken's continuing reports about OSIRIS-REx, Commercial Crew and Artemis and onsite for live reporting of upcoming and recent SpaceX and ULA launches including Demo-2, Starlink, X-37B, Solar Orbiter, Mars 2020 and more at the Kennedy Space Center and Cape Canaveral Space Force Station.
Stay tuned here for Ken's continuing Earth and Planetary science and human spaceflight news: www.kenkremer.com –www.spaceupclose.com – twitter @ken_kremer – email: ken at kenkremer.com
Dr. Kremer is a research scientist and journalist based in the KSC area, active in outreach and interviewed regularly on TV and radio about space topics.
………….
Ken's photos are for sale and he is available for lectures and outreach events
Please consider supporting Ken's work by donating at Patreon: