For SpaceUpClose.com & RocketSTEM
KENNEDY SPACE CENTER/CAPE CANAVERAL AIR FORCE STATION, FL –  A United Launch Alliance Atlas V rocket launched  a top secret National Reconnaissance Office (NRO) national security spysat using new solid rocket boosters during a stunning Friday sunset from the Florida Space Coast
The spectacular Atlas V NROL-101 spysat blastoff tonight finally came after multiple delays from erratic Hurricane and Tropical Storm Eta that once again hit central Florida with high winds and torrential rains this week and last weeks  scrubs due to a environmental control ground system umbilical issue feeding conditioned air to the payload  and a LOX valve issue.
The Atlas V soared off pad 41 putting on a brilliant display of firepower before darting between low lying thick clouds and then ascended to the heavens through clear skies in sunset twilight with a magnificent exhaust plume spewing from the new solids that was brightened to beautiful sunlit orange and red hues as the 20 story rocket rose into sunlight.
Liftoff of the United Launch Alliance (ULA) Atlas V rocket carrying the classified NROL-101 mission for the National Reconnaissance Office took place just moments after sunset at dinnertime Friday, Nov. 13, 2020, at 5:32 p.m. EST (2232 GMT) from seaside Space launch Complex-41 on Cape Canaveral Air Force Station.
Blastoff took place with a slight delay of 19 minutes into the planned window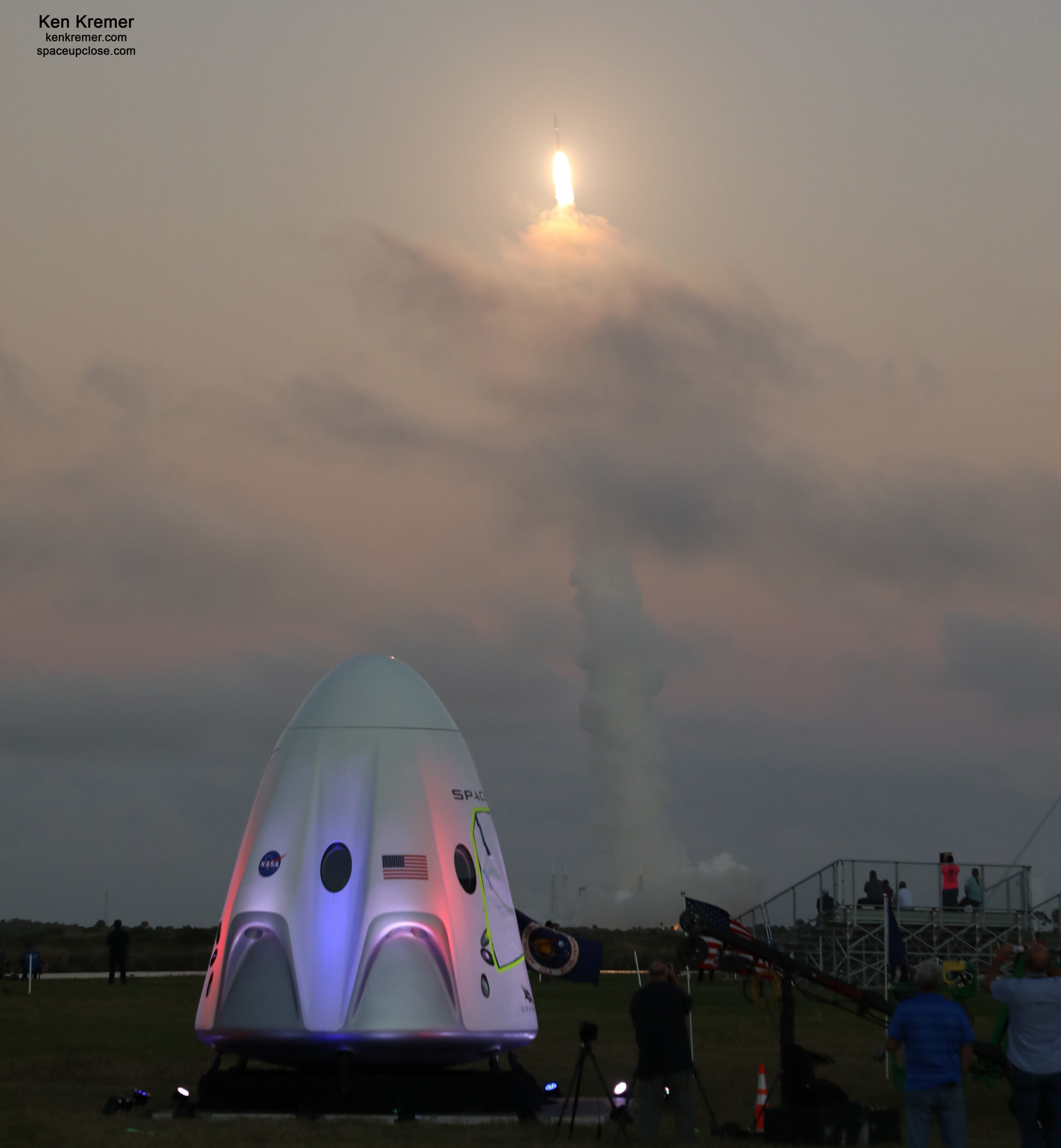 Both ULA and the NRO declared the mission a success about 3 hours later.
"MISSION SUCCESS! United Launch Alliance's #AtlasV rocket successfully launched #NROL101 for the @NatReconOfc and @SpaceForceDoD. Success #141 for ULA! Thank you to our customers for the trust they place in us!" ULA tweeted.
MISSION SUCCESS! United Launch Alliance's #AtlasV rocket successfully launched #NROL101 for the @NatReconOfc and @SpaceForceDoD. Success #141 for ULA! Thank you to our customers for the trust they place in us! Read more: https://t.co/wFginba7XX pic.twitter.com/CduFEtWRip

— ULA (@ulalaunch) November 14, 2020
The Atlas V launch took place a day before the planned Saturday evening, Nov. 14 launch of 4 astronauts from NASA and Japan aboard a commercial SpaceX Crew Dragon to the International Space Station (ISS) – that was postponed to Sunday just about an hour before due to rough landing weather for the recovery of the Falcon 9 booster.
See our Space UpClose launch photos from Ken Kremer and Jean Wright including the Atlas V liftoff in view beside a replica Crew Dragon as the real Crew Dragon was waiting liftoff at KSC Launch Complex-39A
Nothing is known about the super secret NROL-101 payload or the nature of its mission for the NRO for national security reasons.
The rocket did soar away on a northeasterly trajectory roughly tracking in parallel along the US East Coast and likely deployed the covert NROL-101 satellite into a high inclination orbit -as seen in my photos.
The NRO did declare the mission a success however a few hours after  launch in a press release.
"NROL-101 was the agency's fourth launch in 2020. The mission carried a classified national security payload designed, built and operated by the NRO in support of its overhead reconnaissance mission," the NRO said in a statement.
"We're excited to be back at CCAFS with another successful launch alongside our partners at ULA, the 45th Space Wing, and the U.S. Space Force Space and Missile Systems Center. The successful launch of NROL-101 is another example of the NRO's commitment to constantly evolving our crucial national security systems to support our defense and intelligence partners," said U.S. Space Force Colonel Chad Davis, Director of the NRO's Office of Space Launch.
We have some great photos to share with you from our #NROL101 launch yesterday, our latest mission in support of national reconnaissance. #launch #launchphotos #launchfans ?: National Reconnaissance Office pic.twitter.com/OTELFPLnP1

— NRO (@NatReconOfc) November 14, 2020
The super-secret NROL 101 mission launched on an Atlas V in the  531 configuration producing 1.8 million pounds of liftoff thrust.
The launch was broadcast live by ULA but ended 3 minutes after liftoff at the request of the NRO.
#NROL101 is NRO's 29th launch in partnership with @ulalaunch! ? We want to thank our partners at @45thSpaceWing and @AF_SMC for supporting today's launch, as well as all of our #launchfans for following along! ? https://t.co/71VL1ZtcKa

— NRO (@NatReconOfc) November 13, 2020
The Atlas V 531 configuration includes a Swiss made 17 ft. (5 meter) payload fairing from RUAG and stands 206 ft. (63 meters) tall.
The Atlas first stage booster for this mission is powered by the Russian made RD AMROSS RD-180 engine by NPO Energomash. Aerojet Rocketdyne provided the RL10C-1 engine for the Centaur upper stage.
Also noteworthy is that the NROL-101 mission marks the first ULA launch flying the new Northrop Grumman Graphite Epoxy Motors (GEM) 63 solid rocket boosters that burn solid propellant and augment the lifting capacity of rocket's first stage.
"Thank you to our mission partners, the NRO and the United States Space Force for their continued confidence and partnership with ULA," said Gary Wentz, ULA vice president of Government and Commercial Programs, in a statement.
"This launch was the inaugural launch of our new GEM 63 solid rocket motors, an instrumental step for ULA to build flight experience in preparation for the Vulcan Centaur, our next generation launch vehicle."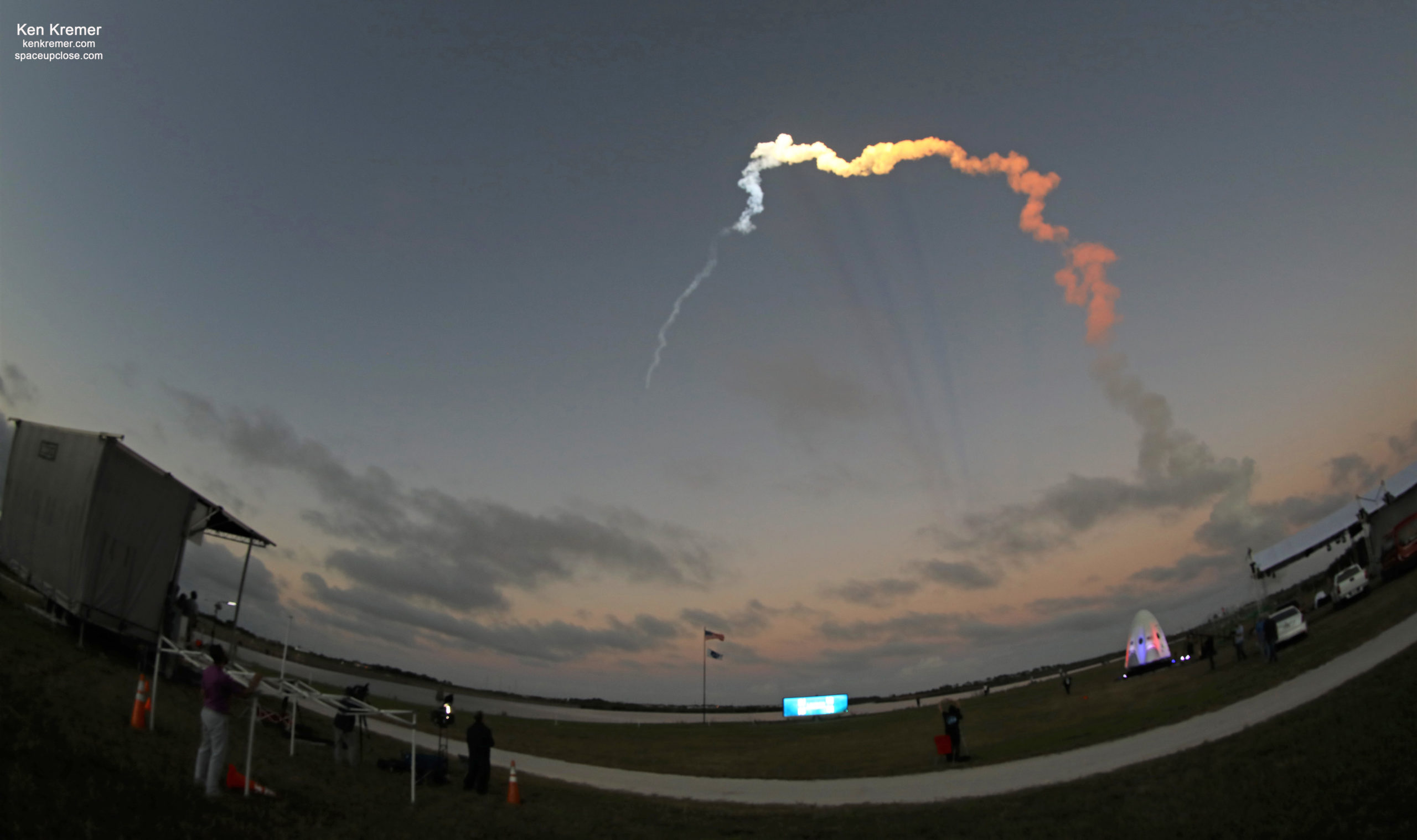 The new solids aid in the evolution towards eventual use on ULA's new Vulcan Centaur rocket under development.
"The GEM 63 rocket motors were developed to enhance the performance of the existing Atlas V launch vehicle while incorporating our flight-proven, heritage designs that provide a significantly lower cost for boost propulsion," said Charlie Precourt, vice president, propulsion systems, Northrop Grumman, in a statement.
The new Northrop Grumman GEM 63 solids replace the Aerojet Rocketdyne AJ-60A solid rocket motors used previously on Atlas V
"The upcoming Atlas V launches with the new motors will build flight experience in preparation for using GEM 63XLs on Vulcan Centaur's first flight," says ULA.
The GEM 63s measure 63 in. (1.6 meters) in diameter and 66 ft. (20.11 meters) in length. They will be ignited at the launch pad and burn for 94 seconds, each consuming 97,500 pounds (44,225.2 kg) of propellant to produce 371,550 pounds (1.6 mega-Newtons) of max thrust.
The SRBs augment the 860,200 pounds (3.83 mega-Newtons) of thrust produced by the RD-180 main engine to power the Atlas V rocket skyward. At liftoff, the combined thrust will be nearly 1.8 million pounds or 8 million mega-Newtons.
"2020 has been an especially challenging year for the launch and space community given the COVID-19 pandemic. I'm continually impressed by our partners and our NRO team members on their ability to find new and innovative ways to collaborate in this environment and ensure we are meeting our mission requirements while prioritizing the safety, security and health of our entire launch team," said Davis.
"Data collected by NRO's national security systems is used to provide intelligence to senior policy makers, the Intelligence Community and Department of Defense, as well as U.S. allied partners. Additionally, information collected by NRO systems can be used to assist emergency and disaster relief efforts in the U.S. and around the world."
The 531 configuration launched the first three Advanced Extremely High Frequency (AEHF) satellites for the United States Space Force and will loft a pair of C-band satellites for SES in 2022.
This was the 86th launch of the Atlas V rocket and the 71st Atlas V to launch from Space Launch Complex-41 in Florida. To date ULA has launched 141 times with 100 percent mission success.
This counts as the 141st mission for United Launch Alliance and the 29th for the NRO. It is the 86th Atlas V launch and the 4th in the 531 configuration.
Enjoy our Space UpClose launch and prelaunch photos of the Atlas V at pad 41 from the team of Ken Kremer and Jean Wright.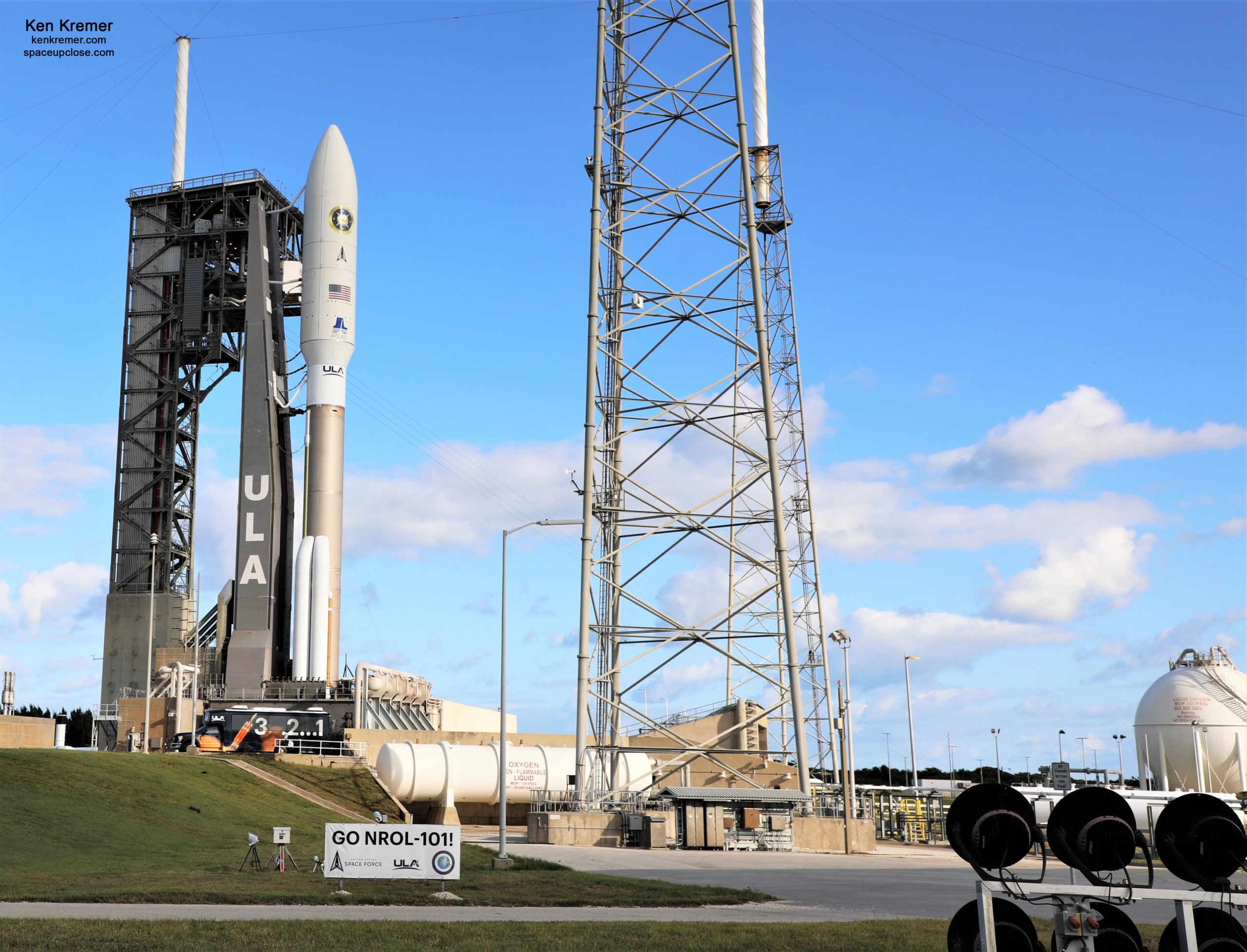 Ken's Atlas V rocket photos featured at FOX 35 Orlando and WKMG CBS 6 Orlando TV News on Nov 2/3/4/5/6: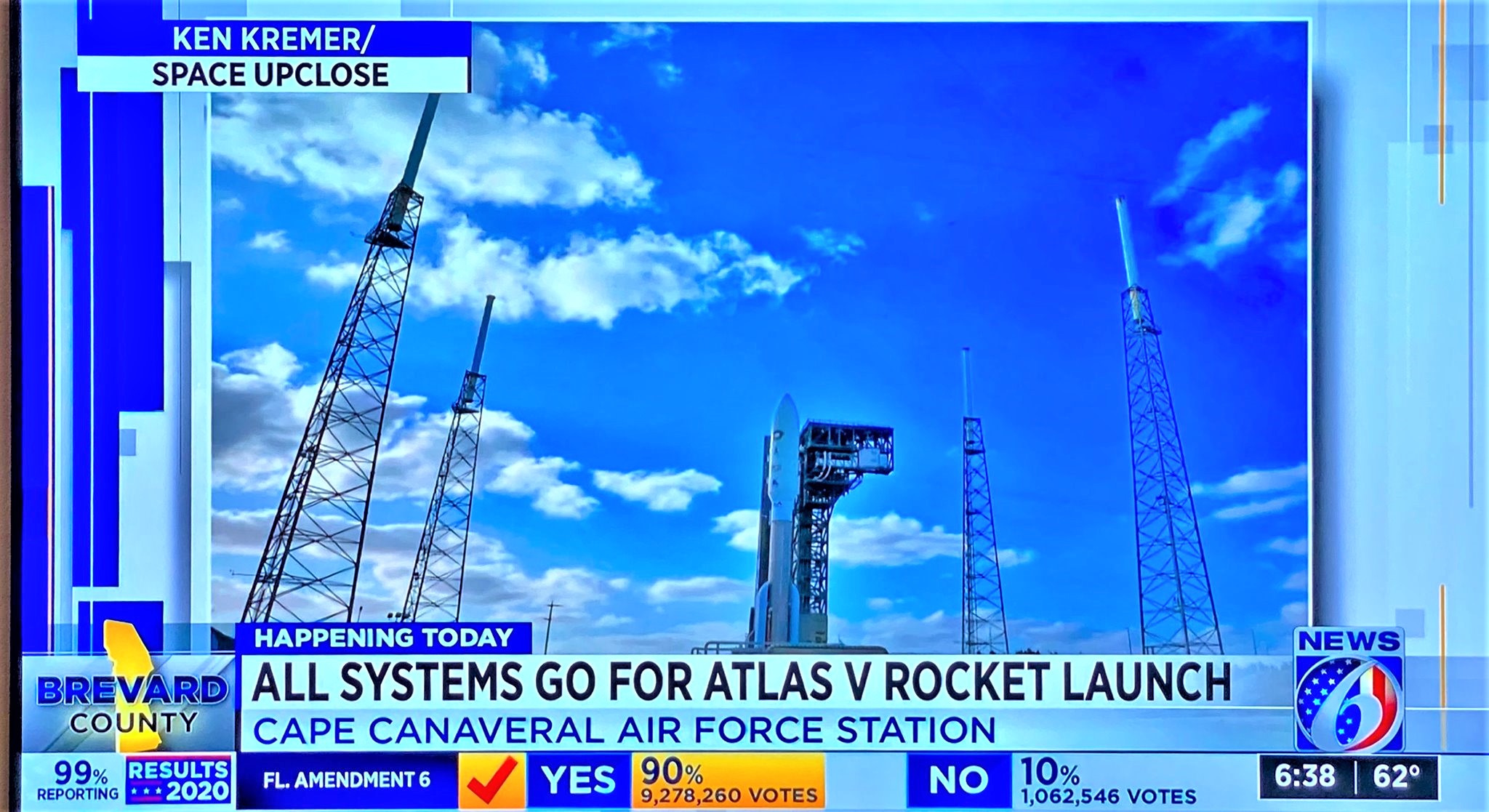 Watch for Ken's on site reporting about the ULA NROL-101 launch at Cape Canaveral Space Force Station
Watch Ken's continuing reports about OSIRIS-REx, Commercial Crew and Artemis and onsite for live reporting of upcoming and recent SpaceX and ULA launches including Demo-2, Starlink, X-37B, Solar Orbiter, Mars 2020 and more at the Kennedy Space Center and Cape Canaveral Space Force Station.
Stay tuned here for Ken's continuing Earth and Planetary science and human spaceflight news: www.kenkremer.com –www.spaceupclose.com – twitter @ken_kremer – email: ken at kenkremer.com
Dr. Kremer is a research scientist and journalist based in the KSC area, active in outreach and interviewed regularly on TV and radio about space topics.
………….
Ken's photos are for sale and he is available for lectures and outreach events
Please consider supporting Ken's work by donating at Patreon:
https://www.patreon.com/kenkremer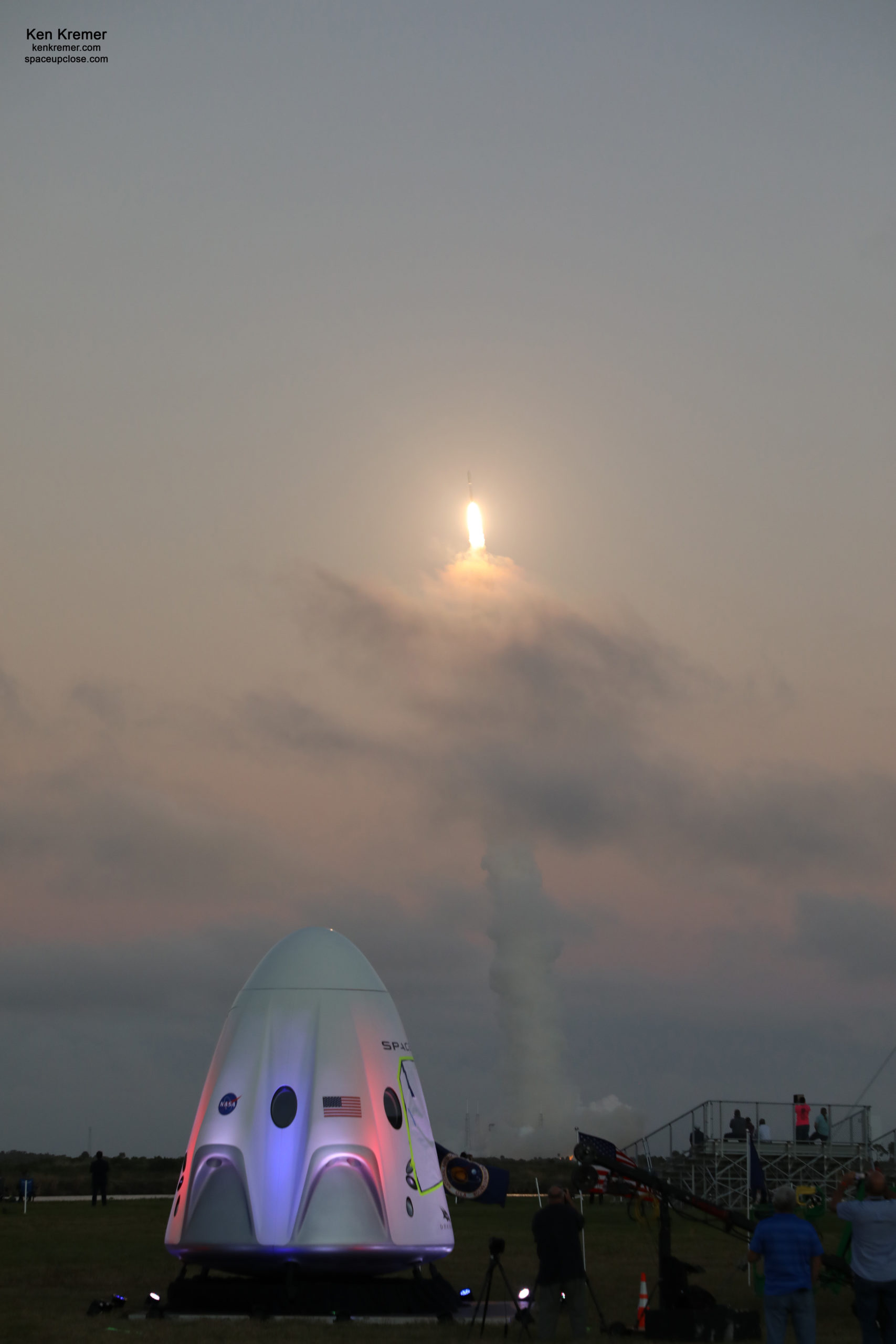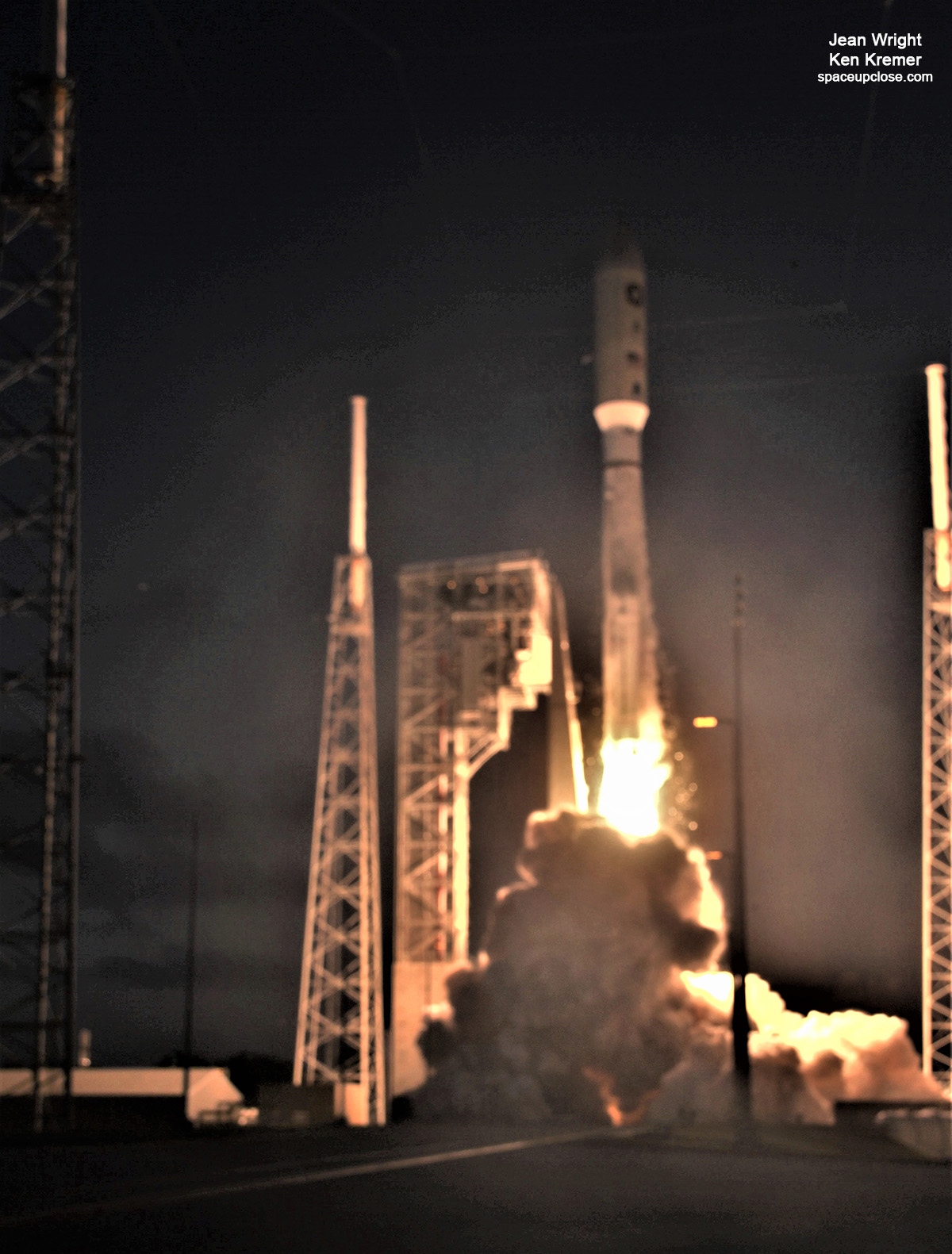 x
x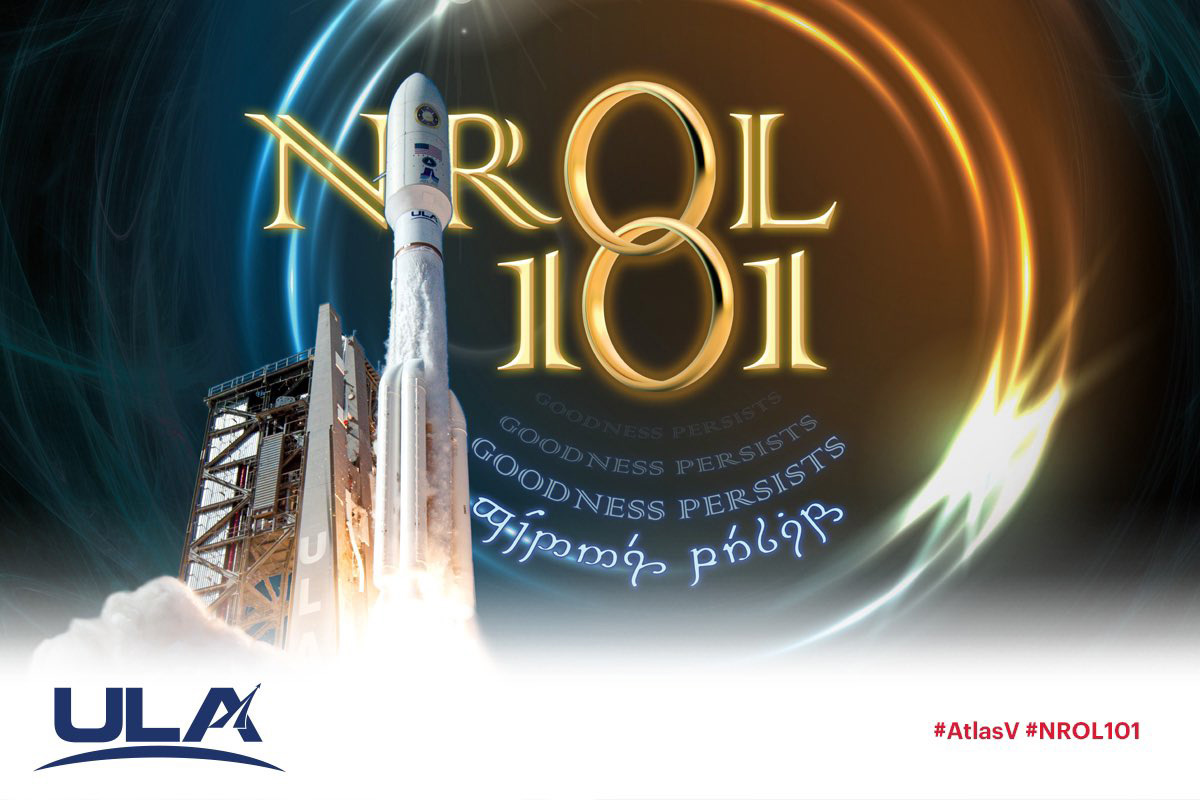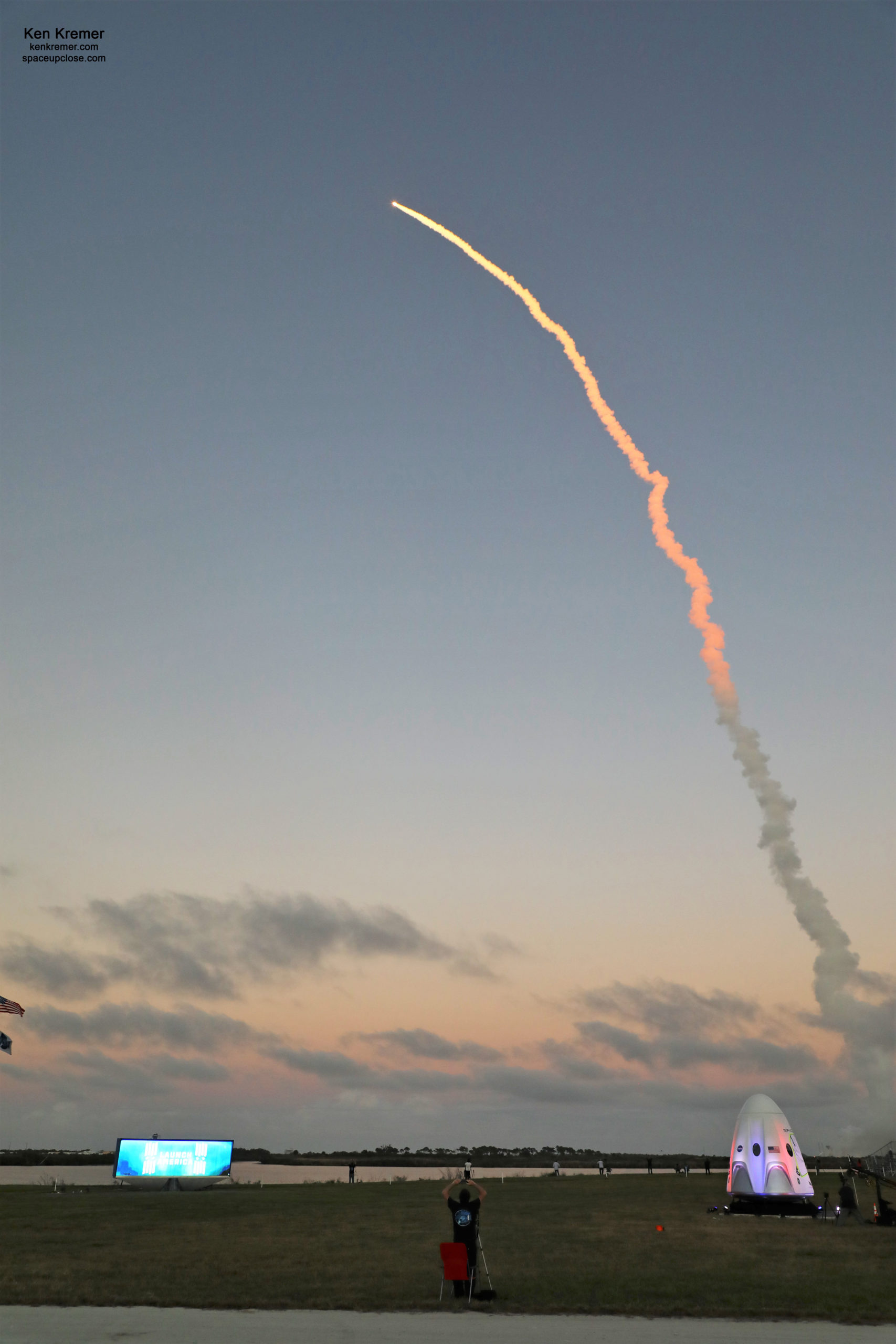 x