For SpaceUpClose.com & RocketSTEM
CAPE CANAVERAL, FL –  A Chinese heavy lift Long March 5 rocket launched the ambitious Change'5 moon mission on 23 November who goal is to grab and return the first lunar soil and rock samples from Earths nearest neighbor in 4 decades.
The Long March 5 carrier rocket lifted off at 3:30 p.m. EST (2030 GMT) Monday, Nov 23 (4:30 a.m. Nov. 24 Beijing Time) from the Wenchang Space Launch Center on Hainan Island, China on bahalf of the Chinese National Space Administration (CNSA).
After blastoff on 2,4 million pounds of thrust from the Long March 5 rocket the 9 ton probe separated from the upper stage and deployed its solar arrays to begin a 112 hour voyage to the moon and enter orbit.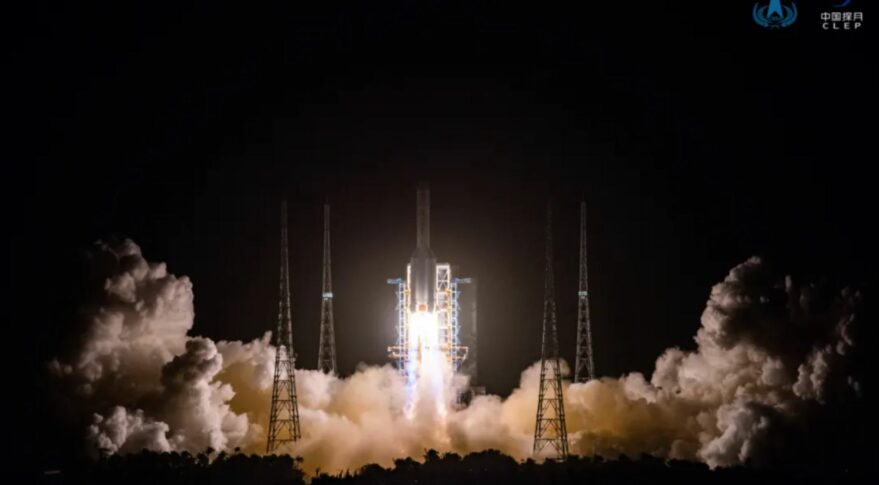 The rocket successfully hurled the 8200 kg Change'5 moon mission on a fast paced 23 day long mission on China's first ever mission to snatch lunar regolith from the Moon's surface and send it back to eagerly awaiting scientists back on Earth landing in Inner Mongolia, China.
China is only the 3rd country to attempt a lunar sample return mission – following the United States and the then Soviet Union – now Russia, from Apollo manned and Luna unmanned missions in the 1960s and 1970s.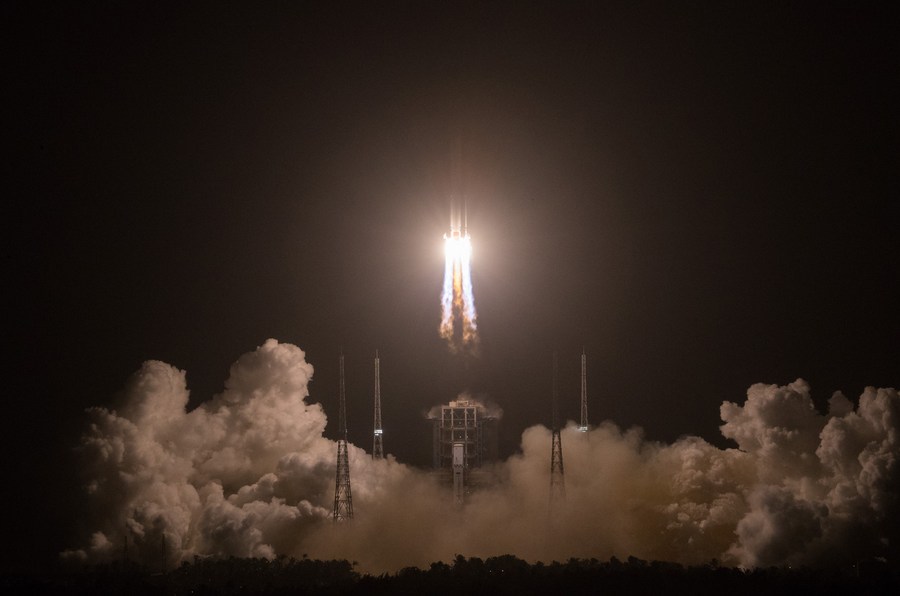 The mission goal is to land in the Mons Rümker, region of Oceanus Procellarum or Ocean of Storms (roughly 41-45 deg. N, 49-69 deg. W. – a smooth volcanic plane and the same region as NASA's Apollo 12 manned moon landing n 1969
These would be the youngest samples retrieved from the Moon so far dating to roughly 1 billion years vs 3.1 to 4.4 billion years old for the Apollo samples.
Chang'e-5 mission is comprised of four components: an orbiter, a lander, an ascender, and an Earth return capsule.
The solar powered Change'5 lander would operate for one lunar day (two weeks) and return a 2 to 4 kg sample of lunar regolith, possibly from as deep as 2 meters.
If all goes well the samples will be returned to Earth in the return capsule using an atmospheric "skip" reentry and a landing in the Siziwang Banner grassland of the autonomous region of Inner Mongolia in China.
Watch this excellent video from CGTN China State TV:
Video Caption:    How does China's Chang'e-5 lunar mission work, Credit: CGTN
The spacecraft carried out two planned orbital corrections during the four and a half day Earth-Moon transfer, achieving its expected goals, said China.
The most recent lunar sample return mission was accomplished by the Luna 24 spacecraft launched by the then Soviet Union in 1976.
To date lunar soil and rock samples were collected and returned from 6 NASA Apollo manned moon landings and 3 Russian Luna robotic missions.
Chang'e 5 is equipped with a robotic arm with a sampling scoop, a coring drill, and a sample chamber that can return up to 4 kg of regolith. It also has a Panoramic Camera (PCAM), Lunar Regolith Penetrating Radar (LRPR), and a visible and near-infrared Lunar Mineralogical Spectrometer (LMS).
After it enters lunar orbit, the lander-ascender combination will separate from the orbiter-returner combination. The lander-ascender will touch down on the northwest region of the moon's Oceanus Procellarum, collect samples from the lunar surface, as well as drill into the ground, according to China's Xinhua news agency.
"The sampling task is full of uncertainties, according to Peng Jing, deputy chief designer of the Chang'e-5 probe from the China Academy of Space Technology (CAST) under the China Aerospace Science and Technology Corporation."
"Chang'e-5 will be the world's first moon-sample mission for more than 40 years, and Chinese space engineers have made elaborate plans for possible challenges ahead, according to Peng."
"We are not sure whether the landing site is made of hard rock or loose soil, so we have developed sampling instruments for different scenarios," Peng said. "We developed two sampling methods, including drilling underground and collecting samples from the lunar surface, to increase the chance of acquiring more diverse samples."
Further details from Xinhua:
The packaging and sealing of the moon samples also requires an elaborate design to prevent leakage and contamination. Earth is surrounded by an atmosphere that contains both gases and floating solid particles, which might contaminate lunar samples if they are not perfectly sealed, limiting their scientific value.
The packaging device should be able to perform well in harsh environments, said Wang Xianrong, a researcher from the CAST.
After sampling, the ascender will take off and dock with the orbiter-returner in lunar orbit to transfer samples to the returner. The takeoff from the moon will also be a difficult task.
Peng said the lander will act as the "launching pad" of the ascender, but the lander might not be horizontal and stable as it should be and is likely to land on a slope or complex terrain.
"The spacecraft needs to conduct autonomous positioning and attitude determination during takeoff," Peng said.
China has mastered rendezvous and docking technology in low-Earth orbit for manned space flights, but Chang'e-5 will carry out an unmanned rendezvous and docking in a lunar orbit 380,000 km away, a first in the history of space exploration, Peng said.
During the rendezvous and docking, there is only a five-cm margin of error when controlling the two spacecraft, Peng said.
The orbiter will carry the returner back to Earth. The returner, with the samples on board, will then reenter the atmosphere and land at Siziwang Banner in north China's Inner Mongolia Autonomous Region.
The orbiter-returner is expected to arrive at Earth at a speed of more than 11.2 km per second, the second cosmic velocity or escape velocity.
The designers have developed a skip reentry method mimicking a skipping stone to lower the craft's speed, according to Pei Zhaoyu, deputy director of the Lunar Exploration and Space Program Center of the China National Space Administration.
"The returner will enter the atmosphere at a high speed, then spring out of the atmosphere with the lift of the air, and plunge back into the atmosphere at a lower speed roughly equal to that of a return satellite, for which we have experience in reentry," Pei said. "The method will make the reentry safer, and provide a technical foundation for future manned missions."
….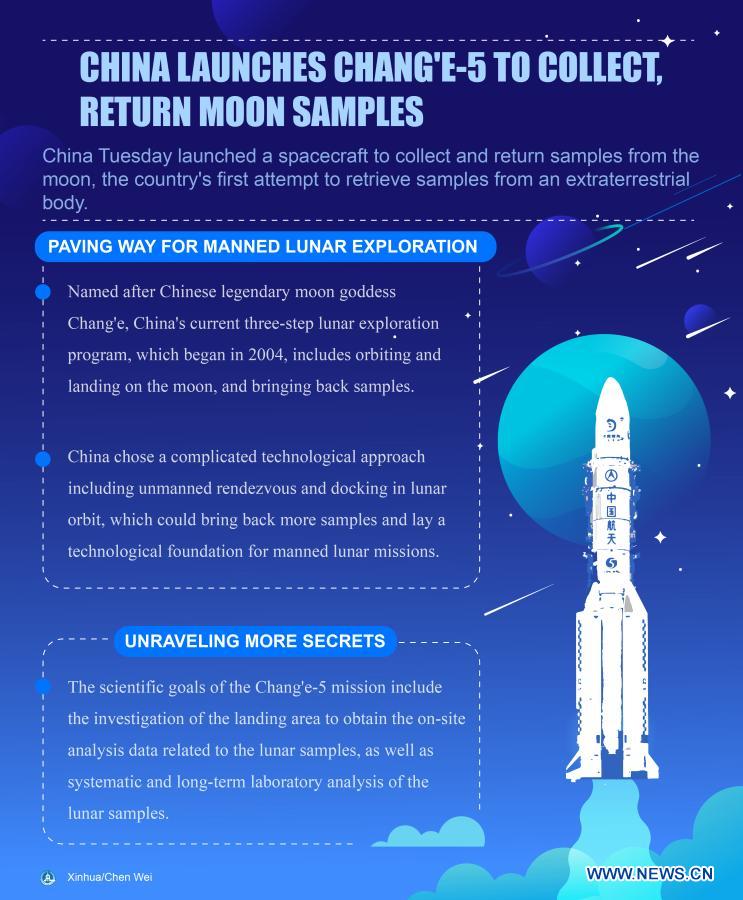 Chang'e-5 marks the next bold step in China lunar ambitions following on the Change' 1 and 2 lunar orbiters and Change' 3 and 4 landers and Yutu rovers on both the near and far side.
China became the first nation in history to land a robotic spacecraft on the far side of Earth's  Moon, when their robotic spacecraft named Chang'e 4 accomplished a soft touchdown Jan. 3, 2019 with the Yutu-2 moon rover.
The mosaic below by Ken Kremer and Marco Di Lorenzo shows the Yutu-1 moon rover at work on the lunar surface.
Earlier this year China has successfully launched its first fully indigenous mission to Mars – the extremely ambitious Tianwen-1 robotic mission designed to orbit, land and rove on the Red Planet – aimed at comprehensively investigating its climate, atmosphere and geology and search for signatures of water as well as snapping numerous images.
China utilized its most powerful rocket – the relatively new heavy-lift Long March 5 – to hurl the combination Tianwen-1 orbiter and lander mission to Mars.
The Chinese Tianwen-1 spacecraft lifted off atop the Long March 5 carrier rocket from the seaside Wenchang Space Launch Center in southern China's Hainan province on July 23, at 12:41 a.m. EDT (0441 GMT; 12:41 p.m. Beijing time).
NASA seeks to return astronauts to the lunar surface under Project Artemis aiming to land the first woman and next man at the Moon's South Pole by 2024.
Watch Ken's continuing reports about Starlink, Crew Dragon, Commercial Crew and Artemis and onsite for live reporting of upcoming and recent SpaceX and ULA launches including Demo-2, Starlink, X-37B, Solar Orbiter, Mars 2020 and more at the Kennedy Space Center and Cape Canaveral Space Force Station.
Stay tuned here for Ken's continuing Earth and Planetary science and human spaceflight news: www.kenkremer.com –www.spaceupclose.com – twitter @ken_kremer – email: ken at kenkremer.com
Dr. Kremer is a research scientist and journalist based in the KSC area, active in outreach and interviewed regularly on TV and radio about space topics.
………….
Ken's photos are for sale and he is available for lectures and outreach events
Please consider supporting Ken's work by donating at Patreon:
https://www.patreon.com/kenkremer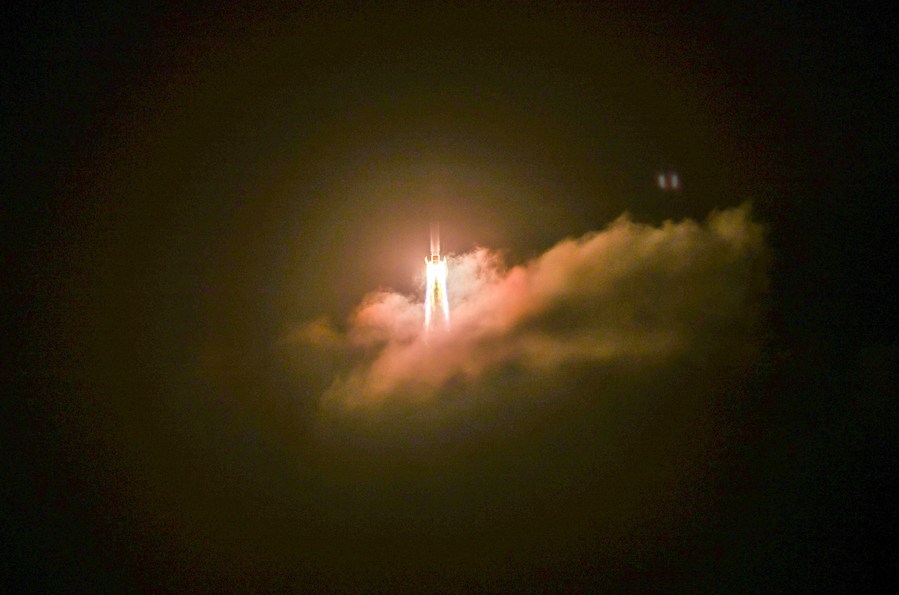 x